With more than 7,107 islands comprising the Philippines, you will never run out of destination ideas to escape to with your special someone. No matter what stage your relationship might be in — nothing serious, dating, committed, about to propose, married or even if you are empty nesters — you can always head on to these romantic campsites in the Philippines and strengthen that bond.
Also read: The Ultimate Travel Bucket List for Couples: 20 Romantic Experiences to Complete with Your Other Half
1. Calaguas Island, Bicol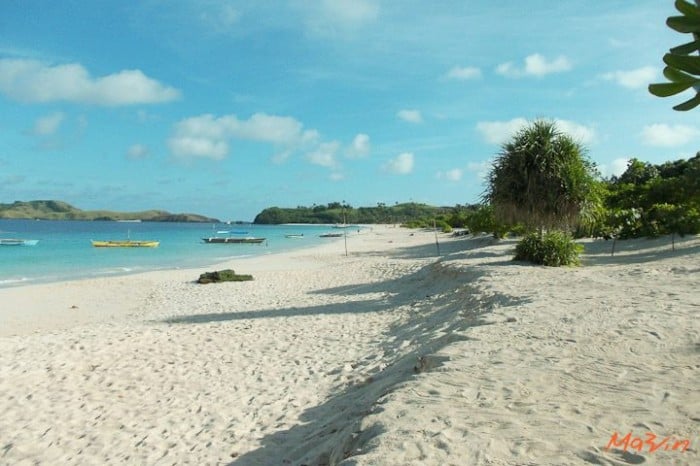 Image credit: Mahabang Buhangin Beach
The Mahabang Buhangin Beach in Calaguas Island can compete with Boracay's white sands, but it's less crowded. Need a place where you can truly enjoy privacy with your special someone? This is it!
Entrance fee ranges from ₱120 to ₱150 and tent space fee is around ₱100 per tent.
2. Nagsasa Cove, Zambales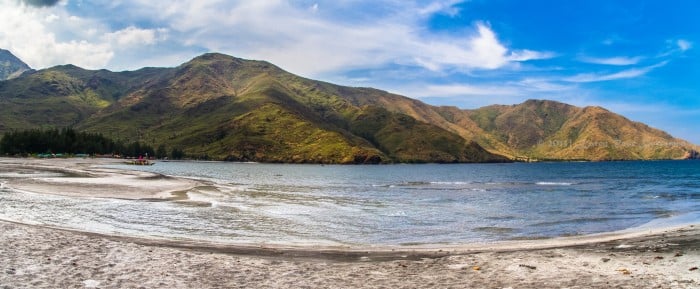 Image credit: Karen Rose Borromeo
If you don't have a lot of time to go somewhere far, Nagsasa Cove is a great option close to Manila. It's frequented by other campers but the awesome view from the beach and the mountains close by make it extremely romantic.
Camping fee is around ₱100 per person, which includes free use of cottages and use of the shower rooms.
3. Anawangin Cove, Zambales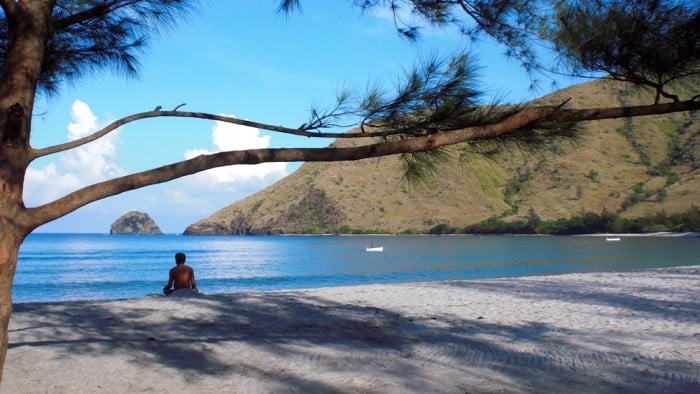 Image credit: Allan Ascaño
Another beautiful campsite you can get away to in Zambales is Anawangin Cove. The beach used to be rocky but it has been dumped with mountains of volcanic ash from the Mt. Pinatubo eruption. It turned out to be quite beautiful, though. And you also get to camp under a forest of agoho trees which pretty much look like pine trees.
Camping fee is pegged at ₱100 a night.
4. Port Barton, Palawan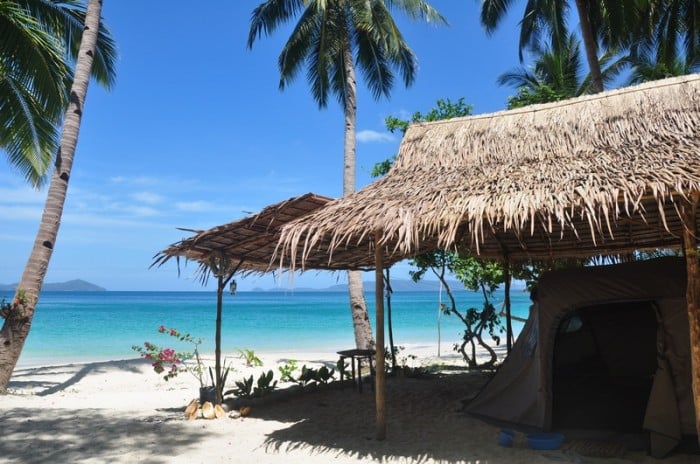 Image credit: Thelma and Toby's Island Camping Adventure
For a budget-friendly glamping experience, check out this very private camping destination in Port Barton, Palawan. You can enjoy all the beach you want with your special someone and also go kayaking, swimming, snorkelling or just lazing by the beach.
Stay here for just ₱1600 per day per person and get served with three hearty meals and enjoy all the sports activities that you want.
5. Sumilon Island, Cebu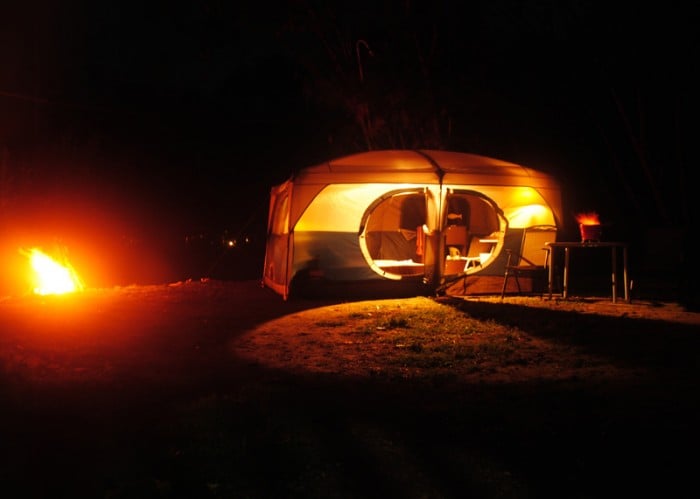 Image credit: Bluewater Sumilon
If camping is not your thing and luxury is your idea of a romantic getaway, then perhaps a trip to this island in southern Cebu is something for you. Staying here gives you access to most modern comforts and you can also do water-related activities or hike around the island.
You can enjoy a luxurious romantic getaway here for ₱10,000 on weekdays or ₱12,000 on weekends.
6. Fortune Island, Batangas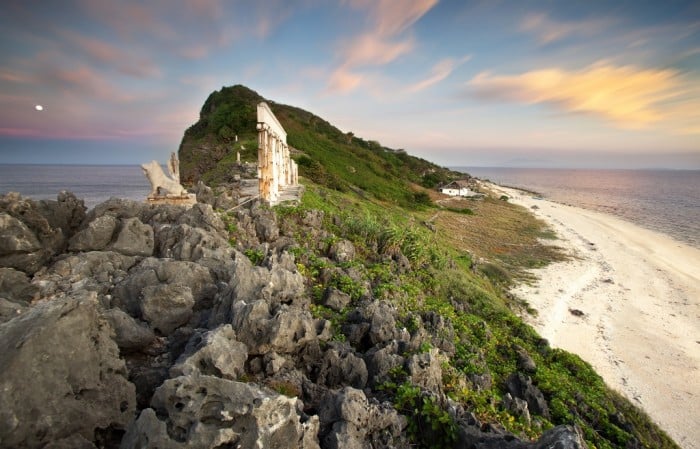 Image credit: thefool0803
What was once a luxury island resort has become abandoned and yet has drawn more crowd than it used to. This place makes you feel like you've gone to a foreign land with the crumbling Acropolis and an imitation of Greece's ancient citadel as its main attractions.
Camping overnight in the island costs around ₱500 per person.
Also read: 13 Amazing Places in the Philippines that Look Like Foreign Destinations
7. Dahican Beach, Davao Oriental
Image credit: I Travel Philippines
Dahican's long coastline means you have a lot of options to pitch your tent on, depending on your budget. It basically feels like Boracay except it has a thinner crowd and you get to skim, surf and snorkel all you want.
Menzi Beach Park is just one of the most affordable yet romantic campsites in the Philippines you can head to, for as low as ₱50 per head.
8. Mount Pinatubo, Zambales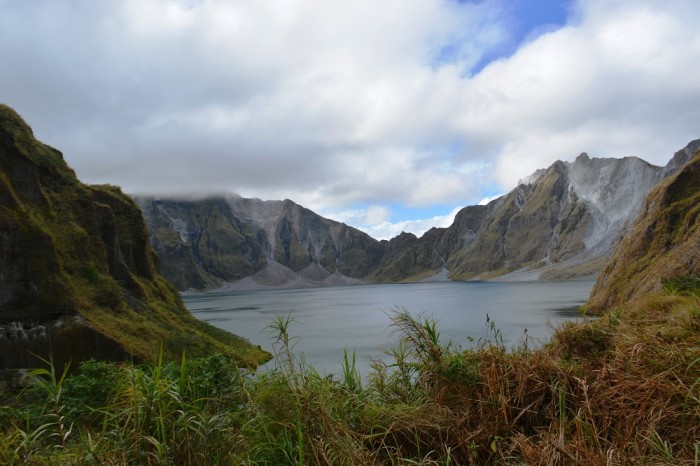 Image credit: Hey, Miss Adventures!
Mount Pinatubo is considered as one of the most dangerous treks to a mountain in the entire world because it still is an active volcano. Don't worry, though — it is being closely monitored and tours here are well-organised.
Day tour package rates: From ₱1,700-₱6,000 per person depending on inclusions
Also read: Camping in the Philippines: 10 Sites with the Most Incredible Views
9. Talicud Island, IGACOS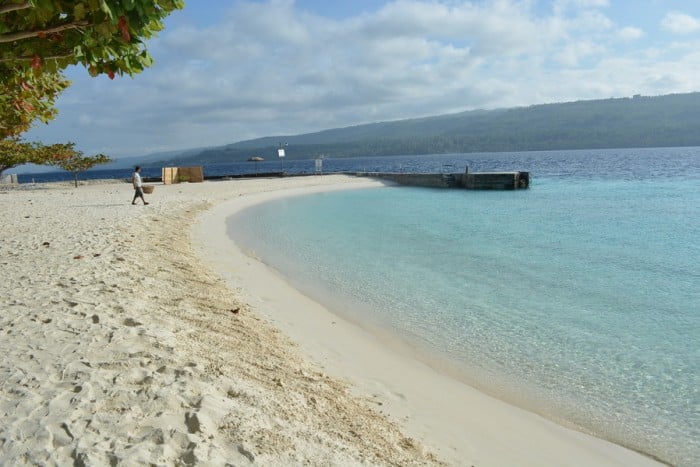 Image credit: Hey, Miss Adventures!
Just right across Samal Island in Davao del Norte is the beautiful Talicud Island. This small and secret getaway has a lot of resorts to choose from, offering numerous options for camping with your special someone.
Overnight camping at Isla Reta Beach Resort costs around ₱400 for two, including entrance and tent space fees.
10. Tabionan Campsite, Iloilo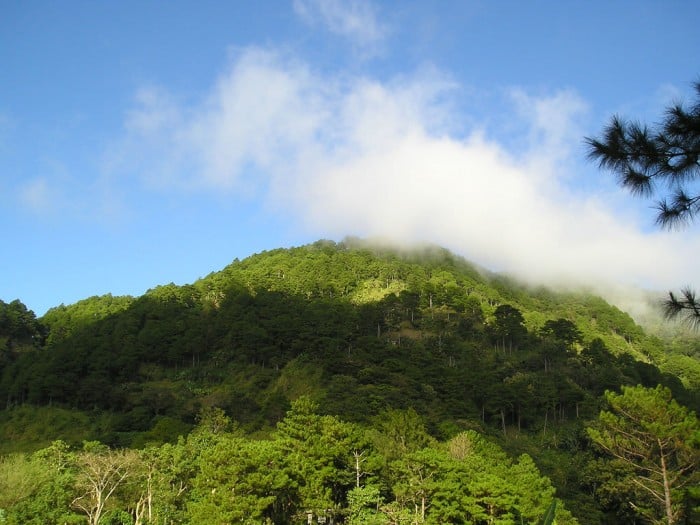 Image credit: Si Kwan
Iloilo's "Little Baguio" actually started as a reforestation project decades ago. Now, it has turned into a beautiful mini forest of pine trees resulting to cooler temperatures in the area. Aside from camping there, you and your significant other can also trek a few minutes to get to the Mansiga Natural View Deck and share the beautiful view.
You can sleep under the trees in Leon, Iloilo for ₱250 a night.
11. Eco Saddle Camp, Laguna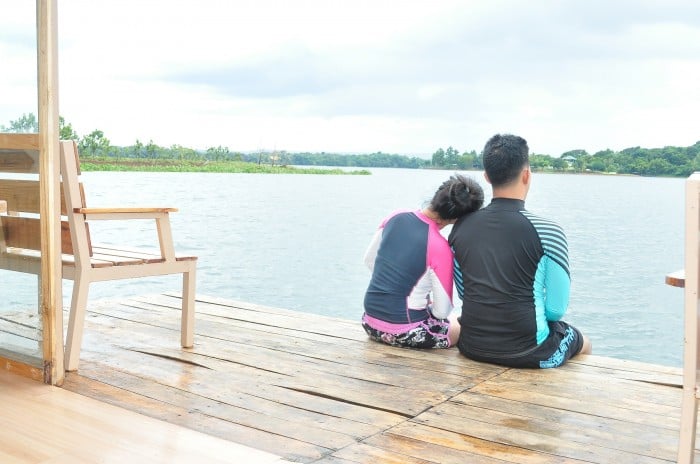 This secret getaway in Laguna is best known for the campsite right by the famous Lake Caliraya. However, if camping is not something for you, you can always try the floating cottage — and wake up to a breathtaking view right beside the someone you love. 😉
The floating cottage costs ₱5,000 per night or you can camp for free and just pay for the ₱80-per-head overnight entrance fee, charged by the barangay.
Also read: Eco Saddle's Floating Cottage: A Secret Retreat Not Too Far from Manila
12. Crystal Beach Resort, Zambales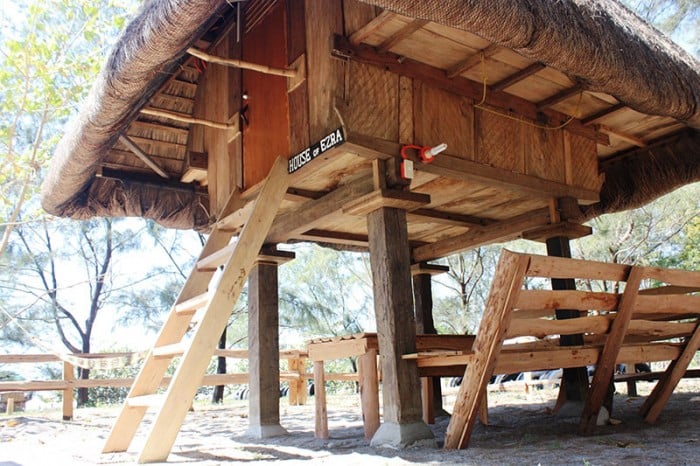 Image credit: Crystal Beach Resort
Surfing and romantic getaways can totally be done together. Just head out to Crystal Beach Resort in Zambales to do just that! The resort offers tree houses and cottages but you can always camp out and share the view of the starry night together. Hammocks are also available for campers.
Rent a tent at the resort for just ₱350 a night or you can bring yours and pay only ₱150.
Also read: How to Spark the Romance When Travelling With Your Partner
Excited yet? Go and head on to any one of these romantic campsites in the Philippines and add more spark to your relationship!