First question that may come to mind when we tell others that we are going to seafood-overloaded Busan is: "What the hell are you guys doing there when you are allergic to seafood?!"

And that is a very good question indeed.
With that in mind, we had planned our itinerary to be short, which was about two days, and we tried to cover most of the tourist attractions around town, which inevitably, as you may guessed, circle around seafood. Tons of them. In fact, Busan is the crowning jewel, the Mecca of seafood, if you ask me.
Jalgachi Market ('Gravel' Market)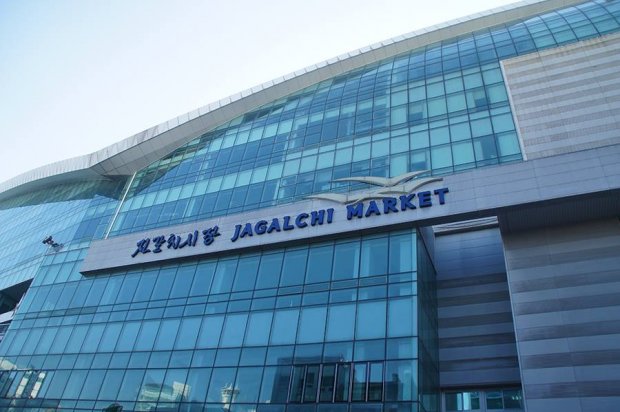 Blessed with the largest seafood market in Korea, the Jalgachi market takes the form of a gigantic looming 7-floor tower with nothing but the rich harvests of the seas, as it lays adjacent to the Busan port. It is here where you can take a subway that is metaphorically packed like a can of sardines.
When the doors open at Jalgachi station, you will see all of the sardines' best friends at sea, with giant octopuses in tow, welcoming you seafood chompers. Lobsters with petrifyingly large claws, and giant snow crabs whose long legs would be very handy as back scratchers; you name it, they have it, ALIVE & kicking.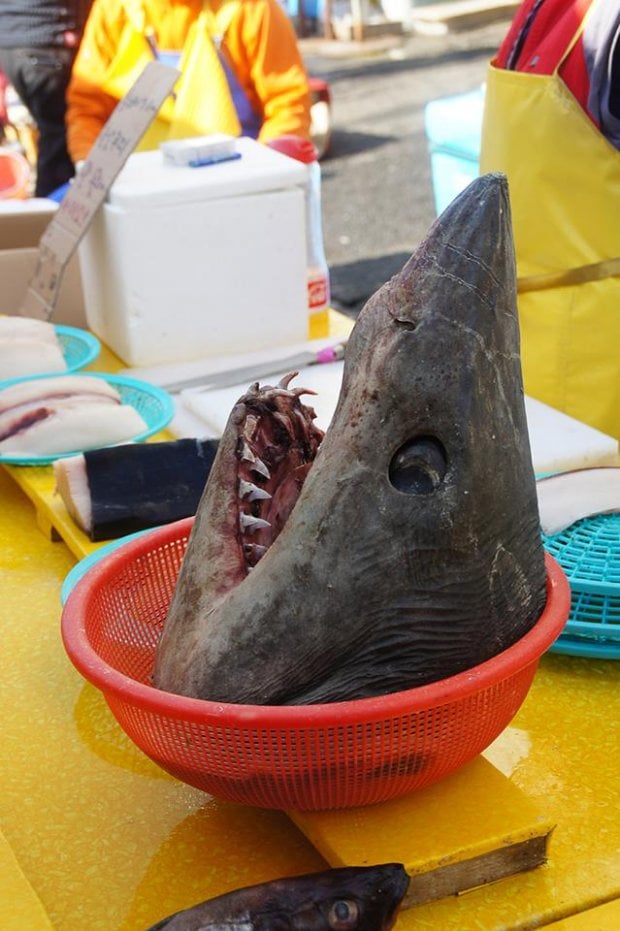 There are some pretty weird stuff too, like the "Penis fish" that wriggle like oversized tapeworms in ice water filled buckets, and is supposedly best eaten raw with a dash of salt and lots of guts. There is also the fearsome fermented stingray, which is apparently one of the top 5 bravest things to shove down your throat in Korea, with its taste being described as a god-forbidding mashup of chewy rubber and vomit.
For non seafood eaters like us, it was truly an eye opener to see so much seafood wriggling around on such a massive area, and it felt like there was no end in sight. Just as we strolled past the port, we saw the ship offloading a gazillion squids onto the cold bare floors of the market, and that was just one of many other seafood that the single shipload has trawled up. The avalanche of seafood that just seems to keep flowing in is simply astounding, and an amazing sight that one should not miss in Busan.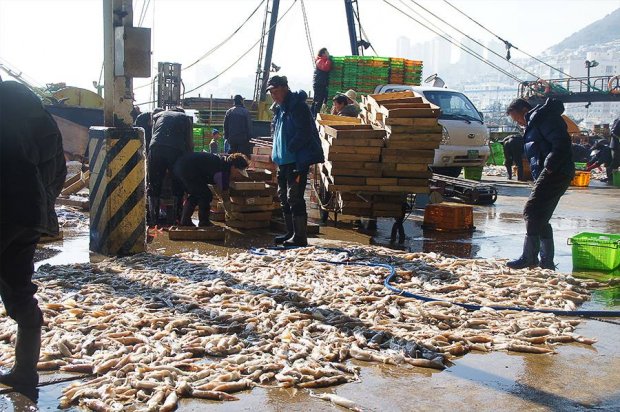 See Food, Sea Food, Everywhere!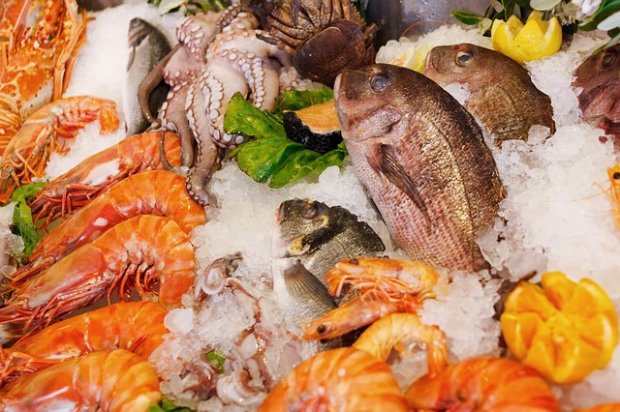 Image credits: http://bit.ly/1leebzE
Of course, the two day itinerary would have been crazy for seafood lovers. Did we mention that Busan has a town area dedicated to cooking all that seafood for you? Yes, that's right, an ENTIRE TOWN (Millak-dong). You could literally eat till you drop, visiting all the different box-like buildings that in turn house all the seafood restaurants at Millak seafood town. It's like the CBD of seafood, if you know what I mean. You'll definitely be spoilt for choice!
We love this idea of intertwining seasonality and diet that the Koreans practise – with each change of seasons, there's a change in the things we can eat. There are different seasons to enjoy different seafood, and for example, winter is great to enjoy puffer fish and yellow tails. Hence, there's something to look forward to with every season's catch!
For non seafood eaters, there's awesome winter food like Habakjuk (pumpkin porridge), pakjuk, chestnut pancakes, dumplings, sweet potatoes, and of course, my favorite, the giant strawberries and soft persimmons of Korea.
Our Amazing Host in Busan
This brings me back to the title of this article. We met so many kind people in Seoul that it was mind blowing. Having visited many cities, we tend to think that developed city folks tend to be colder and focused on minding their own business, but we couldn't be more wrong.
On first impressions, people in Seoul may seem a little rough on the edges, especially if you find yourself getting shoved around in subway stations as crowds patter onto their separate paths after work. But if you ever need help, you can be sure that many of them would pop out of nowhere to extend a helping hand. And it's in the very little, minor things, that made us realised that people are actually watching out for us, even though we may be nothing more to them other than curious wide eyed tourists that can't say anything much other than "kassam hamnidA".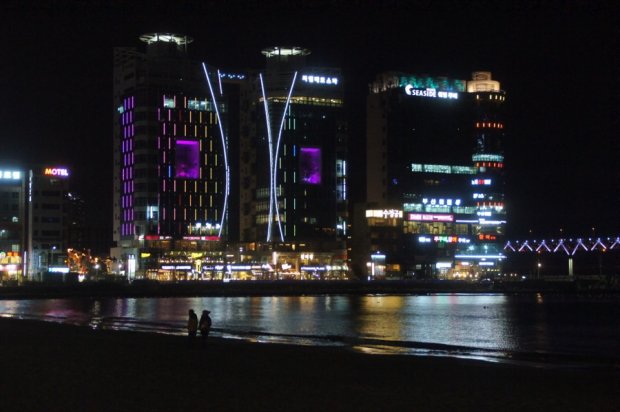 We ate in restaurants and street alleys where there wasn't a single word of English spoken or written, and we would have other patrons coming up to help translate for us, and at other times the restaurant owners would personally come by to communicate with us on what is good to eat, using a smattering of Korean, body language and extensive hand signs. At the end of the day, we do speak the same language of good food, and we know it when we see it.
That said, it was fairly easy to navigate around in Seoul, because a good amount of people speak English, and you can definitely get by without needing too much help. In Busan, there are less signs in English, and it's more of a challenge because we cannot eat seafood and we cannot tell if that delicious looking kimchi stew has a few octopus thrown into it. In any case, people would probably look at us weirdly anyway because we are asking for non-seafood dishes in seafood restaurants? That would have been as ludicrous as asking for chicken rice without chicken, or bak kut teh without the the bak kut.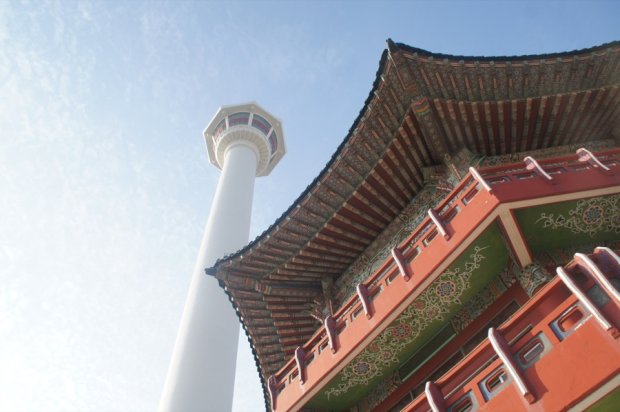 And that's when I met my other "mother" from far, far away. We found Kim while browsing through airbnb , and her house, though a tad far from the famous Haeundae and Gwanganlli beaches, is centrally located at Minam. In fact, her condo is connected to the Minam subway station itself, which makes it super convenient for us to zip around using the subway.
When we met Kim, it's not hard to see why she had garnered so many glowing reviews from her home stay guests. Extremely jovial by nature, her big sunny smile is infectious. Once we reached home, she whipped out a whole platter of beautifully sliced persimmons, oranges and apples in a quick snap of fingers,like magic, to welcome us.
Although her English is not perfect, she made all efforts to interact and is extremely tech savvy – we were introduced to Kakao talk (like Whatsapp) to communicate with her, and even added her on Facebook. There were local newspaper clippings featuring her homestay, where she taught her guests how to appreciate the traditional Korean tea ceremony, as well as culinary lessons on Korean cuisine. In fact, i felt more at home in Busan than anywhere else in the world, because of the attentive care and love she extended to us during our stay.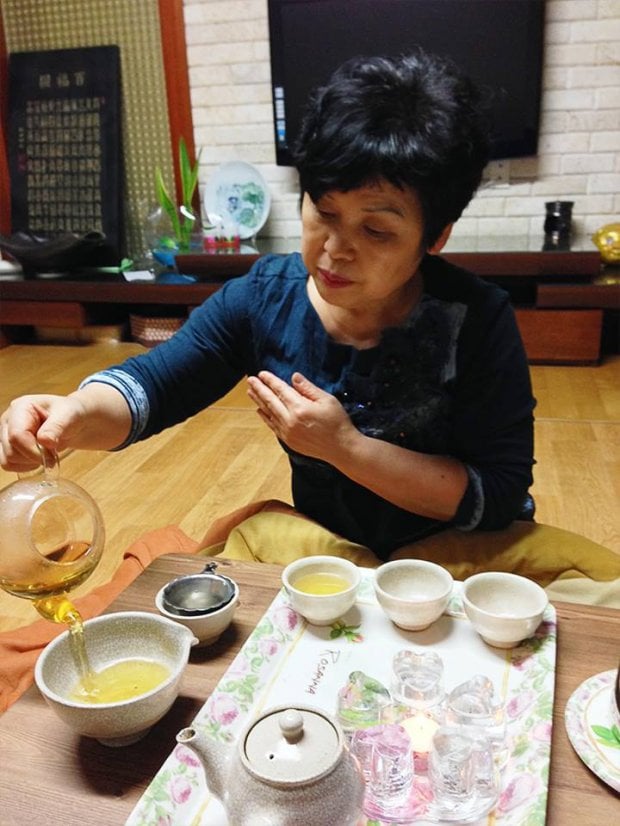 When we returned late at night after wandering around the beaches and watching people set off fireworks near the diamond bridge, we found her busy preparing ginger tea for us to counter the winter chills. The spicy yellow ginger was freshly grinded and boiled with succulent red dates, which was a perfect combination to the side dishes (yes she even prepared side dishes to go with our tea!) such as roasted pine nuts and candied ginger slices (also lovingly hand-made by her).
The next day, after promising to wake up early to help with the cooking of breakfast, we woke up late and rushed out to the kitchen, only to find that she had finished cooking and have even plated the dishes beautifully for us (!!) – It was a lavish spread of hobakjuk (pumpkin porridge), sundubu jiggae (kimchi tofu soup) and a dish that was only accessible to Royalty in the olden times, which required the assembling of burdock & radish strips with a thin radish disc as the popiah skin (eaten as a roll). She probably woke up at 6 in the morning to start preparing breakfast dutifully for her spouse, and then continued to prepare breakfast for us in the later part of the morning. Truly a "爱心早餐" (Love Breakfast)!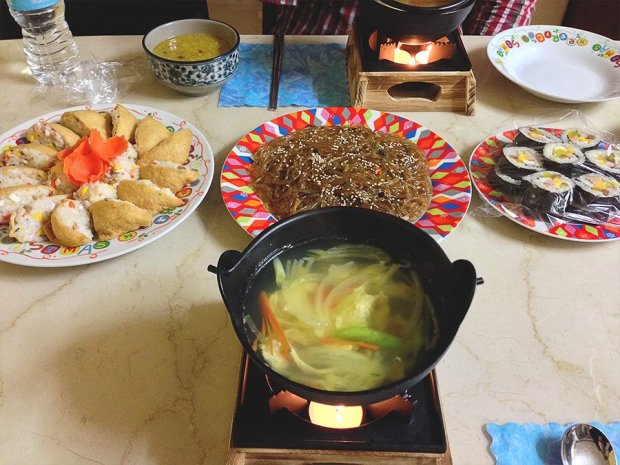 I almost could not get up from my seat after breakfast, as I was really filled to the brim with these goodies. Knowing that we couldn't eat seafood, Kim prepared all the yummy food sans sea creatures, and it was all so delicious! When we said we wanted to learn how to make Korean food, Kim was more than happy to oblige.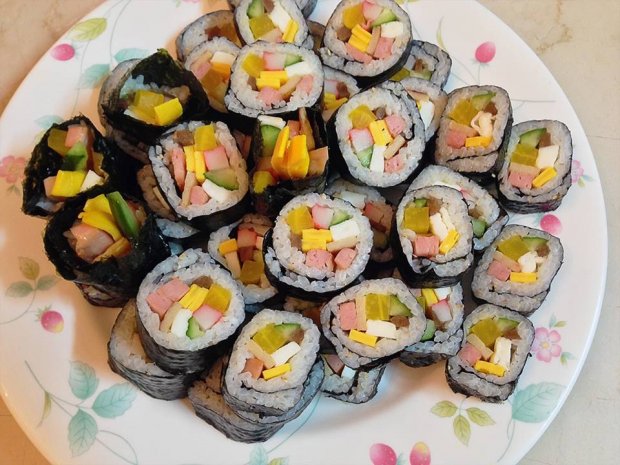 She quickly assembled a customised menu (seafood free, of course) based on our taste preferences, and offered to teach us how to make Gimbap (korean rice rolls), Tteokbokki (Korean Rice Cakes, with the spiciness taken down a notch or two because we are not used to the spiciness) and Oden Soup (Fish cake soup). It was really fun helping her out in the kitchen together with her daughter, and there was this brimming sense of achievement when we ate the yummy gimbap rolls that we assembled by ourselves!
Gender Roles – The Grass Is Greener On The Other Side?
On our last night, we had a great time chatting with Kim and her daughter while learning about the Korean tea ceremony, and even learnt how to tell if a ginseng is good. Kim comes from the hometown of Ginseng (which is also the filming site of the very famous Korean period drama "Dae Jang Geum"), which explains why she is extremely knowledgeable regarding ginsengs! She even makes red ginseng (hong sam) juice herself at home, which requires a very laborious process of repetitively steaming and drying the ginsengs until they turn a dark reddish hue.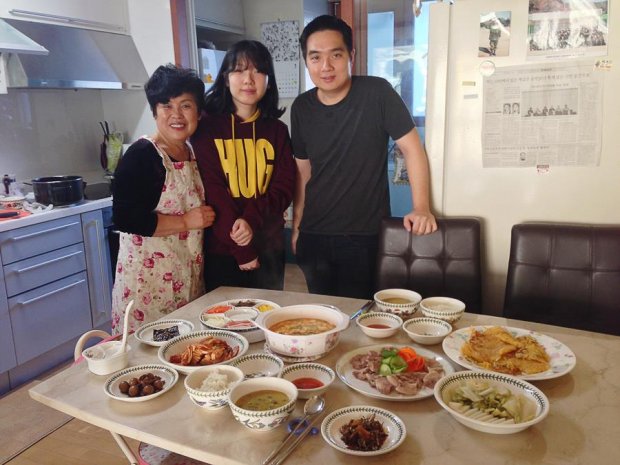 During our casual banter, Kim mentioned that it's very enviable to have guys who are willing to slog it out at home (do housework, cook, clean, etc), as these are traditionally exclusive enclaves for Korean women. Having come from a family where my dad actually is the main cook of the household, and having met Eugene, who wouldn't hesitate to grab an apron to whip up some dishes in a jiffy as well, it is hard for me to envision myself cooking. (I figured at an early age that i was probably going to be a better eater than cook, so why not let the guys have their fun in the kitchen?).
While Kim tends to think nothing much of her role as a home maker, I do think it's a huge personal sacrifice that mothers make in order to stay home and take care of the family – it's no less stressful than a regular day job, and exposes them vulnerable to a situation of financial dependence at the same time. It's a noble cause that deserves no less revere than a successful career, but I guess the grass always seems greener on the other side?
A Motherly Send Off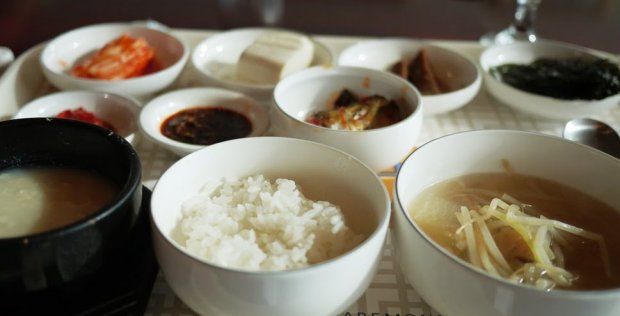 Image credits: http://bit.ly/1rQcfuY
As we had to rush to catch an early morning flight, we had to leave the house pretty early. While we did not expect a breakfast (in fact, we were thinking of grabbing a bite at the airport instead if we are hungry), Kim, in her motherly ways, was already up and busying herself again, preparing yet another opulent breakfast spread just for us. It felt like my own mother was sending me off.
She packed some of the korean snacks and lovingly wrapped boxes of cut persimmons and pears (knowing how much we love fruits) for us to eat in the airport in case we got hungry, though the breakfast spread was more than enough to keep us full till the evening (it was a really big spread!). Along with the snacks, she also wrapped up two craft souvenirs (one of it wrapped intricately in the shape of a hanbok tradtional costume!) to send her best wishes for our safe journey home.
The home stay experience, though really short, is really the best that we have ever had, and would be probably a very tough one to beat for ages to come, because of Kim's selfless generosity in caring for her guests and eagerness to share about Korea's food and cultural traditions.
If anything, Kim was truly the highlight of Busan for us – We learnt so much from her, and she is so humble about her lofty achievements as a most wonderful home maker, home stay guide and a great friend. And for that, she would be good reason to warrant a revisit to Busan, even if we cannot enjoy seafood in the big port city, because it would be like revisiting my mum, from far, far away.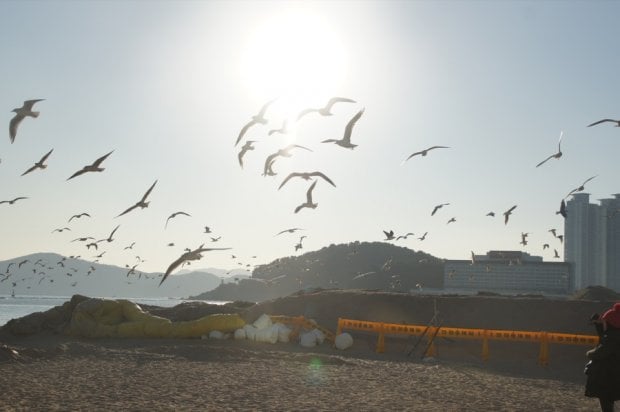 Contributed by Travel.Happy.