There's more to Seoul than just Kimchi; here's a delectable list of Korean cuisines, other than the Kimchi ones, that are downright Seoul good!
Ever since the Hallyu wave swept across the entire world, Korean food become one of the more sought-after cuisines in the world. Yet, whenever we think and discuss about Korean food, most often kimchi seems to appear first thing on our minds.
If you are planning to travel to Seoul, and are interested in Korean dishes but want to discover more than just the typical kimchi ones, you've come to the right place. This non-exhaustive foodmap is designed exclusively for all you wanderlusters who are also a big foodie!
Samgyetang  – Ginseng Chicken Soup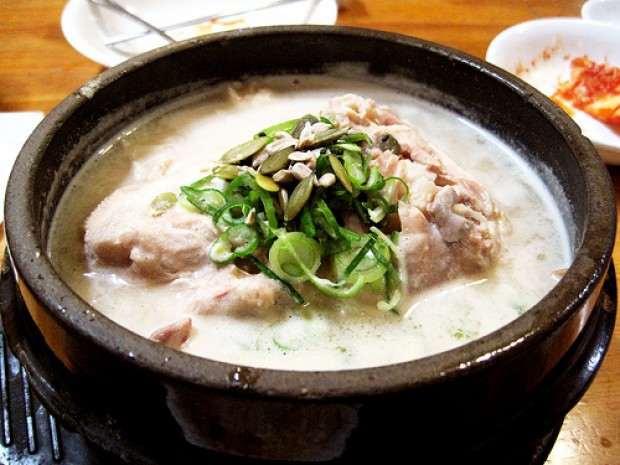 Image Credits: Bionicgrrrl
Without a doubt, Samgyetang is a must-try when in Seoul! With flavorful main ingredients – such as ginseng, chestnuts, Korean dates, jujubes, garlic, an assortment of herbs and glutinous rice – all stuffed into the chicken, Samgyetang is a savory yet very, very nutritious chicken soup. Best to enjoy a bowl of Samgyetang in summer! Check out Tosokchon, situated near the Gyeongbokgung Palace, for the most appetizing Samgyetang ever in Seoul.
Galbijjim – Korean Beef Short Rib Stew

This is all for you meat lovers! This delicious meaty stew is prepared by braising marinated beef short rib, diced potatoes and carrots in ganjang sauce (a Korean soy sauce, made from fermented soybean). In Korea, Galbijjim is usually served on traditional holidays and festive occasions. For a darn good Galbijjim, head to Seochomyeonok in Seocho-dong or Gangnammyeonok in Shinsa-dong.
Naengmyeon – Cold Noodles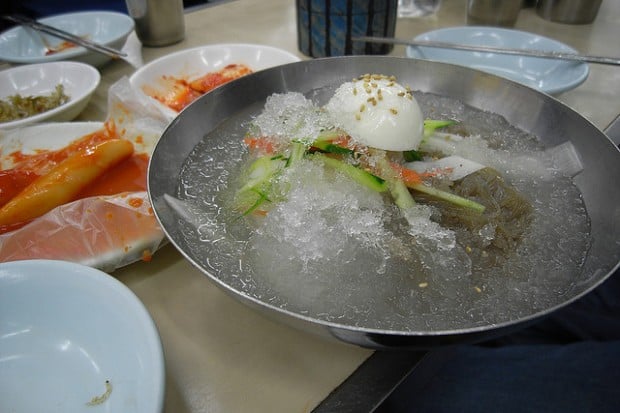 Image Credit: Hirotomo T
It is sweltering hot in Seoul during summer; what can you do to avoid heat exhaustion? Eat Naengmyeon of course – a Korean cold noodle dish! The long and thin noodles are typically handmade, thus giving the dish very homely taste. Experience the wonders of authentic Naengmyeon at these three Ojang-dong Naengmyeon restaurants in Seoul: Ojang-dong Hamheung Naengmyeon, Ojang-dong Heungnamjip and Sinchangmyeonok!
Jjajangmyeon – Black Bean Paste Noodles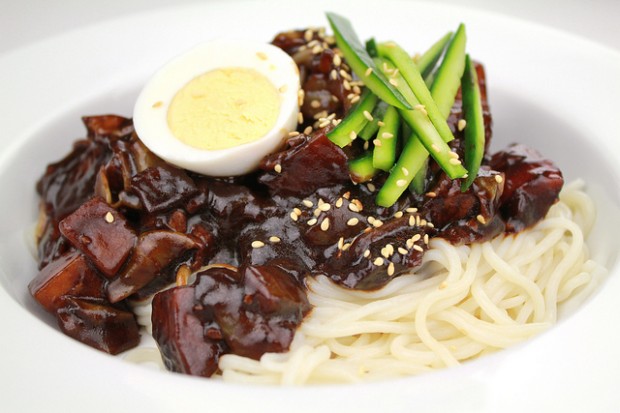 Image Credit: Chloe Lim
Despite having some Chinese influence in its food heritage, Jjajangmyeon (a simple non-fancy noodle dish smeared with thick black soybean paste) is as Korean as you can ever get. It is oh-so-good that you will be wanting more! Jjajangmyeon is everywhere in Seoul; so try both from the street stalls as well as from restaurants to discover the variety of taste and quality of Seoul's Jjajangmyeon.
Also read: Korean-Food Lovers Guide to Where to Eat in Seoul
Korean Traditional Porridge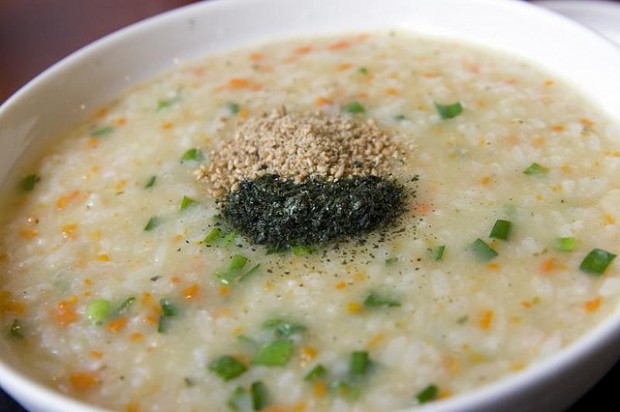 Image Credit: Young Sok Yun
Google 'Korean Traditional Porridge' and most of the search results will direct you to this well-known porridge restaurant in Myeongdong named Bonjuk. Made famous by the top-hit K-drama, Boys Over Flowers, Bonjuk serves a palatable array of different types of porridges – from abalone porridge to beef and mushroom porridge to seaweed porridge to cheese & crabstick porridge and many, many more!
Doenjang Jjigae – Soybean Paste Soup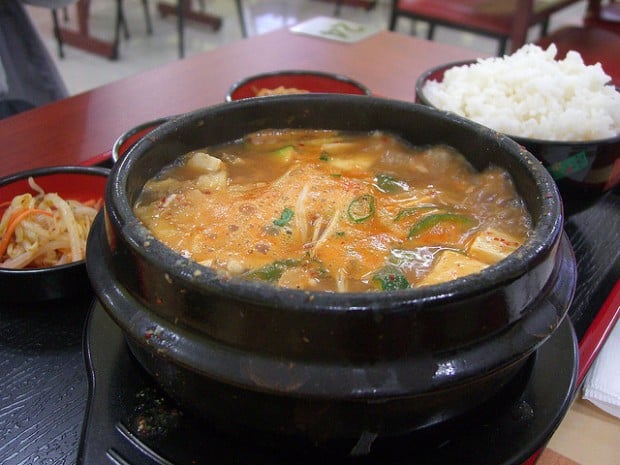 Image Credit: Alpha
Have a bowl of one of Korean's traditional comfort food, Doenjang Jjigae! Generally prepared as a main course or served together with a meat course, Doenjang Jjigae is usually made of a mixture of vegetables and sometimes with tofu, shellfish, small mussels, shrimp, and large anchovies.
Haejangguk – Korean Hangover Soup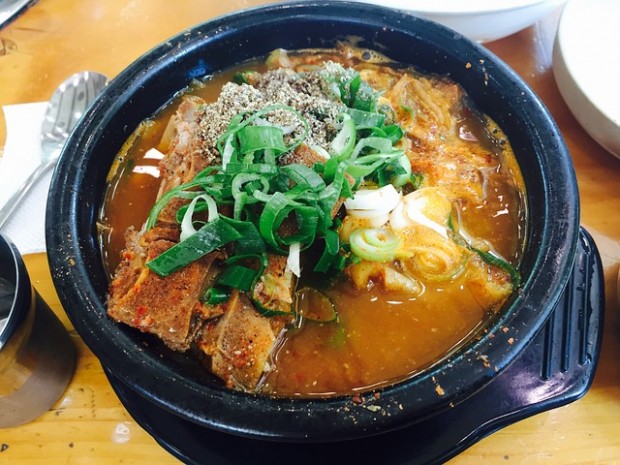 Had too much soju while in Seoul? Get some Haejangguk, literally translated to "a soup to chase a hangover"! This Koreans' favorite hangover remedy is made up of pork spine, coagulated ox blood, dried ugeoji and vegetables in a beef broth. Drink this soup up, get better and head for another round of fun and soju!
Sannakji – Live Octopus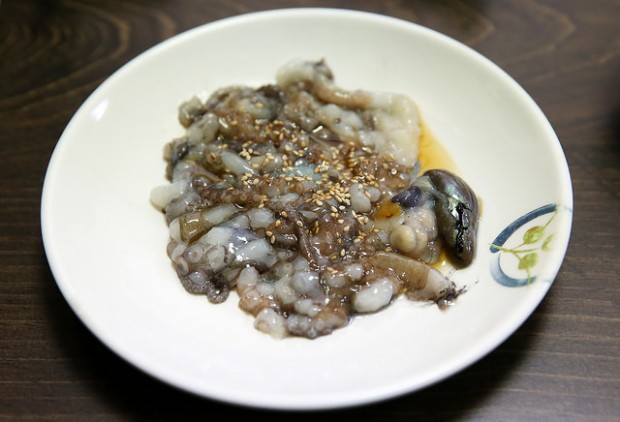 Image credit: The Republic of Korea
For all you dare devil foodies, challenge yourself to try Sannakji. It is a plate of live, moving octopus for you to devour, chew as hard as you can and enjoy! Where to find them? They are almost everywhere in Seoul but you might want to head to Seoul's renowned Noryanjin Fish Market to find this interesting dish. As scary as it may seem, most Koreans find it palatable!
Also read: 24 Fun Things to Do in Seoul on Your Very First Visit
Time to head to Seoul to put your tummy into a gastronomical delight and treat your taste buds to these mouth watering non-kimchi food!