Spring is almost here! It's safe to say that hanami (literally "flower-viewing", associated primarily with cherry blossoms) is Japan's national sport in this beautiful, poetic season.
The cherry blossom flowers that lavishly grace the otherwise mundane streets and parks of Japan conjure romantic sentiments and sighs of awe. Under the clouds of flowers in assorted hues of pink, families, couples, friends and co-workers can be seen relaxing on blue ground sheets, chattering away with bento boxes in one hand and cans of chilled beer in another, simply enjoying the weather, the scenery and the company the flowers helped gather. Part of the reason why hanami is such an elaborate affair in Japan is cherry blossom's ephemeral existence. Lasting for only about two weeks, a cherry blossom's bloom rightly calls for festive celebrations every year (since centuries ago actually!).
It's hard not to fall in love with Japan's quintessential hanami custom. If you're lucky to be visiting Tokyo this spring, this article will hopefully help you get acquainted with some hanami hotspots and teach you how to perhaps experience hanami in a Japanese fashion!
Also Read: Japan's Cherry Blossom Forecast: When & Where to Catch Them?
Where to see sakura (cherry blossoms)?
Saying that you want to see cherry blossoms is easy, but with the multitude of choices you have in Tokyo, choosing a particular spot is not. Here are five locations I like that you might appreciate!
1. Yoyogi Park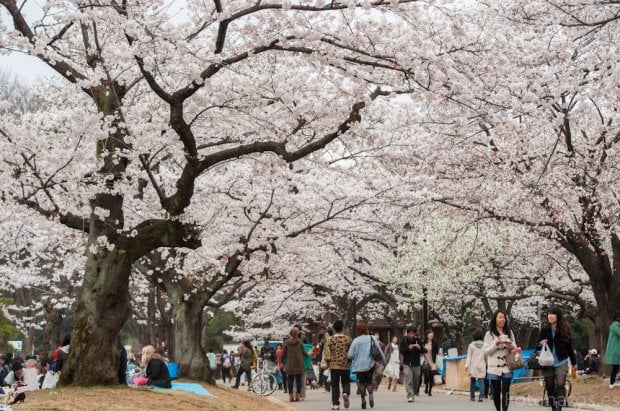 Image credits: Jesús Pérez Pacheco
This park familiar to all resident Tokyoites is a convenient walk from the popular weekend hangout areas of Harajuku and Omotesando. Despite its relatively few number of cherry blossom trees (a humble 600), Yoyogi Park remains as one of Tokyo's most popular locations for families and friends to congregate for hanami. Albeit its notoriety as too congested a park for flower appreciation comfort, devoted Tokyoites return to the park every year without fail to catch glimpses of its magnificent flowers. Who knows – perhaps what beckons them to keep returning is the very fact that the boisterous crowd radiates infectious jubilance that demonstrates the spirit of spring!
Humble food stalls in the park offer seasonal cherry blossom- or sakura-flavoured ice-cream and a type of savoury Japanese snack called sakura-mochi. These are great treats to be included in your picnic basket for a locally-flavoured hanami experience!
2. Chidorigafuchi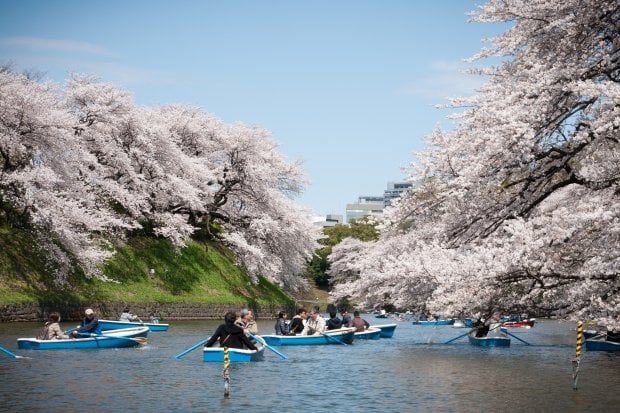 Image credits: Wunkai
The charm of cherry blossom-viewing in Chidorigafuchi lies not only in the fact that the monumental Tokyo Imperial Palace can be observed from certain corners of the park, but also in the moat located at the edge of the palace ground. Encircled densely with a splendid mix of white and pink cherry blossoms, the moat makes an excellent spot for hanami while on a rowboat. Rentals are available for half an hour and an hour. Whether with your friends, family or lover, rowing a boat in a moat is a fresh way of experiencing springtime Tokyo. The hanami season also typically coincides with university graduation, and it is not uncommon to see groups of young kimono-clad Japanese ladies strolling around the moat in jovial spirits after their graduation ceremonies.
3. Meguro River
Along its entire 3.2km stretch, Meguro River is lined with more than 800 tall cherry blossom trees. When the delicate flowers are in full bloom, they envelop the river and create a dream-like landscape for visitors. Take a romantic stroll along the 'sakura promenade' and simply bask in this gorgeous yet transient creation by Mother Nature with your beloved ones! Watch the flower petals dance playfully in the air before falling gracefully onto the river surface when the cool spring wind blows. They gradually accumulate on the river and turn it into a lovely bed of pink before being washed downstream.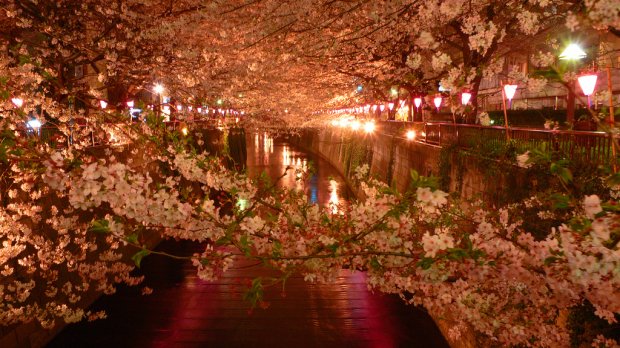 Image credits: saori usuki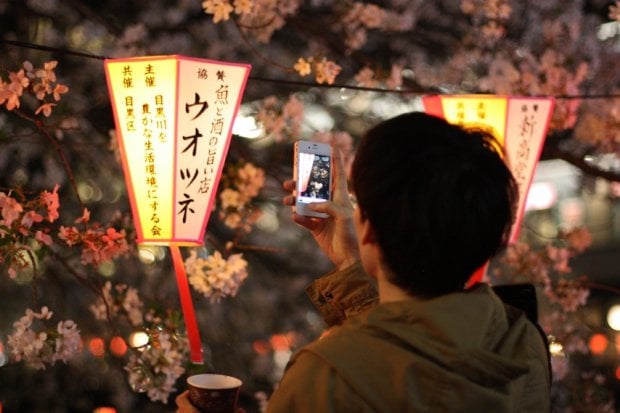 Image credits: Charlotte Marillet
After the sun sets, bright lights and lanterns will be illuminated as part of the Nakameguro Sakura Festival, transforming the riverside into a ravishing scene that is bound to stir up tender emotions. This surreal spectacle is best enjoyed with a warm cup of amaizake, the Japanese sweet sake.
4. Sumida Park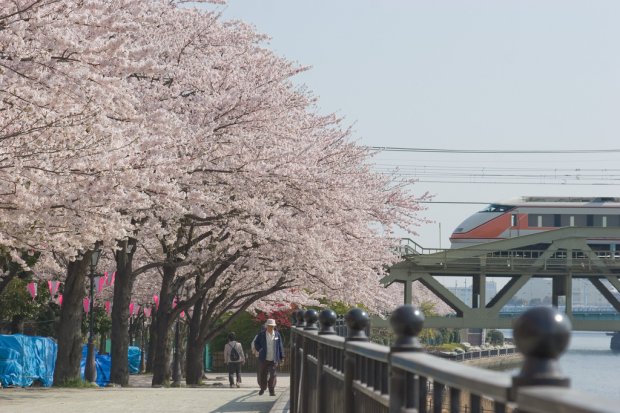 Image credits: Kimon Berlin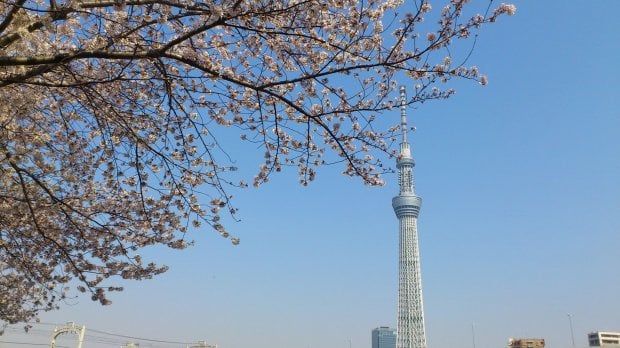 Image credits: tomosuke214 
A stone's throw away from the busy old-school shopping street Nakamise-dori and the popular tourist attraction Sensoji Temple, Sumida Park is a narrow recreational space that lines Sumida River near Asakusa Station. Take a slow stroll along the river from the station and revel in the serene atmosphere made up of cheerful laughter of happy kids and soft chatters of lovers. Arriving at Sakura Bridge, you will be treated to an awe-inspiring view of Tokyo SkyTree hiding not-so-coyly behind the curtain of cherry blossom trees. The view at sunset is particularly breath-taking! Hop on a waterbus down Sumida River for a memorable and impressive sight of Tokyo riverside in its best spring suit.
5. Aoyama Cemetery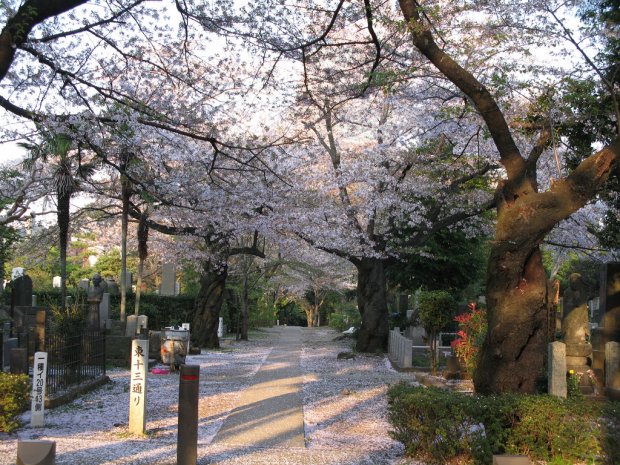 Image credits: mookE 
Sounds morbid yes, but this peaceful cemetery tucked behind high-rise office buildings in the Aoyama vicinity promises a surprisingly invigorating hanami experience. The tranquility of the cemetery offers an ambience that while undeniably strange initially, very captivating once oddity is overcome. As opposed to the previously introduced spots, human presence is rarely observed here, adding to its subtle poignancy. A casual walk through the cemetery has a remarkable calming effect that instantly rejuvenates individuals, especially jaded office workers from nearby workstations. My personal favourite, and definitely one of Tokyo's best kept secrets!
As an unspoken rule, while you are welcomed to picnic, you are not permitted to assemble in large groups and cause excessive commotion at this sacred public cemetery.
How to make the most out of hanami?
Hanami is a great experience regardless of the location, but to bring it up a notch and create an exceptional memory you will hold fondly close to heart, why not have a picnic at one of the parks like the locals?
Preparation for hanami is extremely easy given the immense popularity of the activity. Once you've decided which location you'd like to enjoy cherry blossoms at, there's only one thing that you need to do: go to a convenience store. From massive ground sheets to sit on to disposable cutleries and paper cups, convenience stores are stocked with all the supplies that you need for a legit hanami picnic. Remember to purchase enough food and drinks for everyone! Some of my favourite seasonal hanami snacks include hanami dango and sakura mochi. Don't forget the beer! For an even more tasteful hanami party, hit the food section of department stores such as Takashimaya and Isetan to get your hands on the most aesthetically pleasing bentos you will ever come across. Nothing is more poetic than having authentic Japanese bentos under the cherry blossom trees!
To get a good spot in a park, it is pertinent that you arrive as early as you can to "chope" (reserve) your space. From my past experience, between 6.30am to 7am is a good time. Simply lay your sheets down and start eating whenever you want! You can stay for as long as you want, whether to eat, take pictures, chat or nap. When you're done, don't forget to clean up after yourself. Huge bins are aplenty in the park and they are usually separated into recyclables and non-recyclables. Make sure you look at the signs properly before disposing of your trash!
Reality check!
Yes, cherry-blossom viewing is one of those entries common in our bucket lists that we always dream of. Our stomachs flutter in thrill and excitement at the images of magnificent cherry blossoms that flood our computer screens upon a simple Google search. However, I'll have to break any unrealistic illusions you might have of hanami. Be prepared to fight throngs of people who flock to parks and riversides to catch a glimpse of the cherry blossoms just like you!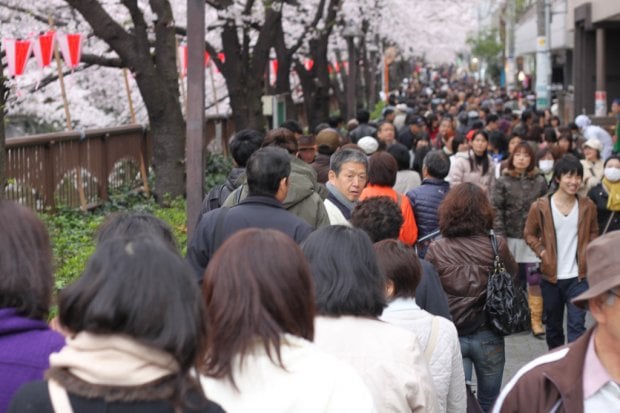 Image credits: tenaciousme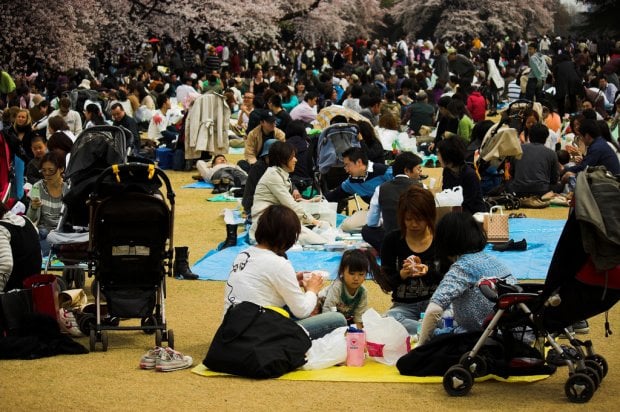 Image credits: Eric Montfort 
To avoid a disappointing trip, I can only suggest that you choose a weekday for your hanami expedition. Don't forget to also check out the latest official cherry blossom forecast to make sure that your trip to Japan is aligned with the dates that cherry blossoms are expected to bloom.
Now, you're good to go to Tokyo!