With this year's Halloween fast approaching, parents can look forward to dressing up their children in a variety of cute little costumes and heading out to enjoy the festivities. Unfortunately, most Halloween events around Singapore aren't exactly catered for the kids. Desperately comforting a bawling toddler after being jump-scared by a lurking ghoul is probably the last thing you'd want on your night out!
Does this scenario sound extremely relatable? Don't worry, because there's a perfect place you can bring your timid children to celebrate this Halloween without the fear of bloody zombies or evil spirits!
A fa-boo-lous night awaits you!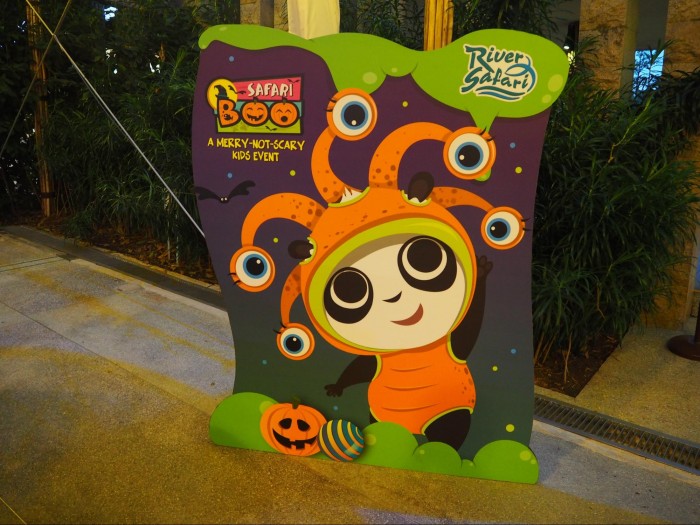 Enter Safari Boo, River Safari's annual Halloween event that takes place exclusively at night! With a different theme every year, Safari Boo aims to bring a merry-not-scary Halloween experience for the young ones. By cleverly combining fun facts of their animal exhibitions with the event festivities, your kid might learn a useful thing or two about the animal kingdom as well!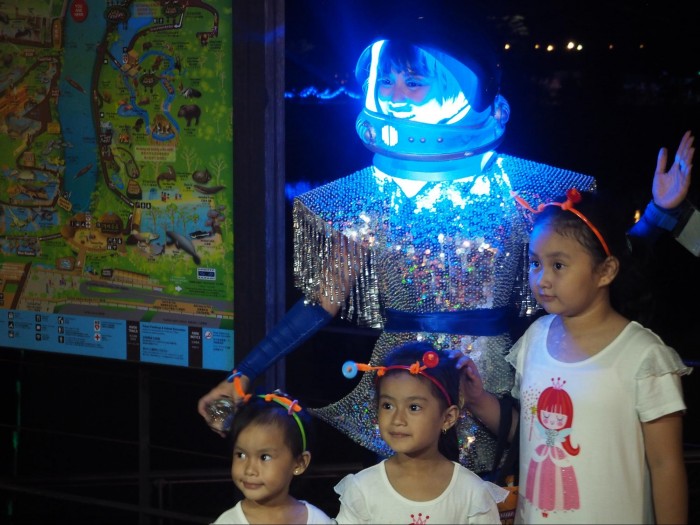 Running for the third time, this year's theme revolves around Aliens and Monsters! The usual animal exhibits are now populated with marooned extraterrestrials, after an unfortunate crash landing with their spaceship. Don't be afraid, however, as they're super friendly to anybody they come across. Your children will especially love posing next to these strange wonderful visitors for memorable photos!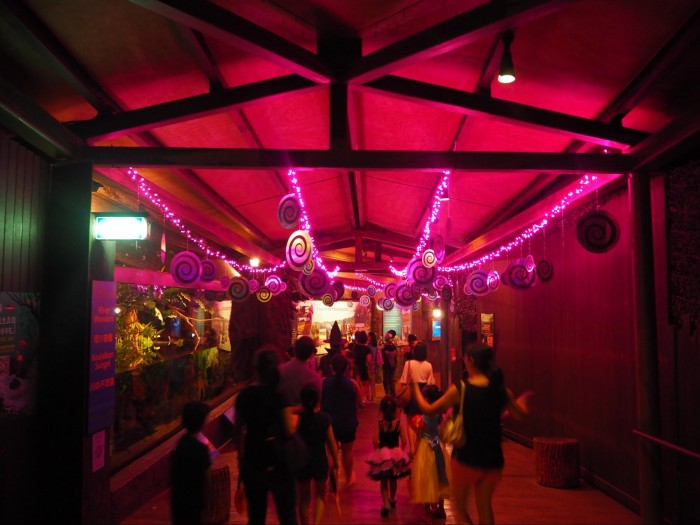 The entire River Safari has also undergone changes to make their new alien guests feel at home, with colourful lighting and spooky decorations scattered across the wildlife reserve. The rivers and forests take on a beautiful, otherworldly glow in the night as you navigate through the park.
More treats, less tricks!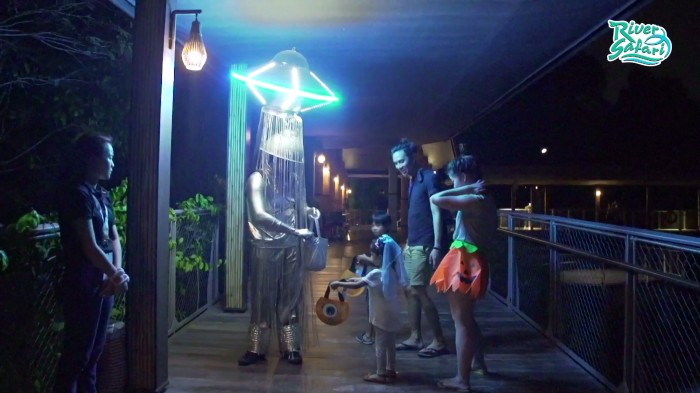 Young visitors to Safari Boo will be given trick or treat bags, where they can go up to these mascots and request for some delicious candy. If you're a parent with a sweet tooth, don't feel shy on trying your luck for some confections for yourself! As long as they have a surplus, and if you smile sweetly enough, they'll be more than happy to spare a few for your cravings.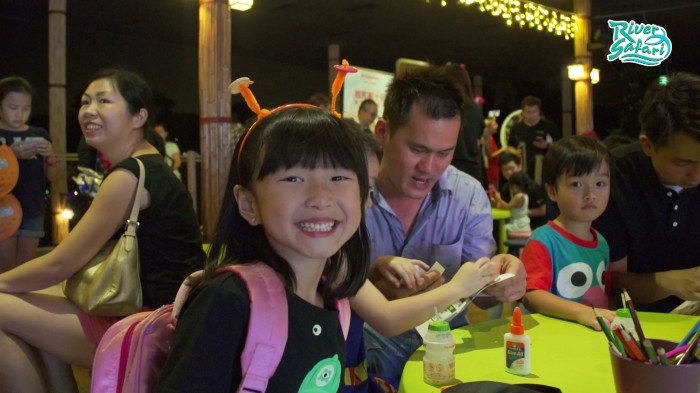 There are Vitagen booths set up at various locations as well, where they hand out free Vitagen drinks to passersby. Perfect for the child looking for a thirst-quenching respite in the midst of their adventures in the Safari!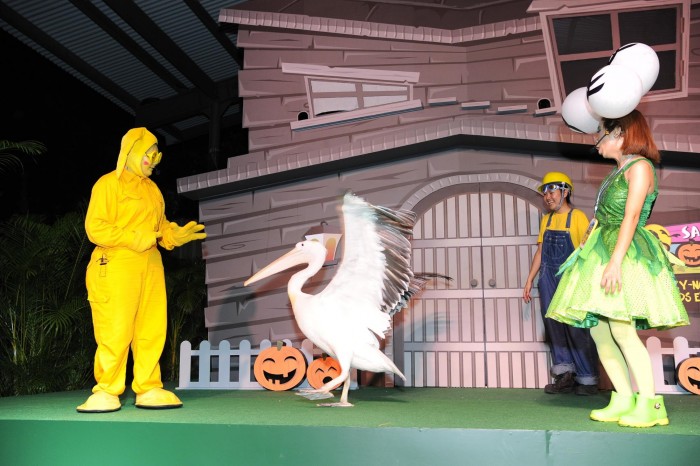 Party it up with mythical creatures!
Safari Boo also features plenty of other activities and highlights, including Monster Boo!, a lively performance where the mascots go against evil Professor V and his dastardly plans to take over the River Safari. Viewers can join in the interactive show and even get to see the live animals doing their own part to save their precious home!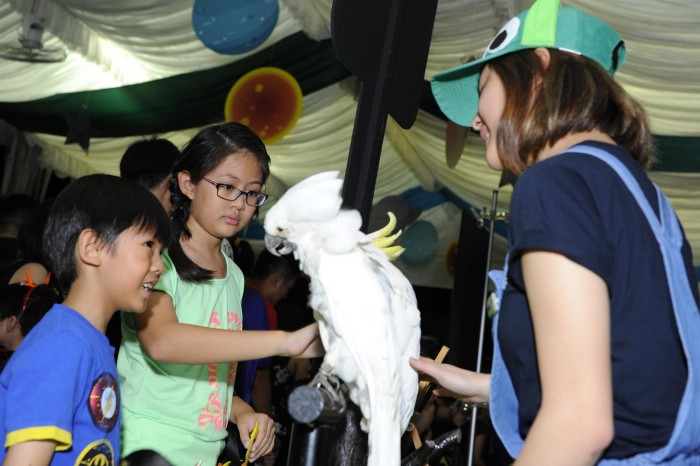 If you're looking to get some hands-on experience, then drop down by one of the various activity booths around the Safari! Visitors can learn about invasive animal species and how they impact the native wildlife, or try their hand at the game booths for a chance to win fabulous prizes!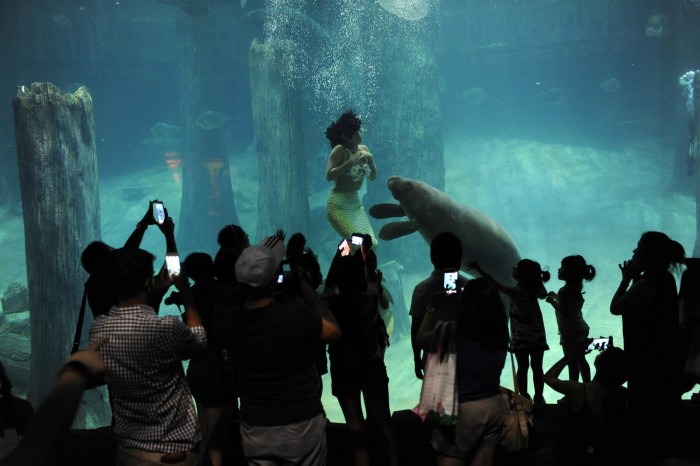 Make sure to hang around a little longer, though, as you might miss the star attraction of the night! At 7.45pm, 8.45pm and 9.45pm, the Amazon Flooded Forest exhibit will play host to a live underwater performance of graceful mermaids who will dive and tease the gathered spectators with their playful antics. Even the nearby manatees will occasionally tag along in the  choreography, making the exciting show more entertaining!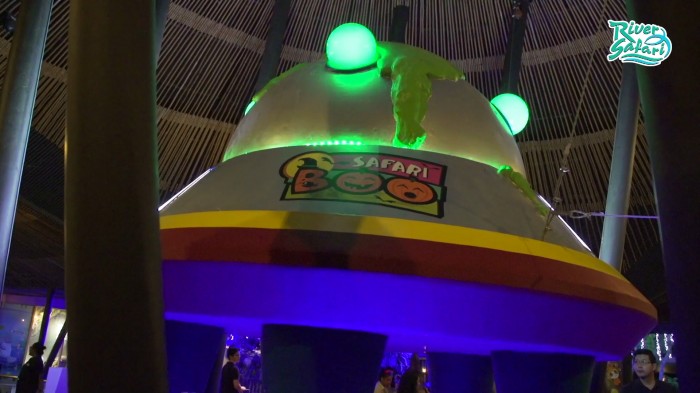 Whether it's for the wildlife exhibits, the Halloween specials or just tasty sweets, there's something for every child to experience and enjoy at this year's Safari Boo. However, if you're intending for a visit, you'd better act fast as the event only runs on the weekends for this October. Book your tickets now, lest the aliens fix their spaceship and return to their home world!