Famous worldwide for its delicious waffles and chocolates, Belgium is a compact multi-cultural nation nestled in the centre of Western Europe. It effortlessly blends history with the future through the juxtaposition of numerous majestic castles and hipster cafes that line quaint streets.
Take the tram across the city and be amazed by the changing cityscapes. From opulent infrastructures to rundown streets, Brussels is a mix of anything under the sun. At the heart of these cultural flurries is Brussels' medieval core where the Grand-Place stands proud. For the more adventurous, explore the streets on foot and avoid having your plans delayed by traffic.
It is not only the excessiveness of things that make Brussels a great city. The beauty also lies in its simplicity – the citizens' humorous, yet inexpressive, perception of life. Here are ten reasons why you should make a trip to this amazing city!
1. La Grand-Place is Brussels' introduction to its majestic facade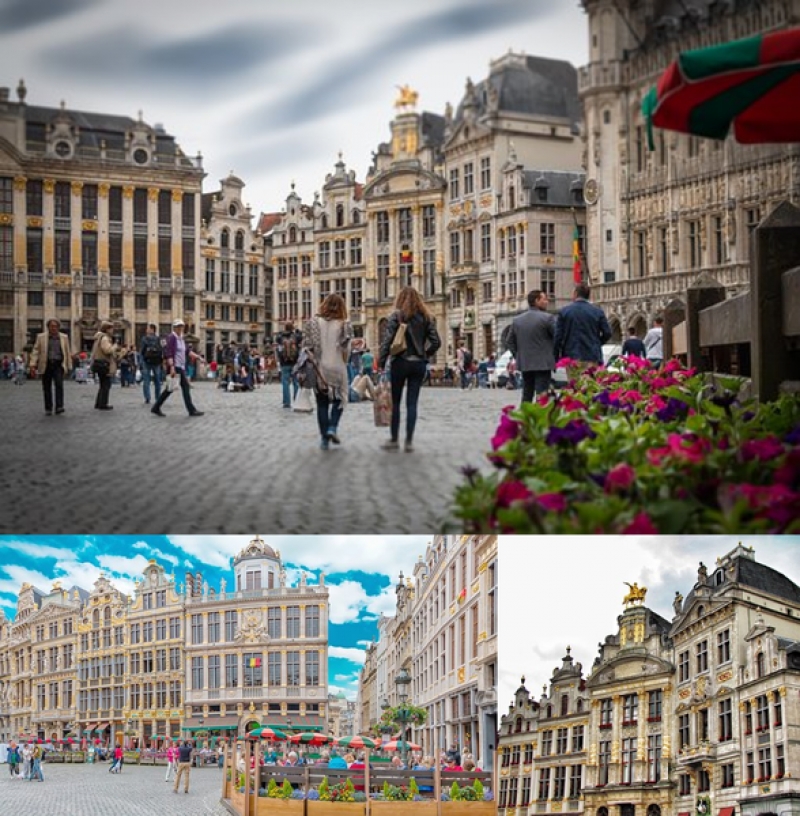 Renowned for its intricate architecture and aesthetic design, the La Grand-Place is the heart of Brussels. Standing in the middle of the square, historic buildings greet you from every direction, including the City Hall, the Maison du Roi, and guild houses. In 1998, the La Grand-Place was included in the UNESCO World Heritage list, enhancing its reputation as one of the most beautiful and historically significant places in the world.
The La Grand-Place sure lives up to its name – exhibiting grandeur in every sense of the word. However, it also played a dark role in Brussels' history. In the 16th and 17th centuries, hundreds of people were executed for various reasons in the square, including witches being burned and rebels decapitated. Today, that history is far hidden in the dark shadows of Brussels and truly one of the most breathtaking sights in the city. Be sure not to miss this beauty!
2. Brussels' answer to France's Eiffel Tower is pretty cool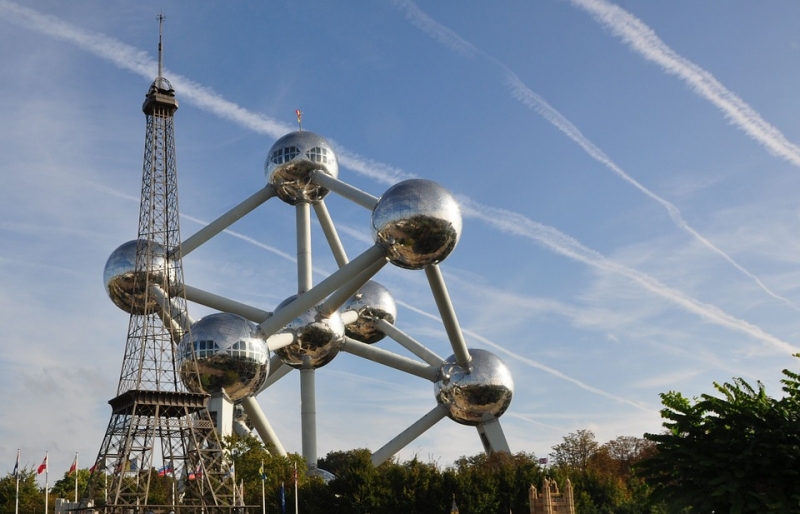 Just like the Eiffel Tower in France, the Atomium was never intended as a permanent installation and built only for the Brussels World's Fair in 1958. However, many Belgians wanted the giant structure to stay. 60 years later, the Atomium is one of Brussels' most recognizable landmarks and one you cannot afford to miss!
Fun fact: Magnify an iron crystal 165 billion times and the Atomium is what you get! Inside, you can catch a permanent exhibition about the world's fair and the Atomium itself. Temporary exhibitions are also held annually! At the top sphere, enjoy panoramic views of Brussels and try to spot Antwerp using the telescopes available.
To make your visit more enjoyable, visit the Atomium between 12-2pm and 4-6pm when it's less crowded. It is located just a five-minute walk from the Heysel/Heizel metro station (Line 6) and opposite another main attraction, the Mini-Europe.
3. It is totally possible to explore Europe in a few short hours
Want to explore Europe in a few short hours? Then Mini Europe is for you. Only a stone's throw from the Atomium, make a visit to this park for a truly unique experience! Packed with some 350 models and sites, Mini Europe boasts an unparalleled level of craftsmanship. Though these famous buildings have been reduced to miniature replicas, no attention has been spared when creating them. For example, the miniature of Spain's Cathedral of Santiago de Compostela took a whopping 24,000 hours to build! Meanwhile, the Grand-Place of Brussels cost €350,000 (~ S$550,000) to finish.
Enjoy a quiet walk in the beautiful old towns of Europe while listening to the chimes of Big Ben! But don't miss out on discovering the charms of beautiful Venice right by the corner. There is also a new interactive exhibition called the "Spirit of Europe", which shares information about the European Union via multimedia games!
4. You will be amazed by how grand the Cinquantenaire really is

Your time in Brussels will not be complete without a visit to the Cinquantenaire, built in 1880 to commemorate the 50th anniversary of Belgian independence. With vast gardens, monuments and museums, there is something for everyone here. Numerous activities such as firework displays, concerts, and sports gatherings are held at the park annually.
There's also a surprise for those who know where to look! As you enter the Military Museum found in the park, enter the white door on your right. Purchase a ticket and follow the few stairs up to the left and make your way all the way to the top of the arch! There, you will be treated to great panoramic views of the city for as long as you wish. Not many people know about this "secret passage", so be sure to spread the word around. You're welcome!
5. You will have a good laugh when taking selfies with iconic statues

Possibly the most symbolic representation of Brussels' rebellious spirit, the Manneken Pis was at first a fountain that played a vital role in the former distribution of potable water since the 15th century. Also known as "little Julian", the statue has now become a legendary figure, with flocks of tourists coming from all over the world to take a selfie with him. While he is often naked, don't assume that he has no style. This little fellow has a wardrobe consisting of more than 800 costumes!
Catch him don luxurious costumes during big events and experience the icon of Brussels folklore for yourself! What better way to celebrate the ability of locals to enjoy self-mockery than make a world-famous pissing statue to symbolize it? In 1987, Manneken Pis was joined by a female version, the peeing girl called Jeanneke Pis! While these statues are made of bronze, it can be said that the Belgian sense of humour is almost… gold.
6. Brussels is a comic book lover's dream come true
Walk the streets of Brussels and you'll quickly learn how much locals love comic strips. So much so that these comic heroes have space not only in the hearts of Belgians but also on the walls and gables of the city.
To continue your comic hunt, don't forget to stop by the famous Comics Art Museum which has celebrated comic artists for more than two decades. Permanent exhibitions are regularly renewed and the museum boasts a diversified programme of temporary exhibitions. Explore a world with no creative limits and let Tintin and Smurfs lead the way into a whole new world of creativity!
7. You'll enjoy the colours and tranquillity of the Sonian Forest
Escape the bustle of Brussels and find yourself mesmerised by a cathedral of some two-century-old beech trees, oak trees and native species that make it Brussels' main oxygen tank. Some activities that you can consider include cycling and fishing as there are three big fishing lakes enough to keep your hopes of catching something up!

Various animals such as bats and deer, reptiles and beautiful birds call this forest home. Enjoy a quiet stroll here, and let Mother Nature take you on a journey away from the city. If you're a fan of nature, the huge range of plants, flowers, and even mushrooms will sure be something you might want to observe and enjoy!
8. Discover Europe's political world at the Parlamentarium
There is no better place to delve into a whole new world of European politics than Brussels' Parlamentarium, which is the region's largest European Union visitor centre. You will be accompanied by handheld multimedia guides to the heart of the European Parliament and gain knowledge on important issues such as European integration, parliament works and current challenges faced by union members.
It can be experienced in any of the European Union's 24 official languages and is highly dynamic, especially with interactive designs available. The best part? Admission is free of charge and opens seven days a week. A visit typically lasts 1.5 hours. Don't miss your chance to expand your knowledge on the European Union and save some bucks at the same time, what a sweet deal!
9. You'll get to invigorate your senses at the Botanical Garden
Tired from a day of exploring the sights and sounds of Brussels? Don't worry, here's a simple solution for your aching body! The Botanical Gardens of Brussels is a great place to relax and invigorate your senses. Interestingly, the amazing terraced site is an apt representation of the city's multicultural personality. From its English-style facade to the French baroque buildings – complete with a rotunda – the botanic garden is a delight for those who wish to spend a day just calming their minds.
The Botanical Garden is currently an urban park snuggled in the middle of Brussels' northern quarter. The garden contributes actively to plant conservation and partners many national and international conservation organisations in its efforts! With the largest herbarium in the world, it is no surprise that this garden is renowned to be a centre of excellence for tropical and European botany research.
10. Move aside waffles and chocolates. Hello, frites!
The food experience in Brussels is not complete if you've not had the famous Belgian waffles, chocolates and… fries (frites). The frites are made by double-frying thick-cut (the most important part of this recipe), soft Belgian potatoes, and is easily the cousin to paltry American-style fries. Once it's ready, the frites will be served in a paper cone with ketchup and mayonnaise, a combination so deadly, you'd be begging for more!
These are no ordinary fries – they're properly executed and done to perfection. The ones that have been fried, dried and then carefully fried again are an addictive burst of textures: a crunchy, non-greasy crust surrounding soft, fluffy potato flesh. Give it a generous dip into those flavourful sauces and put your taste buds to work.
Are you convinced? With so many reasons to visit Brussels, you'll understand why this is one of Europe's most exciting cities. More than just sweet treats, Brussels will definitely win your hearts through the beauty of its contrasting architecture and friendly locals. You'll love it a waffle lot!