Contributed by Tiger Wanders
Belgium is not just about Brussels nor Bruges or chocolates and waffles. This tiny country has lots to offer. The undiscovered city of Ghent is rich in history and architectural wonders. The medieval city is well preserved – from churches, buildings and houses.
Also read: How I Did My Dream Europe Trip for Less than ₱100,000 (All-In)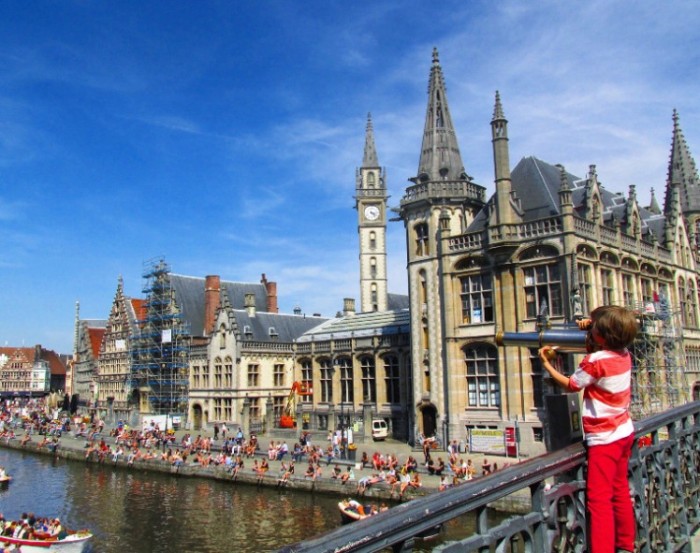 St. Michael's Bridge
One month before my Europe trip, there was a bomb attack in Brussels, Belgium. Some friends discouraged me from visiting this country but I was keen to discover its beauty so the heartbreaking incident didn't stop me from exploring the little patch of land in Western Europe.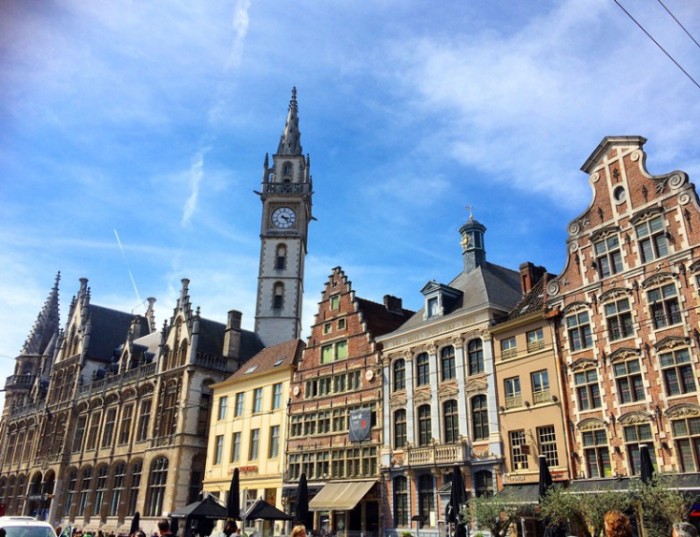 Korenmarkt
A number of police greeted me at Brussels airport and somehow, I felt more secured than scared. I took my bag from the carousel and hurriedly went to the bus station just outside the airport, but missed the bus ride by 5 minutes so I waited for 2.45 hours for the next trip. Disappointed, I just ate dinner and read a book to pass the time.
Also read: Belgium Travel Guide: What You Need to Know Before You Visit
The bus arrived and I sat by the window seat. The windmills and sunset beneath the towering trees entertained me for a while and then I finally snoozed. The next thing I know, I was in Ghent already. Still sleepy, I rode a tram and forgot to buy a ticket so I asked a passenger in front of me how to pay for the ride. He said I could buy an SMS ticket (but I have no load) or go to the driver and hand over the payment. The beau said that I should just stay seated and thank Belgium quietly for the free ride. Another passenger agreed to his suggestion so I obeyed and arrived at Korenmarkt for free!🙂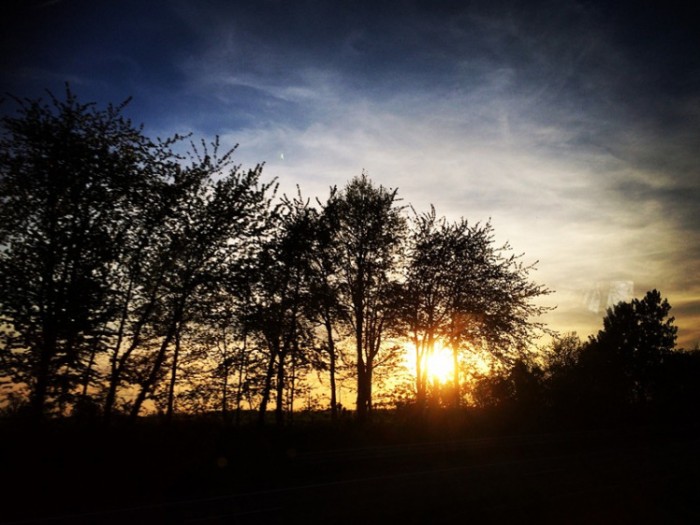 I alighted the tram and heard Backstreet Boys' Everybody song playing from afar. Wow! I never thought that my favourite boy band would welcome me here! I learned from my host that there's a food truck festival near St. Nicholas Church. I wanted to go and see the night life but the cosy mattress next to the fireplace was very inviting so I stayed at "home" and rest.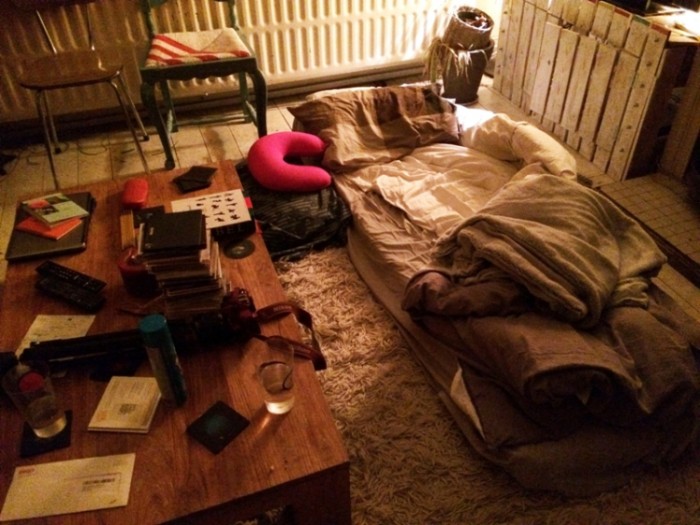 The rays of sun greeted me the next day. I started exploring Ghent where every street is charming; I couldn't stop walking to see more of its beauty. The medieval city looked like a big museum; every corner is fascinating.
I visited Gravensteen Castle first thinking that it will be flocked by tourists in the afternoon. Surprisingly, there was no queue so I was able to enter the fortress without sweat.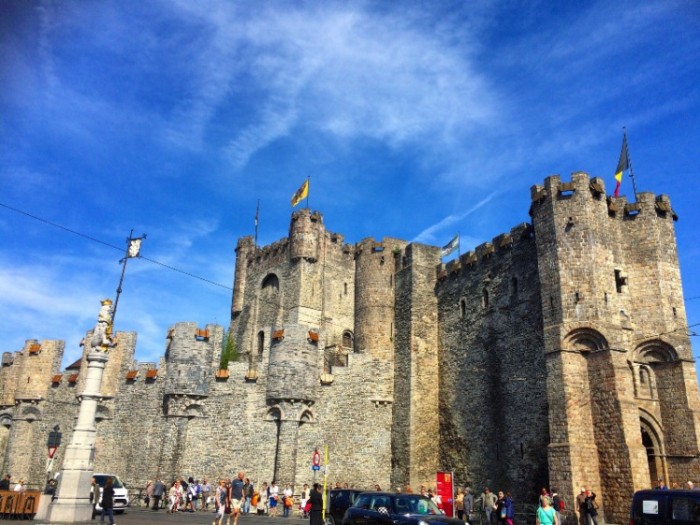 People often associate castles with Kings and Queens, fairy tales or Disney princesses. Gravensteen though is not that at all. The Castle of the Counts has a museum where collections of arms and judicial objects are displayed. Medieval weapons, instruments used for corporal punishments like thumb screws, torture wheel, guillotine, etc. are exhibited.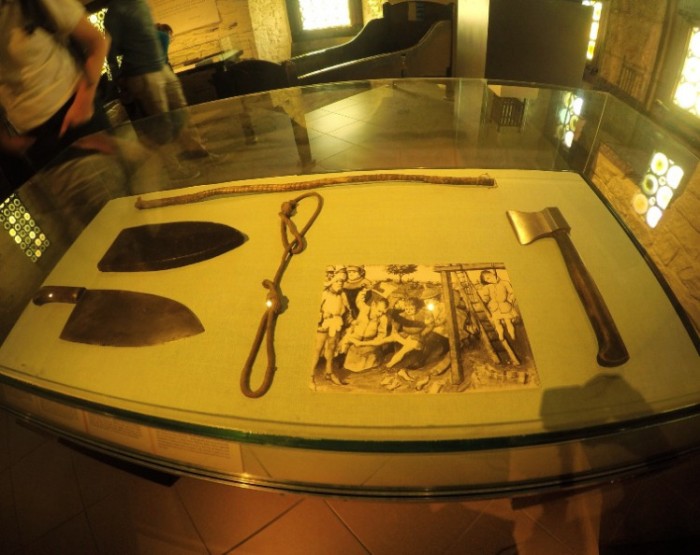 Tools of Jean Guillaume Hannoff, the last executioner of Ghent from 1818 to 1866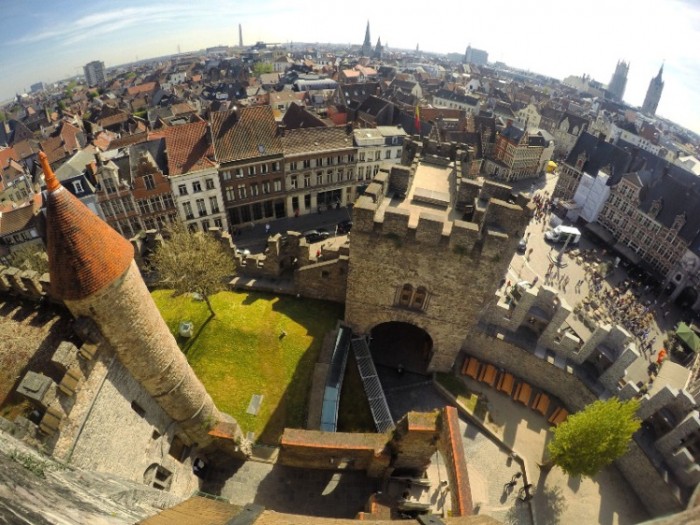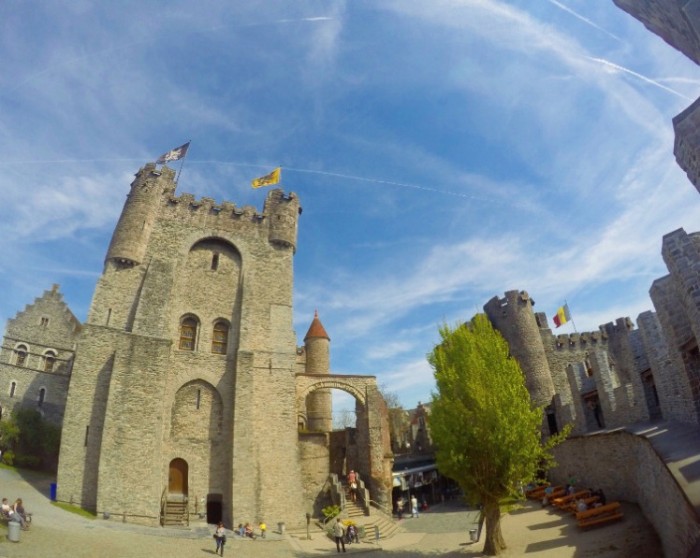 You can also see Sint-Veerleplein from the top of the castle. The square used to be a court place for criminals during the 14th-18th century.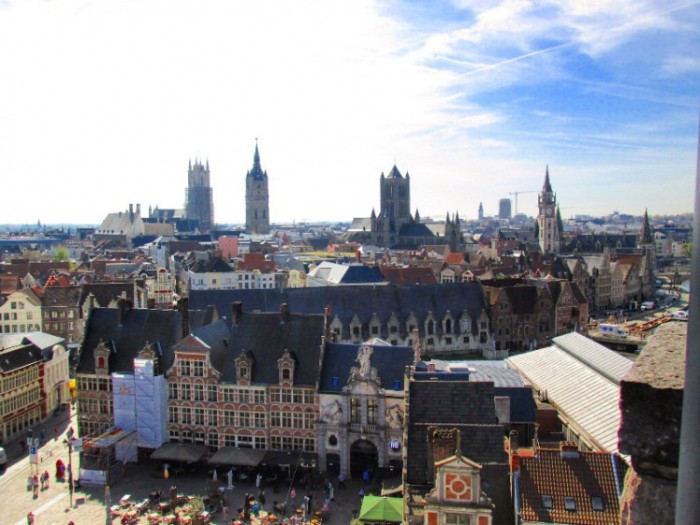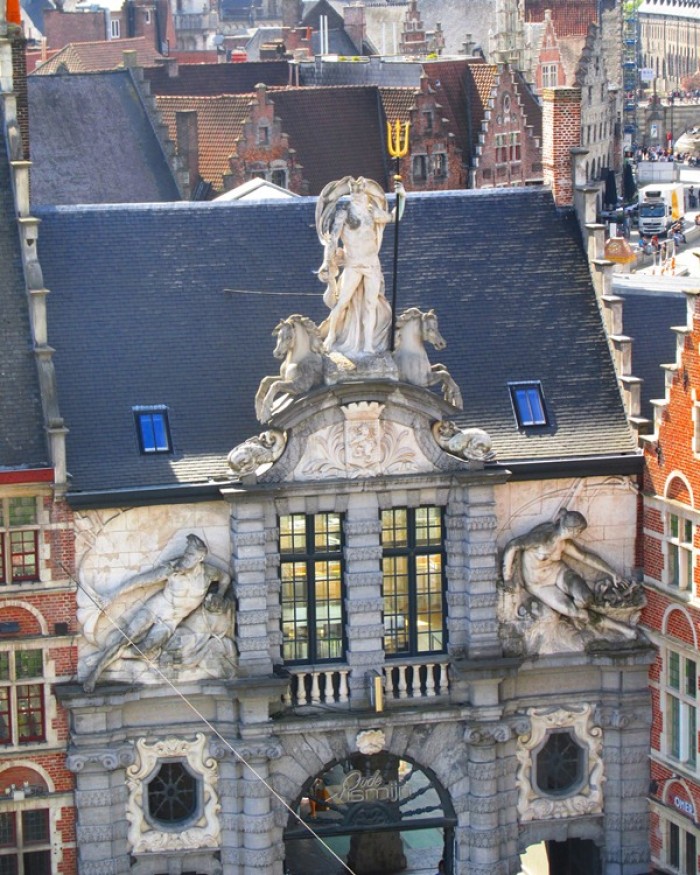 The baroque building illustrates Neptune watching over Schelde and Leie
After feeding myself with Belgium's history, I went to St. Nicholas Church (Sint-Niklaaskerk) to meet my host. This Gothic church is so huge and has a park behind it. It's amazing to see a lot of people hanging out in the sun.
My host finally arrived and he took me to Uncle Babe's at Sluizekenstraat for lunch. The burger is so juicy and onion rings are so big and tasty.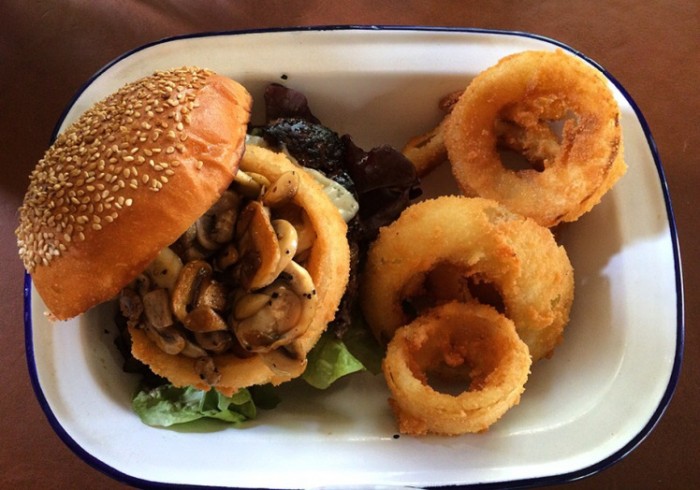 Energised after the superb meal, we walked out the resto and agreed to meet at dinner time. I walked aimlessly in the streets of Ghent and ended at Werregarenstraat. Anyone can express their creativity in this unique alley that constantly changes. Artists can cover an old painting in a week or so. Graffiti Street lessened vandalism in Ghent.
I passed by Vrijdagsmarkt (Friday Market) where the statue of Ghent's/Belgium's hero, Jacob Van Artevelde rest in the centre of the square. This is another place where executions and public meetings were held during 14th-18th century.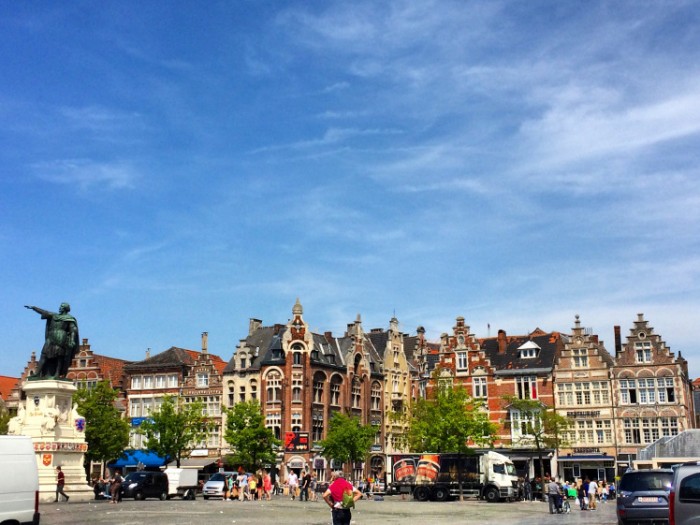 A few minutes away from Vridjmarkt is St. James Church (Sint-Jacobskerk). The beautiful landmark is made up of different styles from Romanesque to Gothic.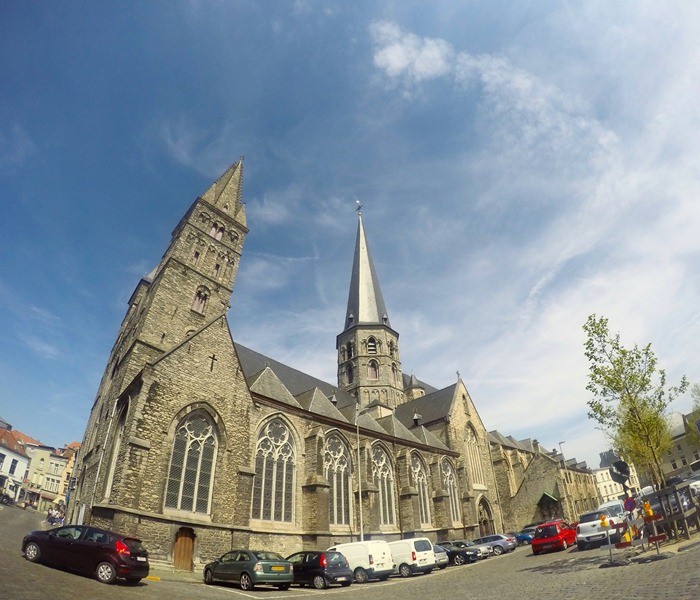 Stadhuis or the city hall is like two buildings in one! The grandiose structure has 2 styles- Gothic and renaissance.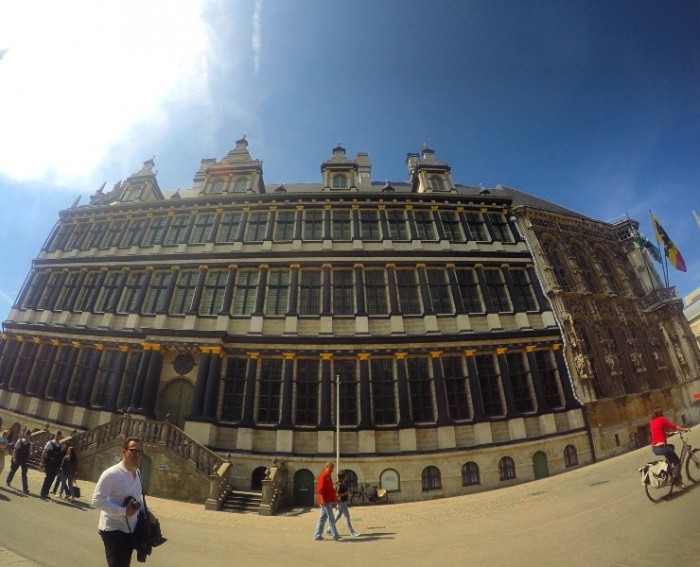 Renaissance side of Stadhuis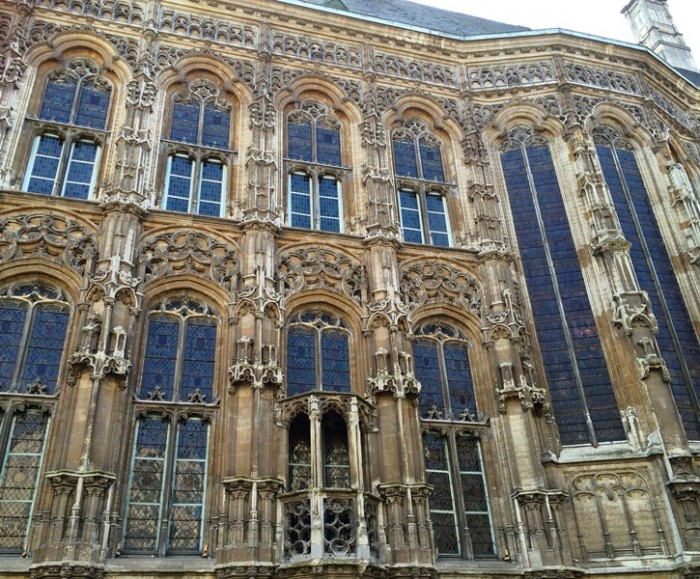 Gothic side of Stadhuis
The gothic Little Tower (Toreken) has a mermaid on top named Melusine.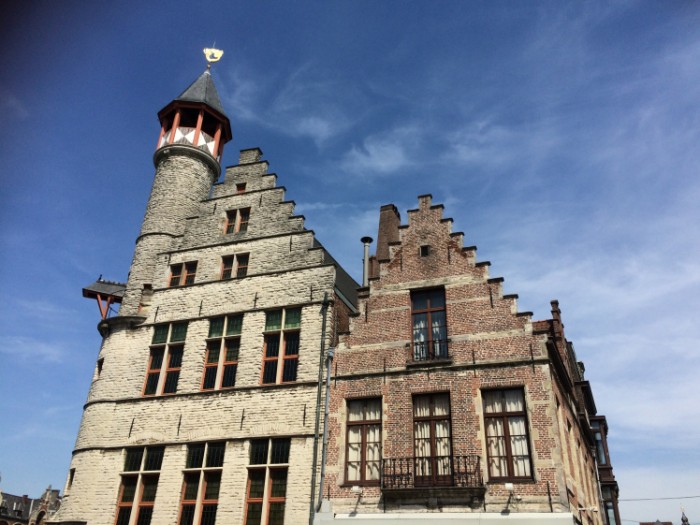 Hof van Rijhove has a unique architecture. It was a castle during the 14th century.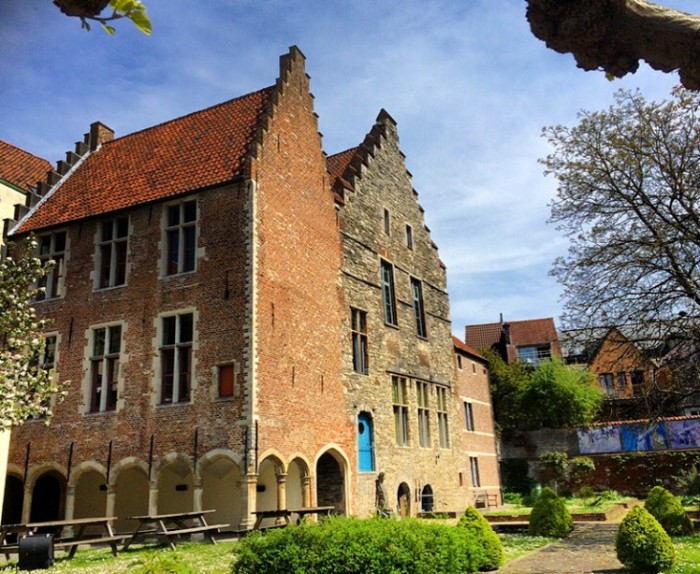 Masons' Guild Hall (Metselaarshuis) is striking with its 6 dancing statues. They literally dance as the wind blows in different directions.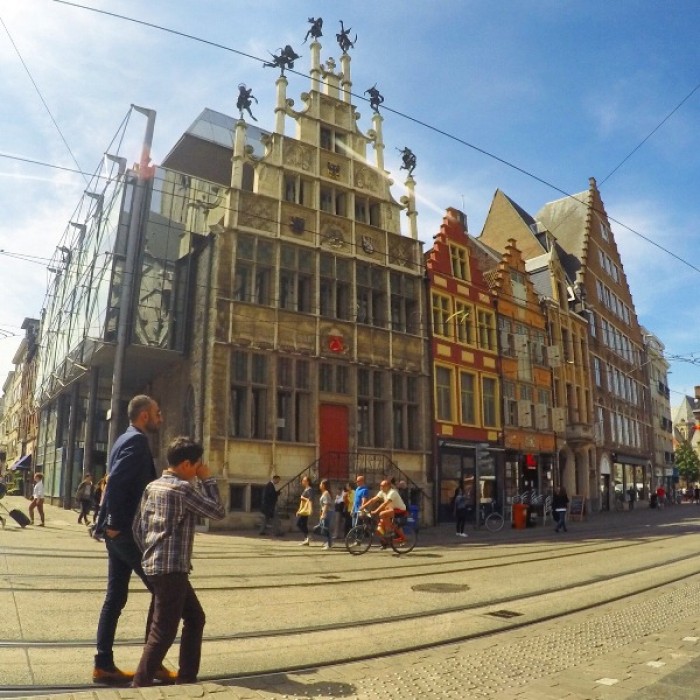 Graslei and Korenlei are two beautiful streets that are facing each other. In addition, the guild houses are fascinating to look at.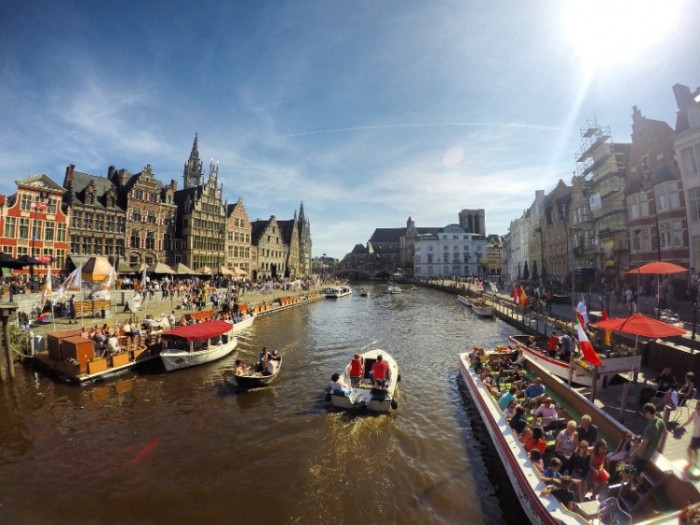 I met a traveller in Graslei and we went to the food truck festival to try some Belgian food. We also checked out some chocolate shops. I must say that choosing chocolates was the hardest part of this trip in Ghent. There were lots of flavours and I spent a lot of time deciding what to get because there were lots of flavours to choose from.
Also read: 15 Cities in Belgium That Are Truly Worth Visiting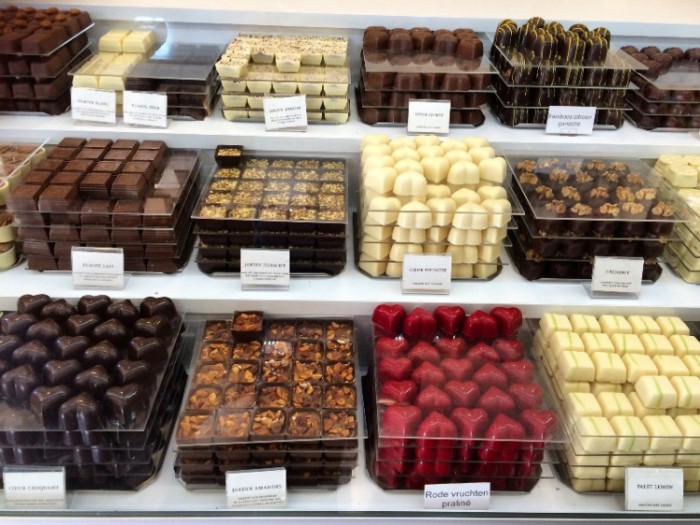 After chocolate shopping, my afternoon buddy left and went to see Gravensteen. So I continued exploring the streets of Gent and ended up in Kranlei.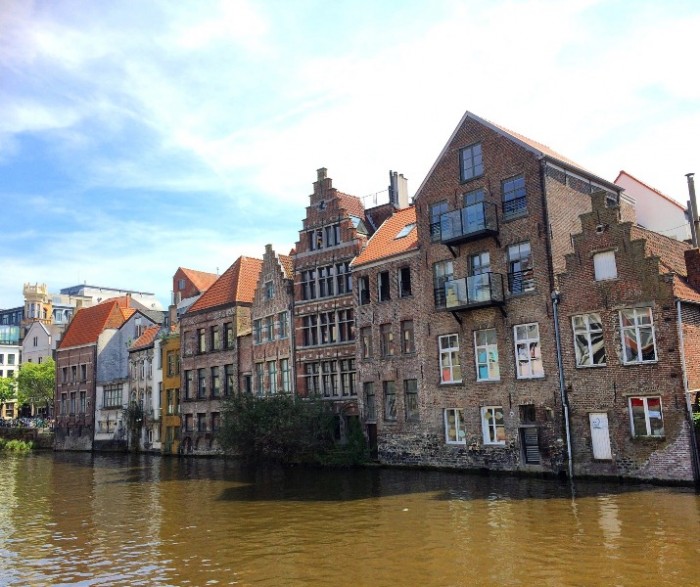 St. Michael's Church (Sint-Michielskerk) is an outstanding Roman Catholic church.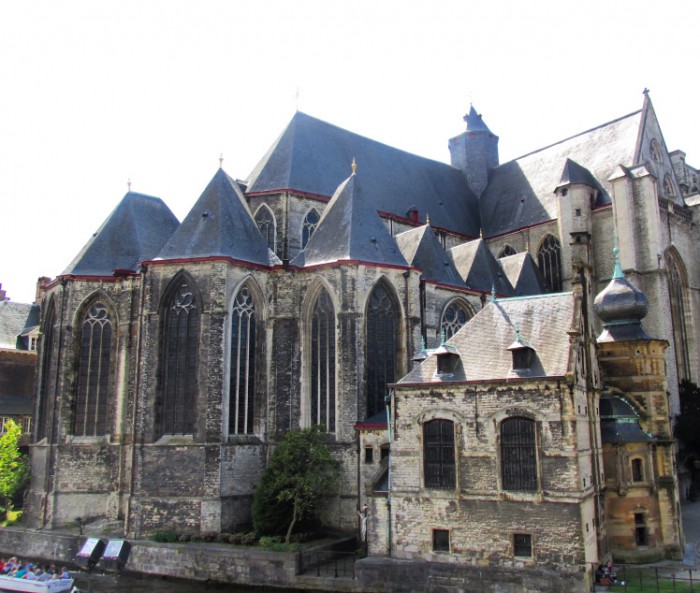 Castle of Gerard the Devil (Geeraard de Duivelsteen) was once a monastery, arsenal and Episcopal seminary and knight quarters.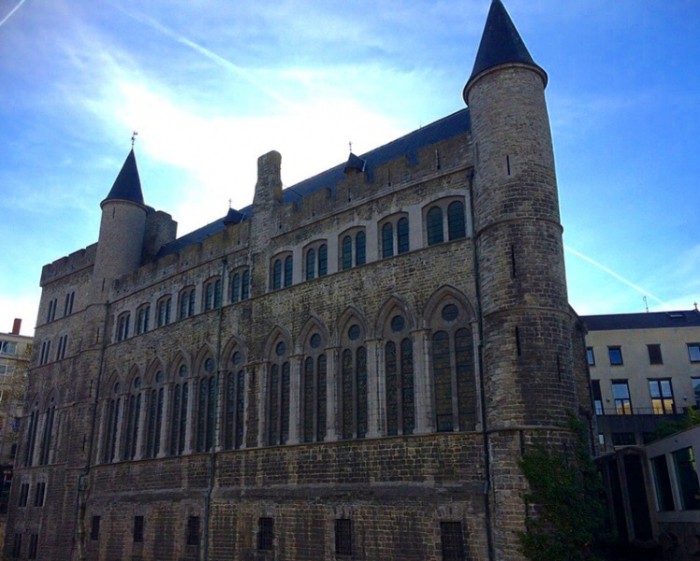 Belfry is a medieval bell tower that was declared as World Heritage Site. Behind it is St. Bavo's Cathedral (St. Baafskathedraal) which is under renovation so I didn't bother to go there. Later did I learn that it houses priceless sculptures and paintings like The Adoration of the Mystic Lamb.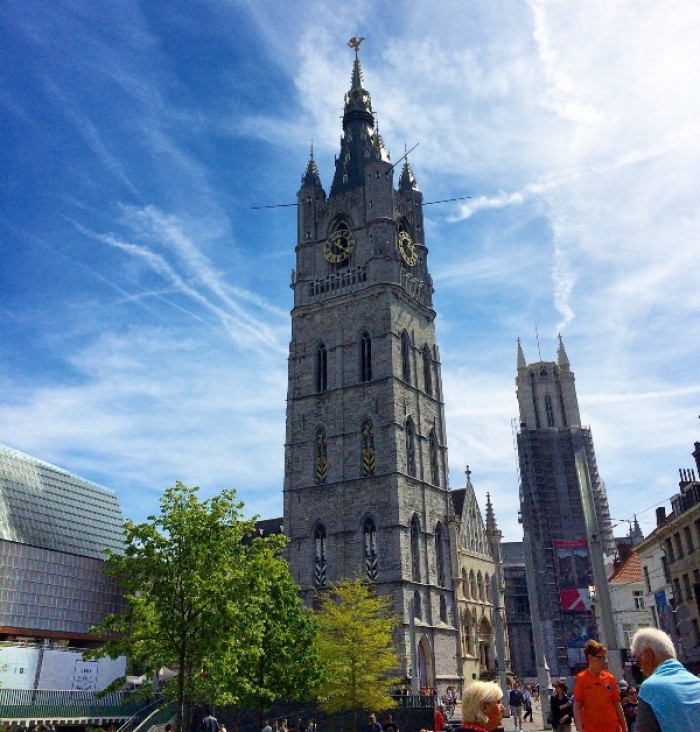 Belfry and St. Bavo at the back
I arrived at my host's house and rested for a bit. We had a good conversation about 90's music, art, the culture of Belgium and the Philippine islands over some pasta and wine.
After dinner, we went out to see the night lights and got some Belgian fries.
In Frituur Sympa/ Frituur Sint-Jacobs, I loved how the fries are crispy but soft inside- it melts in your mouth. They give a generous amount of dips also.
We went back to my host's house and continued our conversation about life in general. I learned that one of his passions is dancing Lindy hop so he taught me how to "Step.Rock.Step". In return, I taught or just showed him a bit of Backstreet Boys' dance moves. This is why I love Couchsurfing. Travellers don't just open their houses but also share something about themselves — interests, hobbies or culture even for a short time.
My host went back to work while I slept with a happy tummy and with a new learning.
The next day, my host joined me for breakfast at Korenmarkt. I had a waffle, 2 croissants, cappuccino and yoghourt for dessert. The food was just so good! We ate at the park behind St. Nicholas Church, I felt like a local.
Also read: 5 Must-Visit Destinations in Belgium
Ghent might be small but it's rich in culture and history. The medieval city is so charming that even if I got lost in streets that are hard to pronounce, it's okay because I always end up seeing something stunning. No wonder my host told me to keep Ghent as a secret, to preserve its glory and tranquillity. I think it's too beautiful not to share, I just hope that travellers and tourists are responsible and sensitive to maintain the beauty of this magnificent city.