Think Aladdin and magical green domes that glisten under the scorching sun. Imagine the smell of sugar, spice and everything nice. What you get is not a faraway paradise in an imaginary wonderland, but Central Asia's biggest attraction and most interesting game changer – Uzbekistan.
Uzbek… what? It's almost expected that many will raise their brows in question. Prepare to face a slew of questions being thrown at you. Also, be ready to let the world know about how fascinating Uzbekistan really is.
For more than two millennia, Uzbekistan has been the cradle of culture in Central Asia. Magical cities such as Samarkand, Bukhara and Khiva will impress you easily with their 4 Ms – mosques, madrasas, markets and mausoleums. Not forgetting the fast disappearing Aral Sea and the booming capital of Tashkent which will be a treat for your senses. Hospitality is an important part of daily life for locals and you'll definitely meet some of the most genuine people here.
Capital of Uzbekistan: Tashkent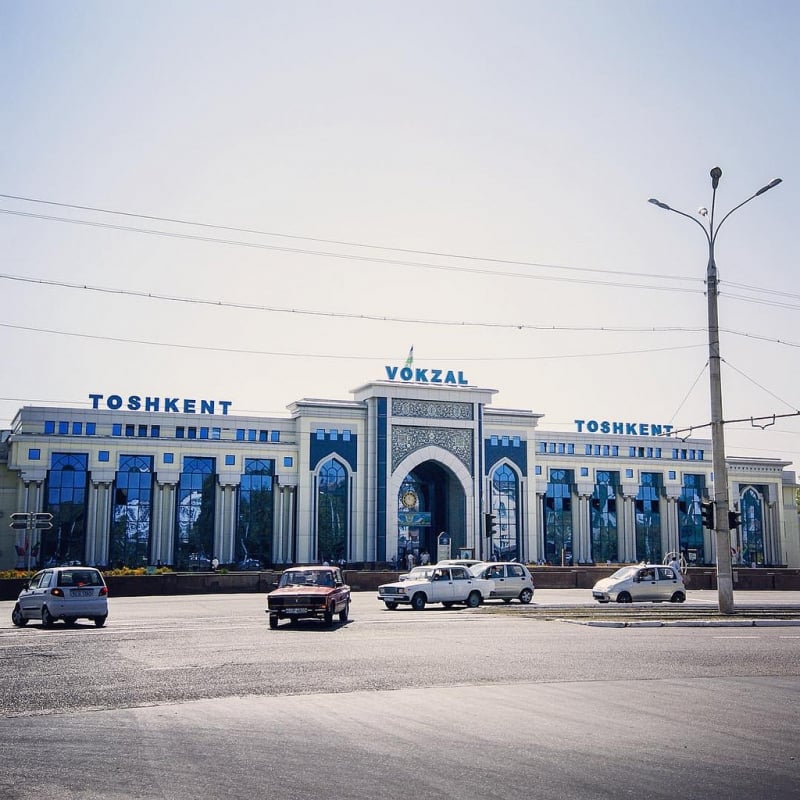 The former child of Soviet occupation, Tashkent is Central Asia's main hub. You will smirk at the intriguing contradictions of a city chasing modernism but still holding on to its past with a firm grip. On one hand a sprawling national capital and another, a traditional enclave for farmers carting their wares to the suffocating crowds of the bazaar. You will be amazed at the juxtapositions.
1. You'll never know what to expect from the bustle of Tashkent's most iconic local market – The Chorsu Bazaar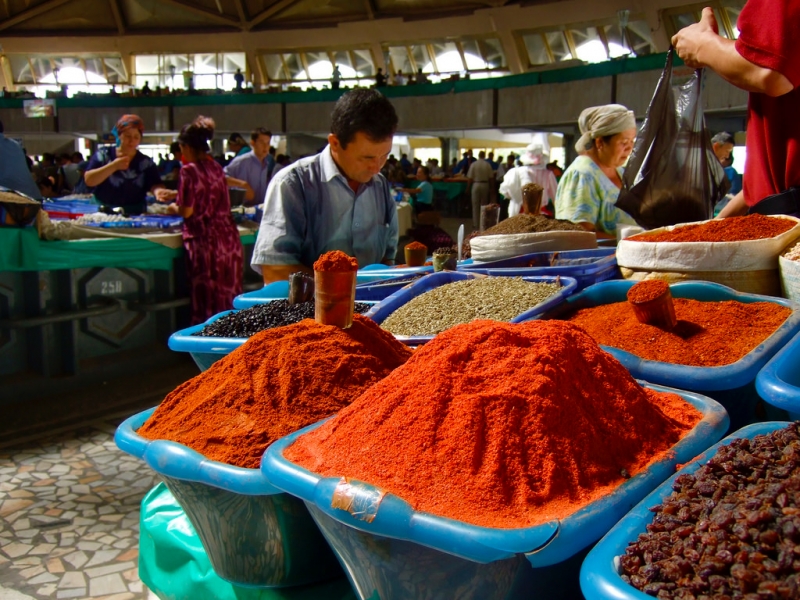 Your adventure in Uzbekistan begins in the oldest market in the country, the Chorsu Bazaar. Here, merchants call out for potential buyers to have a look at their endless array of good, from cheap eats and fresh fruits to souvenirs. Be prepared to be spoilt for choice!
The Chorsu Bazaar has been running since the times of the Silk Road. While the location hasn't changed, modern buildings have replaced old buildings. Test your bargaining skills and find out if the local merchants are a match for you. This market is a window into daily Uzbek life with people going on about their everyday business, so be sure to check it out!
2. You will get to escape into the beautiful mountains of Chimgan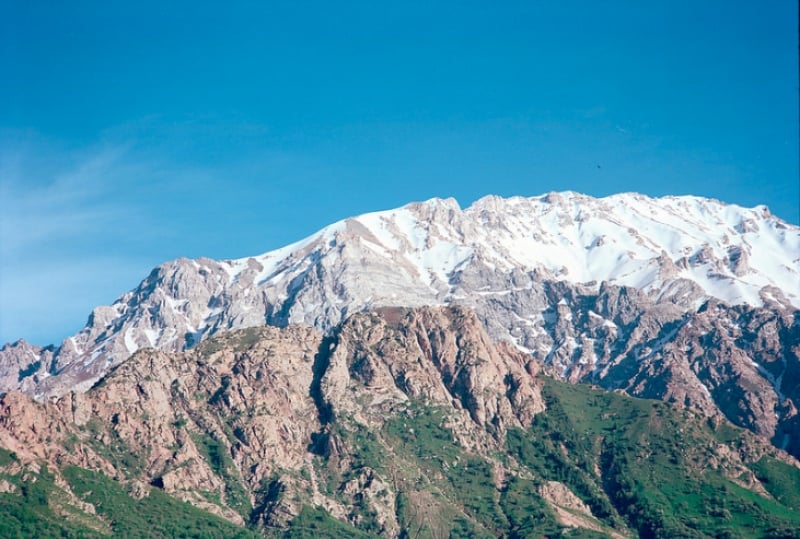 If the sweltering heat of Tashkent is not to your liking, there is one simple solution – head for the mountains. Just two hours northeast of Tashkent, Chimgan mountains is the best place to be for your skiing adventure. It remains a great weekend escape from the city with endless lines of tranquil and majestic mountains decorating the already picturesque scenery.
The surroundings are also great for hiking and more thrilling activities such as mountain biking. If you prefer to have something more relaxing, Chimgan is an equally conducive place for that – bring a mat and calm your senses in this paradise of towering mountains. With mountain flowers blossoming and the slow pace of village life, you will never regret stopping by this beauty.
3. Paragliding at the Charvak lake will be a dream come true for adrenaline junkies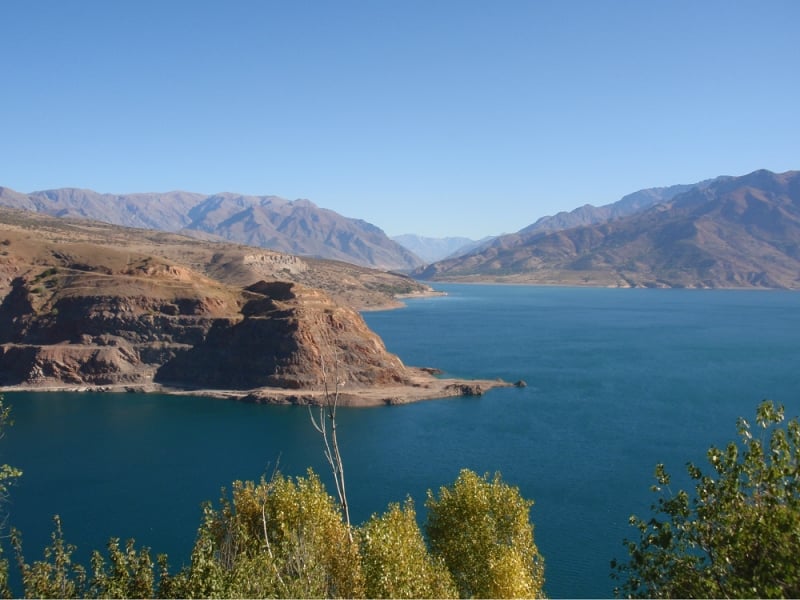 From one paradise to another, the Charvak reservoir en route to Chimgan is another stopover you might want to consider. It offers a great opportunity to just chill by the brilliant blue waters. Locals can be seen wading around in the water while Russian visitors mostly paraglide or sunbathe. Embrace the daredevil in you and try paragliding over this undeniably beautiful scenery – expect to see many tents dotting the shore, where people are busy grilling on the beach.
4. You can relive the rule of Amir Temur, the revered "iron-willed" conqueror
Many historians describe this courageous conqueror as "iron-willed" and it is by no coincidence. His name Temur itself means "iron" in Turkic language. He was well-built, stronger than any of his soldiers and was actively involved in all of his campaigns. Temur had created one of the greatest empires and made Samarkand the wealthiest and largest in the East.
Relive his rule and explore the rich history of Uzbekistan through the Amir Temur museum! Don't forget to visit the majestic monument of Temur seated on a horse with his hand raised in the centre of Tashkent.
Bukhara
Your next stop after Tashkent? It has to be Bukhara, Central Asia's holiest city. Spanning a thousand years of history and a charming old centre that hasn't had much of a makeover, it is one of the best locations in the region with beautiful minarets towering the blue skies. Options for accommodations are also some of the most atmospheric in the country.
5. Hidden secrets of Bukhara's oldest structure, the Ark of Bukhara, are waiting to be uncovered
You will be blown away by this spectacular Ark, a royal-town within a town. Bukhara's oldest structure, the Ark was the residence of the emirs (Arab rulers) for centuries. It was occupied for a really long time from the 5th century up until 1920! While most are ruins that have withstood the test of time, there are some surviving royal quarters now turned into museums worthy of a visit.
Find the 17th-century Juma (Friday) Mosque at the top of the entrance ramp and discover splendid stalactite-carved column heads. Make sure you don't miss out on the former living areas of the emir's kushbegi (prime minister) which received foreign ambassadors in the past! It has now been turned into a museum showcasing exhibits from once important Silk Road trading centres such as Varakhsha and Romitan. This experience will truly enhance your adventure in Uzbekistan.
6. The architectural feat that is Samanid Mausoleum is simply amazing
Many visitors have lauded the Ismail Samanid Mausoleum with much admiration and it truly is one of the most beautiful mausoleums in the country. While it is not necessarily the flashiest by Uzbek mausoleum standards, its beauty lies in the intricacy and architectural ingenuity.  
It is considered to be one of the best works of Central Asian architecture and was the resting place of Ismail Samani, a highly influential emir of the Samanid dynasty. One more incentive – as if you needed another one –  the simple fact that it predates almost everything else still standing in Uzbekistan.
7. There are plenty of mausoleums for your eyes to feast on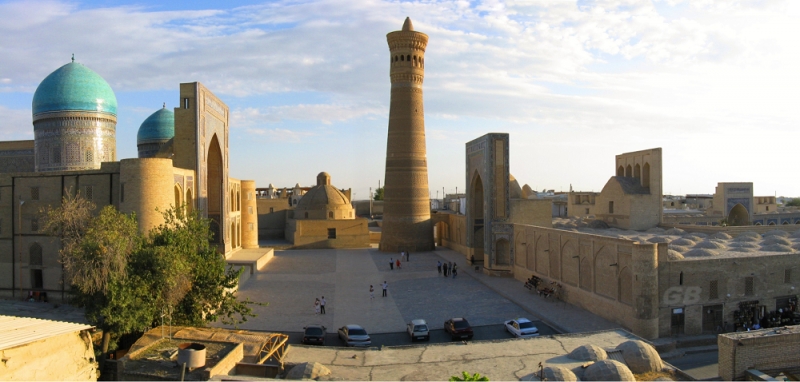 With more mausoleums than you can think of, Bukhara is a magical city fit for your carpet ride adventure. The must-visit historic building among the lot? Chor Minor! At first glance, it portrays more Indian influences rather than anything Bukharan. But this picturesque little mausoleum was once a gatehouse of a madrasa built in 1807.
The towering Kalyan minaret (top) is another attraction screaming for attention in an otherwise calm mausoleum complex. It is one of the most recognizable landmarks in the city and was so impressive that Genghis Khan ordered it to be spared when everything else around it was destroyed by his men. An eerie fact: It is also known as the "Tower of Death" – up till the early twentieth century, criminals faced execution by being thrown from the top.
Crossroad of cultures: Samarkand
Uzbekistan's UNESCO World Heritage gem, the incredibly historic town of Samarkand is a melting pot of cultures from all over the world. Once called Afrasiab, it was founded in the 7th century B.C.and experienced some of the most rapid growth in the Timurid period from the 14th to 15th centuries. Here, some sights highly worth visiting including major monuments such as Registan Square, Shah-i-Zinda compound and the gorgeous Gur-e-Amir mausoleum.  
8. The Registan square is a must-see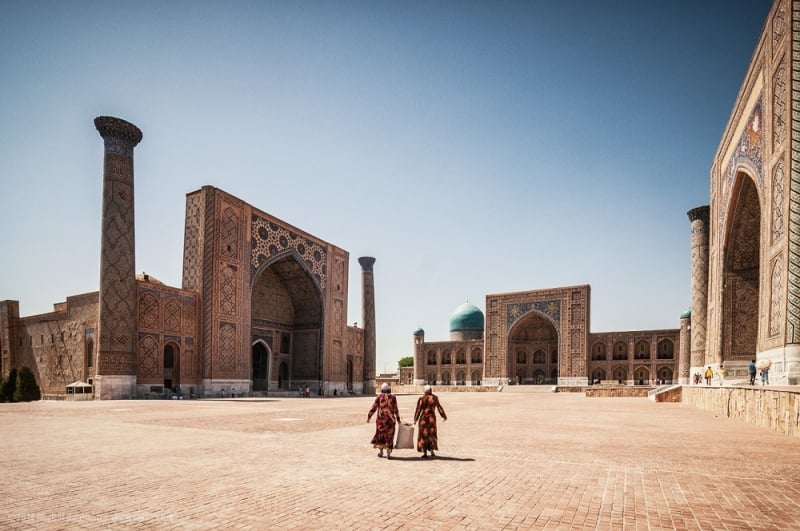 A true gem located in the heart of the ancient city of Samarkand, the Registan square has obtained its global reputation as a symbol of oriental architecture due to its captivating design. The square is surrounded by grand madrasas, each unique with its own motifs. Due to the beauty and significance of these buildings, Samarkand was included in the UNESCO World Heritage List in 2001.
Registan, translated from Uzbek, means "sand place". In ancient times, the central square was completely covered in sand and was used for celebrations, trading and erm, public executions. While various rulers would change the main significance of the square during their respective reigns, the Registan has always been at the centre of social life in Samarkand.
9. The Gur-e-Amir will make you believe in magic
The final resting place of Temur, including his two sons and two grandsons, the Gur-e-Amir is a beautiful mausoleum with a classic fluted azure dome. Relatively modest compared to other buildings in Uzbekistan, Temur never expected to be buried here. Tip: Try to visit it at night too, when the tilework and dome's magnificence gets amplified by spotlights.
10. The beauty of Shah-i-Zinda will move you to tears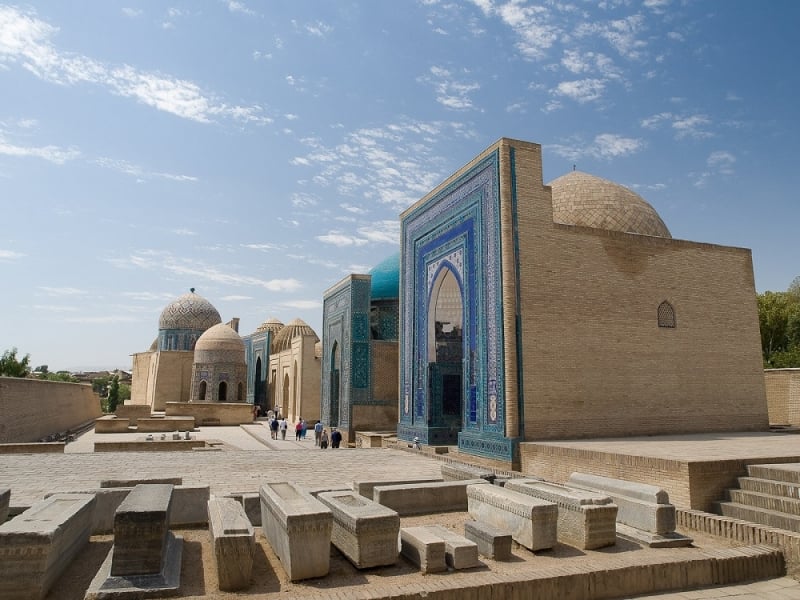 Your visit to the Shah-i-Zinda complex will bring you some of the richest tilework in the Islamic world. After all, it is yet another avenue of stunning mausoleums. When translated, its name means "Tomb of the Living King" and aptly refers to the original and most sacred shrine, which is a complex of quiet rooms surrounding what is probably the grave of Qusam ibn-Abbas. He is believed to have introduced Islam to this region in the 7th century.
Khiva
Your adventure wraps up in Khiva, a historic heart so well preserved that it's sometimes called a "museum city". Set foot into another era with the monotone and wonders of the mud-walled spectacle. Be sure to spend at least one night in Khiva and watch the silhouettes of minarets and madrasas unfold under the moonlight.
11. Discover the unfinished story of Kalta Minor
This minaret is unfortunately unfinished business. Its construction began in 1851 by Mohammed Amin Khan who wanted to build a minaret so high he could see all the way to Bukhara (context: it's almost seven hours' drive away). Unfortunately, he died in 1855 unexpectedly and left the aesthetic structure unfinished. Even if it was, the goal to see Bukhara in the distance was probably too far-fetched to make it the slightest bit possible…
12. Finally, you get to impress your significant other by making your own magic carpet at the Carpet Workshop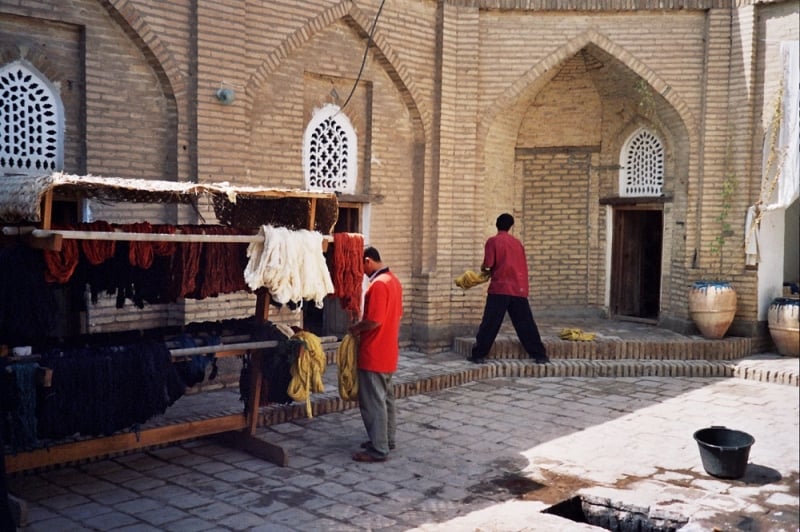 To end what has been a great adventure, make a pit stop at a carpet-making workshop. There, expect to see carpet makers busy at work, hand weaving high-quality silk rugs inspired by Khivan tilework and paintings. The friendly locals will definitely give you an introduction to the weaving process and how to use the natural dyes. However, if you would like to purchase a carpet, be prepared to spend USD$2300 (~S$3000) for a 1.3m by 2m carpet! Not cheap by any means, but remember: you're paying for a piece of handcrafted art.
In conclusion, Uzbekistan is a magical place unlike any other. While you obviously won't see flying carpets or blue genies coming out of lamps to grant your many wishes, you will be dazzled by beautiful architecture and genuinely nice locals. From amazing textile designs to incredible pottery, Uzbekistan is brimming with culture, tradition and art. Come with an open heart as you step foot into a whole new world… one that's shining, shimmering, splendid.