No trip to Japan is complete without making a trip down to the famed Tsukiji Outer Market. Despite the Inner Market moving to a new location at Toyosu Market just this year, the Outer Market continues drawing hordes of visitors to experience one of Tokyo's few street food markets.
The Tsukiji Outer Market comprises a winding labyrinth of stalls that stretch across a couple of streets and alleys. The amount of street food offered can be slightly overwhelming to any first-time visitors – so if you've only got limited stomach space (we do recommend visiting on an empty stomach!), here are 14 foods we recommend you hunt down!
1. Scallops topped with torched Uni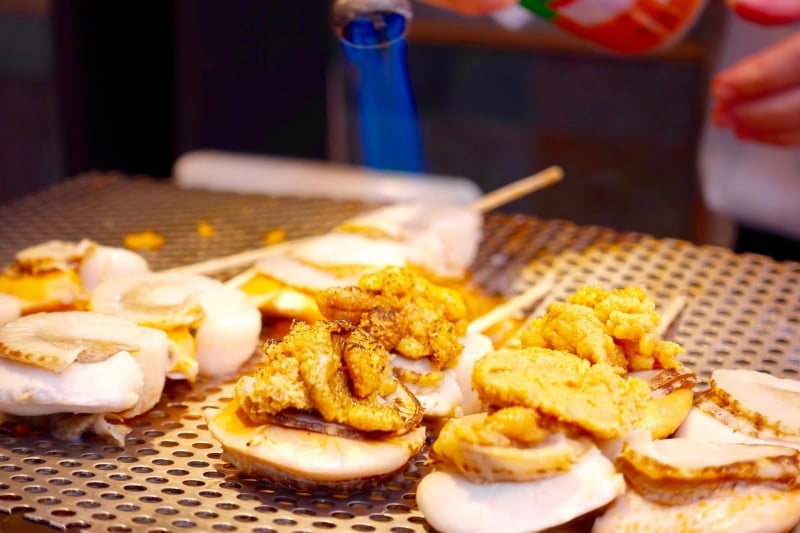 Uni is the Japanese term for Sea Urchin and is considered to be one of Japan's most premium foods. Rich with a creamy texture, Uni has somewhat of an acquired taste – you either like it or you don't.

Two scallops are skewered on a stick and topped with a generous amount of Uni – which would otherwise cost a bomb in Singapore. The Uni is then aburi-ed (seared with a flame) atop a charcoal grill, giving it a nice smoky taste.
Approximate price: JPY600-800 (~SGD7-10) per skewer
2. Crab Shells with Fish Roe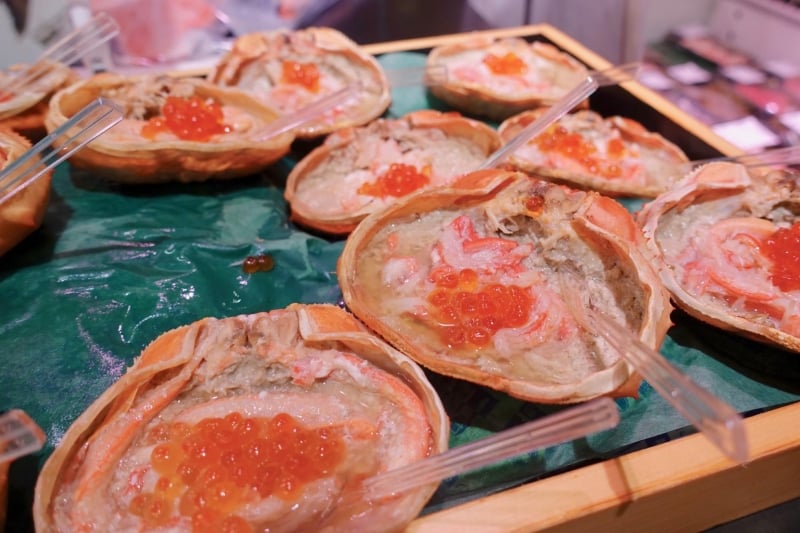 If you're a fan of savouring the roe contained within crab shells, you're in for a treat. The roe is bursting with flavour and is topped with a dollop of Ikura, which are little round balls of salmon roe containing sweet briny liquid.
Approximate price: JPY700 (~SGD9) per crab shell
3. Crab legs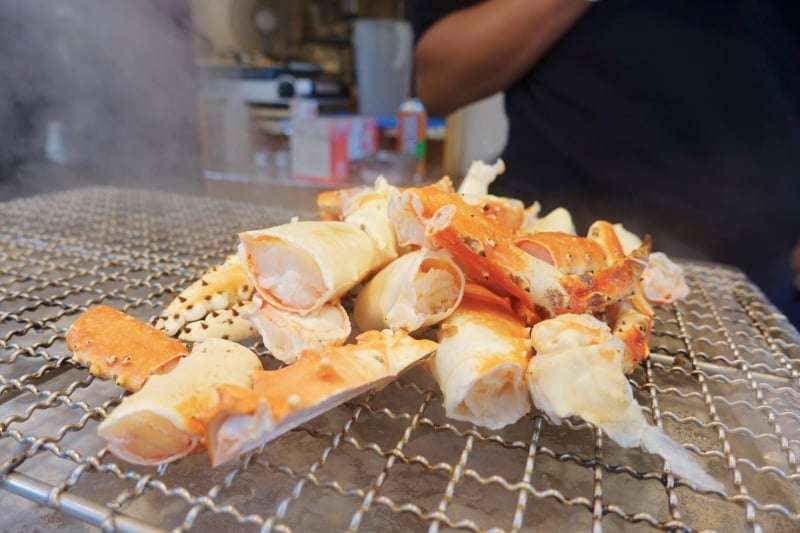 The crab legs are simmered on a grill and served hot on a plate. Take special care to let the shells cool down before digging in, so as to avoid burning your fingers.
When dug out from the shell, the crab meat is tender, sweet and incredibly juicy.
Approximate price: JPY600 (~SGD7) per plate
4. Fresh/cooked Oysters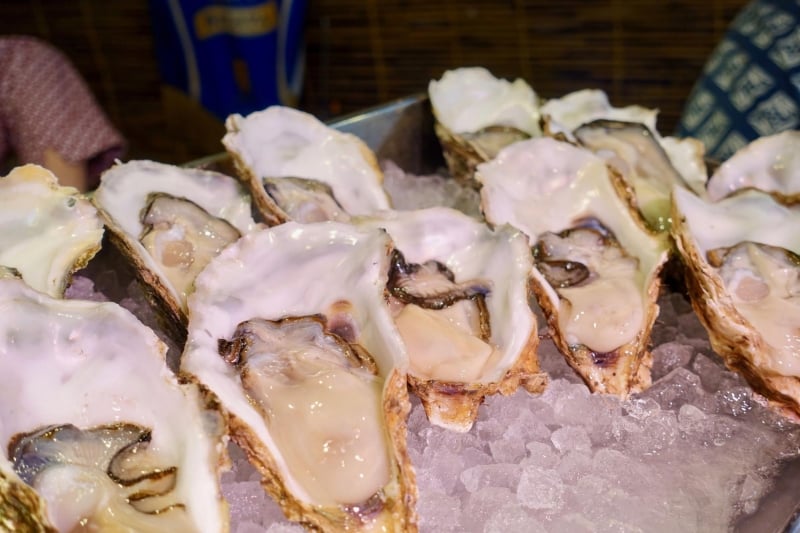 What would a fish market be without fresh seafood? Take your pick from plenty of oysters, which you can choose to eat fresh, sautéed in butter, steamed with lemon or even deep-fried.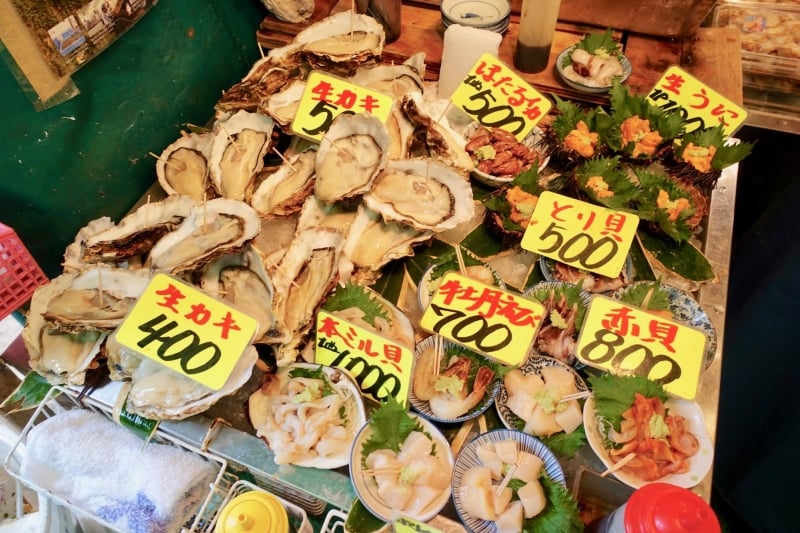 Other than oysters, you can also try fresh scallops, squid legs, razor clams or even Uni that's still in the shell.
Approximate price: JPY500-1000 (~SGD6-12), depending on what you pick
5. Torched Scallops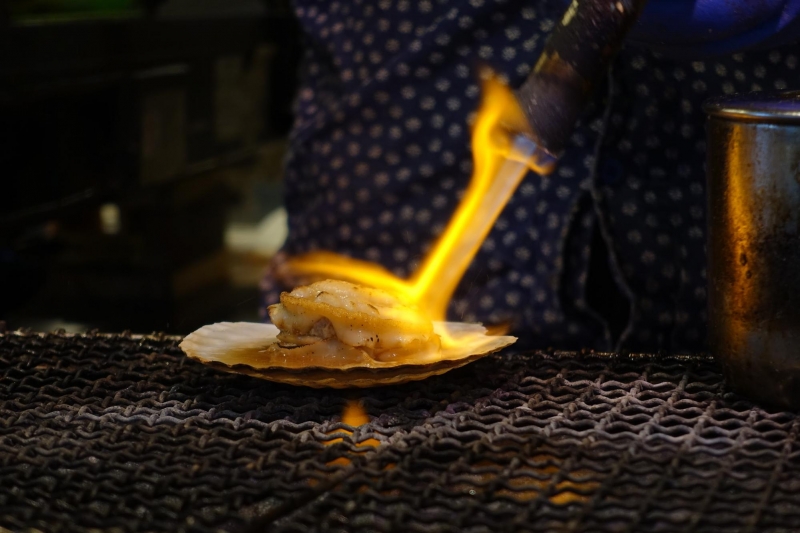 Looking almost too pretty to eat, these scallops are served whilst still in the shell. The scallops are placed atop a grill and torched with a strong flame to create a slightly caramelised texture.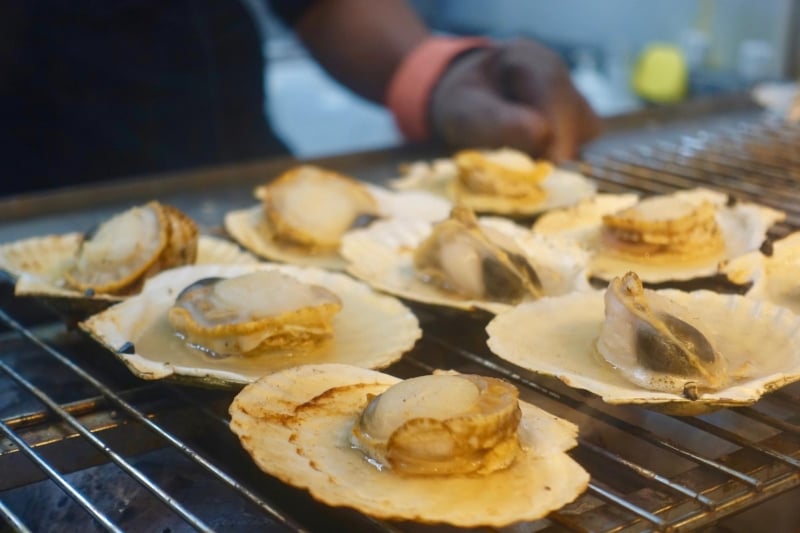 The scallops sit in a pool of brine, which should be consumed together with the meat. Taste-wise they are chewy and tender, with a slightly tangy aftertaste from the accompanying liquid. Yum!
Approximate price: JPY500-600 (~SGD6-7) per piece
6. Tamago skewers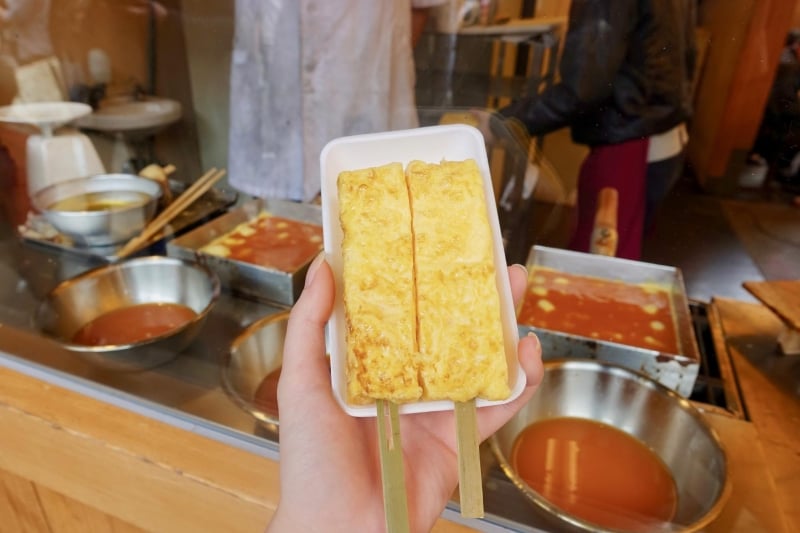 Tamago refers to a folded Japanese omelette that's cooked in a Makiyakinabe, a specialised omelette pan. The art of making Tamago is a coveted one in Japan; it's said that many sushi chefs are only able to perfect the dish after many years of training.

What's interesting is that you can actually watch the chefs prepare the Tamago right in front of your eyes. The Tamago is fluffy and light, unlike the denser ones that we have in Singapore, with a sweet and slightly salty aftertaste.
Approximate price: JPY100 (~SGD1) per skewer
7. Maguro Sushi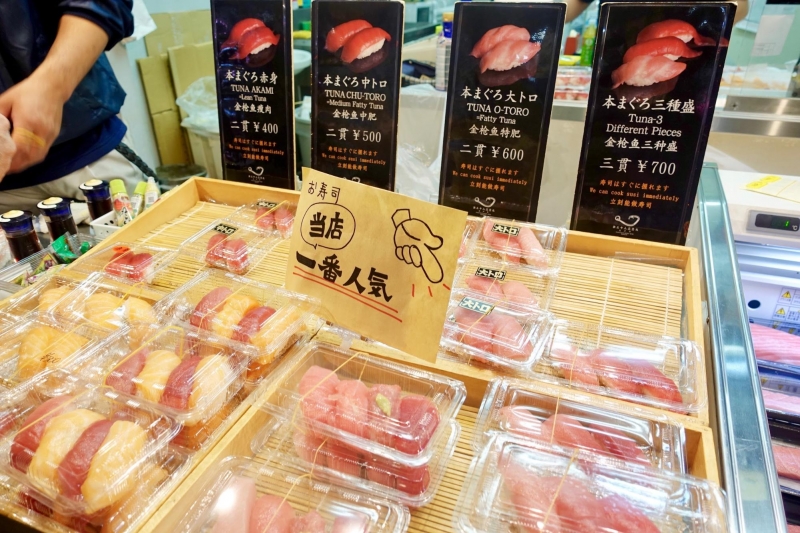 Tuna (known as Maguro in Japan) is the most prized type of sashimi here in Japan. Back in 2013, a 222-kilogram bluefin tuna was sold during the market's live tuna auction for a whopping JPY115,400,000 (~SGD1,424,838). Imagine that!
On top of that, there are a few different grades of tuna – O-toro, Chu-toro and Akami – with O-toro being the fattiest part of the fish, Chu-toro comprising medium fatty tuna and Akami being the normal tuna. Needless to say, O-toro is the most expensive, followed by Chu-toro then Akami. This grading is dependent on five factors: initial appearance, size and shape of the tuna, colour and texture of the flesh as well as the fat content.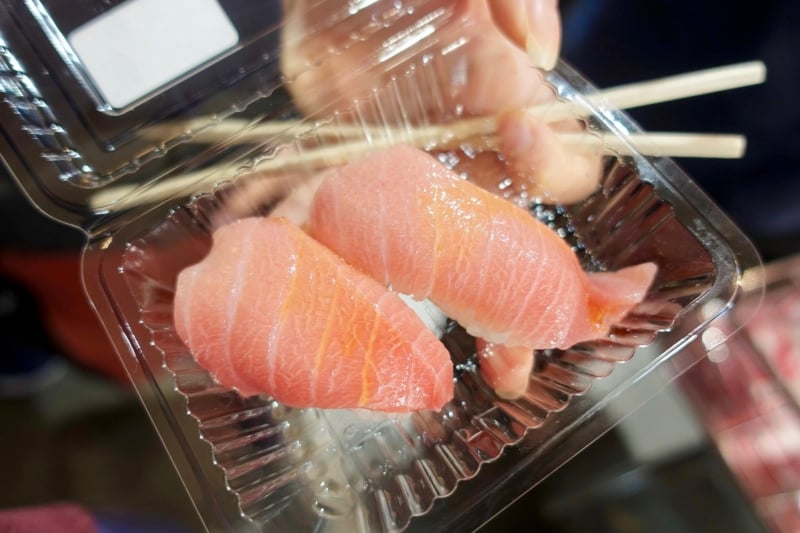 Consuming O-toro in Singapore might leave a big hole in your wallet but you'll be able to get two pieces of fresh O-toro sushi for under ten dollars at the Tsukiji Outer Market. The tuna pieces are exquisitely marbled, with some even melting in your mouth.
Approximate price: JPY400-700 (~SGD5-9) for two pieces
8. Beancurd Sushi with overflowing toppings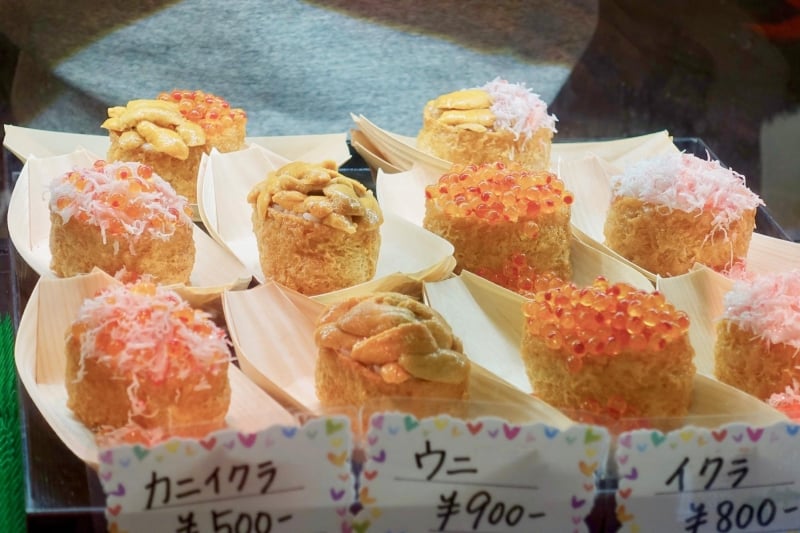 This dish is both a feast for the stomach and the eyes. Rice is wrapped in a beancurd skin and then garnished with a lavish portion of various toppings.
Choose to top your sushi with Ikura (salmon roe), Uni (sea urchin), Crab Meat or a combination of two or even all three.
Approximate price: JPY500-1000 (~SGD6-12), depending on which you pick
9. Assorted skewers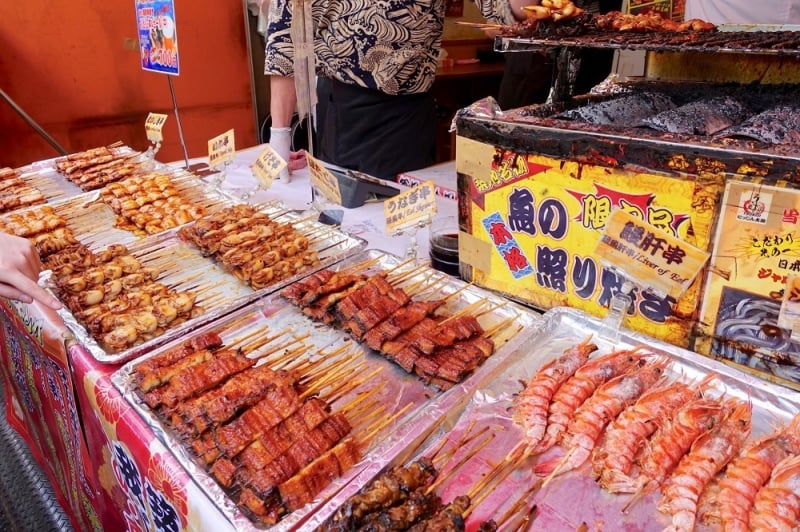 From large prawns and scallops to chunks of Unagi (grilled freshwater eel), these skewers are great for grabbing and eating on the go.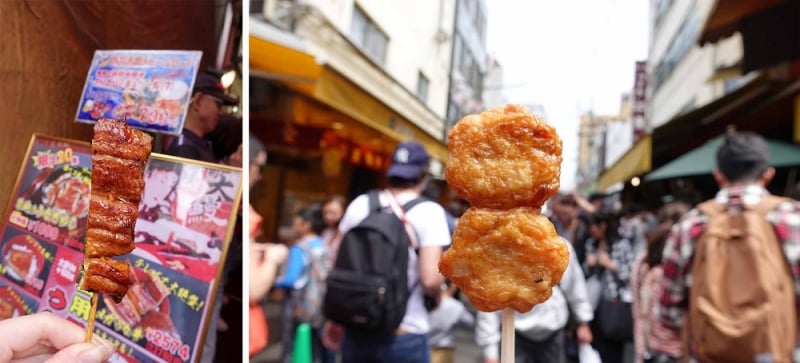 Once you pick your skewer, the shop owner will place it on the grill and heat it up. We highly recommend the Unagi and sweet fishcakes!
Approximate price: JPY100 (~SGD1) per skewer
10. Mochi topped with Strawberry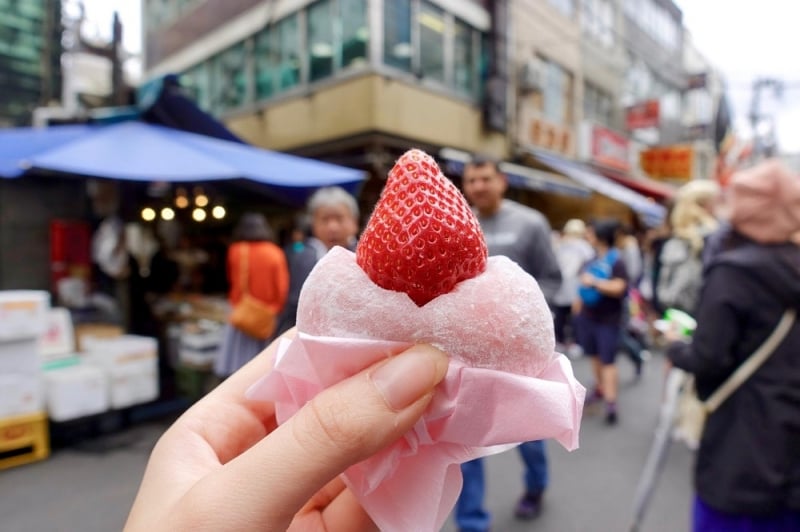 Think: soft and gooey like an enormous chewy marshmallow. That's exactly how Mochi (a type of Japanese rice cake) tastes like! The Mochi is dusted with a light and powdery sugar coating and served with a tangy and slightly sour strawberry. How delicious does that sound?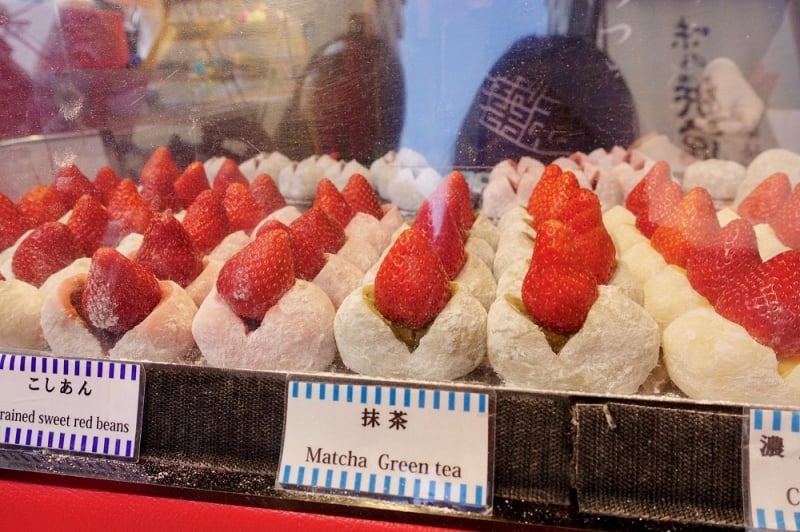 The Mochi comes in an assorted variety of flavours – red bean, green tea and more. And yes, all of them are topped with large red strawberries!
Approximate price: JPY300 (~SGD4) per piece
11. Assorted fruits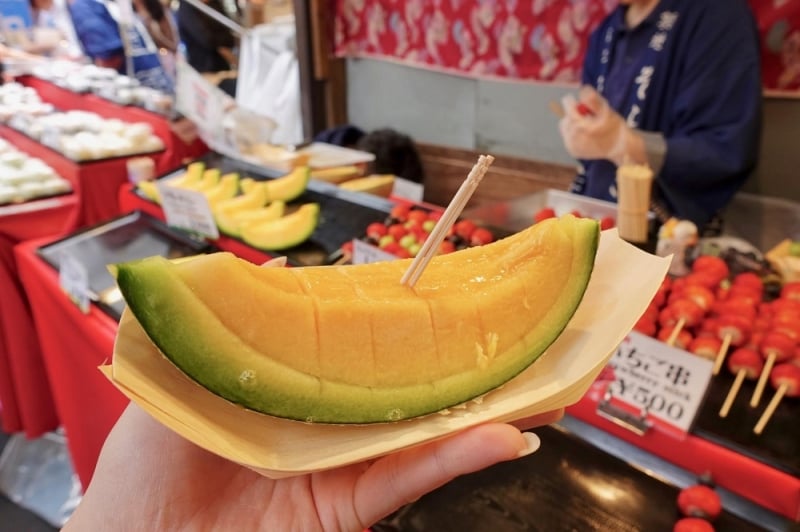 It's no secret that the fruits grown in Japan are incredibly sweet and juicy, most of which also boasting a pretty hefty price tag. One slice of melon (like the one pictured above) can easily set you back JPY1000 (~SGD12)!

Other than slices of melon, you can snack on skewers of strawberries or even a giant watermelon in its entirety.
Approximate price: JPY500 (~SGD6) for a strawberry skewer, JPY1000 (~SGD12) for a slice of melon or JPY3500 (~SGD43) for a giant watermelon
12. Oden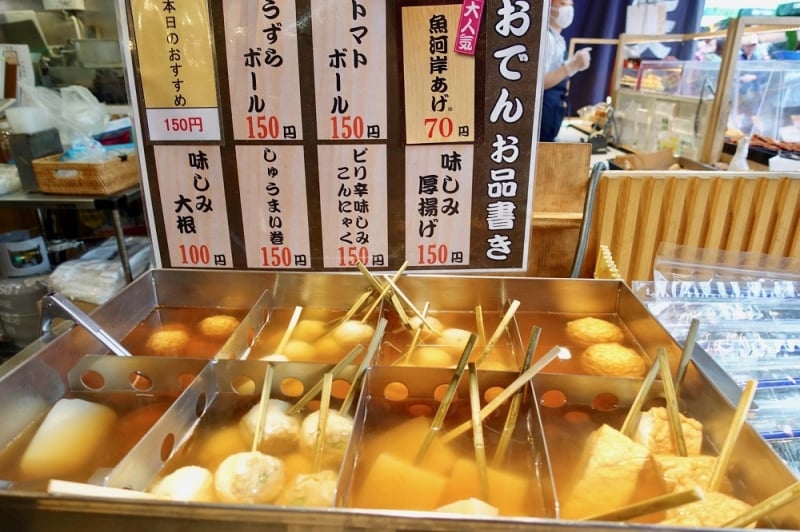 A common winter dish, Oden is often found in many of Fukuoka's Yatai (roadside stalls). Oden comprises a steamboat of sorts, with various ingredients stewed in a tasty Dashi broth.
Approximate price: JPY70-150 (~SGD0.9-1.90) per skewer, depending on which you pick
13. Onigiri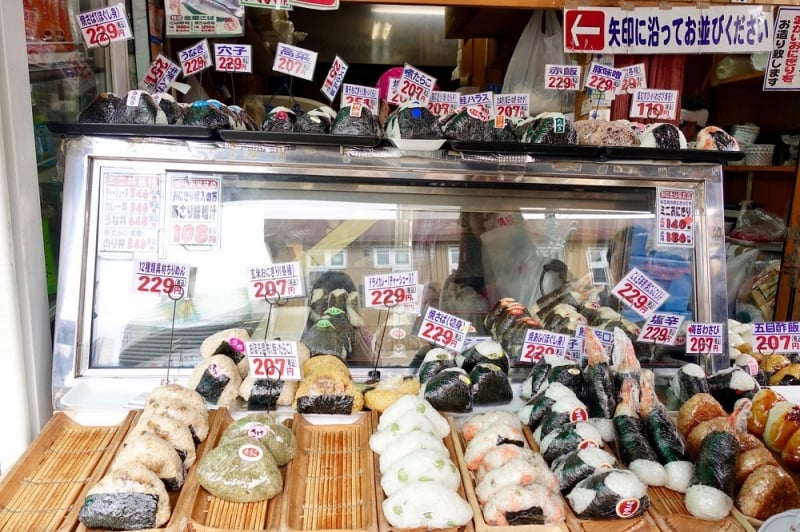 Onigiri refers to Japanese rice balls wrapped in Nori (seaweed). The Onigiri are filled with various fillings – shrimp with mayonnaise, crab stick, fried pork cutlet, mentaiko roe, pickled vegetables or even an entire onsen (soft-cooked) egg. Typically eaten for breakfast, Onigiri also makes for an ideal snack to have on the go.
Approximate price: JPY110-229 (~SGD1-3), depending on which you pick
14. Shaved ice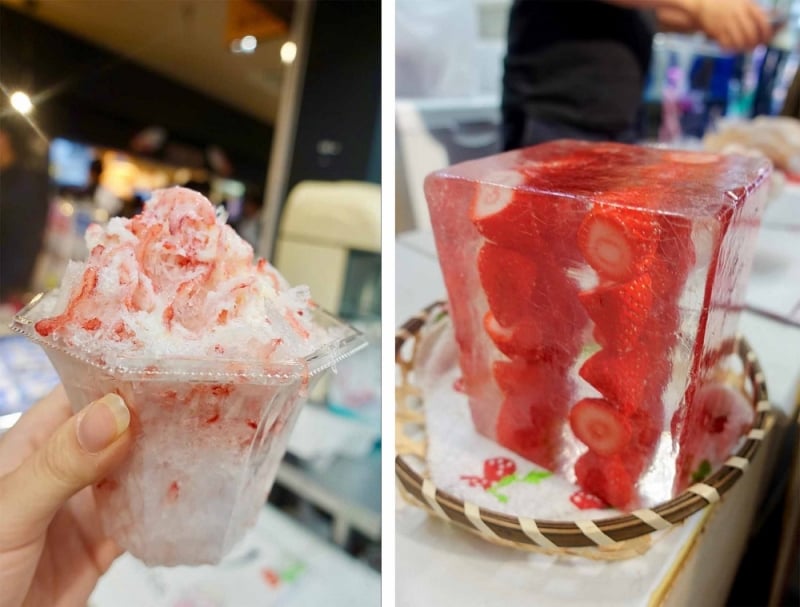 If you're visiting during summer, this shaved ice treat will be a godsend. Comprising ice shavings drizzled with a generous serving of strawberry syrup and condensed milk, every mouthful is light and refreshing.
Approximate price: JPY400-500 (~SGD5-6) per cup
BONUS: Omakase sushi meals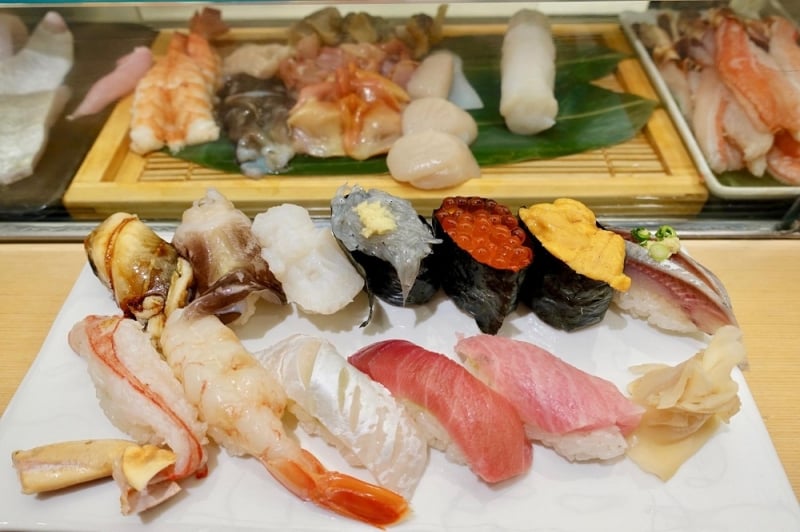 Other than the street food, do save some space for an Omakase sushi meal. Omakase means "I'll leave it up to you" in Japanese; in sushi terms, it refers to the chef's choice. In other words, when you order an Omakase set, you have no control over the sushi items that you'll be served; the sushi chefs decide what will be served based on the day's catch.
Most sushi shops serve this Omakase option and offer a good chance for you to rest your legs after trawling the various alleys.
Approximate price: JPY3500 (~SGD43) per meal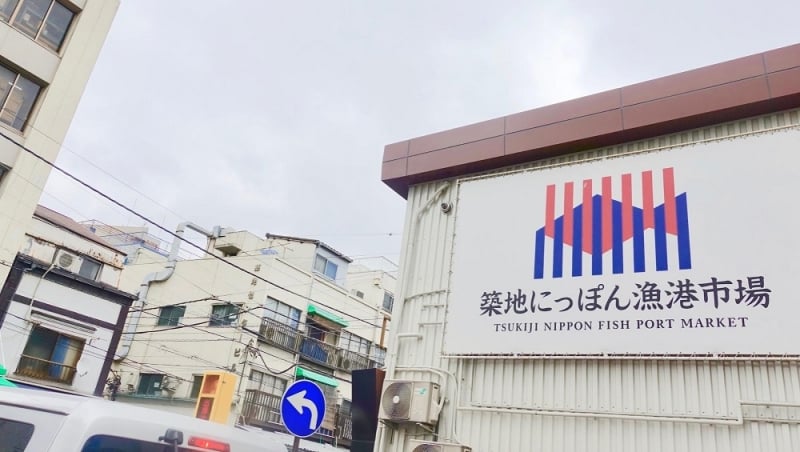 Our advice to you? Don't write off a visit to the Tsukiji Fish Market just because a part of it has moved to another location. The Outer Market is full of hidden gems; visit with an empty stomach and you'll see exactly what we mean!
Tsukiji Outer Market
How to get there: Take Exit A1 of Tsukijishiko Station on the Oedo Subway Line and turn right once you exit the station; the Outer Market can then be reached within a few minutes on foot.
Opening hours: 5am-2pm