We humans are creatures of habit and tend to go to the same places for our vacations or slip into the same routines when we travel. Don't get us wrong – there's nothing undesirable with such practices but, after a while, our holidays all tend to have the same cookie-cutter approach. In a bid for something more, we trawled the Internet for an alternative holiday idea that was a little less plain vanilla and a little more special. Something, for lack of a better phrasing, quite extraordinary.
We came across the concept of a Fly-Cruise and were intrigued. We admittedly didn't know much about what a Fly-Cruise even was, nor did we know what made it better than the usual vacations. All we knew was that it seemed like a really novel way to travel, and decided to give it a shot! So for all you uninitiated travellers out there who, like us, are looking for something different, here's a comprehensive guide on what you can expect on a Fly-Cruise:
What exactly is a Fly-Cruise?
So what exactly is a Fly-Cruise? Fly… or Cruise? If you're wondering whether it involves flying on a plane or taking a cruise, it pretty much does BOTH. "Cruises are boring!" you say, but let us tell you this – you couldn't be more wrong! In fact, cruise holidays have since evolved to become a revolutionary way of travel that's jam-packed with exquisite cuisine, scintillating activities and the opportunity to explore numerous places within a set period of time. Soar away to a distant land of unfamiliar sights and exotic locales, and step on a luxurious vessel that tours sparkling coasts laden with attractions of scenic, cultural and historical wonder.
There are many types of cruise holidays to choose from, but we highly recommend those offered by Princess Cruises. Choose a 9D8N Ryukyu Islands & Taiwan that will bring you to both Taiwan and Japan! 
Of course, unlike an ordinary cruise, a Fly-Cruise holiday encompasses the air flight aspect too. Many cruises often depart from countries that are not our own (think: Hokkaido or Alaska cruises), hence requiring the 'fly' portion. As both the cruise ship and air flight bookings are independent of each other, planning a Fly-Cruise also includes aspects such as airport-embarkation, port transfers, and luggage collection.
The intricacies of booking both the flight and cruise might seem sophisticated, but in actuality gives you the freedom to customise your trip as however you want it! With such travel aspects, as well as the choice of airlines and air flight timings completely at your whim, you can choose to arrive at the location a week or two before the cruise departure date and immerse yourself in the numerous attractions there! Similarly, you can choose to extend your stay on land after the end of the luxurious cruise, and embark on more exhilarating adventures! Imagine being able to book your shore excursions to Hokkaido before you actually start your holiday! The flexibility is a definite draw; look at it this way – now you've got every excuse to plan that 2-in-1 holiday that you've been yearning for.
Why Fly-Cruise?
Besides the flexibility in travel planning that a Fly-Cruise offers, there are lots of other advantages as compared to a normal vacation. Firstly, a Fly-Cruise allows you to easily travel and explore regions that you have never thought of going before or even knew existed! After all, once you get to the port, you only need to board the cruise and let it take you to wondrous destinations. It's the same for onshore excursions: just follow the guide and enjoy what the tour has to offer!
Secondly, a Fly-Cruise grants you the convenience of having your accommodations, food and entertainment all in one single place! With spacious staterooms, meals and various entertainment facilities provided on board, you'll be spoilt for choice on what to do as the ship sails from port to port! With a Fly-Cruise, say goodbye to incessant planning of lodgings, meals and places of interest to visit – just sit back, relax and enjoy the ride.
Thirdly, if you're short on inspiration, Princess Cruises offers a wide selection of destinations to choose from! From the culturally rich medieval castles of Japan to the romantic harbour of Barcelona in Spain, you can get on and off a cruise anywhere in the world. With a Fly-Cruise, the world is your oyster, my friends, the world is your oyster. Abolish the illusion of not being able to take a cruise outside of Southeast Asia, because now you actually CAN!
What to do on a Fly-Cruise
We embarked on a cruise holiday with Princess Cruises and received a phenomenal onboard experience. The well-deserved winner of the TripZilla Excellence Awards – Best Cruise Liner 2016 division, Princess Cruises offers its passengers the adventure of a lifetime. We always thought that cruise holidays were just about casinos and gambling, but boy were we wrong!
From concerts to fitness classes to five (yes, five!) pools on board, we only wished we had more time to enjoy it all. We had a few favourites among the activities offered – we especially liked the Discovery at Sea programme, where we revelled in the recounts of regional destination specialists (we got to hear all about a voyage to the cold waters of Alaska!), and the unique Chocolate Spa treatment at the Lotus Spa, where we got ourselves slathered all over with smooth warm chocolate! Definitely an experience to remember.
The best part? You'll get to go to sleep each night and wake up in a new location! This is with the exception of days that you'll spend cruising at sea, which even then is an experience in itself. On days that the ship docks, save yourself the headache of researching on what to do on shore and sign up for a shore excursion. These shore excursions must be booked in advance, and are led by highly knowledgeable guides.
We were on a Fly-Cruise that started from Tokyo in Japan and cruised to Hokkaido, and had a blast with the shore excursions! We got the chance to visit Kushiro Marsh, a national park that's home to the country's most extensive marshland, as well as Tancho Nature Park, where the guide lent us his personal set of binoculars which allowed us to have close-up glimpses of giant Japanese cranes. If nature isn't your thing, the other passengers had the opportunity to dine on fresh seafood at Kushiro Fisherman's Wharf or visit a fascinating museum. No matter what you pick, these shore excursions are a simple and fuss-free way to explore the surrounding areas. If you're lucky, your trip might even allow you to feast your eyes on the alluring cherry blossoms!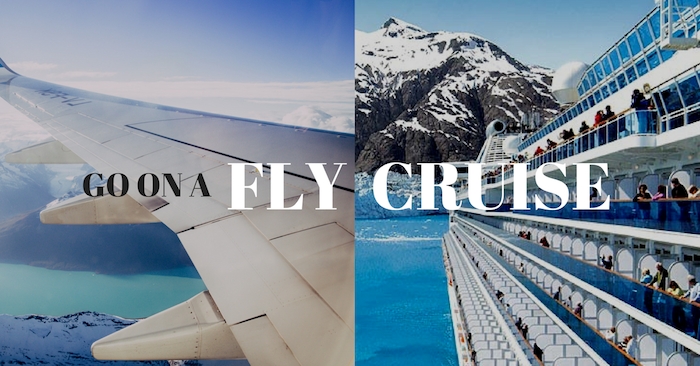 We had a blast on our Fly-Cruise, and we hope that you will too! Head over to Princess Cruises to choose your desired cruise holiday, and start planning for the most memorable trip you'll ever have. If you're at a loss at what to choose, check out this 9D8N Ryukyu Islands & Taiwan!
Dare to be different and book your Fly-Cruise today. We can't wait to hear all about it!
---
Brought to you by Princess Cruises.