Being the go-to destination for all seasons, Big Bear Lake in California sure has a lot to offer. From fishing and hiking to snowboarding and skiing, any visitors would wish they could stay longer in the beautiful mountain lake retreat. 
FYI, this city is especially popular among tourists between December and March. Why? Because it's the primary skiing destination in Southern California! So, if you're planning to visit this winter wonderland during peak season you should really check out these stunning Big Bear Lake Airbnb homes. (Psst — you might want to book one of these ASAP before someone else does!)
Also read: 10 Clothing Essentials to Shop for Your Winter Travels 
Big Bear Lake Airbnb homes for the best winter vacation
1. This sleek asymmetric abode with gorgeous lake views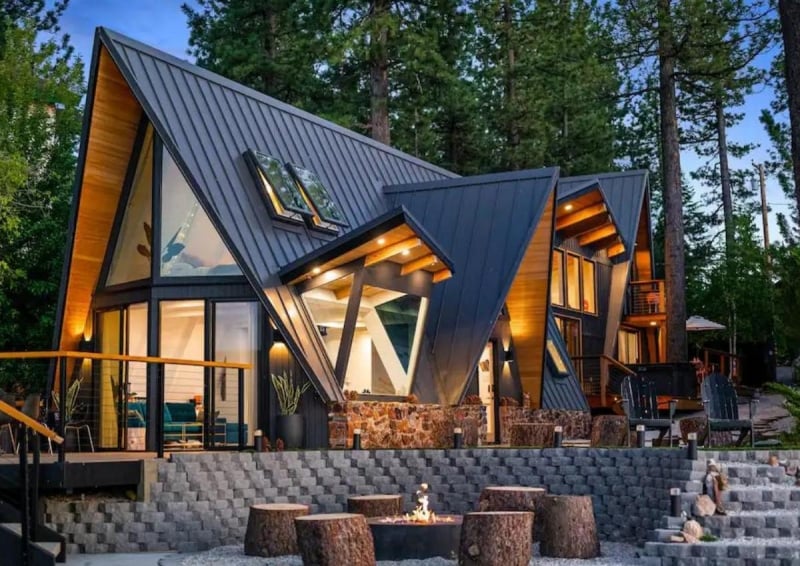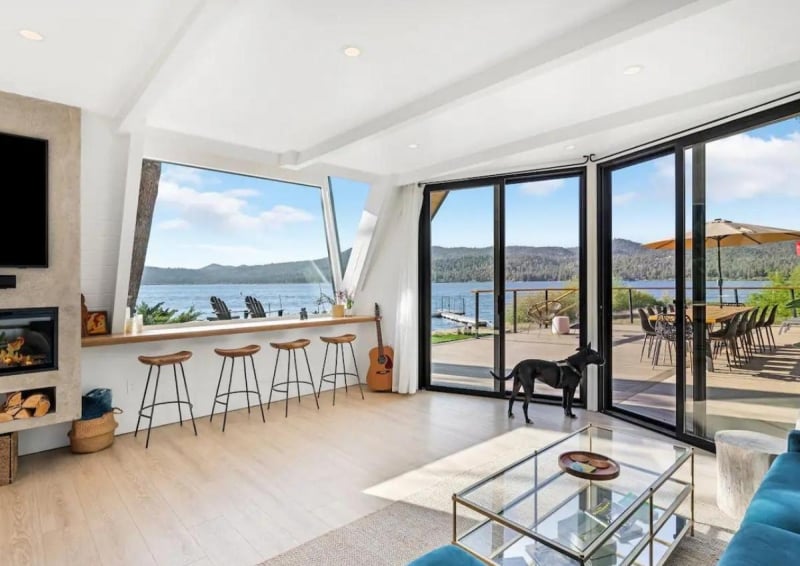 Listing name: Luxury Lakefront Home – Hot Tub & Panoramic Views
Listing type: Entire home
Max. no. of guests: 6
No. of bedrooms: 3
This stylish Big Bear Lake Airbnb will be the perfect hideaway for a family of six. Complementing its crisp exterior is the contemporary vibe on the inside that calls for timeless aesthetics. With its expansive dual sliding glass doors, you're in for a front-row seat to the breathtaking lake views that look straight out of a movie!
When it's too cold, gather in front of the electric fireplace beneath the impressive 65-inch Samsung The Frame TV. Or better yet, soak in the warm hot tub under the twinkling stars before you plunge into the cushiony, soft, king-size mattress in your bedroom. 
For winter enthusiasts, be sure to walk outside and get into a snowball fight with your loved ones. Afterwards, embark on a skiing sesh or two at the nearby Bear Mountain Ski Resort, offering the city's best action-filled winter activities. Hands down the most convenient Airbnb in Big Bear with lakefront views to add to your list!
2. This dark-hued homestead in a hillside neighbourhood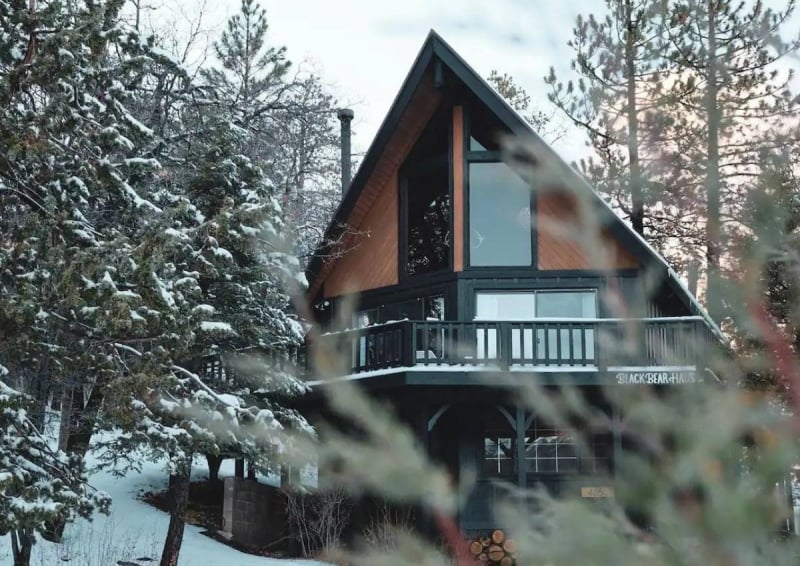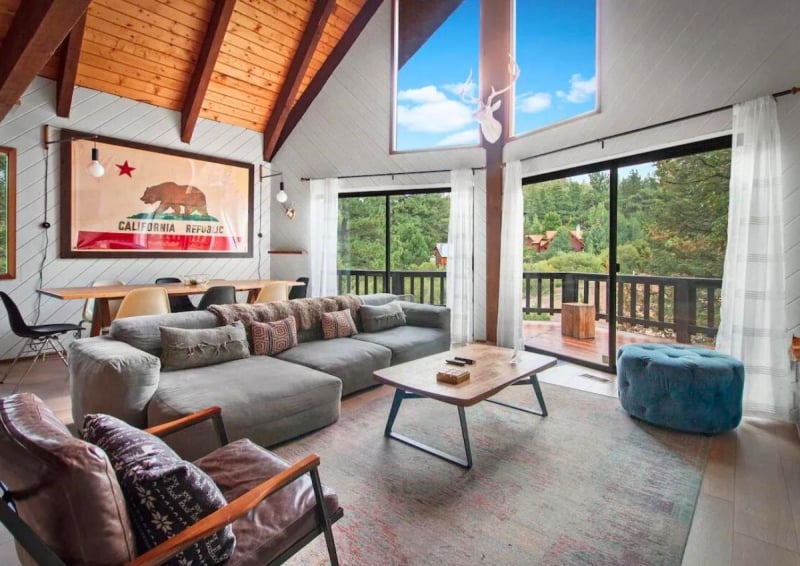 Listing name: Modern A-Frame Style Cabin
Listing type: Entire cabin
Max. no. of guests: 7
No. of bedrooms: 2
For the perfect nature getaway in Southern California, this spacious home in the Moonridge neighbourhood is the answer. The exquisite cabin captures the essence of a wonderful naturescape, thanks to the soothing palette of whites and earthy tones paired with remarkable greenery views from the windows. 
Nestled on a hillside, you can easily go sledding in the backyard when it's snowy. Plus, its secluded location guarantees quiet time with your loved ones no matter the time of year. Enjoy binge-watching your favourite Netflix shows as you get cosy next to the wood-burning stove fireplace. For a much-needed afternoon nap, the hammock on the third floor welcomes you with open nets.
When there's nothing left to do inside, the Bear Mountain Ski Resort and the Big Bear Alpine Zoo are within walking distance of this stay. Afterwards, drive your way to The Village for the best shopping and dining experiences in the city. Definitely a worthy Airbnb in Big Bear Lake to book this cold season!
3. This vintage dwelling with an open-air hot tub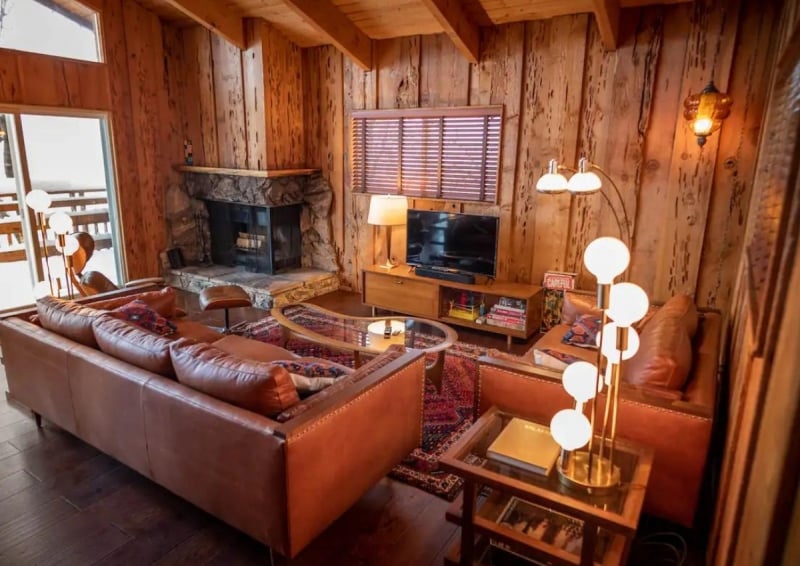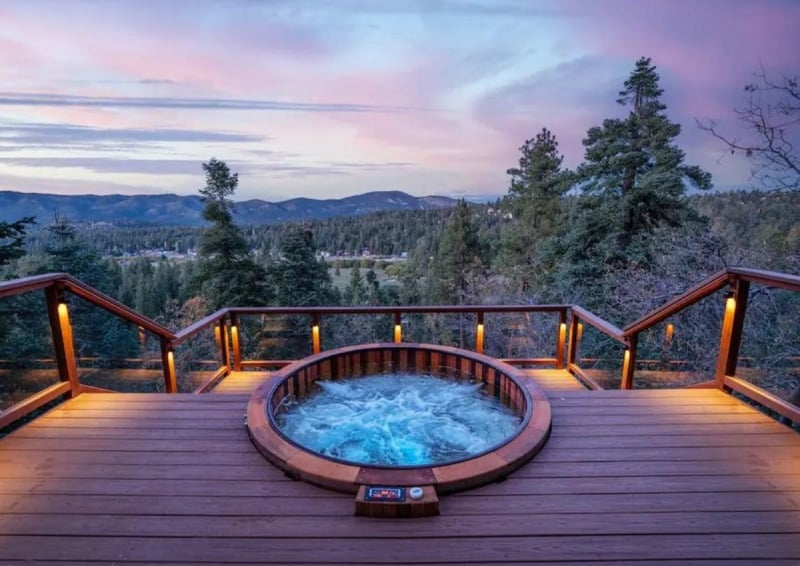 Listing name: Brand new hot tub, walk to Bear Mountain!
Listing type: Entire chalet
Max. no. of guests: 9
No. of bedrooms: 4
This three-storey Airbnb in Big Bear Lake is a must-add to your list! Step inside, and you'll be greeted with a rustic interior plus warm tones and lighting that blend well with the leathery furniture — all exuding a cosy vibe for a winter stay.
Not only does its spacious deck offer you unbeatable tree tops and mountain vistas, but you can also soak in a warm bath as you take in the views! And if you love the night sky, this open-air deck will let you stargaze to your heart's content. Or better yet, catch some snowflakes with your bare hands on a quiet winter night.
Ready for some adventure? Both San Bernardino National Forest and Big Bear Mountain Resort are just a short walk from this place!
4. This cosy residence in a centrally located neighbourhood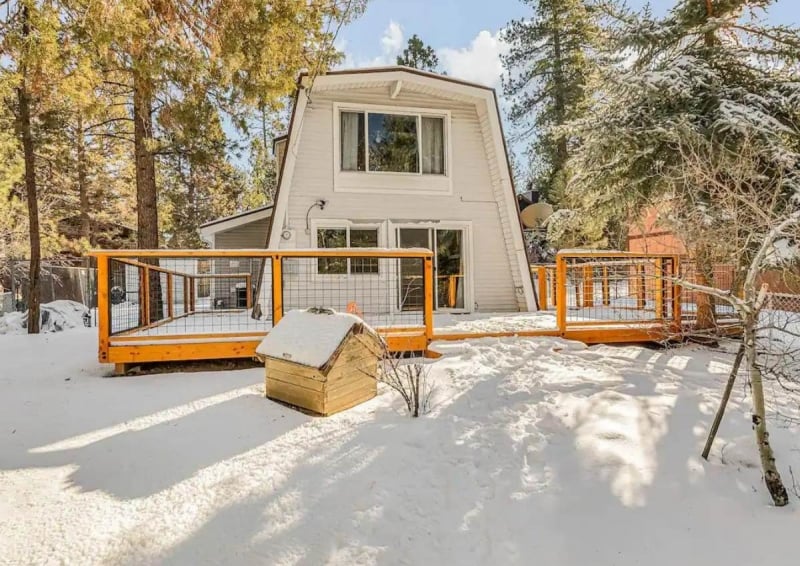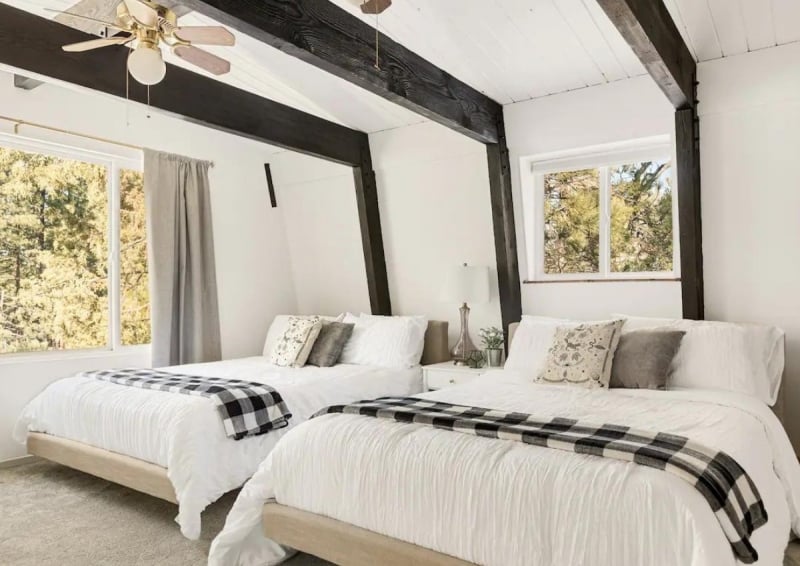 Listing name: Fox Farm Retreat, 2b/2ba House, King Bed, 2 Queens
Listing type: Entire home
Max. no. of guests: 5
No. of bedrooms: 2
One look at this charming Airbnb in Big Bear Lake, and you know it'll be a cool retreat to stay in during winter. With a quirky exterior of a gambrel roof and an interior theme as white as snow, this home is a dream come true for any winter enthusiast. 
Enjoy the holiday season premiere movies on the flat-screen TV, or play a card game or two with your buddies in front of the log fireplace. For a light meal, you can prepare some in their well-equipped kitchen. 
When it's time to explore, drive your way to Bear Mountain, The Village, or the Big Bear Alpine Zoo for some adventure. Got extra time on your plate? Roam around the tranquil Fox Farm neighbourhood, before you come home to this spotless abode.
5. This homely Big Bear Lake Airbnb that welcomes pets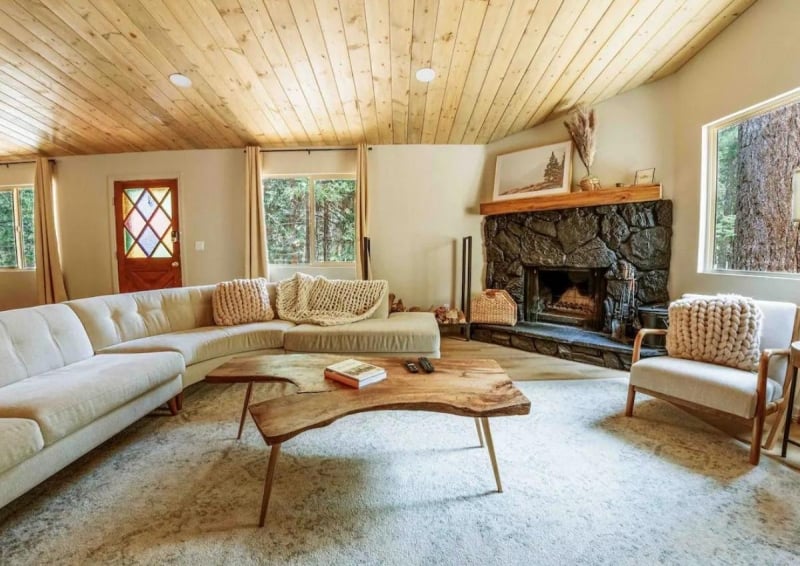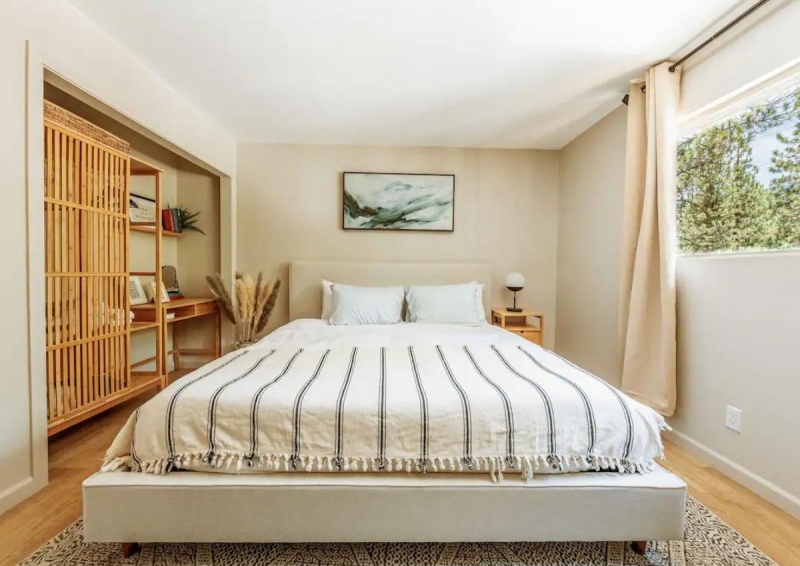 Listing name: GRANDJuniper- Dog friendly -1600sqft – w/ heat!
Listing type: Entire cottage
Max. no. of guests: 8
No. of bedrooms: 3
Imagine coming home to this serene cottage after a long day of exploring — haven! The space features a blend of neutral palettes and earthy tones from every corner, exuding a welcoming vibe as soon as you enter. Plus, spots of sunny hues can be found both in the bedroom and the living area, providing a warm feeling amidst the cold season.
Each of this place's cosy bedrooms is equipped with air conditioning and a heater that can be set to your comfort level. You can watch the snowfall from the comfort of your bedroom window, and you might as well spot some coyotes wandering the snowy ground at night. Did we mention you can bring your furry baby to this snuggle abode? Yup, two of them at max. 
While you're here, don't forget to hop into memorable skiing and snowboarding sessions with your fam at Bear Mountain Ski Resort, approximately five to 10 minutes away! Talk about the best pet-friendly Airbnb in Big Bear Lake you shouldn't miss out on.
6. This dreamy lodging surrounded by greenery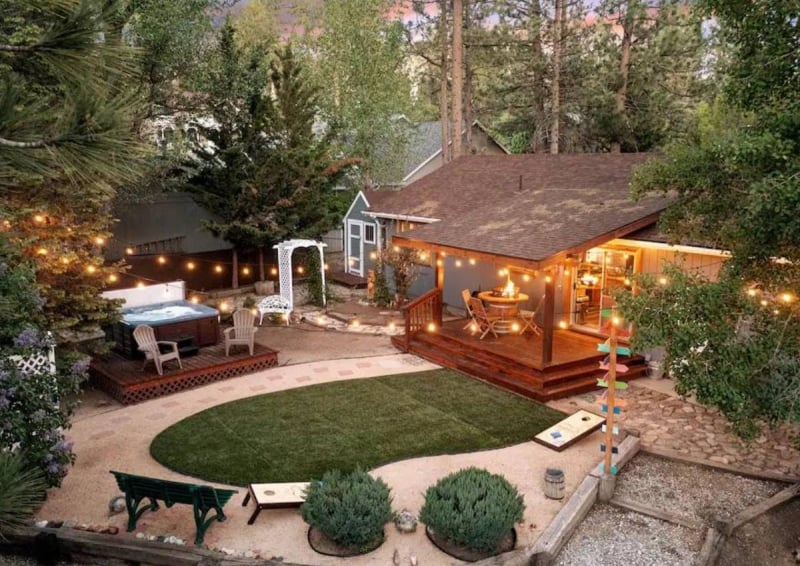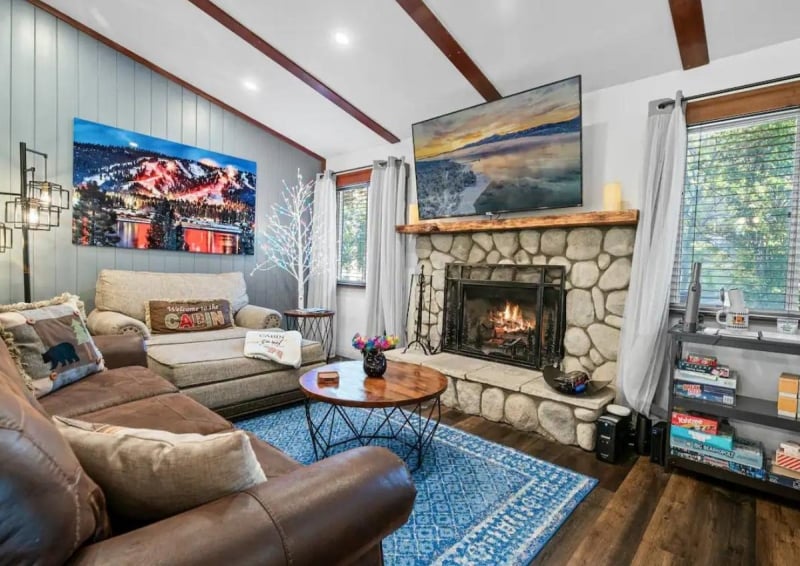 Listing name: Fenced • Spa • EV • Fire Pit • Gorgeous & Near All
Listing type: Entire cabin
Max. no. of guests: 5
No. of bedrooms: 2
Nothing can go wrong when you book this gorgeous Airbnb in Big Bear Lake with glimmering festive lights hanging outside. The cabin is carefully designed to accommodate up to five guests and is equipped with two spacious bedrooms. Each has its own wall-mounted TV. 
You can visit The Village, only a five-minute drive from the stay, and embark on a fun-filled snowy adventure at the nearby ski slopes. The best part is coming home to this snuggly cabin that lets you warm your toes at the wood-burning fireplace. 
Afterwards, have a ping-pong match with your loud bunch, or play one (or two) of the Host's card games for a fun-filling night. For some me-time, cosy up with a good book in your bedroom or the oversized chair in the lounge before you sleep your worries away in this comforting haven.
7. This Airbnb in Big Bear near Snow Summit with the most soothing vibe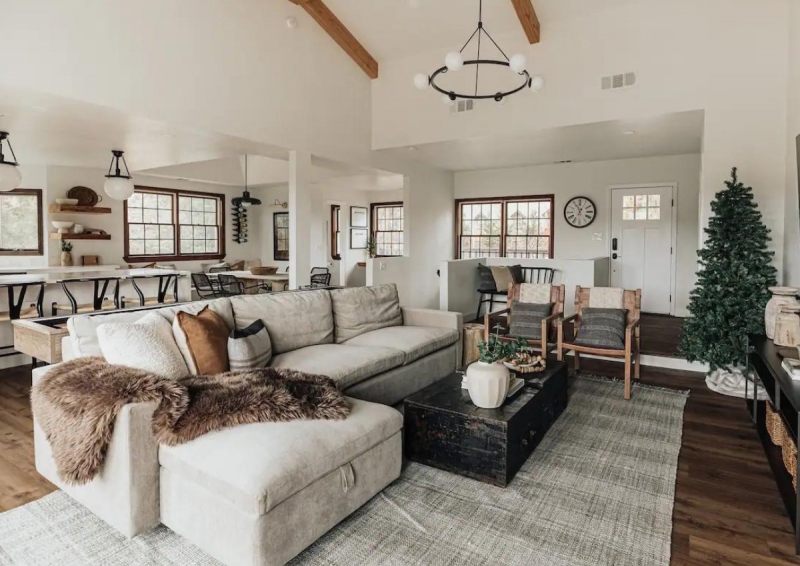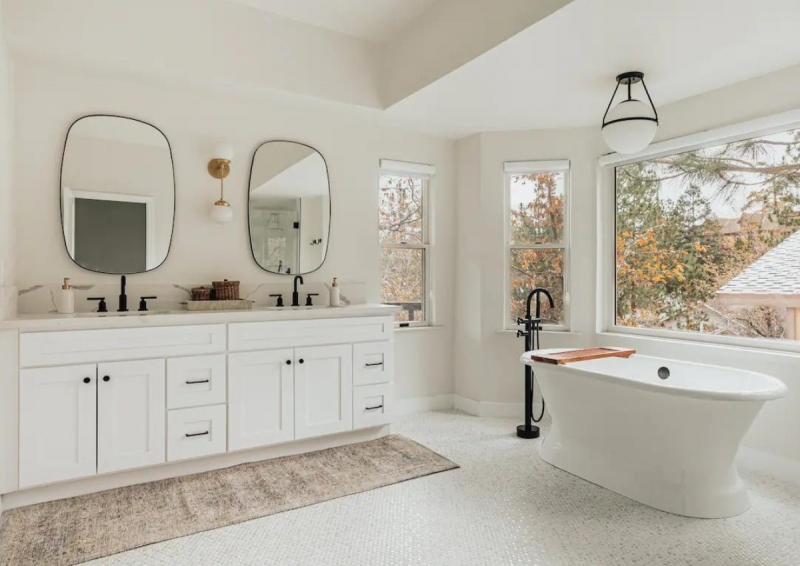 Listing name: Dawson Summit-Elegant+VIEWS! W/NEW b/up generator!
Listing type: Entire cabin
Max. no. of guests: 11
No. of bedrooms: 4
This stunning homestead perfectly interprets elegance and comfort in one frame. Step inside, and your mind will steer clear of worries in no time. All thanks to the refreshing white tone and muted beige and grey shades that give this space a calming vibe. Be sure to check out its oversized patio decks that let you relish the fresh mountain air and smell the alpine trees. You can dine with your family on the open-air patio or have a fun BBQ session to spice up the cold night. 
If it's too cold outside, you can always enjoy the enchanting natural scenery from the comfort of your warm sofas in the living room. For a better experience, try relaxing in its bathtub by a huge window that lets you watch snowfall and outside greenery to your heart's desire. 
While you're here, don't miss the chance to have a fun day out with your fam to the nearby Snow Summit and Mineshaft Alpine Coaster to complete your visit!
8. This log cabin that looks straight out of a storybook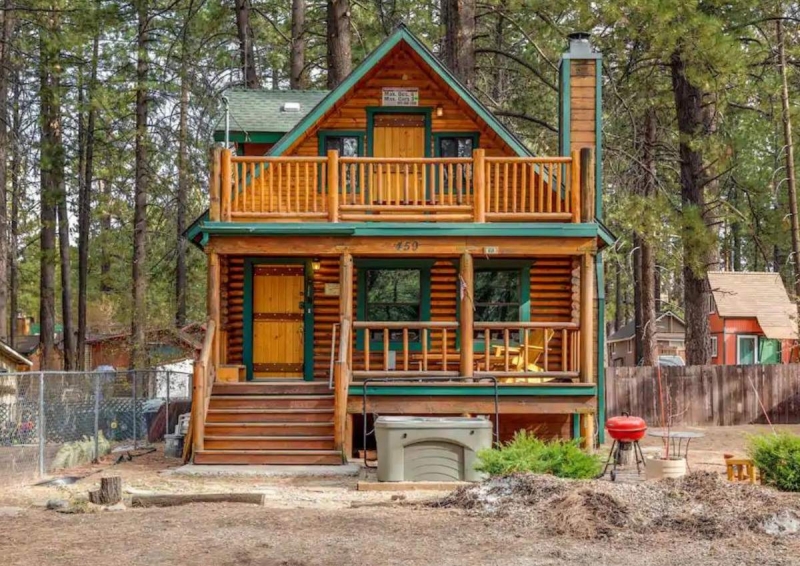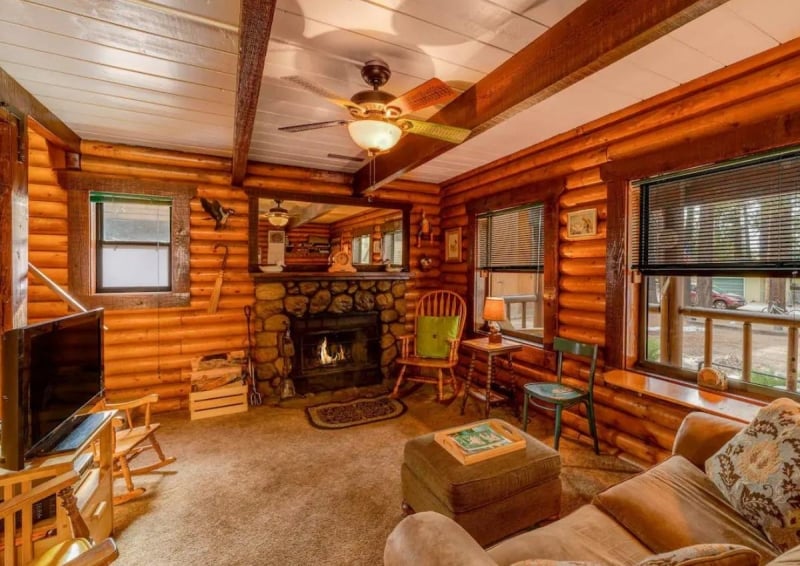 Listing name: Bear Lake Hideaway, Cabin w Spa
Listing type: Entire home
Max. no. of guests: 4
No. of bedrooms: 2
This quaint Airbnb in Big Bear Lake is a cabin made out of logs and can house a small group of four. Enter the house, and you're in for an enchanting storybook-inspired interior that'll keep you mesmerised throughout your stay. 
Aside from its well-loved jacuzzi, the fully stocked kitchen and various board games will keep you occupied when you don't feel like going out. But when you do, there are just so many nearby places to explore! 
We're talking Meadow Park which offers the best playground and courts, and Ski Beach which leads to the lake (for water skiing during warmer months)! Not to forget, The Village is within walking distance of the stay. For some tasty breakfast to start your day, check out Grizzly Manor Cafe, just a few steps away from this cabin. How convenient!
9. This lakeside bungalow with a vibrant theme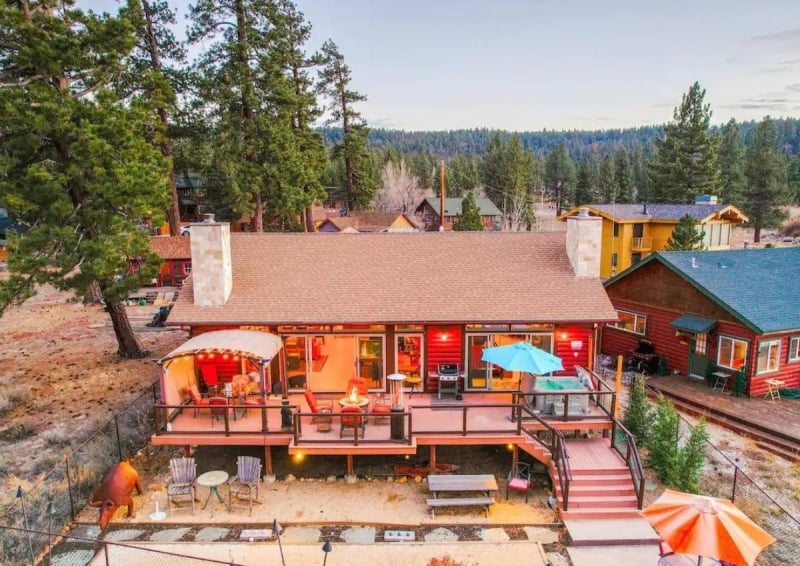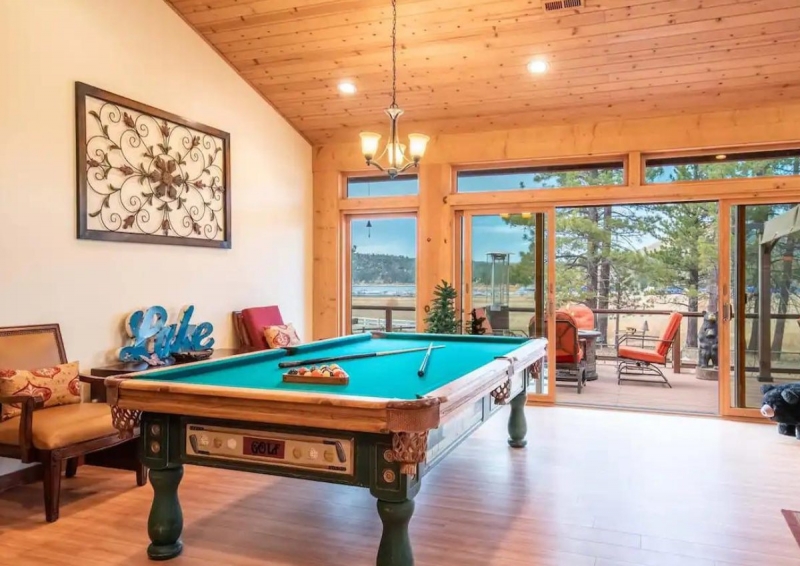 Listing name: Lake Time Villa *NEW* Luxury w/ HOT TUB
Listing type: Entire home
Max. no. of guests: 8
No. of bedrooms: 3
This fabulous Airbnb in Big Bear Lake is the place to be for your next vacay with the girls or the boys. The gorgeous home really screams luxury from every corner with its wooden and leathery furniture, perfect warm lighting, and shiny wainscoting-installed ceiling. 
You will especially appreciate the spacious backyard deck that lets you have a BBQ session while enjoying the stunning lake views in front of you. BTW, don't forget to have a snooker match with your friends, even if it's your first time. Not a fan? Their outdoor bocce ball court might interest you!
For some snowy adventure, head out to the Snow Summit or the nearby Bear Mountain, both approximately a two-minute drive from this space!
10. This lovely property with a rustic charm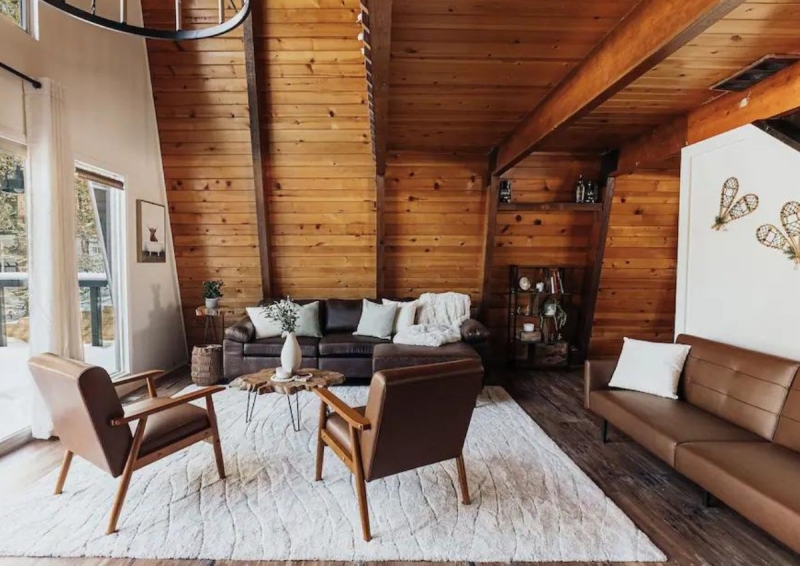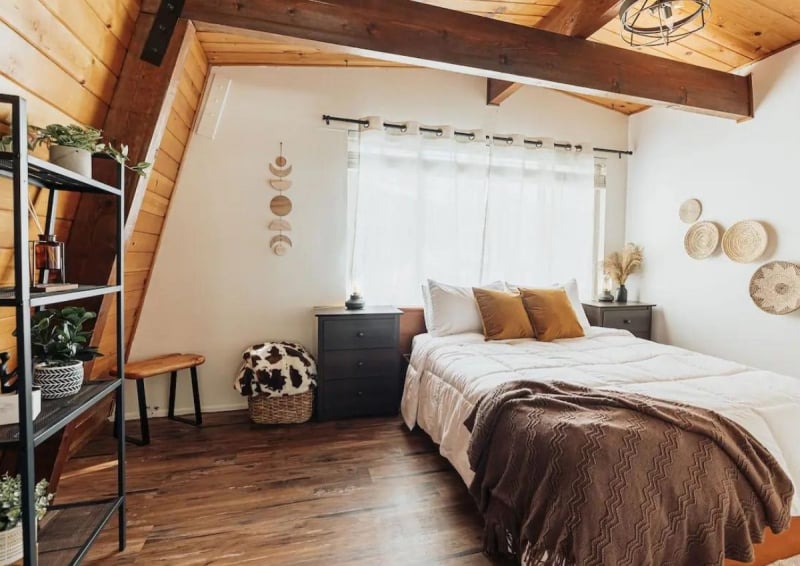 Listing name: NEW! Moonlight Modern A-Frame Cozy Cabin 2BR2BA
Listing type: Entire cabin
Max. no. of guests: 6
No. of bedrooms: 2
One of the best Airbnbs in Big Bear Lake is this earthy-toned residence perfect for those looking for peace of mind amidst an action-packed trip. Kick off your day with a cup of Keurig coffee before you watch the sunrise from the outdoor back deck. A home-cooked meal? That, too, sounds like a good plan in this cosy space equipped with a fully stocked kitchen! 
For the best experience, check out Bear Mountain Ski Resort, Big Bear Alpine Zoo, and Big Bear Snow Play; all less than two miles from this stay. When you're done exploring, come home to this comfy abode for a post-ski nap or a toe-warming session in front of the fireplace. 
When the night falls, keep your eyes on the twinkling constellations in the sky before you're off to "bedfordshire." So, if you're planning to go to SoCal and still looking for a worthy Airbnb, this cabin in Big Bear Lake will do you justice!
11. This gabled-roof stay with a dedicated game room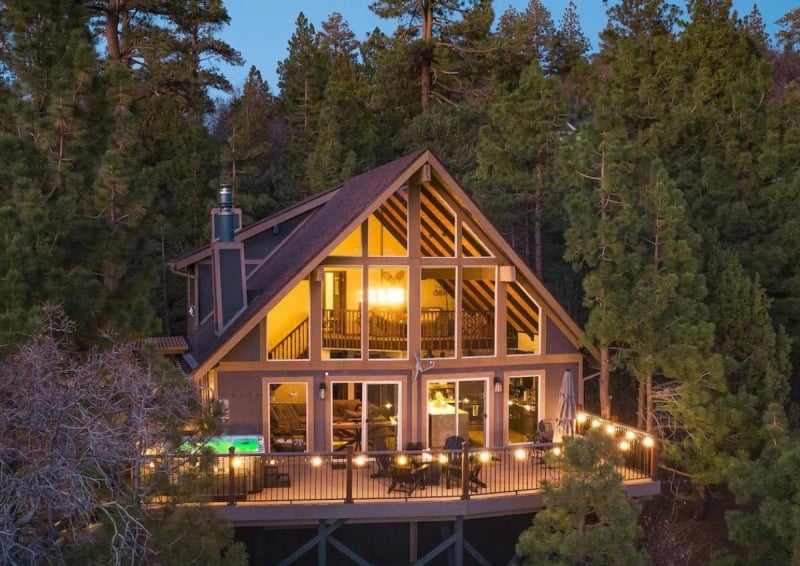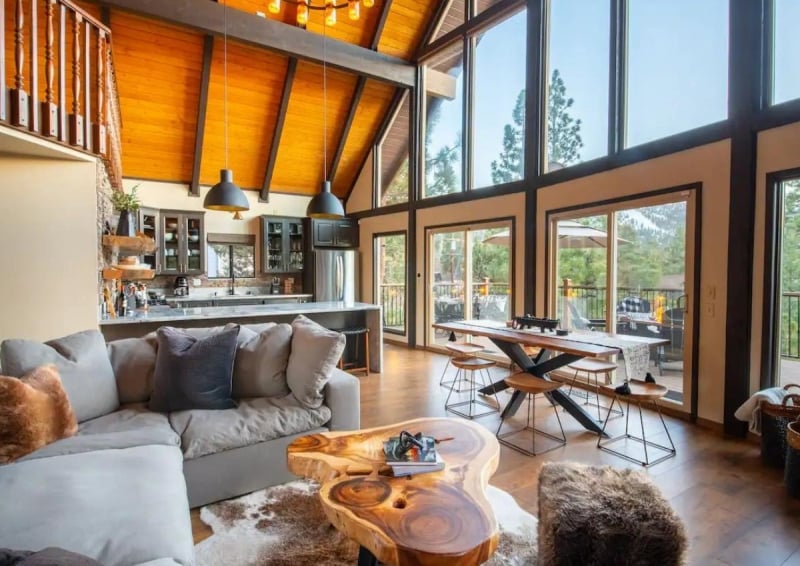 Listing name: NEW! Luxury A-Frame with Views, Hot Tub, Game Room
Listing type: Entire cabin
Max. no. of guests: 9
No. of bedrooms: 3
This delightful Airbnb in Big Bear Lake welcomes travellers with its unique A-frame exterior that stands out in the middle of the alpine forest.  The home features a contemporary look with a touch of rustic charm, giving a luxurious vibe to the space. Spots of faux fur in the living area also make the place a tad cosier and more inviting to visitors.
Now, what sets this cool lodge apart from the rest? The answer lies in its dedicated game room comprising a pool table, poker table, shuffleboard table, air hockey, foosball, and even a dry bar! How's that to fill up your time when you're not skiing at the nearby Bear Mountain Ski Resort?
12. This charming A-frame Big Bear Lake Airbnb filled with pretty lights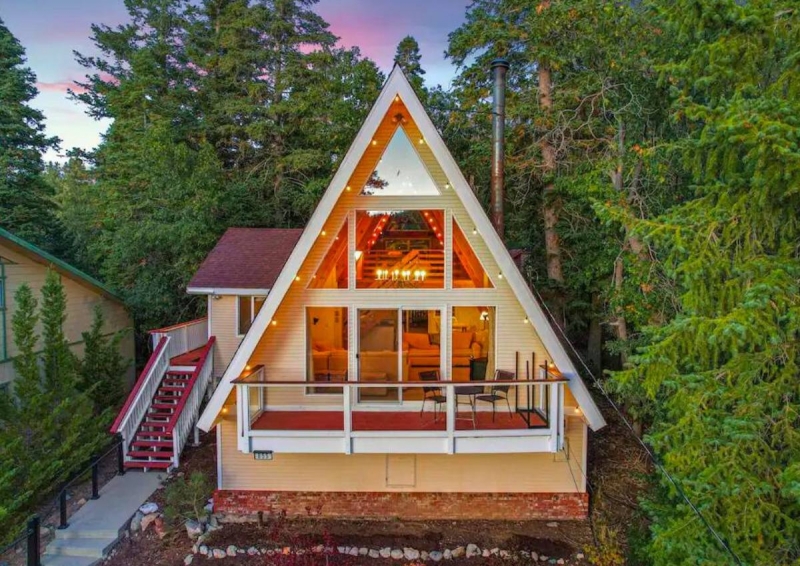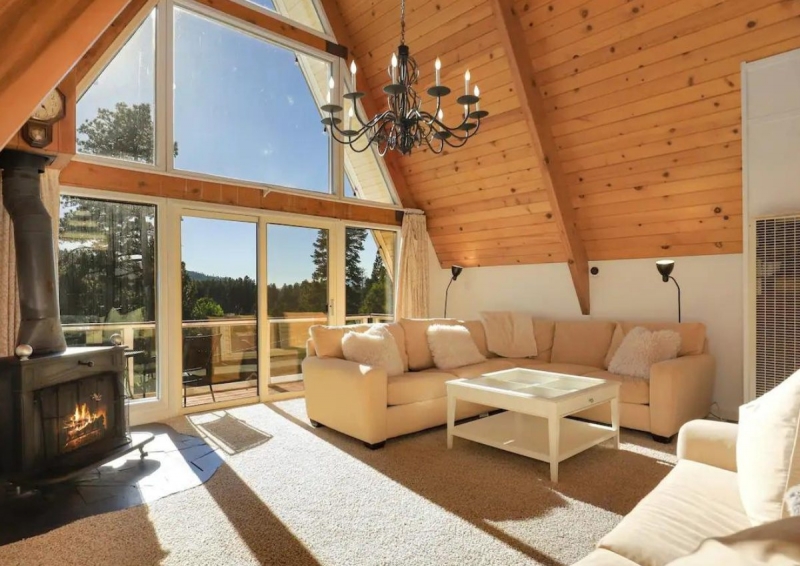 Listing name: A-Frame Cabin Epic Mountain Views 3 min to Skiing
Listing type: Entire cabin
Max. no. of guests: 5
No. of bedrooms: 1
If you're still looking for yet another worthy-booking Airbnb that's a cabin in Big Bear Lake, this sun-soaked abode should be at the top of your list! Pairing neutral-themed interiors with a landscape of San Bernardino National Forest popping out the huge sliding glass doors, you're in for a 4K view of the snowfall season in California. 
Some of the perks to not miss out on include its super-fast WiFi connection, free Netflix and HBO streaming, as well as a complimentary coffee bar to kick off your day. When you feel the urge to explore the area, Bear Mountain Ski Resort and Big Bear Alpine Zoo are easily accessible on foot!
Also read: 10 Best Airbnbs Near Universal Studios Hollywood in California
And that concludes our list of the best stays in this winter haven! So, have you found the coolest Airbnb in Big Bear Lake to complement your next winter getaway? Well, we're pretty sure you have (read: you're welcome)!
Got a property you'd like TripZilla to feature? Inquire with us here.
---
This article contains affiliate links. When you book through these links, we may earn a small commission at no additional cost to you. All images courtesy of the respective property listings.