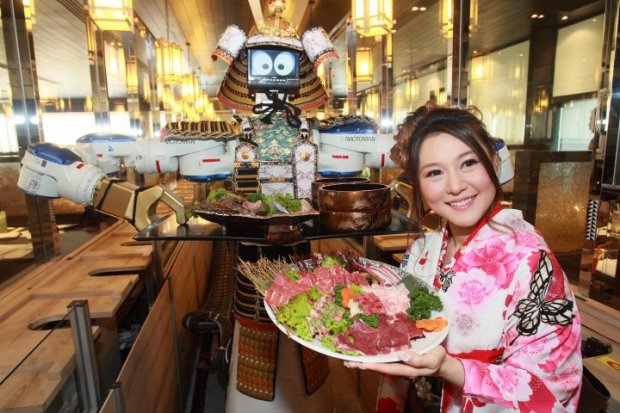 When in Bangkok, you should try eating at this entertaining restaurant. Owned by Lapassarad Thanaphant (pictured above), Hajime Robot Restaurant is stepping up its game to beat typical Yakiniku restaurants with its dancing samurai robots. Yes, these robots don't just know how to deliver Japanese food to tables; they also know how to dance along to a song by Lady Gaga.
Take a look at the robots' agility.
Hajime Robot Restaurant is located at Monopoly Park, Rama 3 Road, between Soi 61 and Soi 63, Bangkok. Just a friendly advice: Don't expect mind-blowing speedy service – the robots are sure fast in serving the food, but humans still do the cooking.
13.684836, 100.544289,Hajime Robot Restaurant Yan Nawa Bangkok Thailand
Hit up this amazing restaurant when you visit Bangkok.
Image credits: Hajime Robot Restaurant Facebook