If the mention of Cambodia immediately elicits a shriek, "ANGKOR WAT!", you can expect a similar "MACHU PICCHU!" reaction at the mere mention of Peru. Those two are practically synonymous! Rarely will a conversation include one without the other — especially if that conversation is between two travel junkies.
I will be the first to admit that the world-famous Machu Picchu was the main reason why I placed Peru so high up in my travel bucket list. But after doing some research on this huge country — It's the third largest country in South America in terms of land area, after Brazil and Argentina — I realised that there's more to Peru than the Machu Picchu. Thus, I have taken it upon myself to educate you about the many wonderful sites to visit and activities to try in Peru.
Also read: 10 Reasons To Go Backpacking in New Zealand
1. Explore Lima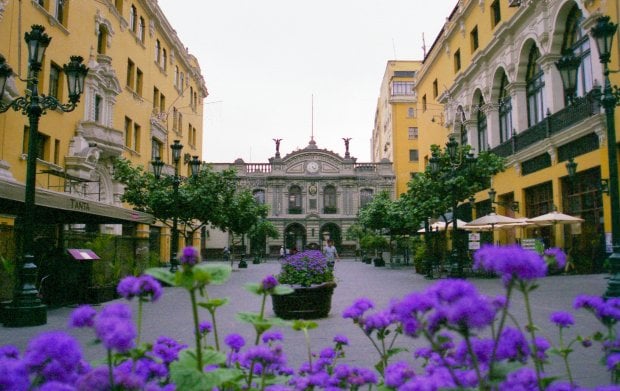 Image Credit: Martin Garcia
Your entry point to Peru will most likely be Lima, the country's capital. This historic centre is a UNESCO World Heritage Site, which is why skipping this city and heading straight to other Peruvian towns will be a big mistake. Lima is home to old churches (Catedral de Lima, Iglesia de Santo Domingo and Iglesia de San Francisco), museums (Museo Larco, Mujica Gallo and Museo de la Nación), art galleries (Aliaga House), parks (Parque del Amor and Parque de la Reserva) and historical ruins (Pachacamac and Huaca Pucllana). Also, being the gastronomical capital of Peru, the country's top places to wine and dine — La Mar, Central and Astrid y Gastón, to name a few — can be found here.
2. Sample the ceviche


Image Credit: Héctor de Pereda
Ceviche, which is a mix of raw fish, peppers, onions and lime juice, is Peru's culinary masterpiece. Don't even dare to leave the country without taking a bite of this mouth-watering dish. There are so many cevicherias in Peru, ranging from low-end to high-end, so your options are endless. If you're a self-proclaimed foodie, you might want to check out the Summum restaurant guide, which is basically the country's version of the Michelin guide, for a list of the best of the best.
3. Learn how to make pisco sour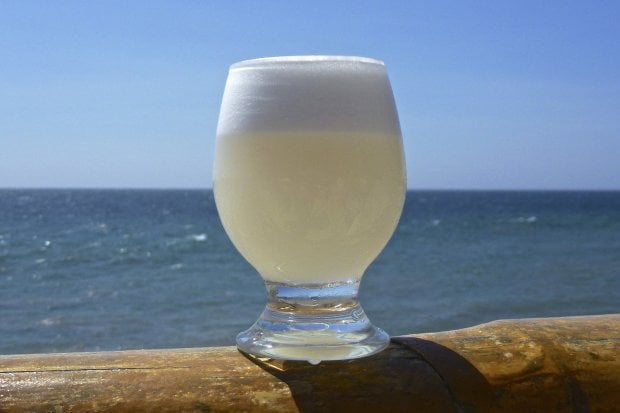 Image Credit: alobos Life
Pisco sour is a popular cocktail in Peru. Pisco, the base liquor, is a type of grape brandy produced in the country. Egg white, lime juice, syrup and Angostura bitters are added to make the cocktail. Learning how to concoct this national drink will give you instant bragging rights and get you thumbs ups from the locals.
4. Fly over the Nazca Lines

Image Credit: unukorno
How were these drawings created? And why? Were these works of humans? Or aliens? So many questions, so little answers! The mystery surrounding these desert carvings only adds to the allure of the site. Jump into a Cessna plane to fully appreciate this ancient wonder. From way up in the sky, you'll get to see stylised creatures such as a lizard, a spider, a bird, a monkey and so much more!
5. Visit the Machu Picchu

Image Credit: Pedro Szekely
Here it is, the great Machu Picchu! No matter how cliché it may be, no trip to Peru will ever be complete without a visit to this world wonder. There are so many ways to get there too! You can do the Inca Trail, a 4-day trek, which many compare to a sacred pilgrimage. A government permit is needed in order to participate in this tour. And since this is extremely popular, permits sell out fast, so you need to book it 3-4 months in advance. Please note, though, that this tour is actually quite challenging so you must be both mentally and physically prepared for it. If you don't think the Inca Trail is for you, you can take a shortcut — via the PeruRail. There are different options when traveling by train, depending on how luxurious you want your ride to be. The Expedition option is for backpackers. It's similar to a no-frills budget plane ride. The Vistadome option is slightly more comfortable with its large panoramic windows for you to get unobstructed views of the gorgeous landscapes. The Hiram Bingham option is all about world-class luxury with its elegant and cozy interiors. You'll get on-board entertainment plus a selection of top Peruvian wines and teas if you choose this executive package.
6. Visit the Chan Chan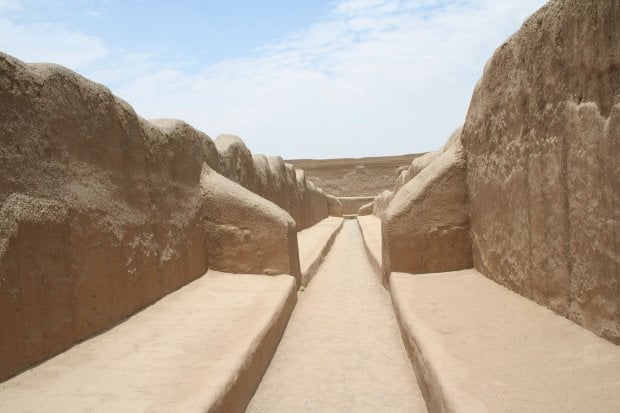 Image Credit: Tomislav Bicanic
Often overshadowed by the Machu Picchu is the Chan Chan, located in the La Libertad region. Few people know of this site but this is the biggest ancient city in South America. It is the former capital of the Chimú civilization and a UNESCO World Heritage Site so it's definitely worth a visit.
7. Spot a llama or an alpaca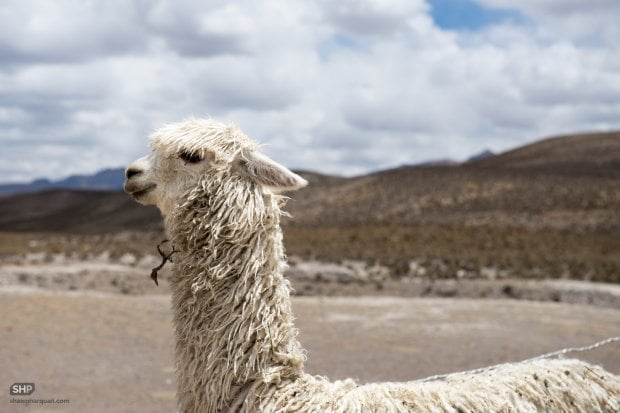 Image Credit: Shawn Harquail
Llamas and alpacas are domesticated animals in Peru. These creatures are very friendly and sociable so they don't usually panic when they see humans approaching. It's very common to see Quechua natives scurrying about with their llamas or alpacas in tow. I find them really adorable so I won't hesitate to pet one when I see one.
8. Go paragliding over the Sacred Valley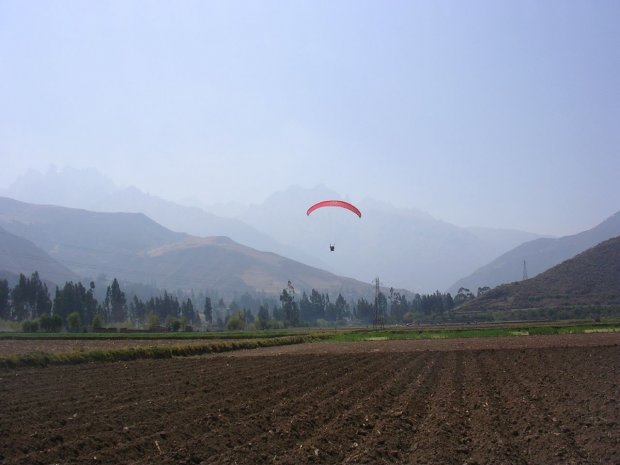 Image Credit: rguha
If you want an exhilarating experience when you visit Peru, paragliding is the way to go. Are you a first-timer? Don't fret! You can do tandem flights with experienced pilots so you'll just have to worry about getting the perfect "selfie" on your GoPro® as you spend 10-30 minutes soaring over amazing landscapes.
9. Visit the Salinas de Maras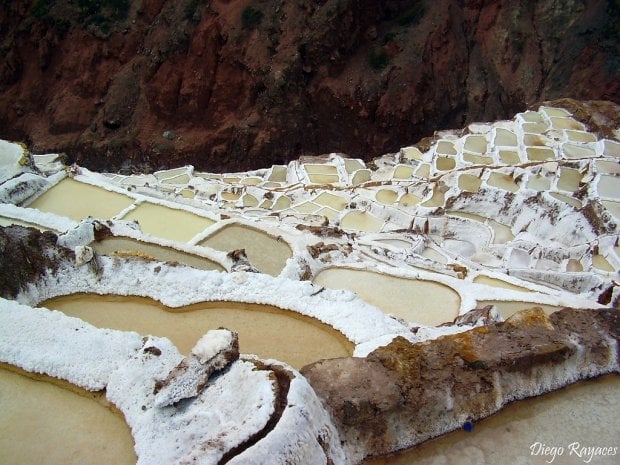 Image Credit: Diego Rayaces
If Asia has rice terraces, South America has salt terraces! These salt pools have been around and have been a source of income for the local community even before the time of the Incas. Don't leave your camera at the hotel because you'll surely want to snap a couple of shots of these picture-perfect glittery pans.
10. Visit the Moray ruins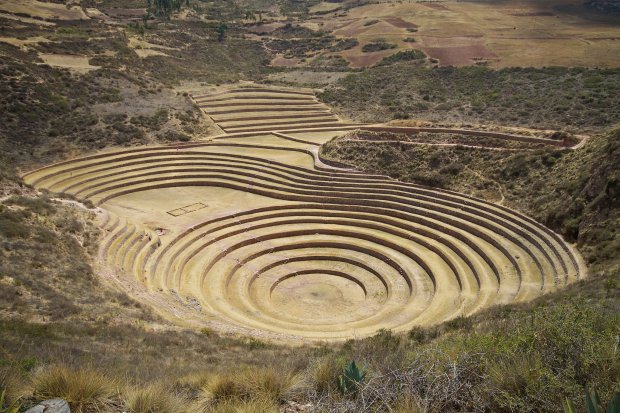 Image Credit: McKay Savage
This is another proof of outstanding Incan architectural and agricultural workmanship. The Moray ruins are so beautiful and complex with its concentric design and multiple terraces that I consider it a work of art. If I were you, I'd head to this place after I visit the salt pools in Maras, which is only a few miles away.
11. Take a sip of coca tea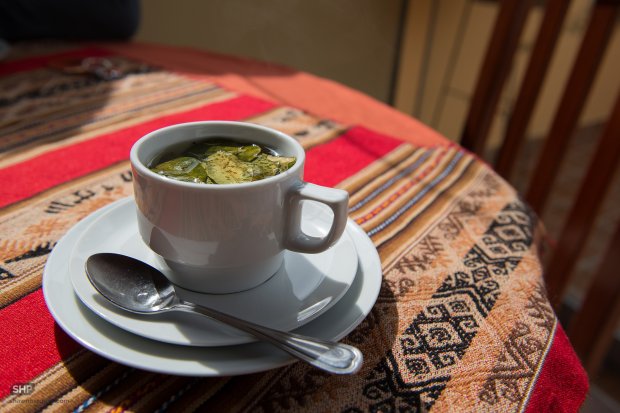 Image Credit: Shawn Harquail
This is an herbal tea that is made using the leaves of a coca plant. It is common and widely consumed in Peru as it is believed to help alleviate altitude sickness. Natives of other South American countries such as Colombia, Bolivia, Argentina, Ecuador and Chile drink this too. However, it is completely illegal in the United States. You can probably guess why. So don't even try to bring some out of Peru. You'll pretty much guarantee trouble with customs officials if you do.
12. Make a stop at Arequipa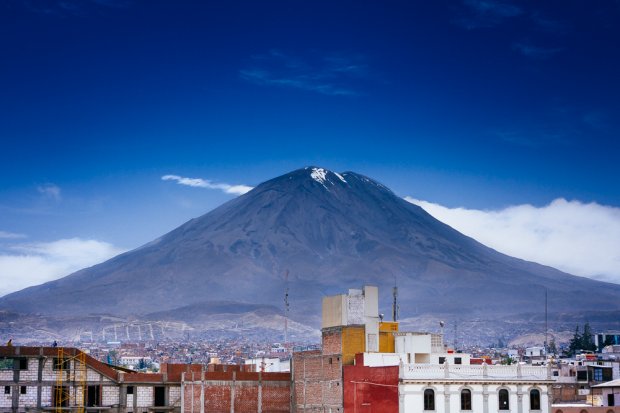 Image Credit: Kevin Zamani
Do you need a break from all the Incan artefacts and ruins? If so, then head to the city of Arequipa! Also known as "La Ciudad Blanca" or "The White City" because its structures were mostly built from volcanic sillar stone, this beautiful city is lined with churches, plazas and mansions that show how Spanish colonial and indigenous architecture can look so good together.
13. Ride a reed boat in Lake Titicaca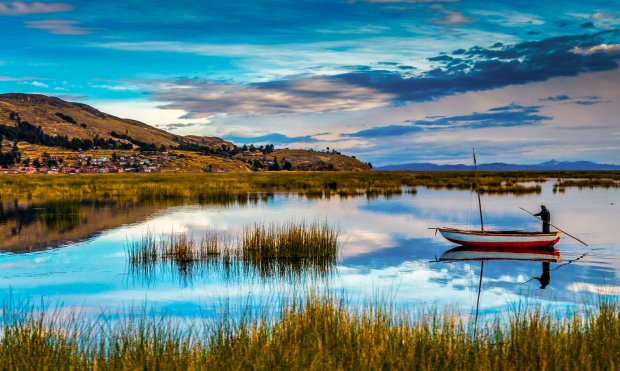 Image credit: Boris
There are so many impressive man-made floating islands scattered across Lake Titicaca, the highest passable lake in the world. Navigate through them like a local by riding a reed boat for a once-in-a-lifetime "cruise" experience! Have your sunblock and meds handy, though, as it is common to get altitude sickness and sunburn on this tour.
I'm sure I did not cover everything as Peru seems to be a country overflowing with rich culture and history. More of its sites will undoubtedly be included in its ever-growing UNESCO World Heritage Site list sometime in the future. So if I missed anything, let me know.
Also read: Where to View Sakura (Cherry Blossom) in Tokyo this 2015