Incredible news for budget-conscious travellers!
Low-cost carrier Norwegian will be launching direct flights from Singapore's Changi Airport to London Gatwick this September. The price tag for a one-way ticket: As low as S$200 – inclusive of fees and taxes!
This route will operate out of an offshoot of Norwegian, under its subsidiary known as Norwegian UK. The flights are available four times a week except in the Northern winter season (from October to March) when it'll be increased to five times weekly.
If it sounds too good to be true, believe it.
We scrambled to their website to see it with our own eyes and it's legit. We even snapped some screenshots for your convenience.
Flights in Oct/Nov 2017 (click to expand)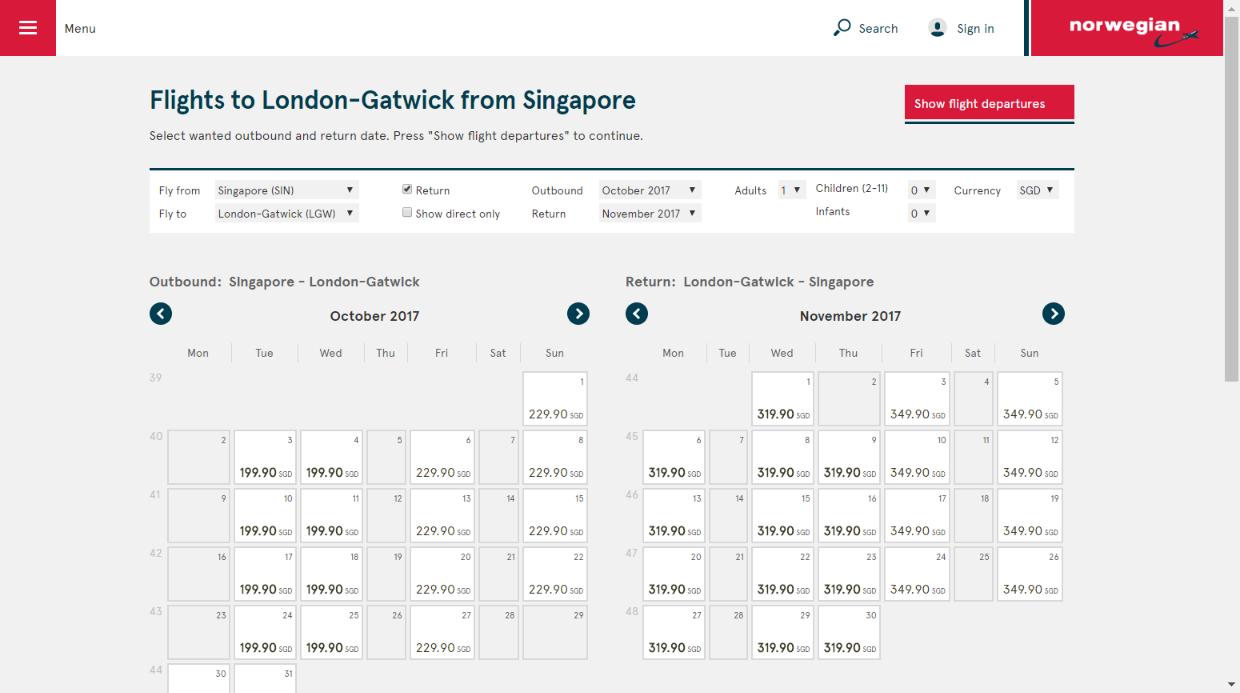 Flights in Feb/Mar 2018:
Looking for the cheapest fare?
Here's what we found:
The lowest price for an outbound Singapore to London flight costs S$199.90, and the lowest return flight from London to Singapore costs S$319.90. That's a total of S$519.80 for a return trip to London!
The route is available for sale and travel until 24 Mar 2018, though we're not sure how long the fare will remain this low!
Charges for additional services
Do note that the prices do not include meals or luggage. If you'd like to add in a checked baggage, that's an additional S$45; for seat reservation, it's another S$45; and for a pre-ordered meal that's another S$45. You can also pick the LowFare+ option at S$289.90 (extra S$90) to get all three bundled together!
For those who don't mind splurging a little for extra comfort, premium cabins are available.
The airline
Wondering what kind of service you'll get with Norwegian? I mean, who wants to be stuck 13 hours plus within a cramped seat in a lousy plane? Well, for the past two years, Norwegian was awarded the World's Best Long Haul Low-Cost Airline and Europe's Best Low-Cost Airline at the Skytrax World Airlines Award.
For those planning a London trip already…
To help you stick to your budget during your trip, check out our list of 20 fun & FREE things to do in London! But if a trip to London isn't complete without shopping, discover their bustling markets and departmental stores.
Lastly, before we leave you (to tagging your friends and sharing this piece of news), we'd like to pose a quick question: Why stop at London? Budget carriers abound in Europe, and you can always hop on a connecting flight to Prague, Barcelona, Paris or wherever you desire.
This is that (budget) golden ticket to a Europe trip you've always dreamed of.