Hanging out with wild kangaroos, glamping in the middle of the woods, swimming in a natural infinity pool… Do all these and more on a roadtrip along the NSW South Coast, also known as Australia's Oyster Coast! If you're looking to do something different on your next holiday, and yet get the usual dose of stunning scenery, delicious food (think: lots of oysters!) and impossibly cute wildlife, I'd say that this is the roadtrip of a lifetime.
Yes, not many know about this route but doesn't that make it all the more exciting? For the uninitiated travellers out there looking to do something off the beaten path, in a destination that isn't too far from home, here are 16 fun things to do along the NSW South Coast that'll stroke your wanderlust tendencies in all the right places:
1. Hang out with wild kangaroos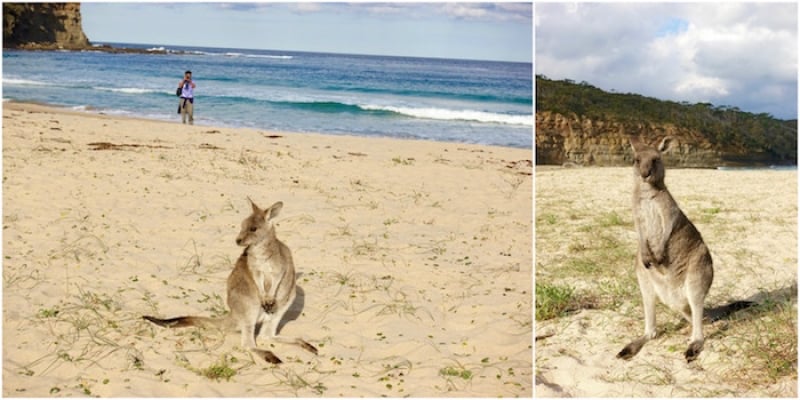 Kangaroos are an iconic symbol of Australia's wildlife, and can be found in droves all around the continent. Pebbly Beach, in particular, is home to a herd of wild kangaroos who prefer hanging out on the sand instead of the usual grass patches. Watch the kangaroos bounce about against the backdrop of rolling surf – it's a unique sight like no other!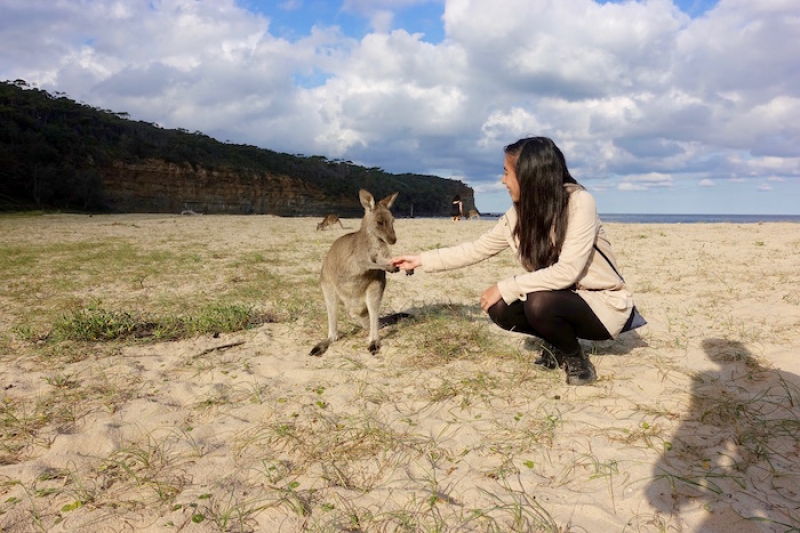 Pebbly Beach is also widely known as the 'home of the surfing kangaroos', a popular myth stemming from a photograph of a kangaroo in the low surf. You'll be hardpressed to find any surfing kangaroos during your visit, but these adorable little creatures will be more than happy to pose for a picture. In fact, some might even be willing to shake your hand or give your hair a sniff!
Where: Pebbly Beach
Address: Murramarang National Park, NSW 2536
2. Swim in an infinity pool by the sea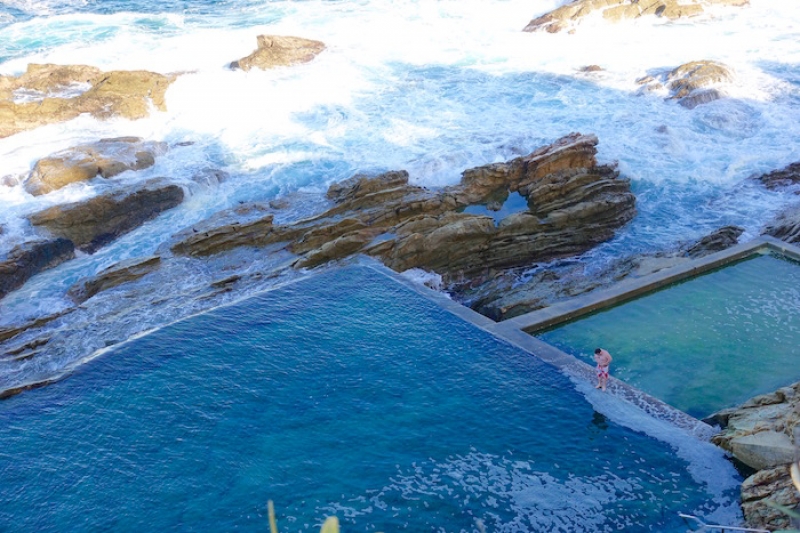 You might have heard of Sydney's famous Bondi Icebergs Pool, but visit The Blue Pool for pretty much the same experience – sans the crowds. Located along the Sapphire Coast, the Blue Pool is located right at the base of a sheer cliff face. Descend a flight of stairs to find a natural rock pool adjacent to crashing waves, which is perfect for a swim in any season.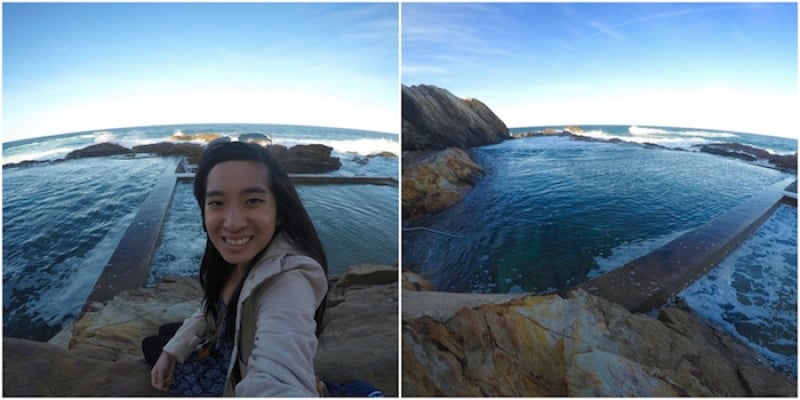 If you're planning to take a swim, there are toilets and shower facilities available. If not, simply lounge on the rocks by the pool and take in the view.
Where: The Blue Pool (close to Bermagui)
Address: Bermagui NSW 2546
Opening hours: 24 hours
3. Catch jaw-dropping sunrises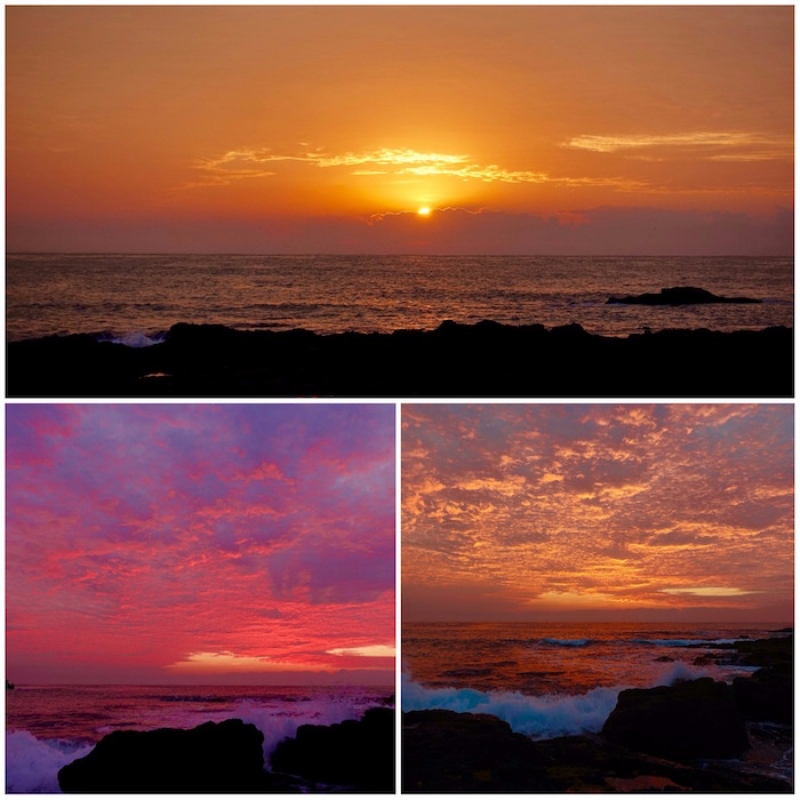 Waking up for sunrises is, more often than not, incredibly hard to do. However, here at Narooma, the grit of dragging yourself out of bed will definitely be worth your while. What a sight!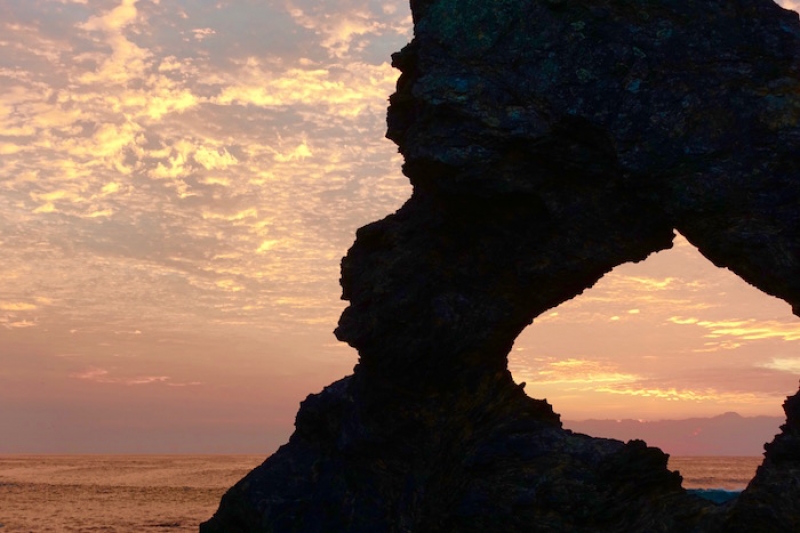 Watch the rising sun paint the skies from a brilliant red to a blood orange, through the aptly-named Australia-shaped hole in Australia Rock.
Where: Australia Rock (Narooma)
Address: 1 Bar Rock Road, Narooma NSW 2546
4. Watch wild seals play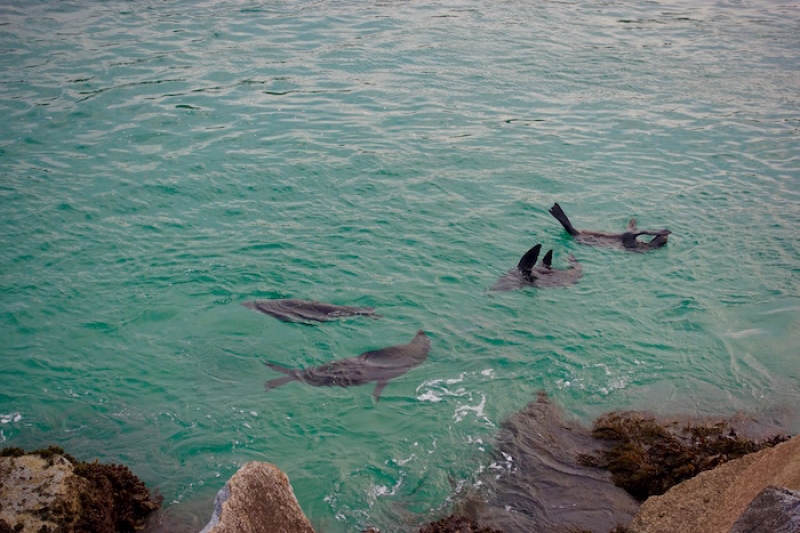 Once the sun has risen, head over to the wharf next to Australia Rock for some playful seal action. A family of seals inhabit the area, and can often be seen frolicking in the sea. In fact, you can even opt to go swimming with the seals at Montague Island. How novel an experience is that!
Where: Next to Australia Rock (Narooma)
Address: 1 Bar Rock Road, Narooma NSW 2546
5. Go glamping in the middle of the woods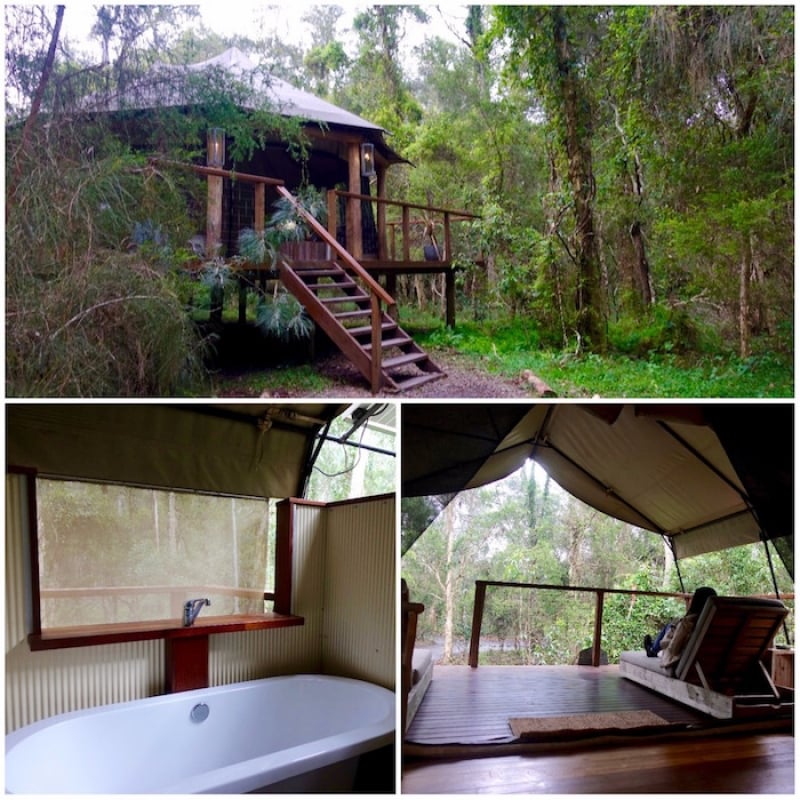 Glamping is no stranger phenomenon to the world but here at Paperbark Camp, they take the whole experience to a whole new level. With only 12 tents on the property, visitors are guaranteed an exclusive tranquil experience right in the middle of the woods. A combination of rustic and luxury, every tent at Paperbark Camp is named after an Australian animal (mine was called Echidna)!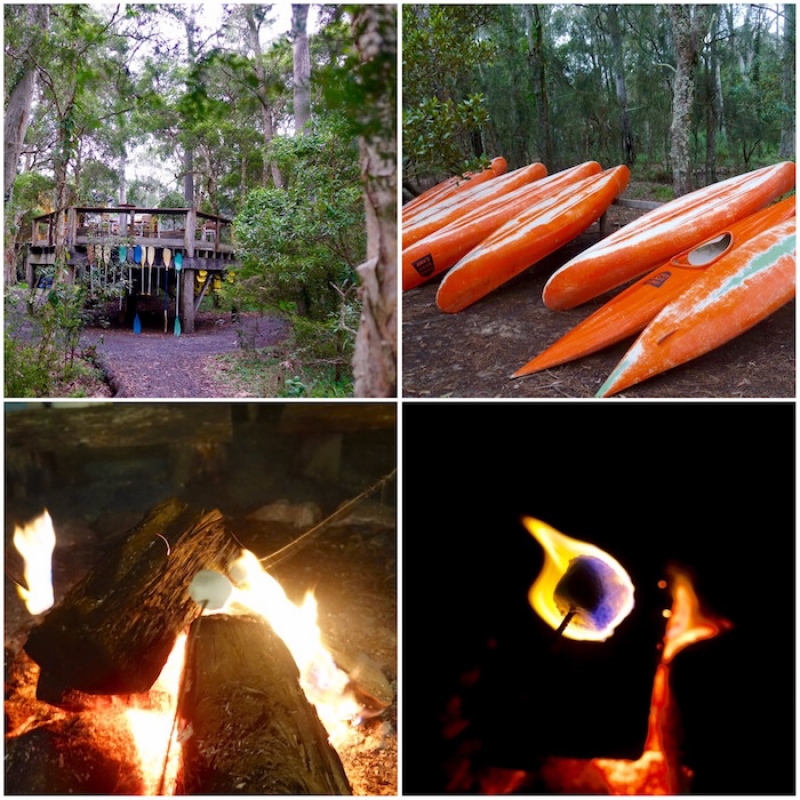 There's no shortage of things to do at Paperbark Camp – go for a morning stroll, take a kayak along the creek, or barbeque marshmallows over a campfire under the stars. In fact, a resident population of possums inhabit the area, a few of which might even drop by your tent to say hello.

Just imagine: waking up to this view in the morning. It's glamping at its best.
Where: Paperbark Camp (Huskisson)
Address: 571 Woollamia Road, Woollamia, Jervis Bay NSW 2540
6. Have an authentic oyster farm experience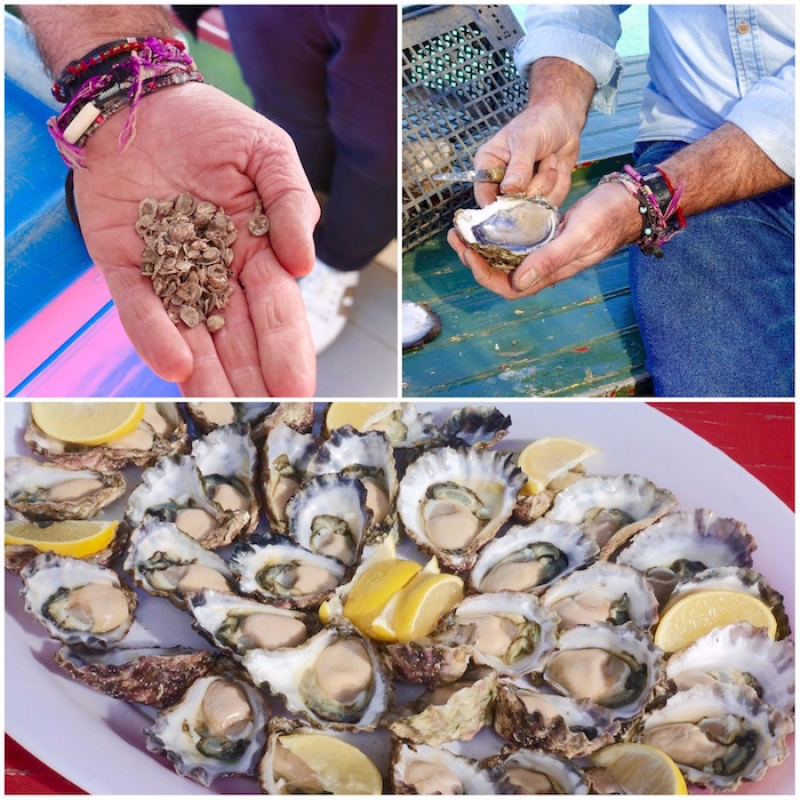 Because after all, the NSW South Coast isn't called the Oyster Coast for nothing! If you're a fan of oysters – this is the place for you. Experience everything related to oysters – visit oyster farms, go on estuary tours, sample some of the freshest oysters you'll ever eat – all along this trail.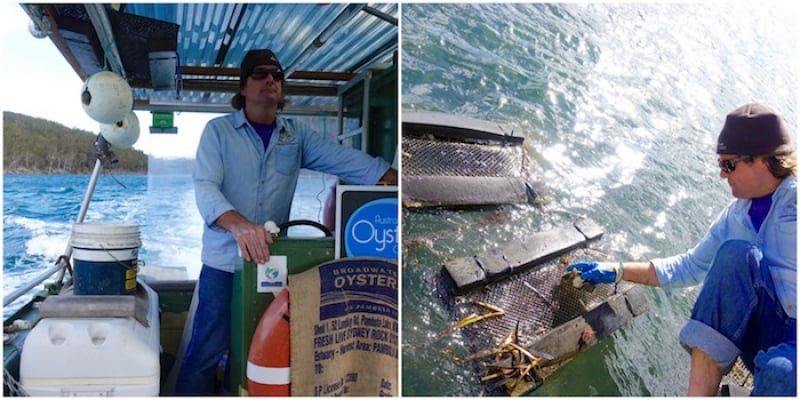 Captain Sponge's Magical Oyster Tours brings visitors on a tour of the Pambula Lake, where you can learn all about oyster farming and sample the famous Sydney Rock Oyster – straight out of the water. Did you know that one oyster takes about two to three years to grow? Amazing, huh! See firsthand the dedication that goes behind growing each oyster, and even try your hand at shucking your own oyster. It doesn't get any fresher than this!
Where: Captain Sponge's Magical Oyster Tours (Pambula)
Address: 6 Little Gahan Street, Pambula NSW 2549
Operating hours: Tours take approximately two hours each, and depart both in the morning and afternoon
7. Take a ride on a badass motorcycle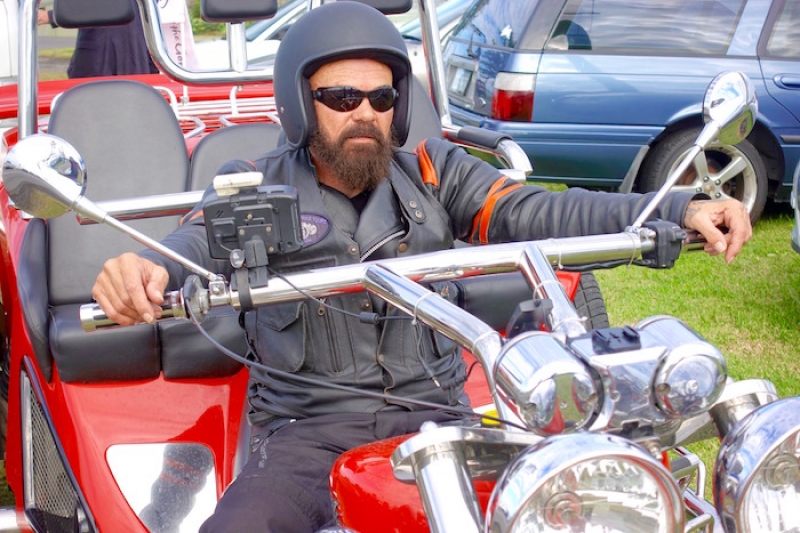 A Harley Davidson is the king of all motorcycles. Indeed, there's nothing like listening to the roar of a Harley engine. Always wished you could ride on one? Well, this comes pretty close.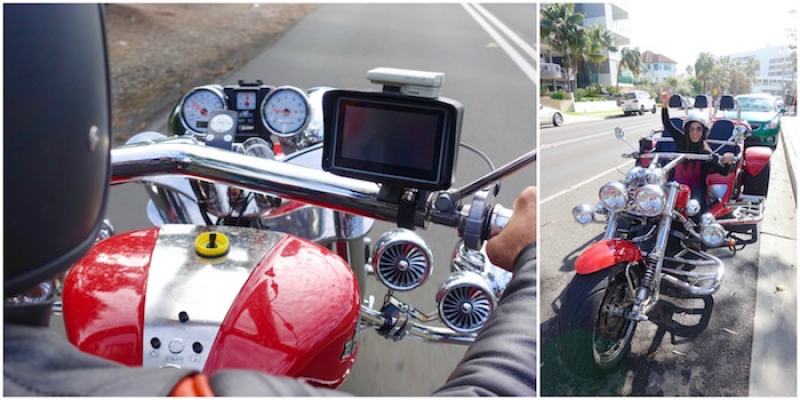 Especially for those without a license, now you get a chance to ride on a Harley Davidson – pimp my ride style. On a Just Cruisin' tour, a much-cooler-than-you driver will take you for a spin on one of these gigantic bikes. The only difference is that you won't have to cling on for dear life – each bike comes equipped with two comfortable 'pillion seats'. Be the envy of all onlookers as you zoom past them on the streets!
Where: Just Cruisin' Harley Davidson Motorcycle Tours (Wollongong)
Address: PO Box 117, Helensburgh NSW 2508
Operating Hours: Dependent on Tour (bookings required)
8. Dine at 'Long Time No Sea'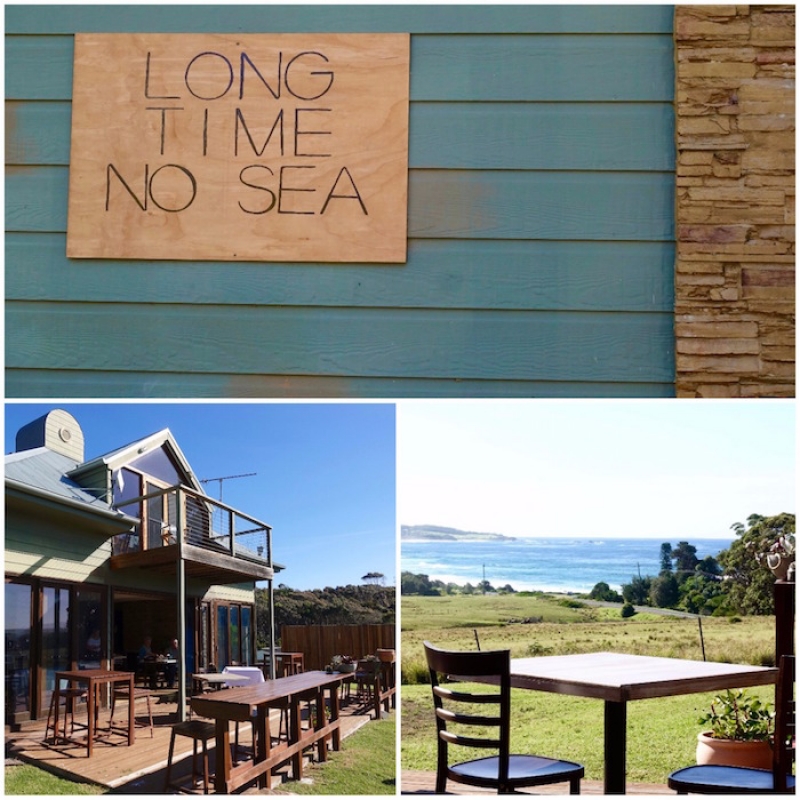 Having a wonderfully cute name, 'Long Time No Sea' is a darling establishment located right by the sea. Here, the owners pride themselves on serving quality food in a stunning environment. At the end of our meal, the owner/chef switched off his oven and proudly declared, "it's surfing time!" Now, that's the life.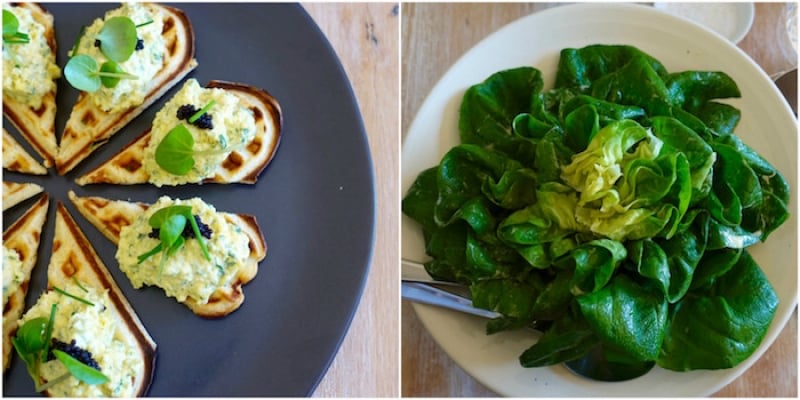 And the best part? The food here tastes every bit as good as it looks.
Where: Long Time No Sea (Tathra-Bermagui)
Address: 3521 Tathra-Bermagui Road, Barragga Bay NSW
Opening Hours: Midday-3pm (Wednesdays-Sundays), reservations required for dinner on Fridays and Saturdays. Closed in winter.
9. Take scenic walks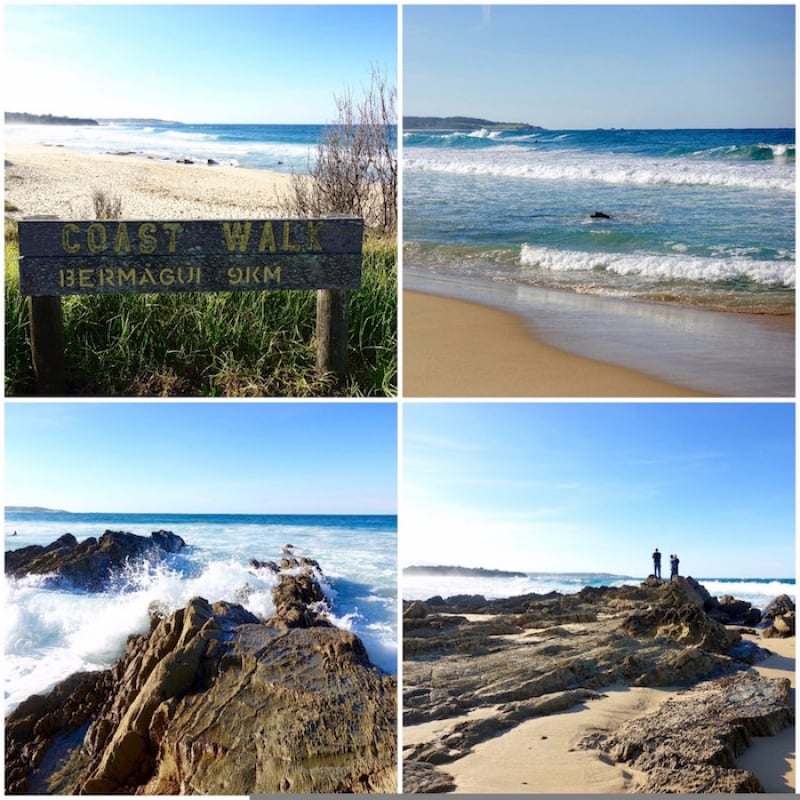 Coastal walks are a great way to take in the surroundings, and to admire the nature. Stroll along unspoilt beaches, skip through crystal clear waters and traverse natural bushlands. There are multiple coastal walks in the region, but the one at Bermagui takes the icing on the cake.
Where: Coastal Walk along Bermagui (Bermagui)
Address: Bermagui, NSW 2546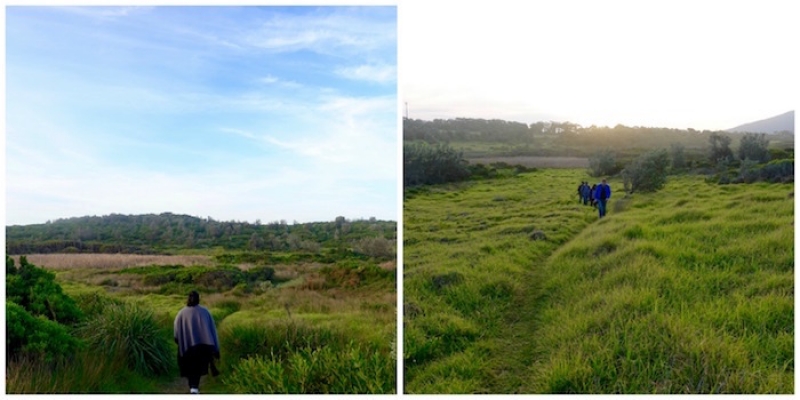 In addition, no Australian experience is complete without a good bushwalk. Time your walk just before dusk, so that you can watch the sunset along the trail.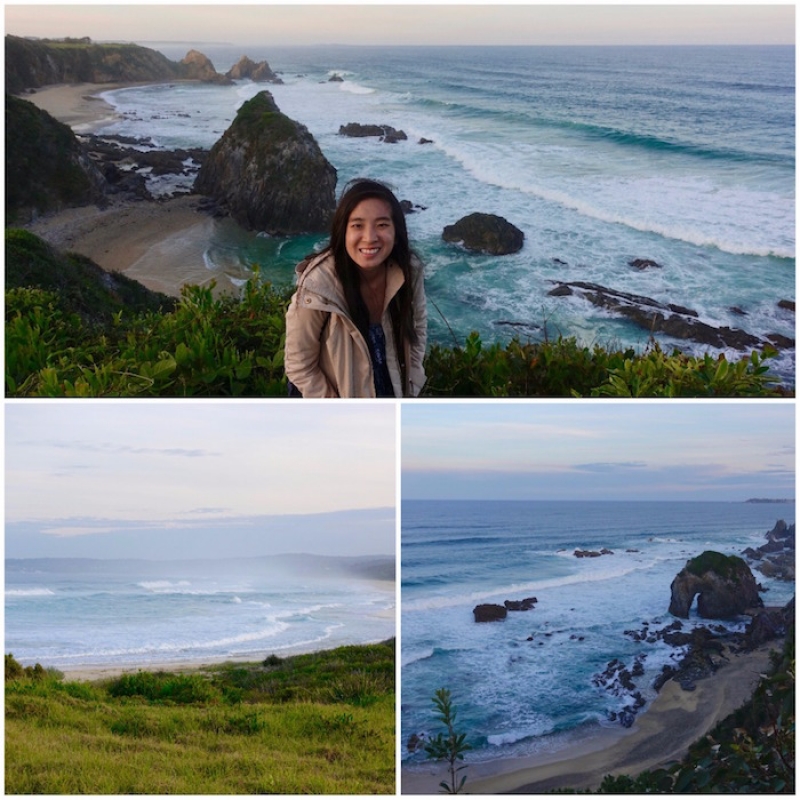 Find lots of photo-worthy vantage points along the way. The views are absolutely stunning! One of the most famous pit stops is Horse Head Rock (pictured below right) – named due to its resemblance of a horse's head.
Where: Bushwalk near Horse Head Rock (Bermagui)
Address: Wallaga Lake, NSW 2546
10. Visit a famous donut van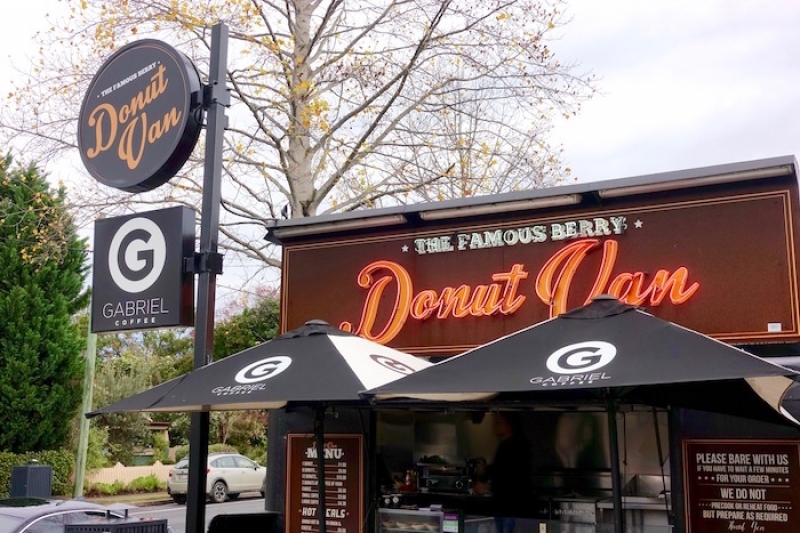 Stop by the famous Berry Donut Van for a sweet treat and morning caffeine pick-me-up! This van has been serving fresh cinnamon donuts and coffee for a whopping 55 years, making Berry its home after travelling around Australia for a year.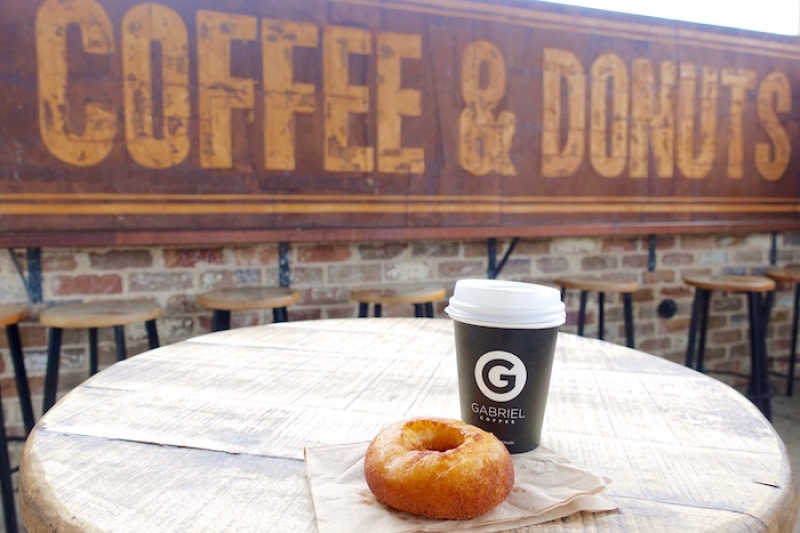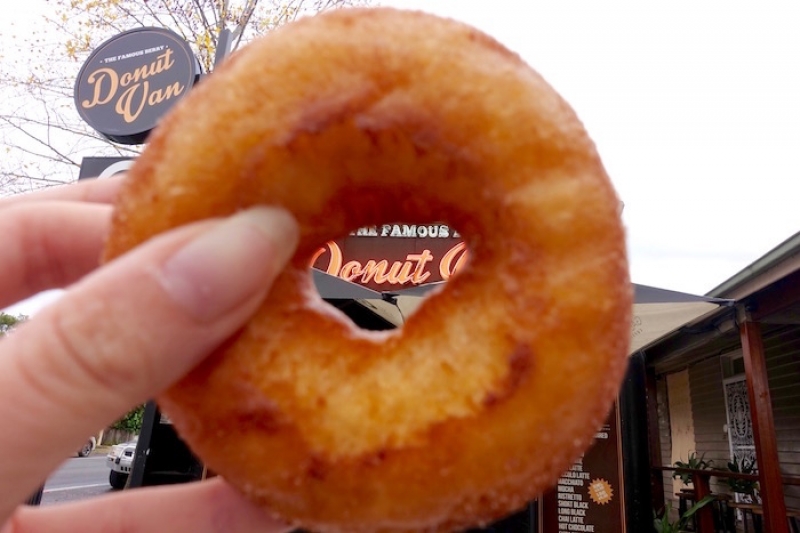 The donuts are served piping hot and coated with a layer of cinnamon. Warning: most people won't be able to stop at one.
Where: The Donut Van (Berry)
Address: 73 Queen St, Berry, NSW 2535
Opening Hours: 8am-6pm (Sundays-Thursdays), 8am-9pm (Fridays-Saturdays)
11. Indulge in a wine- & cheese-tasting session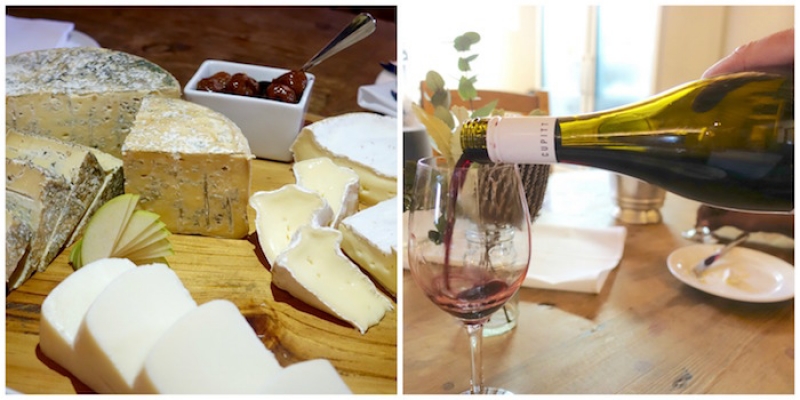 Australia manufactures some of the world's best wines and cheeses, and where better to taste these than at Cupitt's, a boutique winery, microbrewery, fromagerie and restaurant all rolled into one?
Taste wine straight from the barrel,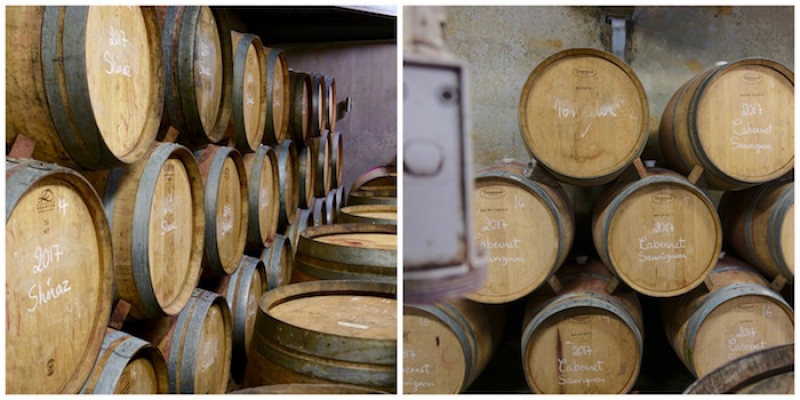 Gain insight into how cheese is made,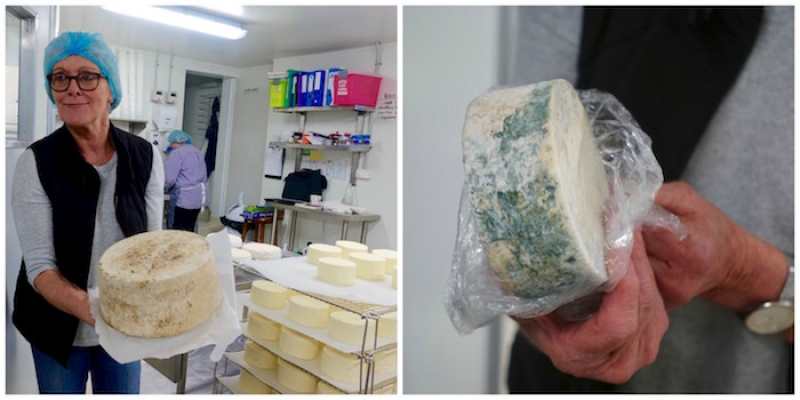 Or sample freshly brewed beer.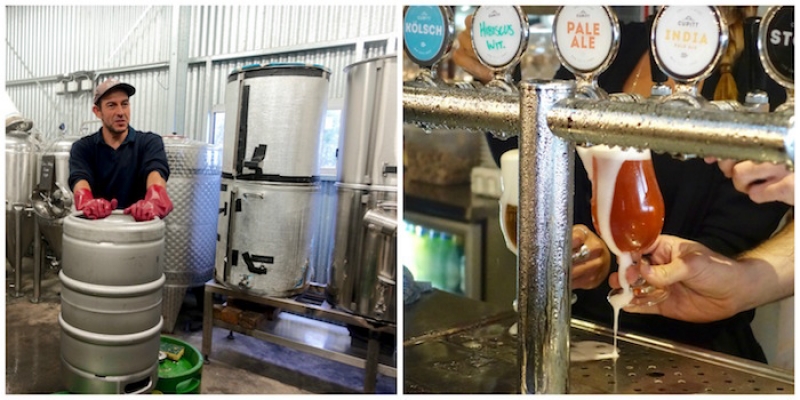 It's the perfect way to spend an afternoon.
Where: Cupitt's Winery & The Vineyard Kitchen (near Milton)
Address: 58 Washburton Road, Ulladulla NSW 2539
Opening Hours: 1) Cellar Door: 10am-5pm (Wednesdays-Sundays), 2) Cupitt's Kitchen: lunch 12-2pm (Wednesdays-Saturdays), lunch 12-2.30pm (Sundays), dinner 6-8.30pm (Fridays-Saturdays), 3) Tours: 11am (Wednesdays-Sundays; pre-bookings required)
12. Hop on a Dolphin-watching Cruise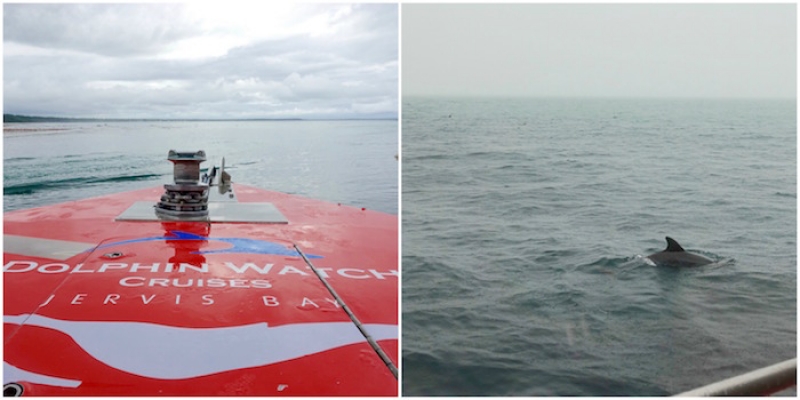 Get up close and personal with dolphins on a dolphin-watching cruise, where you'll literally see the creatures swimming and dipping right next to your boat! From May to November, you can also choose to embark on whale-watching cruises for a chance to catch a glimpse of the gentle giants.
We unfortunately cruised on a rainy morning but, on a good day, here's how gorgeous it looks:
Where: Dolphin Watch Cruises Jervis Bay (Jervis Bay)
Address: 50 Owen Street, Huskisson NSW 2540 (opposite the Husky Wharf)
Opening Hours: Throughout the day
13. Drop by a Gelato Clinic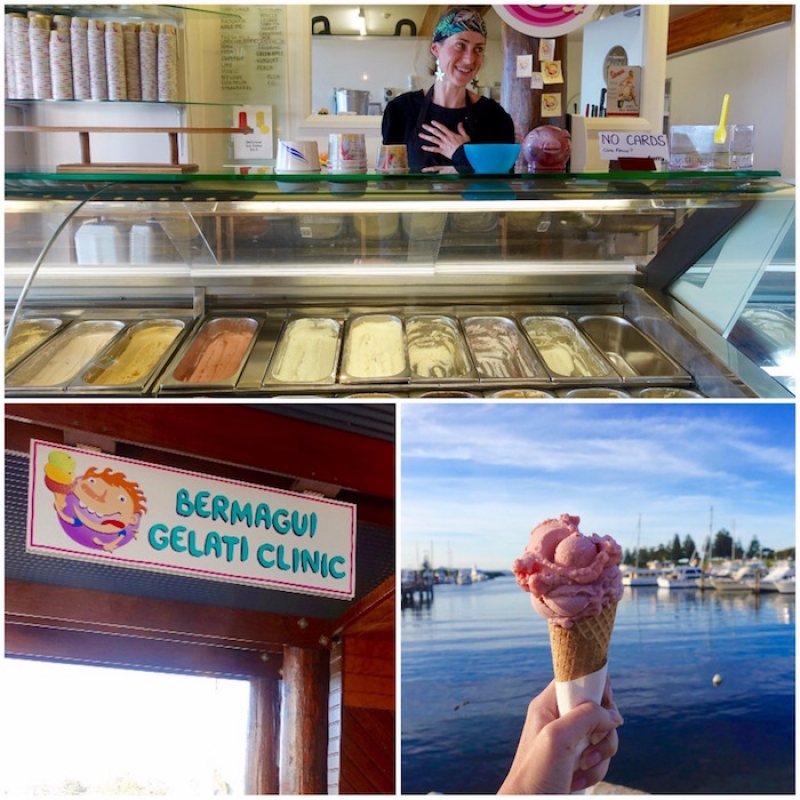 So what's so special about this Gelato Clinic? They call themselves a clinic because each flavour is lovingly experimented with, and manufactured, from scratch. This is their message for their customers: "When you buy from Artisans, you are buying more than just a product. You are buying hundreds of hours of experimentation, attempts to transform imagination into reality. You are buying days, weeks and months of frustration, and moments of pure joy. You are buying the result of mind and heart, a private moment in someone's life. When you buy from Artisans, you are paying for their time to make what is their passion and your pleasure.".
And the end result? Pure magic.
Where: Bermagui Gelato Clinic (Bermagui)
Address: 73-79 Lamont Street, Bermagui NSW 2546
Opening Hours: 10am-6pm daily
14. Try hang-gliding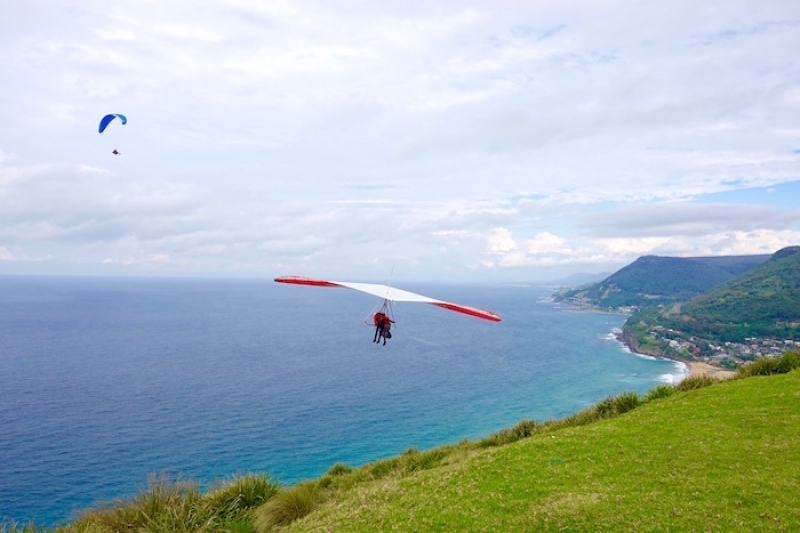 Take to the skies from Bald Hill, a picturesque lookout situated in Illawarra. Even if you're not an adrenaline junkie, simply watching these graceful gliders launch off the edge of the cliff is a sight to behold.
Where: Bald Hill Lookout (Wollongong)
Address: Hill End, NSW 2850
15. Traverse the Killer Whale Trail

Starting from Eden, the Killer Whale Trail brings travellers along the Sapphire Coast to historical whaling sites, as well as multiple whale-watching vantage points to watch the migration of humpback whales during the months from August to November. There are lots of interpretive signs along the trail – bring your smartphone and download an app to view photos, videos and to listen to an audio library full of stories and whaling history.
Where: Killer Whale Trail (Eden)
Address: See the route map here.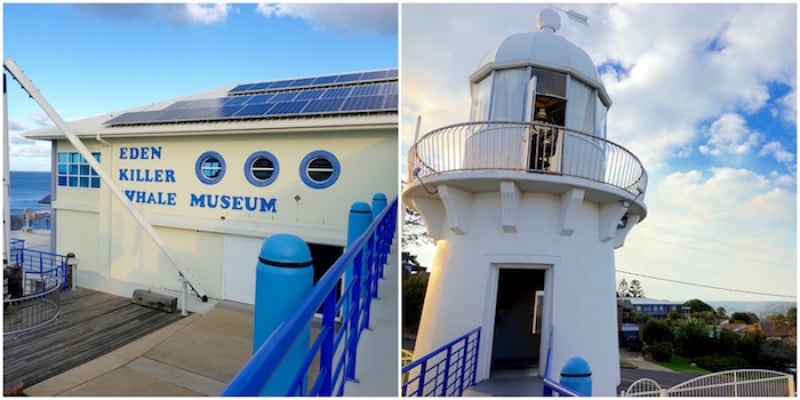 For an immersive experience, visit the Eden Killer Whale Museum as well. The museum regularly updates their displays, so every visit will be different!
Where: Eden Killer Whale Museum (Eden)
Address: 184 Imlay Street, Eden NSW 2551
Opening Hours: 9.15am-3.45pm (Mondays-Saturdays), 11.15am-3.45pm (Sundays)
16. Fish with the locals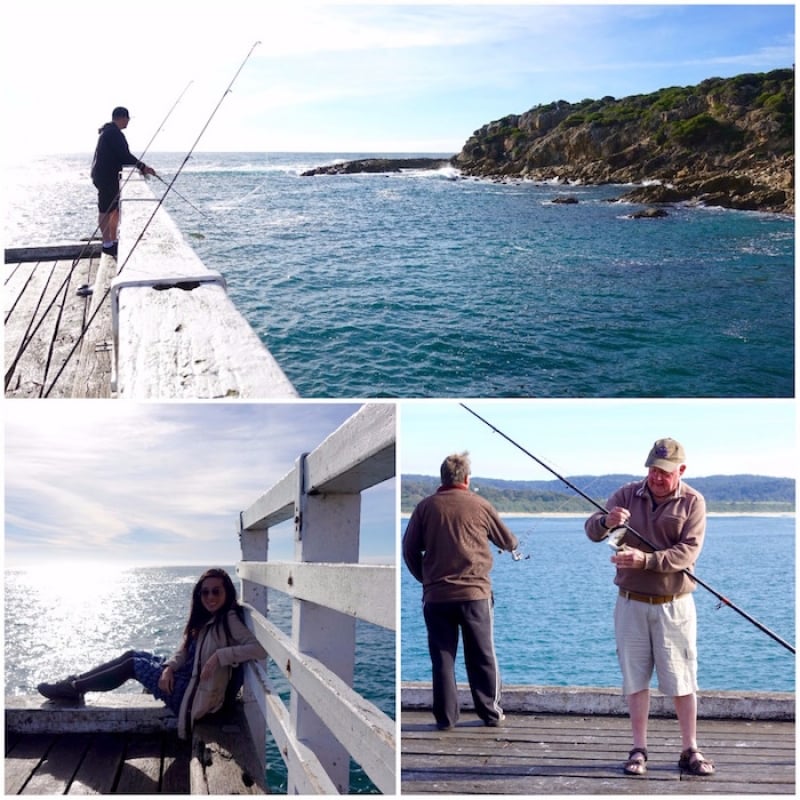 What better way to spend an idyllic morning than to join the locals in a bout of fishing? At Tathra Wharf, try your hand at baiting fish against the backdrop of dramatic cliff faces and rock stacks.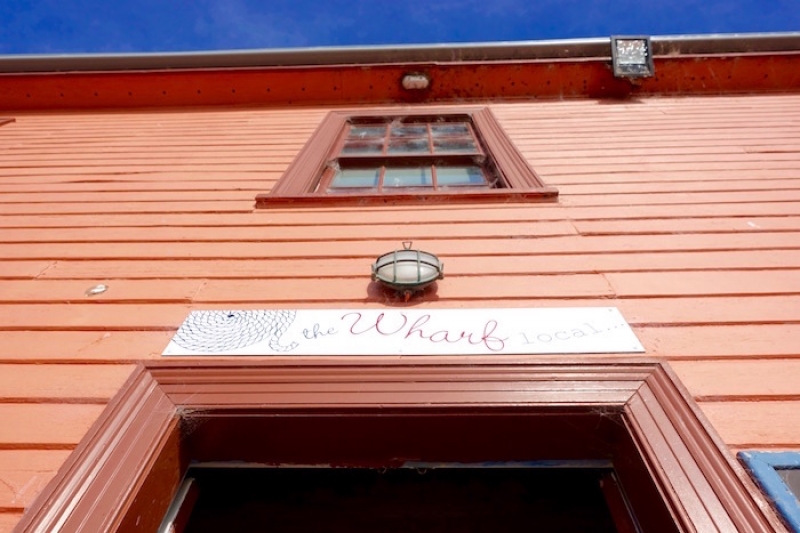 Besides being a popular fishing spot, Tathra Wharf also hosts a Maritime museum and a café.
Where: The Tathra Wharf (Tathra)
Address: Wharf Road, Tathra NSW 2550
NSW South Coast – recommended route:
For this roadtrip, I took a domestic flight from Sydney to Merimbula Airport (Pambula). From there, we drove down to Eden then drove all the way back up to Sydney through Bermagui (via Tathra), Narooma, Mogo, Huskisson (Jervis Bay), Mollymook, Berry, Wollongong and back to Sydney.
Alternatively, you can drive the other direction from Sydney all the way to Eden, and hop on a domestic flight back to Sydney. The entire route took me six days, but the duration can be tweaked according to your itinerary.
So the next time you're planning a trip to Australia, include the NSW South Coast in your itinerary for an utterly different experience. Buckle up and start exploring now!
Special thanks to Tourism Australia and Destination NSW for showing me the wonders of the NSW South Coast.