Show me a photograph of someone digging into meat skewers, amidst a crowd of people on a street brightened by red lanterns — and in a matter of seconds, I'll want to go there too. There's something magnetic about a night out in town: ordering street food, licking sauce off your fingers, and just having a good time.
If you really want to get underneath the skin of an Asian city, you have to be nocturnal. You must explore all the little nooks and stalls crammed into each square metre, where the night whizzes by in a blur of red lanterns and the aroma of smoke clings to your clothes. Any local will tell you that it's all part of the experience.
Asia's night markets are some of the best in the world, and every corner is studded with delightful food options. Here are our picks for night markets in Asia, where you can eat and shop the night away!
Also read: This Is How Street Food Looks Like in Different Parts of Asia
1. Bến Thành Night Market in Ho Chi Minh, Vietnam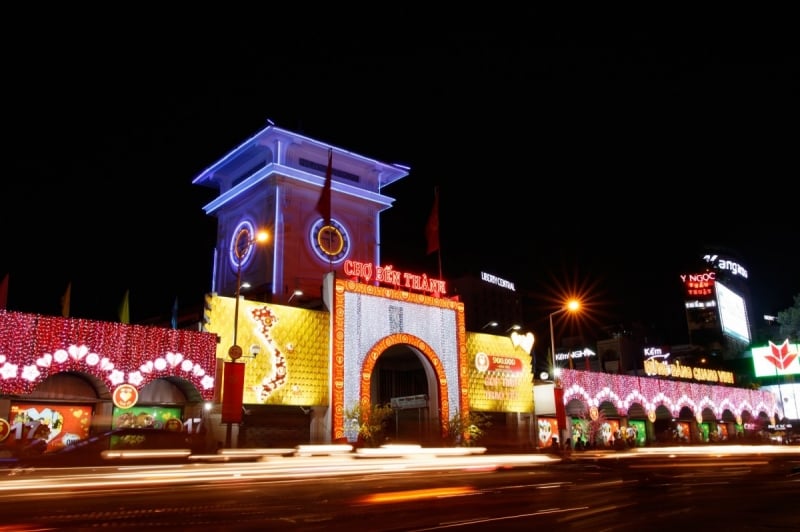 Situated in a building at the centre of Ho Chih Minh, the Bến Thành Night Market is one of the trendiest night markets in Southeast Asia. It's almost painful to resist the array of culinary delights offered by the food vendors, who prepare everything from hearty, full-bodied dishes to drinks that will make your head spin before the night is over. 
Thankfully, the market stays open until midnight. You'll have enough time to sink your teeth into fresh spring rolls, pho, succulent meats, bánh nam, grilled seafood, bún chả, and other popular Vietnamese staples. 
Address: Chợ, Lê Lợi, Phường Bến Thành, Quận 1, Hồ Chí Minh 700000, Vietnam
Hours: Monday to Sunday, 6pm to 12am
2. Shilin Night Market in Taipei, Taiwan
A world of mouth-watering flavours is waiting for you in Taiwan's capital city! Taipei's largest market, the Shilin Night Market, is a must-visit destination for anyone eating their way through Asia. Why? It's lined with stalls that sell most of the local delicacies that travellers seek out when they're in Taiwan. Here, you can feast on oyster omelettes, stinky tofu with vegetables, fried chicken and calamari, pepper buns, meats on skewers, and so on. After filling up to your heart's delight, you can easily burn off the calories by browsing the clothing and souvenir stores around the market. There's a little something for everybody here! 
Address: Jihe Road, Taipei, Taiwan
Hours: Monday to Sunday, 4pm to 12am
Also read: 6 Best Night Markets to Visit in Taipei
3. Chatuchak Friday Night Market in Bangkok, Thailand
Ever so essential to the nightlife scene as the bars in the streets, Thailand's night markets are some of the best in Southeast Asia. Head to Chatuchak Friday Night Market for an intoxicating glimpse of Bangkok's culture. After all, there's nothing like experiencing the commotion of a night in Bangkok to give you insight into where the locals go. 
Lasting well into early morning of the next day, this market is a great jumping-off point in the city for shopaholics in Bangkok. With more than 8,000 stalls dedicated to fashion, cosmetics, souvenirs, and so much more, this buzz-worthy market has it all! 
Address: Chatuchak Friday Night Market, 2 Kamphaeng Phet 2 Rd., Bangkok, Thailand
Hours: Fridays, 9pm to 6am
4. Luang Prabang Night Market in Luang Prabang, Laos
Anyone embarking on a shopping spree would be remiss to skip this memorable night market in Southeast Asia. By evening, the Luang Prabang Night Market covers the entire span of Sisavangvong Road with hundreds of colourful stalls. Along this stretch of road, you can take your pick from Laotian handicrafts, scarves, purses, ceramics, blankets, paper lanterns, clothes, and beautiful paintings — all of which have been meticulously and artfully produced by the locals. 
When you feel like stopping for a bite to eat, the food vendors in the market are also glad to whip up some of the country's signature dishes for you. Without a doubt, a visit to this lively market is one of the best things to do in Luang Prabang!
Address: Sisavangvong Road, Alley Behind Lao National Tourism Office, Luang Prabang 0600, Laos
Hours: Monday to Sunday, 5pm to 10pm 
5. Angkor Night Market in Siem Reap, Cambodia
If you have an eye for authentic and carefully made products, you will be spoilt for choice at the Angkor Night Market in Siem Reap, Cambodia. In 2007, this noteworthy market was established to showcase Khmer crafts and culture; hence, a great majority of the wares that you will see on display are from local communities. Siem Reap's top night shopping venue offers a tempting array of silks, souvenirs, rice wines, and other goods that will let you take home a little bit of Cambodia. 
Address: Angkor Night Market Street, Krong Siem Reap, Cambodia
Hours: Monday to Sunday, 5pm to 12am
Also read: A Guide to Siem Reap's Markets
6. Bugis Street Market in Singapore
Certainly, there's no shortage of things to do in Singapore for residents and foreign travellers. If you do find yourself shopping in the country, you shouldn't miss a visit to Bugis Street Market. Easily one of the most famous night markets in Southeast Asia, this covered market presents all kinds of affordable trinkets, homeware, clothes, shoes, accessories, snacks, and gadgets to blow your money on. As you amble through the maze of stalls, you will definitely uncover plenty of unique keepsakes to take home with you. 
Address: 3 New Bugis Street, Singapore 188867
Hours: Monday to Sunday, 11am to 10pm 
7. Hoi An Night Market in Quảng Nam, Vietnam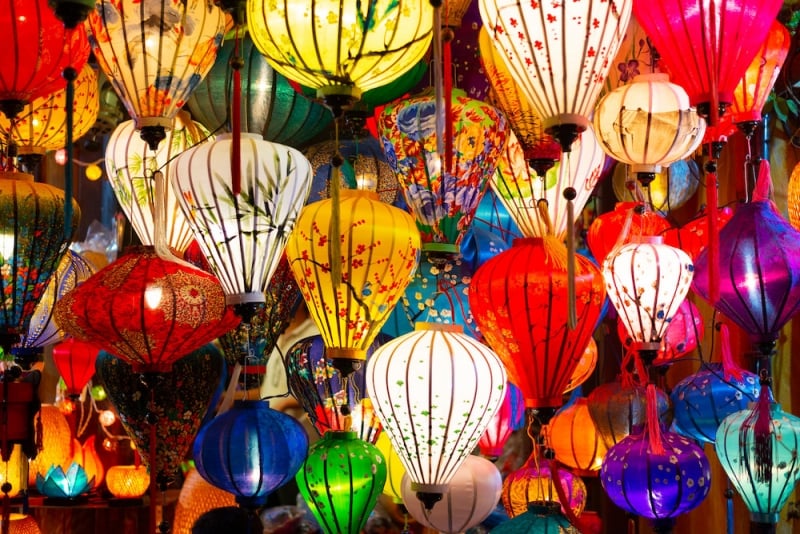 Suffused with a quaint ambience, the Hoi An Night Market in the province of Quảng Nam has been well-documented as a bazaar for traditional silk lanterns. It takes place on a 300-metre-long street with a view of Thu Bon River. At night, the market shows its photogenic side as hundreds of vibrant lanterns illuminate the night, serving as a backdrop for picturesque strolls across town. 
Furthermore, you can expect to sort through delicate handicrafts, local snacks, clothes, accessories, and trinkets whose prices can be lowered with a little bargaining. And just like in the markets across Ho Chi Minh, the food is simply to die for! 
Address: Nguyễn Hoàng, Phường Minh An, Hội An, Quảng Nam, Vietnam
Hours: Monday to Sunday, 4.30pm to 10pm
Also read: Maximise Your Vacay: 6 Multi-City Trips Around Asia to Take in 2020
Still can't get enough retail therapy? Besides these popular markets in Asia, you might also want to have a go at these famous shopping destinations around Asia for travellers!