New Zealand is an exceptional country and it would indeed be a travel faux pas to stay in a run-of-the-mill hotel while you are there. It is a place to indulge in the outdoors and best is to oblige it.
Check out these 5 stays that provide just the right amount of the necessary quirk. Rest assured the accommodations here have been personally tried out by me.  
1. Unique stay in a lighthouse at Island Bay in Wellington
A unique property for obvious reasons. How often do you get to stay in a lighthouse?
It is an old lighthouse which is now turned into a Bed and Breakfast situated right at the bay in Wellington. The nautical décor of the property inadvertently sets up the mood. The ground floor is a small kitchen and bathroom/toilet. Climb up to the bedroom and further up you will find a cosy loft that looks straight at the bay. Perfect for a romantic evening!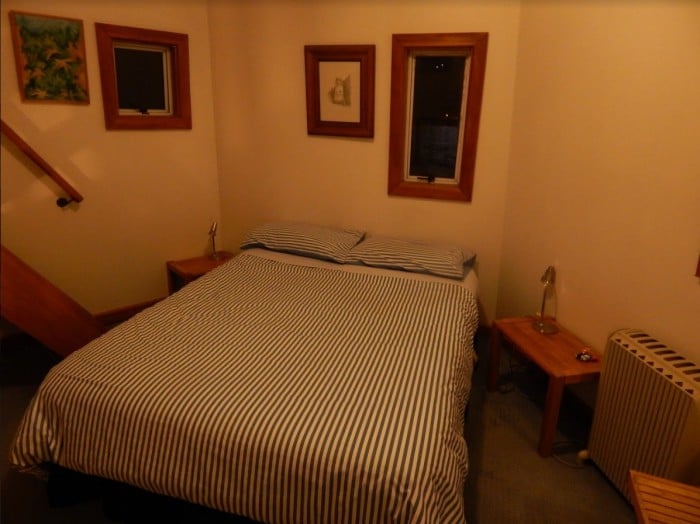 The property is close to the city centre and airport. Don't be bummed to find an array of houses next to the property. Your stay will still be an unforgettable experience.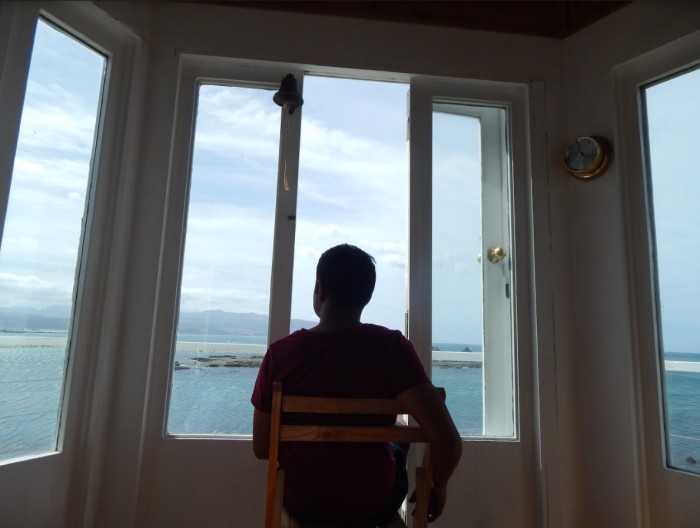 Another property by the same owner known as 'the Keep' is also worth checking out. Located only a kilometre away from the Lighthouse, the Keep is quite similar to the Lighthouse minus the glorious shape of the latter.  
Cost: US$143 on weekdays, US$165 on weekend
Booking: The Lighthouse
2. Experience tiny-living in the Funky Bunker near Queenstown
This quirky bunker that was once used on the film set of the movie Vertical Limit has now been converted into a tiny house parked at a private and gated property in the small town of Glenorchy. The property is surrounded by a hedge and overlooks the snow-capped mountains.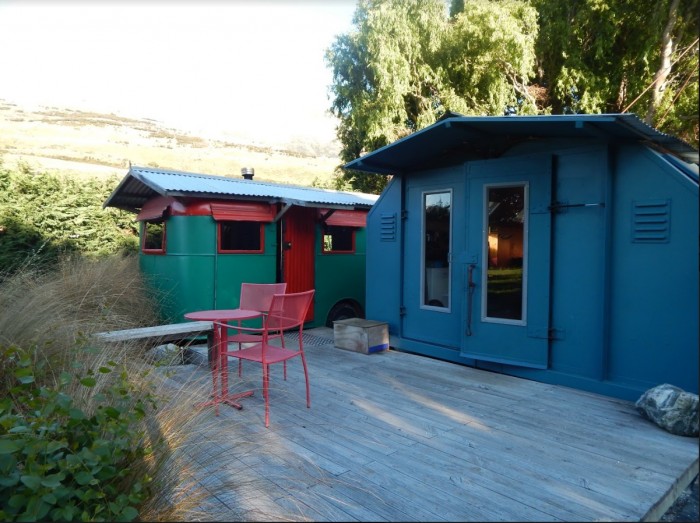 The private garden is large enough to accommodate a campervan and can also be used to pitch a tent.
The bunker boasts a well-equipped kitchen and comfortable living area with a DVD player and fireplace. The bedroom is in the adjoining caravan which is equally quaint.
There is a shower facility (with hot water), washer and indoor heating for the cold nights. The only downside is the toilet which is a long-drop style. If you are comfortable with the camping style toilets, this shouldn't be a deal breaker.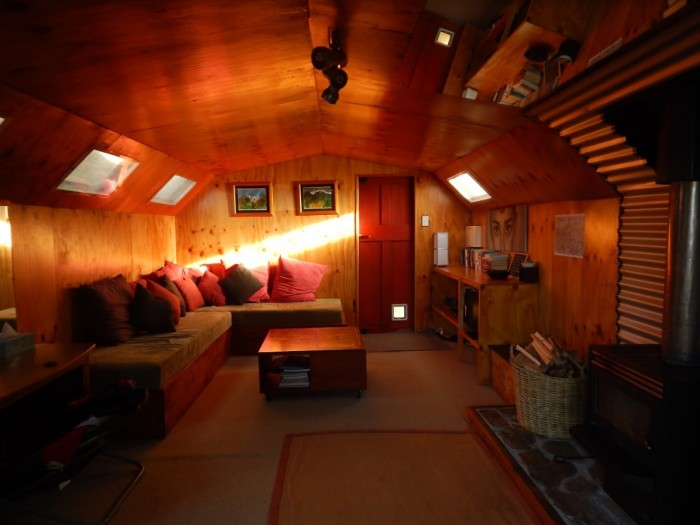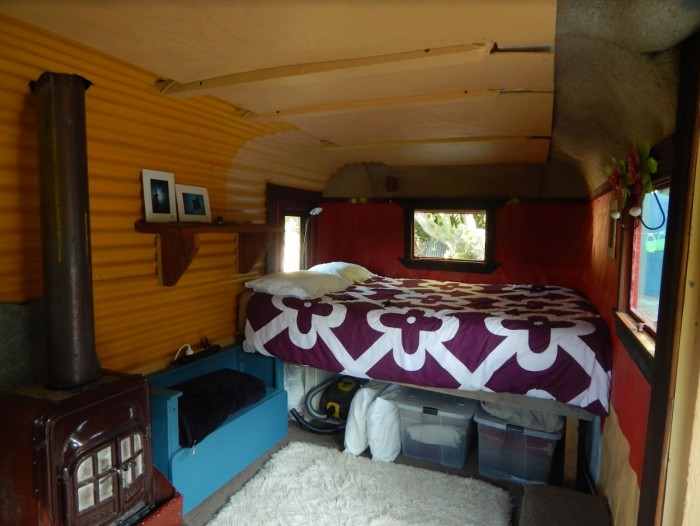 The place will definitely change your perspective on tiny houses. A great opportunity to read and ponder on life!
Cost: US$85 per night
Booking: Airbnb
3. A warm stay in the wooden chalet near Auckland
Once in New Zealand, you wouldn't want to stay in the city but close to nature. This lovely wooden chalet run by an Australian-New Zealander couple is a great start to your romantic holiday in the country. You can find this property just outside Auckland in an affluent and quiet suburb called Titirangi.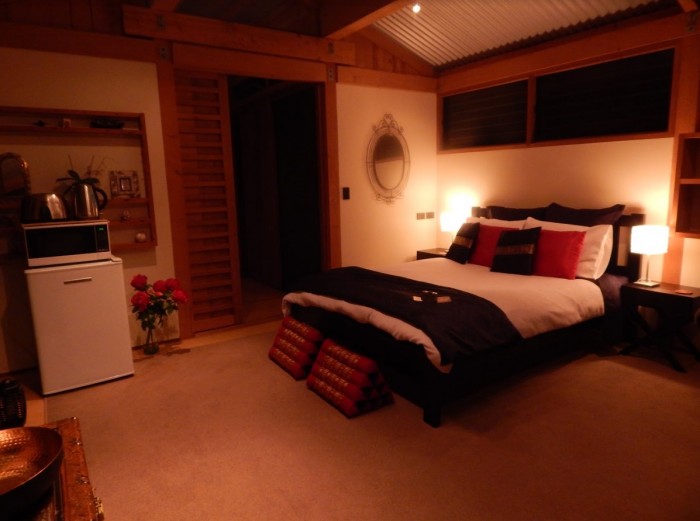 One of my favourite things is to wake up with my husband in a cosy bed overlooking nature the first thing in the morning, away from the noise of the city. This aesthetically-designed chalet is hidden in the bush giving you the privacy that a couple yearns for.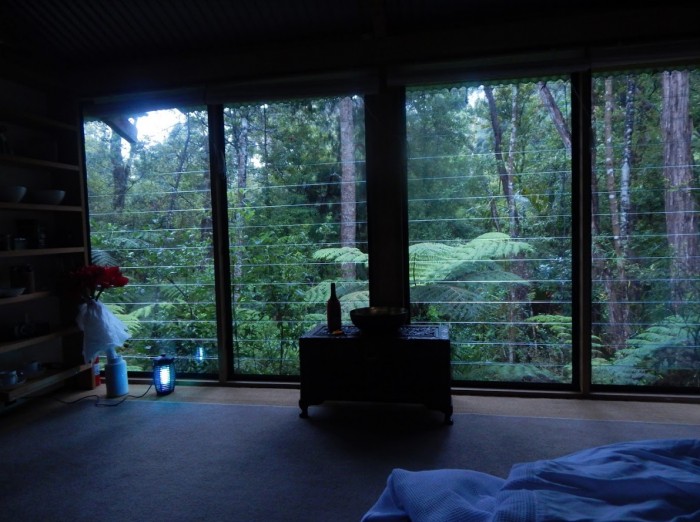 The chalet has an ensuite toilet and a deck with seating area overlooking the bush. It consists of everything that you may require during your stay – air conditioning, heating, WiFi, mini-refrigerator, washer, microwave, toaster, kettle, basic kitchenware, toiletries and towels.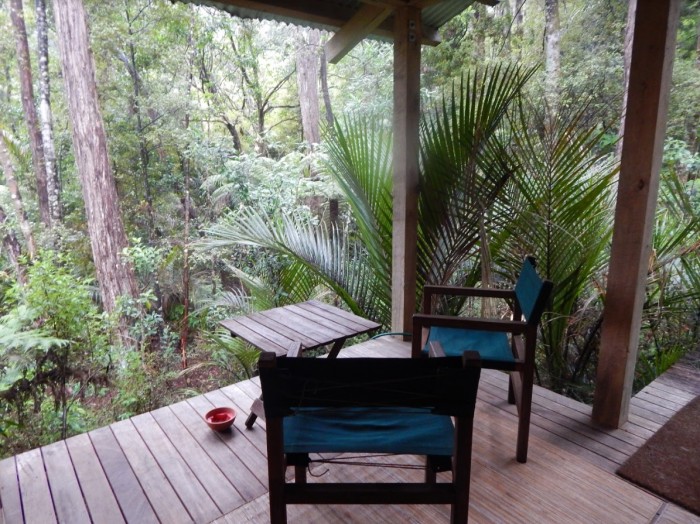 The serene West Coast Black Sand Beaches are just a short walk from the Chalet. The best part of the stay is its continental breakfast which is surely a great start to the day!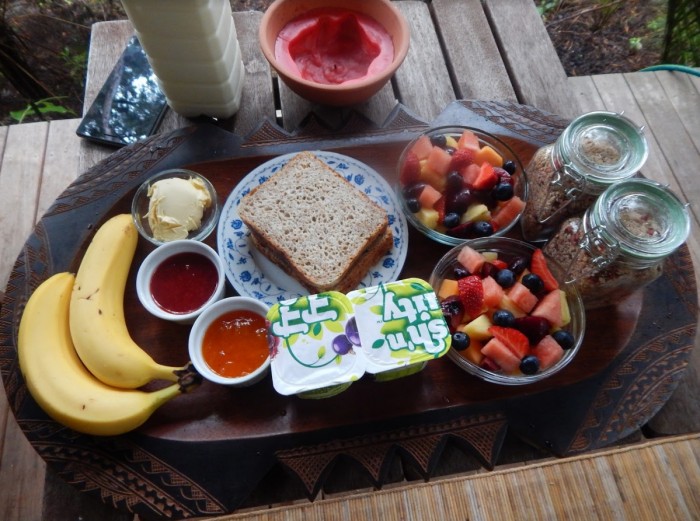 Cost: US$88 per night
Booking: Airbnb
4. A refreshing city getaway at Tuck Inn Farmstay near Rotorua
Embrace the beauty of New Zealand by staying at this farmhouse owned by the Tuck family, located 25 minutes away from Rotorua.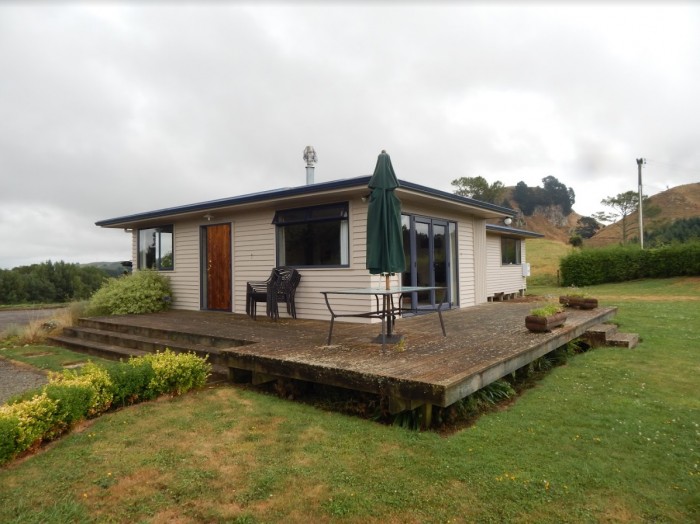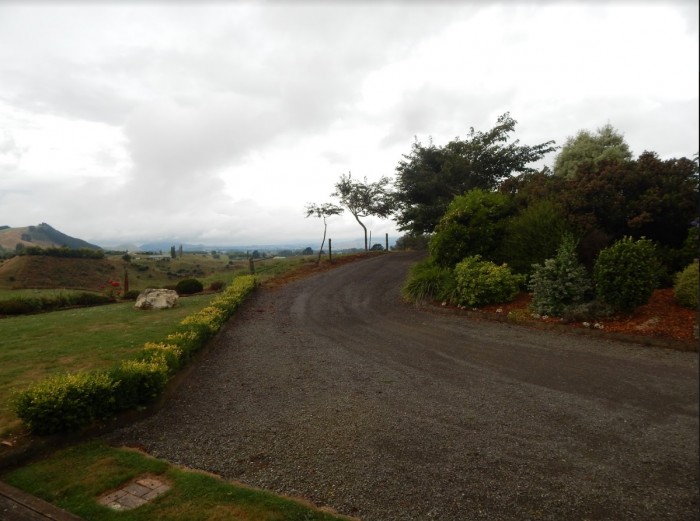 This place will make you start appreciating the small things in life and there are plenty of these to be found here including freshly baked bread, milking of cows, making fresh mozzarella or just catching fireflies in the night. A comfortable house with three big bedrooms, one bathroom with a hot tub, fully functional kitchen, a huge living room and an outdoor deck with picturesque mountains in the backdrop.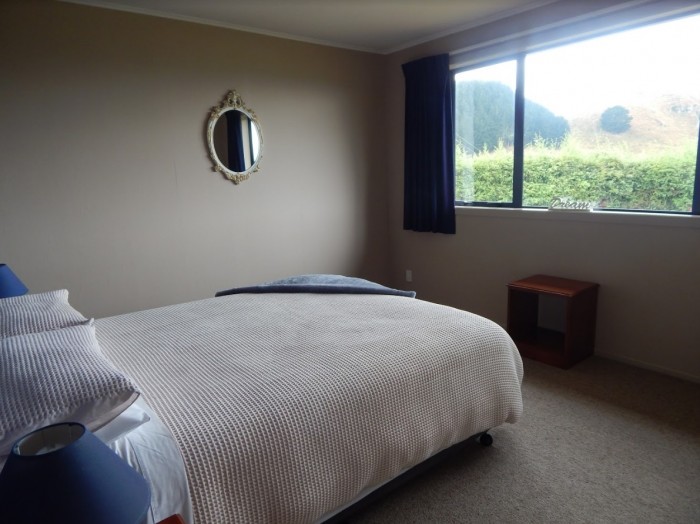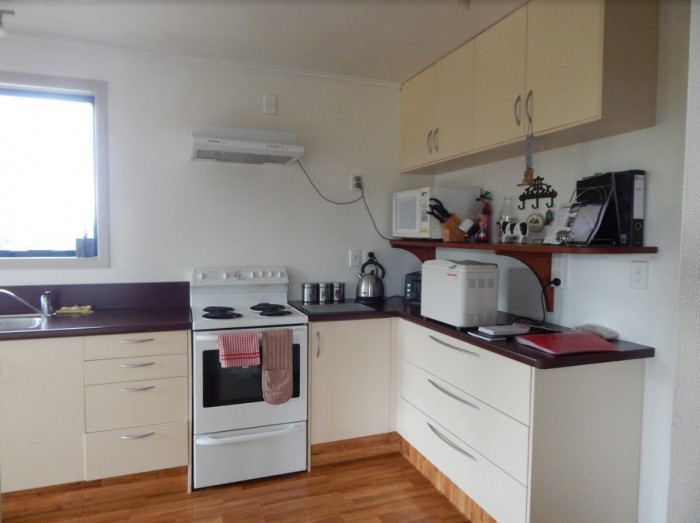 The property is 15 minutes from Waikite Valley thermal hot pools, 5 kilometres from Lake Ohakur and around an hour and a half from Waitomo caves (glow worms). The two kayaks provided in the house can be used free of charge!
Cost: US$86–185 per night
Booking: NZ stays
5. Good food and wine on a yacht in Nelson
If you happen to visit Abel Tasman National Park, take out a night to stay on a yacht called 'Wind Dancer II' in Nelson marina.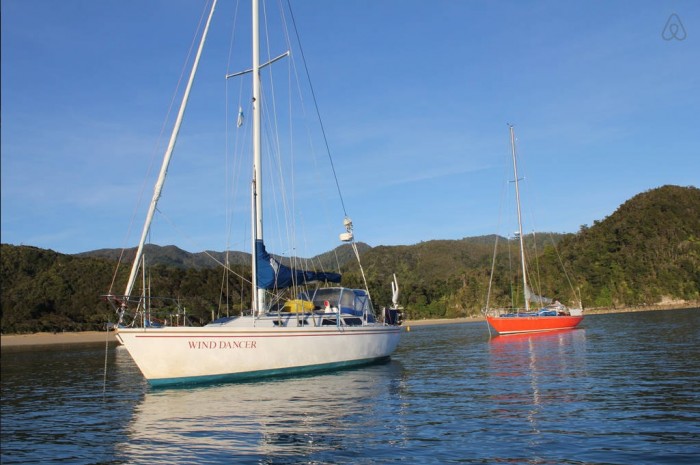 Image credit: Airbnb
You'll be accompanied by its well-travelled and fun owner who will keep you entertained with his exciting stories. The stay comes with a hearty breakfast and full dinner with your choice of wine or craft beers. The yacht has a good sized bedroom with a full bathroom and seating space.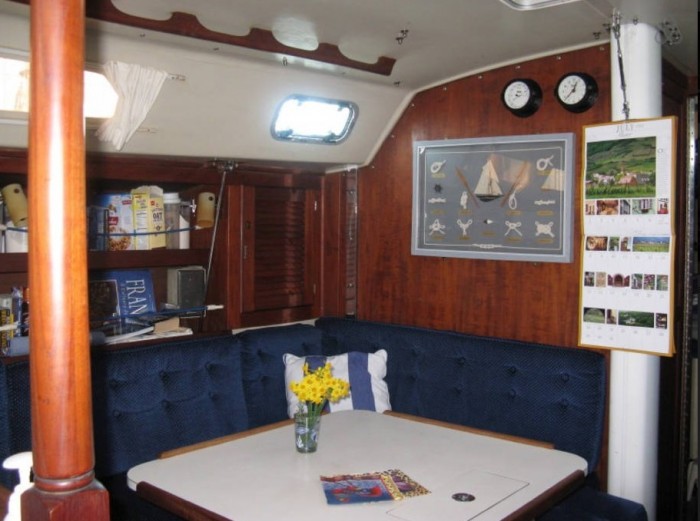 Image credit: Airbnb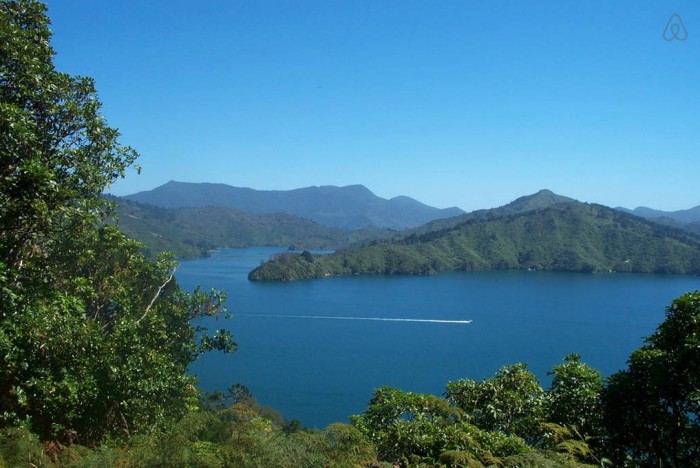 Image credit: Airbnb
Undoubtedly a great stay that will create a lot of memories for you to cherish.
If at all you get bored being on the yacht, the city centre is just a 10-minute walk from the marina. Free WiFi is available on the boat if that's what you are looking for!
Also read: Top 10 Adventure Activities in New Zealand
Cost: US$113 per night
Booking: Airbnb
This is definitely not an exhaustive list. New Zealand is full of unusual properties waiting to be discovered by adventure-seeking people. Do share your quirky stays in NZ with us!