Many travellers come to New Zealand for its magnificent nature, and the best way to enjoy it is by taking on a hike. There are various multi-day hikes, including the famous Great Walks in New Zealand, and there are also plenty of day hikes across the north and south island. Some are easy, some are difficult, and some simply cannot be missed. Let's have a look at some of the best day hikes in New Zealand.
1. Blue Lake (Rotorua)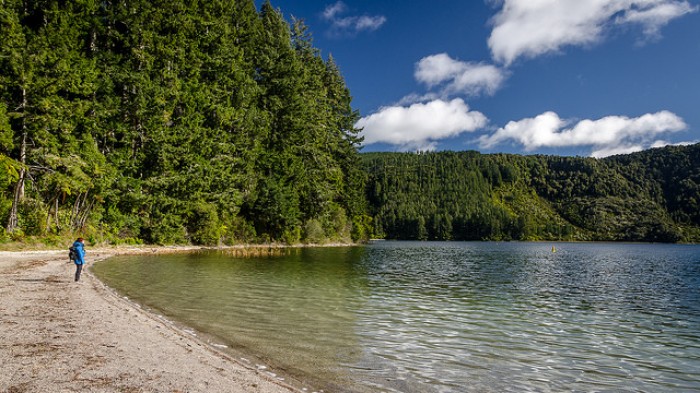 Image credit: Kathrin & Stefan Marks
Blue Lake, also known as Lake Tikitapu, is just a few kilometres east of Rotorua. It is the smaller of two lakes in Rotorua, and the other is known as Green Lake or Lake Rotokakahi. This small brother offers a gentle route that is accessible for hikers of every experience level. The loop around the lake is about 5.5km long and can be completed in a short two hours. Start at the northeast of the lake and track clockwise around the lake. The hike will lead you through the bush, along secluded beaches and take you up easy slopes. It's a perfect hike for a relaxed afternoon that finds its conclusion at a lakeside picnic.
2. Mount Taranaki
Image credit: Kathrin & Stefan Marks
At first sight, Mount Taranaki looks very impressive and appears to require more than a one-day hike. As this volcanic mountain is located close to the sea and surrounded by flat land, Taranaki appears like a giant. However, Mount Taranaki stands just over 2,500m. The hike itself isn't very difficult and should be manageable within 6–8 hours. However, the conditions can change quickly around here – especially in winter – so do come prepared.
3. Wenderholm Perimeter Track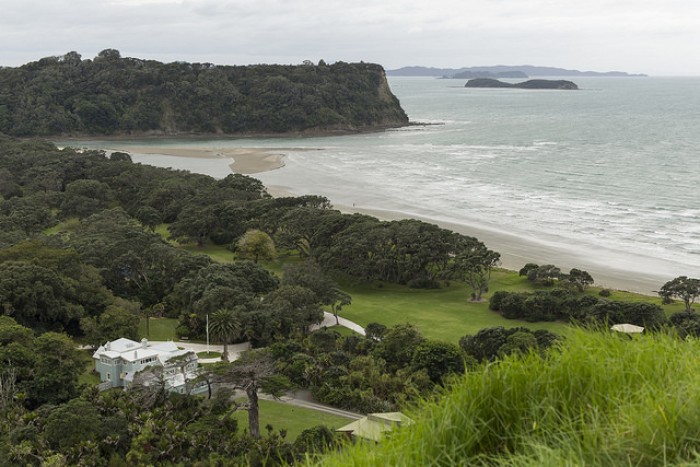 Image credit: Pablo Garbarino
The Wenderholm Perimeter Track is only half an hour away from Auckland and is an ideal day trip destination. At a distance of only 4km long, the walk is fairly easy and has plenty scenic stops, particularly beautiful deserted beaches. Don't forget to bring your swimsuit and food for a picnic! 
4. Rob Roy Glacier Track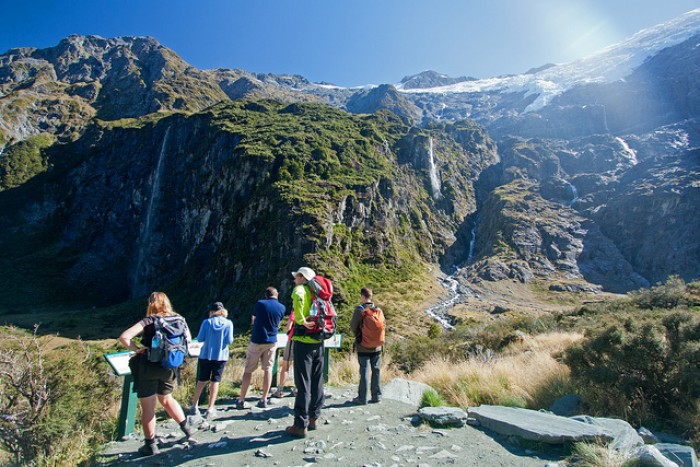 Image credit: Andrea Schaffer
The Rob Roy Glacier Track is located in Mount Aspiring National Park, about 50km north of Wanaka on the south island of New Zealand. This track is quite manageable, even for inexperienced hikers. The trekking itself should take you around 3–4 hours, but be prepared to take longer as this route offers picturesque spots where you might want to stop for a while.
5. Mount Robert Circuit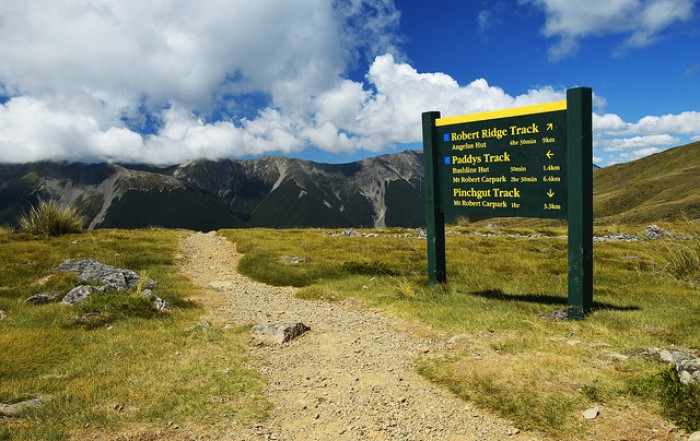 Image credit: Travelbllgr
Located in the north of the south island, the Mount Robert Circuit is about 10km long. This five-hour hike is well worth the day trip, if you are passing through Nelson, which is about 50km north of the track. Besides fabulous views over Lake Rotoiti, you will also pass through magical native forests. This hike is also very popular amongst bird-watchers, so bring along your binoculars.
6. Queenstown Hill Time Walk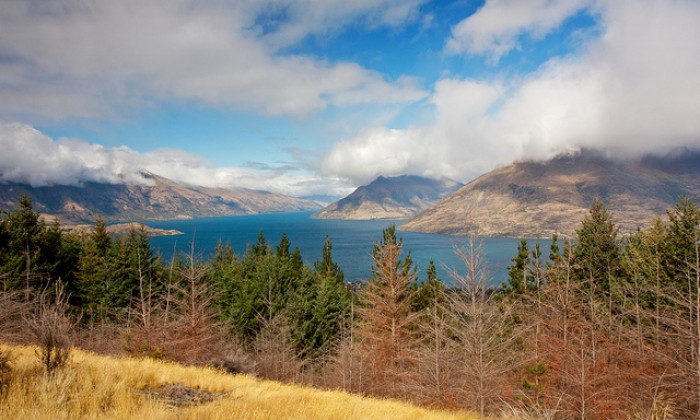 Image credit: Andrea Schaffer
Don't be fooled by this 'hill' which has an elevation of 500m. The Queenstown Hill Time Walk requires around three hours for a return trip, and the way uphill is pretty demanding. If you have never hiked or rarely go for walks, then be prepared for a challenge. Hikers will be rewarded with astonishing views over Lake Wakatipu. Don't be hasty on your way down, as the track can be slippery.
7. Mount Stokes Track

Image credit: Syrok
Personally, I believe this is one of the best hikes in New Zealand, as the journey itself is already an adventure. The Mount Stokes Track isn't as easily accessible as the other hikes, as you will have to drive for about two hours from Picton. The drive is quite scenic and takes you for the most part along the Kenepuru Sound until you reach the foot of Mount Stokes. Plan enough time for the 6km hike. Although the difficulty is average, this hike includes some steep sections. Your hike will be fuelled with nothing but pure nature.
8. Key Summit Track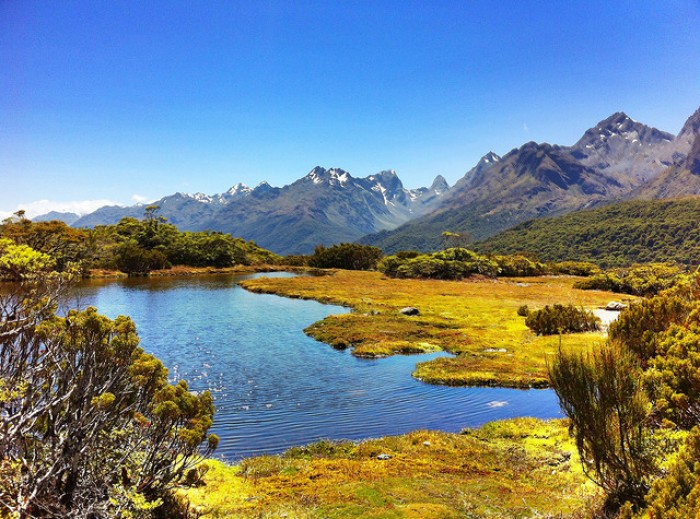 Image credit: Jeff and Neda Fields
Slightly less challenging, but still extremely beautiful, is the Key Summit Track. This trek is part of the very popular multi-day Routeburn track in Fiordland. It offers a little bit of everything – spiky mountain peaks, small lakes, magically formed valleys and deep forests.
9. Coromandel Coastal Walkway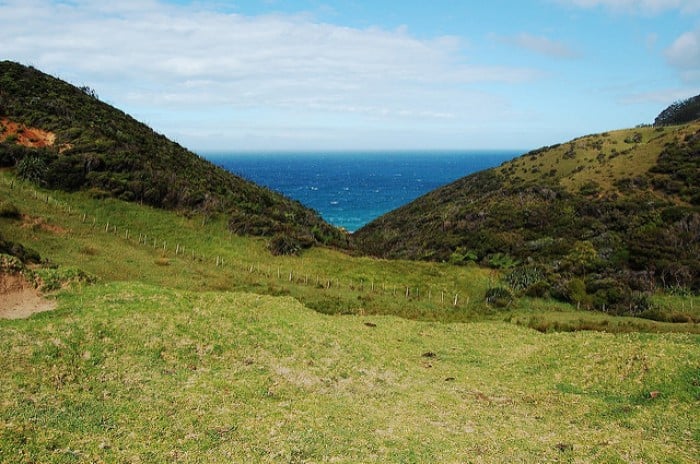 Image credit: Daniel Pietzsch
If beaches bear a bigger fascination for you, then you should really take a walk along the Coromandel Coastal Walkway. It stretches for about 10km and can be completed in about seven hours, as there are no steep slopes. Start at either Stony Bay or Fletcher Bay and explore the coast. There are also campsites close by, so you might want to consider staying overnight to enjoy the breathtaking views. 
10. Cape Brett Walkway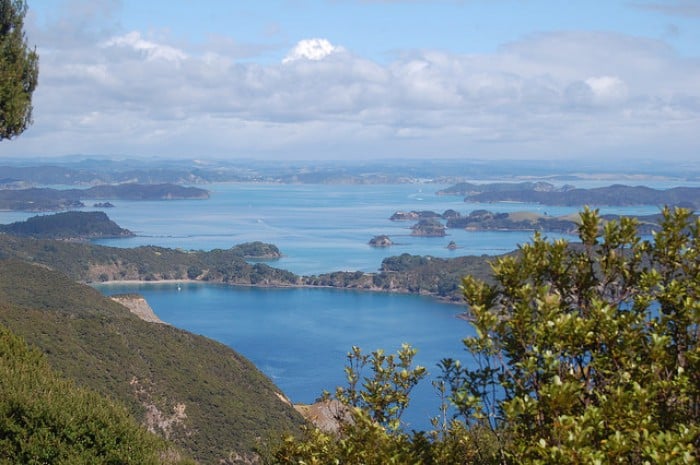 Image credit: Christopher Wagner
Located in the Bay of Islands, this coastal walking experience is a non-strenuous one with few slopes or steep hills. However, it is a long walk – the Cape Brett Walkway stretches for about 33km. It is well possible to manage it all in only one day if you don't get caught up swimming and snorkelling in the ocean. Besides beautiful beaches, this walk will take you to the Cape Brett lighthouse, which was built more than a hundred years ago.
Also Read: 20 Incredible Experiences You Must Have in New Zealand