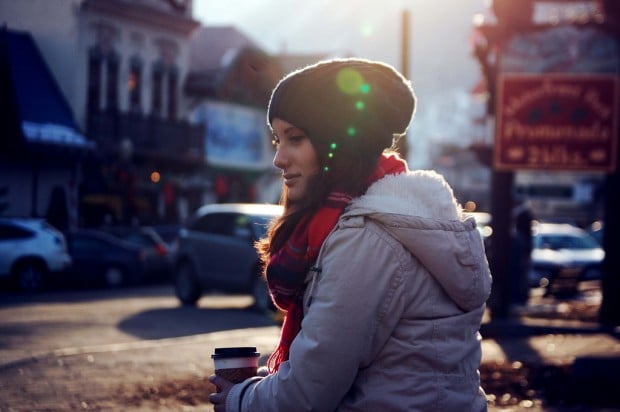 Image credit: Steven Leonti
Due to our geographical placement, Singapore is pretty much hot and humid all year round. Since most Singaporeans don't have the chance to experience the four seasons  – namely summer, winter, autumn and spring – we lack the knowledge and weapons to weather the cold. Not surprisingly, we get frazzled when packing for a winter vacation. 
To save our fellow Singaporeans from freezing their asses during their next holiday, we came up with a guide on what to pack for your upcoming winter trip!
What You Need For Different Temperatures
It is tricky to give suggestions on what to wear based on the temperature at the destination. Wind and humidity will also affect how cold it will actually be. On top of that, your activity level, body type and tolerance for the cold matter as well.
But…we'll try our best here.
Between 20° to 30°
Don't sweat it. Just bring along a sweater in case it gets windy or chilly. Otherwise, you'll be comfortable walking around in your t-shirt and jeans. 
Between 10° to 20°
You still don't need thick winter clothes for this range of temperature. On a sunny day, you get away with just one layer of clothing. When it gets cold, put on a jacket and a lightweight scarf. This is also your chance to strut around with your fashionable knitwear! 
Between 0° to 10°
For this temperature range, you should be armed with a proper jacket. Bring along a fleece jacket, a wool coat or even a thin down jacket. Consider wearing thermal layers made of cotton, merino wool or silk. Don't forget your gloves, scarves, and a knit hat! 
Below
 0°
You will need three to four layers for temperatures below the freezing point. The key is layering. Pile it on when it gets cold, and remove the layers when you feel warm.
In order to keep warm, these are the parts you need to make sure is covered well:
Head and ears
Neck
Core Area
Hands and Feet
Once you've got these parts covered well, you are sure to feel snug and toasty already. Don't skimp on your accessories – buy good winter gloves, scarves, hat and socks.
Wear your long johns (thermal underwear) below your top and trousers. You still have to throw on a thick down or synthetic-fill jacket. Bring along a cotton/fleece jacket too, which you can wear below your down jacket.
Below –15
°
For extremely cold temperatures, ensure that most of your skin is not exposed to the cold. Every part of your body matters here – pay special attention to your feet, hands, neck, ears and head, and don't expose them to the extremities.
Use gloves, hats and socks that have insulation properties. If your hat doesn't have an earflap, put on earmuffs. Wrap that scarf snugly around your neck. Invest in socks (merino wool/synthetic fabric, not cotton) and boots made for winter. Trust us – you do NOT want your feet to be freezing. Comfort is key as well. 
Also Read: 6 Best Ski Resorts in South Korea to Visit this Winter
Where to buy winter clothes in Singapore
Uniqlo is one of our favourite option. They have a wide selection of winter jackets (down and fleece) and innerwear. Try their Heattech collection of tights and long-sleeved tops, which make good alternatives to the usual cotton or wool long johns. These garments are thin, stretchable and retain heat well. But do take note, as much as Heattech is effective, it works only to a certain extent. You definitely still need your thick coats to keep warm! Also worth a mention is their packable and ultralight down jacket, which is great yet affordable for travellers! 
DAISO is a great place where you can get heat packs in large quantities at cheap prices. They also have a huge selection of gloves and scarves which are okay for chilly weather, but not for seriously cold temperatures.
Other stores include:
Full-range of winter clothes
Universal Traveller

Cold Wear

Winter Time 

The Planet Traveller 
Fashionable winter clothes
Zara

Mango

H&M

OG
Takashimaya
Sporty range of winter clothes
For winter boots, try Winter Time, Timberland and Queensway Shopping Centre. If you're shopping online, try ASOS or Zalora (30-day free returns, yay).
FAQ and additional winter travel tips 
Can temperature determine the coldness?
You need to factor in the 'wind chill' in determining how cold it will 'feel like'. Most weather forecast has two sections: 'temperature' and 'feels like'. Pay attention to the latter.
Can I just pile on thick clothes to get warm?
It is not about how "thick" your clothes are. It is really about the material and quality of your clothes and jackets. As mentioned, layering is key. It gives you the flexibility of adding or removing layers in accordance to the changing temperatures.
What if I'm planning to do some winter sports?
If you plan to play with snow, know that you'll get wet and cold really quickly. In this case, make sure that your outerwear is waterproof, and bring along heat packs in case you need to warm up your hands. If you want to ski or if your destination is windy, use a windproof outermost layer (a windproof down jacket, or a windbreaker over your fleece jacket).
Do I really need to wear long johns (thermal underwear)?
Ugh, long johns! We understand. For temperatures above the freezing point, you don't really need to. But for sub-zero temperatures, your first layer matters.  If you'll be doing strenuous activities, stay away from cotton as an inner layer. Cotton does not wick away moisture; when you sweat, it gets wet and you will feel cold. Unless you have a really good layers and jacket, you should be wearing long johns.
Any other things to bring?
Don't forget your lip balms, hand and body moisturisers because during winter; your lips and skin will definitely get dry. Try Burt's Bees products – they're our favourite! Otherwise, head to any Watsons outlet for them.
What if I realise too late that I don't have the right clothing?
Don't worry too much! At worst, you can always buy winter clothes at your destination! Just bring extra cash.
Also Read: 10 Winter Experiences You Must Complete in Hokkaido
If you remember these few tips, you're all ready to go on your next skiing trip in Hokkaido or an exploration trip to Iceland! Any other burning questions? Shoot away in the comment box below!