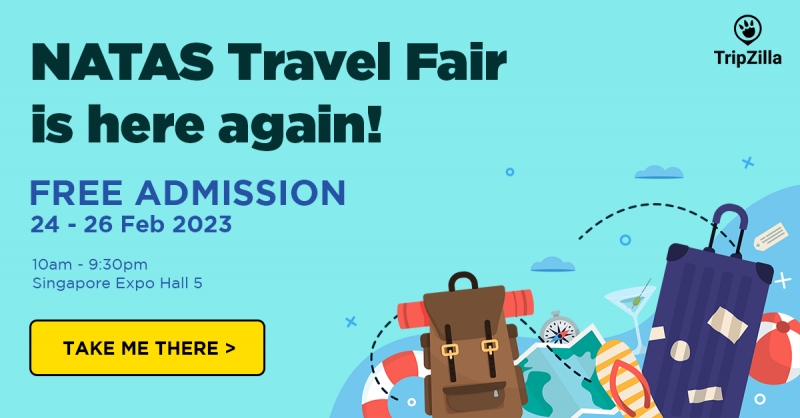 Making travel plans to satisfy your wanderlust may be a rewarding process, but it can certainly be a bit of a hassle too. While vacations are supposed to help us relax, the non-stop hunt for the best deals and itineraries can take a toll on us. Sound familiar? Then we've got good news for you: NATAS Fair 2023 is back this February! It's the perfect place to find all you need to make your next trip happen! Get the latest updates on Singapore's most popular travel fair here! 
No matter how you like to travel and where to, the February NATAS Fair has something for everyone. The fair gathers travel agencies such as Trafalgar, Nam Ho Travel, Chan Brothers Travel, and UOB Travel, which specialise in large, small, and even private group tours to popular destinations all over the world.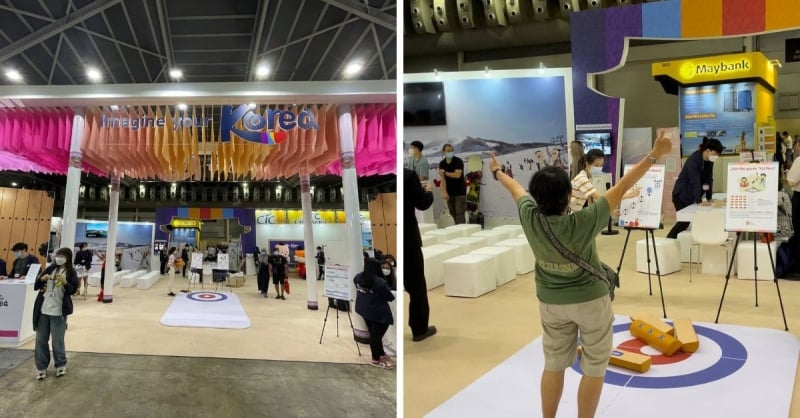 Other exhibitors include tourism boards like the Tourism Authority of Thailand (TAT), Taiwan Tourism Bureau, and Tokai Tourism, Japan, where visitors can get the best local advice on things to do, destinations, and stays. 
What is NATAS Travel Fair?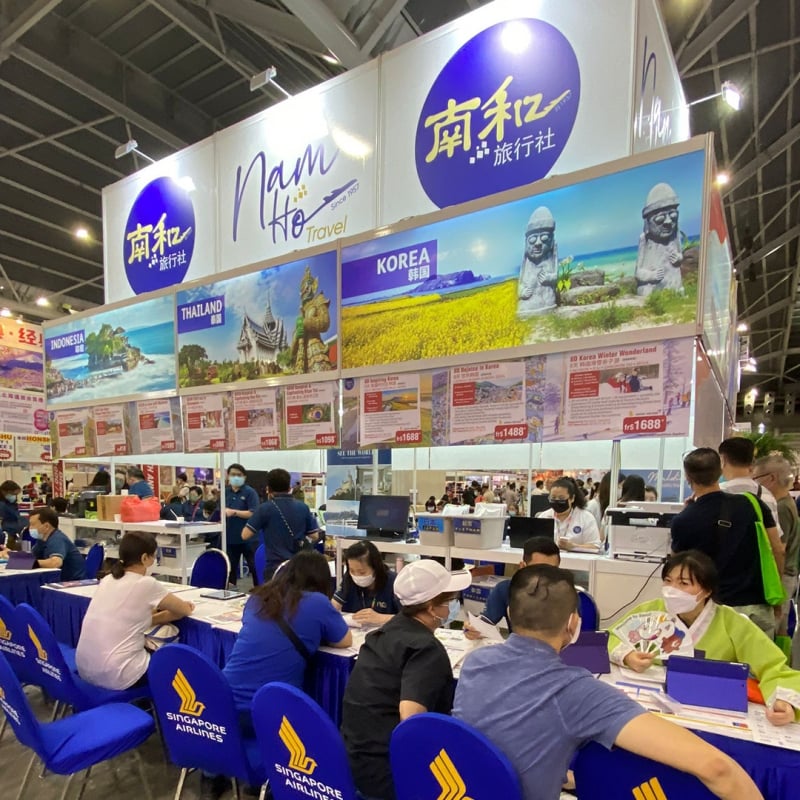 The NATAS Travel Fair is Singapore's largest consumer travel fair and is held twice a year in February/March and August/September. Its organising body, the National Association of Travel Agents Singapore (NATAS), brings together numerous travel agencies, tourism boards, airlines, and hotels under one roof to showcase the latest tourism products and trends. 
As many countries have opened up for tourism, the February NATAS Fair this year is a great opportunity to experience the spring and summer seasons abroad for those who missed their chance during the pandemic. 
When is NATAS Fair 2023?
24 to 26 February
Friday to Sunday
Where will the NATAS Fair 2023 be held?
Singapore EXPO
1 Expo Dr, Singapore 486150
Hall 5
How much does it cost to enter NATAS Fair 2023?
Admission is FREE! 
Floor Plan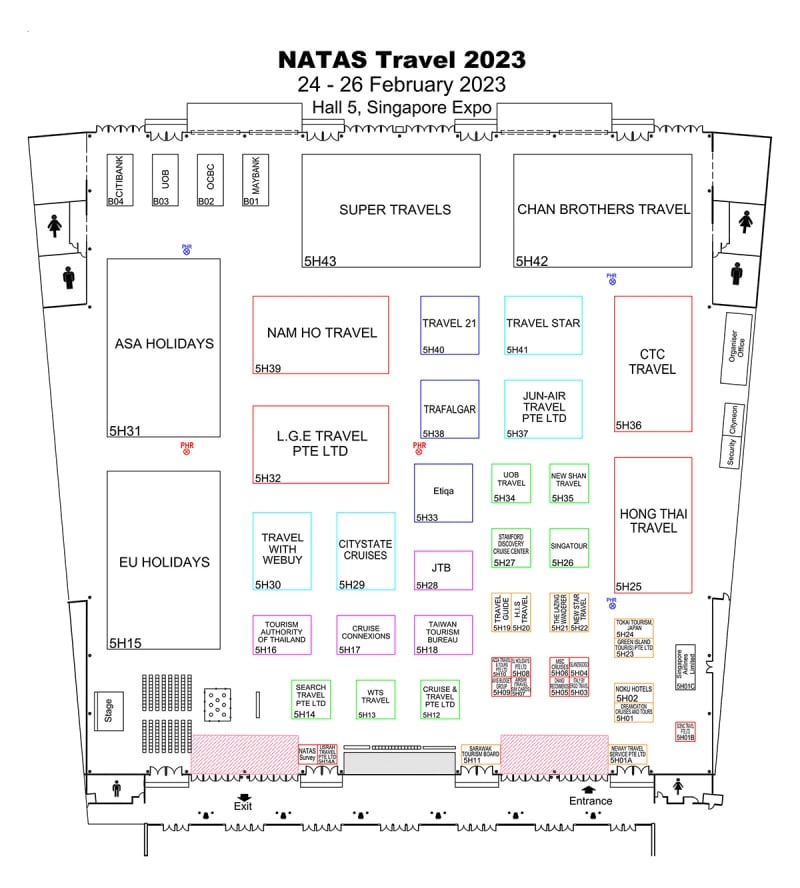 List of Exhibitors at NATAS Travel Fair 2023:
Travel Agents
National Tourism Organisations
Cruises
| | | |
| --- | --- | --- |
| | Booth | Company |
| 1 | 5H29 | Citystate Cruises |
| 2 | 5H27 | Stamford Discovery Cruise Center |
| 3 | 5H06 | MSC Cruises |
Hotels & Resorts
| | | |
| --- | --- | --- |
| | Booth | Company |
| 1 | 5H02 | Noku Hotels |
Others
| | | |
| --- | --- | --- |
| | Booth | Company |
| 1 | 5H07 | AIRSIM (Travel Sim Cards) |
| 2 | B04 | Citibank Singapore Limited |
| 3 | B01 | Maybank |
| 4 | B02 | OCBC |
| 5 | B03 | UOB |
| 4 | 5H33 | Etiqa Insurance |
| 4 | 5H19 | Travel Guide |
| 4 | 5H01C | Singapore Airlines Limited |
Getting to NATAS Fair 2023
Address: Singapore Expo, Hall 5, 1 Expo Drive, Singapore 486150
By car
Singapore EXPO is a 15-minute drive from the CBD. Click here for parking information. 
By taxi or ride-hailing apps
The nearest drop-off point to Hall 5 is Foyer Two (next to Expo MRT station). Take note that fares may be subject to peak-hour surcharges. 
By train
Singapore EXPO is served by the Expo MRT station. Two lines connect to this station, the East-West (Green) Line and Downtown (Blue) Line. 
By bus
There are several bus stops from which you can walk to Singapore EXPO:
Expo Station Exit E (bus number 20 and 118)
Besides Carpark G on Upper Changi Road East (bus numbers 12, 24 and 38)
Outside Hall 1 on Upper Changi Road East (bus numbers 12, 24 and 38)
Besides Carpark J on Xilin Avenue (bus number 35, 35M, 47, and 118)
Opp Changi City Pt. (bus number 20 and 47)
By shuttle bus
There is a free weekday shuttle bus service that circles between Changi Business Park and Singapore EXPO from 11.30am to 2.00pm. Since the shuttle bus is a weekday service, you will not be able to take it on the second and third days of the fair, which falls on a weekend. 
Visit our NATAS Travel Fair page for more updates, and see you there!