Singaporean food is known for its melting pot of influences from Malay, Chinese, Indian and other cultures. Spicy, sweet, salty, all manner of delicious tastes and flavours are in order. The vegetarian traveller need not miss out on ANY of this. It is relatively easy to be vegetarian in Singapore – most dishes can be customised to suit vegetarians and there are many vegetarian-friendly eats around. 
Here is a list of some delicious vegetarian dishes and snacks found in Singapore and some good places to try them.
1. Prata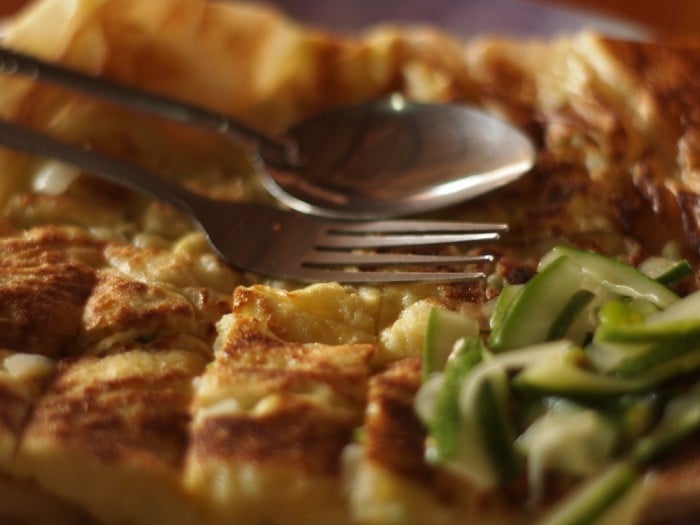 Image credit: Karen
Everybody loves a good prata! Roti prata is fried flatbread, and good ones are both crispy and fluffy. Ask for 'prata kosong' which means plain prata. This is often served with dhal curry. Alternatively, opt for a sweet prata. Flavours like chocolate, banana or butter sugar are popular choices. Tissue prata is a feast for the eyes, served as a tall triangular tower covered in sugar and butter.
Places to try:
Mr Prata: 26 Evans Rd #01-02, Singapore 259367

Spize: 409 River Valley Rd, Singapore 248307
2. Beancurd or Soy Bean Milk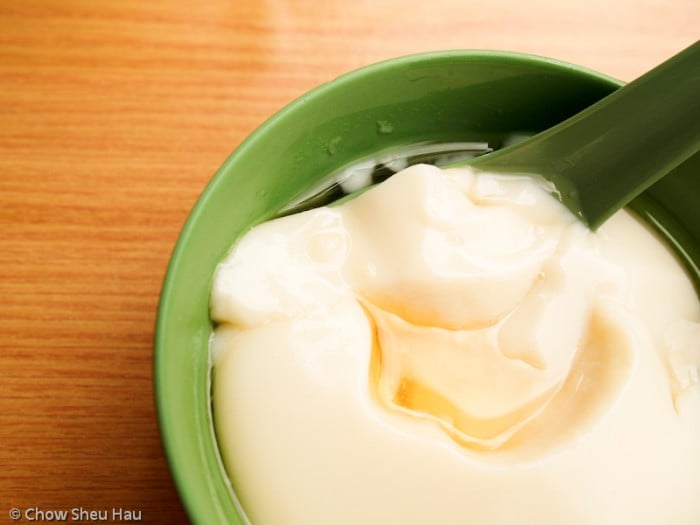 Image credit:  Chow Sheu Hau
Soya bean milk and a type of beancurd called tau huay are popular in Singapore. Tau huay is like a silken beancurd custard that is slightly more set than typical custard. The beancurd is fresh and traditionally served warm with plenty of rock sugar to sweeten it. There is sometimes the option to buy deep fried dough fritters to dunk into the bowl of tau huay. Fresh soybean milk can be found in a lot of hawker centres as it is a popular drink. You can choose to have yours warm or cold and customise the sugar level. 
If you are near the backpacking district of Bencoolen Street, you are in luck as a famous beancurd stall, Rochor Original Beancurd, is close by. You can also find fresh soybean milk, tau huay and even soy ice-cream in little outlets called Jollibean all over the island.
Places to try:
Rochor Original Beancurd, 2 Short Street Singapore 188211

Jollibean: Various locations, usually near MRT stations and in shopping malls, particularly the basement level.  
Hawker centres

3. Rojak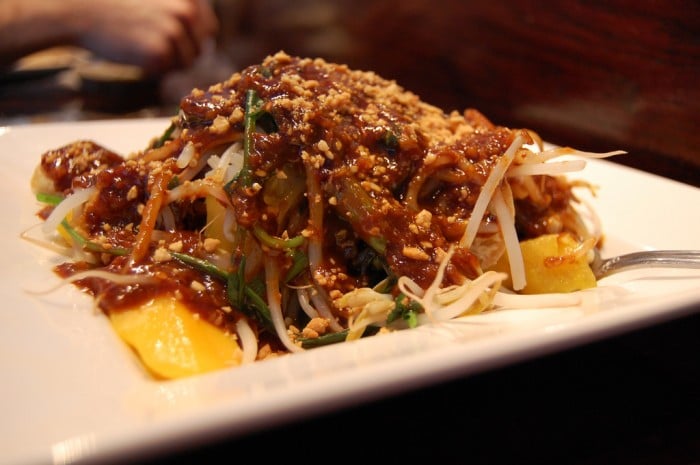 Image credit: stu_spivack
Rojak means mixed. This dish is basically a selection of ingredients all mixed together with sauce. There is Indian rojak and there is Chinese rojak. For Indian rojak, choose ingredients like tempeh (a type of soybean product), tofu, potato to make it vegetarian. They will chop it up and mix it with onion, green chilli, cucumber and serve it with a sweet orange-red sauce.
If you prefer something fruitier, go for the Chinese version as it has pineapples in it! The sauce that goes with Chinese rojak is brownish-black in colour. The sauce is made with shrimp paste in non-vegetarian restaurants but there are places which serve vegetarian rojak. The Chinese version is made with pineapple, turnip, cucumber, bean sprouts, dried tofu and fried bread.
Places to try:
Hawker centres

Vegetarian Chinese Rojak – Rojak Line: 44 Holland Drive, Holland Drive Market And Food Centre #02-13, Singapore 270044. Closed on Mondays.
Vegetarian Indian Rojak –  Gokul Vegetarian, 19 Upper Dickson Road, Singapore 207478
4. Red bean buns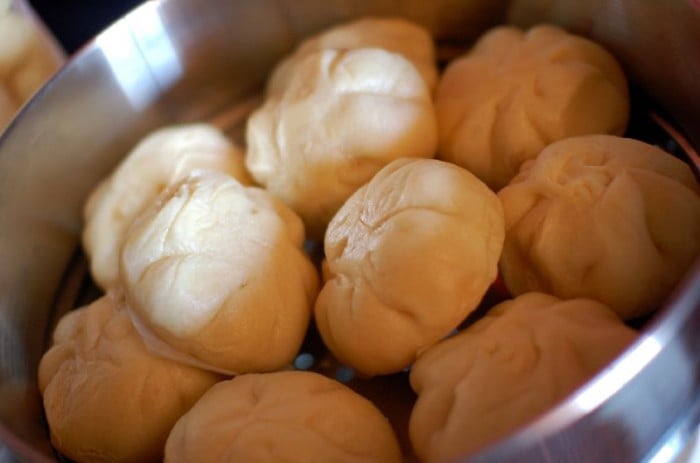 Image credit: ulterior epicure
Red bean paste is a popular sweet and moreish filling for many bread-type of desserts. Pancakes, buns and waffles can be stuffed with this paste, which has a thick, reddish-black colour. While you are in Singapore, try it steamed in a delicious red bean pau, which are soft Chinese-style white buns.
In addition, red bean is so popular that local ice cream comes in red bean flavour. Like all beans, it is vegetarian. Check out potong ice cream a local supermarket for delicious local ice cream on sticks.
Places to try potong ice cream:
NTUC Fairprice or Finest Supermarkets. Look in the ice cream section.

Various locations
Places to try red bean buns:
Din Tai Fung: #B1-03 Paragon (290 Orchard Rd), Singapore. Order the red bean bao. This is not a vegetarian restaurant but the red bean bao is vegetarian.

Maxwell Food Centre: 1 Kadayanallur St, Singapore. Look for any stall selling red bean buns or pancakes.
5. Kueh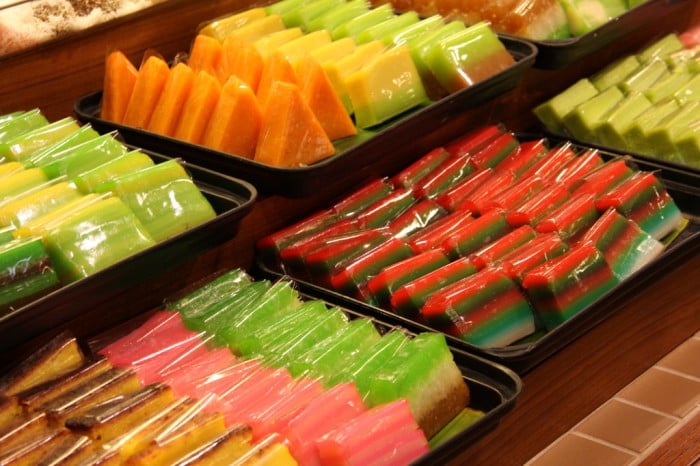 Image credit: Ben Yapp
Kueh is the local name for the colourful traditional cakes and sweet desserts found in Singapore. There are different types of kueh associated with the different races – Malay, Chinese and Indian. Unlike western cakes which rely on butter and wheat flour, common ingredients in these desserts are rice, coconut, palm sugar and tapioca starch. The kueh often contain food colouring to give a bright hue. The texture is soft, slightly chewy and sticky. They are also very interesting and pretty to look at.
Bengawan Solo, which is famous for their cookies and tarts, have a kueh selection in some outlets. If you are in the trendy Arab Street area, some Malay restaurants such as Hajah Maimunah offer kueh. Do try a few different types of kueh, as you may come up with a favourite. 
Places to try:
Bengawan Solo: 

Various locations.
Hajah Maimunah: 11 & 15 Jalan Pisang Singapore 199078. Please note that Hajah Maimunah is not a vegetarian restaurant, but they do serve authentic vegetarian-friendly kueh.
6. Chendol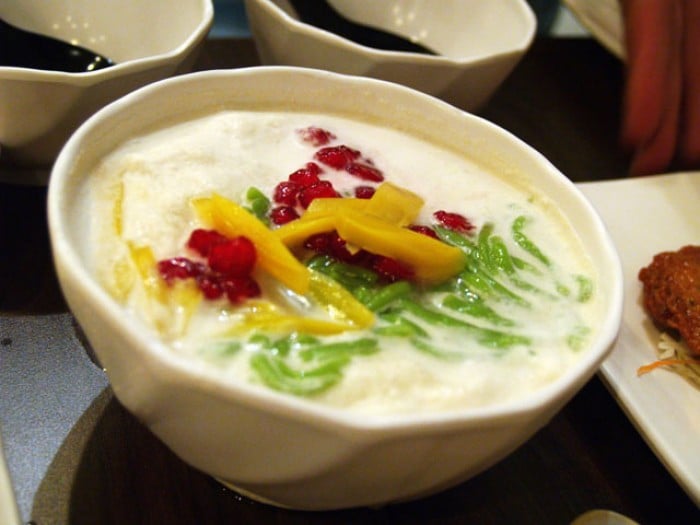 Image credit: Richard Lee
Chendol is a popular Southeast Asian dessert. Sweet, icy and coconutty, it is worth the high number of calories! What is distinctive about chendol is its green, jelly noodles made with rice flour. They look like green worms and are great fun to eat for kids and adults alike! Other ingredients include coconut milk, palm sugar and shaved ice. Extras include the ever popular red beans, black grass jelly and sometimes corn and glutinous rice. Found in hawker centres all across the island, this delicious dessert is a sweet treat designed to cool you off in the hot weather and leave you feeling satisfied.
Places to try:
Mubarak Ali Kopitiam: Tekka Centre, 665 Buffalo Road #01-257 Little India Tekka Serangoon Road.

Ren Desserts: #B1-66 Katong Shopping Centre, 865 Mountbatten Road, 437844.
7. Durian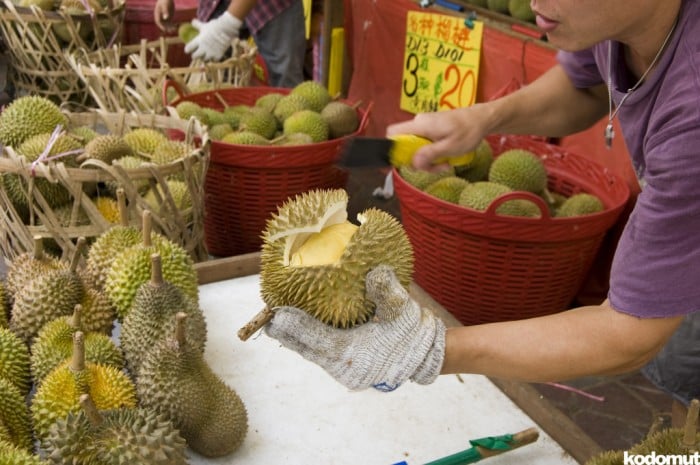 Image credit: Zhao !
The King of Fruits! You can't come to Singapore without trying this famed fruit. Durians are covered in hard green spikes and emit an overpowering smell. It is hard not to be intimidated, but break it open and you will find sweet, yellow flesh that has a unique, creamy, custard taste. Durian is a seasonal fruit and is available from June to August. If the real fruit is not for you then there are many durian-flavoured treats to try. Durian puffs, tarts, cakes and ice cream are available all over the island and served at many hotels. Just ask!
Places to try:
Geylang, Bugis/Rochor district for durian stalls and various hotels across the island.

NTUC Fairprice/Finest sells potong ice cream in local flavours including durian. Look in the ice cream section. Various locations.
8. Thali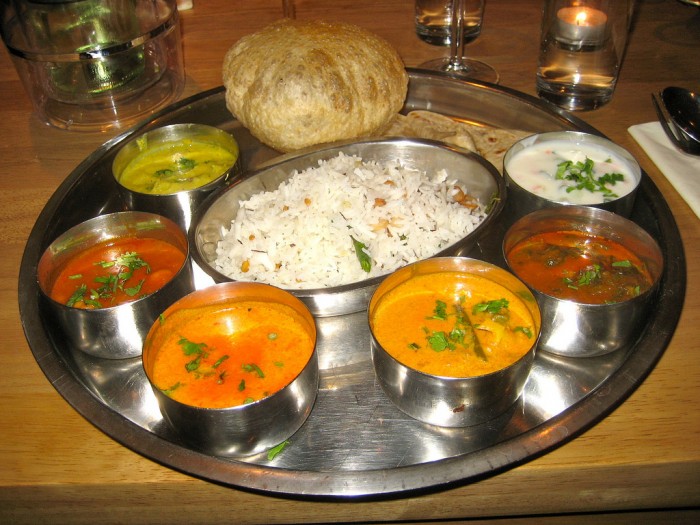 Image credit: SteveR-
Vegetarian Thali originates from India and it offers tastes of many different kinds. Thali usually comes with rice and bread (either naan or chapatti). Little vessels of vegetarian goodness surround the bowl of rice, each with a different taste: sweet, salty, sour. Dip in and try each mini dish. You can find varying bean and lentil dishes, soup, vegetables and a gorgeous dessert to round off the meal. Enjoy it with masala tea! Of course, Indian food is very popular amongst vegetarians. Head to Little India to check out the sights and sounds and pop into one of the many vegetarian restaurants for a truly wonderful meal.
Places to try:
Ananda Bhavan: 95 Syed Alwi Rd, Singapore 207671

Sri Rajya Lakshmi Naarasimhan: 436 Serangoon Rd, Singapore 218132
9. Potato Curry Puff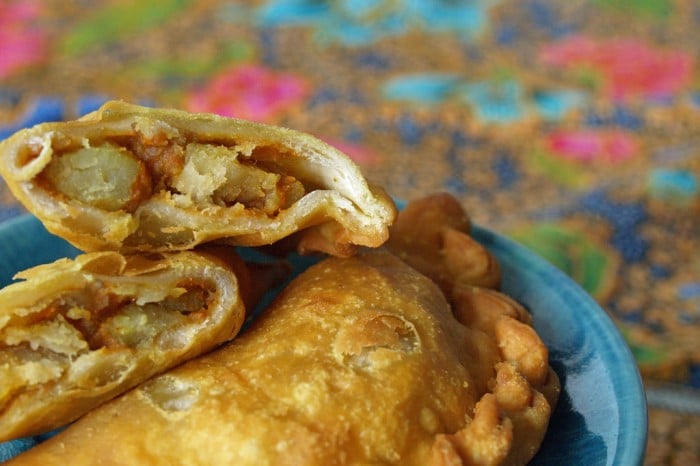 Image credit: umami
The humble curry puff is a popular snack which is vegetarian-friendly. Order a simple potato curry puff for a delicious treat. This pastry differs widely from vendor to vendor, some offering a thick crust, others offering a flaky puff. My preference is the old-school thick pastry! The filling should be hot and slightly spicy with big chunks of potato, though size varies from vendor to vendor too. A favourite local brand is Old Chang Kee, whose distinctive yellow coloured outlets can be found dotted about all over the island. 
Places to try:
Old Chang Kee: Various locations. Look for their kiosks near MRT stations or in shopping malls.
10. Vegetarian Bee Hoon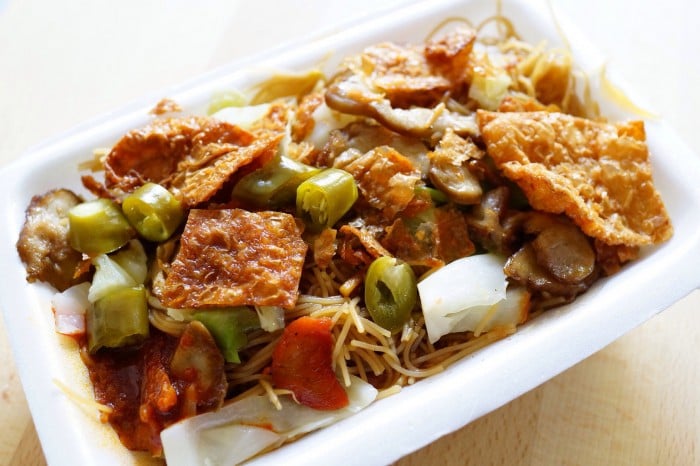 Image credit: Soon Koon
Bee hoon is a white rice noodle which comes in thin or thick form. Noodles are a popular breakfast choice in hawker centres, especially among Singapore's older generation. The noodles are usually fried and then a selection of vegetable dishes and mock meat are added. The hawker stall will have trays upon trays of cooked food laid out for you to choose from. If you are at a vegetarian noodle stall, you can choose anything you like including the items that look like meat. They aren't made from meat at all but from flour. If you are a mixed food stall (serving both veg and non-veg dishes), opt for the vegetable dishes of which there should be quite a few. The vegetable dishes can be prepared in such delicious ways! It really is a hearty meal for any time of the day.
Places to try:  
Hawker centres

Ru Yi Yuan Vegetarian Food: 80 Redhill Ln, Bukit Merah, Singapore 150080. Closed on Sundays. OR Block 46-1 Tanglin Halt Road. Closed on Wednesdays.
On top of all these snacks and delicacies, a quick search online will list out many vegetarian restaurants. Also, you can find good vegetarian foods in the vicinity of cultural sites such as Hindu temples in Little India or Buddha Tooth Relic Temple on South Bridge Road. Don't let your dietary restrictions stop you from enjoying the food paradise that is Singapore.