I'll go ahead and say it: Penang is the most picturesque city in Malaysia. From the whitewashed colonial era buildings in George Town to spectacular coastal views, Penang is a city that can satisfy any photography enthusiast's dream! But you don't need the most canggih (hi-tech) camera to capture and show off your incredible photos in Penang, you just need your phone…and Instagram.
Yes, we live in a show-and-tell world these days and is there anything people share more often and more proudly than their travel photos? Thankfully, since Penang is such a photogenic place, you're bound to capture a few stunning photos during your visit. I mean, some of the scenery in Penang is so beautiful that as long as you point your camera in the right direction, you're almost guaranteed an outstanding #photooftheday.
And to illustrate my point, here are 20 of the most Instagrammable places in Penang you should definitely check out. Beware of jealous followers scrolling through your feed!
Oh, but before we begin, while there are many Instagram-worthy cafes and eateries in Penang, we won't be mentioning any of them here. There are so many of them that they warrant an article of their own! We were tempted to squeeze in a few but to be fair, we're excluding all cafes and eateries from this list. Let's just say we'll save them for another time.
Penang Island
1. Hunt down the colourful street murals of Armenian Street and Chulia Street
2. Soak in the artistic vibes at the abandoned Hin Company Bus Depot
3. Take a picture with the whitewashed walls of one of Penang's oldest Catholic churches: The Church of the Assumption
The interior of the church is equally, if not more beautiful than the outside. However, if you plan on updating your Instagram feed with pictures of the church interior, make sure you observe the rules and respect the sensitivities of the church. It's still an active place of worship after all.
4. Embrace the heritage of one of Penang's oldest Chinese clans at the Khoo Kongsi
5. Ask for blessings at the majestic Kek Lok Si Temple
Psst, the temple is even more captivating at night when it lights up!
6. Wonder about life's musings at the edge of the water at the scenic Tan Jetty
7. Or stare out into the open ocean at Kerachut Beach
8. Catch an alluring sunset at Batu Ferringhi Beach
9. Pose as an exclusive member of a yacht club at Straits Quay Marina
10. Feast your eyes on panoramic view from the top of Penang Hill
11. #Throwback far into the past at Penang's Peranakan Museum
12. Be treated to a regal experience as you dine at the Macalister Mansion Restaurant
13. And then have an aromatic cup of coffee at Busy Bodhi Cafe
Pro tip: Look up.
14
.

Check yourself in at Pandora by visiting Penang's Avatar Secret Garden
15. Stay for a night at the historical Cheong Fatt Tze Mansion a.k.a. Blue Mansion
16. Head to the underside of the Penang Bridge at sunset for an unforgettable sight. And then head to Mainland Penang
Here's something some of you might not know much about: there's more to Penang than just the island. While Mainland Penang does not receive nearly as much media attention as its popular island counterpart, little travel gems do exist across the Penang Bridge.
And of these travel gems, some of them are quite…as you've guessed it, Instagrammable. Let's check some of them out.
17. Explore the abandoned quarry of Guar Petai (Frog Hill) and be rewarded with stunning photos
18. Or go a little ways out of the city to enjoy the rural fields of Permatang Rawa
19. Why not hike to the top of Cherok Tokun in Bukit Mertajam?
20. Lastly, enjoy the serenity of Bukit Mertajam's famous St. Anne's Catholic Church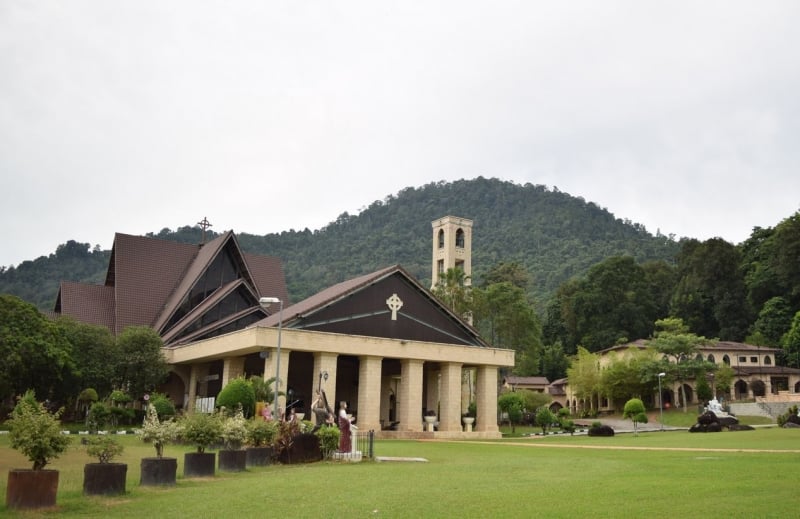 Also read: 10 Penang Airbnbs Where You Can Live Like a Local
And there you have it — 20 amazing Instagrammable spots for you to visit during your next trip to Penang. With this list of stunning views, you can bet that you #InstaMoments tag will be rightfully lit! Get snapping!