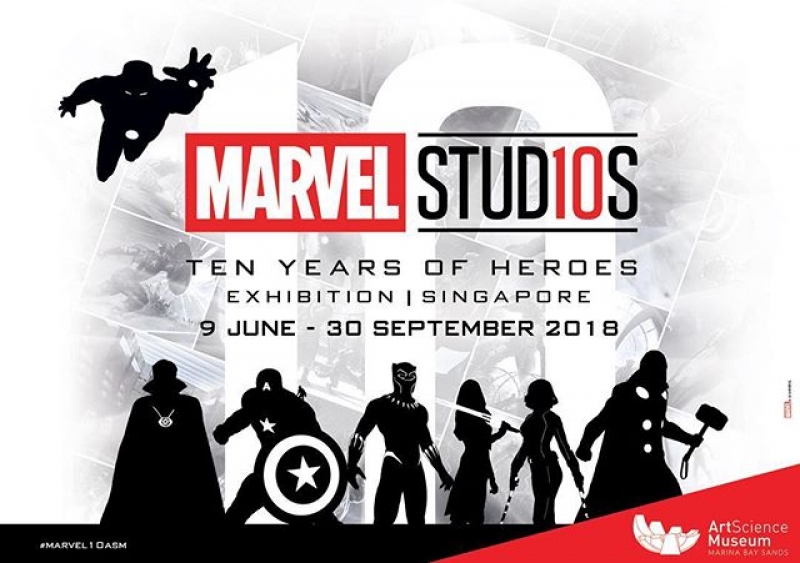 Ten years, 19 films and one intriguing story.
From 9 Jun to 30 Sep, visit ArtScience Museum's Marvel Studios: Ten Years of Heroes exhibition to relish the decade of epic Marvel scenes across the 19 record-breaking blockbusters!
Marvel Studios: Ten Years of Heroes promises an interactive, cutting-edge exhibition that will transport all you Marvel fans right into the dynamic superhero world.
Featuring an interactive journey into the world of the recent pop sensation, Black Panther; an immersive installation on last year's Thor: Ragnarok; exclusive sneak peeks of the highly-anticipated Avengers: Infinity War and Ant-Man and the Wasp, this exhibition will showcase unique installations of every Marvel Studios Superhero, all under one roof. Besides the recent box office smashing Marvel movies, you can also expect to see iconic characters from the first decade of the Marvel Cinematic Universe including Iron Man, Captain America, and Doctor Strange.
So save the date now for this unique, one-of-its-kind cinematic exhibition at ArtScience Museum Singapore!
Tickets are available now at all Marina Bay Sands box offices and website starting from S$16 per adult and S$45 for a family bundle package.
Simply quote the answer to this question at the point of purchase: "What colour is the Time Stone in the Marvel Cinematic Universe, as also seen in Avengers: Infinity War?" and you will get to enjoy a 25% off Early Bird discount on all ticket classes. Do be informed that Early Bird tickets for the opening weekend of Marvel Studios: Ten Years of Heroes on Saturday, 9 Jun & Sunday, 10 Jun 2018 are SOLD OUT, but Early Bird tickets are still available from Tuesday, 12 Jun 2018 onwards.
For more information, please visit Marina Bay Sands website.

---
Information extracted from press release issued by Marina Bay Sands Singapore