Whoa, how long was I out for? Meh, don't worry, I'm back and I'm ready to roll! So, where were we before I passed out? Oh yeah!
Also read: 34 Must-Try Foods in Malaysia – Part 1
Rice, Rice, Baby…
So, we've finished the noodles and beverage section of the list, and that's 11…out of 34 items on the list. We've got a looong way to go, I'm afraid. Go get some snacks or something to stave off your hunger pangs because here we go with top Malaysian rice dishes.
P.s., nasi kandar will not be included on this list because if I did include it, I would also have to include economy rice as well. And nasi kandar and economy rice's appeal is more in the concept and experience than anything else, so…yeah.
12. Nasi Lemak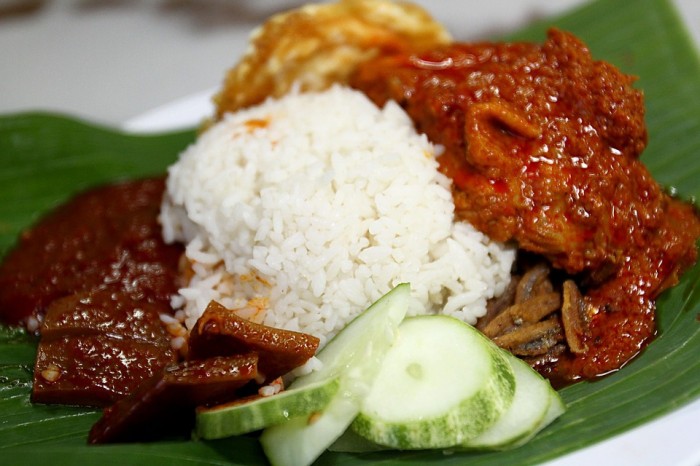 Image credit: Faixal
Obviously, nasi lemak had to be the first on the list in the rice section. In fact, it was probably going to be dangerous to not place it on top! It is, after all, endeared by many as the national dish of Malaysia.
The rice is cooked in coconut milk to give it a deep aromatic flavour and it is mostly consumed for breakfast (or lunch, or dinner…I don't judge). Nasi lemak comes in a small package, usually wrapped in banana leaf, and contains fragrant rice, crunchy friend anchovies, cucumbers, peanuts, occasionally some meat (though this is not part of the traditional version), a hard-boiled or fried egg and most importantly, a spicy, sweet sambal (shrimp paste and chili mix) which elevates the simple dish to mouth-watering new heights.
It's simplicity and wholesome flavours make it easy for anyone to understand why it is considered our national dish!
Where to find the best
If you ask me, I'd say that the best nasi lemak in Malaysia is found at random roadside stalls in Kelantan. The dish just feels more authentic and traditional there. But, for the benefit of those who aren't prepared to venture into Kelantan for a packet of nasi lemak, you can find one of the most high recommended servings of the dish at Village Park Restaurant in Damansara Utama of the Petaling Jaya area in Selangor. Some claim it is the best in Malaysia but I just still prefer Kelantan style nasi lemak. Just saying…
13. Peranakan (Baba Nyonya) Cuisine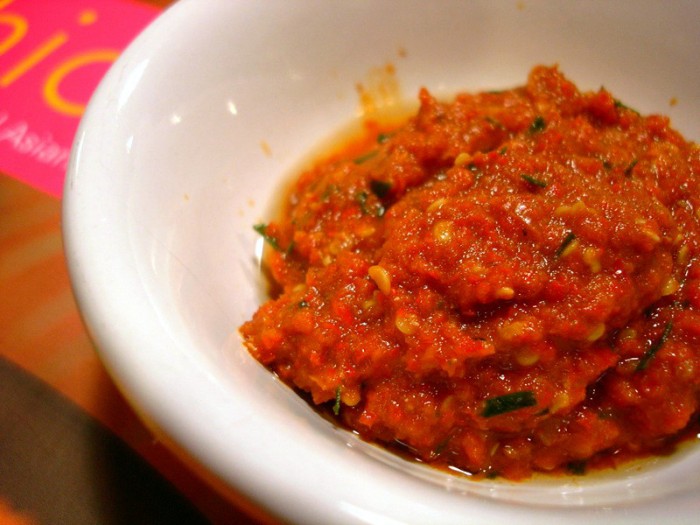 Image credit: daxiang stef
The Peranakan tribe or Baba Nyonya are descendants of Chinese immigrants who settled in and around the Malay Archipelago and inter-married with locals. Naturally, Peranakan cuisine combines the best of Chinese and Malay cooking (usually Chinese ingredients and Malay herbs and spices).
And while Peranakan cuisine is not so much a rice dish, per se, since it is most often eaten with a serving a rice, I thought it definitely deserves a mention. Extremely popular to the Hokkien communities in Penang and Malacca, Peranakan cuisine does have its slight variations. For example, in Penang and the north, baba nyonya dishes are often sours and spicy, a result of Thai culinary influence whereas coconut milk is used more in Malacca due to historical Indonesian influence.
Some of the most famous Peranakan dishes include the 'ju hu char', which is crisp jicama (turnip like root vegetable) stir fried with dried cuttlefish and mushrooms and eaten either with rice or as lettuce wraps; and ayam pongteh, which is chicken stew cooked with fermented soy beans.
Where to find the best
Evidently, the best place of Peranakan cuisine is in Malacca and you'll be hard pressed to find a better restaurant serving authentic baba nyonya dishes than Nancy's Kitchen on Jalan Hang Lekir. The food is as delicious as the authenticity of the dining experience.
The restaurant very much resembles a typical peranakan house and this simply adds to the 'dinner-at-home' feel at Nancy's. The only downside is that the restaurant is non-halal. For a halal restaurant, try Kocik Kitchen on Jalan Tun Tan Cheng Lok, which is not too far from Nancy's.
14. Bak Kut Teh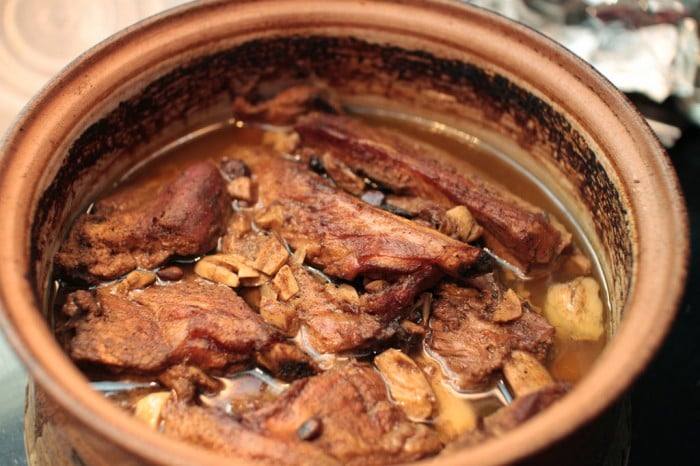 Image credit: Profernity
A lot of people think that most of the Chinese dishes in Malaysia are localised versions of dishes found in China. Well, some of it may be true, bak kut teh, which many consider to be THE Chinese dish, was actually invented here in Malaysia (well, Malaya, for those who wish to be politically correct),
Bak Kut means pork ribs and 'Teh' means tea, so bak kut teh is essentially pork ribs cooked in Chinese tea…Just kidding! No tea is involved! Bak kut teh was first conceived when Chinese immigrants decided to boil pork ribs in a broth of aromatic herbs and spices and the result was a mouthwatering pot of meat stew.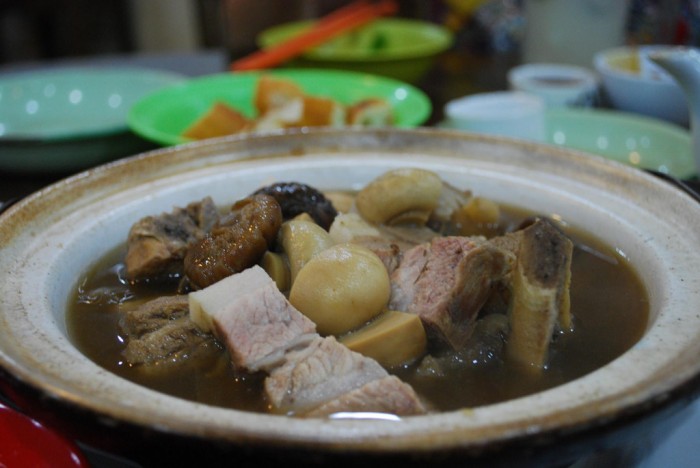 Image credit: Alpha
Apart from various cuts of pork, the dish also contains tofu, vegetables, mushrooms and yew tiao, which is Chinese fried dough. The traditional style of bak kut teh is a soupy dish with rice but there are also dry version available. The best bak kut teh is aromatic and often served (and cooked) in a clay pot. Or in Klang. The best bak kut teh is found in Klang. There, I said it. Klang!
Where to find the best
Let me start by saying that the general place for the best Bak Kut Teh is in Klang, Selangor. I have to say that because my personal recommendation may not sit well with some, so it was best to first point you in the general direction of the best place for this dish. My personal favourite place for bak kut teh is Seng Huat Bak Kut Teh Restaurant located on Jalan Besar, Kawasan 1 in Klang. The broth there is just simply amazing and it will certainly leave you coming back for more!  
15. Yam Rice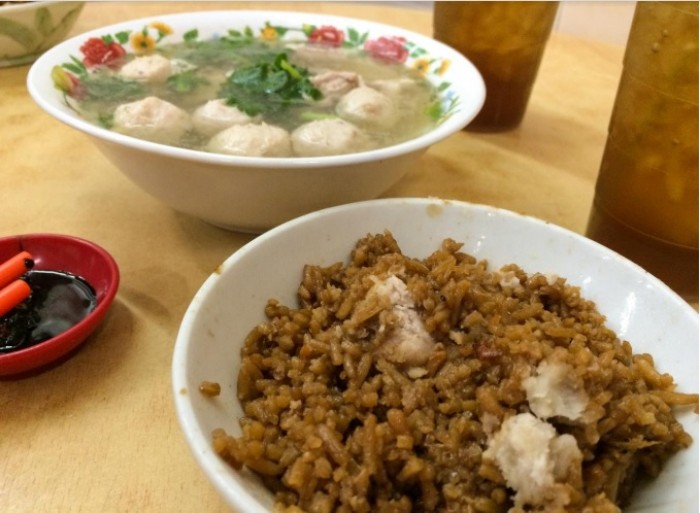 I mean the name is pretty self-explanatory, it's basically rice, with pieces of yam in it. Moving on.
Of course, that kind of explanation would have been lazy of me! So here's the lowdown. Yam rice is cooked in a mixture of soy sauce and oyster sauce and it's cooked with chunks of yam mixed into the rice. It's fragrant and extremely filling and some versions of it even contain fried shallots and dried shrimp.
Although it is good on its own, the rice is almost always served with a bowl of soup containing various cuts of pork and salted vegetables. As a condiment, the dish is best eaten with a spicy dipping sauce (for the pork) made of chili paste and dark soy sauce. It's savoury and a little spicy, nothing says Malaysian more than that combination, I can tell you.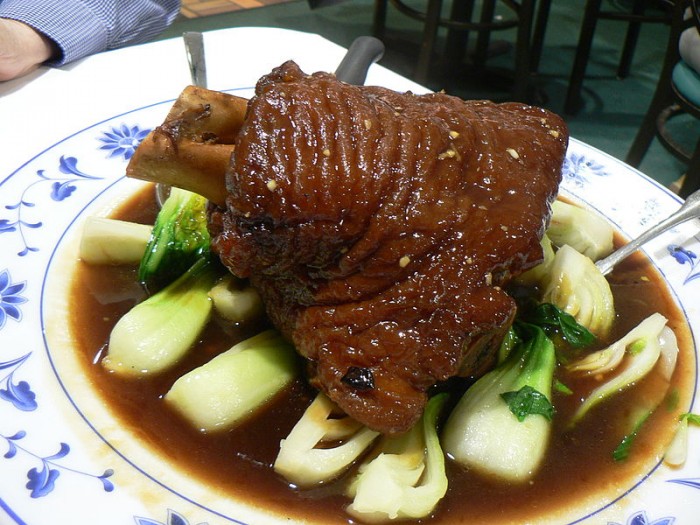 Image credit: Stu Spivack
What's more, many Malaysians like to eat yam rice with another particular Malaysian Chinese side dish: tender pork knuckle braised in vinegar! Just let that sink in for a moment while you try your best to keep your saliva INSIDE your mouth.
Where to find the best
Finally, a dish which I can proudly say was made popular in my hometown! The best place for yam rice is found on the often underrated mainland half of Penang, in Bukit Mertajam to be exact. The place is simply known as Yam Rice Kopitiam and it's located on Jalan Murthy in Bukit Mertajam. It's a very famous eatery that has been around for quite a long time yet still equally popular with locals! I can truly say that it is simply the very best yam rice you can find!
16. Roast meat with rice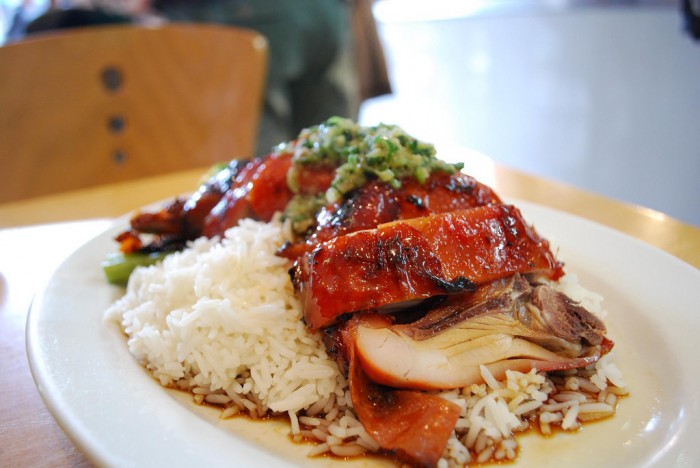 Image credit: Alpha
What's that I hear? You want me to stop? It's getting too torturous to read? Well, no! My inner demon desires to be fed! I shall push on!
Here, we have a picture of Hainanese Chicken Rice, one of the most common rice dishes in Malaysia (and in Singapore). But apart from roasted and steamed chicken, other variations of this type of rice dish include char siew (BBQ pork), and roast pork belly rice. The rice is often cooked in chicken stock to give it an extra boost of aroma and taste and it is often served with a garnish of cucumber and a bowl of soup.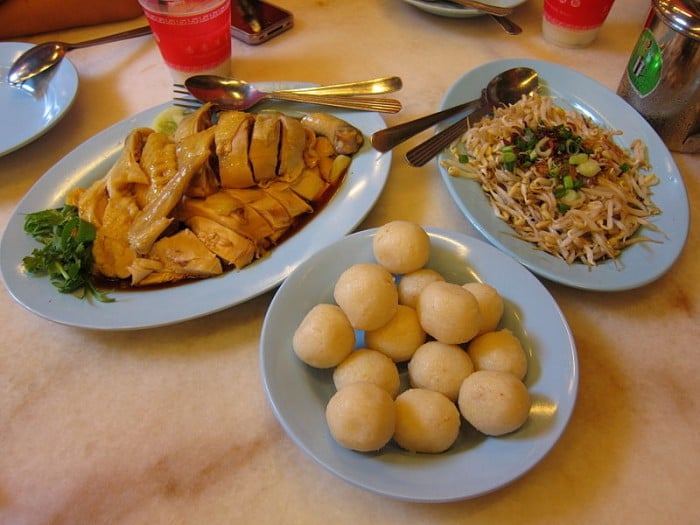 Image credit: Yun Huang Yong
But just in case some of you might find roast meat and rice boring, then you should head down to Malacca where they serve chicken rice…in the shape of balls. Yep, chicken rice balls are a thing in Malacca and they're probably the most popular dish in the historical city. Just watch how many you eat! They may look cute, but each mouthful is essentially still a mouthful of rice!  
Where to find the best
For traditional roast meat with rice, do try Soon Lok Restaurant in Puchong Jaya, Selangor. It is famous for its roast meats (chicken, pork and duck) and is often full during the weekends. The meat is tender and extremely satisfying and it's even been featured on television and local newspapers! Definitely a store not to be missed for meat lovers!
For chicken rice balls in Malacca, you will want to try Chop Chung Hwa Restaurant located on the corner of Jonker Street. Do be patient though as this place is often filled with tourists and patrons could occasionally find themselves waiting quite a while for a table.
17. Nasi Kerabu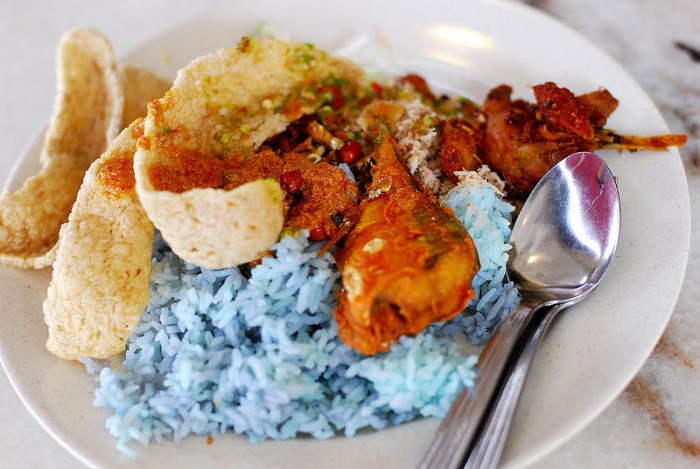 Image credit: amrufm
Nasi Kerabu is a traditional Malay dish which is extremely popular on the East Coast of Peninsula Malaysia, in states like Kelantan and Terengganu.
Contrary to popular belief, Malaysia does not, in fact, grow smurf rice with which we use to cook nasi kerabu. The blue dye of the rice is caused by the colour of the petals of the butterfly-pea flowers which is used in the cooking process.
Often, nai kerabu is served with fresh aromatic herbs such as kaffir lime leaves and basil. Combined with the rice is a mixture of desiccated coconut, bean sprouts, torch ginger bud, salted eggs, dried shrimp and meat. You also get a side of tasty, crispy keropok (crackers.) Fresh and uplifting for the palette, this is a must try Malay dish if I ever saw one!
Where to find the best
The best nasi kerabu is most definitely found on the East Coast of Malaysia in states like Kelantan and Terengganu. One spot that is highly recommended by locals for nasi kerabu is Yati Restaurant on Jalan Long Yunus is Kota Bharu, Kelantan. The dish is best eaten with a side of ayam percik which is chicken roasted in spices and served with coconut dipping sauce.
18. Lemang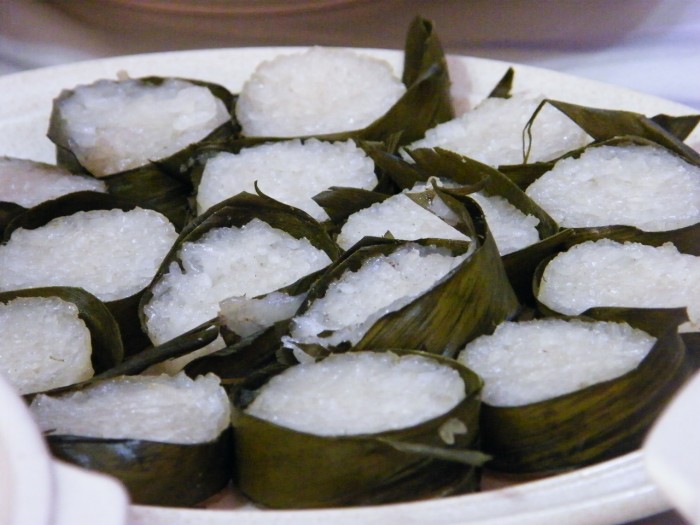 Image credit: Emran Kassim
Well, this isn't exactly a rice 'dish', but it certainly is a unique delicacy in Malaysia. Lemang is the perfect example of what happens when you take simple ingredients and give it tender loving care and patience.
Lemang is glutinous rice, cooked with coconut milk in a hollowed bamboo stick. And in order to prevent the rice from sticking to the bamboo, the sticks are usually lined with banana leaves. And of course, we don't use a conventional stove to cook lemang, we use an open fire. The bamboo shoots containing the rice is slowly roasted over an open fire for up to 5 hours and when it's ready, it's typically served with meat dishes like curry chicken.
Lemang is traditionally eaten during the Ramadan season to mark the end of fasting. While in Sarawak, the indigenous Iban tribe prepare and eat lemang as a delicacy during Hari Gawai, which is their harvest festival.
Where to find the best
Since lemang is more of a seasonal side dish than a proper meal, you don't often get high recommendations for it. However, Lemang To'Ki in Bentong, Pahang, is said to serve the tastiest lemang in town, best eaten with a side of rendang. 
Fresh from the bakery!…Well, sort of…
So, we've already established that Malaysians can be very creative when it comes to food and they can do some pretty amazing things with rice and noodles. But what about bread? Or pastries? Well, it's time to find out!
19. Roti bakar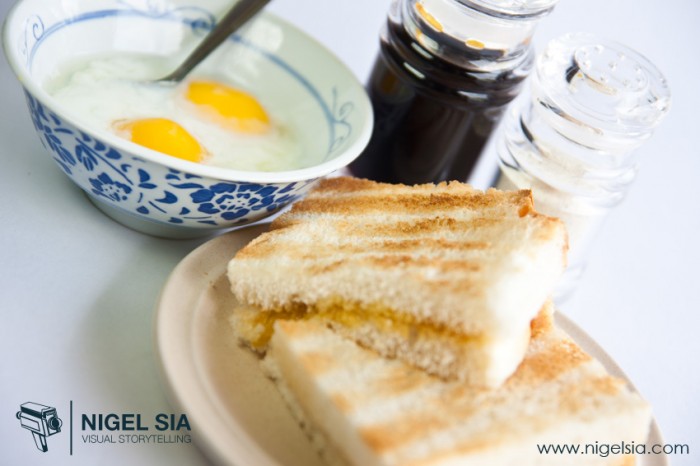 Image credit: Nigel Sia
Known affectionately as the 'typical Malaysian breakfast', roti bakar is simply toasted bread with kaya, a coconut milk based jam often flavoured by pandan leaves.
The bread is often served with soft boiled eggs either in a separate bowl or laid out on top of the bread and a good cup of coffee. It's simple, yet delicious nature makes it one of the most commonly ordered breakfast items in Malaysia, not to mention that it's as healthy as Malaysian breakfasts get!
There are also different varieties of roti bakar, such as those which accommodate sausages and hams and are grilled instead of toasted, but sometimes, the original is simply the best!
Where to find the best
There really isn't a feasible way to tell you that shop A serves better toast and eggs than shop B. But as a general recommendation, the best place for a traditional roti bakar breakfast is the kopitiams or food courts found throughout Malaysia. Most, if not all of those establishments serve this beloved breakfast dish.
20. Roti Canai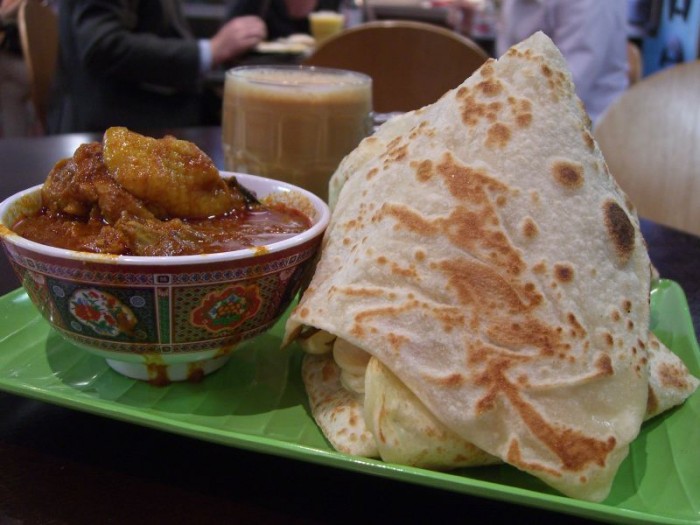 Image credit: Alpha
And now we move on from bread which is eaten at breakfast to 'bread' which can be eaten for breakfast, lunch, dinner, supper…well, you get the idea.
Roti canai is a Malaysian Indian flat bread that is most commonly found in mamak stalls but also in many breakfast eateries. It is made by tossing and turning the dough in the air before laying it on a cast iron grill with some oil and butter. It is then served crispy with a side of aromatic Indian curries.
Like any type of pastry which is plain in nature, there are many flavour variations for roti canai, such as roti telur (egg), roti pisang (banana) and roti planta (using margarine instead of butter).
But for the more bombastic versions of roti canai, there's the roti tisu, which is literally a tower of thin and crispy dough and the roti bom, a thicker version of the roti canai which is served with condensed milk and sugar.
Where to find the best
Similarly with roti bakar, it's difficult to tell you which stall sells the best roti canai. I mean, it takes a special kind of talent to mess up pan-fried dough. All the mamak stalls in Malaysia have decent roti canai but just as an added tip, the onus here is not so much on the roti, but on the curry which comes with it. If the curry makes your mouth water, then the roti canai is more than likely to the do the same.
21. Apom balik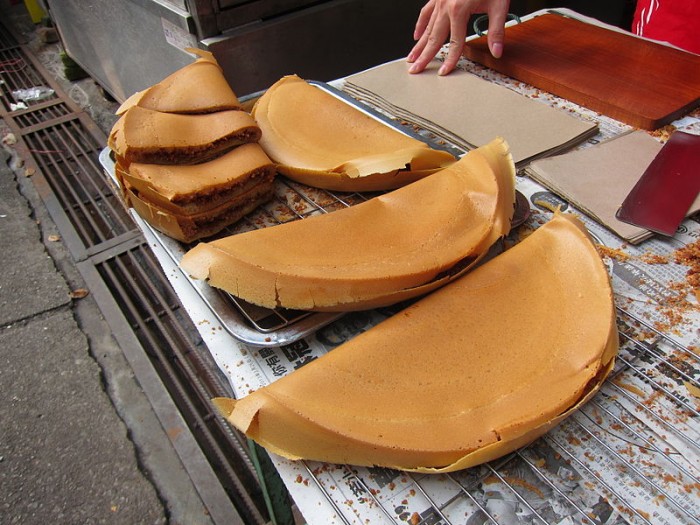 Image credit: Yun Huang Yong
Sweet and savoury. That's the best way to describe the apom balik (or apam).
Consider it Malaysia's contribution to the world of pancakes. The batter is made of flour, eggs, coconut milk and sugar. The batter is ladled into a thick round frying pan oiled down by palm margarine and is best served hot. That's the most basic type. But come on, this is Malaysia. We don't DO 'basic'.  
The most common filling for the pancake is sweet corn and peanuts but you can easily find variations like coconut shavings, cheese, chocolate sprinkles and there are even meaty versions with hotdogs and ham! You know a pancake like 'apom balik' is a major thing when the Malaysian Department of National Heritage went as far as to declare the snack 'heritage food'. Now that's some serious pancake business.
Where to find the best
One must-try place for apom is Ravi's Apom Manis in Swee Kong Coffeeshop, located in Pulau Tikus, Penang. The pancakes are cooked over a charcoal fire in clay pots and the stall has been around for quite some time! It's not exactly a gourmet snack, but certainly it's a mouth-watering one!
Also read: Discover East Coast of Malaysia: Food of Kelantan and Terengganu that You Must Try
22. Assorted fried kuih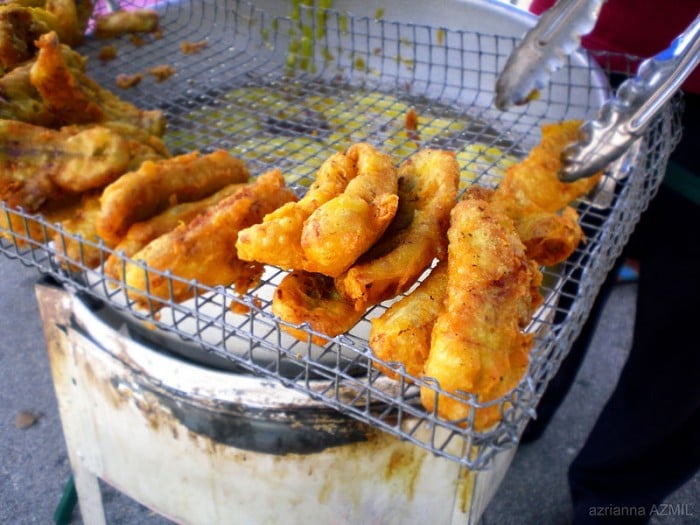 Image credit: Azrianna
Malaysians are often unfazed by an unfamiliar ingredient in the kitchen because there are always two ways in which we get by with things we don't know how to cook: we either chop them up and turn them into a curry or we deep fry them with batter.
Hey, you know it's true! And thank goodness for that because now we have a great assortment of fried pastries to satiate our appetites. These include, but are not limited to, fried banana fritters, fried potato cake, fried sweet potato cake, fried cempedak (a sweet, fleshy fruit which resembles jackfruit), fried prawn fritters and even 'cokodok', which is just fried banana batter!
You might think these are just lazy ways which Malaysians use to cook, but believe me when I tell you that the taste of these snacks are truly out of this world! They are perfect for parties and for afternoon tea.
Where to find the best
Again, these snacks are fairly simple to make and there's really no real recommendation that I have which sets itself apart from other stalls. I mean, hey, anyone who takes something as naturally sweet as banana and fries it with dough is a champ. Any road side stall most likely sells good fried kuih provided that the ingredients are fresh.  
23. Traditional Chinese Pastries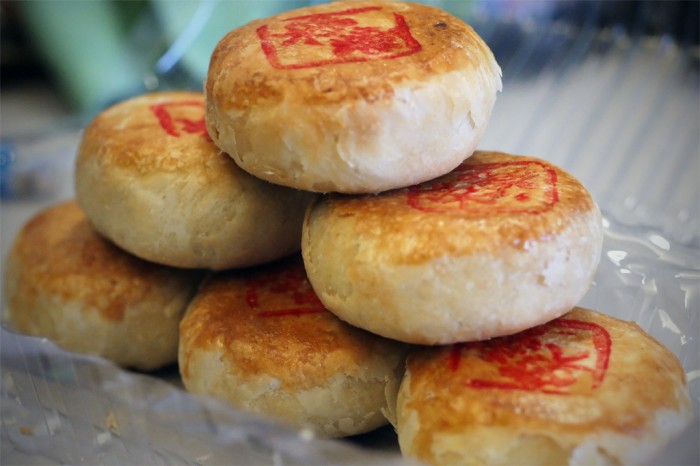 Image credit: Kyle Lam
'Pneah' in Hokkien roughly translates to cookies or biscuits. But these are not your typical Famous Amos or 'Chipsmore's. These are traditional Chinese pastry biscuits which are most commonly found in Penang.
There are actually shops in Penang (in competition with each other, of course!) which specialise in these biscuits. The most common ones are tau sar pneah ( a pastry made using wheat flour, sugar, lard (optional) and green bean paste); beh teh saw ( pastries filled with gooey molasses and topped with sesame seeds); and heo pneah ( a crunchy Chinese pastry filled with brown sugar).
Where to find the best
You know, when two eateries find themselves competing against one another in an effort to outdo and outsell their rivals, consumers benefit immensely. And so is the case with Chinese pastries in Penang, with two giants Ghee Hiang (Jalan Macalister and other branches around Penang) and Him Heang (on Jalan Burma) constantly upping each other's ante in an effort to draw more customers. Taste-wise, both bakeries produce equally delicious pastries and the only significant difference is that Ghee Hiang has been around since the late 1800s while Him Heang is comparatively young. Tradition or innovation? Hmm, tough choice, but great taste!
And next we have…
Editor's Note: It seems that Darren passed out again, this time from a sugar rush from eating too many pieces of roti bom. He should be alright to continue when he wakes up again, so stay tuned for part three of this Malaysian food series!