There's just something about the term 'the world's largest' which screams 'you NEED to see this!' Naturally then, I was thrilled when I found out that I may be able to spot the world's largest flower – the Rafflesia – at Cameron Highlands, just a stone's throw away from Singapore!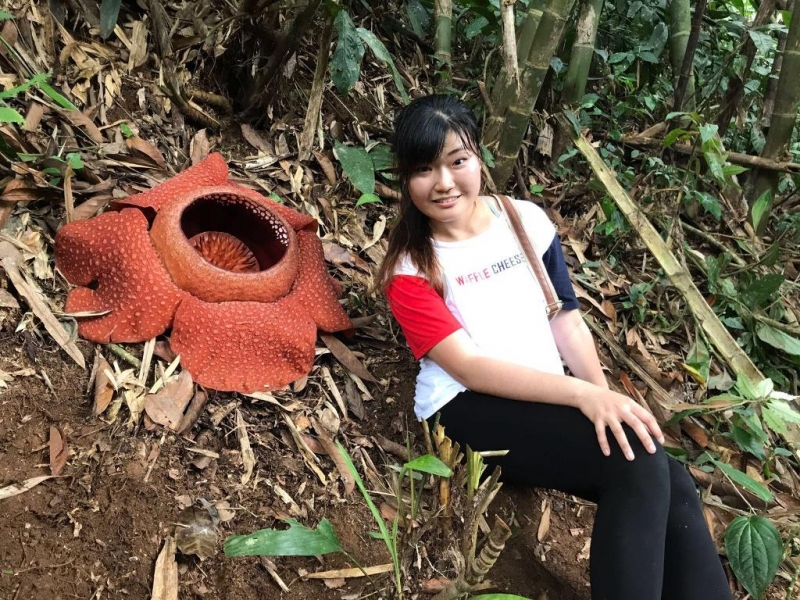 Rafflesia measures over three feet long in diameter and is even larger than the size of my face! A five-petalled, dark reddish parasite flower with white marks, it emits a distinctive odour of rotting flesh that attracts carrion flies for pollination to take place.
Do you know that a Rafflesia is only visible in full bloom for just seven days? Imagine how rare it is to find a blossoming Rafflesia!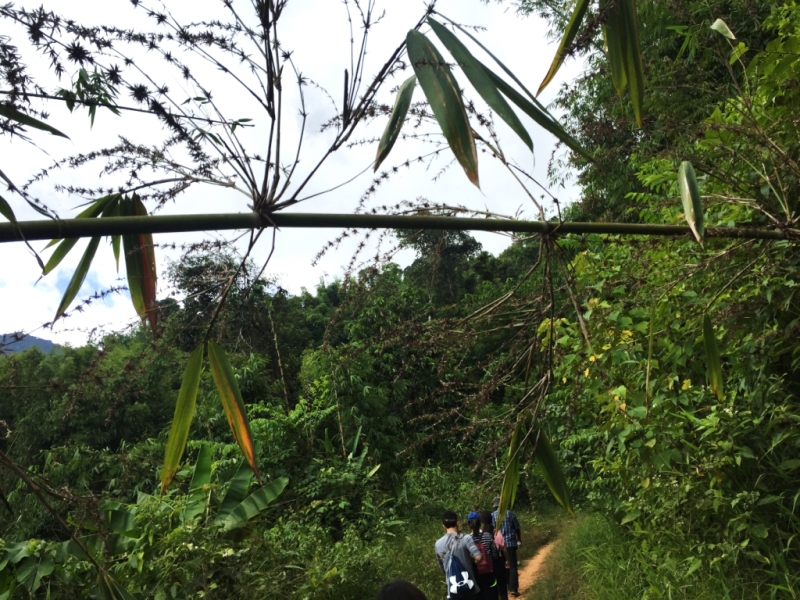 To be rewarded with the rare sighting of a Rafflesia in full bloom, you'll need to go jungle trekking. Sounds thrilling, doesn't it? Especially so if you're an adventurous soul at heart, like me. I promise you'll not regret trekking through the dense and thick jungle, even if you didn't manage to see the blossoming Rafflesia.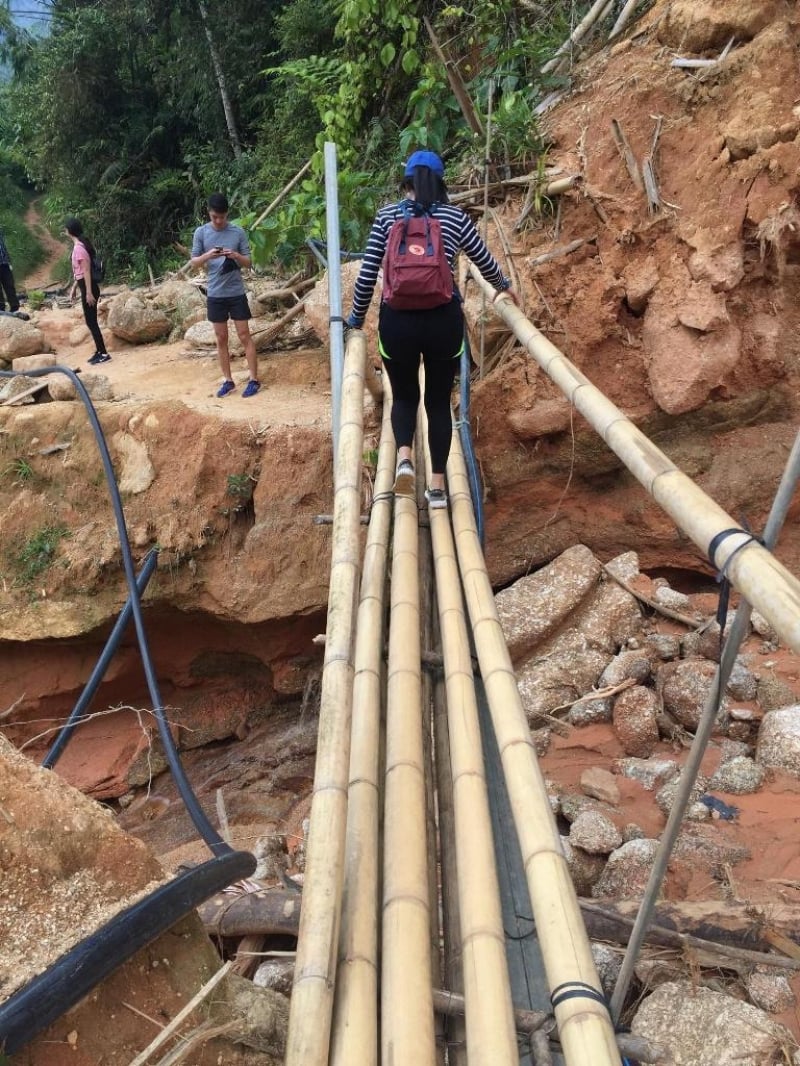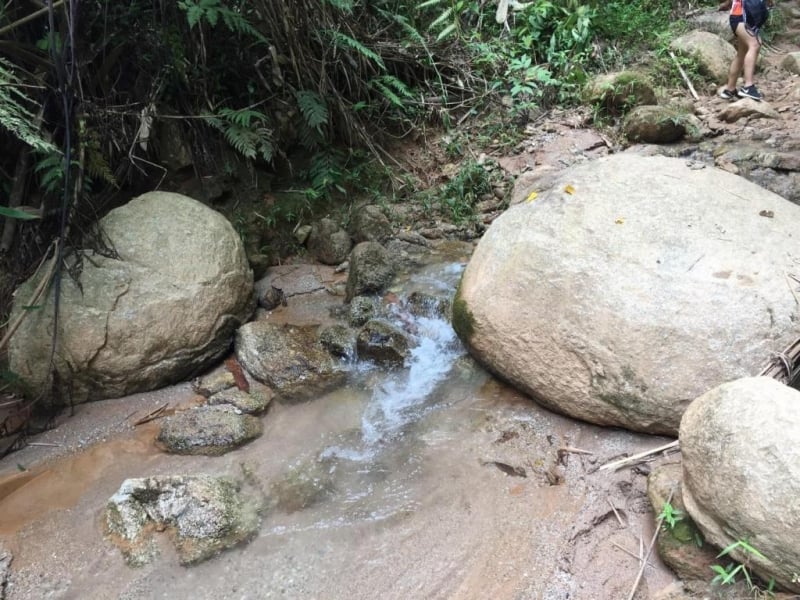 That said, trekking in Cameron Highlands isn't for everyone as the jungle trails are unpaved, steep and poorly maintained. One needs to be mentally prepared to brave through the confusing matrix of muddy and slippery paths, walk on bamboo stilts and cross shallow streams. Still, I was drawn to the beauty of the largely untouched nature and its diverse flora and fauna. It was the toughest climb I have ever had but the most rewarding one too.
For first-timers planning to trek at Cameron Highlands, here are some tips from a noob trekker and a sneak peek of what you'll expect.
1. Wear sturdy footwear and stay hydrated
Proper trekking shoes or even running shoes will suffice. Better still, wear one that you don't mind throwing away after the trek… unless you're okay with dirtying your brand-new Nike shoes with all the mud and dirt. Most importantly, check that the soles of your shoes are in good condition to provide good grip in withstanding the steep slopes!  
Apart from a sturdy and comfortable footwear, equip yourself with some snacks and plenty of water!
2. Mentally prepare yourself to pee behind the bushes
Drinking too much water leads to one big problem – a full bladder situation.
During our trek, my friends and I couldn't hold in our pee anymore and told the guide that we'd like to relieve ourselves. As there were no proper toilet facilities in the wild, we resorted to squatting and peeing at random spots barely covered by sparse bushes!
It's not the first time that I had peed in the open; when left with no choice, you just have to do it. At least I can say that I've been there and done that! 
3. Prepare to climb on all fours
If you're lucky, you may spot a blossoming Rafflesia easily on a flat ground after trekking for 3km or so. Yet, the best and rarest things in life don't come easy.
We spotted a few dead Rafflesia along the trail but not a single living one in sight. When we finally found a rare blossoming Rafflesia after trekking 5km or so, it just had to be located uphill, on a very steep and muddy slope!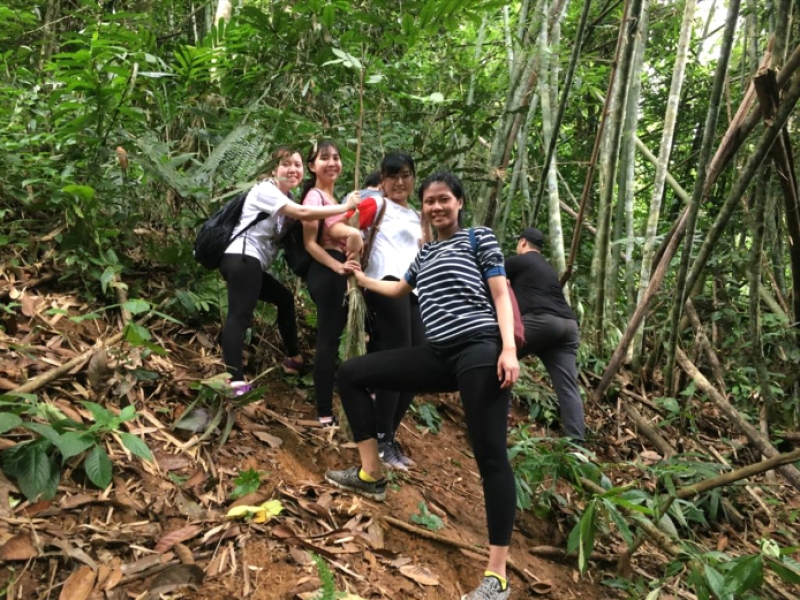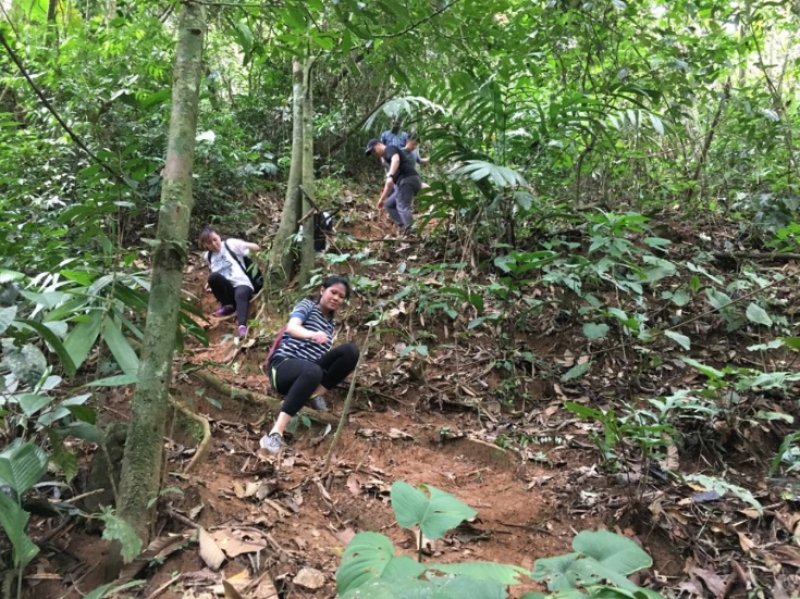 You could be as unlucky (or lucky) as us, so be prepared to get dirty and climb on all fours! Hold on tightly to any sturdy roots and tree trunks or you may risk rolling down the slope. And ladies, this isn't a time for you to think about how unpresentable you'd end up looking. I would also advise girls who do not go hiking often to travel along with more seasoned hikers or strong male friends. It definitely helped that my guy friends assisted us with going up the steep slope!
4. Hire an experienced local guide
An experienced and friendly guide makes a whole big difference to any trip! Even though many reviews said that a guide is not necessary, we felt that the trail was rather remote and didn't want to risk getting lost in the woods.
For RM60 per person, we hired an experienced local guide from Hilltop Tours who knows the entire jungle from inside out and the common spots to find Rafflesia.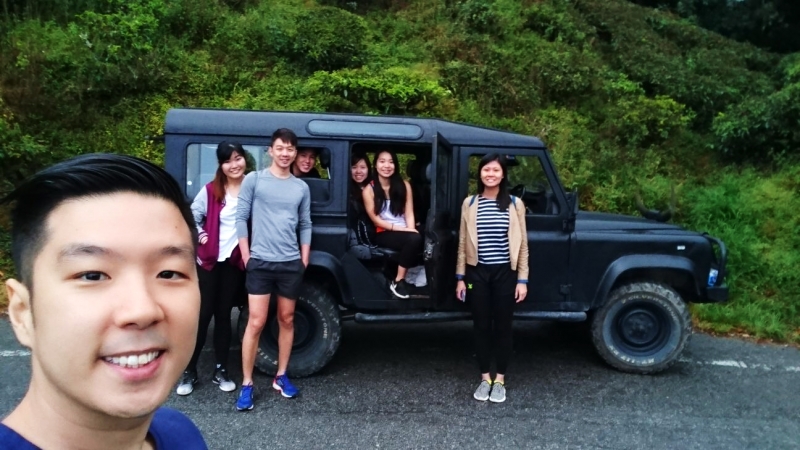 The journey to the starting point of the trek took around 40–60 mins, via a land rover! Though the ride was very bumpy, it was a cool experience! From the starting point, it was roughly a five-hour trek back and forth to see the Rafflesia. Do book the tour and try out this unique experience!
A piece of advice: follow the guide closely as he would often wander off on his own at a much faster pace.
5. Don't mind a few cuts and scratches
The further away from civilisation you go, the more difficult the jungle trail gets. Tree trunks with spikes can be spotted at times. Constantly keep a lookout and avoid them at all costs! You'd also have to squeeze between tree trunks and walk beneath overhanging branches, so keep your head low.
I had a few scratches on my arms but all's well. Just be careful and I assure you that this jungle trek in Cameron Highlands will be an enjoyable and memorable experience!