Dang it! It happened again! Okay, no more distractions. I need to focus and I need to finish what I started! Let's go!
Also read: 34 Must-Try Foods in Malaysia – Part 1 | Part 2

Street food to die for
Okay guys, hang on because we're almost done now. Be strong my friends, be strong! We now move on to the best street food in Malaysia. Although some of the things already covered can also be considered street food, this section covers food which can almost only be found in street markets and nowhere else. So, time to hit the streets and paint the town red! Or something like that.
24. Rojak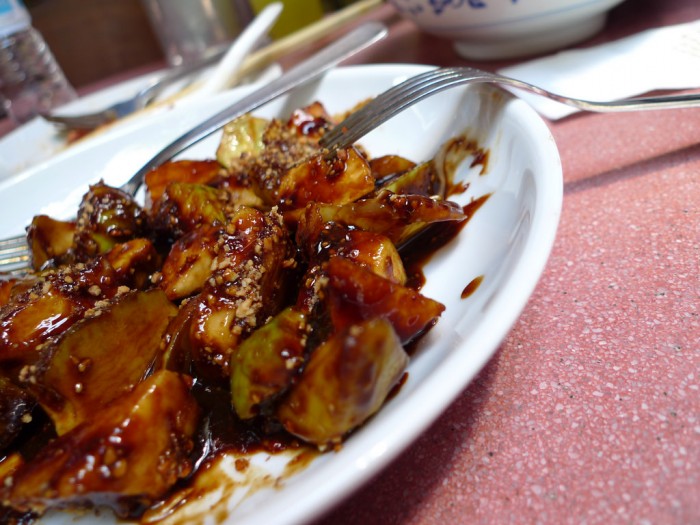 Image credit: tisay
Despite nasi lemak being our national dish, I think the rojak describes the beauty of Malaysia better than any other dish. Rojak literally means 'mixture' in Malay. In other words, this is what you would call a Malaysian salad. And oh yes, it might get…Malaysian-ly weird for some.
Rojak is a savoury salad consisting of fruits and vegetables such as cucumbers, mangoes, apples, bean sprouts and tofu which are cut into bite sizes and tossed together with a special dressing (we'll get to that). There are also other versions of rojak, like the ones in Penang, which add guava and squid fritters.
The tart dressing which lifts the dish is a mixture of sugar, lime juice, chili and shrimp paste (or prawn sauce), so it's not your regular thousand island or French dressing. The dressing is savoury and a little spicy sometimes but that's what makes it blend so well with the fresh ingredients! It's a different kind of salad, to say the least!  
Where to find the best
:
Based on personal taste, I will have to say the best rojak can be found in the town of Bukit Mertajam, Penang. What's interesting is that, the best stalls (note the S) are all located on Jalan Pasar in three different directions, all in competition with each other.
The stalls are Rojak Orang Hock/Hitam (Black People Rojak); Rojak Orang Putih (White People Rojak); and Rojak Orang Hitam Putih (Black White People Rojak). Despite the slightly inappropriate names, all three stalls serve some seriously crunchy rojak with great taste to boot. Which one should you try? Well, since you're already in that area, why not try all three?
25. Ikan bakar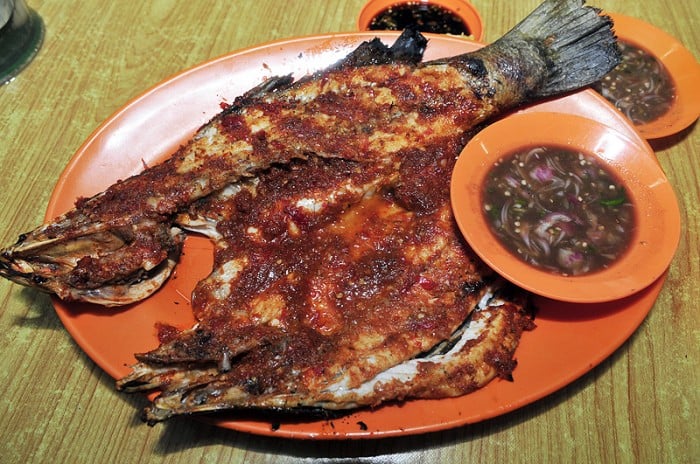 Image credit: Irwandy Mazwir
Now, I don't know about you, but I sure like myself some good fish, preferably grilled to perfection. Oh wait, I'm Malaysian, there's ikan bakar!
Ikan bakar basically means grilled fish. However, it's not that simple (because Malaysia). There are two types of ikan bakar in Malaysia. The first is more unique to the Broga/Semenyih area in Selangor where freshwater fish is wrapped in foil and grilled with a helpful serving of spices like ginger. The fish has a very light taste and you can taste the freshness of the soft meat.
And then there's the Portuguese style grilled fish. Wow. Now this one's a bomb! The fish is often grilled over an open fire and doused with spicy chili paste and lime juice and served with a shallot cincalok (a slightly sour paste made of fermented small shrimp) dipping sauce. The meat is crispy on the outside and tender on the inside and it has a real smoky flavour to it.
Where to find the best
:
For the best Semenyih/Broga style ikan bakar, go to Broga Recreational Fishing Park in Kampong, Broga. Here, the fish is caught straight out of the pond and brought straight to the grill, ensuring maximum freshness and optimal flavour!
For the spicier version of ikan bakar, try the ikan panggang stall in Song River Kopitiam on Gurney Drive, Penang. The special sauce of belacan and shallots really bring the dish to life and it's one that is not to miss for seafood lovers!
26. Satay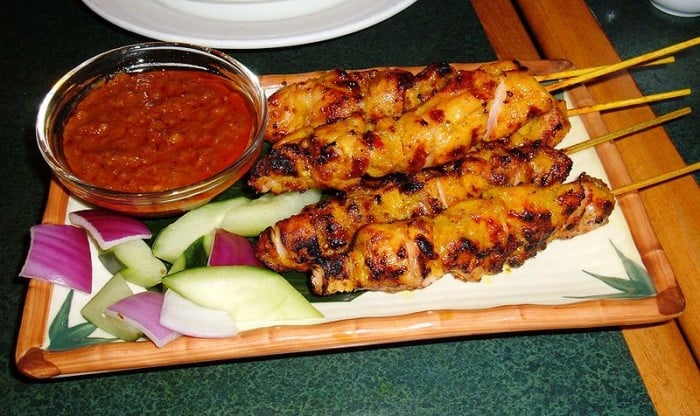 Image credit: BrokenSphere
I don't think satay needs much of an introduction. But just in case you've been living under a rock, satay is basically skewered meat which is grilled over a charcoal fire.
There are many varieties of satay in Malaysia with most of the difference coming from what meat is used. You have chicken, beef, mutton, fish, pork and even tofu (though this is rare). The meat is traditionally grilled over a fire which is watched and manually fanned by the vendor. Satay is often served with a peanut dipping sauce, raw onions and cucumber and occasionally eaten with ketupat, which is traditional Malay glutinous rice dumpling.
There's also different concepts of satay such as satay celup which is immensely popular and unique in Malacca!
Also read: 10 Must Try Foods When Visiting Malacca
Where to find the best:
Hands down, the best satay is found in Kajang, Selangor. My personal favourite is Willy Satay, located on the Ramal Food Junction in Kajang's Jalan Sungai Ramal. It serves up delicious satays with cucumber and onions and traditional Malay glutinous rice. The peanut sauce is the main draw and sometimes, customers could find themselves waiting for hours for their food to arrive. That in itself is testament to how good the food is at Willy.
27. Otak-otak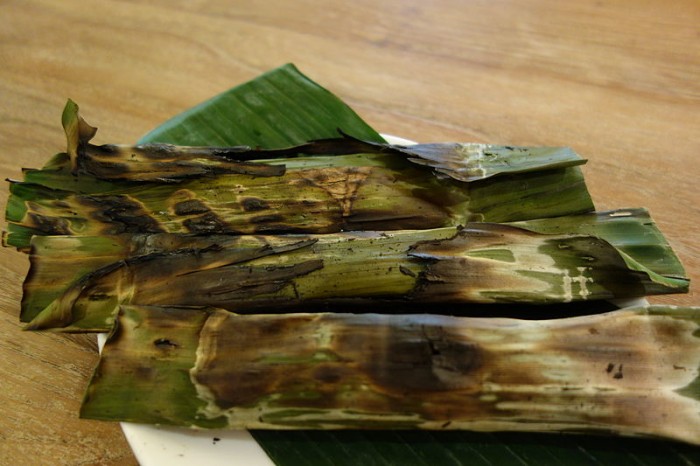 Image credit: Lord Mountbatten
'Otak' means brain in Malay but don't worry, this popular Malay snack has nothing to do with gooey membranes and brain juice.
No, otak-otak is basically a fishcake. But of course, that's too normal for Malaysian standards, there has to be a 'wow factor'. There are two styles of otak-otak in Malaysia. The nyonya style, which is commonly found in Penang, involves a big block of spicy fish paste which is steamed in banana leaf while otak-otak in the southern part of Peninsula Malaysia uses attap leaves and the fishcakes are shaped in long strips.
Otak-otak can be eaten on its own or with an accompaniment of rice. Either way, each mouthful is a guaranteed burst of flavour in your mouth!
Where to find the best:
Otak-otak is most popular in Muar, Johor. Or is it the other way around in the sense that otak-otak from Muar is famous in Malaysia? Whatever the case, the jury is that the best place for otak-otak is in Muar. Now, I've personally only been to Johor once and I've never tried it myself, but after some poking around, I was recommended Otak-Otak Cheng Boi on Jalan Bantayan, Muar. The otak-otak is made from fresh mackerel, shrimp or squid and grilled in banana leaves.
28. Fried oyster omelet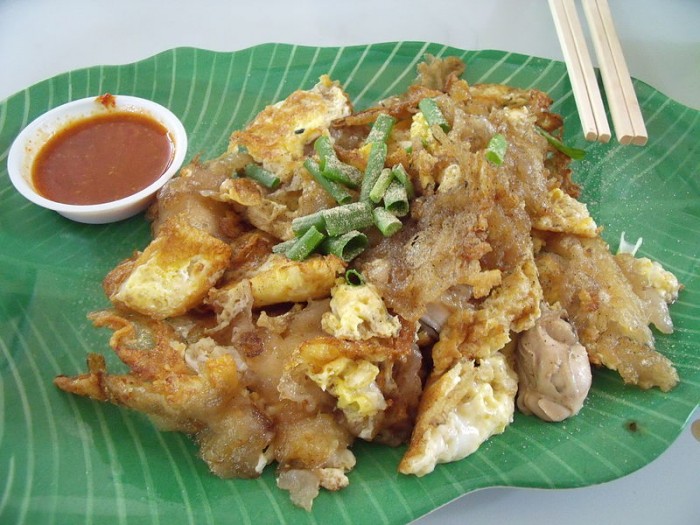 Image credit: David
What happens when you take a common ingredient like eggs and you add a dash of posh to it in the form of oysters? Well, you get 'oh chien', or oyster omelet!
Oyster omelet is a popular street snack in Penang and it is made using eggs (duh), a rice flour mix, chives and juicy oysters. The mixture is fried over a hot flat girdle over very high heat. The cooking process is extremely quick and the snack is served with a chili dipping sauce and garnished with spring onions. There are gooey based oyster omelets and there are crispy based ones. Make your pick and choose wisely now!
Where to find the best:
When it comes to oh chien, I'm not much of a choosy foodie. I think most stalls in food courts serve up good oh chien but if I had to pick, I would go for the oyster omelet at Seng Thor Kopitiam on the corner of Lebuh Carnarvon. The stall has been in operation probably longer than I've been alive and it is still going strong with its fluffy and fragrant omelet as popular as ever! A definite must-try if you ask me!
29. Pasembor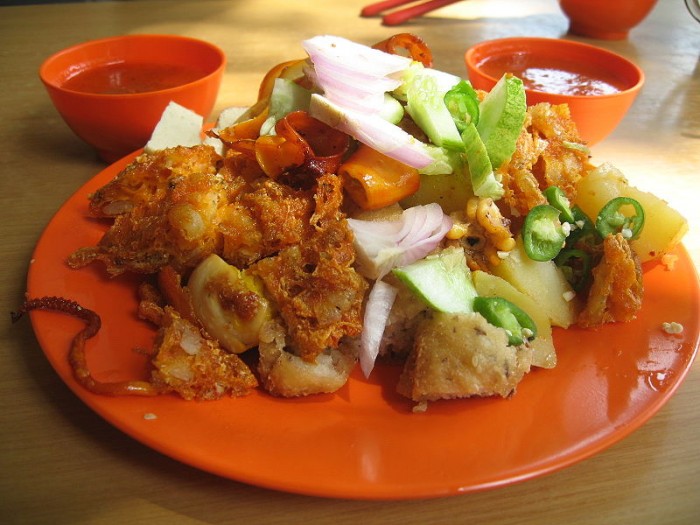 Image credit: Terence Ong
Pasembor is more or less the rojak of the Indian community in Malaysia. While pasembor is its most common name, some of the Chinese community also call it cheh hu (green fish), for reasons which I do not know.
Pasembor consists mainly of shredded cucumber and turnip, fried bean curd, crispy crackers, prawn fritters, bean sprouts, hardboiled eggs and boiled squid. It is a very crisp and crunchy dish and it is served with a generous helping of a peanut based sweet and spicy sauce which is ladled on top of the 'salad'.
Where to find the best
:
I realise that Penang appears quite a number of times in this series but I can't help it! It's the truth! Personally, I enjoy the pasembor from Hussain Pasembor located at the Padang Kota Lama Food Court in Penang. It has a wide variety of fritters and fish balls to toss into the 'salad' and to give it an extra kick, squeeze in the juice from the lime the pasembor is served with! This dish is best enjoyed with a bowl of ice cold cendol. Which brings us to the next section!
Ice cold desserts
If you managed to get this far in the article without going on an impulsive food rampage, give yourself a pat on the back. Done? Okay, let's move on. We're almost at the end now!
30. Ais kacang
Image credit: Krista
Traditionally, ais kacang consisted of nothing more than shaved ice and red beans. Oh how that has come to change!
These days, apart from the shaved ice and red beans, this all-time favourite Malaysian dessert also contains palm seeds (attap chee), sweet corn, peanuts, agar-agar, grass jelly and some even include ice cream!
The dessert is served in an assortment of bright colours as the shaved ice is topped with a generous helping of coconut or condensed milk, rose syrup and sometimes, gula melaka (coconut palm sugar). You can find ais kacang in almost any hawker centre and it is one of my personal favourite ways to beat back the Malaysian heat.
Where to find the best
:
I cannot stress this enough. I have lived in Penang for most of my life, which explains why most of my recommendations are found here. But yes, I think the best ais kacang is found in Kek Seng Kopitiam on Penang Road. There isn't much to say about ais kacang, but just imagine having an ice-cold bowl of dessert, topped with syrup, palm sugar, and filled with ingredients like red beans and peanuts, to beat back the heat of sunny Penang. That watering in your mouth? I felt it too!
31. Bubur Chacha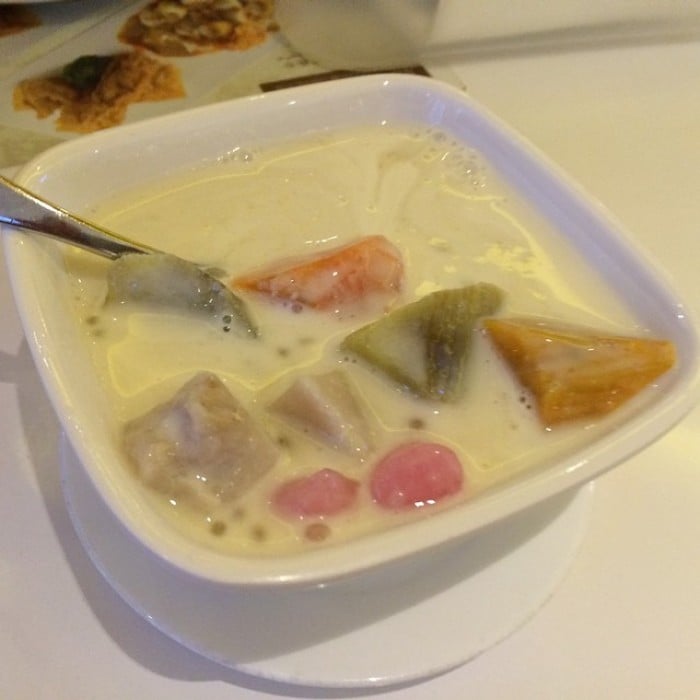 Image credit: Walter Lim
The name of the dessert sounds a little bit like the name of a dance, no? Or is it just me? Anyway…
Bubur Chacha is a Malaysian dessert which can be enjoyed either warm or cold (I suggest the cold version). It generally contains pieces of sweet potatos, yams, sago (tapioca pearls) and some gelatin. These ingredients are all served in fragrant coconut milk soup which is boiled for a long time to ensure maximum flavour.
Not only is it a good dessert, it's also a very filling one, so make sure you save a little more than 'enough space' for this dessert! You'll need (and want) it!
Where to find the best
:
Okay, this time, it's not Penang (begrudgingly). For me, the best bubur chacha that I've tasted can be found in Newton Food Court on Jalan Parameswara in Malacca. The milky soup is deliciously sweet and because Newton is a huge food court with a wide variety of good food, the bubur chacha there is a perfect way to end a good meal.
32. Cendol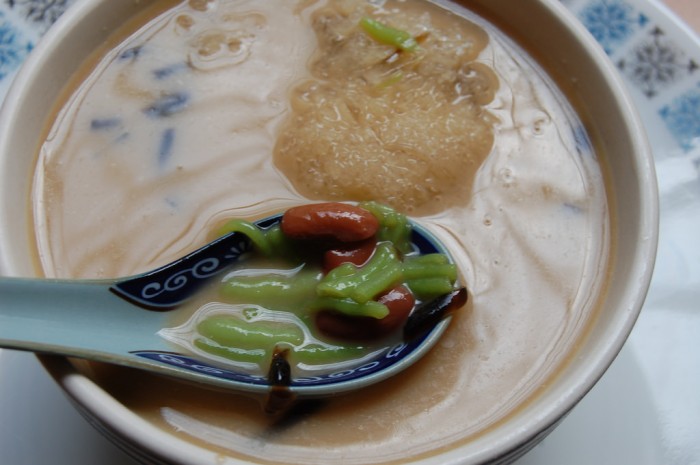 Image credit: Francis Chung
Another traditional Malaysian dessert which whets the appetite. Who needs sundaes and ice cream cones anyway?
Cendol, much like bubur chacha and ais kacang before it, makes use of coconut milk as the base ingredient for taste. Add to that a few chunks of ice, some jelly noodles, red beans and gula melaka (palm sugar) and you have a dessert which many people literally queue up for (such is the case for some cendol stalls in Penang).
Even though simplicity is often times the best way to go with desserts, some vendors have begun improvising by adding vanilla ice cream to cendol, giving it a different feel and texture altogether! Along with the two previous entries on the list, cendol is certainly a must try dessert in Malaysia.
Where to find the best
:
Old habits die hard. Recognised as one of the best cendols in the country is the dessert found on Lebuh Keng Kwee in Penang. Just ask around for Penang Road's Famous Cendol and you'll be pointed in the direction of this roadside stall in a narrow alley. There are actually two stalls on Lebuh Keng Kwee who vie for the title of being Penang Road's famous cendol. One serves the dessert in a blue bowl while the other serves it in orange. Call it personal bias, but I recommend the orange one!
Alternatively, the cendol at Jonker 88 on Jalan Hang Jebat in Malacca is also one that is worth trying if you find yourself in Malaysia's Historical City.
33. Nyonya Kuih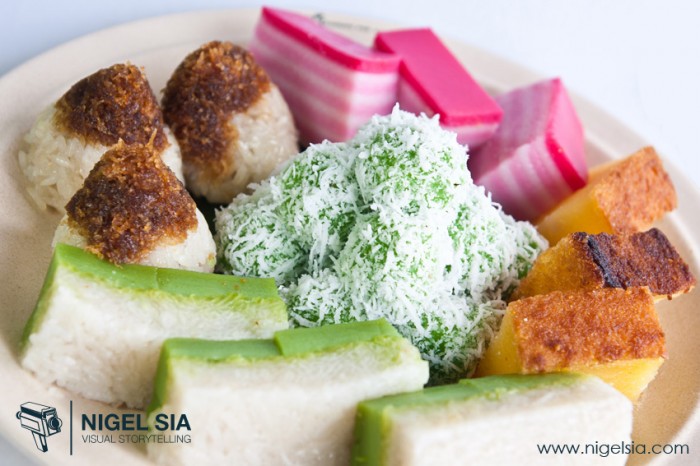 Image credit: Nigel Sia
Although not as clear cut a dessert as ais kacang, I do consider the vast selection of nyonya kuihs to be a form of dessert.
These nyonya cakes and pastries come in different shapes, sizes and flavours. Often, they are sweet and extremely satisfying, with coconut shavings, palm sugar and glutinous rice being the most common ingredients that can be found in most nyonya kuihs.
They are also extremely affordable and very easy to eat as they are cut into bite size portions. My personal recommendation is the pulut tai tai, most recognisable by its blue hue. It's glutinous rice often served with pandan-flavoured kaya and the combination is just perfect!
Where to find the best:
Although nyonya kuihs are easy to find throughout all of Malaysia, the best place for these delicious cakes has to be found in Malacca, the origin of Peranakan cooking. Visit Baba Charlie Nyonya Cakes, which operates in a wooden house on Jalan Tengkera Pantai in Malacca for great variety and taste which you will probably not be able to find anywhere else in the world.
34. And last but not least…
FINALLY, THE ROCK HAS COME BACK TO…oh wait, wrong article…ahem. So, we're down to the final item on this list, one that is so notoriously Malaysian that it doesn't even belong to any of the previous sections. In fact, it has its own section called the section…of the King.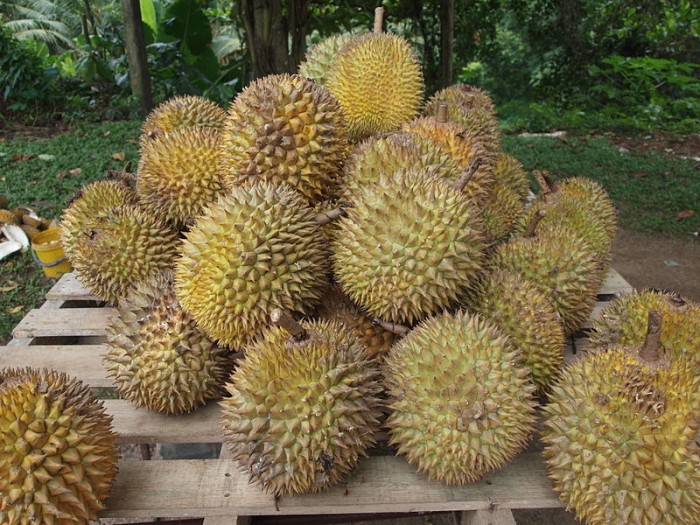 Image credit: Kalai
Durian, my friends, glorious durian! This infamous fruit is known throughout the world but the best place to have it is right here in Malaysia!
The durian is a thorny fruit with a pungent smell which many people find off-putting. But brave through the stench and inside the hard and ugly exterior is a sweet, creamy fruit which is oh, so wonderfully delicious.
With durian season fast approaching, you can find durians in abundance in Malaysia, with many different varieties being sold along the streets. You can even stop by some designated durian buffet stalls where you can eat as much durian as you can take, all in the company of durian-loving Malaysians.
If the fruit is not enough for you, you can try things like durian-flavoured ice cream or durian cheese cake (yes, that's a thing. I don't know how or why, but that's a thing in Malaysia) or even durian puffs or egg tarts even! You can't leave Malaysia without first trying some durian, you just can't!
Where to find the best
It's durian. As long as it's not spoilt, it'll be great regardless where it came from. But I suppose if you want the best experience, then during the durian season, look out for roadside durian buffet stalls or visit fruit orchards, like the ones in Balik Pulau and Teluk Bahang, PENANG (Sorry, I just had to put it there.)
Come one, come all!
Also read: 7 Must-Visit Orchards in Malaysia for the Coming Durian Season
So there you have it, a complete list of the most must-try foods in Malaysia. And I'm pretty sure I missed out some. And maybe some of you may even think, 'Wow, Malaysians are weird' after reading this. Well, I'll admit to that. But hey, our weirdness has led to the creation some of the most delicious food imaginable, and that, my friend, is why Malaysia is one of the most renown food havens in the world.
Worked up an appetite? Well, what are you waiting for? Now's as good a time as any to visit Malaysia, so get to it my friend! And may the gastronomic adventures begin!