I think we can all agree that after awhile, cafes can get boring…it's usually all just different renditions of breakfast food and freshly brewed coffee, right?
Character cafes, however are a totally different story. Fans get to gather over themed meals, enjoy the decor of the cafe and swoon over themed merchandise. To be honest, what could be better?
If you are a huge enthusiast of adorable characters like Hello Kitty, Totoro, Gudetama and Pompompurin, then it's time book to a trip to Japan ASAP! Embodying the epitome of kawaii (cute) culture, it is definitely no surprise that the Japanese do a wicked job of creating these cutesy enclaves for fans to revel in. A place where you can indulge in character-themed food amidst decorations of your favourite characters? Say no more!
To get you started, here are seven kawaii character cafes to visit on your next trip to Japan!
1. Shirohige's Cream Puff Factory
Tucked away in the small, sleepy neighbourhood of Daita, you will find Shiro Hige's Cream Puff Factory cafe which specialises in making the most adorable (and delicious!) cream puffs that you will ever lay your hands on! The whole shophouse is created to look like a cosy, little pit stop, nestled amongst lots of plants and tree stumps. You know it's the one when you spot the lone signboard outside the shop which has three little Totoros painted on it.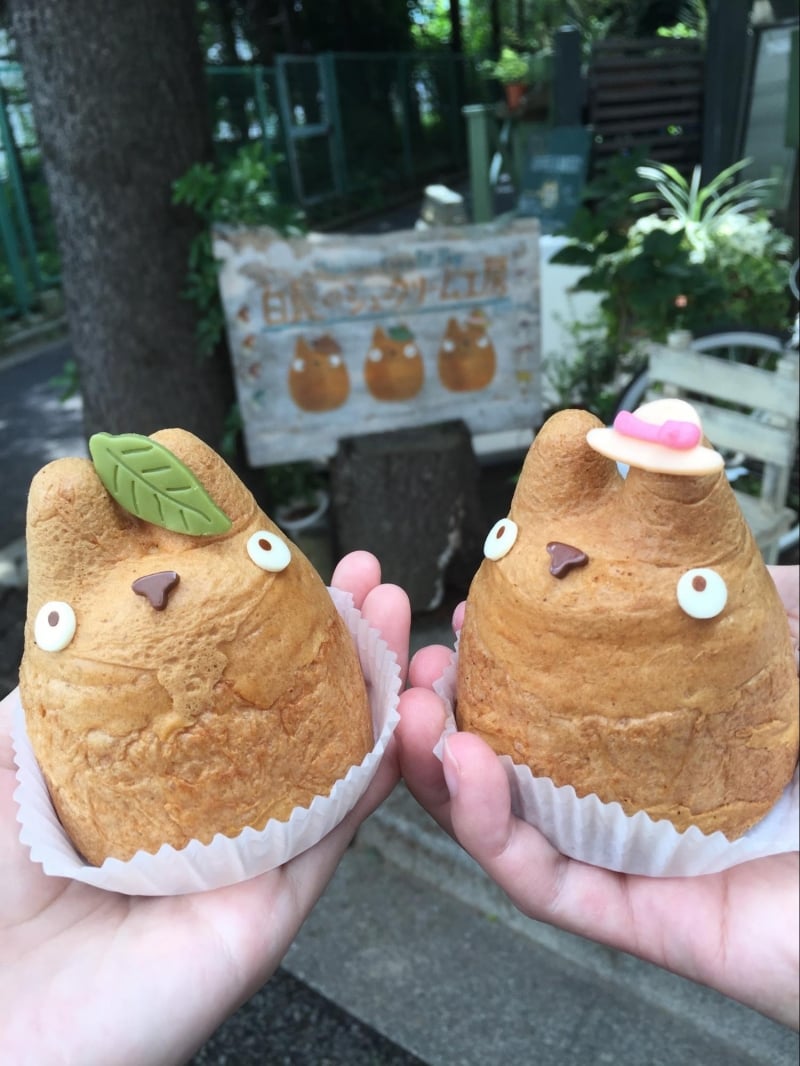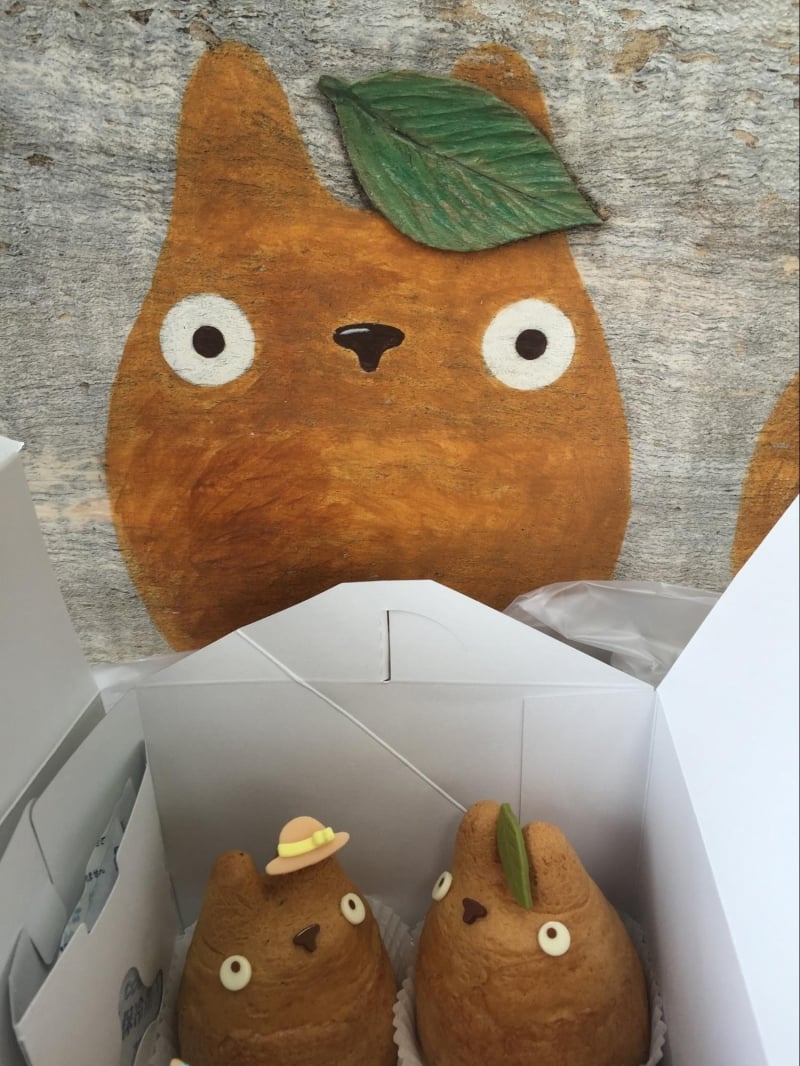 Shaped into miniature Totoros which adorn different "headpieces" like a hat or a leaf from the famous My Neighbour Totoro by Studio Ghibli, the cream puffs come in two mainstay flavours – Original Custard, which is flecked with flavourful vanilla bean (green leaf) and Chocolate Cream, which is made with bittersweet cocoa (hat with blue ribbon). They also have seasonal flavours like Matcha and Adzuki Bean, Strawberry, White Peach and Chestnut!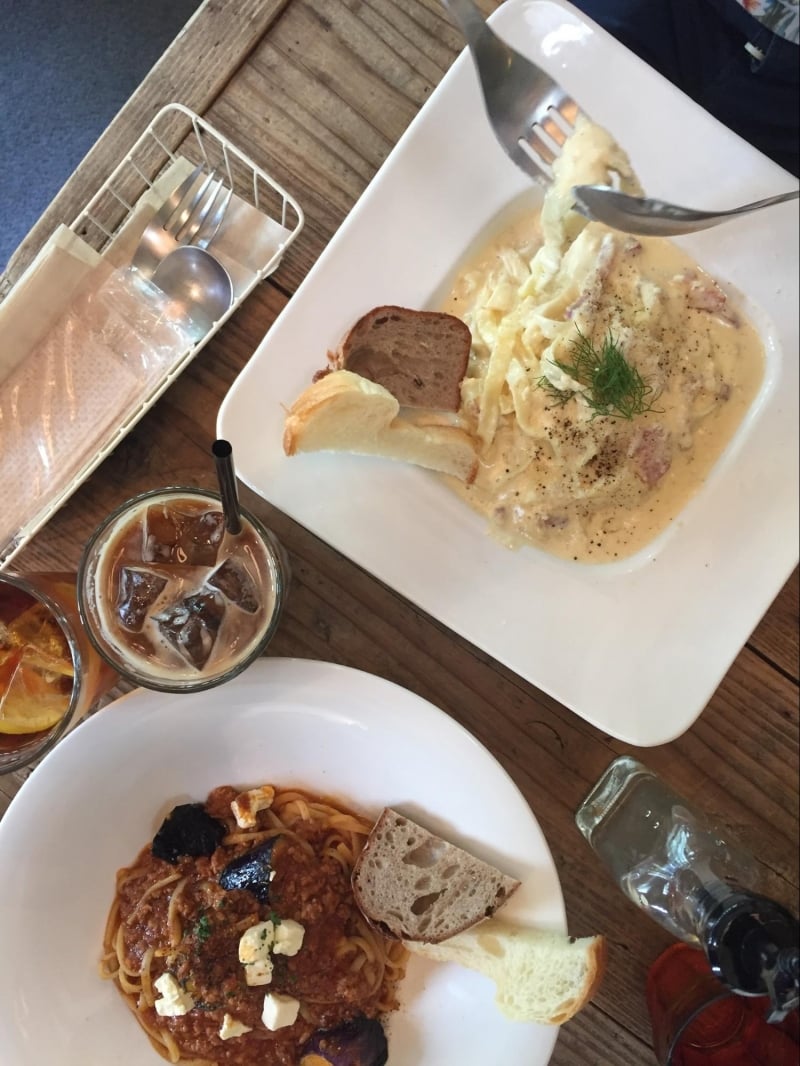 If you're feeling a little more hungry than peckish you can head up to the second level, TOTO cafe, where you can get tasty pasta dishes and refreshing iced coffees before having your cream puffs for dessert. This character cafe is one hidden gem that truly shouldn't be missed!
Address: 5 Chome-3-1 Daita, Setagaya, Tokyo 155-0033, Japan
How to get there: Three-minute walk from Setagayadaita station and a seven-minute walk from either Shimokitazawa or Shindaita station on the Inokashira line.
2. Pompompurin Cafe
Pompompurin fans, this one is for you! Fans of the golden retriever character from Sanrio can now have Pompompurin themed eats at this cutesy cafe that's all decked out in its iconic cream yellow and brown colours!
The cafe decor includes seats that look like morsels of pudding (purin in Japanese means pudding) and you can choose to sit at a table with pompompurin plushies and cushions.  Snuggle up with your friends over curry rice, which features yellow rice shaped like pompompurin, served with beef hamburg drenched in demiglace sauce! Mmm, both kawaii and oishii indeed!
To end on a sweet note, indulge in some pudding for dessert, or get a matcha milkshake or strawberry soda – complete with ice cream or cookies with the adorable character's face drawn on with chocolate sauce. Some menu items give you freebies like pudding cups and mugs too, so be sure to look out for those. Themed pompompurin and friends merchandise can also be purchased at the gift shop corner!
Address: Yokohama Sotetsu Square, Minamisaiwai 2-1-5 Nishi-ku, Yokohama-shi
(Other outlets available at Umeda, Harajuku and Nagoya)
How to get there: Five-minute walk from JR Yokohama station west exit or two-minute walk from the Yokohama station on Sotetsu line
3. Cafe de Miki (Hello Kitty)
Who doesn't love Hello Kitty? This sweet little Japanese bobtail cat character created by Sanrio has scored legions of fans ever since she was first introduced in 1974. Hello Kitty fan or not, you're definitely in for a kawaii tea time treat at Cafe de Miki located in Diver City which is one of the largest shopping malls at Tokyo Bay.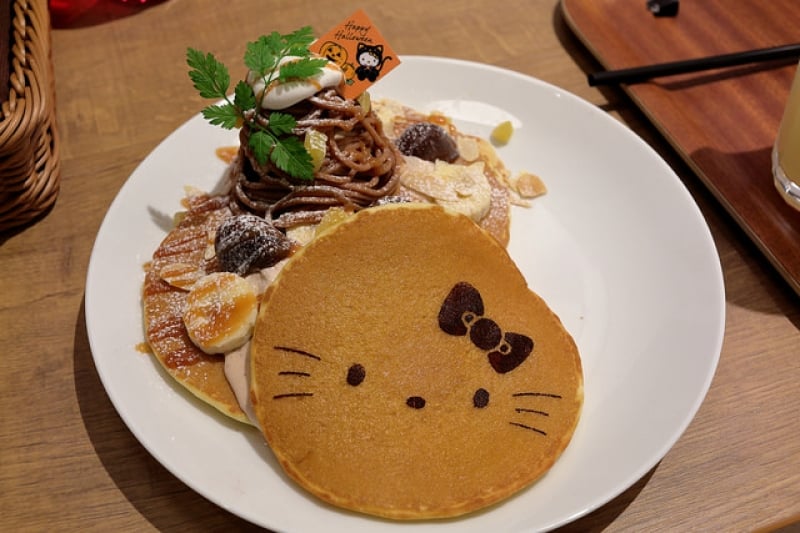 Sip on a cuppa topped with cocoa powder in the shape of Hello Kitty (in a cute apple-shaped mug too!), or satisfy your sweet tooth with the cafe's dessert offerings which range from pancakes with fruit, maple syrup and ice-cream to cream scones and french toast!
Expect your desserts saturated in bright colours under lashings of strawberry and mango syrups and topped with creamy scoops of ice cream and sorbets that will please both your eyes and tastebuds. Do try out the cream ribbon pancakes, which consist of a stack of fluffy pancakes slathered in light and sweet whipped cream and flavoured glaze.
For those who can't wait to get their hands on the merch, shop away at the themed merchandise corner, which even boasts a capsule machine (gachapon) where you can clear out your loose change trying to get different Hello Kitty figurines or badges and pins within the capsules!   
Address: 1-1-10 Aoyama, Koto Ward , Tokyo 135-0064 Diversity Tokyo Plaza 4F
How to get there: Walk 15 minutes from Daiba station or ten minutes from Tokyo Teleport Station
4. Peanuts Cafe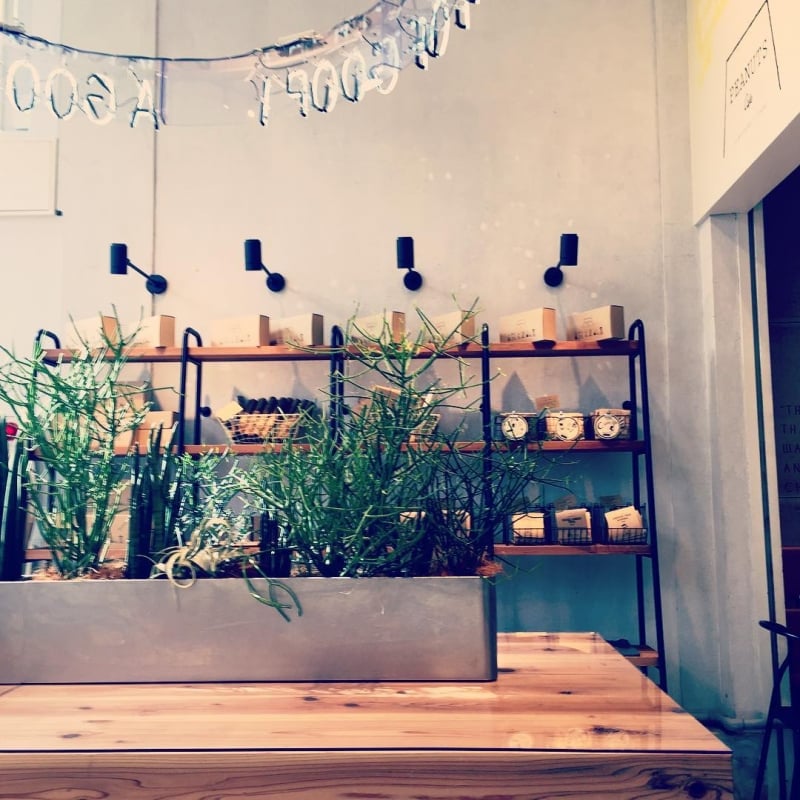 If you love the popular comic strip Peanuts, which features the adventures and thoughts of beloved Snoopy, Charlie Brown and friends, then you'll be thrilled to know that you can hang out with them at this Peanuts Cafe in Tokyo!
This beautiful, cleanly-designed whitespace cafe is nestled in the quiet neighbourhood of Meguro, with a view of the street that's lined with trees. It's really the perfect place to just sit back, relax and people watch while you dig into hearty mains and salads with your friends! Opt for the mini sliders with snoopy-printed burger buns and a cup of hot chocolate that's just brimming with mini marshmallows and you're all set for the afternoon!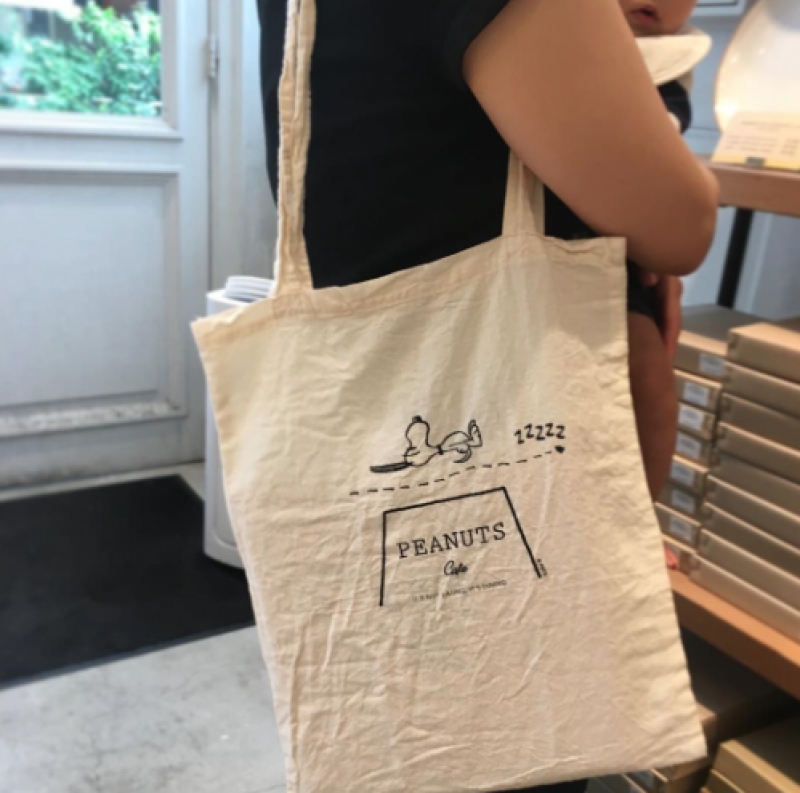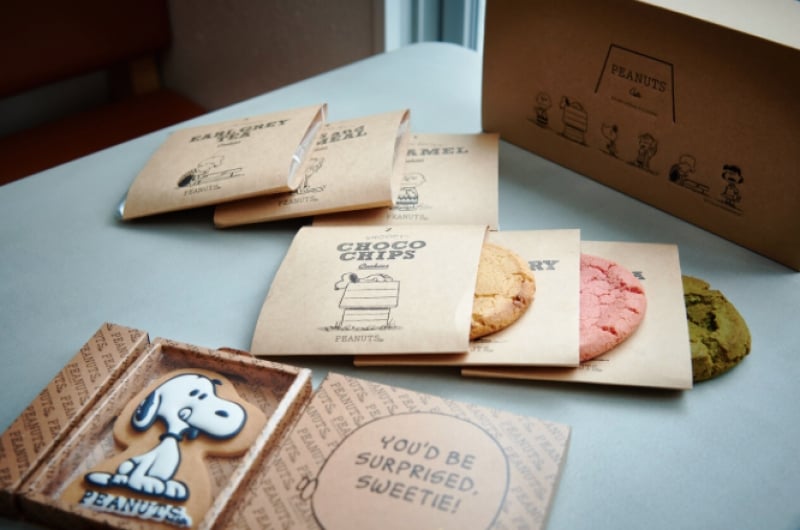 Before you leave, go "peanuts" over the huge range of themed merchandise from Snoopy sugar-iced cookies to tee-shirts, tote bags, badges, plates, glasses and mugs! They even sell pots of scrumptious homemade "Cafe Original Peanut Butter" that's blended in-house! With impressive food and cute merchandise, a trip to this cafe is unquestionably a must-visit for those who love snoopy!
Address: 2-16-7 Aobadai, Meguro-ku, Tokyo 153-0042
How to get there: Seven-minute walk from Tokyu Toyoko Line or Tokyo Metro Nakameguro Station
5. Shirokuma Polar Bear Cafe
Shirokuma Cafe is a popular Japanese manga by Aloha Higa that was later made into an anime series. It revolves around the lives of a group of animals and humans who frequent a cafe owned by a polar bear i.e. Shirokuma-san.
With a cosy interior, photo corner (where guests can take tons of photos with beloved cardboard cutout characters) and even a kid's corner filled with toys (and a television!), Shirokuma-san's cafe really makes guests feel right at home!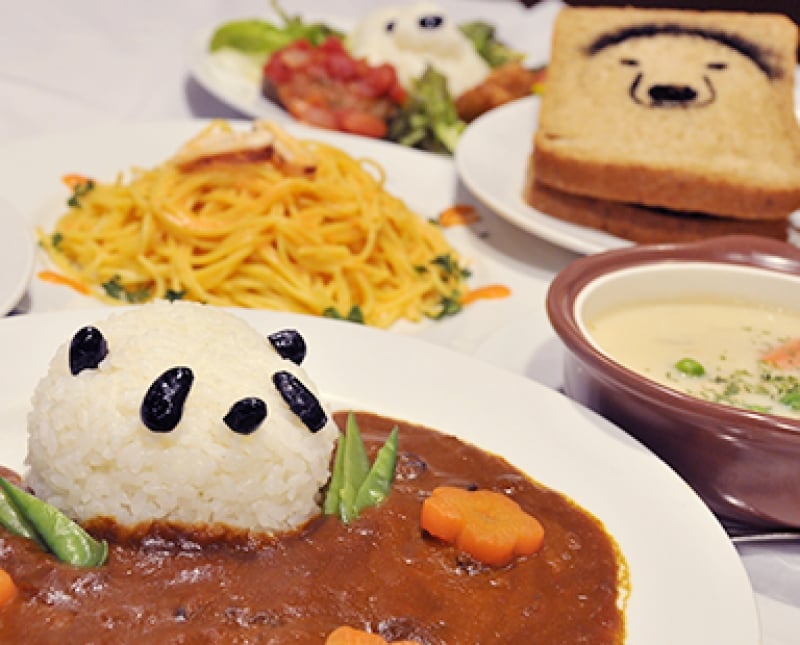 Take your pick from the extensive menu where you'll find eats that are simply kawaii like rice shaped into different bear shapes served with different side dishes. Don't be surprised if you find yourself spending most of your time snapping away pics for your Instagram instead of actually eating!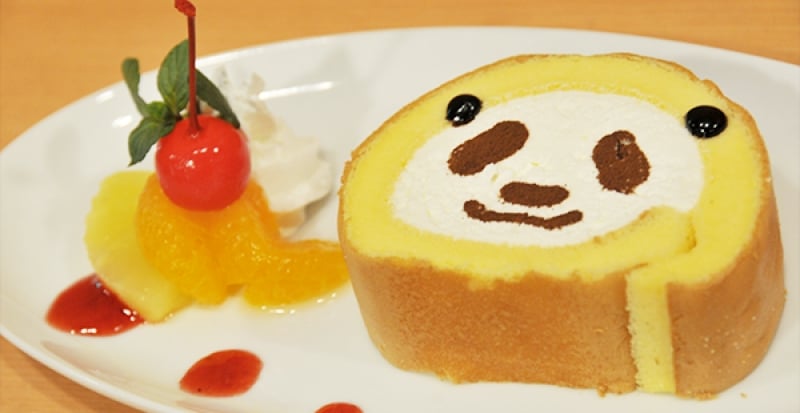 You'll also be able to find cute themed desserts like panda-kun's fresh cream roll cake, pancakes, lava cakes and dessert parfaits as well as beverages that have polar bear and panda bear latte art.
Oh and of course, don't leave without getting a cuddly Shirokuma-san soft toy! Other little trinkets at the merchandise corner include notebooks, printed tee-shirts, sling bags, pouches, stationery and lunch boxes.
Address: 〒169-0075 Tōkyō-to, Shinjuku-ku, 1F Takadanobaba, 2 Chome−2−1−2 Tohma
How to get there: From Tokyo Metro Tozai line, go out from Meiji street side ticket gate to exit No.6, go up to street level and keep left on the main street
6. Alice in Fantasyland Cafe (Alice in the Fantasy Country)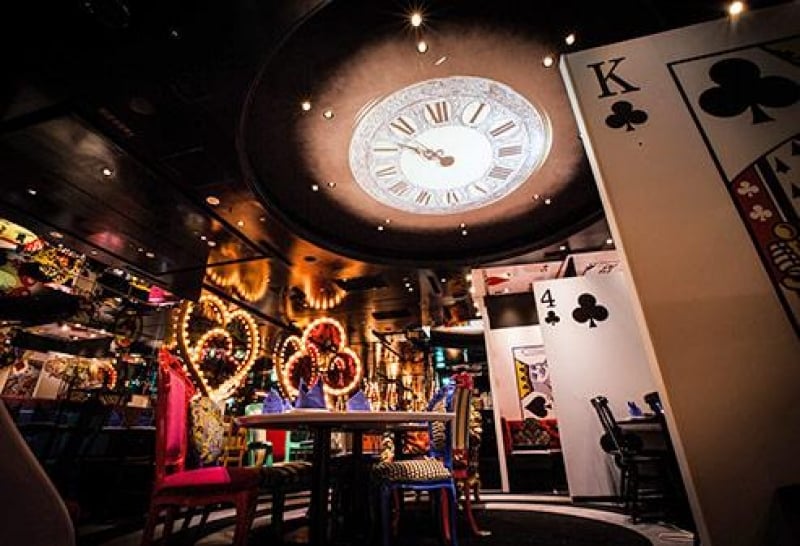 Hop down into the rabbit hole and you'll find Alice in Fantasyland Cafe! Alice in Fantasyland (Osaka) is just one of the chain of Alice in Wonderland spin-off cafes by Diamond Dining, where each outlet has a different "wonderland" theme and different names like Alice in a Labyrinth (Ginza) and Alice in Magical Land (Shinjuku).
The decor and atmosphere of this fairytale-themed restaurant truly whisk you away into a whole new world, and the fun and quirkily decorated food is specially crafted to mimic Alice in Wonderland characters like Cheshire Cat and Mad Hatter.
They even have cocktail concoctions that resemble the "drink me" potion that Alice discovers in the books. To complete the fantasyland experience, staff are also dressed in appropriate Alice in Wonderland costumes so it really does feel like you're down the rabbit hole! A meal here is a unique dining experience that will be unforgettable for both the young and young and heart!
Address: 1-8-1 D. D. HOUSE 1F Shibata, Kita-ku, Osaka-shi, Osaka Prefecture 530-0012
How to get there: One-minute walk from Umeda station on Hankyu Line, three minutes by foot from Umeda Station on Midosuji Subway Station, five minutes by foot from JR Osaka Station
7. Gudetama Cafe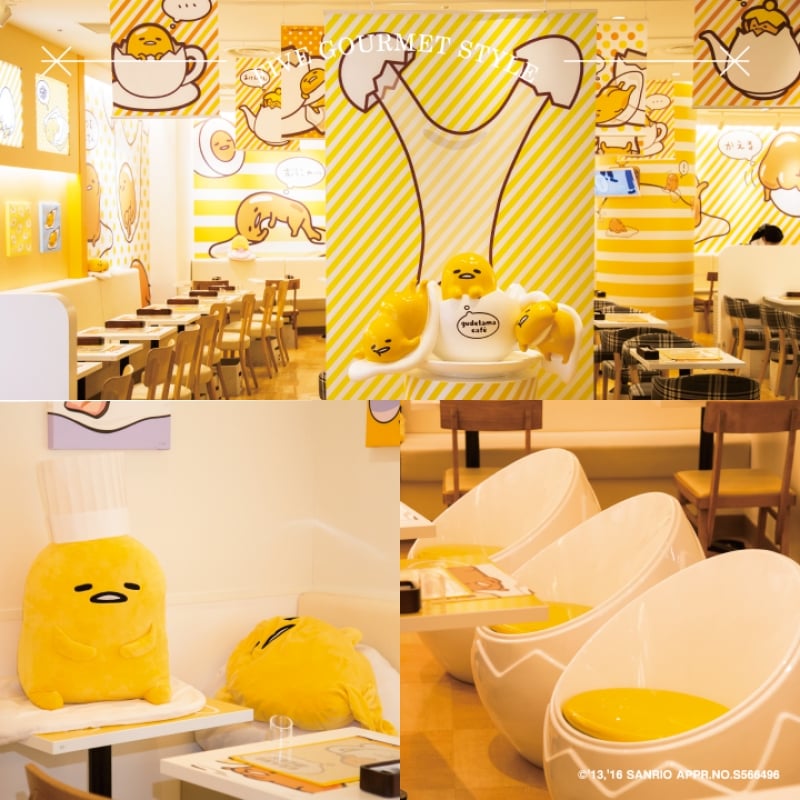 Hands up if you are fans of this lazy egg character, Gudetama! Okay, maybe if you're too lazy to raise those hands like our favourite Sanrio character, then the best you can do is slink down to this Gudetama cafe at HEP 5 mall, which is one of the more popular shopping complexes in Osaka.
For those who are unfamiliar, Gudetama is a lazy egg yolk character who moans and groans about life and exercise and the lack of sleep. His favourite phrases include "so troublesome", "don't look at me" and "sigh" (basically all of us, right?). Decked out in cheery yellow and white stripes, furnished with chairs that look like eggs and plastered with posters of Gudetama-san, this cafe is the perfect place to sit back and laze on days when you just feel like you need to let loose your inner gudetama.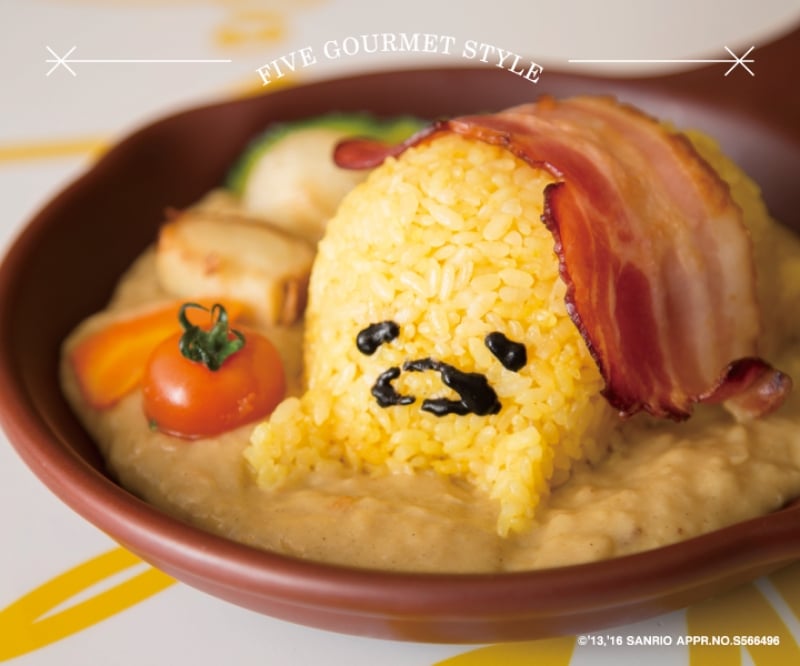 Order up some gudetama-themed dishes that are just too cute to eat, like gudetama shaped rice ball on top of a platter of steaming creamy white curry. His little butt is even sticking out from underneath his bacon blanket! Other bites include carbonara pasta aptly with topped with a gudetama-decorated egg and other gudetama rice bowls, hotdog and breakfast platters.
Top it all off with Japanese desserts that are playfully embellished with gudetama cookies or have yourself some gudetama pudding and ice-cream parfait! Spooning mouthful after mouthful of delightful dessert and lazing around this cafe all day? Count us gluttons, in!
Address: Yubinbango 530-0017 Osaka-shi, Osaka, Kita-ku, Kakuda-cho, 5-15,HEP FIVE 7F
How to get there: Five-minute walk from Umeda Subway Midosuji Line or three-minute walk from Umeda Station on Hankyu Line

Well, what are you waiting for? What could be better than themed decor, yummy, kawaii eats and equally adorable merchandise? These character cafes are definitely a dream come true for any character fan! Now, if only we could only all whizz to Japan in a jiffy!