As the sun retreats with its dying embers and the nighttime darkness envelops, watch Singapore's bustling Marina Bay illuminate into an electrifying kaleidoscope of bright colours, all playing off one another in a breathtakingly eye-catching spectacle.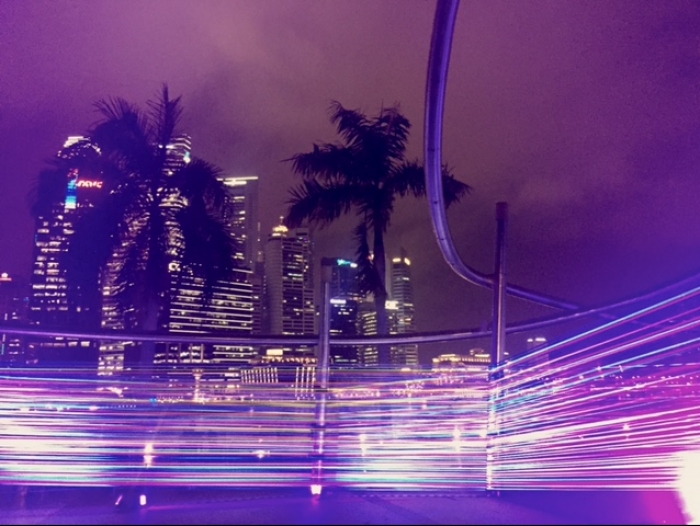 Flashy fluorescent giants, sparkling satin sculptures and many more spectacular light installations have sprouted along the Marina Bay area and will stay through March for the fifth edition of i Light Marina Bay, Southeast Asia's leading sustainable light art festival.
Date:
3 March – 26 March
Time
7.30pm – 11pm daily (Fridays and Saturdays extend till 12 midnight)
Though this year's showcase features fewer light exhibits (i Light 2016 had 25 installations), it more than compensates with a wholly immersive vibe. Alongside the interactive Art Zoo and Gastrobeats, this three part festival promises to tingle all your senses.
With all this buzz, we didn't want to be kept in the dark and went down to check it out. Safe to say, we were duly rewarded.
The Fantastical World of Eco.Me
i Light 2017 champions adopting environmentally sustainable lifestyles for the sake of our pollution-ridden Earth. This year's theme of Light & Nature befits the seamless introduction of this glowing light show taking centerstage in our garden city.
It welcomes 20 art installations from local and foreign artists alike, all using energy-saving lighting and environmentally friendly materials.
I'm no photography buff, but I did manage to snap some pretty decent photos of these exhibitions myself! So Instagram faithfuls, even if you're just an average smartphone wielder like me, i Light has some brilliant treats for you.
NORTHERN LIGHTS
By Aleksandra Stratimirovic | Sweden

HORIZONTAL INTERFERENCE
By Katarzyna Malejka & Joachim Slugocki | Poland

HOME
By Anna Galas, Maciej Slominski and Aleksander Sawicki | X Bella Skyway Festival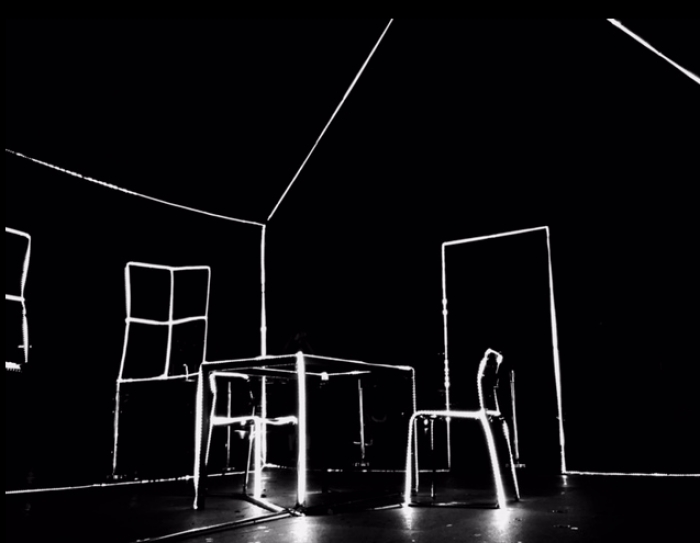 PASSAGE OF INNER REFLECTION
By Raffles College of Higher Education | Singapore
HYBYCOZO
By Yelena Filipchuk & Serge Beaulieu | USA and Canada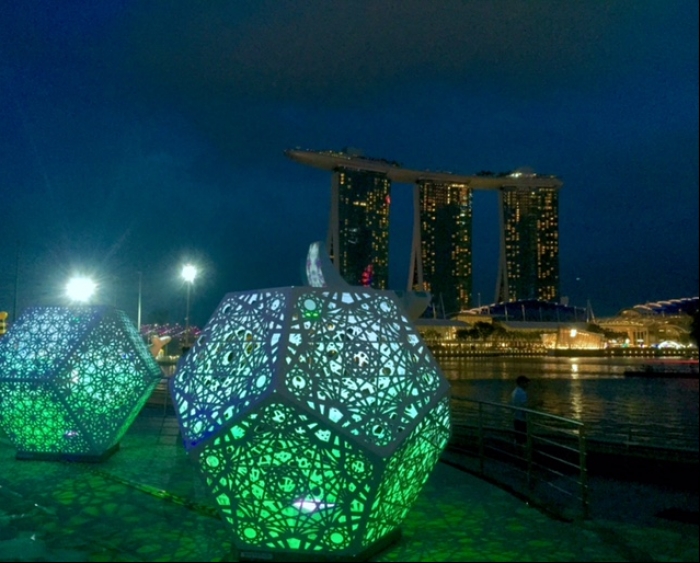 DANDE-LIER
By COLOURS x Web Structure x Prof Yuen's Research Team | Singapore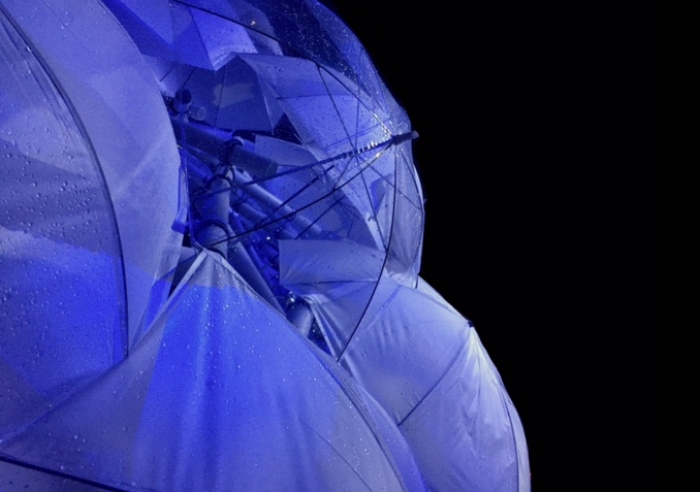 Even the ArtScience Museum donned some glowing purple-pink hues and got in on the act!
Art Zoo
Remember those thrilling bouncy castles that kept you entertained for hours at parties and funfairs? Fun right! Now picture Singapore's ENTIRE floating platform as a giant bouncy castle. If you need more reason to bring your children to i Light, this will definitely seal the deal.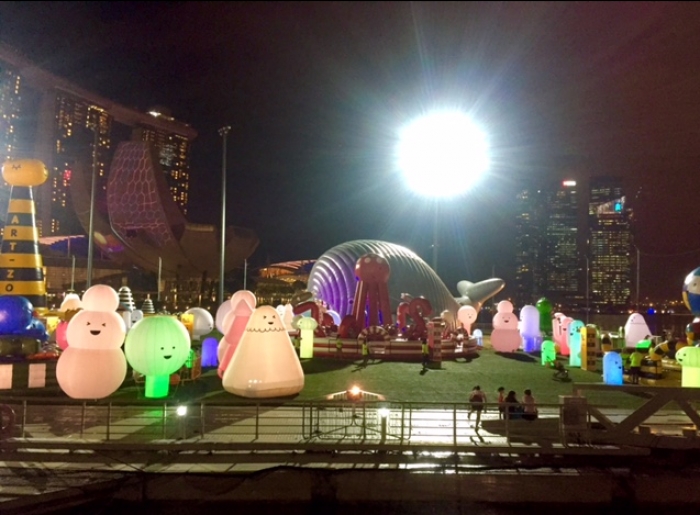 2017 features Art Zoo, a sprawling playground packed with humongous inflatable platforms, each resembling larger-than-life flora and fauna. From afar, and you're unlikely to miss the gargantuan spider menacingly staring down at you. If that scares the kids, don't worry because the more benign but equally mammoth whale right across it will have them smiling again. The brainchild of local artist Jackson Tan, this rubbery emporium includes 26 adorable different installations—one for each letter in the alphabet! From A for Ants to Z for Zebras, this will probably be the most fun your kids have learning their ABCs.
After exhausting yourself, the nearby food stalls are just what's needed to fill your tummies and recharge with some snacks. Ned's Crepes serves up some de(light)ful treats for your sweet tooth and Abracowdabra prepares some savoury hot dogs and cheesy nachos.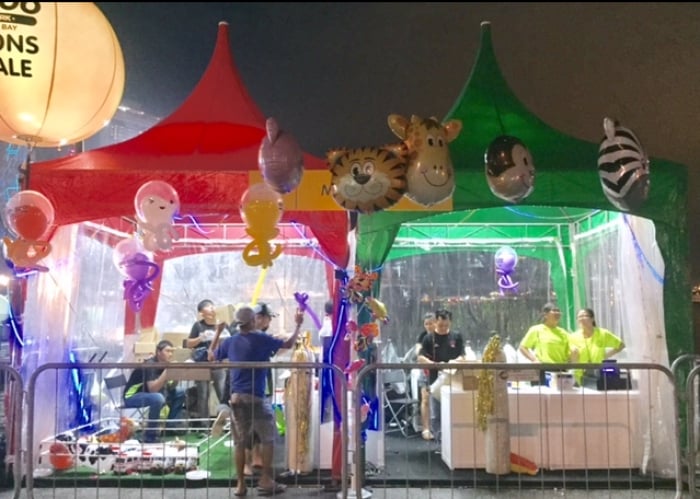 That's not all at Art Zoo. You can also purchase these cute helium balloons to distract any restless children or impress the girl you're on a date with!
Even if you're actually a full-grown adult, Art Zoo is bound to stir up all your childhood wonders and curiosities once again. Don't let any judging stares stop you because I'd say that youth knows no age.
Opening Hours:
5pm – 11pm (Weekdays)
2pm – 11pm (Weekends)
Ticket Sales:
Single: $15 (Passion Card holders are entitled to discounted single ticket prices at $12)
Group of Four: $50 (online) / $54 (on-site)
Gastrobeats
Armed with an impressive assembly of mouth-watering pop up food stalls, live music performances and a mini flea market, Gastrobeats is a must-visit for foodies and music lovers alike.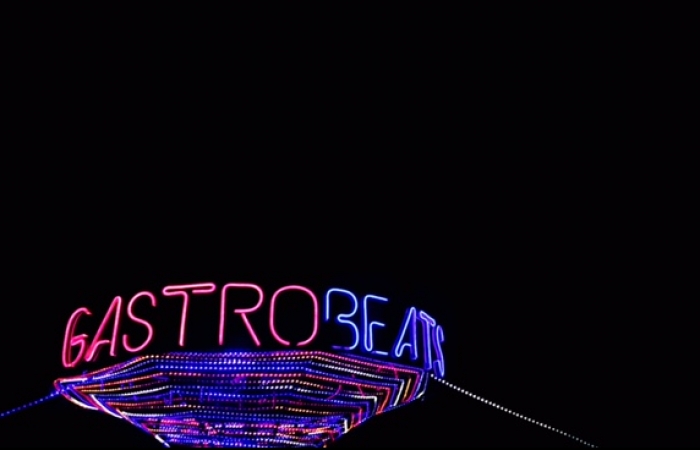 Stroll to the far end of Marina Bay Sands (MBS) and Gastrobeats is located at the spacious Bayfront Event Space. From local vendors peddling their artisan trinkets at the TGIF Bazaar to funky bands jamming it out on a live music stage and even Uncle Ringo styled carnival rides, Gastrobeats has just about everything!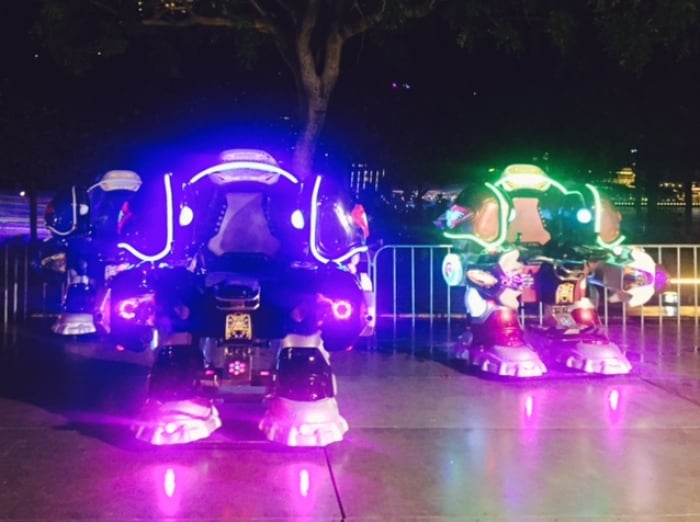 It's not everyday that you'll get to enjoy a jet pack joyride in a neon-tinted war machine!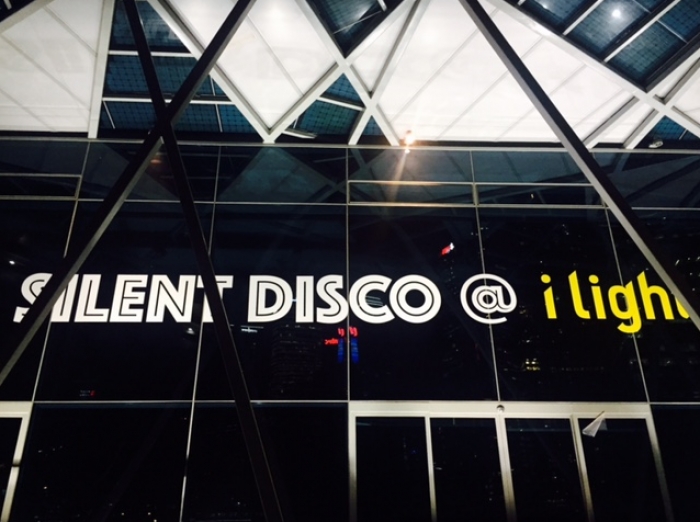 Imagine a whole room of people, all plugged into individual headphones, quietly but awkwardly raving in their own world. What?! Well, the headphone party concept has taken Asia by storm and i Light 2017 wanted in on the party as well with Silent Disco @ i Light.
Marina Bay City Gallery turns it up (or rather down) to become the world's first pop up Silent Disco Nightclub and Arts event space. Using innovative rechargeable and energy efficient wireless LED headphones, you can listen to the electrifying DJs and pulsate to the rhythm of the night.

Image Credit: i Light Marina Bay
Not everything is about delirious, discordant club music. There's even a family-friendly kids edition and relaxing yoga edition. Check out more details on when these are available here.
Pasarbella
The i Light festival stretches around the entire Marina Bay. From the tip of the esplanade at one end, it loops around to the far side of MBS and hugs the fringes of the CBD before concluding at the Merlion. The walk is pretty long so you can be forgiven for needing a quick bite in between.
Everyone's favourite quirky food market joined in with the i Light action as well! Pasarbella & Friends Go To Town lasts till 3rd April and will open everyday from 4pm till late to spice up your lights festival. Sway to rhythmic live music as you chug down a refreshing pint of beer after tucking into the tantalising alfresco menu on offer.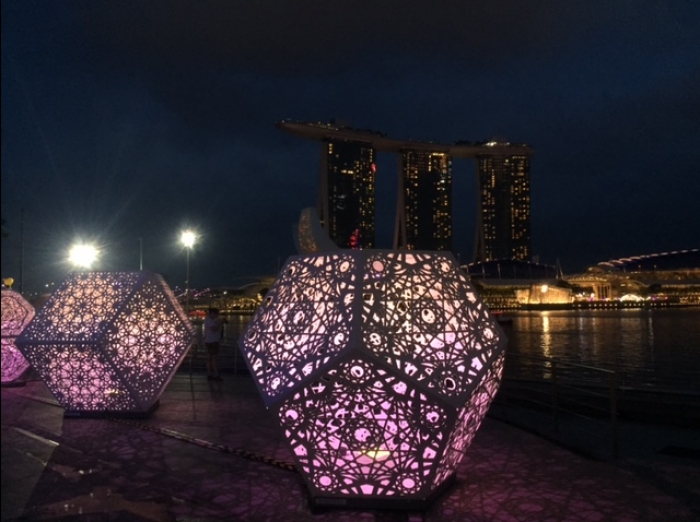 Bet you didn't realise that i Light Marina Bay 2017 had so many exciting highlights! Impressive shimmering light installations, titillating disco fevers, delectable treats, a one humongous bouncy castle. You really can't ask for much more.
From instagram die-hards, lively clubbers and hipster art lovers to extreme foodies and even playful children, i Light will keep you entertained all through your evening. This event only lasts till 26 March so be sure to head to town because with all the fun on offer, it's not an event to be taken "lightly".