Whether you're a tourist visiting Singapore with your family, or a local looking to spice up your usual family outing, Sentosa is the perfect destination for you! Winner of 'Best Destination (Singapore)' in the TripZilla Excellence Awards 2019, Sentosa isn't 'The State of Fun' for nothing!
Too busy to plan a weekend getaway to Sentosa? Fret not. We've come up with a 3D2N itinerary filled with the best things to see, do and eat in Sentosa, so your family can make the most of your time in the State of Fun!
Day 1:
Palawan Pirate Ship
Kick off your getaway in Sentosa with the Palawan Pirate Ship as your very first stop! Previously known as the Port of Lost Wonder, it has reopened as the newly revamped Palawan Pirate Ship. A water play area complete with slides and mini water fountains, this is one place that the little ones are going to thoroughly enjoy. And the best part? Admission is free of charge, so stay as long as you like! Fair warning though: the kids might be reluctant to leave after enjoying themselves so much.
Palawan Beach
Next up, it's time for the beach! Sentosa has three beaches for you to choose from – Siloso Beach, Palawan Beach and Tanjong Beach – with Palawan being the most family-friendly one. Here, you don't have to worry about the kids ever getting bored as there are plenty of things you can do as a family. Build sandcastles together, splash around in the sea, or have a picnic lunch right on the beach. Just don't forget to pack sunblock, as you don't want to risk getting badly sunburnt while you're out having fun (the Singapore sun can get quite relentless in the afternoons)!
Dinner at Flame
After a whole day of being out in the sun, there's no better way to replenish all that energy with a hearty roast dinner! Head over to Flame – Singapore's first beach rotisserie – where you can dine right by the beach, with the serene backdrop of the waves crashing onto the shore as your dinner view. And if you time your dinner to coincide with sunset, it will definitely be an unforgettable experience. From sharing platters to burgers and grilled mains, Flame has a wide menu selection that is bound to satisfy the entire family. You might even be able to get in some extra quality time with your partner, by allowing the kids to play on the beach after they're done with their food!
Skyline Luge Sentosa
If your family isn't ready to call it a night after dinner, don't fret! At Skyline Luge Sentosa, you can race down the Luge tracks even after night falls. With neon lights illuminating the race tracks, you can now experience riding the Luge at night – an exhilarating experience that is completely different from riding it in the day! Sentosa's Night Luge also happens to be the first of its kind in the world, which means… You won't be able to get this thrilling experience anywhere else. So, it's time to grab those helmets and get ready to go zooming down those tracks at super speed! Who says the fun stops after the sun goes down?
Day 2:
Universal Studios Singapore
No Sentosa experience is complete without a stop at Universal Studios Singapore, a truly iconic attraction! Featuring seven themed zones with 24 different attractions, it boasts the title of being Southeast Asia's very first and only Universal Studios theme park. On top of the super fun rides will make the kids want to go on them again and again, get the kids to look out for their favourite characters, because there's going to be plenty of photo opportunities as you navigate your way through the park. Here's an extra tip: If you're visiting on a weekend and are worried about having to wait in long lines, purchase Express Passes to skip all the queues!
Dinner at Good Old Days
Craving for some local fare? Good Old Days is the perfect place to go for dinner, conveniently located at Sentosa's Beach Station! Serving up affordable and delicious local delights, this restaurant gives you the option to dine buffet-style or a la carte. We personally recommend trying their buffet, because it's worth every dollar for the extensive spread you'll get. Plus, it's superb for those of you who want to get a taste of everything because all the dishes look scrumptious!
Wings Of Time
Wings Of Time is an award-winning outdoor night show that runs permanently on a daily basis. With two show timings every day – 7:40pm and 8:40pm – this 20-minute multi-sensory show will bring you the story of three friends travelling through time in search of one of their homes. Combining 3D projection mapping, giant water jets, robotic water fountains and state-of-the-art lasers, this is one show that's definitely going to wow your entire family from start to finish. With such a spectacular show to keep the family entertained, there's no better way to end the night with a perfect bang!
Day 3:
Breakfast at Slappy Cakes
Begin your final morning in Sentosa with a yummy breakfast at Slappy Cakes! Unlike most pancake restaurants, Slappy Cakes gives their customers full control over how they like their pancakes. Each table has a built-in griddle where you can make your own pancakes – just pick a batter, your fixings, add your favourite toppings and you'll be munching down your very own creation in no time. This is the ultimate family-friendly dining spot that mashes good food and fun in one experience, so we certainly wouldn't be surprised if the kids constantly ask to be taken back here!
Madame Tussauds Singapore
Never got the chance to get up close and personal with famous celebrities? Well, now you can at Madame Tussauds Singapore! Hang out with A-List celebrities, pose alongside famed Bollywood celebrities at the IIFA Awards red carpet, or take a selfie with your favourite Marvel superheroes – it's all possible here. Apart from being home to wax figures that look just like their real-life counterparts, the Singapore branch of this world-renowned wax museum also features Asia's very first Marvel 4D Cinema as well as a VR racing experience in life-sized F1 cars. Ready to be blown away?
Sentosa Merlion
You might know Singapore's most iconic landmark, the Merlion, but do you know what it actually stands for? There are a few Merlion statues in Singapore, but the Sentosa Merlion is unlike any of the other Merlions you can find in Singapore. Standing at a whopping 37 metres tall, the Sentosa Merlion overlooks Singapore's Central Business District and Sentosa island, and is regarded as a guardian of prosperity. Here, you can learn about the urban myth surrounding the Merlion, as well as take home your very own souvenir from Singapore's guardian of prosperity – a gold prosperity coin!
Dinner at Malaysian Food Street
The final stop of this 3D2N itinerary: Conclude your time at Sentosa with a feast at Malaysian Food Street! Indulge in mouthwatering Malaysian hawker fare from the dozens of stalls housed here, selling a variety of dishes like Nasi Briyani, Penang Hokkien Mee, Nasi Lemak and more. With its interior modelled after a typical old Malaysian town, your dining experience here is made to feel as authentic as possible – you just might forget that you're still in Singapore for a little while!
Where to stay in Sentosa
Hard Rock Hotel Singapore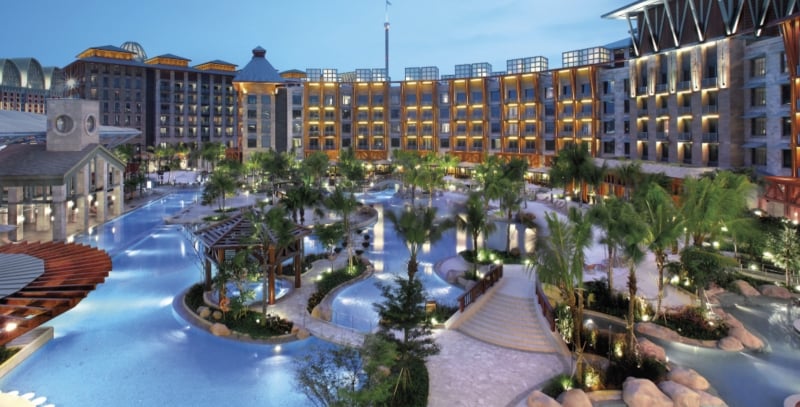 Located close to major attractions like Universal Studios Singapore, Adventure Cove Waterpark and SEA Aquarium, Hard Rock Hotel Singapore is an excellent choice for those who value convenience. Combining sleek, modern furnishings together with top-notch service, staying at Hard Rock Hotel Singapore is surely going to make you feel right at home. All rooms also come with a pull-out bed, making things a breeze for families who choose to stay here.
Festive Hotel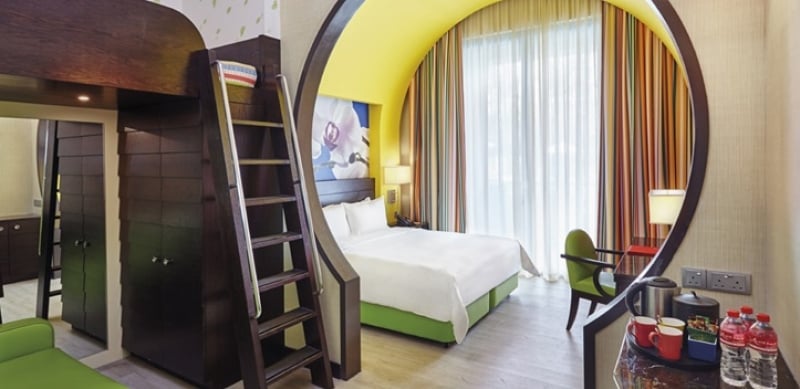 Festive Hotel is the perfect accommodation choice for any family vacation in Sentosa, especially if you have younger kids in tow. The hotel prides itself in being super family- and child-friendly, from having larger room options to housing a kid's pool and even providing candies at the reception table. Don't just take our word for it – your kids will absolutely love it here! Additionally, Festive Hotel is situated near Festive Walk and is only a few minutes away from major attractions like SEA Aquarium, Universal Studios Singapore and Adventure Cove Waterpark.
And there you go, a fun-filled 3D2N itinerary that's bound to satisfy the entire family. Say goodbye to boring family outings or vacations, because this is one that's going to ensure everyone has a blast! Besides, three days is barely enough to fully explore Sentosa, so you should definitely visit it again.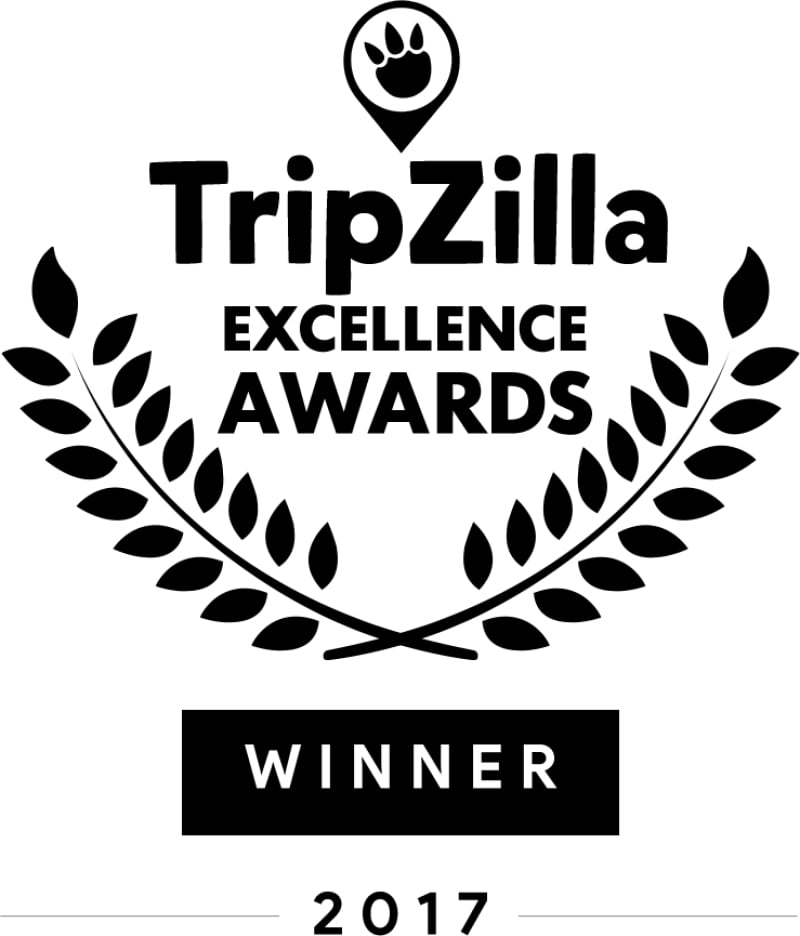 Winner of the TripZilla Excellence Awards 2017 – Best Singapore Destination, it's clear how Sentosa's title as the State of Fun came about. Offering a myriad of sights, activities and food options, it's no wonder Sentosa easily emerged at the top.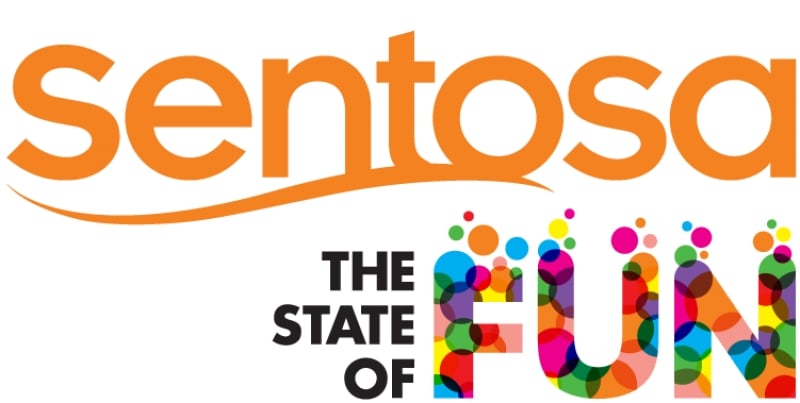 Truth is, there's so much more for you to discover in this little island – from Singapore's first ever Bungy Tower to beach activities, exhilarating attractions and world-class accommodation options – grab your family and friends, and head over right now!