You may have heard of Amphawa, thanks to its famed floating market, but I bet you've never heard of Suan Phueng. In fact, these two districts only started gaining popularity among Bangkok's denizens only about eight years ago, despite their close location to the Thai capital.
Thus, when Dynasty Travel, Tourism Authority of Thailand (TAT) and Thai Airways International invited us to traverse this unexplored land, we would be crazy to say no!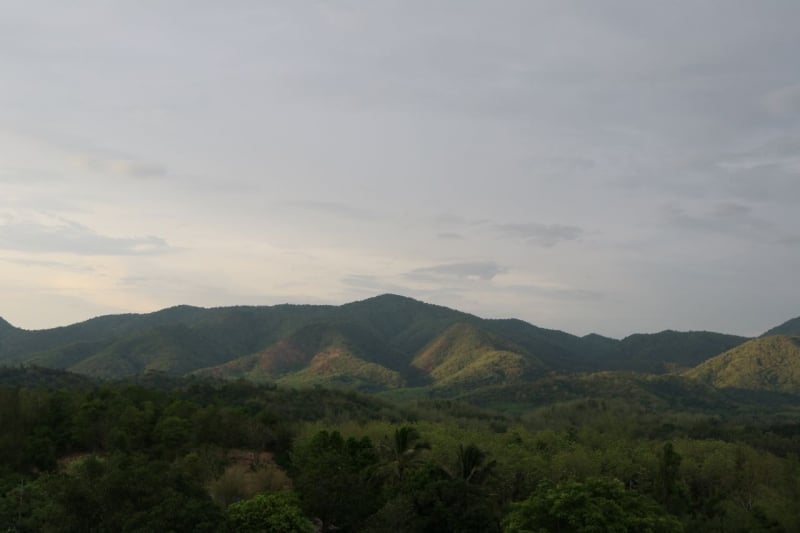 Although it should be unsurprising, it was surreal to find ourselves being the only non-Thai visitors at most of Suan Phueng's and Amphawa's attractions. As a matter of fact, our hosts mentioned that 99% of the visitors they receive are Thai locals!
Have we piqued your interest? Be the rare 1% to visit Suan Phueng and Amphawa! Here are our recommendations on places to go, eat and stay:
Where to go
1. Make new furry friends at AlpacaHill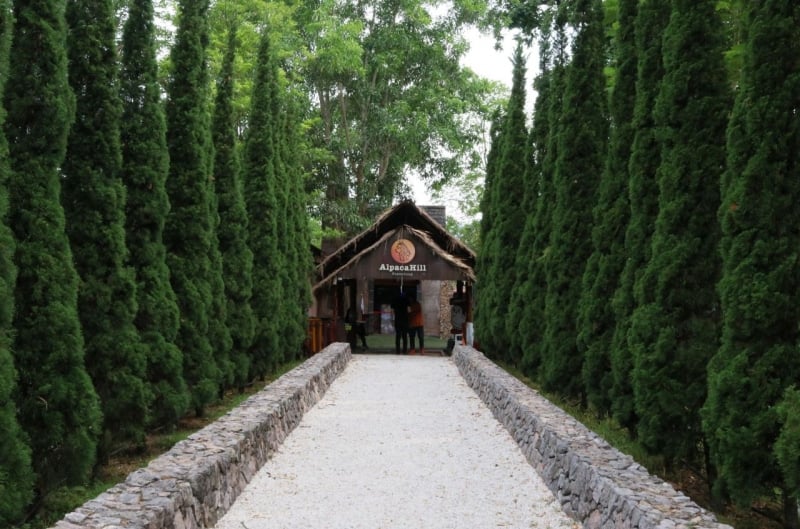 Are you raising your eyebrows and thinking, "alpacas in Thailand?" We did too when we heard that we were going to see alpacas in Suan Phueng during the briefing. But our scepticism grew into excitement pretty quickly as we walked through the gates of AlpacaHill.
AlpacaHill is Thailand's first and only alpaca breeding farm. As we walked into the alpaca feeding area, we squealed with delight as soon as we laid our eyes on the cute alpacas!
After taking a slew of selfies with these lovable creatures, we rewarded the alpacas with their favourite snacks. Don't be fooled by their cute looks! They can be quite feisty as they chow down on their treats.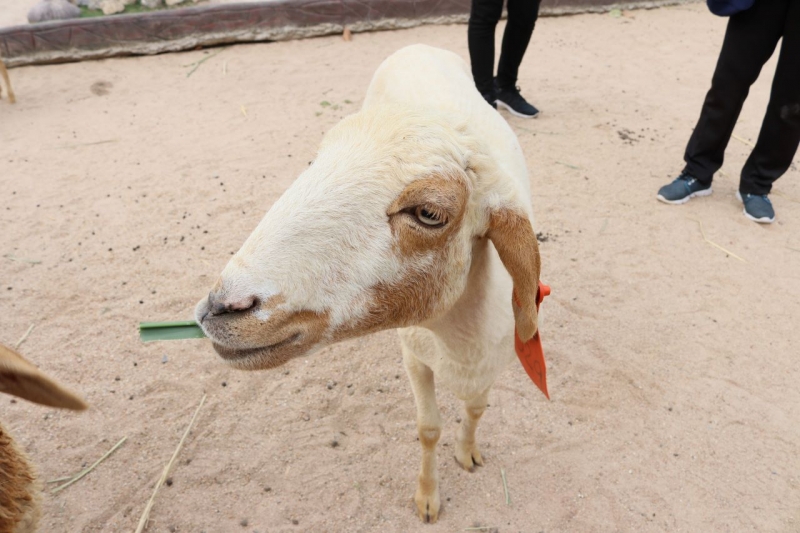 Besides alpacas, we also had the opportunity to feed and interact with other animals such as goats, wallabies, Flemish giant rabbits and many more adorable animals!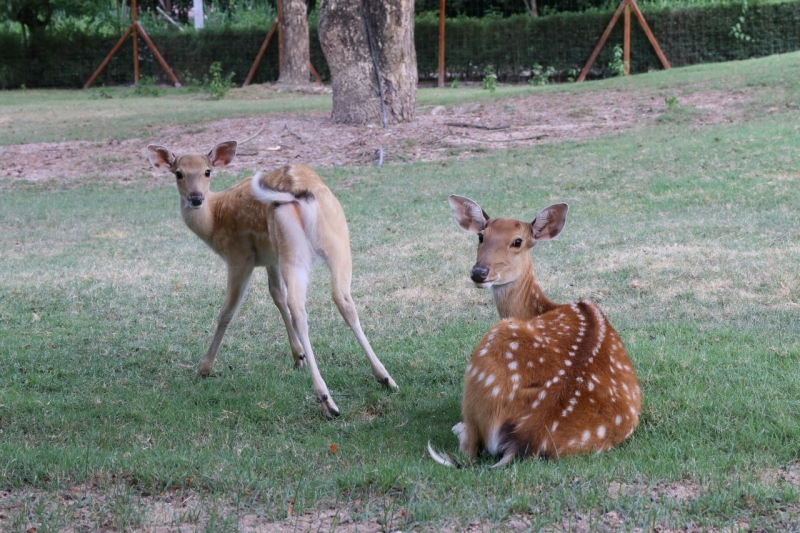 After touring the entire farm, we were sad to bid goodbye to our new furry friends. To make the farewell cheerier, the staff at AlpacaHill gifted us a ball of alpaca fleece, which was referred to as 'The Fiber of the Gods' by the Incan civilization.
Address: 357 Moo8, Phapok-Tako Land Rd, Suanphung Ratchaburi 70180, Thailand
2. Step into a colourful wonderland at Tao Hong Tai Ceramics Factory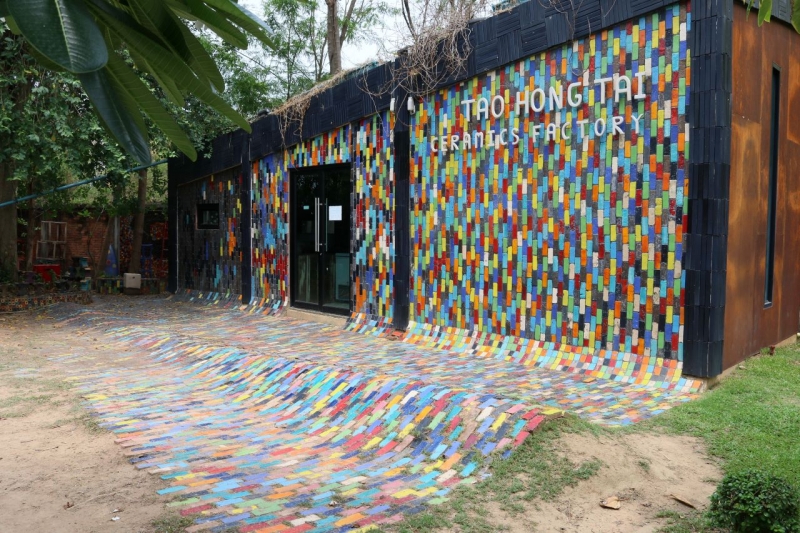 If you think ceramics factories are dull and boring, think again! We were greeted with an explosion of colours at Tao Hong Tai Ceramics Factory. Everywhere we turned, there was an Insta-worthy spot.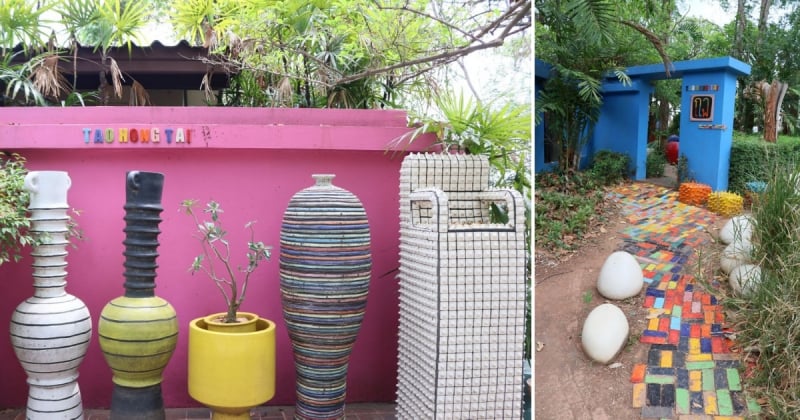 Started in 1933, the ceramics factory has over 80 years of producing high-quality ceramics under its belt. Currently, the third generation is running the family business and has injected the place with colour to attract more visitors to the factory.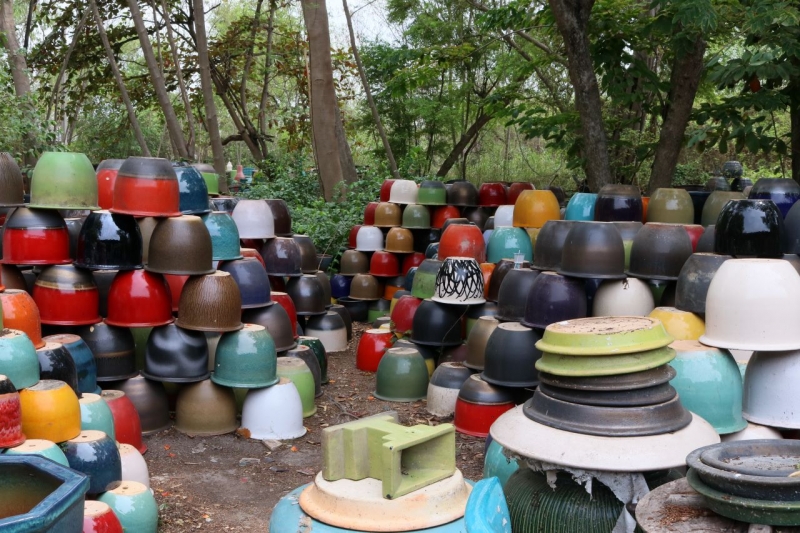 Tao Hong Tai Ceramics Factory produces all kinds of ceramics, including Chinese ceramics, Thai ceramics and modern ceramics. As we walked around the compound, it seems like every inch of the place is covered with finished products that are delicately stacked on top of one another!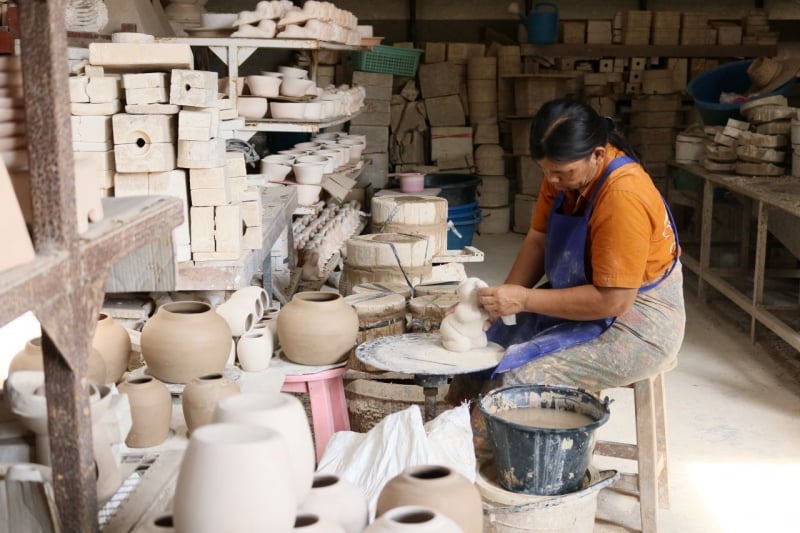 We were also given a glimpse into the process of pottery making. We watched in awe as the masters skillfully sculpt and decorate the clay all by hand. We couldn't help but wonder how many ceramic pieces we saw earlier were made by these masters. There's also a souvenir shop on the premises to get your hands on some of these amazing artworks.
Address: Chedi Hak, Amphoe Mueang Ratchaburi, Chang Wat Ratchaburi 70000, Thailand
3. Get rejuvenated by creek walking on Pachee River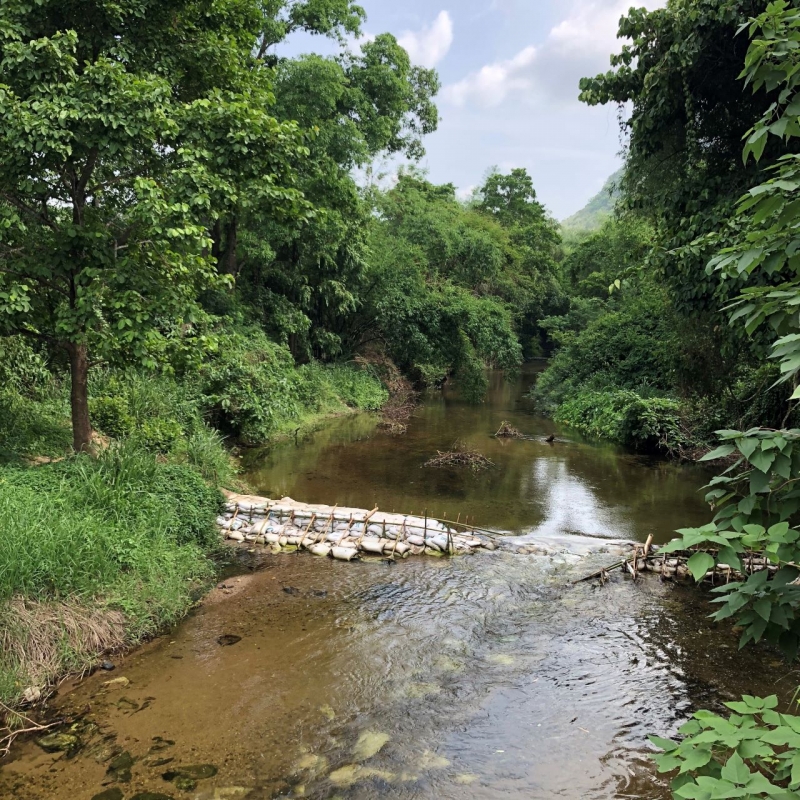 When we were in Suan Phueng, the temperature hit a high of 36C! Lucky for us, creek walking was on our agenda. We let out a satisfied sigh as we dipped our feet into the cool waters of the Pachee River. The water level in some areas of the river also reached our waist level! Somehow, the heat doesn't feel as intense as before.
Although a large part of the activity is pretty mellow, we still had to be careful at some sections of the river as they can be blanketed with slippery moss-covered rocks. Thankfully, we were provided with special water shoes which provided more grip.
The total duration of the creek walk was supposed to take 30 to 40 minutes. However, we stopped for so many photo ops along the scenic river that we actually took two hours to complete the route! With our memory cards filled with beautiful shots, we totally had no regrets.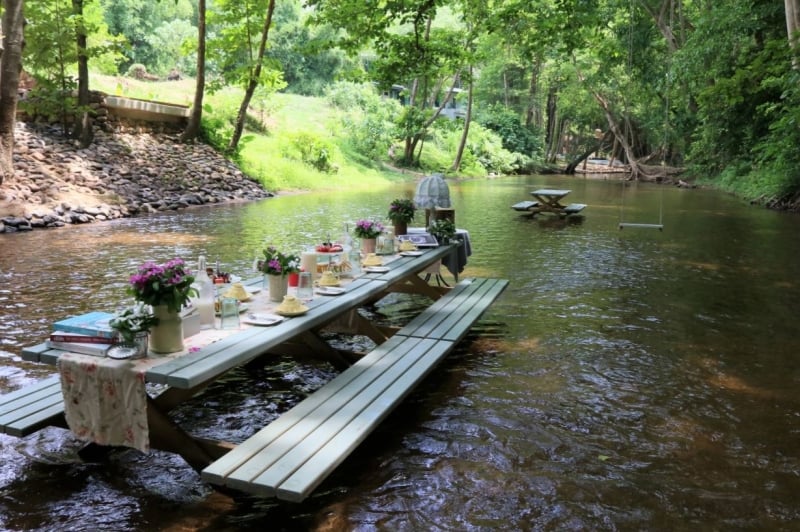 At the end of our walk, we were greeted with the most glorious sight; a high tea spread on the river! Flowers, coffee table books and yellow teacups were meticulously arranged on the turquoise wooden bench table. The set-up looked like it jumped out of a Pinterest board! The icing on the cake had to be the swing in the background.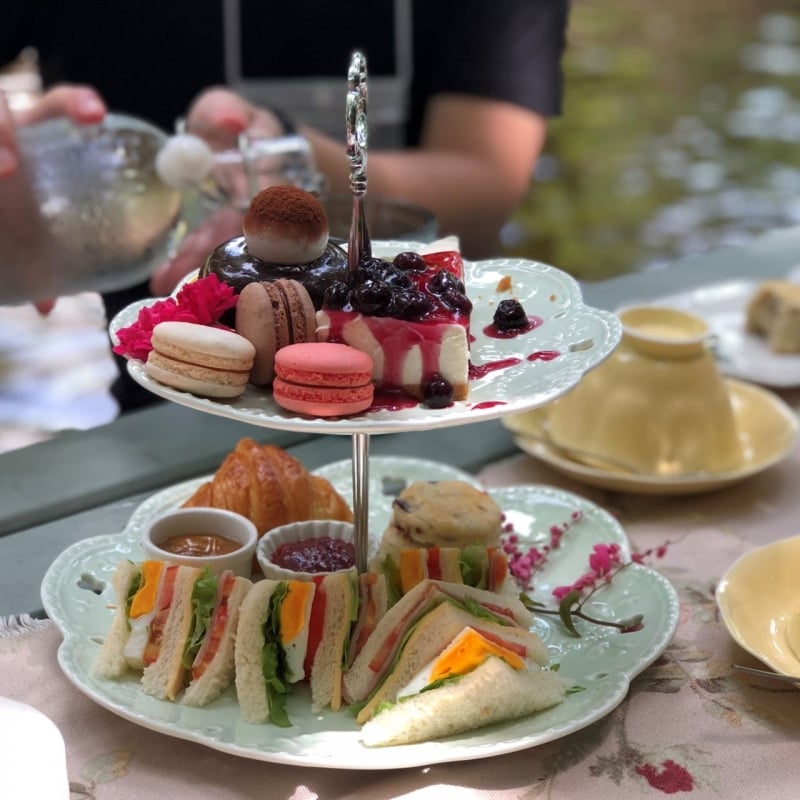 After a tiring yet rejuvenating walk across the creek, we had to hold ourselves back from indulging in the mouth-watering treats! After getting some quick shots of the food, we finally tucked in. As we munched on delicious sandwiches and delectable macarons, we simply can't think of a better way to end the morning.
Address: Creek Walk (organised by The Nagaya Resort): 235 Moo 7, Tambon Suan Phueng, Amphoe Suan Phueng, Ratchaburi, 70180, 70180, Thailand
High Tea (organised by The Scenery Vintage Farm): 234 Moo 7 Suan Phueng District, Ratchaburi 70180, Thailand
4. Feel the rush at Maeklong Railway Market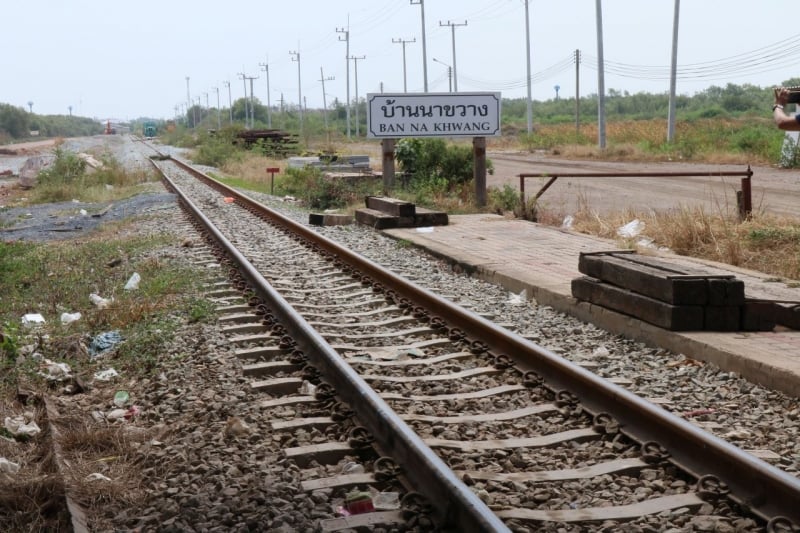 We were thrilled to head to Maeklong Railway Market, a market with a train track running through it! When our guide told us that we have arrived, we jumped out of the van in excitement, only to find ourselves in the middle of nowhere. As we looked at our tour guide in confusion, he explained that we will be taking the train to the market from Ban Na Khwang Station.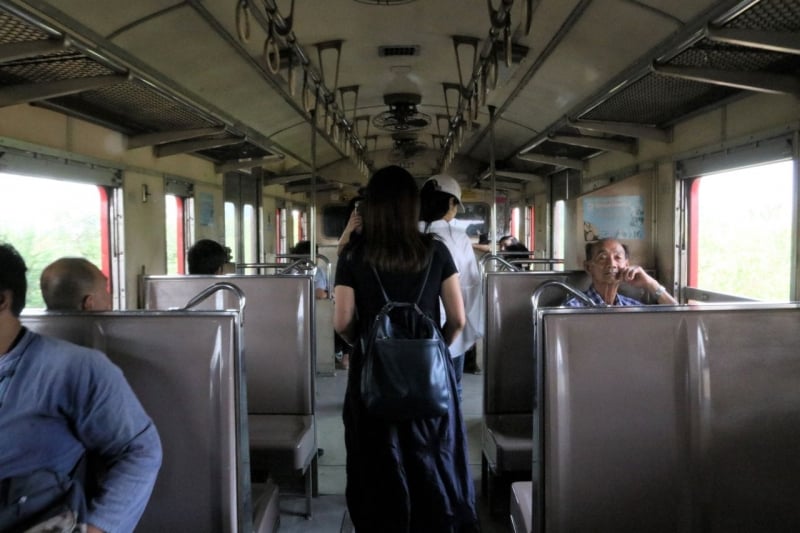 As we climbed on board, we quickly noticed that we were the only tourists on board. We were told that most tourists don't board the train to or from Maeklong Railway Market and only watch the train leave or enter the market on the side of the tracks. Thanks to our guide, we got to do both!
We were perched on the window sills the whole journey from Ban Na Khwang Station to Maeklong Station. The train slowed down considerably as we approached Maeklong station. We cautiously popped our heads out of the window and were shocked to see how close the train was to the stalls. Some of the produce that was laid on the ground was literally underneath the train!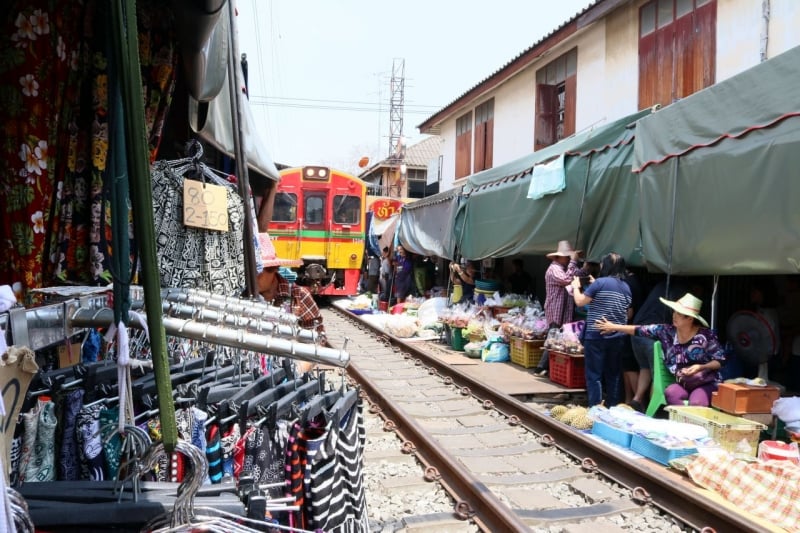 After we alighted, we head over to Maeklong Railway Market to secure a good spot to take photos of the train leaving the station. Minutes later, an announcement was made signalling the departure of the train. Shopkeepers started to push their items away from the tracks and closed their "umbrellas". Slowly, the massive metal train started chugging its way through the market. It was such a sight to behold!
Just as the back of the train passed a shop, the shopkeepers will put their items and umbrellas back outside. Their business carried on as per usual, as if tonnes of steel didn't just pass through! After being awed, we roamed the bustling market that sells fresh seafood, vegetables and souvenirs.
Address: 545/3 Mueang Samut Songkhram District, Samut Songkhram 75000, Thailand
5. Shop till you drop at Amphawa Floating Market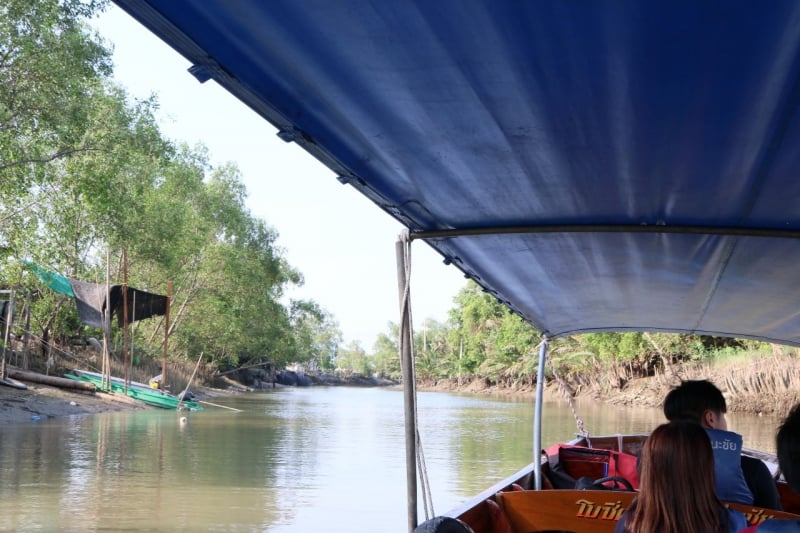 When in Amphawa, you simply must drop by the famous Amphawa Floating Market. We were dizzy with excitement as we hopped on the boat to make our way to the floating market. We also caught a glimpse of the local life as we saw locals fishing for river prawns and children playing in the river.
Thailand is home to plenty of floating markets. Damnoen Saduak is another floating market that is more popular with tourists due to its close proximity to Bangkok. We also went to Damnoen Saduak on this trip, but I got to say that I prefer Amphawa Floating Market as it seems more like a true blue Thai floating market and there were considerably lesser tourists.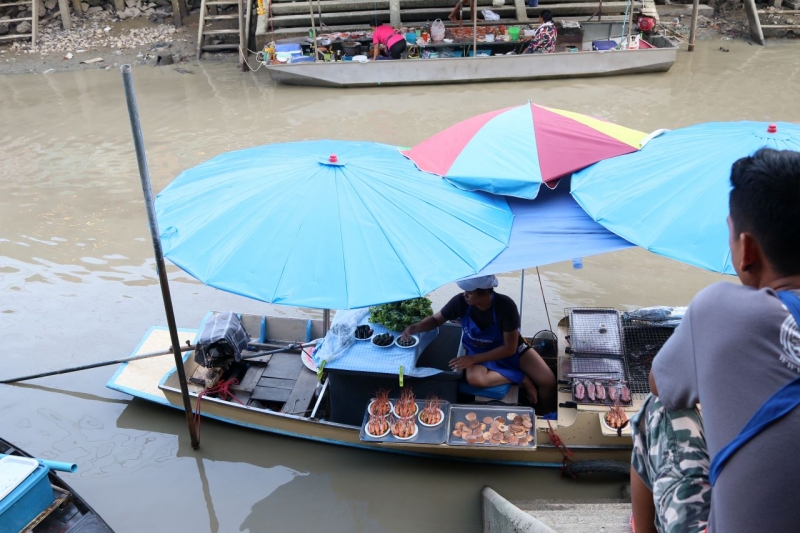 Unfortunately, it was low tide when we were there, so there weren't many boats on the river. Most of the boats that were on the river sold a variety of fresh seafood options. Patrons would wait on the steps while waiting for their delectable selections to be barbequed on the boat.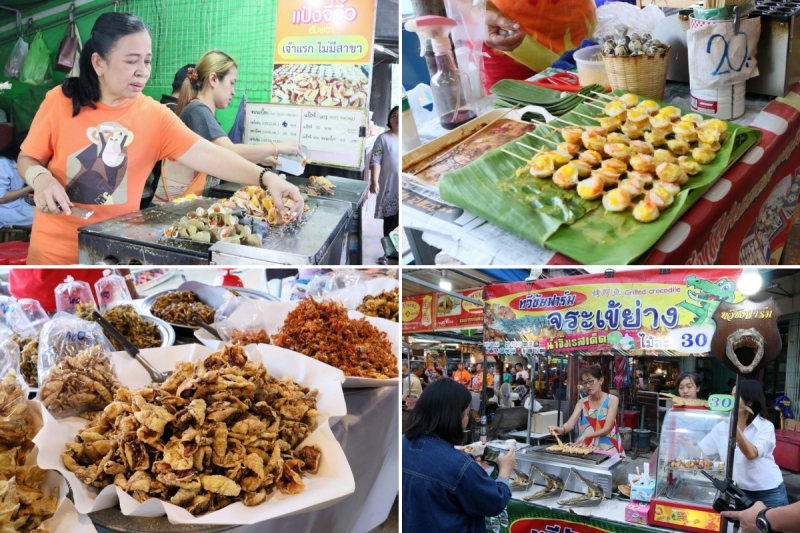 Since there wasn't much activity on the water, we went into the labyrinth of streets adjacent to the river. Hundred of shops lined the streets selling souvenirs and an assortment of tasty Thai street food, such as crispy Thai pancakes, fried quail eggs, fish skin and even crocodile meat skewers. By the end of the day, our tummies were practically bursting!  
Address: Amphawa, Amphawa District, Samut Songkhram 75110, Thailand
Where to eat
1. Feel the heat at Volcano Prawn Restaurant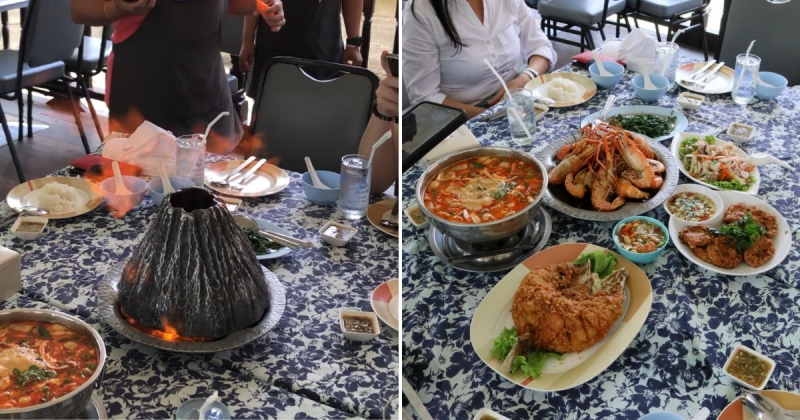 We literally felt the heat at Volcano Prawn Restaurant as our freshwater prawns were flamed in a, you guessed it, volcano! The pre-grilled prawns were placed on an aluminium plate and covered by a volcano-shaped structure which is then doused in ethyl alcohol. With a spark from a lighter, the volcano erupted in flames. Although the whole thing might sound gimmicky, the prawns were really plump and flavourful.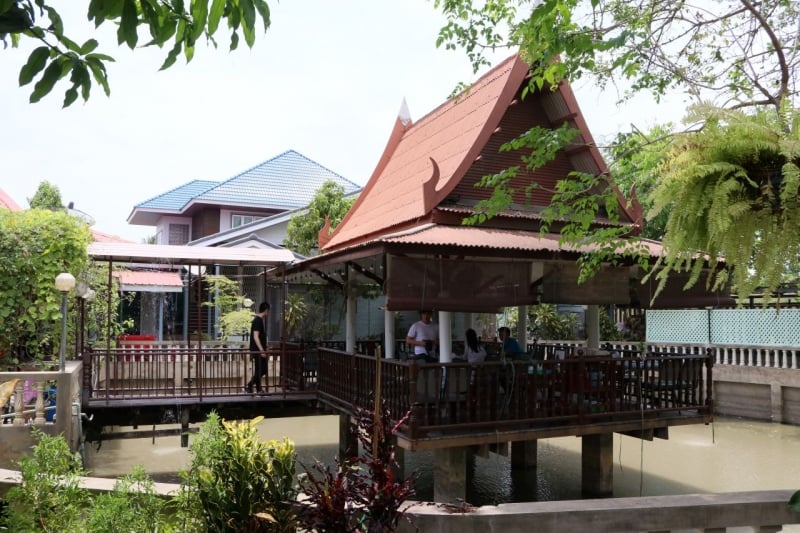 In recent years, many similar volcano prawns restaurants are popping up in the area. The one we visited is said to be the original one with a history of more than 30 years!
Address: 885 Phetkasem Frontage Rd, Tambon Sanam Chan, Amphoe Mueang Nakhon Pathom, Chang Wat Nakhon Pathom 73000, Thailand
2. Feast on authentic Thai cuisine at Ranjuan Amphawa
Although we were served another prawn dish, we aren't complaining. Serving up delectable Thai cuisine, Ranjuan Amphawa's star dish is definitely their Grilled River Prawns. Surprisingly, the best part of the prawns was actually the head! With a sweet taste and creamy texture, we've never tasted anything like it before.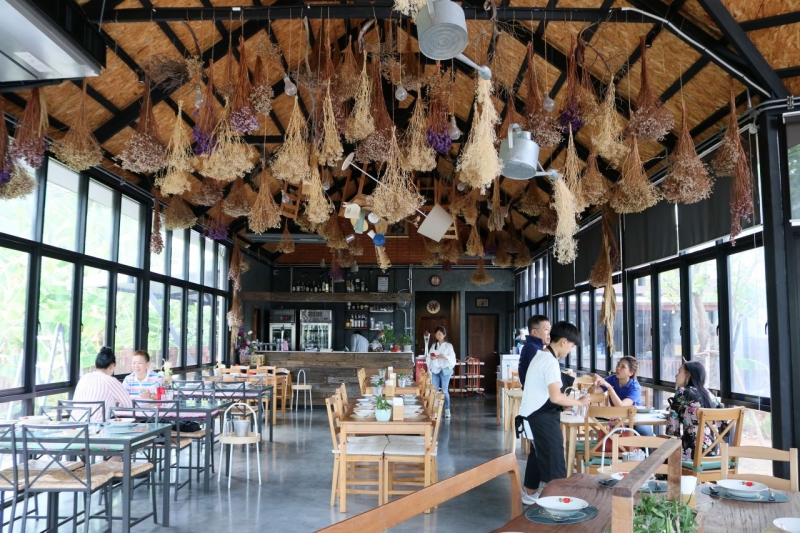 Despite its chic and youthful interior, Ranjuan Amphawa serves up authentic Thai cuisine. In fact, the owner borrows the same menu as her mother's restaurant, which is also located in the same area. We learnt that the food prepared by the younger chef had to pass the owner's grandmother's taste test! This ensures that everything that comes out of the kitchen is truly traditional.
Address: Wat Nang Wang Road, Amphawa
3. Nourish the body at Pasutara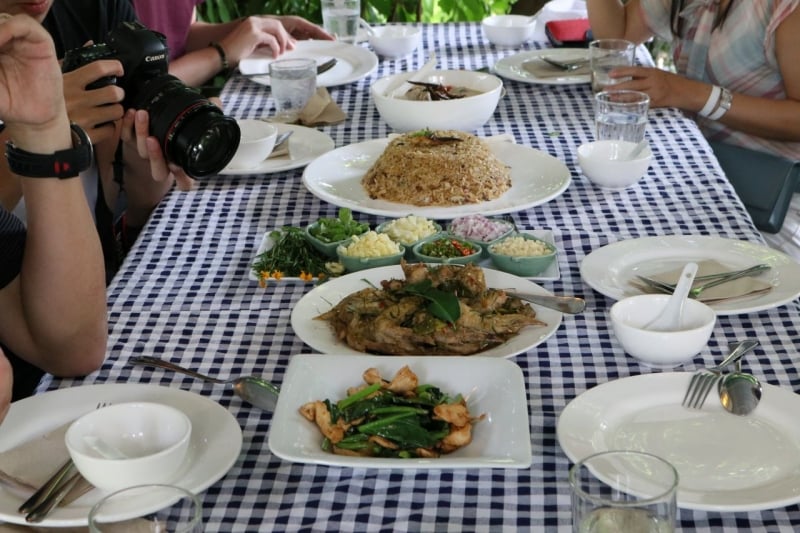 We learnt from the get-go that Pasutara's concept revolves around everything natural. With its name translating to "source of life" and its slogan being "purifying life", Pasutara serves up fresh, organic meals. Most people think that organic meals are bland and boring. But oh boy did Pasutara prove us wrong. Their dishes, such as fried rice and Thai salads, are deceptively simple but simply bursting with flavours!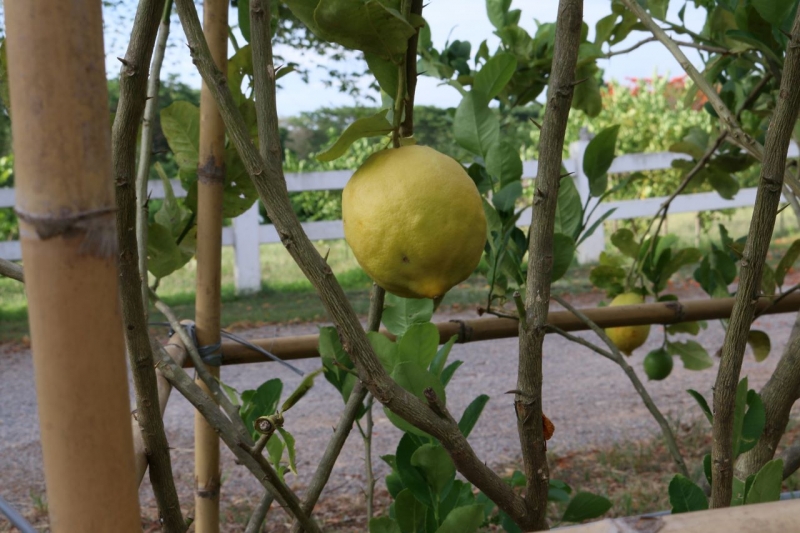 Most of the fruits and vegetables incorporated into their dishes are even grown in their own farm. As we were given a tour around the farm, the owner, Baz Bacilon, told us how he and his mother started growing their own produce as a way to alleviate his mother's sickness. Baz was happy to report that his mother is in the pink of health.
Baz also told us that Pasutara is most well-known for their lemons. Currently, they have over a thousand lemon trees and grows three kinds of lemons. We didn't know we would be visiting an actual lemon farm in Thailand!
Address: 317 Tanaosri, Tambon Ta Nao Si, Amphoe Suan Phueng, Chang Wat Ratchaburi 70180, Thailand
4. Have a meal with a view at German Sausages Suan Peung
From lemons to German sausages? We found it hard to believe that we're still in the Land of Smiles! At German Sausages Suan Peung, the German sausages were barbequed only upon ordering. We also had their German rolls and a German pork leg, and paired the meats with a bottle of German Erdinger beer. Everything was nothing short of magnificent.
What brought the experience to greater heights (literally) was the fact that the restaurant was perched on a mountain. We were treated to a breathtaking mountainous view while indulging in our food. We even saw the sky change colours as the sun sets. Everybody has to visit this amazing restaurant at least once in their lifetime!
Address: 315 Moo 3 Tumbol Suan Peung, Suan Phung, Ratchaburi, Thailand 70180
5. Indulge in Thai fusion food at Honeyscene Steak and Bar
Throughout our trip, we mainly had traditional Thai dishes. Hence, it was nice to have a Western twist to the usual Thai dishes. At Honeyscene Steak and Bar, we stuffed our faces with a variety of Thai fusion food. The standout dishes were definitely the Garlic Mussels with Thai Sweet Chilli Sauce and Tom Yam Prawn Pizza. The distinct Thai flavours on a Western medium resulted in an innovative mix of two worlds.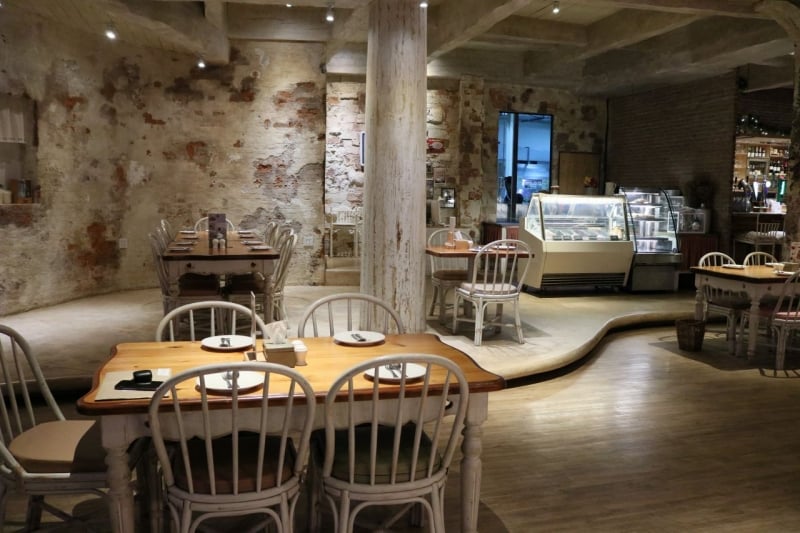 Honeyscene Steak and Bar is located within the premises of The Scenery Resort & Farm. The resort's Mediterranean theme is also apparent in the restaurant. We simply loved the laid-back ambience of the place.
Address: 234 Moo 7, Suan Phueng Subdistrict, Suan Phueng District., Ratchaburi, Thailand
Where to stay
1. Get a feel of Italy at La Toscana Resort
Be transported to Tuscany at La Toscana Resort. From the beautiful landscape to the detailed buildings, the resort was utterly on point in recreating the Italian ambience! Complemented with a mountainous backdrop, we had a hard time believing that we were still in Asia. The resort was so large that we had to take buggies to get to our designated rooms.
As we entered our room, we were floored. The Italian theme continued indoors with the brick walls and rustic decor. The bathroom was almost as big as the sleeping area and had a large European-style bathtub right in the middle of it! With a comfy queen-sized bed and the quiet atmosphere of the resort, we were truly at peace the two nights we called La Toscana Resort home.
Address: 5/1 Moo.3 Suan Phung Amphoe Suan Phueng, Chang Wat Ratchaburi 70180, Thailand
2. Relax and rejuvenate at Asita Eco Resort
As soon as we walked through the entrance of Asita Eco Resort, we instinctively knew the resort's concept. Being greeted by lush greenery and a reception area sitting atop a serene canal, there's no doubt in our minds that back-to-nature was the theme the resort was going for.
We also learnt from Asita, the owner of the resort, that they uphold eco-friendly practices such as recycling and using reusable guest room amenities (providing rubber slippers and providing soap in a pump dispenser).
Needless to say, we were surrounded by nature in our room. With large glass sliding panels for walls, light floods into the room and provided us with beautiful views of the canal. We felt like we were in a modern, more upscale version of the traditional Thai houses we saw on our way to the floating market. Serenaded by the sounds of nature, we had a good night's sleep after a full day of activities.
Address: 33/3 Amphoe Mueang Samut Songkhram, Chang Wat Samut Songkhram 75000, Thailand
Interested in seeing these gorgeous sights for yourself? A significant thing to note is that since Suan Phueng and Amphawa are not on most tourists' radar, the districts' tourism infrastructure is not in place yet. For example, the places of attractions, restaurants and resorts are only accessible by car and most staff at these establishments don't speak much English. If you want to discover these hidden gems with ease, be sure to book a tour with Dynasty Travel (+65 6532 5455)! Interested in this itinerary? Let us know here.
Put forth your adventurous soul and be the rare 1% to visit Suan Phueng and Amphawa!
Thank you once again to Dynasty Travel, Tourism Authority of Thailand (TAT) and Thai Airways International for making this trip possible. Kob-khun ka!