Phuket [fzPrice]hkt[/fzPrice] is Thailand's largest island with a population of about 350,000. It lies off the South West coast of the Andaman Sea and is accessible by plane, boat or car from the mainland. Phuket is a major tourist destination with all the amenities of the modern world catering to anyone and is popular with tourists and expats alike. Once you visit, you'll soon see why!
The best time to visit is during the rainy season from May to October. That's the low season for tourists, which means accommodation is cheaper, the beaches are quieter and chances are, you'll still have some great weather. In this article I'm going to share some tips from my own experience living in Phuket to help you save some money and live like a local.
Getting Around
T0 avoid: taxi drivers and tuk tuks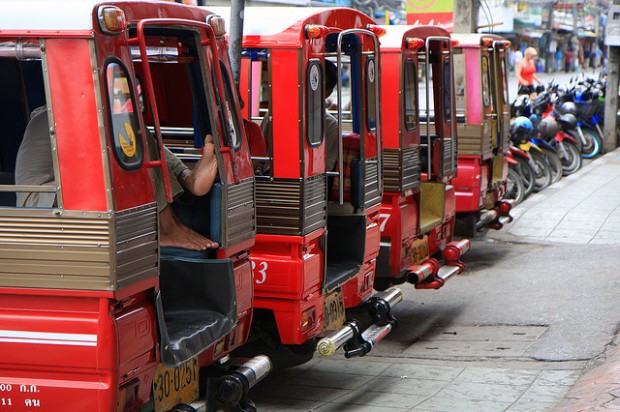 Image Credit: binder donedat
Phuket is well known for its taxi drivers who charge ridiculously high prices for seemingly short distances. Tuk tuks are no exception either. The government has recently cracked down hard on these prices and has introduced fixed prices for most areas, but that doesn't stop the drivers changing their mind mid journey. Therefore, it is best to avoid them unless absolutely necessary or to agree a fixed price beforehand.
To take: public transportation
For that real "authentic" feeling, try some of the local public transportation its fun and budget friendly! Public buses run through major beach towns and to Phuket town and cost 20 to 30 baht per person. Another option would be to try the local "songtheaw", red pickup trucks with open backs that act as a form of public taxi. These can be hailed down anywhere you see them and are fine for moving around if you have time but easiest way to get around when travelling Phuket is by motorbike.
To ride: a scooter
Practically everybody drives a scooter in Thailand, which may or may not be a good thing. If you rent a bike during your stay my advice to you would be to make sure you know what you're doing, never assume anything and always expect the unexpected. Renting a bike will cost anywhere from 150 to 300 Baht a day, depending upon how long you want to rent it for. Never leave your passport as a deposit; it's the oldest trick in Thailand. You rent a motorbike which is suddenly "scratched" when it comes time to return it and you're forced to pay an exorbitant amount of money in exchange for your passport. There are plenty of honest places, just keep looking. Also, remember to always wear your helmet!
Also Read: Thailand Fast Facts – Where To Go and Handy Travel Information
Food

Image Credit: Robert Haandrikman
Food is a big part of Thai culture and if you want to experience the real heart and soul of any place, there's no better way than by sampling the local cuisine. From bustling night markets to family run restaurants, you're sure to never go hungry during your visit here. A night market is definitely worth a visit. Popular amongst locals and tourists alike, these markets provide a source of both entertainment as well as a great place for a bite to eat.
Night markets are an inexpensive way to sample many different dishes too, with an abundance of snacks and even more popular dishes are served in small, cheap portions leaving you more than enough room for that next pancake stall. If trying to cram down as much cheap and delicious food as possible whilst standing in the middle of a bustling crowd (a whole new experience in itself) isn't for you, there are plenty of stalls with small plastic tables and chairs, a great place to take a break from the madness.
Entertainment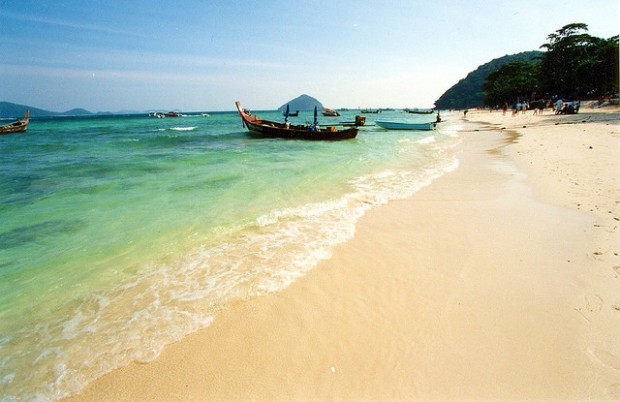 Image Credit: Felex Liu
During the day there are lots of things to do in Phuket! If you're like me and prefer natural beauty rather than the more organised tourist activities, you've come to the right place. Experience the real Phuket; Picture perfect beaches, quiet back streets, waterfalls, beautiful natural landscaping, laid back beach bars, the list goes on and on. All you need to do is hop onto your scooter and head out! Be sure to spend at least a day in Phuket Town, exploring the Old Town. A cultural melting pot dating back to Phuket's tin mining boom and a perfect example of its Sino Colonial roots.
If you're looking for some Thai style night time fun, why not pay a visit to a local karaoke bar? These are normally small places full of fun and friendly locals who are more than happy to sing and drink the night away with you.
Where To Stay
Try and stay away from the more touristy parts of town and dig deep, you'd be surprised at what you might find! You might find out that you can get your own private room in a cozy guesthouse for the same price you'd pay for a bunk in a hostel dorm. If you're planning on staying a month or more, it may be worth renting out a small place too. I used to pay 10,000 baht (SGD 394) per month for a Thai style two-bedroom bungalow which I shared with a roommate. If travelling solo, prices for simple studio rooms usually start at about 5,000 baht you just need to look around for the best deals.
Also Read: The Thailand Bucket List – 15 Experiences You Need to Conquer
What to Avoid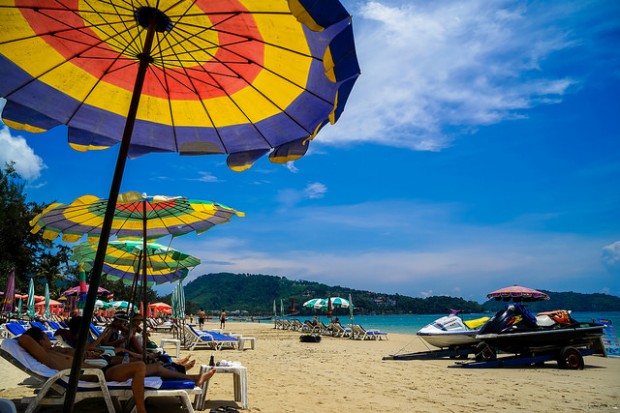 Image Credit: Luke Ma
Being such a popular holiday destination, Phuket has garnered its own fair share of tourist traps and scams. These are just a few tips on what to avoid, the locals don't fall for them so neither should you! Avoid Patong. Too many times has Patong ruined a traveler's holiday or left them with a bad taste in their mouth so I would recommend skipping it all together. It's Thailand's largest tourist trap, a myriad of scam artists, questionable "massage" parlors, prostitutes and overpriced vendors  all more than happy to help you part with your hard earned baht. Avoid drugs at all costs.
If you disregard my advice and visit Patong anyway, chances are you'll be approached at least once (usually by some sort of taxi driver) and offered some "ganja" or "Charlie". Don't even think about it, most of them have ties to the police and get a commission anytime they turn someone in, in some cases they're even off duty policemen looking to earn some extra cash (by turning you in). In a country notorious for its no tolerance policy on drugs, harsh prison sentences and notoriously corrupt police officers it's a wonder why anyone would even consider drugs here.
Hopefully these few tips will make your next vacation in Phuket more enjoyable and easier on your bank account! Once you visit this beautiful island, the pearl of the Andaman, its hard to leave and you'll be thinking about it for a good long time after you're back home. I know it definitely left its mark on me and I can't wait to return yet again.