Vintage fans, trendy clothes, handmade bags and even puppies – after months of wanting to go to this market, Bangkok's Talat Rot Fai (also known as Dalat Rot Fai) did not disappoint. In fact, it kind of blew me away as the second largest market I've seen after Bangkok's massive weekend Chatuchak Market.
Also read: 5 Must-Visit Markets in Bangkok
What started out as a small weekend gathering has turned into an impressive display of permanent, brick and mortar shops and cafes, along with a mess of stalls, tents and even pop up bars. Talat Rot Fai, which translates to 'Train Market', was originally situated around abandoned train tracks near Chatuchak Market and Mo Chit Bus Station but this year it moved to a new, more developed location southeast of the city centre near Seacon Square shopping centre (locals and taxi drivers will know where this is, though many foreigners probably haven't heard of it). While part of Talat Rot Fai's initial draw was the out of the way, intimate setting, the new location (directions on how to get to the new location are listed below) is still full of character, interesting people and quirky goods. Basically, everything is asking to be Instagram-ed.
Also read: Incredible! This Train Runs Directly Through a Wet Market
The area is so large that after turning off the main road, you walk through rows of shop spaces before actually reaching the central market area. From there, it seems to fan out with several different sections including multiple shop buildings, eating areas and bars, more stalls, and even people displaying their products out on the ground or table flea market-style.
Also read: 5 Must-Try Food Places in Bangkok
Everywhere you look there are shops, tents, food and people – lots of people. And most of them seem to be under the age of 25. You won't see many Beer Chang tank tops or traveller harem pants here. Instead you'll get a look at what's actually popular and trendy in Thailand.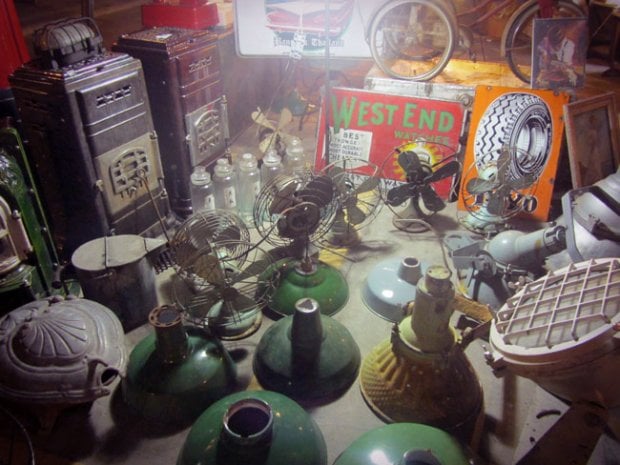 Along with the hipster-y vibe and eclectic mix of goods, the market draws people in by simply being a place to hangout. There are several sit-down coffee shops, cafes and bars making it a unique place to spend a Friday or Saturday night.
Also read: No More Curfew! 8 Things to Do at Night in Thailand
Talat Rot Fai's new location
Talat Rot Fai is now located slightly southwest of Bangkok's city centre close to Seacon Square shopping centre on Srinakarin Road (sometimes spelled Srinagarindra Road) in the Prawet District. Talat ROT FAI IS NO LONGER NEAR CHATUCHAK MARKET. If you're facing the front of Seacon Square on Srinakarin Road, the entrance to Talat Rot Fai is on the right hand side. Turn left at the orange sign and follow the crowds. When you're done, come back out to this point to hail a taxi.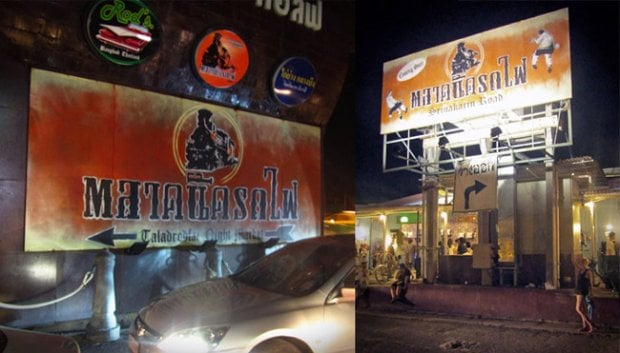 How to get there
Talat Rot Fai's new location is away from the centre of town where many travellers stay. While there are a couple of BTS stations relatively close to the market, you will still need to get a taxi to take you the rest of the way. With that in mind, it's easier to just get a cab for the entire trip. A taxi from the centre of town at Chit Lom BTS Station straight to the market was THB 140 (less than SGD 5). It took about 30 minutes to get there and about an hour to get back to the hotel since it was 11:00 p.m. on a Saturday night.
If you want to take the Sky Train and then grab a taxi, get off at On Nut or Udom Station. A taxi from there to the market will cost about THB 60 (approx. SGD 2.4). If you're by yourself, you might save a few extra baht but if you're going with others. It will probably be cheaper to just split the cab fare. The area around the market and Seacon Square tends to get backed up and our driver let us out on the opposite side of the road from the market where there's a pedestrian overpass to cross the eight lanes of traffic.
Also read: To Tuktuk, Taxi, BTS or Bus When Getting Around Bangkok?
When to go
Talat Rot Fai's plaza area with permanent shops and additional market area with stalls, etc. are open Thursday through Sunday. Opening hours are 5:00 p.m. – 1:00 a.m. I went to the market around 8:00 p.m. on a Saturday and things were in full swing. When I left around 10:00 p.m. people were still pouring in. (Note: These times are accurate as of July 2014)
Also read: Extremely Useful Bangkok Travel Guide
What to do
Eat, wander and just hang out. There was so. much. food. From quick snack stalls for grabbing something while you walk, to coffee shops and bars. Even if you're not a big shopper, or Thai teenager, it's a great place to explore and people-watch. Just wandering around, expect to spend at least a couple of hours.
Also read: 15 Delicious Street Food in Bangkok
More Info
You can find Talat Rot Fai on Facebook. The Page is all in Thai, but there are numbers you can call for more information.
Need more market suggestions in Bangkok? Check out the top 5 markets I always recommend!
Contributed by Paper Planes.