Contributed by Will Fly for Food
The prospect of eating our way through a culinary city like Hong Kong was exciting enough.  But when we found out that Michelin Hong Kong added a street food section to their guide for the first time ever, it took our excitement to a whole new level.
We do enjoy fine dining from time to time but street food is our absolute favourite thing to eat when travelling.  It's honest, it's unpretentious, it tells us a lot about the culture, and best of all, it's cheap.  So when a respected body like the Michelin Guide recommends street food stalls in a serious food city like Hong Kong, there's only one thing to do.  You try them all, which is exactly what we did.
Also read: Food Guide: 12 Great Places We Ate in Hong Kong
23 is too many for most people to visit so we've narrowed it down to our favourites.  If you love food and are planning on visiting Hong Kong soon, then these are 8 street food stalls you cannot miss.
1. Cheung Hing Kee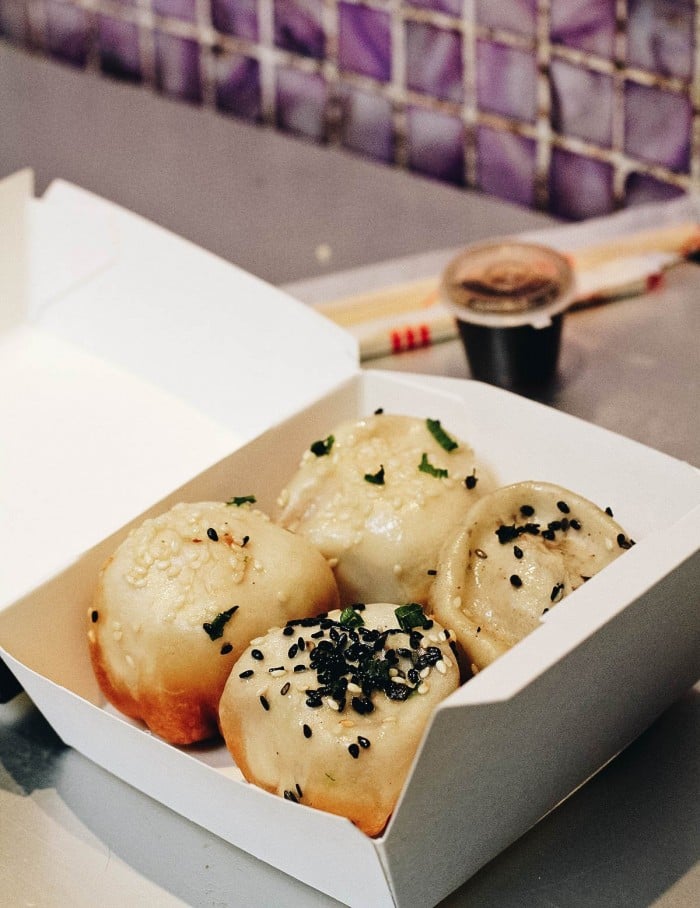 You've probably heard of xiao long bao — those wonderful soup-filled dumplings popularised by restaurants like Din Tai Fung — but have you ever tried sheng jian bao?  Like their more famous counterparts, sheng jian bao are Shanghainese pork and soup dumplings but with a thicker coating and charred, crispy bottoms.  Cheung Hing Kee serves a version made with black truffles.  Oh my.
Address:  48 Lock Road, Tsim Sha Tsui
2. Fat Boy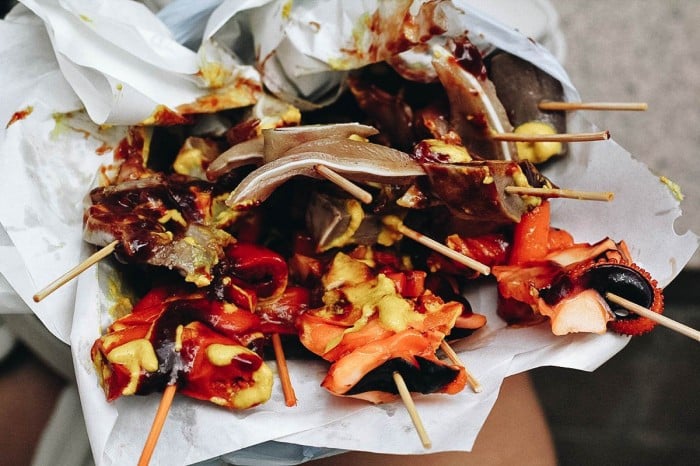 The best street food, in my opinion, should be as easy to eat as it is yummy.  That's exactly what Fat Boy gives you with their tasty skewers of soy-marinated beef tongue, octopus, gizzard, pig intestines, and duck stomach.  Drizzled with spicy horseradish, that's an offal-y delicious lineup of street food.
Address:  Shop G1, G/F, Workingport Commercial Building, 3 Hau Fook Street, Tsim Sha Tsui
Also read: 6 Unique Things To Do In Hong Kong
3. Mammy Pancake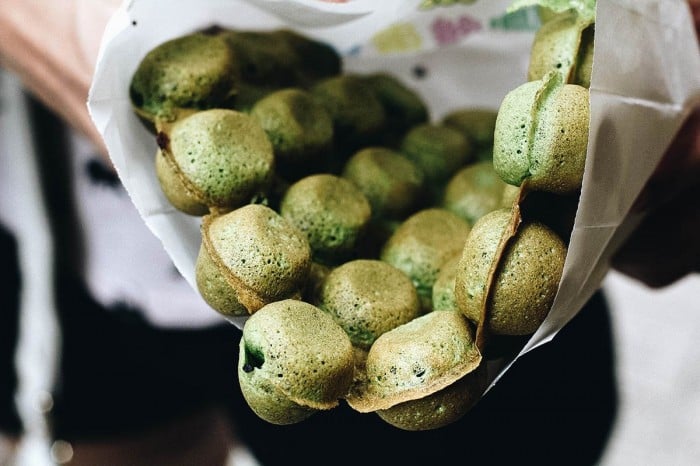 To be honest, I was surprised to find two egg waffle stalls on the Michelin Guide.  After all, how hard is it to make egg waffles?  I didn't think Mammy Pancake's would be that much better than the average egg waffle but I was wrong.  It's all about the texture.  Crisp on the outside but light and pillowy on the inside, these egg waffles were clearly a cut above the rest.  The other stall in the guide was great too but Mammy Pancake gets bonus points for serving fun flavours like green tea and coffee.
Address:  8-12 Carnarvon Road, Tsim Sha Tsui
4. Joyful Dessert House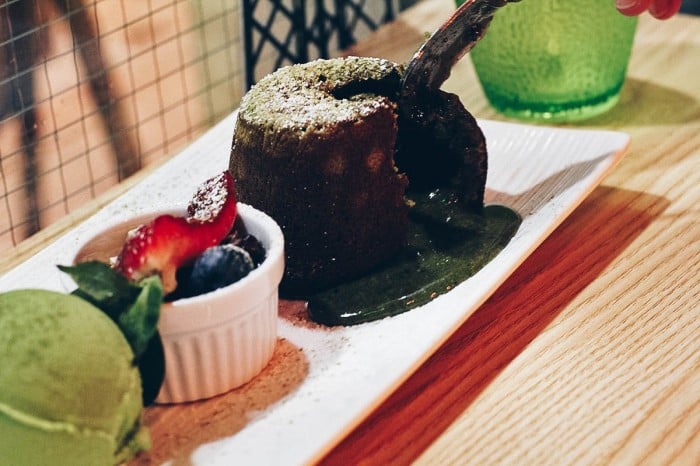 Joyful Dessert House is tucked away in a side street in Mongkok, making it an ideal pit stop for shop-weary tourists.  Boasting three Michelin-recommended desserts on their menu, their matcha lava cake is oozing with deliciousness.  Served with a side of green tea ice cream and fresh berries, it's to die for.
Address:  Shop 2 & 3, G/F.74 Hak Po Steet, Mongkok
5. Block 18 Doggie's Noodle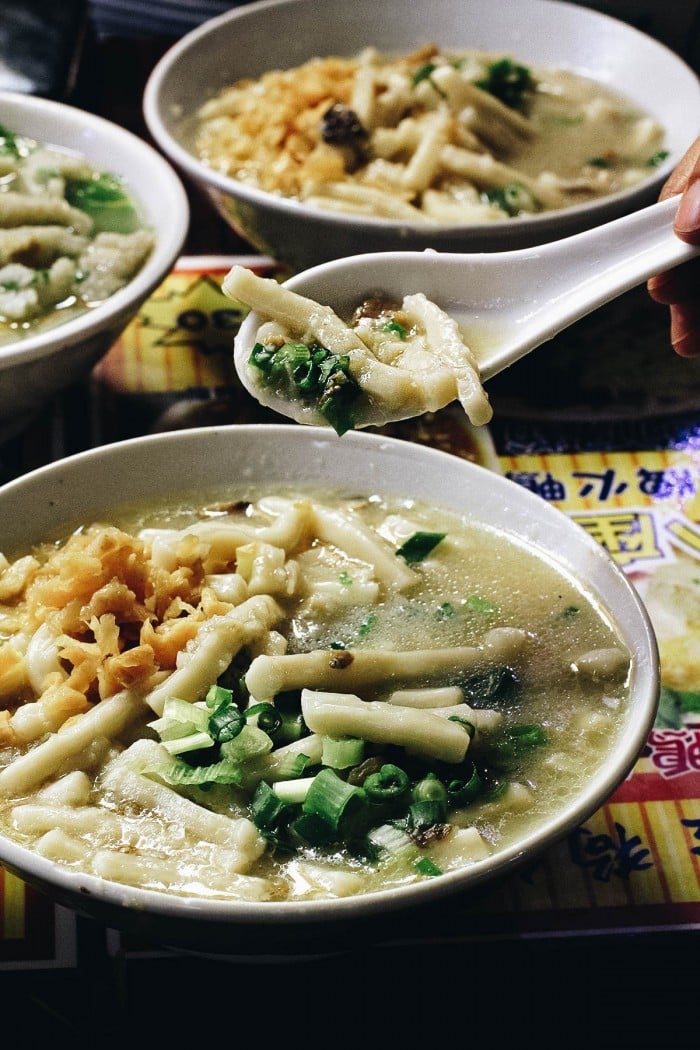 If you're planning on visiting the Temple Street Night Market, then this 24-hr food stall is the perfect place for a midnight snack.  They're known for these bowls of springy noodles made with shrimp, mushroom, dried radish, and fried pork fat.  The noodles have a wonderful texture and the bits of pork fat are like little flavour bombs in your mouth.
Address:  27A Ning Po Street, Jordan
6. Butcher's Club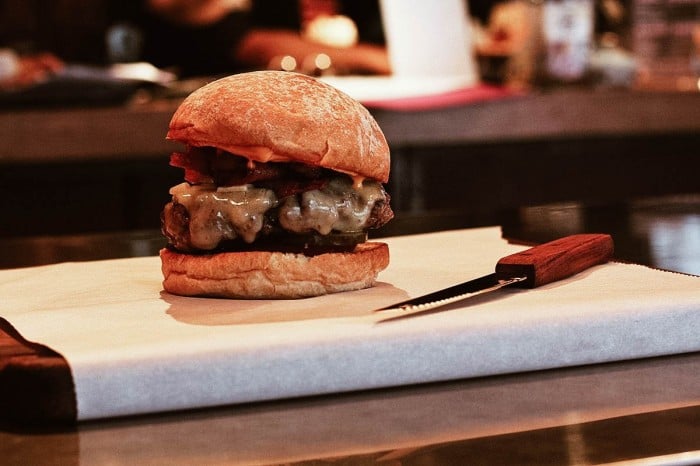 Burgers are my favourite comfort food so I was pleased to find one burger joint on the list.  Butcher's Club makes their burgers with dry-aged Black Angus beef from Australia.  They're so juicy and delicious.
Address:  G/F, Rialto Building, 2 Landale St, Wan Chai
7. Hop Yik Tai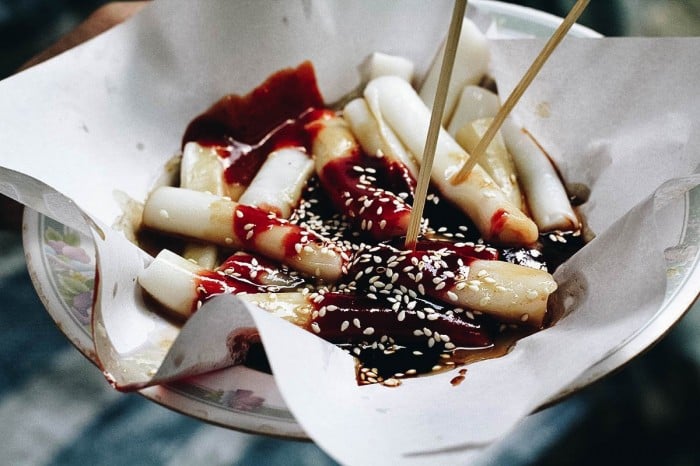 I've never had cheung fun before so I was excited to try them at Hop Yik Tai.  Cheung fun are slippery rice rolls served with a sweet savoury sauce and sprinkled with sesame seeds.  They have a wonderful springy smooth texture that's unlike anything I've ever had.  We had cheung fun at another place during our trip and the rolls at Hop Yik Tai were clearly superior.
Address:  121 Kweilin St, Sham Shui Po
8. Chin Sik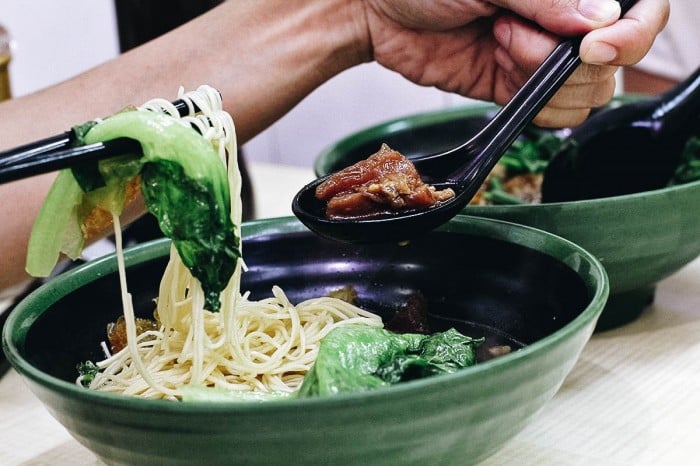 If you like Hong Kong cart noodles, then Chin Sik is the place to go.  You choose what type of noodle you want then have them top it with all kinds of delicious things like dumplings, fish balls, chicken feet, and pig intestines.  We tried cart noodles at other places as well but the offerings at Chin Sik tasted so clean.  I recommend throwing in some pig skin as well for texture.
Address:  49 Shiu Wo Street, Tsuen Wan
Also read: Top 10 Reasons You Need to Visit Hong Kong
Many tourists who come to Hong Kong either stay in Tsim Sha Tsui or visit the area at some point to go shopping.  By coincidence, three of our favourite street food stalls are in Tsim Sha Tsui — Cheung Hing Kee, Fat Boy, and Mammy Pancake.  If you don't have time to go to all 8 on this list, then you'd be happy visiting just those 3.
However, if you're as food-crazed as we are, then I challenge you to try all 23.  You can check out the complete list on our Michelin Hong Kong Street Food Guide.
Happy traveleating!