The very first time I set foot on the Pearl of the Orient, I fell deeply in love with it. The stunning skyline where a mix of skyscrapers and historical structures meet; the bustling city life where traditional practices are weaved into each local's daily life; the wide variety of cuisines for you to choose from – what's there not to love? In fact, I'm already mentally planning for my next trip to Hong Kong [fzPrice]hkg[/fzPrice] already, and here are 10 reasons why you should head there too!
1. For the Love of Dim Sum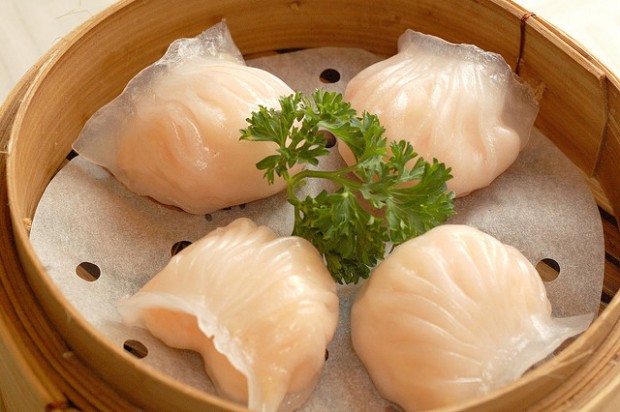 Image Credit: Kevin
There's perhaps no better way to start the list than with Hong Kong's iconic food culture. The time-honoured Cantonese cuisine is enjoyed by many around the world today. Dim Sum refers to small bites that are usually steamed in bamboo steamer baskets or fried till golden brown; best washed down with a pot of traditional Chinese tea. Over time, an extensive selection of Dim Sums found its way to the hearts of many.
Being in Hong Kong is akin to being in the land of Dim Sum. Stepping into a Dim Sum house gives me the excitement tingles because I drool when I think of Char Siew Sou (a flaky Chinese pastry with a sweet and savoury barbecue pork filling), Har Gao (a gratifying bite-size prawn dumpling held together by 'crystal' skin) and Siew Mai (juicy minced meat and prawn dumpling wrapped around with wanton skin and steamed to perfection) and the many other Dim Sums one can enjoy. The best part is perhaps the ability to devour a variety of items (since they are all bite-size) as you order for second portions with your dining companions as you gingerly sip hot tea and be happy.
Also Read: Hong Kong Bucket List: 20 Things Every Traveller Must Do
2. For Central-Mid-Levels Escalator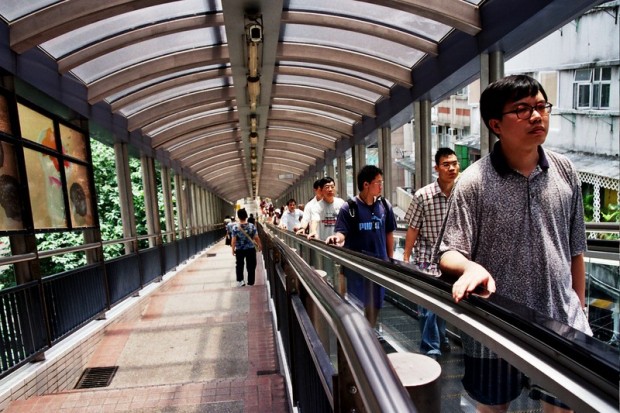 Image Credit: Ian and Wendy Sewell
Spanning more than 800 metres to connect the western district with Central, the Central-Mid-Levels Escalator is the world's longest escalator and walkway system.
Aside from being a commune option for thousands of people each day, this striking structure has also appeared in major films such as ChungKing Express back in 1994 and The Dark Knight in 2008. Taking a little trip on the Central-Mid-Levels Escalator would bring you through little bars, restaurants and cafés, so feel free to 'hop off' and head into an interesting establishment for some spontaneous fun!
3. For Tsim Sha Tsui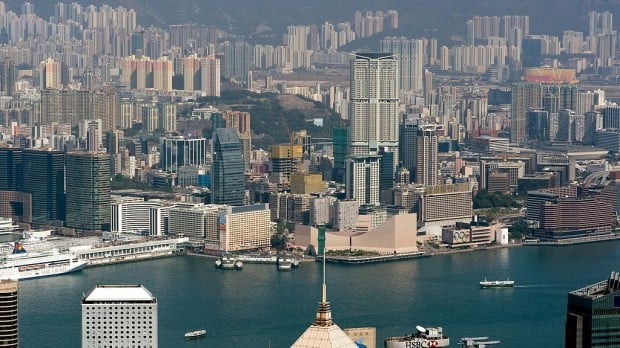 Image Credit: WiNG
Tsim Sha Tsui is flocked with tourists – and there is every reason to do that. Firstly there's Harbour City, Hong Kong's largest shopping mall and Heritage 1881 shopping mall that will not disappoint every shopaholic. Standing proudly at this district are also Hong Kong Museum of Art, Hong Kong Cultural Centre and Hong Kong Space Museum, all of which would give you a more artistic and cultural insight of the country's significant milestones.
Aside to being an entertainment hub and lifestyle district, Tsim Sha Tsui also houses Victoria's Harbour, which gives you a breathtaking scenic view of Hong Kong's skyline. Head there in the evening and see the skyscrapers lit up the skylines as the evening Harbour Cruise sail across the seas. The Symphony of Lights, a 13 minutes lights and sounds show, airs at 8pm every evening; after which you can head for a delightful dinner in the area!
4. For Nightlife at Lan Kwai Fong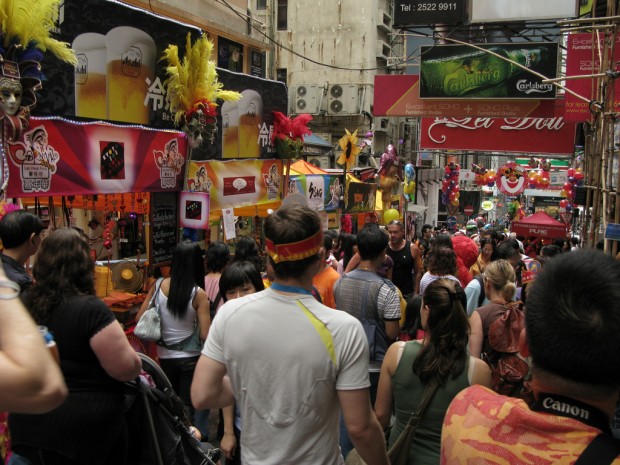 Image Credit: Chika Watanabe
Every country's got a destination for nightlife and in Hong Kong, that will be Lan Kwai Fong.
Conveniently situated near the Central Business District, Lan Kwai Fong is teeming with bars and clubs for you to grab a few pints and/or party the night away. This iconic location is a popular entertainment hub for locals and tourists alike, and is one of the trendiest places in town. There's always a lively party vibe at Lan Kwai Fong, and everyone just seem to be light hearted. Even if you're not very much into drinking and dancing, do take a little walk around this area and immerse yourself in the glamour of the district.
5. For Street Food Like No Other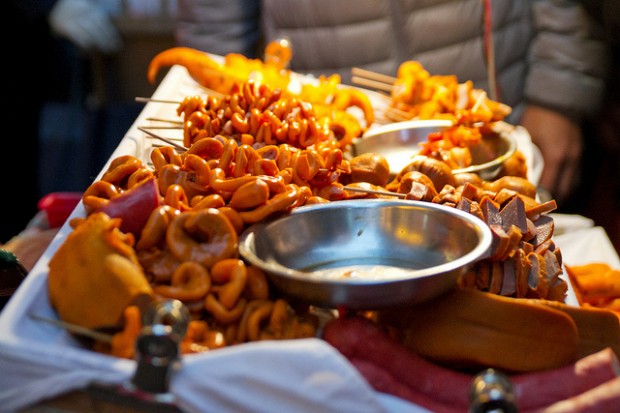 Image Credit: Robyn Lee
Hong Kong's street food scene is really exciting. From curry fish balls to egglets (crisp and fluffy waffles) and everything else in between, Hong Kong's vibrant food scene has something to suit every taste.
While note exactly a street food, Hong Kong is also teeming with many Cha Chaan Tengs – little eateries that serves you a traditional Hong Kong-style breakfast. Different Cha Chaan Tengs may specialise in different dishes, but a bowl of macaroni and ham or wanton noodles (prawn dumpling noodles) with a side of po lo bun (pineapple bun. Note: it is named so because the appearance makes it look like a pineapple when in fact, it is a simple delight of soft bun topped with a sugary crust with a satisfying slab of butter in the middle) might become your favourite way to begin the day.
There are also many bakeries around that you can easily go into to enjoy an egg tart or a variety of baked goods at really reasonable prices – so feel free to indulge in a little during your trip!
6. For Disneyland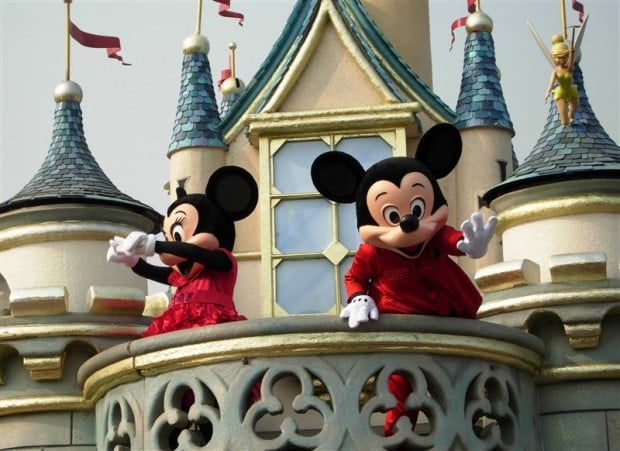 Image Credit: Xiquinho Silva
This is the happiest place on earth – need I elaborate?
Hong Kong Disneyland will always have a special place in my heart because this is where I rode my first roller coaster (hey, don't judge – I just have an irrational fear of heights), had the most delicious churros and Mickey Mouse waffles to warm myself up at the 12 degrees Celsius weather, caught the Disney Parade and watched the most spectacular fireworks tell classic Disney stories.
Personally, I think that this is one of those places that adults can embrace their inner child at for a day, and there's nothing more heartwarming than being surrounded by characters in your childhood stories. Little tip: bring along the park map to better navigate through the various lands to meet your favourite cartoon characters and use the 'FastPass' wisely!
Also Read: Hong Kong Disneyland: Magic for the Whole Family
7. For Ocean Park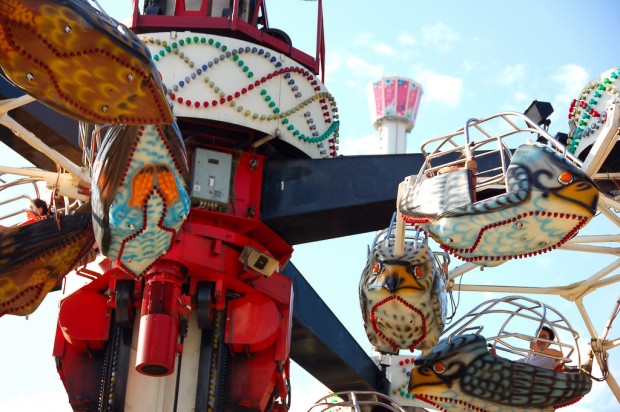 Image Credit: Justin Gaurav Murgai
There's more than it meets the eye at Ocean Park. Aside to the wonderous marine life at various exhibitions that will leave you wide-eyed, the 915,000 square meters park is also one of the most thrilling theme parks in Asia. Fancy riding a 'Mine Cars' roller coaster that charges down the steep hills along the edge of the cliff, or spin in the air at the speed of 60km/h on 'The Flash'? Ocean Park's got it covered.
The many attractions of Ocean Park is also spilt into several areas, but the most exciting rides are concentrated at Thrill Mountains and Adventureland. For those travelling for a more educational purpose, then work your way from the entrance through Aqua City, Amazing Asian Animals, Whiskers Harbour, Polar Adventure, Rainforest and down to Marine World.
The Waterfront and Summit (the 2 main 'lands') are also connected by a cable car, or you could opt to take the Ocean Express if you have a fear of heights!
8. For The Peak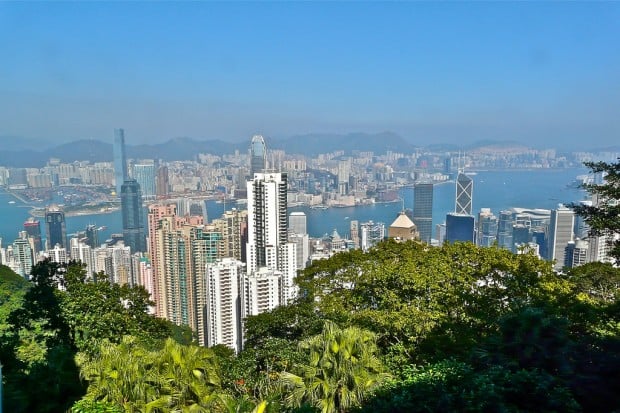 Image Credit: sanfamedia
There's an indescribable feeling when you travel on the Peak Tram and watch the gorgeous view out of the windows as you rise above sea levels. The Peak is one of Hong Kong's most iconic landmarks, where locals and tourists alike head to for a stunning 360 degrees view of Hong Kong's landscape. It gets chilly as it's at the top of the mountain after all, but there is nothing quite like watching the sun rise across the horizons, litting up Hong Kong. Everything seems calmer as you take in the panoramic view, with a cup of hot chocolate in hand to perfect the experience.
9. For Lantau Island
Image Credit: Beth
Hop into a Ngong Ping 360 Cable Car and you'll be on your way to Lantau Island, one of Hong Kong's largest islands. With Tian Tan Buddha, Po Lin Monastery, Wisdom Path and several notable temples, there is a sense of serenity and calmness that inspires one when you take a little trail around the island.
If you're feeling adventurous, then take a trip out to Tai O, a fishing village with many restaurants serving fresh catches of the day. The stilt houses, aside from being a favourite hunt of photographers, also boosts a nostalgic vibe that makes Lantau Island such a great getaway from the city life.
Also Read: Experience the New Hong Kong Observation Wheel
10. For MongKok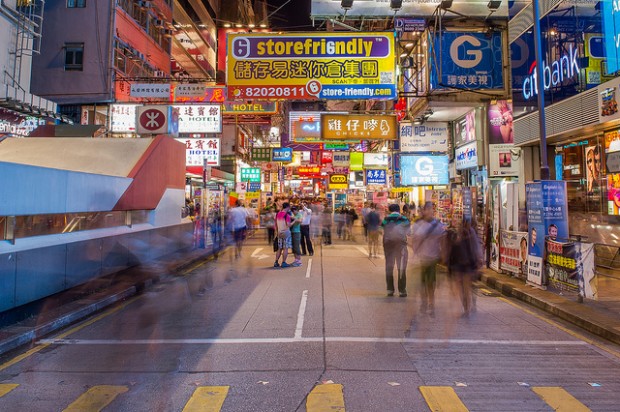 Image Credit: Yu Tung Brian Chan
Everyone who has watched a Hong Kong film at some point, would know Mong Kok. A bustling district decked with little boutiques, street markets, shopping alleys, mahjong houses and some of the local's favourite cha chaan tengs, Mong Kok is where many short-trip goers would congregate at to make the best out of their 3 days 2 nights in Hong Kong.
There's an endless list of places to visit that limiting it within a paragraph would not do any justice, but do take time to walk through the many stalls in Langham Place, Mong Kong Night Market and Fa Yuen Street where you would find great buys at reasonable prices. Feel free to wander into the malls and you might be delighted by what you could find. Whether it's retail, beauty or lifestyle treats, there's something for everyone in Mong Kok!
Be careful though, for a wrong turn might bring you away from the shopping hot spots (use Google Maps to navigate around to make things easier). Anytime you're hungry, grab yourself a street-side treat (also, look out for the soft serve ice cream truck) and you'll be good to go. In the meantime, look out for any street performance that will leave you in awe!
Hong Kong is truly a unique country in Asia, where its modern and historical cultures are weaved together seamlessly. Perhaps this is why I enjoy being in the country so much; for you can easily hop onto their MTR and get away from the hustle and bustle of the city and travel to the great outdoors where breathtaking views await. Now, here are my top 10 reasons to go to Hong Kong – what are yours?