Coconuts are one of the Philippines' largest exports. Not only that, but a lot of foreign tourists treat coconut trees almost like a symbol of the country, as it brims with islands that are dotted with them. But even with the signature coconut trees, the Philippines can still do with many more of these trees throughout its archipelago. That's why the joint plan to plant one million coconut trees by three local organisations is not but welcome news!
Non-profit organisation HOPE and private companies GCash and Century Pacific Food, Inc. (CNPF) are banding together to help plant one million coconut trees in the Mindanao region, specifically South Cotabato and Sarangani, over the next two years. This tree-planting initiative will cover the provinces of Banga, Surallah, Norala, Koronadal, General Santos City, Malungon, Glan, Alabel, Malapatan, Maasim, Kiamba, Maitum, Polomok, Tampakan and Tupi. 
Also read: Could Hanoi in Vietnam Be Another Garden City in the Making?
How the coconut trees will improve PH communities
Needless to say, this project will benefit a lot of people and the environment. This is set to improve the farming productivity and profit of coconut farmers in the program, 40% of whom are women and 60% of whom live below the poverty line. It will also speed the road to carbon neutrality much faster for these Mindanao provinces.
According to CNPF Vice President, Noel Tempongko, "The program enables us to boost the livelihoods of the coconut farming community in Mindanao and at the same time improve coconut farming productivity and quality of supply, which are all beneficial to our growing coconut business. This also accelerates our journey towards carbon neutrality." The initial projection indicates that the coconut project will eradicate 416,680 metric tons of greenhouse gas emissions too. 
GCash users are encouraged to participate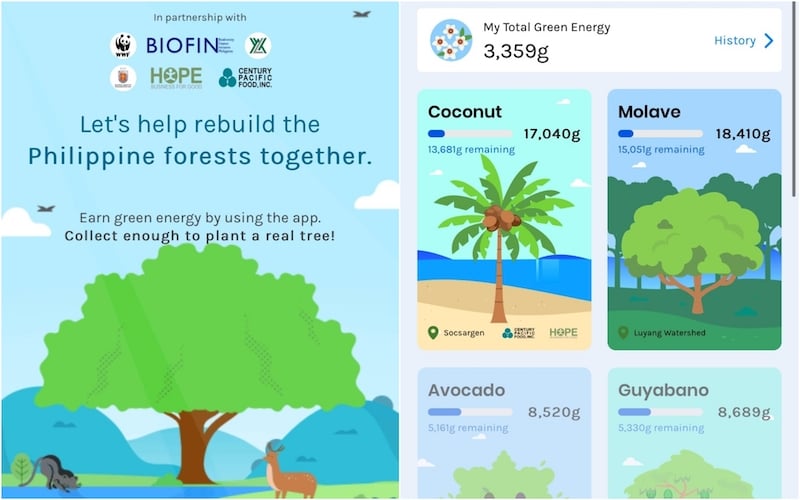 GCash is one of the most common mobile wallets in the Philippines, and its users can play a huge part in planting one million trees in Mindanao. The app has launched a GForest feature that allows users to accumulate "green energy" every time they use different GCash services. According to the app, users need to collect 17,040g of "green energy" for every coconut tree they want to plant. For every virtual tree planted, GCash, HOPE, and CNPF will plant a real coconut tree in Mindanao. The app also indicates the Mindanao province benefiting from the user's participation. 
Also read: Spain Will Plant Half a Million Trees Around Madrid to Lower Heat Levels
The road to a greener Philippines starts with initiatives like this. We look forward to seeing the outcome of another meaningful collaboration by the country's NGOs and private sector. With all that said, when was the last time you tasted authentic, chilled Philippine coconut? We're craving for some as we speak!
---
Featured image credit: Roxanne De La Peña | Unsplash