India is truly every hiker's paradise. Covering a great number of hiking trails in the Himalayas, India rewards every hiker with glorious views of snow-capped mountain peaks, lush meadows, gushing streams and waterfalls, high altitude glaciers, and amazing variety of flora and fauna.
Do not worry if you're not a hardcore mountaineer, India offers quite a number of trails, from easy to tough and challenging levels of difficulty. Here, let me show you to some of India's most scenic hiking trails.
1. Stok Kangri Summit or Markha Valley, Ladakh, Jammu and Kashmir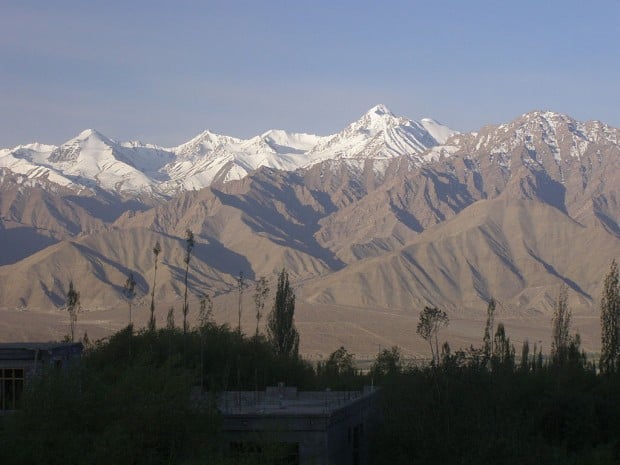 Image credit: DanHobley
Many long and short trekking trails start from Leh-Ladakh district. The Stok Kangri trek is the most challenging of these trails in Ladakh, but, definitely the best of all. Stok Kangri, at 6,153 metres, is the highest trekking point of India, which is almost 70% of Mount Everest. Though not an easy thing to achieve, this trek, from every corner is glamorous and awesome. The most challenging part of this trek is the thin air. Most people return from the base camp without even attempting to climb the peak.
At least 3-4 days of acclimatisation is recommended, and a very good fitness and prior experience in high altitude treks are a must. The route takes you via the Stok Village, which in itself is very beautiful. The clear views of Ladakh Range, Zanskar Range, Indus-Markha Valley and the city of Leh are a feast for the eyes.
The period from July to September is the best season to attempt this trek, and the duration varies from 9 days to 10 days. You will cover an approximate distance of about 40 kilometres in this stunning Stok Kangri Trek, and hikers from all over the world come to this place to experience the beauty of nature, so abundantly available all throughout the trekking trail.
Also read: 12 Hiking Trails So Picturesque You Won't Believe They Exist
2. Roopkund, Uttarakhand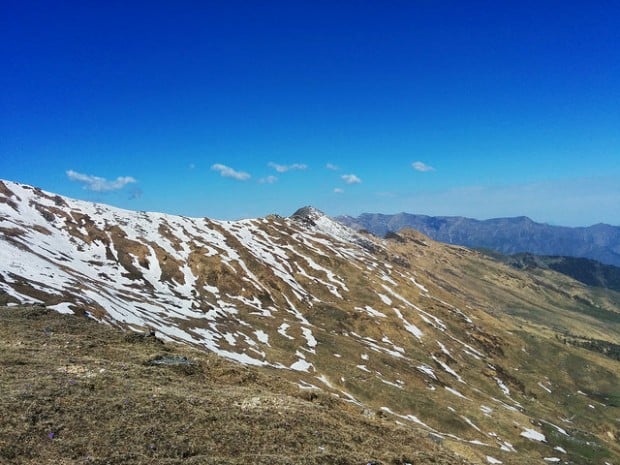 Image credit: Abhijith Shastry
Roopkund Trek is probably the most popular trek in the Himalayas. Roopkund is a mountain lake lying in the Garhwal Himalayas in the Chamoli District of Uttarakhand. The lake is also nicknamed as 'The Mystery Lake' or the 'Skeletal Lake', as several human skeletons are found scattered in and around the lake. This high altitude lake remains covered with snow all the year round. The weird lake receives many visitors every year as Roopkund trek is hugely popular with trekkers and adventure lovers, and many people attempt this trek throughout the trekking season.
This trek is of moderate difficulty level and it takes around 8 to 9 days to complete the entire route. This trek provides all that trekkers wish for; from snow-capped peaks to forests, meadows, lakes and folklore, this trek of about 53 kilometres gives you all.  
With a maximum altitude of 15,696 ft, the best season to attempt Roopkund Trek is from mid-May to mid-June, and September to November and December. The pure air, poignant greens, clear blue sky, pristine and mysterious Roopkund Lake, cheerful and rapid mountain stream, huge green meadows and the golden glow on snow-covered peaks of Trishul, Nandaghungti and Choukhamba, among others, will rejuvenate you!
3. Great Lakes, Jammu and Kashmir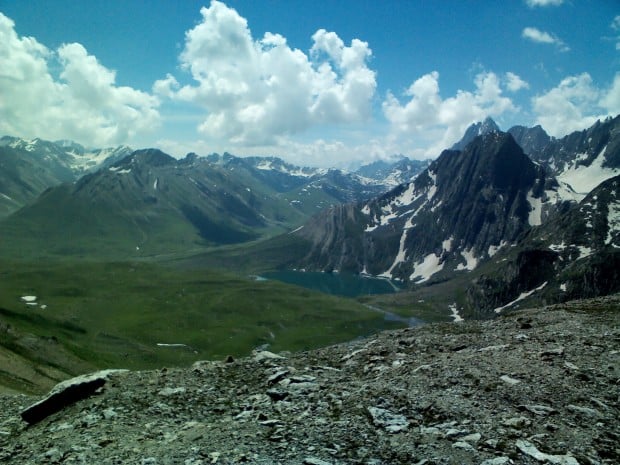 Image credit: Mehrajmir13
The saying about Kashmir, "If there is Heaven on Earth, it is here, it is here, it is here", made popular long back, still stands strong and unfailing in this land of unearthly beauty. Kashmir is the most beautiful and most ideal place for trekking. The Great Lakes Trek in Kashmir is considered to be the most scenic and picturesque trek.
This is a seven day expedition, with Srinagar as the starting point and Naranag as the end. The best time to enjoy this moderately difficult trek is from June to August, as the route is lush green and covered with beautiful flowers.
The maximum altitude one reaches in this trek is 13,750 ft. The beautiful peaks of Sirbal, Kolhoi, Amarnath, Machoi will accompany you during the first few days of trek. Later, you will enjoy the captivating view of Mount Haramukh. The lakes you will cover in the route are Vishansar Lake, a huge lake nestled between four mountains; Krishansar Lake and Vishansar Lake, long stretch of twin lakes; a mindblowing site of seven mountain lakes will cross your path as you trek towards Satsar; then, trek towards the twin lakes of Gangabal, and lastly towards a village called Naranag.
Colourful meadows, gushing waterfalls, stunning snow-covered peaks and mountain passes will make your trek an unforgettable experience.
Also read: 10 Easy Hiking Trails in Asia for Beginners
4. Hemkund and Valley of Flowers, Garhwal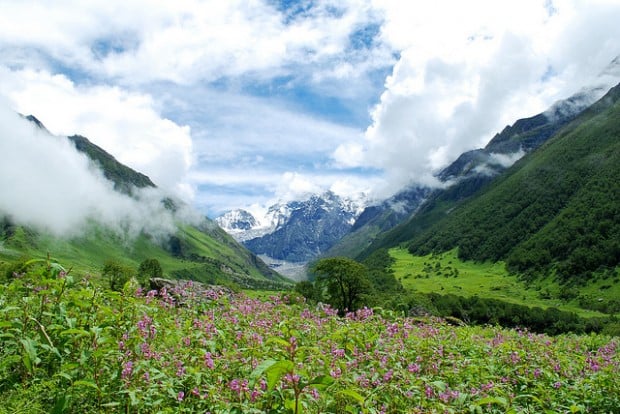 Image credit: Alosh Bennett
Valley of Flowers trek is a trek through a fairy-land in the Himalayas of Uttaranchal, at an altitude of 3,600 metres above sea-level. The best time to visit this valley is just after the monsoon season, in the months of July, August and early September, as this valley remains fully covered with snow in the winter months. But during autumn and spring, there is a riot of colours and scents on this field with hundreds of varieties of flowers in hues of purple, yellow, white, pink blossom. You can see a carpet of flowers well protected by the snow-clad white peaks all around. Many flowers like Brahmakamal, the Blue Poppy, Geraniums and the Cobra Lily cover up the valley, making it a heavenly site.
Flower lovers, nature enthusiasts, botanists and trekkers alike flock to the valley every year to celebrate the blossoms. This is a trek with moderate difficulty level and takes around 6 to 7 days to complete. Several waterfalls and lakes like the Hemkund Sahib Lake, which is surrounded by seven snow-clad peaks, make for a scenic sight.
5. Zanskar Frozen River, Ladakh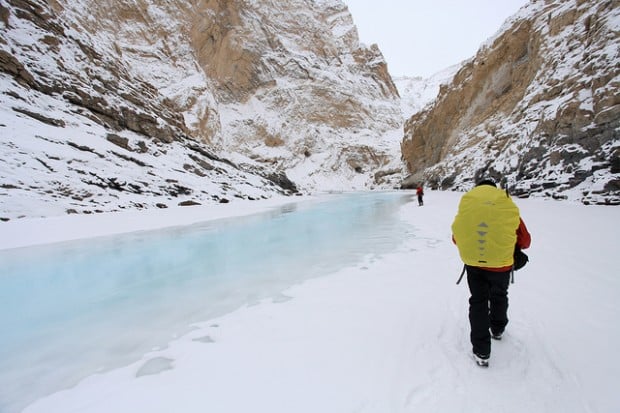 Image credit: Partha Chowdhury
The Zanskar frozen river trek is one of the most challenging treks in this region. During summer, Zanskar River is a swift flowing river, but during the winter months, the river freezes down. It serves as the only passage to the main valley, as heavy snowfall cuts off the entire region from the rest of the world. Thousands of trekkers take part in the trekking expedition during this time to experience the beautiful frozen river, whirling through deep passages with snow-clad peaks all around.
Popularly known as 'Chadar Trek' due to the formation of a thick blanket of ice on the Zanskar River, this trek is very difficult to complete. It is tricky at times when snow thickets drift away from beneath the feet and the only way to complete the route during such a situation is to climb through the snowy rocks and boulders beside the river.
This trek is one of the most challenging treks and takes around 8-9 days to cover a total distance of about 105 kilometres. The temperature during the night reaches at around -25 to -35 degrees, which also makes this trek very inhospitable for humans. Experienced guides and proper trekking kit along with good physical fitness and experience in high altitude trekking, are a must before attempting this trek.
6. Dzongri & Goecha-La, Sikkim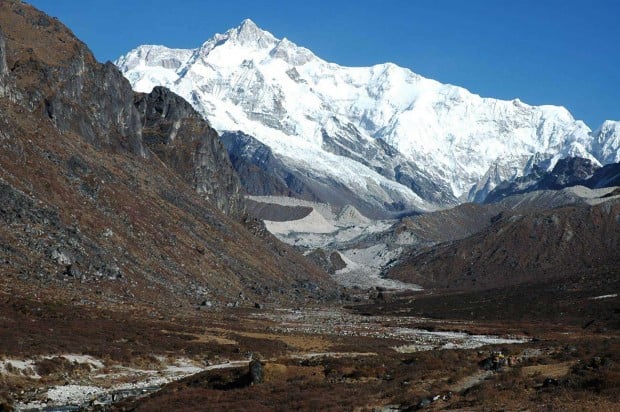 Image credit: Carsten.nebel
Goecha – La is the most stunning trek in Sikkim. The route takes you through the Kanchenjunga National Park, covering beautiful tropical coniferous woodlands and an array of colourful flora and fauna. You can also find various lush orchids, Himalayan bears, multi-coloured pheasants and other beautiful birds.
The trek starts from the sleepy town of Yuksum and through Sachen Pass, up the Dzongri- Goechala Trail. The most stunning of all Himalayan peaks, Mt. Kanchenjunga graces the trek route throughout.
This trek is a moderate one, with a total trekking distance of 90 kilometres and the maximum altitude of 16,000 ft. Experience magnificent views of Himalayan peaks like Black Kabru, Pandim, Kabru North, Kabru Dome and many other peaks. The Samiti Lake, which comes en route to Goecha-La, also makes for a stunning sight. This trek is very popular in the months of September, October and April–May, as the forests are covered with orchids and Rhododendron flowers of various shapes and colours.
7. Pin Parvati Pass, Himachal Pradesh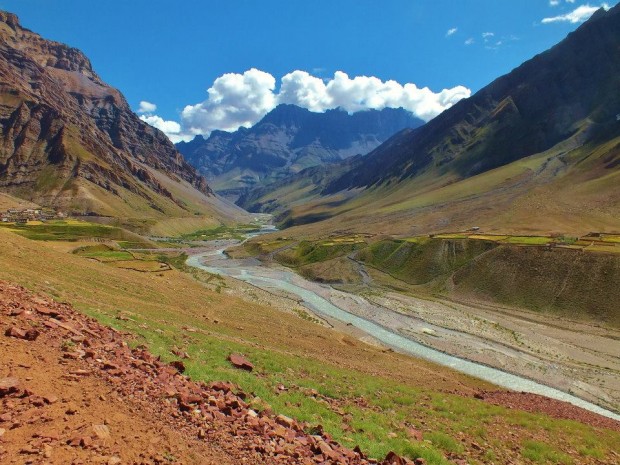 Image credit: pinparvatipass.com
Himachal Pradesh is blessed with Pin Parvati Pass with an amazing view of natural scenic beauty in the icy mountain ranges of the Western Himalayas. Trekking at an altitude of 5,319 metres and covering a total distance of approximately 110 kilometres, the Pin Parvati Pass is a great trekking experience for seasoned trekkers. This trek is definitely not for beginners as it falls under the most difficult treks in the Himalayan Region. A few travel operators organise this challenging trek. You can check Pin Parvati trek with Bikat Adventures here.
The name Pin Parvati Pass is derived after the linking of Parvati valley in Kullu and Pin valley in Spiti. The trek takes around 11 days to complete. Hiking through spectacular lakes, thick alpine forest, wild colourful flowers, wide glacier crests, lush greenery and grazing land with unusual natural rocky bridges, is truly an unforgettable experience for trekkers.
Also read: 10 Hiking Tips to Always Keep in Mind
8. Nanda Devi East Base Camp and Milam Glacier, Kumaon Himalayas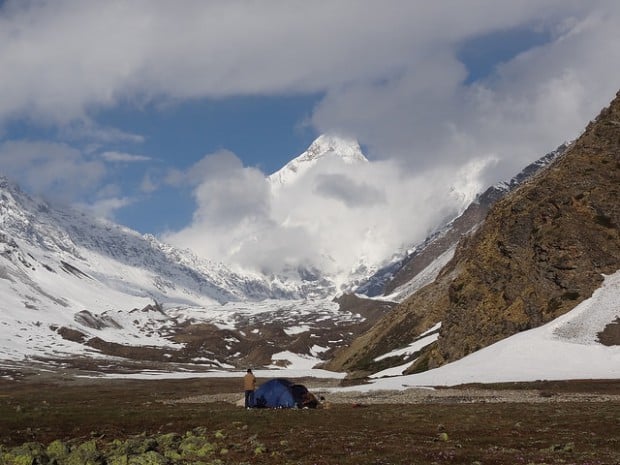 Image credit: deeltijdgod
This glamorous trek up to the base camp of east Nanda Devi peak begins at the famous hill station, Munsiyari, followed by a trip to Milam Glacier. This trek takes you through Mapang, Martoli, Ghanghar and ultimately to Panchu.
An Alpine meadow laden with blooming pink and white rhododendron bushes, stretches of glacial ice, and the massive Nanda Devi mountain looming in front, make for an amazing scenery. If lucky, you may also catch a glimpse of the blue sheep, which is said to have been sighted in this region. The north faces of Nanda Devi peaks, Trishul and Panchchuli, as seen from the Milam Glacier give awesome images of the Himalayas.
This magnificent trek is of moderate to tough difficulty level, and takes around 11 days to complete. Maximum elevated point is Milam at 4,000 metres above sea level. The months of May, June, September and October are best for this trek.
9. Gomukh Tapovan, Garhwal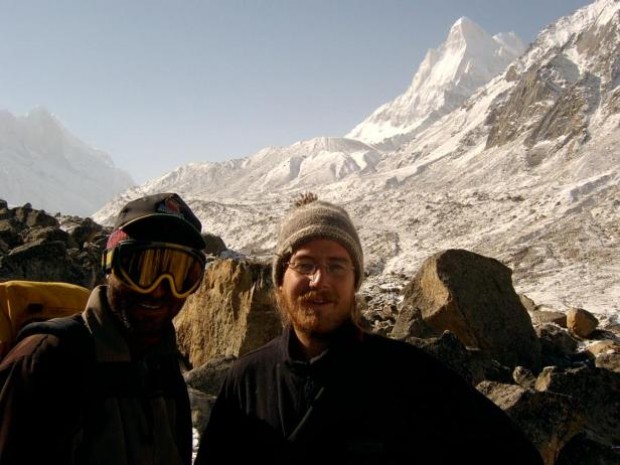 Image credit: Mark O'S
The Gomukh Tapovan Trek in the Garhwal Himalayas of Uttarakhand is a moderate to difficult trek. The trek takes good 12 days in the rugged terrains of Himalayan Region with a maximum altitude is 4,463 metres. The best months for this trek are from May to June, and from August to mid-October.
Gomukh, in the Gangotri Glacier, is basically the source of the most sacred river of the Hindus, the Ganges. The glacier is about 30 kilometres long and surrounded by several peaks of the Gangotri group of Mountains. The highest peak of this group of mountains is the Chaukhamba Mountain, which offers a stunning view during this trek. Other peaks include Shivling, Thalay Sagar, Meru, and Bhagirathi III.
From Gomukh Glacier, a steep ascent crossing takes you to one of the finest high altitude alpine meadows in the area, Tapovan. This trek from Gomukh to Tapovan is difficult, but, nature offers the most stunning view in this route, as you trek to the base camp of Shivling Peak. The other peaks become clearer and appear at a stone's throw distance. Innumerous streams of water, lush alpine forests, herds of blue mountain goats, clear view of Bhagirathi I, II, III (6,454 metres), and the beauty of the Kriti & Meru Glacier will give your heart a tranquility never to be erased.
10. Hampta Pass, Himachal Pradesh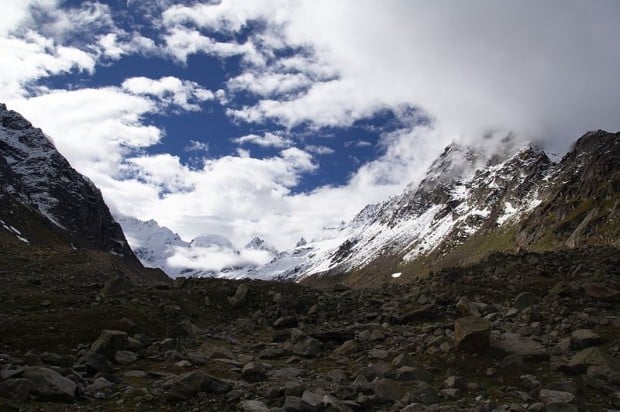 Image credit: Raja Selvaraj
Hapta Pass trek is considered to be one of the easiest among the treks in the Himalayas. This attracts beginners who wants to explore the high altitude Himalayan trekking experience. This relatively short trek of four days is, however, extremely beautiful and relaxing. The maximum altitude is 14,100 ft and covers a total distance of 26 kilometres.
Scenic landscapes, open green pastures and meadows, glacial valleys, easy access and an exceptional, adventurous and hair raising crossing of the pass make this trekking expedition an exciting one. Another day is often added to this trek to visit the magnificent Chandratal Lake, a high altitude alpine lake few hours from Chatru. The best months to trek are May to June and August through October.
Aren't you excited to start your hiking journey in India [fzPrice]India[/fzPrice]? If you can recommend more breathtaking trails in India, feel free to drop them in the comment box below.