After figuring out whether the Gili islands are for you, now it's time to find out how to get to these islands!

There are two ways of getting from Bali to Gili Trawangan. To put it simply, there's Option 1 – Via a fast boat, or Option 2 – Via a domestic flight to Lombok and then a speed boat. The difference is that the latter takes a much longer time, but the time spent on the water is just 15 mins, compared to the duration of the former, which takes a minimum of 1.5 hours.
I'd suggest that you pick Option 1, because it's much more convenient and affordable. With Option 2, it took us about five hours (dinner inclusive) to get to Gili Trawangan via the domestic flight to Lombok. I'll share more about the routes below.
Option 1: Getting from Bali to Gili Trawangan via fast boat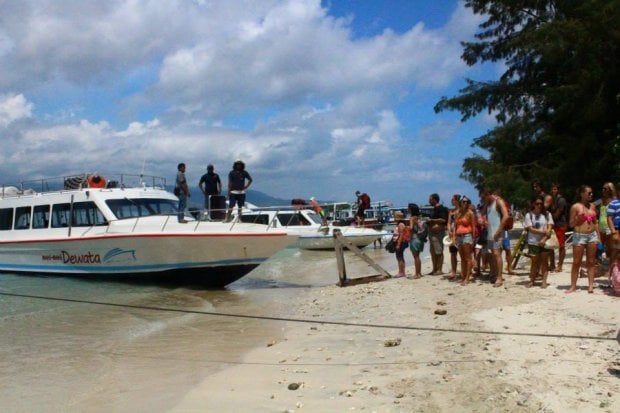 That's us, queuing to board the fast boat. It arrived an hour later than the stipulated time.
Our experience travelling via the fast boat was from Gili Trawangan to Bali. I believe it works the same for the Bali to Gili route too.
Buying Tickets
We got the boat tickets from a tour agency at a steal because there were six of us in a group, and also because we booked a fishing and snorkelling trip with the same tour agency. It cost us IDR 200,000 (USD 17) per person, inclusive of a bus transfer from Padang Bai (jetty in Bali) to Kuta. It's probably one of the lowest prices possible because my savvy friends were really good at bargaining, and the tour agent had to make a call to his boss for approval.
Other parts of Bali to Gili Trawangan
It's similar if you're looking to travel from other parts of Bali to the Gili Islands. You can get a passage (bus ride to the jetty and then a boat ride to the Gili Islands). Prices range from IDR 200,000-300,000 (USD 17–25) depending on how hard you negotiate, as well as the number of people you're with.
Timings
Do take note: Most boats leave from Bali to Gili only in the mornings, from 8am – 11am. It's rare to find a boat that leaves in the afternoon. The later in the day, the more expensive the ticket will be.
It's the same for the route from Gili Trawangan to Bali. We took an 11.30am boat ride back (though the boat left one hour later). We were quoted IDR 300,000 (USD 26) for boat rides leaving at 1-2pm.
Our experience
Just thought I'd share more about our experience taking the boat from Gili Trawangan to Bali. The boat took some time to arrive, perhaps because it was ferrying passengers from Bali. It came about an hour later than the stipulated time.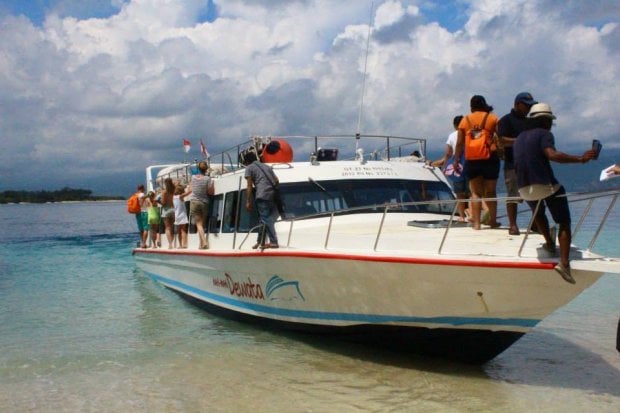 Ferry in which a little tight-roping had to be done
There was a little bit of tight-rope walking. We had to clutch the metal handbars to get into the passenger cabin, reason being that the entrance was located at the part of the boat which was in the water, while the luggage compartment was near the sandy area.
The boat ride was a short 1.5 hrs to Padang Bai in Bali. It's the shortest boat ride available, and the most ideal if you tend to have motion sickness. Alternatively, there are boats heading to Serangan in Bali, which is nearer to the more popular towns of Kuta and Seminyak.
The sea breeze was our refuge against the hot afternoon sun and all of us fell asleep at some point or another. If you're into tanning, you'll be able to catch the sun on the upper deck.
The boat arrives in the harbour at Padang Bai. There are many steps and irregular slopes, therefore bringing along a luggage with wheels is not advisable. We waited a little while more and were told to head to a mini bus shelter. There are buses heading to Seminyak, Nusa Dua, Ubud and Kuta, and we hopped onto the one heading to Kuta. It's a little rickety bus with air-con, though it did little to cool us down.
The bus dropped us in the town centre of Kuta, which was a convenient walk from our hotel.
Option 2: Getting from Bali to Gili Trawangan by domestic flight and boat
This is an option I wouldn't recommend, if you can help it. Firstly, it's more expensive and secondly, it's a much longer route.
We didn't have much choice than to take this option as our trip was planned for four days. There wasn't sufficient time to catch the boat to Gili as our flight arrived in Bali at 4pm in the afternoon. So we took a domestic flight, a 1.5 hour car ride to the jetty and then a 15 minute boat ride before arriving at Gili Trawangan.
Pricing (Flight, car and boat ride)
Pricing wise, a one way flight ticket would set you back by IDR 280,000-350,000 (USD 24-30). The car and boat ride was arranged by the villa operator in Gili Trawangan whom we had made the booking from. There was 6 of us and it cost us USD 20 per pax.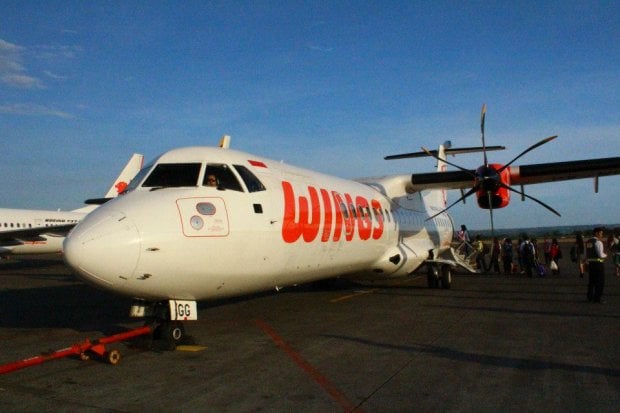 The plane that took us to Lombok was one that came with huge bird-like propellers, but rest assured that it's rather safe and steady. The flight did get delayed too. We were supposed to leave at 4.50pm in the afternoon, but we eventually flew off at approximately 6.00pm in the evening.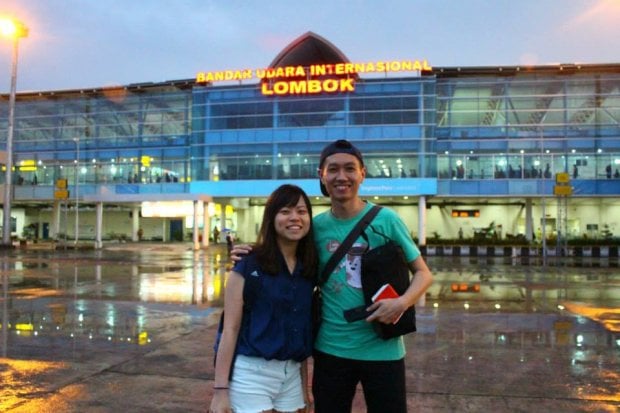 When we arrived at around 6.30pm, the driver was there to meet us. The sun had set by the time we cleared customs and our stomachs were growling. It wasn't the best news when we were told that the Bangsal Ferry Terminal was about 1hr 45 minutes away from the airport.
To solve the issue of our growling tummies, we stopped along the way for a seafood dinner in Senggigi.
When we arrived at the Bangsal Ferry Terminal, it was all dark. There was a private speedboat waiting for us. It took us about 15 minutes to reach the jetty of Gili Trawangan.
Do note that you can charter a private boat from Bangsal to Gili Trawangan. That would set you back by about IDR 185,000 (USD 16).
Contributed by The Travelling Squid.