Asia is huge, to say the least. Some countries have tropical climate all year round while others enjoy four seasons with colder periods perfect for different kinds of flower blooms. Now, let me take you on a virtual tour around Asia's beautiful flower destinations.
Tulips: South Korea, India & Singapore
Tulips have always been associated with Holland. But did you know these beautiful flowers can be found in Asia, too?
Also read: 7 Awesome Places to See Tulips in the Asia-Pacific Region
The Suncheonman Bay National Garden in South Korea is a conservation land with over 505 species of trees and about 113 species of flowers, created to become a natural habitat. A sight to behold are the tulips that grow in what they call the Dutch Garden. The tulips were planted to create a festive mood and as a signal that spring has truly come.
Of all the places in Asia, India is the place least expected to grow tulips. India is almost synonymous with hot and humid weather – not exactly the climate in which tulips would grow. It is a pleasant surprise to actually know that in the summer capital of India, these beautiful flowers thrive.
Indira Gandhi Memorial Tulip Garden grows rows upon rows of different tulip flowers. Srinagar actually has the largest tulip garden in Asia and hosts a Tulip Festival to capture the beauty of one of the most popular flowers known to man.
Surprise, surprise! Singapore has tulips, too! Although not naturally grown, did you know that tulips of different sizes and colours are on display at the Flower Dome of Gardens by the Bay from 1 April to 7 May 2017? Read some fun facts about Tulipmania 2017 and witness this incredible and limited-time floral display.
Wildflowers: Hokkaido, Japan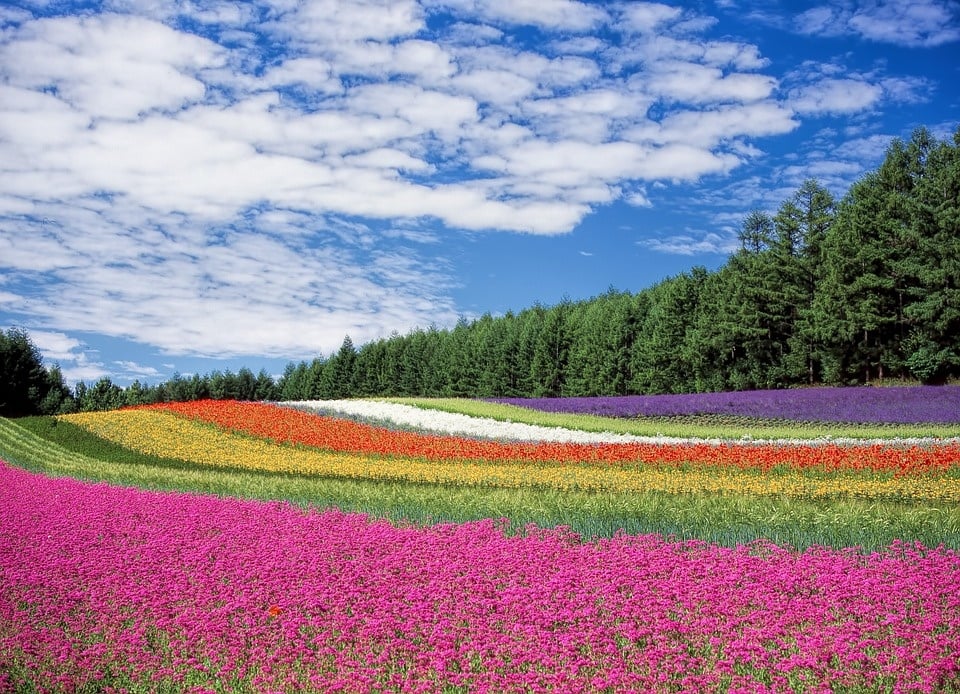 Hokkaido is the second largest island and the coldest region of Japan. It is popular among many visitors for its numerous ski and hot spring resorts. Despite its cold climate, Hokkaido is home to beautiful wildflower fields. Some of these purple-coloured flower fields have walking paths along the shore, creating a postcard-perfect scene for any visitor.
Aside from cherry blossoms and wildflowers, did you know that there are many other stunning varieties of flower blooms in Japan? See for yourself:
Canola Flowers: China
Canola is used for the production of cooking oil. However, unknown to many, Canola flowers are one of the most beautiful blooms between February and March. Found in the quiet Louping County in China, these fields are abundant with bees, and during its season, visitors and beekeepers flock to witness the natural yellow carpet of Canola flowers as far as the eyes could see.
Sunflowers: Philippines
The Philippines is a hot country – both humid and dry. That's why finding out that a sunflower farm has been thriving for years in Albay is quite a surprise. The field is magnificent when the big yellow flowers are in bloom and beaming back on the sun. Visitors are transported to a dreamland, and what more can be asked for when the Mayon Volcano is the backdrop of the vast field. It is picture perfect.
In February 2017, Allied Botanical Corporation opened its day farm to visitors, coinciding with Baguio City's Panagbenga Festival. The farm has different kinds of flowers, plants, and even vegetables. The highlight of the day farm is the sunflower maze. It is another place where you can enjoy these beaming flowers, which have plenty of fans. Visitors to and from Baguio will definitely enjoy the place, as it is a unique destination where the family can stop by, enjoy, and take memorable pictures.
Krachiao Blossoms: Chaiyaphum Province, Thailand
Krachiao or curcuma belongs to the ginger family and is found in bloom between the rainy months of June and July. Pa Hin Ngam National Park is the best place to see these mauve and pinkish flowers carpeting the park's forest.
The park also boasts of other plants and flowers to see, such as the white starfish-like Mok Rachini, so don't miss walking along the "End of the Land," a natural trail at the edge of the cliff by a mountain range, to get a glimpse of them. The park is 342km northeast of Bangkok, but the place is worth the long drive.
Lotus Flowers: Siem Reap, Cambodia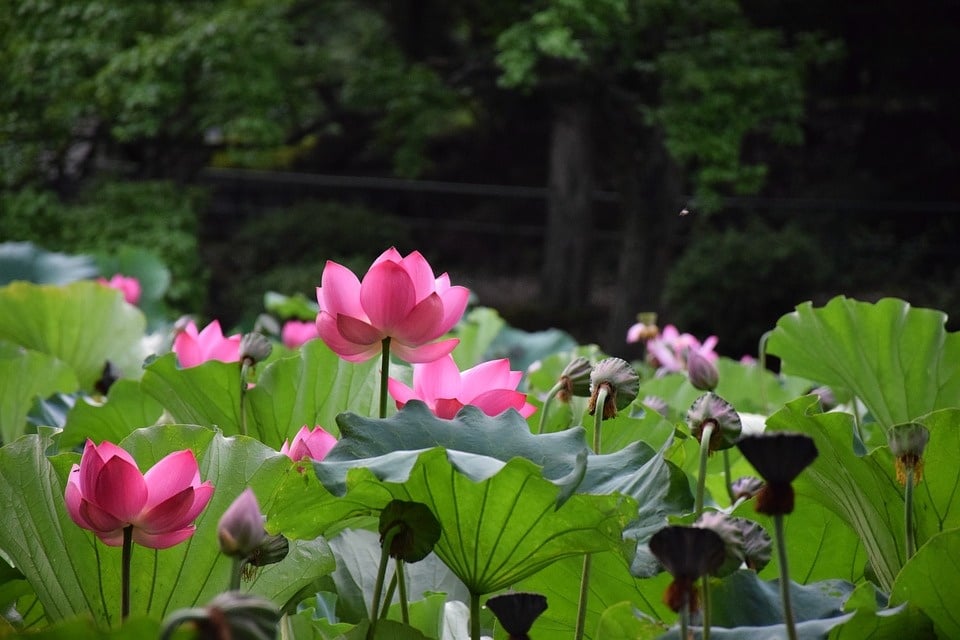 Many tourists who visit Siem Reap get enamoured with the historical sites around the city that they constantly miss seeing the countryside. The city is teeming with visitors from all over the globe, making it a busy place to go to around half the time.
Try the road less travelled and see the Lotus Flower Field. Take a 30- to 40-minute bike ride along the river to Tonle Sap. There, visitors will reach a field of lotus flowers. Explore the fields through the numerous pathways and small roads that have been paved.
Buckwheat Flowers: Ha Giang, Vietnam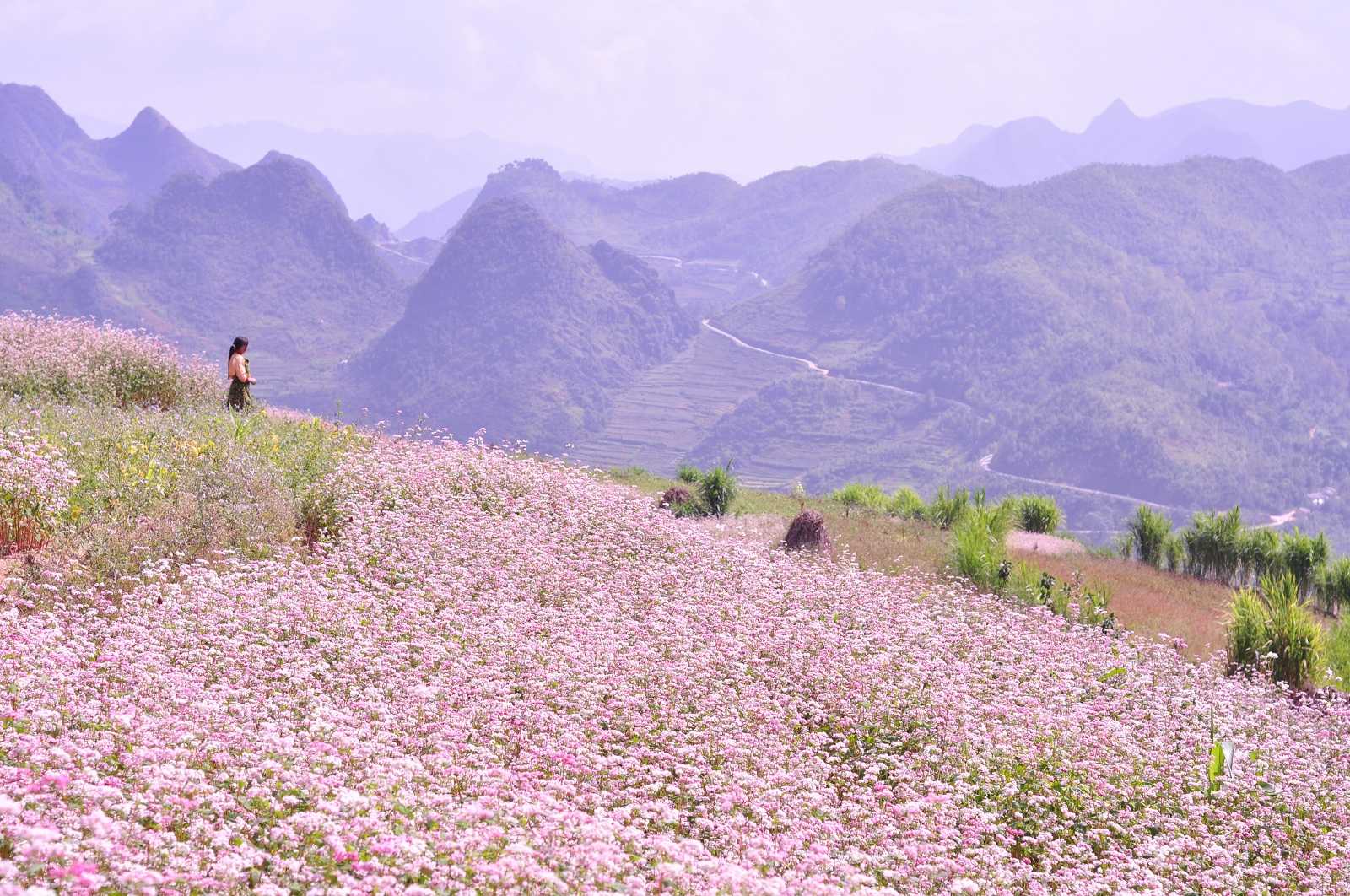 These beautiful flowers can be witnessed in bloom around late October and early November every year. Terrace upon terrace flourishes in the mountainous provinces of Vietnam, most especially in Ha Giang. These pink and white flowers paint such a serene picture of the mountain side – simple yet so beautiful. The mountainous backdrop and low-lying clouds complement the beautiful flowers, and a narrow path is available for visitors to walk amongst them.
Also read: Unique Gardens Around Asia
Aren't you enthralled to discover that these visually-striking beautiful flowers blossom in some parts of Asia? What surprised you the most?