Our magnificent Gardens by the Bay has received much acclaim locally and abroad for its unique and brilliant take on what contemporary designs of gardens can entail.
If you're a garden enthusiast and would like to see more of such stunning garden landscaping, look no further than some of these beautiful gardens in Asia. It's not only about the greenery!
Nong Nooch Tropical Botanical Garden, Pattaya, Thailand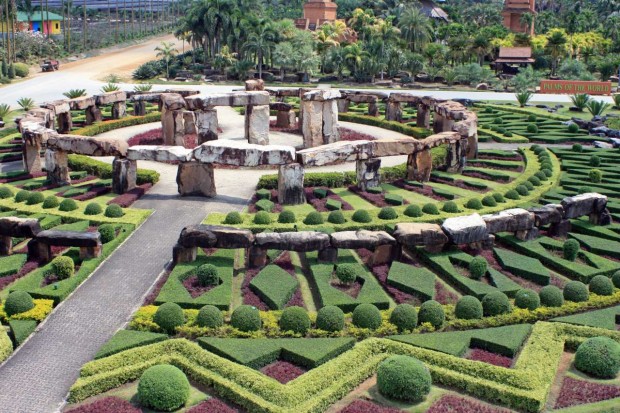 Image Credits: Wikipedia
Covering 500 acres of land, the picturesque Nong Nooch Tropical Botanical Garden, or commonly known as Suan Nong Nooch, is a splendid work of charming art and relentless dedication. Arranged delicately in attractive layers of vivid patterns, its plant and flower bushes exude vibrancy and undoubtedly, a mark of finesse in garden landscaping.
Nong Nooch is divided into smaller gardens such as the French Garden and Stonehenge Garden. Moreover, apart from its stunning orchid collection of over 650 species, the garden also houses an on-site Cycad Genebank that preserves and protects near extinct cycad species.
The beauty of the garden is indeed a result of pure dedication of its creators, and has been helmed for its education, preservation, research and conservation of tropical flora.
Also read: 10 Gardens Around the World for Flower Lovers
Da Lat Flower Park, Da Lat, Vietnam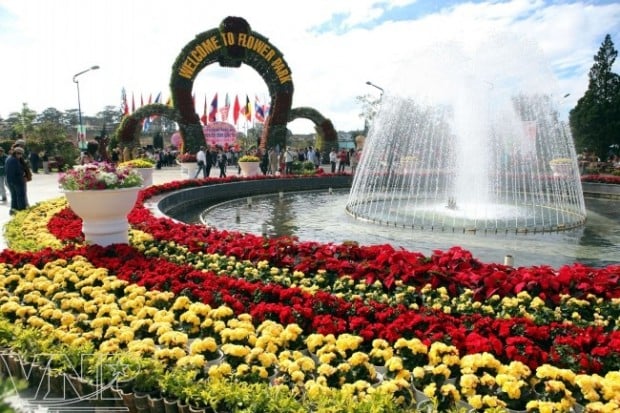 Image Credits: Truly Vietnam Tours
Often regarded as "the city of thousand flowers", Da Lat is the place to drown in the beauty of blossoming flowers. The Flower Park in Da Lat houses an astounding collection of more than 3,000 assortments of peculiar yet beautiful flowers from the city itself. From various types of Vietnamese flowers to those of other countries such as the Dutch Tulip, Japanese Chrysanthemum as well as a whole garden of cactus from Africa, the park is indeed a flower heaven. The gate of the park is also decorated with fresh flowers, serving as a sneak peek to what sits beyond.
Although visitors can witness the biggest selection of flowers in Da Lat at the Flower Park, we recommend a visit to the other gardens in the area, namely Langbiang Flower Farm for its dominance of eustomas, Anh Quynh Orchid Farm for its splendid array of orchids, Lam Sinh Farm for its bright cymbidiums, and Minh Tam Park for its beauty of mimosas.
Rikugien Garden, Tokyo, Japan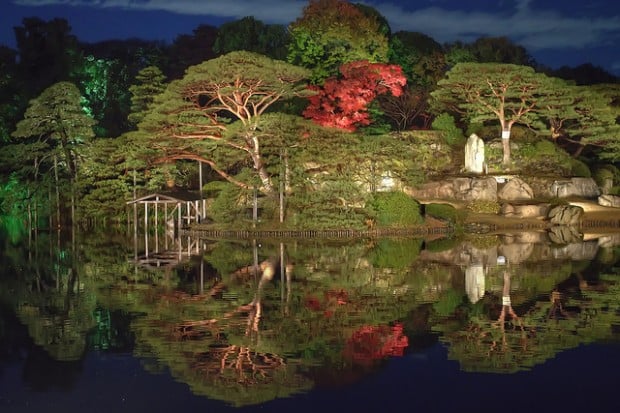 Image Credits: Chao-Wei Juan
A good example of an Edo Period park, the Rikugien Garden in Tokyo is a vivid reflection of the creator's in depth literary knowledge, especially based on his interest in poetry. The garden, built around 1700 for the fifth Tokugawa Shogun, is a reproduction of miniature 88 scenes from famous poems from which they too were given names from. The name Rikugien itself comes from "shi no rikugi", which means the six tenets of poetry: airs, straightforward narrative, explicit comparisons, implied comparisons, odes and hymns. These can be found in "Mao Shi", a collection of Chinese poetry which have also been evident in the Japanese's.
Central to the garden is a large pond that is surrounded by man-made hills and forests, and open lawns. It takes an hour to cover the entire garden, but there are several tea houses for visitors to rest. From late March to early April, be sure to look out for the weeping cherry trees that blissfully bloom under the spring sky. Vibrant azalea bushes along the shore of the pond also blossom from April to May.
Exuding serenity amid beauty, the Rikugien Garden is a perfect marriage of literature and nature. Don't miss the sceneries as night falls. Poetic, indeed!
Also read: 12 Places in Japan Too Stunning To Be Real
The Rock Garden, Chandigarh, India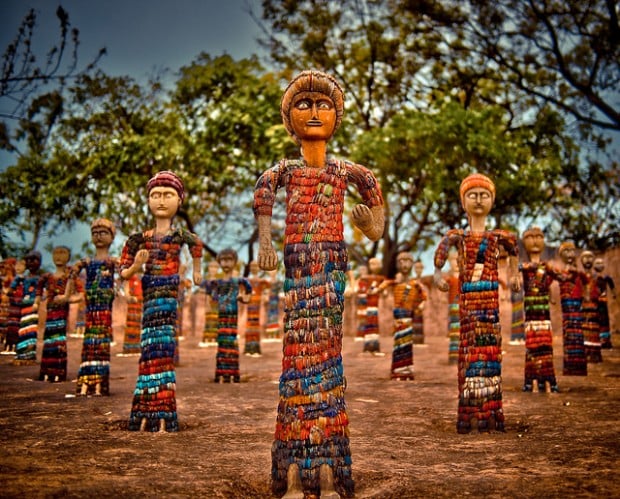 Image Credits: James Southorn
The Nek Chand Rock Garden is quirky and unique. Situated near the Sukhna Lake, the sculpture garden is the work of an ordinary inspector of roads for the Public Works Department of Chandigarh. Starting in 1957, the self-taught late Indian artist, Nek Chand, had secretly began carving out his own garden of rock, spending almost 20 years creating over 2,000 sculptures using stones, debris and other discarded junk thrown by over 50 villages that were destroyed in the construction of Chandigarh. These materials include concrete, steel drums, light switches, broken bathroom sinks, bicycle frames and what not.
Rock sculptures situated all around the garden include a myriad of dancing girls made from broken glass bangles, an army of soldiers and an arcade of towering arches with dangling rope swings. These are just a few of the many rock-artistic works displayed for the awe of the eyes.
Nek Chand was even under the scrutiny of the city authorities due to his illegal proclamation of the land, only to mesmerise them with his unbreakable imagination and tenacious spirit, which resulted in their support and, later on, the expansion of his garden. As aptly put by the Economist, "Nek Chand the roads inspector, out of rubbish, had created a magic world".
Those with an interest with Nek Chand's peculiar kind of art can also choose to volunteer and create new sculptures for the garden!
Yuyuan Garden, Shanghai, China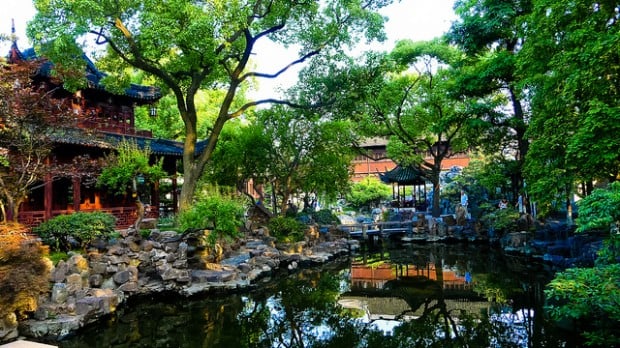 Image Credits: SteFou!
A famous classical garden located in Shanghai, the Yuyuan Garden spans over two hectares of land with over 40 attractions. Amid its shaded alcoves and glistening ponds and pavilions lies a spectacular spring-summer blossom of flora, especially the city's flower, the Magnolia grandiflora. Other trees include the Luohan pine, cherry trees and dawn redwoods.
The garden also boasts a huge range of cultural relics such as century-old furniture, clay sculptures, brick carvings as well as inscriptions and couplets, among many others. One of the highlights is the Exquisite Jade Rock, a five-ton beautifully shaped grotesque and wrinkled relic of Mother Earth. It is said that the rock was found some 1,000 years ago and originated from one of the Song Emperor Huizhong's private collection.
From the beautiful scenery of trees and flowers to the delicate touch of classic Chinese aura, Yuyuan Garden is a majestic dreamland of tranquility, vibrancy and timelessness.
Tea Garden, Srimangal, Bangladesh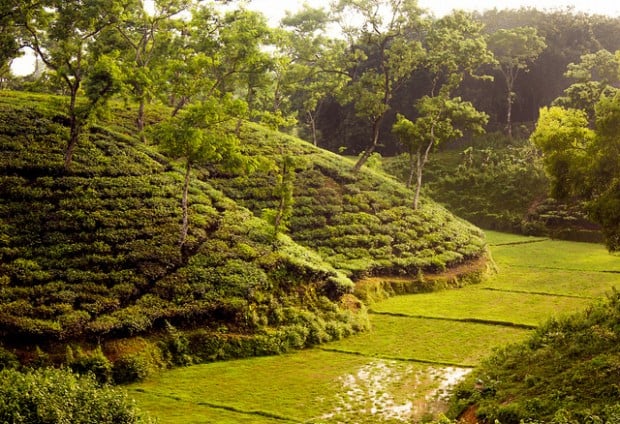 Image Credits: Xahidur Reza
Bangladesh may share a mere three per cent of the world's tea production but its tea capital, Srimangal, is responsible for a large portion of the world's highest quality tea export. Though it may not be very popular among visitors, it's a shame not to witness the beauty and serenity that lie in the mid of where one of the world's most favourite tea leaves are cultivated.
Its picturesque green carpet of hills are covered with endless tea gardens, with the rolling plains lying quietly and untouched amid its beauty. Instilling peace and tranquility are the large rubber and pineapple gardens and the lakes of Srimangal. And not to forget, the smell of tea.