Weeks leading up to ski in Gangwon-do, Northern part of Seoul, I had been wondering how the slopes were going to treat me. Would they be kind? Or would I end up face-plunging into the fence?
The resort
All those thoughts had left my mind when I finally arrived at High1 Ski Resort. Once you enter, you'll notice the tall and thick trees that surround the entire estate. I later found out that this is because most of the trees around the resort are native trees that had been carefully preserved over the years.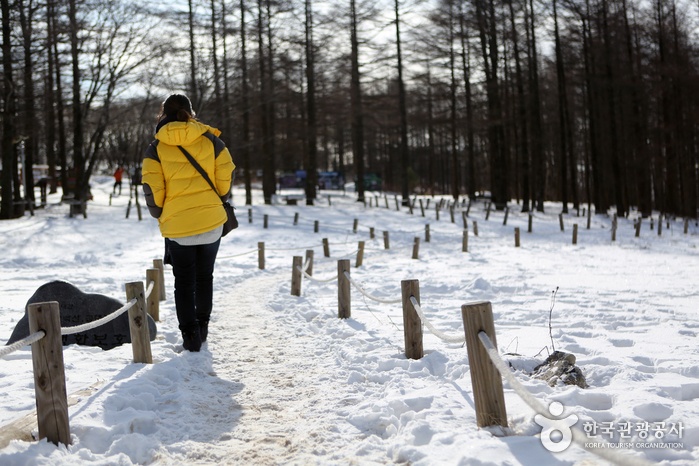 Image credit: Korea Tourism Organisation
The woods lining the resort inadvertently made me think of the evergreen Korean drama, Winter Sonata, where love blossoms between the series' protagonist and his childhood sweetheart amidst the snow-covered countryside. As I took a short walk around, the warm sunlight and gentle breeze left a nice feeling of calm and serenity. It was lovely.
Tip: High1 Resort is filled with beautiful scenery outside of the ski slopes. I recommend  taking a walk around the resort when you do have a chance.
Also Read: 12 Things you Must Try for your First Seoul Winter
The ski slopes
The actual ski slopes were a different story. Before you actually get to hit the slopes, you will spend, give or take, 30-40 minutes renting the ski equipment. Especially if it is your first time skiing, expect a reasonable amount of waiting time. But after you've gotten all the ski gear and make your way out to the skiing ground, it can get a little overwhelming.
Tip: There are many places outside of the resort itself where you can rent ski gear for cheaper. Onsite rates ranges from 24-34,000 KRW depending on length of rental. You can also save up to 30% of your lift costs with vouchers.
You see, in my head, I thought I'd be skiing like this: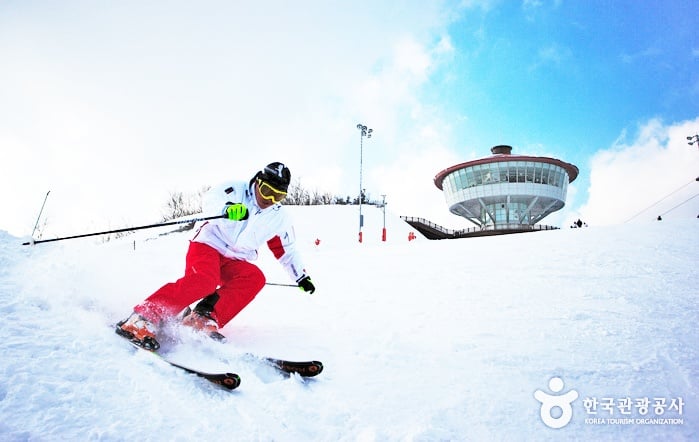 Image credit: Korea Tourism Organisation
But in reality. It was more like this: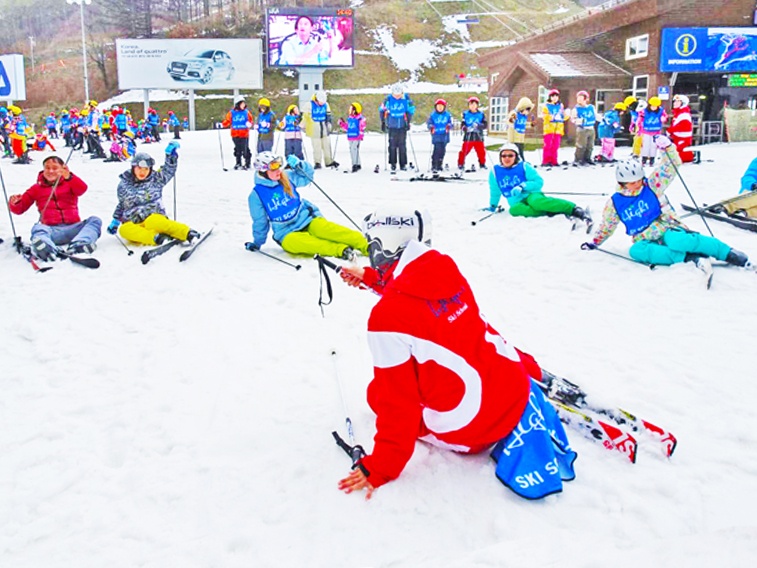 Image credit: Carolyn Tan, Korea Tourism Organisation
This is the most basic of manoeuvres you will learn at the beginner's class, which is how to get up on your own. The High1 Ski Resort offers a wide range of classes, from beginner to intermediate classes. Prices vary by the number of pax, duration and level of class, best to check out the High1 Ski Resort website for more updated price lists.
Our instructor was very patient and gave us many important pointers to ensure that you can handle yourself when you are out there on the slopes with no help. For example, how to break effectively, how to get up by yourself should you fall on your bum and how to remove your skis by yourself.
Also Read: 7 Super Fun Things to do Near Seoul
High 1 got its name due to it being the highest elevation ski resort in Korea, 1,345 metres from sea level. This gives it the advantage of having more powdery snow than other resorts, although they also have snow machines for early or poor seasons.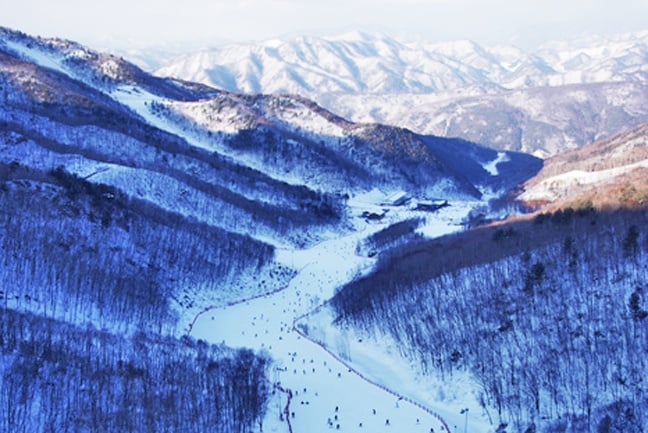 Image credit: Carolyn Tan, Korea Tourism Organisation
High1 has a wide variety of beginner as well as intermediate slopes. The beginner's slopes are quite long so it gives you plenty of room to practice and hone your skills. Click here for an interactive map of all the ski slopes available in the resort.
Tip: To avoid scary collisions with people, go during slightly off the peak season OR go for a night ski. The slopes are less crowded and a lot easy to move around giving more room for mistakes. (Early Dec or Late Jan)
Armed with my newfound knowledge of how to survive on the slope by yourself, I was eager to hit the slopes. And so i pulled a friend from the group and we headed straight for the beginner's slope nearby.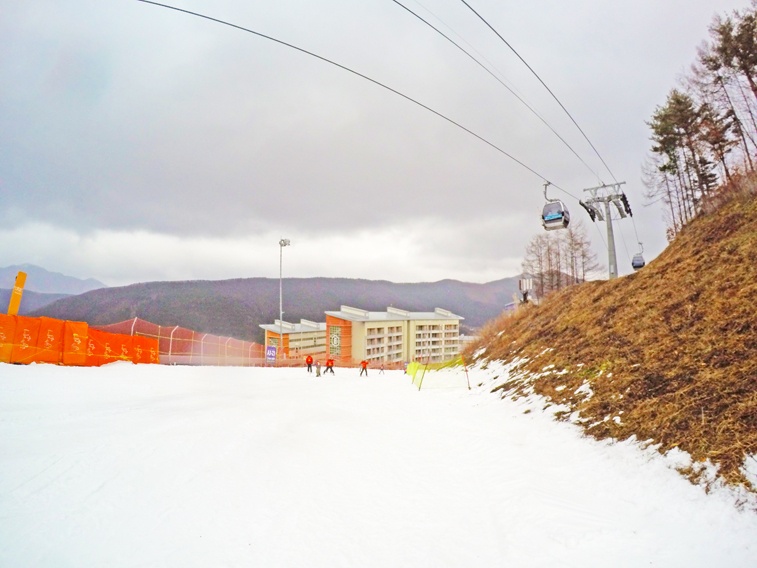 Image credit: Jaclynn Seah, The Occasional Traveller
Being a novice skier, I had been told that of all the things I have learnt about skiing, the most important thing I need to know is how to break with the skis. And, looking down the slope (above), I thought it looked fine and I had that covered. However, the slopes proved to be a lot harsher and longer than expected. And I had spent a large part of my energy trying to dig my skis into the snow to stop myself from speeding too fast down the slope.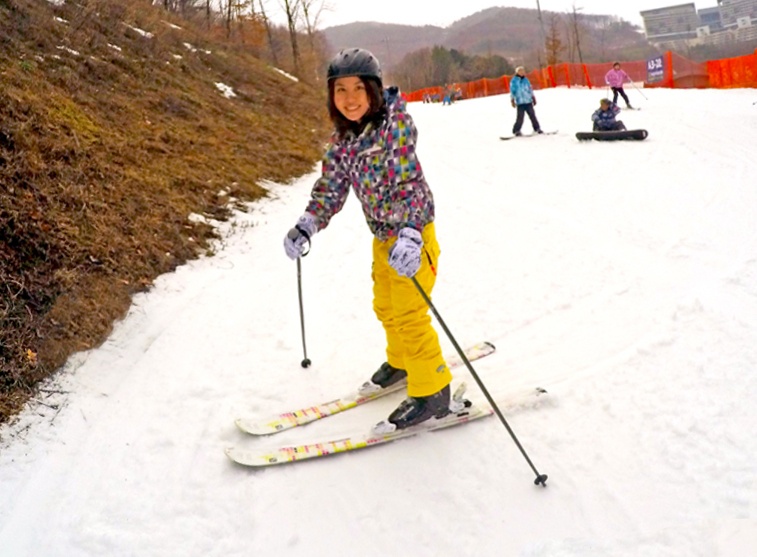 Image credit: Jaclynn Seah, The Occasional Traveller
Truth be told, it got quite scary at times when the speed I was going down got a little too fast for comfort. However, overall, I had a blast.
I recommend everyone to try skiing even if you don't fancy snow or sports. It's pretty fun and gives you a certain sense of achievement when you've made it down the slope on your own! Not to mention giving you a full body workout in the process. If, like me, you live in Southeast Asia, it's also a great way to experience skiing without having to go travel too far and pay more in the process as well. 
High1 staff are very helpful both at the ski resort as well as the hotel. It's easy to navigate around and find out the necessary information that you need when you are there.
Tip: Click here for a good resource to plan your first ski trip in Korea. It has opening times of the year and reviews of ski resorts around Korea.
Operating Hours:
Day Pass 8.30am-4pm OR 9.30am-4pm
Afternoon + Evening Pass 12nn-10pm
Evening + Night Pass 12nn-10pm
Evening + Morning Pass 6pm-1pm (next day)
* Operating hours subject to change depending on weather conditions.
Getting there:
Click here for more info on how to get to High1 Resort.

Before you go and have the time of your life in Seoul, be sure to download the extremely useful Visit Korea app which will help you with information, navigation, travel planning and so much more!
Also Read: How to Travel Korea on a Budget
The directions in this article are taken from VisitKorea, and my wonderful trip to Korea was made possible by Korea Tourism Organisation (Singapore Office).