The surge in Muslim travellers in Korea has given rise to an increasing number of Muslim-friendly dining spots peppered around the country. While travellers might assume that it's easier to source for Halal food in the capital city, Seoul, it's also worth noting that Jeju's popular seafood scene translates to a variety of Halal options.
To exemplify and celebrate Korea as a Muslim-friendly travel destination, Korea Tourism Organisation (KTO) will be kicking off the Halal Restaurant Week 2018 from 16 August to 14 October at Hall A in COEX, located at Seoul's Gangnam-gu District. This event, which kicks off the 2018 Halal Food Festival, will showcase Muslim-friendly eateries for tourists to patronise during their stay.
Without further ado, we bring you our list of Halal-friendly food spots in Seoul and Jeju which can be enjoyed all year round.
JEJU
Bada Punggyeong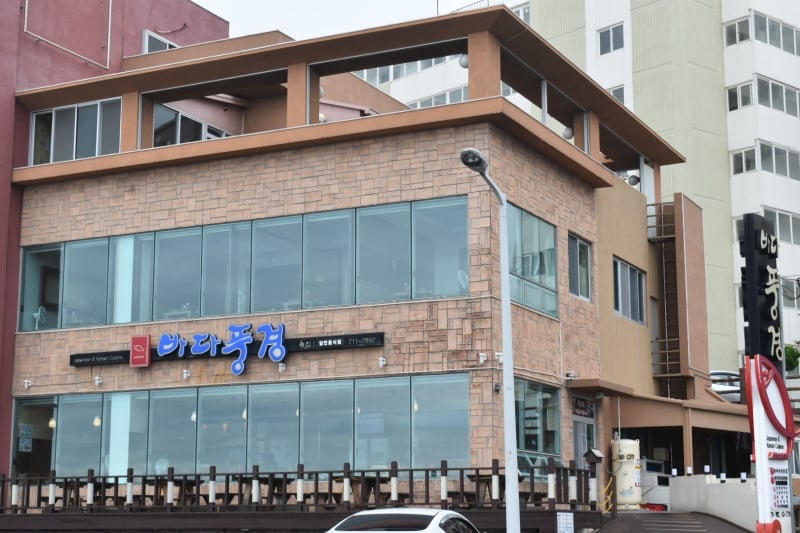 When in Jeju, you have to indulge in the seafood galore that the island is famous for. There's no better way to acquaint yourself with the island's cuisine than with a scrumptious lunch at the scenic Bada Punggyeong. A mere five-minute drive away from Jeju International Airport, this restaurant serves up an array of fresh mouth-watering seafood dishes!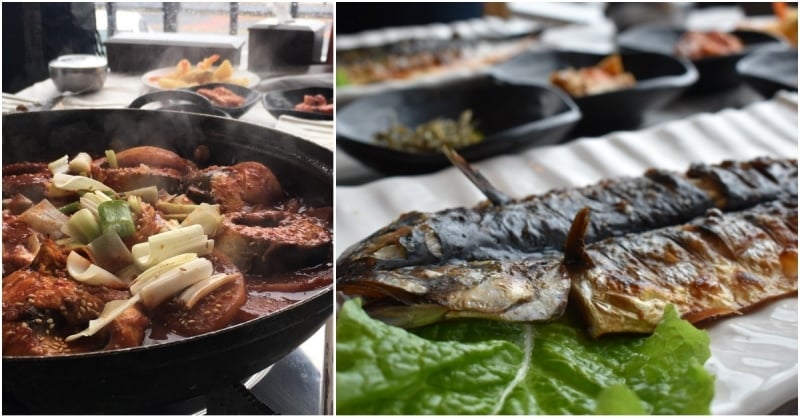 Treat yourself to some of the establishment's popular menu items, such as the steaming spicy Braised Mackerel Stew. The best comfort food (especially on a chilly day), this dish is sure to warm you up from the inside. If you're not a fan of stews, go for the Grilled Mackerel instead, which is cooked to bring out the contrast between the soft flesh and crispy skin.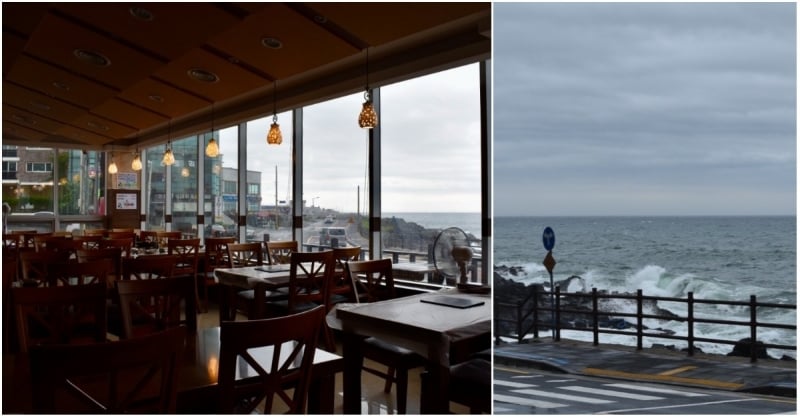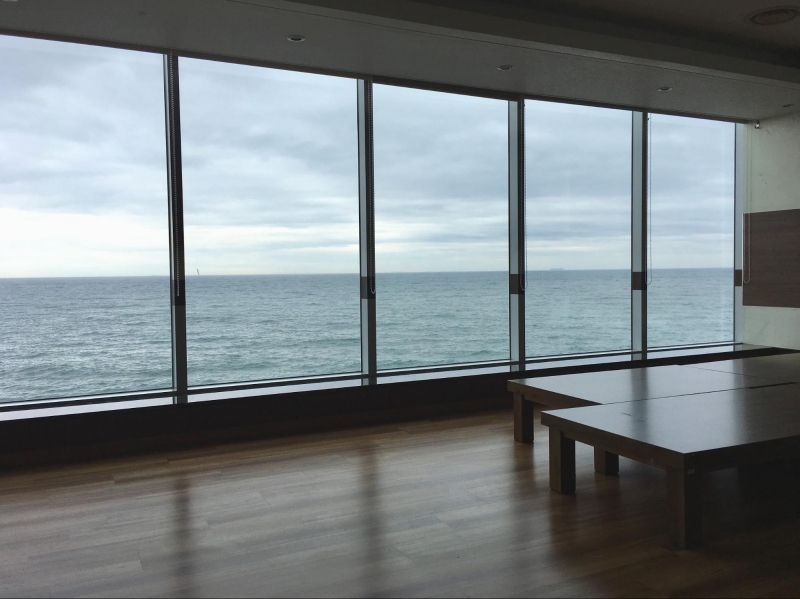 Above all, the scenic view of Jeju's coastline from the windows will take your breath away. This restaurant also comes with a spacious prayer room on the second floor, complete with prayer mats! The large windows overlooking the ocean provide a serene environment for prayers.
Note: Bada Punggyeong is classified as Muslim-friendly by KTO. Alcohol is still served in this establishment.
Address:
17, Ilchul-ro 288beon-gil, Seongsan-eup, Seogwipo-si, Jeju-do, Republic of Korea
Tammora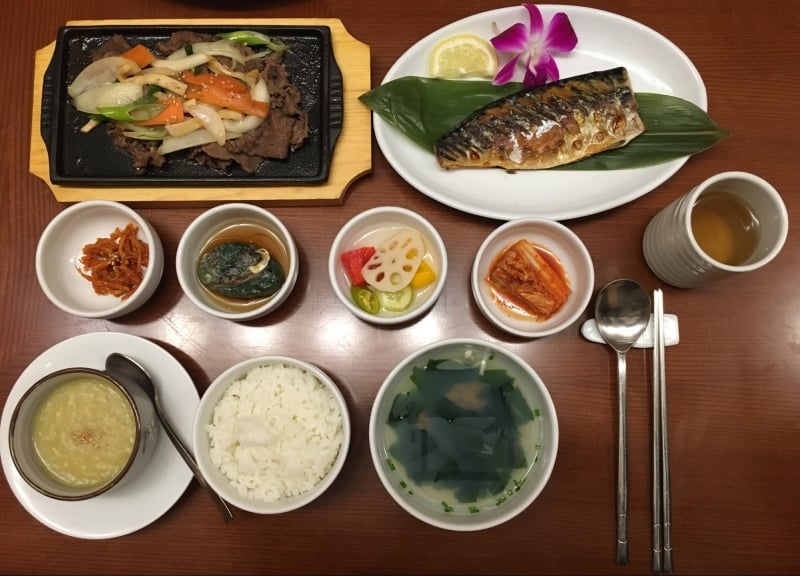 Named after Jeju's old moniker, Tammora plates up authentic Korean course meals and traditional Jeju culinary lineups that will leave you wanting more! Nestled within the lavish Ramada Plaza hotel, Tammora is where you can satisfy your cravings for top-notch Bulgogi – imagine well-marinated, thinly-sliced beef strips melting in your mouth. Fresh seafood is another draw. Recommended items on the menu include the tasty buttered abalone and sea urchin soup paired with salted broiled mackerel. This incredible gastronomic experience is a must when in Jeju!
Note: Tammora is classified as Muslim-friendly by KTO. Both Halal and non-Halal dishes are served in the restaurant, with the Halal kitchen being sectioned off. For Muslim patrons who would like Halal dishes, Tammora needs to be informed three days in advance in order to acquire Halal meat.
Address:
Ramada Plaza Jeju, 66 Tapdong-ro, Jeju-si, Jeju Island
(Ramada Plaza: Located at 1F on the right to the deli)
Uribong Sikdang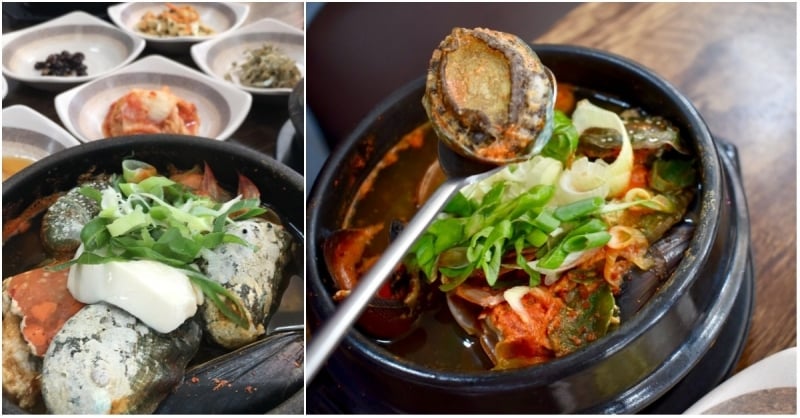 Abalone is a luxury delicacy that is abundant on the island and can be found in most seafood outlets. Located a stone's throw away from the UNESCO-listed Seongsan Ilchulbong (Sunrise Peak), Uribong Sikdang is an eatery which is famous for its quality abalone.
Abalone lovers can pamper themselves with the signature Abalone Soup that brims with generous servings of abalones, prawns and fish. Feel free to help yourself to the refillable side dishes like kimchi and pair them with delicious mains, such as the Salt-Grilled Hairtail Fish.

In addition, Muslim patrons need not fret over missing prayer times as Uribong Sikdang houses a prayer room with ample facilities. From prayer mats to prayer garbs, this spacious room provides well for prayer sessions.
Note: Uribong Sikdang is classified as Muslim-friendly by KTO. Alcohol is still served at the restaurant.
Address:
273, Ilchul-ro, Seongsan-eup, Seogwipo, Jeju Island 63643, South Korea
Cheonhaecheon Shabu Shabu Restaurant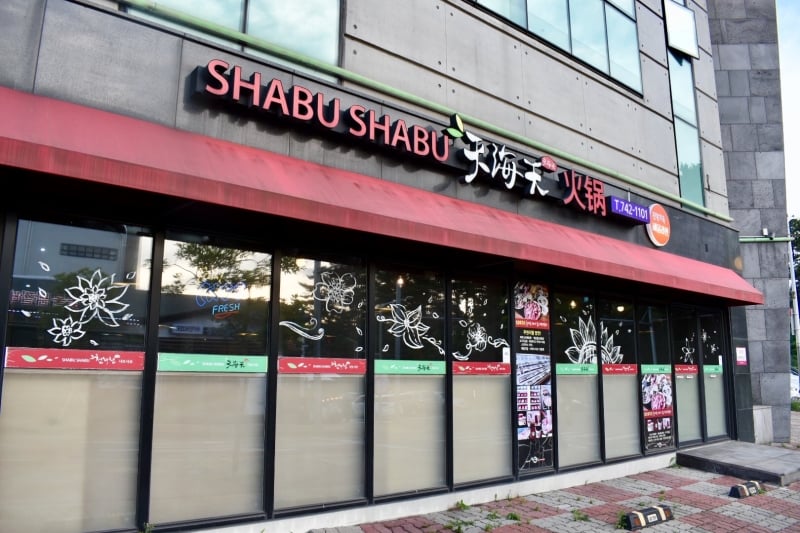 A Halal shabu-shabu buffet spread is generally hard to come by, but if you search hard enough, you'll be introduced to this gem. Cheonhaecheon serves an all-you-can-eat buffet with an assortment of ingredients to add to your shabu-shabu hot pot feast: vegetables, mushrooms, and a variety of meat and seafood, even abalone!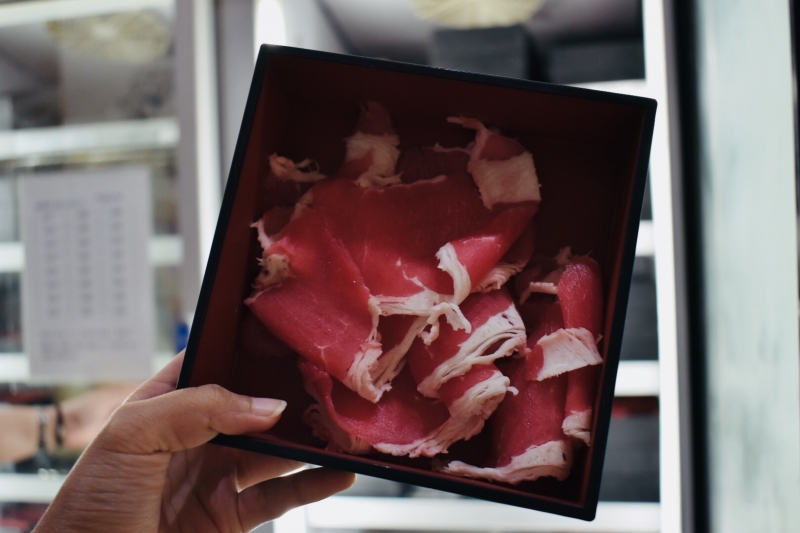 The hot pot broth comes in two different flavours: plain and spicy. After dropping in your rice balls, mushrooms and other vegetables to cook, you can start preparing the star of the dinner session – the thinly-sliced beef. When the hot pot ingredients have soaked up the broth, dunk the beef in the boiling, flavourful broth and watch them curl up within a minute. On top of a delicious meal, you'll get to enjoy a fun experience!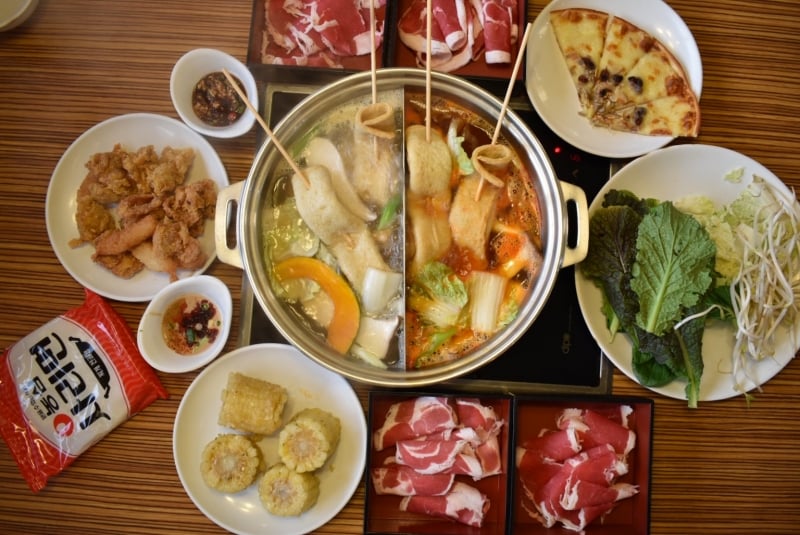 Note: Cheonhaecheon Shabu Shabu Restaurant is classified as Muslim-friendly by KTO. The beef is Halal-certified by the Jeju Islamic Cultural Centre. Alcohol is sold here.
Address:
25 Halladaehang-ro, Nohyeong-dong, Cheju, Jeju-do, South Korea
SEOUL
Makan Restaurant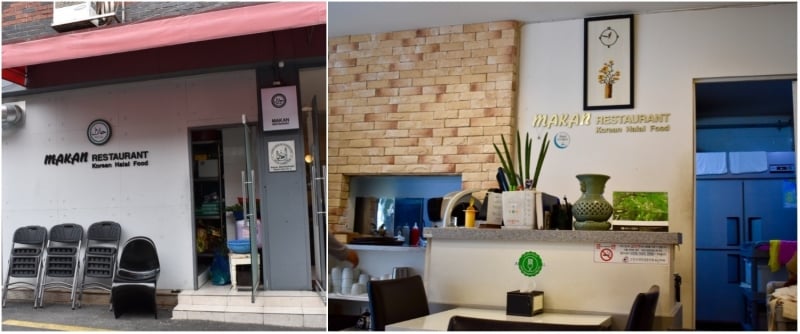 If you're looking for Halal food in Seoul, Itaewon is the district to head to. Located just a stone's throw away from Seoul Central Mosque and nestled amongst numerous Halal eateries, convenience stores and even a Halal cosmetic shop is the Makan Restaurant. This Korean Muslim-owned restaurant will satiate your cravings for authentic Korean food.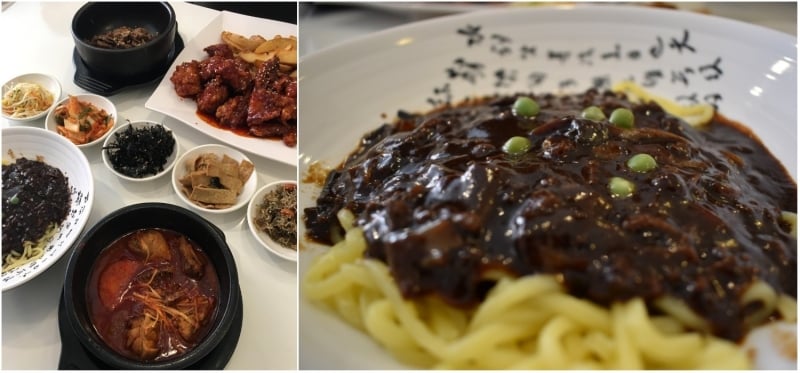 Dig into local favourites such as the Dakdoritang and Dakgangjeong. The tantalising spicy chicken stew, Dakdoritang, comes with a generous serving of well-cooked chicken and stew-soaked vegetables. Don't forget to sample Dakgangjeong, a dish of sweet and spicy fried chicken! Also worth a try are the Jajangmyeon noodles, which are springy noodles slathered with slightly sweet black bean sauce.
Note: Makan Restaurant is Halal-certified by the Korea Muslim Federation. For Muslim prayer facilities, the Seoul Central Mosque is just a short distance away.
Address:
52 Usadan-ro 10-gil, Hannam-dong, Yongsan-gu, Seoul, South Korea
Ose Gye Hyang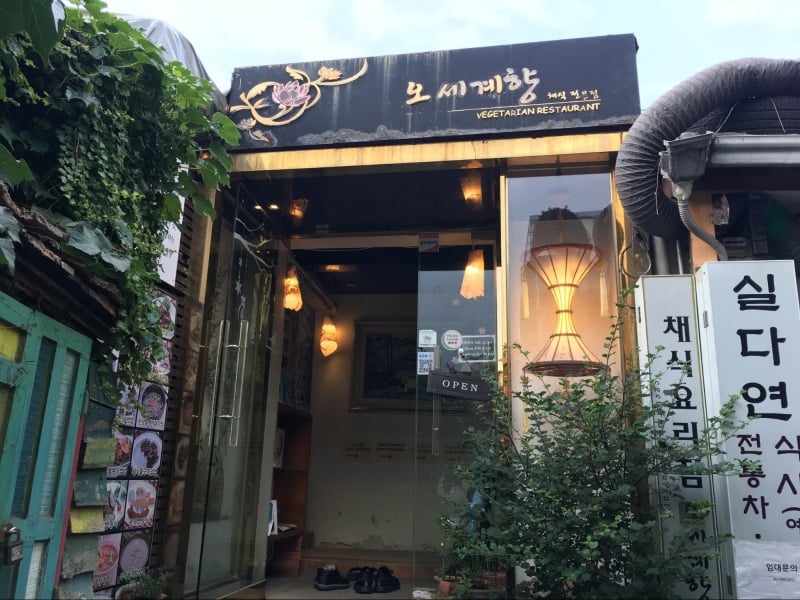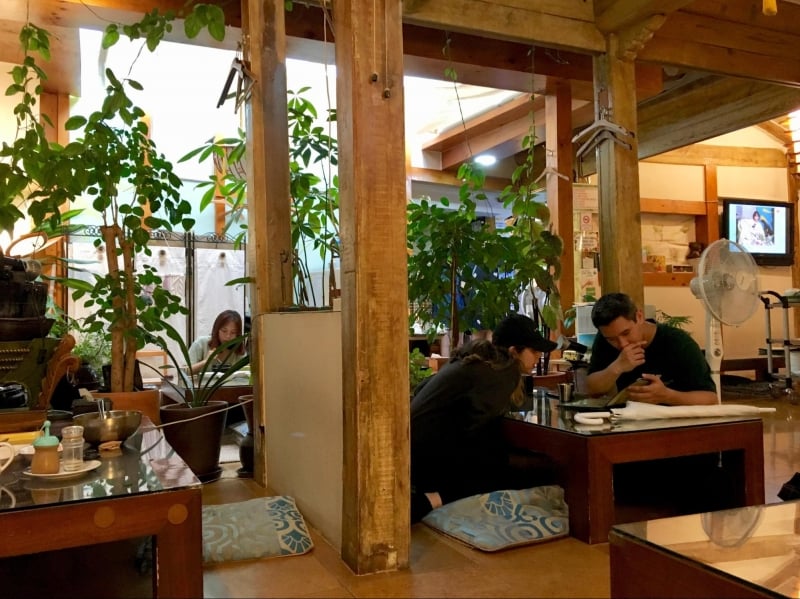 Have you ever considered trying vegetarian meat? Well, the Muslim-friendly Ose Gye Hyang serves just that. Wedged in the alleyways of Insa-dong, a street known for its culture and crafts, Ose Gye Hyang is a vegetarian restaurant plating up local delicacies. The environment in the restaurant is welcoming and cosy, with a dim interior and traditional floor-seating style.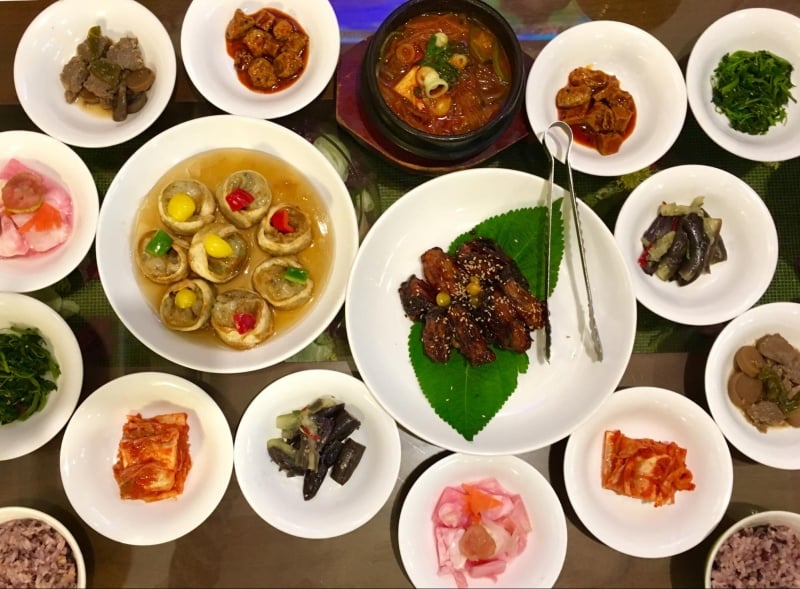 Start off with the Sweet and Sour Fried Dumplings and Mushroom Rolls drizzled with hot sauce. Instead of traditional dumplings filled with meat, the restaurant serves up dumplings filled with Dangmyeon (starch noodles) instead.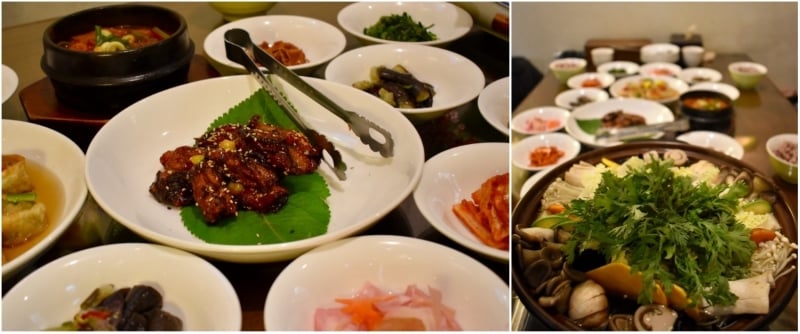 The highlight of the dinner course was the large hotpot of Mushroom Stew. With various kinds of mushrooms and vegetables swimming in the steaming stew, this dish is a dream come true for all veggie lovers. Another must-try is the Grilled Soy Protein Stew, which consists of mock meat as the main ingredient.
Note: Osegyehyang is classified as Muslim-friendly by KTO.
Address:
14-5 Insadong 12-gil, Gwanhun-dong, Jongno-gu, Seoul, South Korea
OME Cooking Lab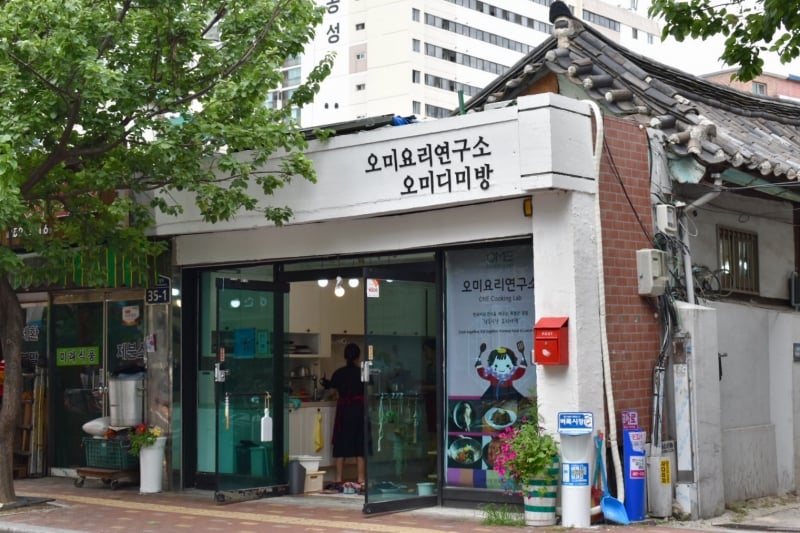 What better way to get a deeper insight into the local food scene than by taking part in the food preparation process itself? OME Cooking Lab offers you the chance to prepare and cook Korean dishes from start to finish.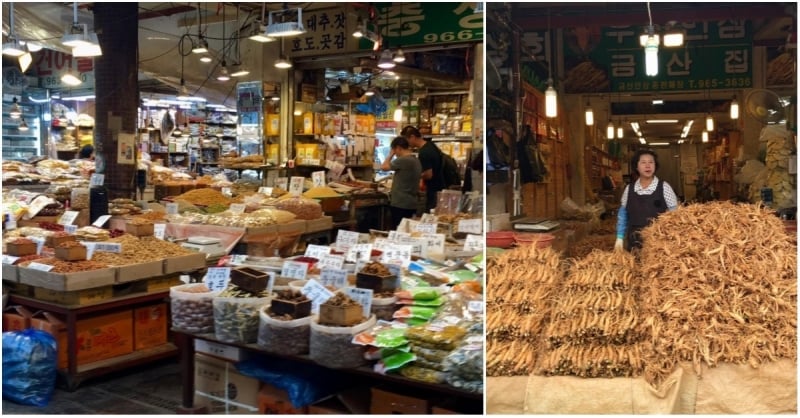 The whole experience will begin with a guide taking you through the Gyeongdong traditional market, where you'll tour the area whilst scouring the shops for essential ingredients. From fresh seafood and stacks of ginseng to fermented condiments and sesame oil extracted on the spot, the traditional market offers most Korean cuisine ingredients under the sun!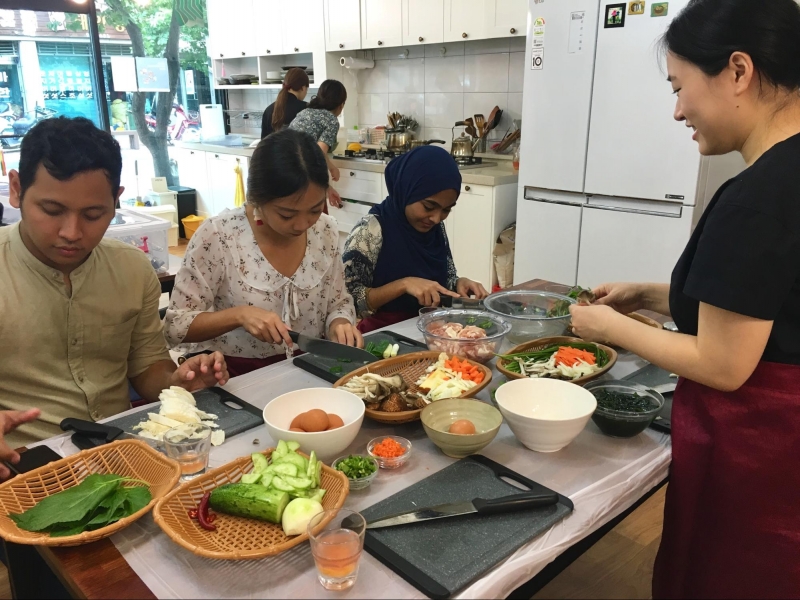 After checking off the items on the shopping list, the preparation for your cooking session will start at the OME Cooking Lab. Fret not, a cooking instructor will guide you throughout the whole cooking process. Also, notice that the kitchenware for Halal cooking at the restaurant are labelled to keep them separate from the general utensils.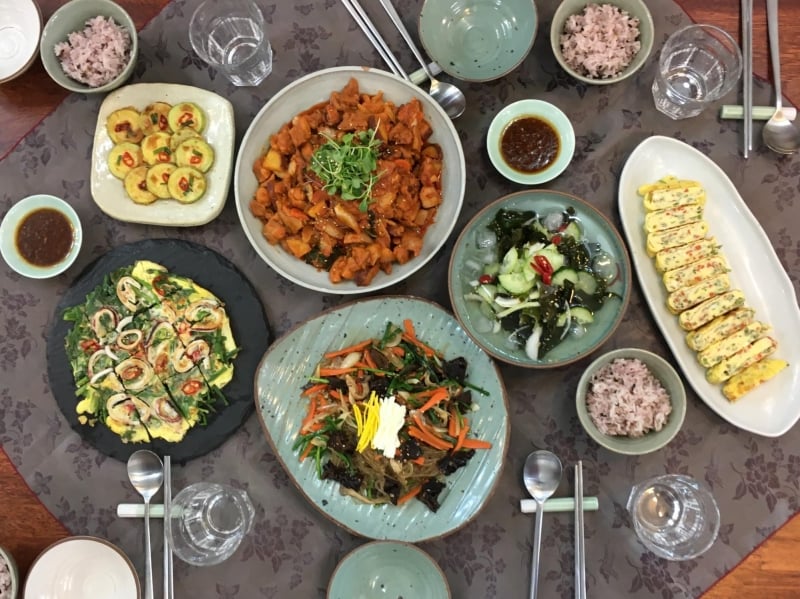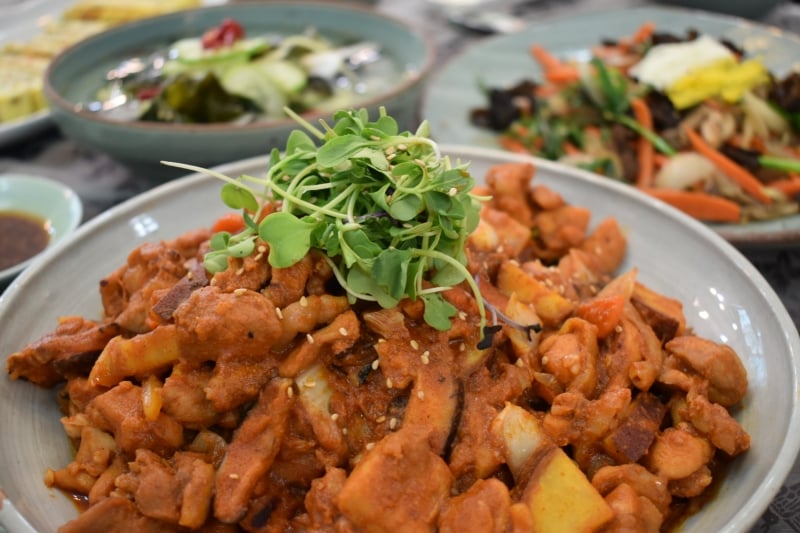 A lunch session with OME Cooking Lab would have you put together a total of five local delicacies. For example, it could be the combination of Cold Cucumber Seaweed Soup, Dakgalbi, Seafood Pancake, Egg Roll and Japchae. For this lunch menu, a highlight would be Dakgalbi, which is tender and spicy chicken that is well-marinated with a savoury sauce and stir-fried with accompanying vegetables.  
Note: OME Cooking Lab is classified as Muslim-friendly by KTO. Indicate your preference for Halal ingredients and kitchenware when you book your class with OME Cooking Lab in advance.
Address:
37-6, Yangnyeongjungang-ro, Dongdaemun-gu, Seoul
Chaegundaam

Starring in Seoul's Michelin Guide 2017 and 2018, Chaegundaam is a fine dining restaurant that serves authentic Korean cuisine with a unique twist. Additionally, the restaurant also takes pride in their well-curated vegetarian menu which incorporates organic and fresh ingredients!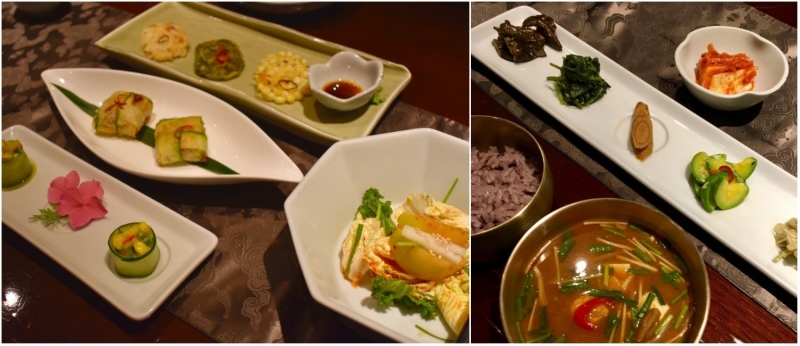 The Michelin Recommended Set, as part of the restaurant's vegetarian menu, comprises unique dishes such as the Tomato Natto and Mini Korean Pancakes. There's also Korean Miso Soup coupled with brown rice and seasonal side dishes.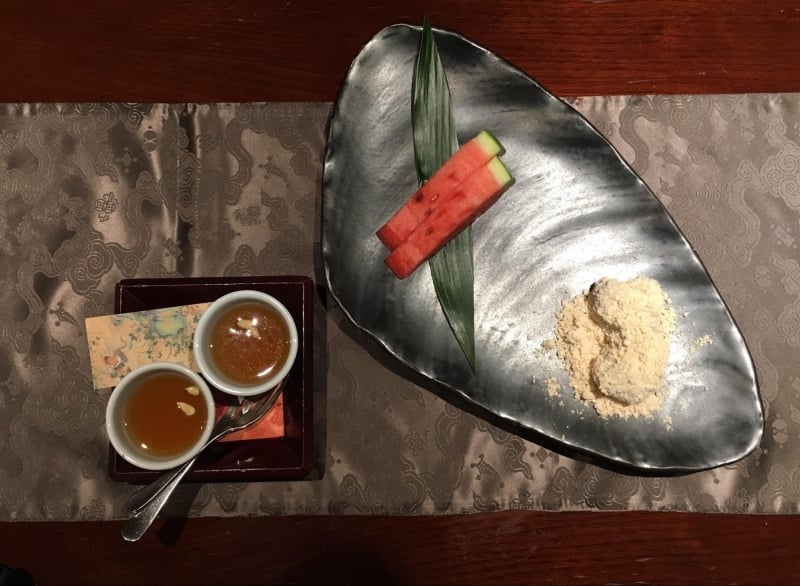 The course will come to a satisfying end with fresh fruit such as watermelon slices, traditional Korean rice cake dessert (Injeolmi) and sweet cinnamon tea. When in Seoul, this establishment is an essential dining spot to try out vegetarian Korean fine dining!
Note: Chaegundaam is classified as Muslim-friendly by KTO. The restaurant offers a vegetarian menu. Alcohol is sold in the restaurant.
Address:
23 Yeoksam-ro 98-gil, Daechi 2(i)-dong, Gangnam-gu, Seoul, South Korea
Kervan Turkish Restaurant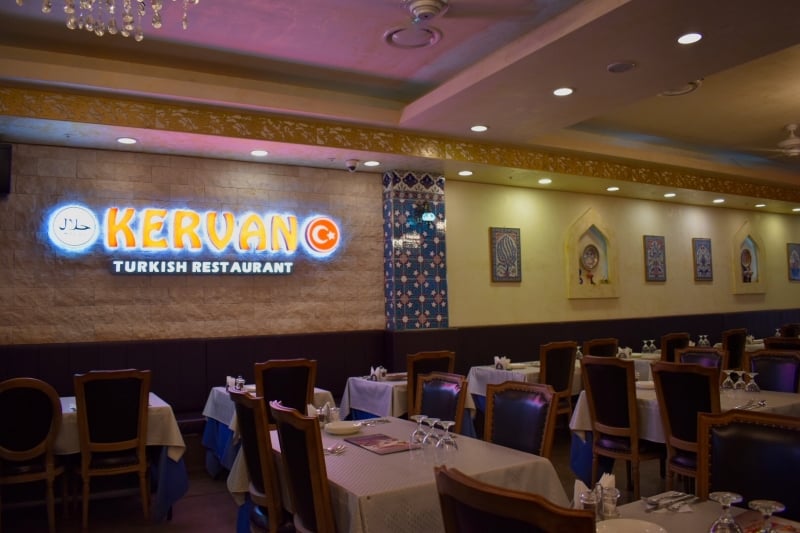 When it comes to sourcing out Halal food, you cannot go wrong with some Turkish cuisine! Kervan Turkish Restaurant is located in the famous COEX Mall and is a convenient location to stop by for lunch if you're in the midst of a shopping session nearby. It's also worth the journey if you're looking for a break from Korean cuisine!



Order your favourite bread, such as the Balloon Lavash or delicious naans, to go with the Butter Chicken, which has a sour-spicy gravy, or the Lahmacun Twin, which is peppered with ground lamb. The meat variants in the Mix Steak Kebab are well-spiced and tender. Enjoy them with some soft lavash or naan!
Note: Kervan Turkish Restaurant is classified as Halal-certified by the Korea Muslim Federation.
Address:
513 Yeongdong-daero, Samseong 1(il)-dong, Gangnam-gu, Seoul, South Korea
Hibiscus Asian Restaurant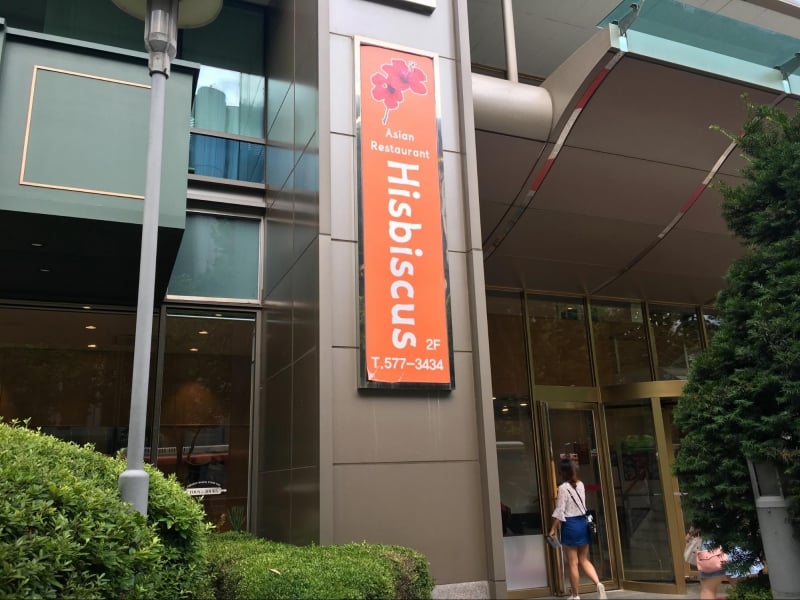 If you're on the lookout for a Muslim-friendly buffet, Hibiscus Asian Restaurant is the place to go. This self-certified halal restaurant plates up a wide variety of dishes from local, Mediterranean, South Asian and even Western cuisine. They use Halal-certified meat in their cooking, so fret not about finding Halal Bulgogi!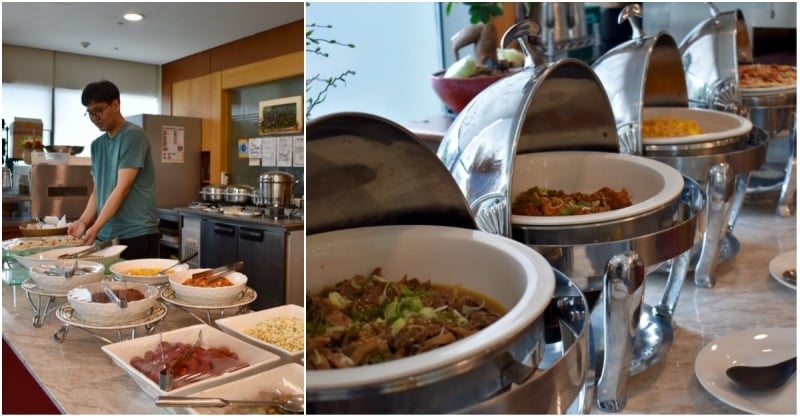 Amongst the pizzas and biryanis, some of the must-tries in the restaurant include the Beef Bulgogi and Korean Sweet and Spicy Chicken. The tender Bulgogi and succulent chicken are cooked to perfection with the right blend of sauces and spices.
Note: Hibiscus Asian Restaurant is classified as Self-certified by KTO. A prayer room is also available for Muslim patrons, complete with prayer mats and garb.

Address:
Vabien-1 (#204,#205), 102, Tongil-ro, Jung-gu, Seoul, Republic of Korea

Craving Korean food already? We sure are! If you can squeeze in a last-minute holiday, time it to coincide with Korea's Halal Restaurant Week which will be taking place from 16 August to 14 October. Be sure to bookmark and drop by these restaurants for a scrumptious Halal meal that you won't forget.
Tip: Redeem restaurant coupons at the official Halal Restaurant Week Korea website and save up to KRW10,000! Now, that's a deal you cannot pass!
Special thanks to Korea Tourism Organisation Singapore Office for sponsoring this foodie trip!