On 15 Nov 2021, I embarked on the first Vaccinated Travel Lane (VTL) to South Korea from Singapore. After being back in the sunny island for a week, I sit down to write what I hope will be an effective conveyance of my experience there; so that you, too, can quell your pandemic-weary soul.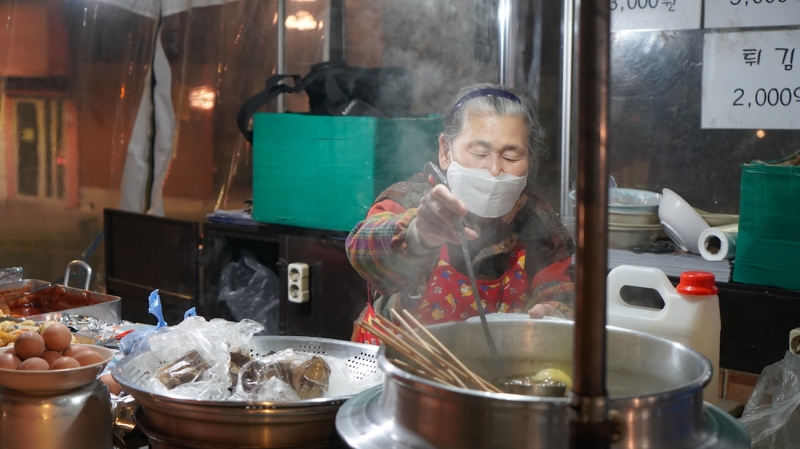 Bundled up in my 10°C weather clothes along the streets of Daehyeon-dong, nothing came close to perfection than my first taste of authentic tteokbokki and eomuk against the cold. It was at this moment that I found myself wondering: What is the one thing about South Korea that I'm going to write about when I get back? Is there a single moment that stands out? Very simply, my answer was no, because there was just so much going through my head everyday. 
So I figured, instead of writing an itinerary type of article where I break down what I did each day, why not tell you about my favourite experiences instead? Hopefully, this will inspire you to finally book that long-awaited trip on the VTL to South Korea (or to any of the other 27 countries, if you prefer)! 
And who knows? Whether you've been there or not, you might find yourself discovering things that you've never noticed before. 
Are you ready to do some Seoul searching? At the Korea Tourism Organization website, you'll learn all about the best cities and attractions to visit so that you can start planning for that long-awaited holiday to the Land of the Morning Calm!
Things to equip yourself with before exploring South Korea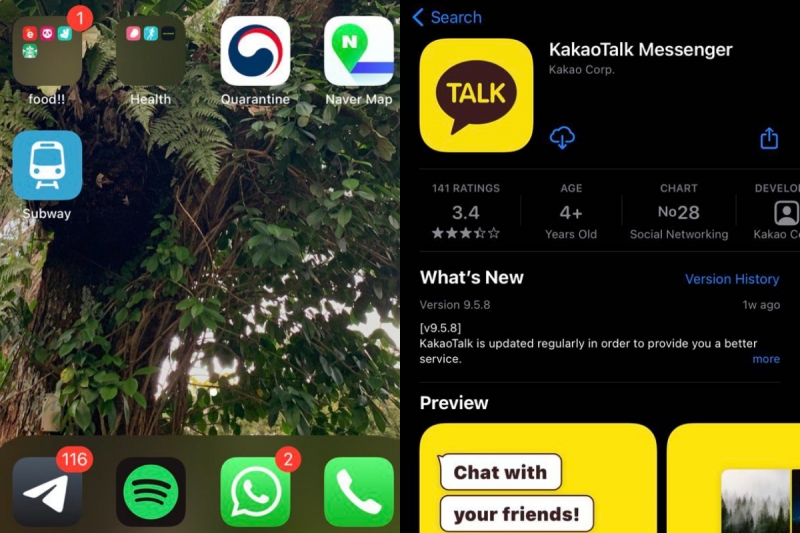 First things first, be sure to download Naver Map (as Google Map's functions don't work in South Korea) and Subway Korea (a handy guide to South Korea's metro system so that you can easily plan your route from point A to B). 
Also, download KakaoTalk while you still have access to your local mobile number, as the registration process involves an SMS-sent six-digit code which you'll need to key in. Think of KakaoTalk as your very own version of Google Reviews, so that you know which are the best places to visit in South Korea. 
Also read: 13 Fun Facts About South Korea You Should Know About Before You Visit!
The biggest (and most humbling) surprises of South Korea as a first-timer in the country
Everyday habitual customs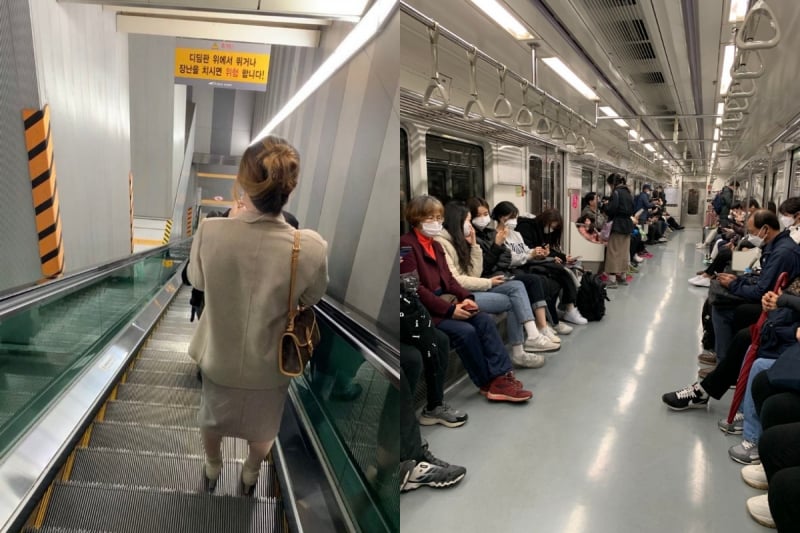 Before making my way around the Land of the Morning Calm, I realised there were a few things I needed to get used to. Commuters would stand on the right of escalators and staircases in the subway (since roads are a right-hand drive), toilet cubicles frequently have their lids closed when you enter public bathrooms, and getting around with a rudimentary (or more accurately, abysmal) understanding of Korean can pose a bit of a challenge. 
However, there are reasons for all of these. First of all, South Korea owes its system of driving to its abundant American influences. Secondly, in order to maintain hygiene in public bathrooms, it's actually a custom for the toilet lid to be closed before flushing. So, as shocked as I was to first stumble upon this, I realised that this practice is actually out of consideration to anyone who would be using the bathroom stall next.  
Struggle with Hangul? That's no problem
What was most heartwarming, however, is that many locals are willing to help you navigate your way around if you struggle with the local language. Say you're at a cafe but the entire menu is in Hangul. All I had to do was ask if an English menu was available and before I knew it, an English-speaking waiter started explaining what each item was! (And, not to mention, the coffee I had here was one of the most aromatic brews I enjoyed in South Korea.)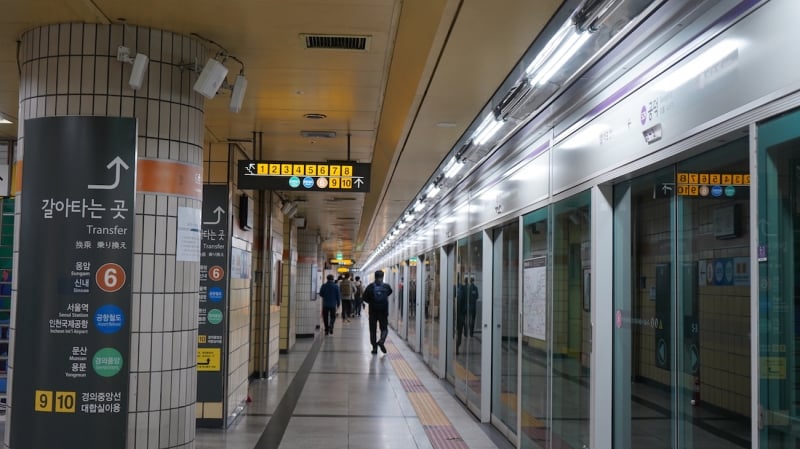 Or, you're taking the train for the first time and are overwhelmed by their complex subway system. Simply ask a friendly-looking local where you're headed and which way to walk; from what I've experienced, many are willing to point you in the right direction. But of course, as with any place you visit, you're bound to run into some less-than-friendly people, too — fortunately, I was lucky enough to encounter helpful individuals. 
The beauty is in the spontaneous moments which were never planned for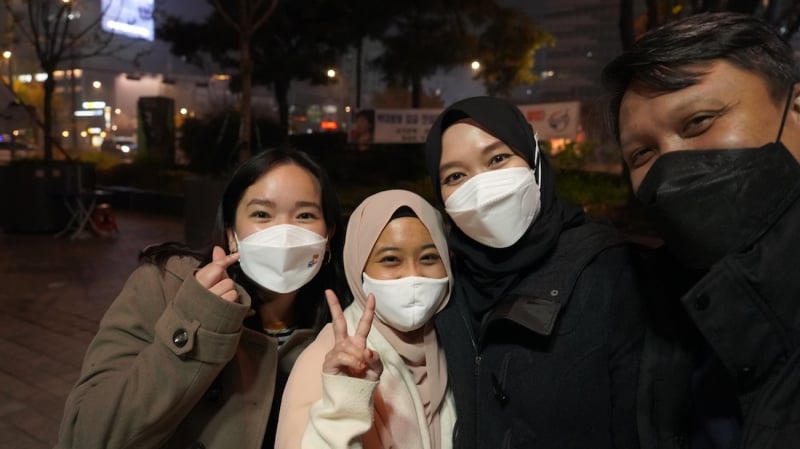 Which brings me to my favourite part of the trip thus far: chancing upon a Singaporean couple who has been calling South Korea their home for two and a half years. The evening started off with an invite to join them for dinner at an all-vegan Korean restaurant in Insadong, before the couple guided us back to our accommodation in downtown Seoul via the public bus. 
Also read: What It's Like to Live in South Korea as a Foreigner
Hidden gems and lesser-known hacks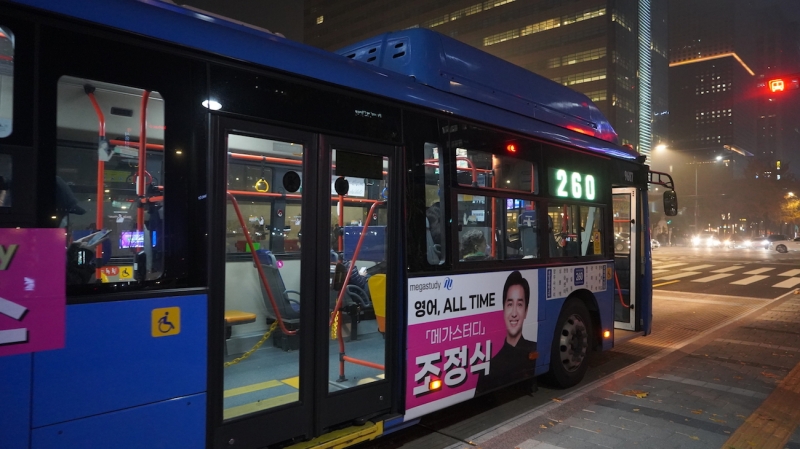 While we would've instinctively taken the train (as it's the easiest to navigate), the bus ride took just under 10 minutes with no fuss at all, while the train ride would've taken around 20 minutes — what with all the change in train lines and jostling with the peak hour crowd. 
Thankfully, when in Seoul, the night didn't end right there, as plans were made to venture to a hidden cafe in Myeongdong! Coffee Hanyakbang is a best-kept secret among locals, so I was fortunate enough to walk through this impressively narrow alleyway to a cafe filled with an eclectic mix of vintage furniture and rundown concrete walls.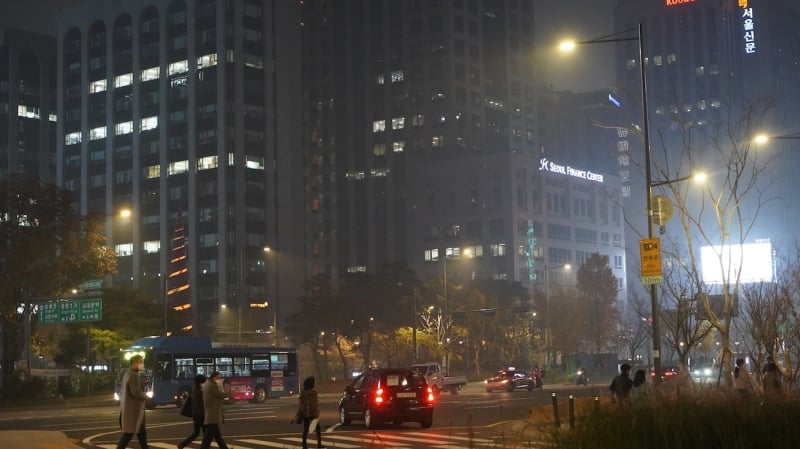 Although we didn't manage to order anything as it was about to close, simply wandering around the area of unassuming cafes and witnessing nightlife in this part of Seoul was humbling in itself. 
Witnessing a different side of Seoul
Walking along the famed Cheonggyecheon back to Gwanghwamun in downtown Seoul was one of the most eye-opening experiences. I always believed it to be a lively affair of tranquil waters and verdant trees where locals would stroll along or gather for an al fresco picnic, but the contrary turned out to be more accurate.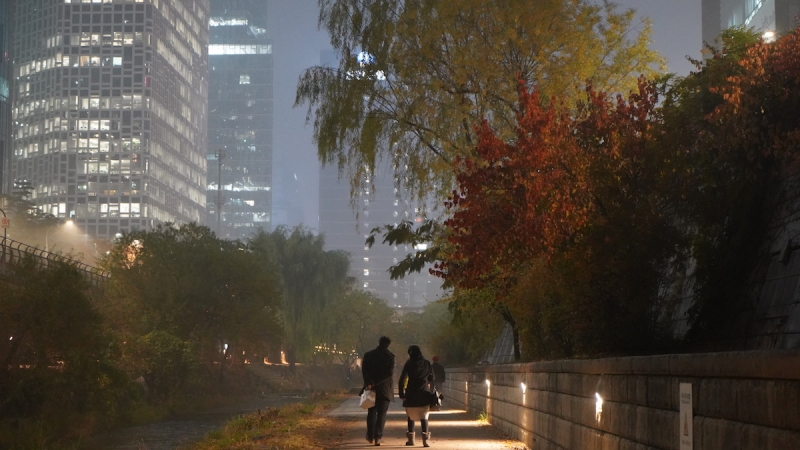 Being here at 9pm, I observed a different side of a tourist hotspot so frequently portrayed as vibrant and exciting. A noiseless and indifferent air filled the stream, with the November fog painting the skyline and fallen leaves scattered about the walkway. This was all the more juxtaposed against the high rise skyscrapers along the streets of downtown Seoul, which strangely seemed distant in the misty air.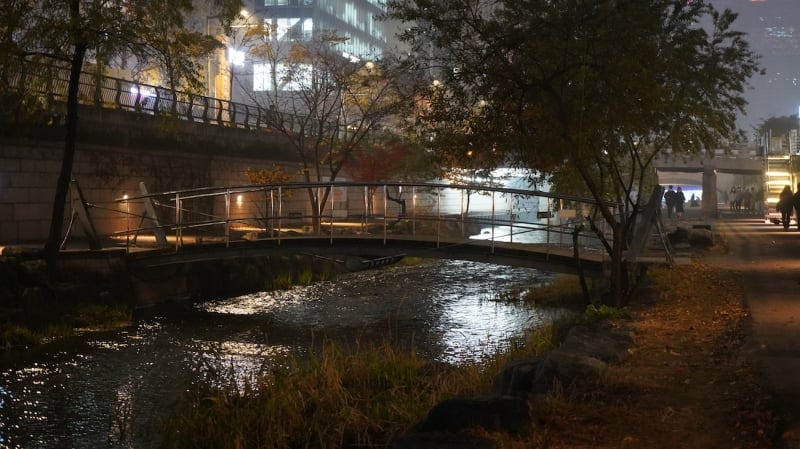 Be that as it may, Cheonggyecheon at this time made for a perfect respite against the hustle and bustle of city life, where the only sounds you could hear were the babbling stream and occasional ringing of bicycles that passed by. It was at this moment that a rare opportunity presented itself to witness a tourist attraction in its most original and undisturbed state. 
The free-and-easy evenings were also my favourite pastime
Mention "shopping" and "South Korea," and most would think of districts like Myeongdong, Itaewon, and Hongdae. As someone who has never even set foot in these areas before, I was really eager to see what it'd be like, let alone its condition after the past one and a half years. 
Indeed, Myeongdong was badly hit by the pandemic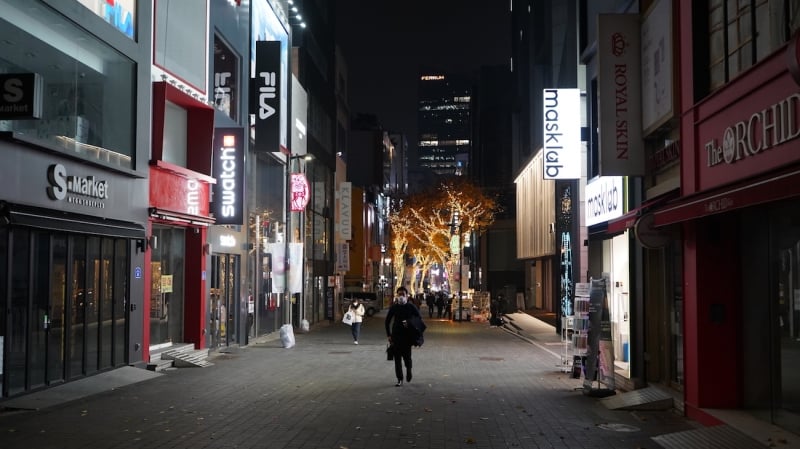 With a limited amount of time in Seoul, I only managed to explore Myeongdong and Insadong. What astonished me the most was the former, as it presented nothing like the bustling crowds and packed storefronts with street food vendors adding to the enthusiastic air. In its place was a stagnant street where you'd only see pairs of locals and a select few shops remain open.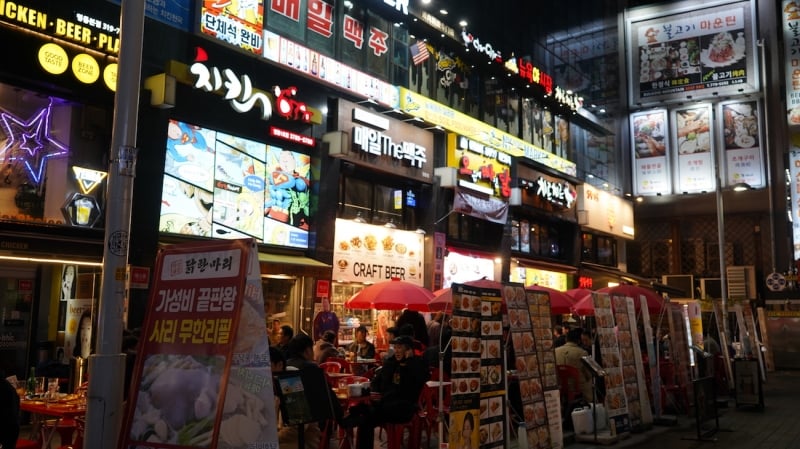 So, I was startled to come across Myeongdong's street of restaurants teeming with crowds of patrons, where weeknight dinners of K-BBQs and chimaek were enjoyed. 
Insadong and Hongdae are among the districts frequented by locals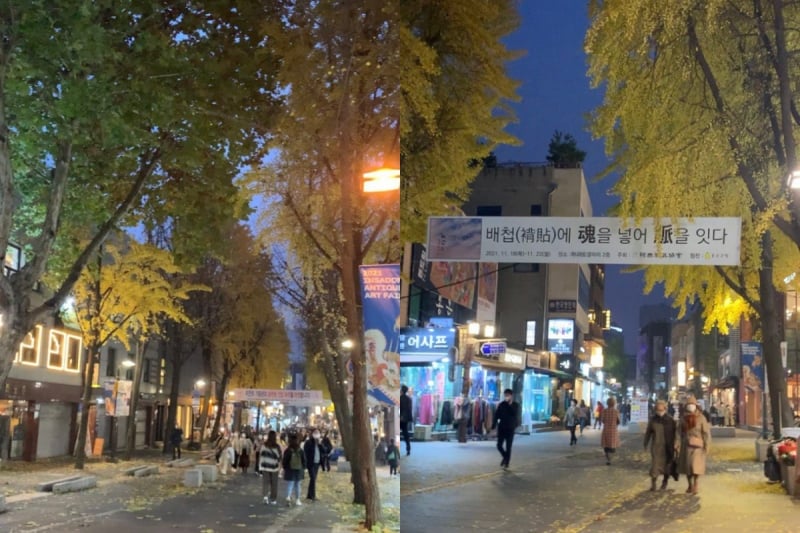 On the other hand, the streets of Insadong witnessed somewhat larger crowds, where more shops were open and street food stalls were set up. Fun fact: Locals visit districts like Insadong and Hongdae much more than Myeongdong. Since locals rarely visit the lattermost, it was actually no surprise to have witnessed it as such in the wake of the pandemic. That is why, on the weekends, districts more frequented by locals can actually be as packed as it was pre-pandemic!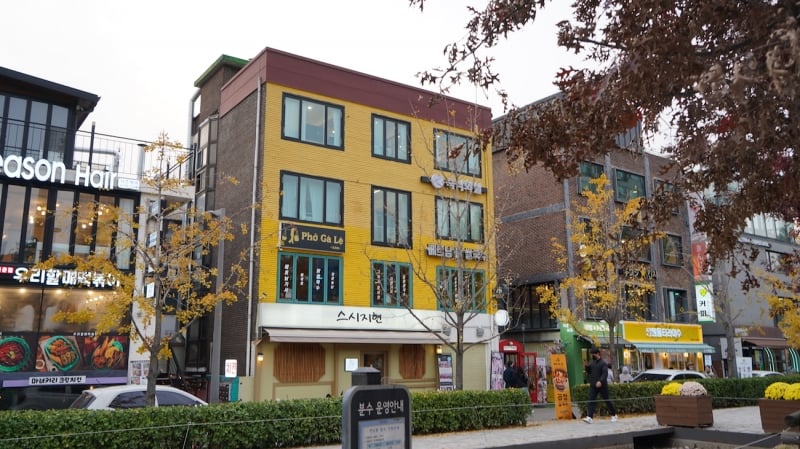 Furthermore, other shopping districts like Seongsudong, Ikesondong, and Yeonnam-dong are increasingly up-and-coming among locals. Thankfully, I had a few hours set aside to visit the picturesque cafe-lined streets of Yeonnam-dong.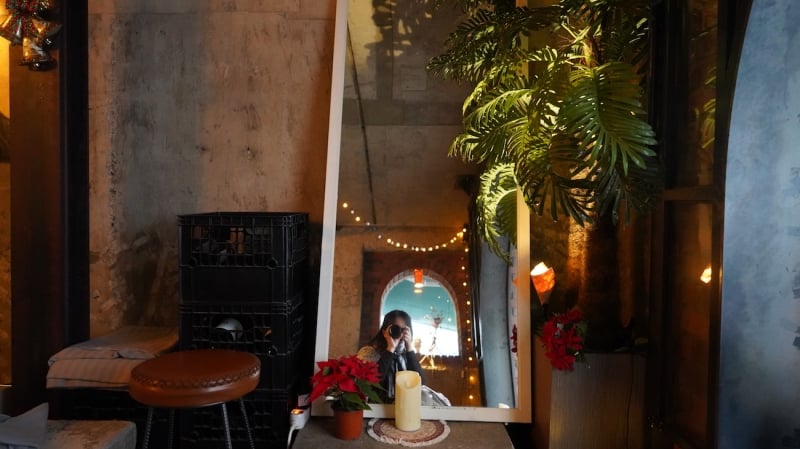 After ambling around alleyways of restaurants, handcrafted boutique stores, and themed cafes, I decided to spend an hour in Heimish Cafe&Pub. Splashed in Christmas-themed decor of fairy lights and wood-panelled furniture with festive tunes playing in the background, it was truly a wonderful place to catch a few restful moments at. 
Also read: Sweet Seoul: 8 Must-Try Korean Dessert Cafes for Your Dose of Sugar
South Korea in the fall: a treasure trove of photo opportunities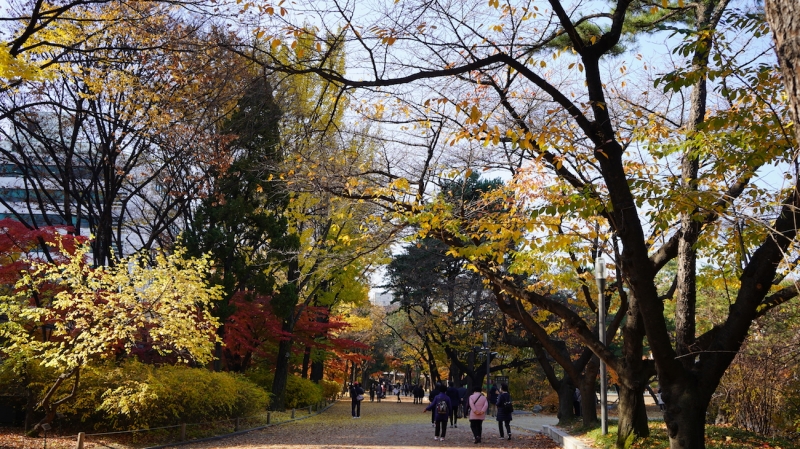 A comment made by the Singaporean couple stood out to me: "Regardless of how long we've been living in South Korea, we're always shocked by how beautiful the autumn landscape is." As someone who has never witnessed this in real life before, I could only imagine what it'd be like to live in a seasonal country where changing landscapes are an annual norm. 
Besides, witnessing how locals live their everyday lives is something that brings me great joy — as there's nothing like experiencing a country and its locals in its most authentic state. 
Incheon: idyllic neighbourhoods of autumnal beauty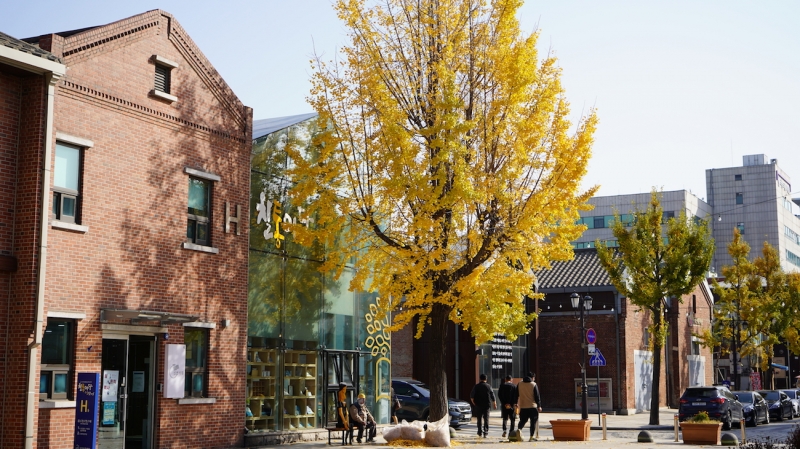 Although we only got to spend two days in Incheon, the likes of the Incheon Art Platform, the Sinpo-Ro neighbourhood, and Songdo Central Park truly took my breath away. It was my first encounter of autumn, and nothing could prepare me for experiencing an abundance of golden orange and yellow leaves at every turn.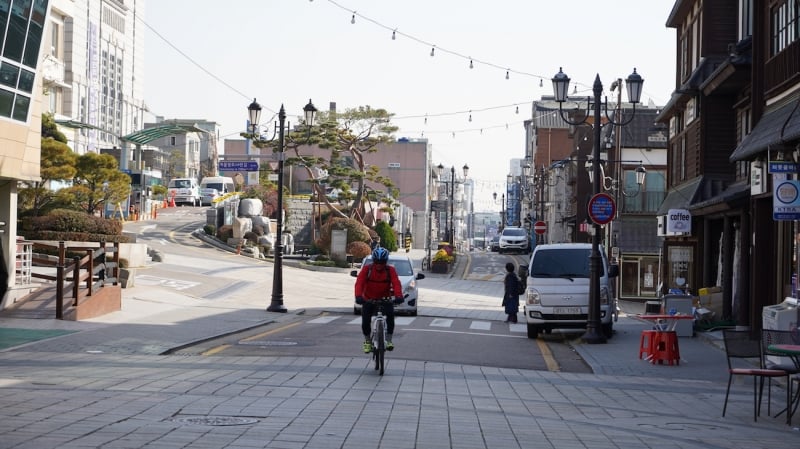 Riding around Sinpo-Ro on a buggy was the best way to explore the picturesque neighbourhood, thanks to its Japanese-influenced architecture of cafes and shops. Pedestrians filled the streets and cyclists rode close to the sidewalk, lending the neighbourhood a quaint air that I can only hope to fully explore someday.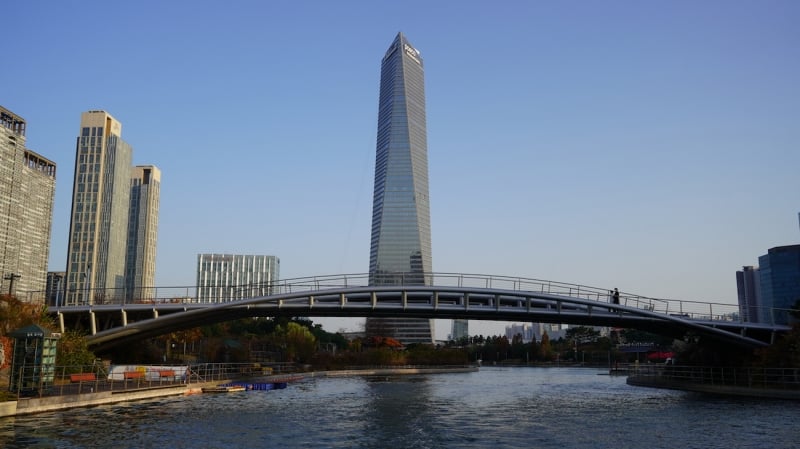 Think of Songdo Central Park as Incheon's very own Central Park in New York, where walkways are surrounded by meadows and a lake runs through the park. Nothing beats exploring this part of downtown Incheon with a water taxi ride against the city's towering skyscrapers and bridges, where dog walkers and joggers filled the streets. 
Seoul: majestic palaces and scenic parks
Since the bulk of my trip was spent in the heart of South Korea, I got the opportunity to explore the beauty of traditional palaces, parks, and outlying towns.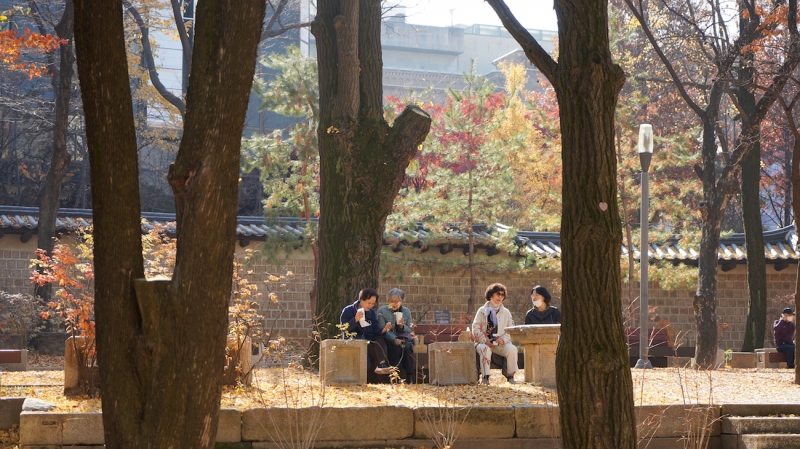 Deoksugung was my first taste of autumnal beauty in Seoul, and it seemed a place where locals would gather for a restful stroll. Aside from the falling leaves and the pleasant air all around, my favourite spot in this palace was the al fresco area where ajummas would gather for an afternoon meal with loved ones.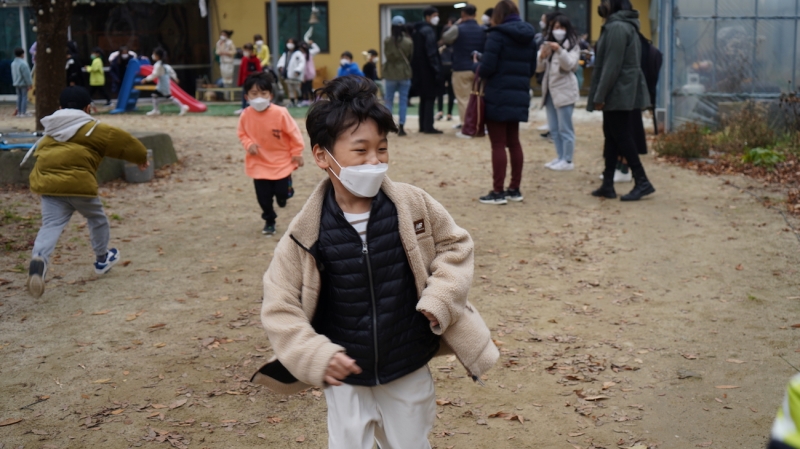 Yangpyeong is a quiet village in Gyeonggi province, where serene landscapes of streams and mountains over the horizon are a common sight. We arrived to school children running about the common area and dogs sauntering about — it felt like a rare peek into everyday life of locals.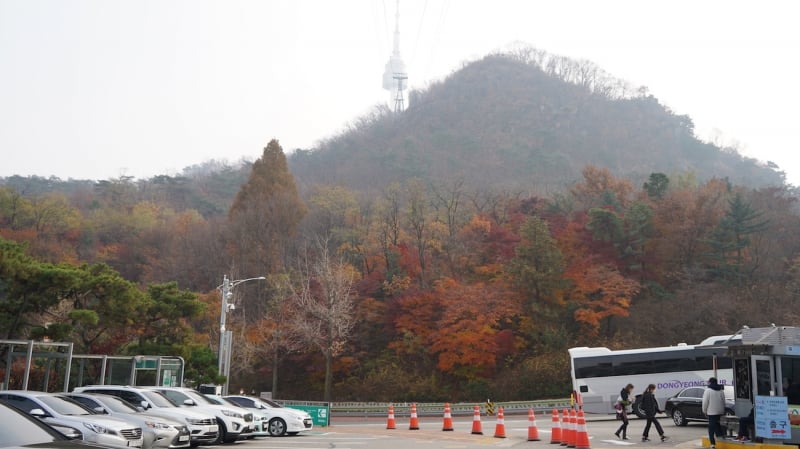 Our trip ended at Namsan Park and Haneul Sky Park. While hiking up Namsan Dule-gil is a preferred choice if you're hoping to work up a sweat, we rode the cable car up instead. This way, I managed to snag a front row seat to a panorama of the city's townscape, which continued when I reached the peak of Namsan Park.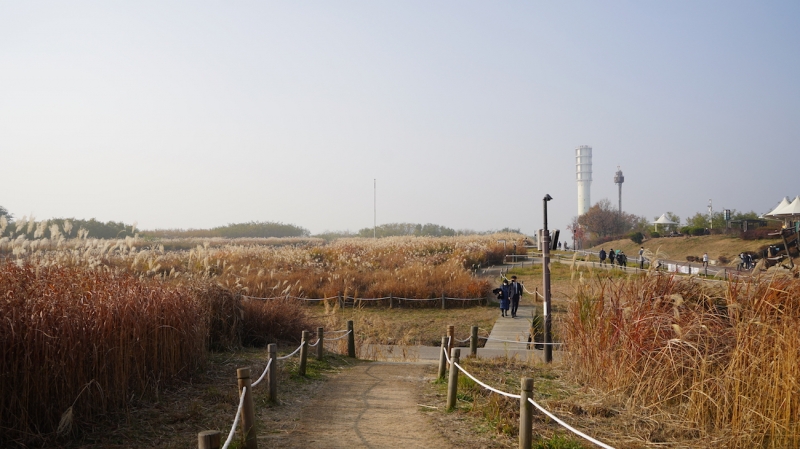 Every photographer's dream consists of landscapes like Haneul Sky Park in Sangam-dong, where lush grassfields of lalang make for some of the most stunning backdrops you can ask for. Just like Namsan Park, traipsing around Haneul Sky Park lends you a glimpse into the buzzing air of locals indulging in a carefree day out. 
Finally, as I crossed one of the many 31 bridges across the Han River back to Incheon International Airport, I made a mental note to plan for the day when I would have the opportunity to revisit South Korea's many cities. In a country where locals take such pride in their culture and heritage, I know that I've only scratched the surface in the Land of the Morning Calm. 
---
We would like to thank Korea Tourism Organization for inviting TripZilla to join their media trip for the first Vaccinated Travel Lane with Singapore.