On the 15th of November 2021, Singapore officially opened its Vaccinated Travel Lane (VTL) with South Korea with a few travel requirements. I was lucky enough to be one of the earliest travellers on the new Singapore – Korea travel lane. Today, I'll share with you all the travel requirements to expect when travelling to Korea, along with some personal tips! 

Pre-departure checklist: 
Before boarding the flight to Incheon, there were plenty of pre-departure preparations. This was mainly because of the South Korea travel requirements that I had to meet. 
Korea Electronic Travel Authorisation (K-ETA)
The first thing I had to do was apply for my K-ETA. Applications actually opened exactly a week before my flight (last Monday, 8 November) so it was one of the first things I had to check off my list. 
For those not in the know,  a K-ETA is something like a travel pass for foreign tourists who can travel visa-free to South Korea (those with a Singapore passport for example). Once approved, your K-ETA is valid for two years. Those who cannot apply for one will need to apply for a Korean travel visa instead. 
Anyway, for myself, I submitted my application on the day applications opened. 
I applied for the K-ETA online at this link, with the entire online application process only taking about 10 minutes. However, before you fill in the application, make sure you have these things ready (aside from the basic information like passport number, full name, address, contact number, email address)
A passport-sized photo (to be uploaded) for verification purposes, with a size of less than 700kb 

Address in South Korea → this can be the hotel address 

In case of emergency contact 

Credit card details → application costs about S$13 
Once I submitted my application, I received a confirmation email stating that they received it. After which, it takes anywhere between 30 minutes to 24 hours to process the K-ETA! (for reference, I applied at 10.29pm on 10 Nov and received an approval email at 11.04pm on the same day! But of course, it's always wise to be safe and apply for it ASAP) 
When you're going to apply for your own K-ETA in the future, don't forget to bring along your flight details for verification! 
Travel insurance
As a new travel requirement for Singaporeans travelling to South Korea, you need to get travel insurance that provides COVID-19 coverage. This is in case anything untoward happens while you're in South Korea. Your insurance has to have a minimum coverage of 30 million KRW or S$35K. 
If you're planning to travel to South Korea soon, don't fret about travel insurance. Since Singapore Airlines is one of the few airlines that provide VTL flights to Incheon, they have partnered with AIG to provide convenient COVID-19 insurance coverage for travellers to Korea. You can also purchase AIG insurance via Korean Air too. FWD Insurance, Sompo, and AXA also provide similar coverage. 
More on travel insurance with COVID-19 coverage here
I got mine from AIG. My return-trip insurance covers the following:
1. Medical expenses
If, touchwood, I test positive for COVID-19 while travelling internationally, my insurance will cover my medical expenses there. It also covers up to S$100/day/person for up to 14 consecutive days if I am placed into mandatory quarantine. 
What's more, if I get COVID while travelling in South Korea, the insurance will cover any non-refundable trip costs. How much it can cover usually depends on your plan.
2. Repatriation
However, if, instead of quarantine, I am sent back to Singapore, my travel insurance will cover additional travel expenses for repatriation.
3. Trip cancellation 
My insurance also covers me for non-refundable travel/accommodation expenses if I or someone close to me tests positive and I have to cancel my trip. This is effective for up to 60 days before departure (it may vary depending on different insurance companies). 
Covid screening
Pre-departure test
Ugh, the part that I was least looking forward to! For those of you who don't know, before travelling to South Korea on the VTL, you need to undergo a pre-departure COVID screening. It's in the form of an RT-PCR test. 
The test has to be taken within 72 hours prior to departure. However, what surprised me was that you also had to take it no less than 38 hours before your flight. This is just so the clinics have enough time to prepare your report! 
I took my test at Intemedical Potong Pasir. 
Tip: Intemedical was my pick because it opens until midnight daily, which is great if you work from 9-5. Not to mention, the service was really good! 
I took my test at 8pm on Fri 12 Nov, and got my results the next morning at around 10am. For those who've been lucky enough to not need to take one before, expect to pay around S$125, inclusive of GST for each test. Other than where I went to, you can also go for a PCR test at any MOH-approved clinics that provide HealthCerts for Pre-Departure Tests (PDTs). 
Make sure you bring your health cert with you to the airport! 
On-arrival test
I was pretty happy that I got the PCR test done and dusted until I remembered that I had to do another PCR test at Incheon Airport! Ah well. 
Anyway, you can't just waltz into an on-arrival COVID test in South Korea. You have to pre-book a test using the Safe2GoPass before you fly out. If you're staying in Korea for more than eight days, you'll need to book a second test on either day 6 or 7 too. Then just bring along your booking confirmation. 
Oh! Don't forget to download the Self Check Mobile App too! You'll need that to receive your COVID test results in South Korea! 
Vaccination cert 
Of course, you also need to bring a digitally-certifiable vaccination certificate with you to South Korea. I found out that the process is surprisingly easy. Just head to Notarise and follow the onscreen instructions. 
The entire process only took me about three minutes to complete after signing in via Singpass. I received my cert almost instantaneously! Then I just had to print it out. I also bookmarked it in my email account. After all, it certainly helps to have duplicate copies in times like these!  
Of course, there are also other requirements like booking VTL-designated flights to Korea and having a "clean travel history". You can find out more here! 
Departure: 
Phew, after taking care of the Korea travel requirements, it was finally time to fly! My flight was…just this morning actually! Okay, to be fair, it was around 1am Singapore time but it still counts!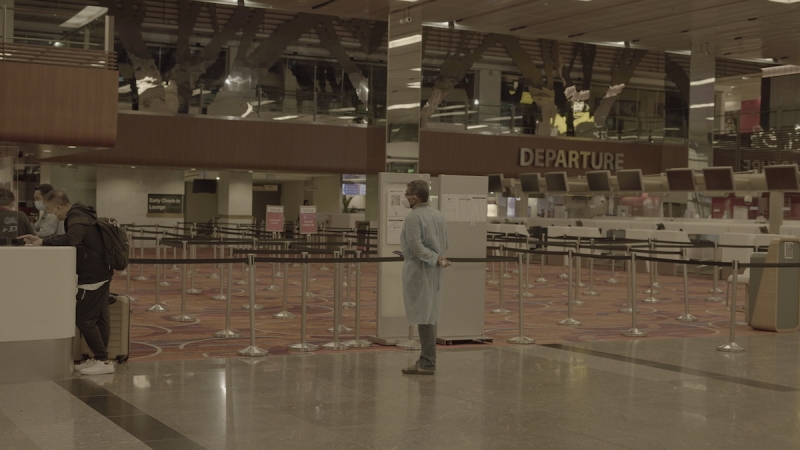 I arrived at Changi Airport on 14 November not really knowing what to expect. I hadn't set foot in there for almost two years after all! And right off the bat, I can tell you, it's different. It's not as bustling or busy as it used to be, that's for sure. 
There were some stores and outlets open, but most were closed, probably because it was already so late at night. To be honest, it took me awhile to get used to the toned-down atmosphere. But I'm sure that's not what you're here for!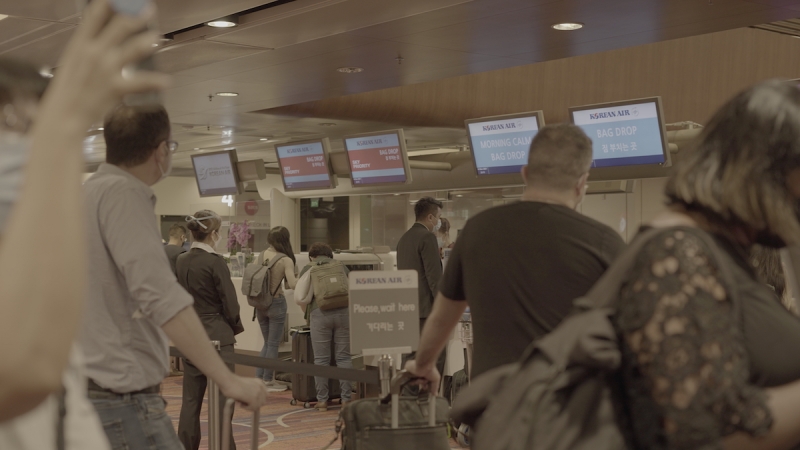 I headed straight for the check-in counter for my flight to Incheon. Because there are so many documents to prepare, expect the check-in queue for flights under the VTL to move really slowly. It took a while for me to reach the check-in counter, and you need to make sure you have these five hard copy documents on hand: K-ETA, vaccination certificate, negative COVID-19 PCR test result, Safe2go, insurance application.
The person at the check-in counter will then hand you this lanyard, which essentially verifies that you're a passenger on the Singapore-Korea VTL. Ensure that you have it on when you land in Korea all the way to your PCR test centre in Korea for a seamless process.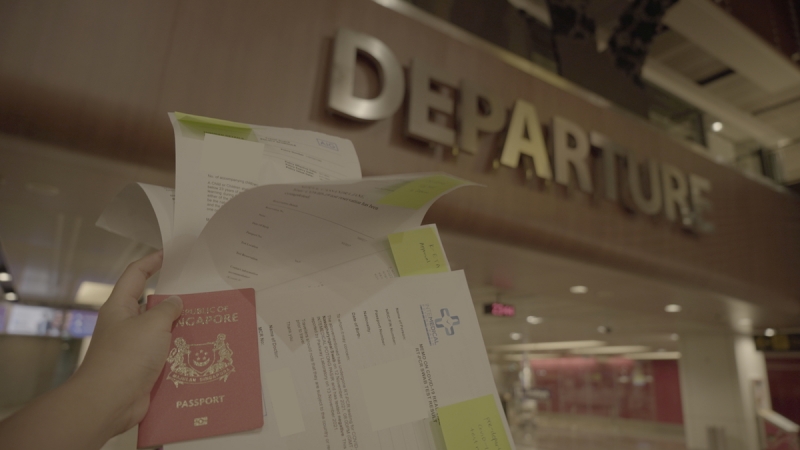 Usually, I like to chill at Changi, but I wasn't sure what the new process was going to be like. So rather than risk being held up, I headed straight for my departure gate after getting my boarding pass. On my way there, I snapped this photo to highlight just how different the departure/transit area is now: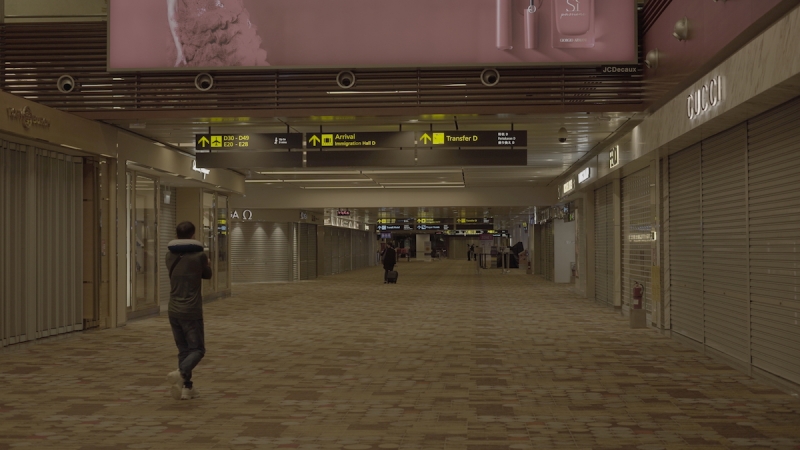 Fun fact: I was really hungry and tried looking for food, but the only thing available at 11pm was 7-11! Luckily, the outlet at Changi Airport Terminal 1 was really big.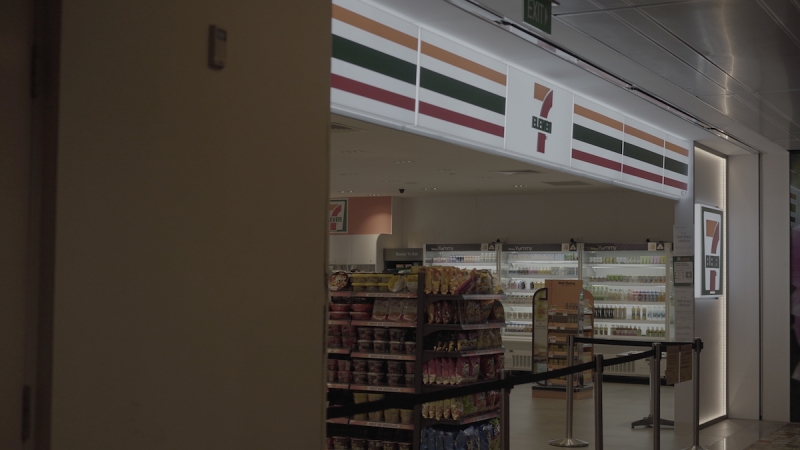 You can expect security checking at the boarding gate to go through the same procedure: The officer checks your passport and boarding pass before you run your carry on items through the conveyor belt before you walk through the metal detector. The only difference is that the officer will also request to see a hard copy of your negative COVID-19 PCR test result (i.e. make sure you don't slip it back into your bag too early!)
After passing through security, I made it to my gate with plenty of time to spare. 
After waiting for a while, the announcement was finally made and it was time to board Singapore's first official VTL flight to South Korea. Yay! Eager passengers were segregated into different zones to ensure social distancing. In other words, aside from the normal priority booking having first dibs on entering the plane, the rest of us followed the announcements for "Zone 1, it's time to board", and so on.
Walking towards the plane brought me such an indescribable thrill that I've long been waiting for!
Passengers were split into alternative seats, such that there was an empty seat in between each passenger. (The business section was pretty much fully filled though since business seats are generally pretty spaced apart from each other). 
I'm not gonna lie, I was super excited about my trip but also super tired. Not long after, my eyelids grew heavy and I dozed off. After almost two years, I was finally sleeping in the sky once again.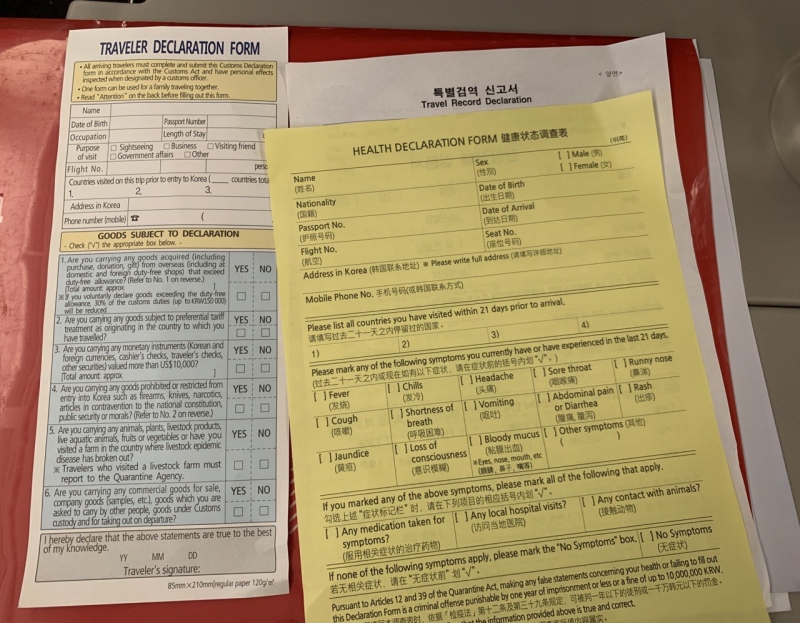 However, at one point, I was awoken by the flight attendants to fill up three forms: the travel declaration form, health declaration form, and travel record declaration. 
Arrival: 
When I opened my eyes again, what greeted me outside the window was the vast ocean, and the morning sun rising over the horizon. There was a point where I wasn't even sure if I would ever see such scenery ever again. 
Not long after, the announcement was made that we were beginning our descent into Incheon international airport! It's finally happening! As the pilot eased onto the runway, I waited with excitement as we slowly decelerated and finally came to a stop. Since the flight wasn't as crowded as it would've been pre-COVID, it was a seamless process disembarking the plane to get to the terminal.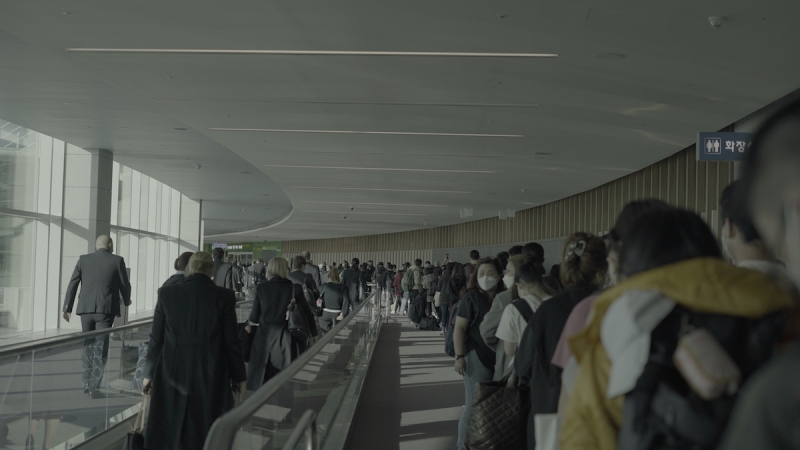 However, what shocked me was how long the queue at the airport was immediately after disembarking! Assumedly everyone who alighted from the plane joined the queue, so it was actually not too big of a surprise (after standing in line for more than a few minutes).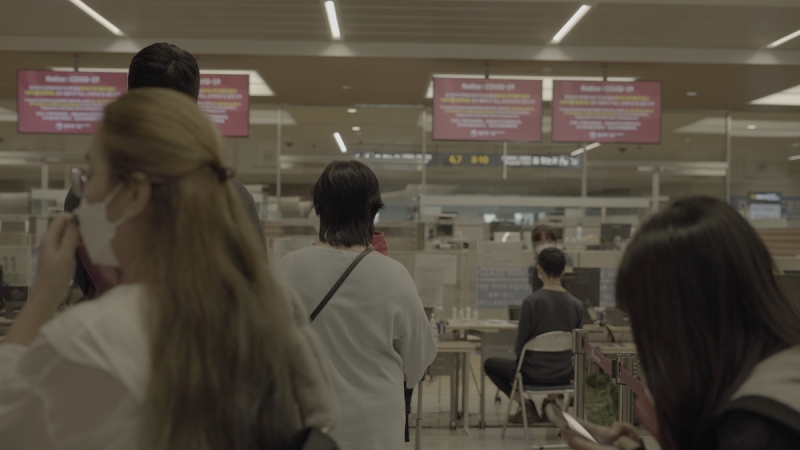 What's interesting is that there were three rounds of immigration: The first was checking your vaccination certificate and negative COVID-19 pre-departure test (wherein the officer will seize both hard copy documents), the second is for checking your K-ETA, while the last one was passport verification and automated procedures of face verification and thumbprint scanning. (At each station, you're required to submit the documents you filled up on the plane. Just make sure you have all of them ready to submit when the officer asks for it!)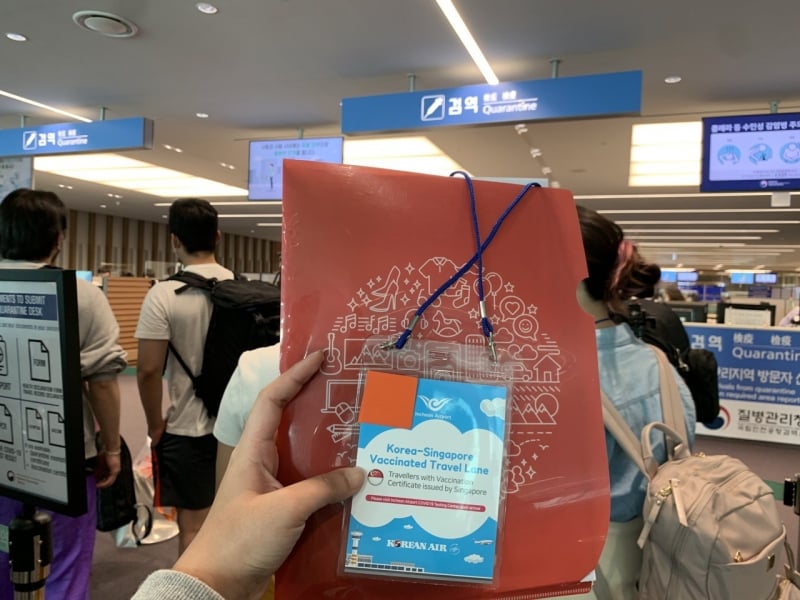 Remember to have your aforementioned lanyard on your person at all time during this process! 
After the thorough immigration process, head down to baggage claim! Then, it's time to enter the arrival hall.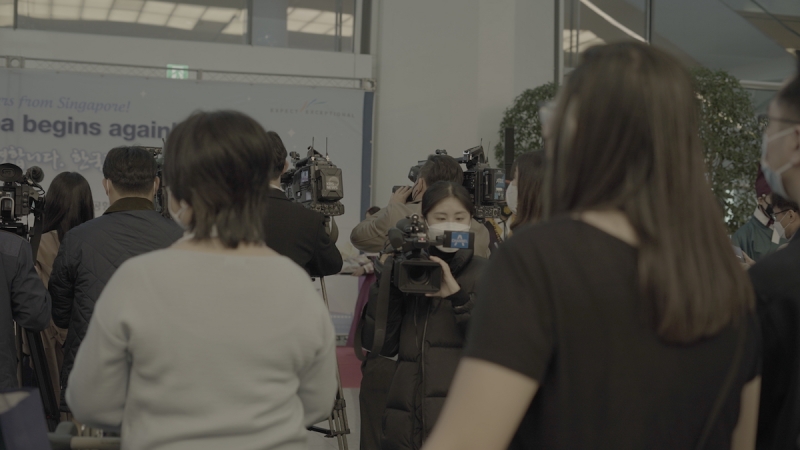 Since I was fortunate enough to arrive in Korea on the first-ever VTL arrangement with Singapore, we were greeted by media personnel and representatives from Korea Tourism Organization! After a few speeches, we were even instructed to go onto stage for a photo-taking session. Talk about a first time for everything right?
COVID testing in South Korea
Within Terminal 2 of Incheon Airport (which is where I landed), there is only one COVID-19 testing centre. If you happen to arrive at Terminal 1, there are two testing centres there.
Head down the escalator at the arrival hall and turn right, after which you'll see this sign directing you to the centre.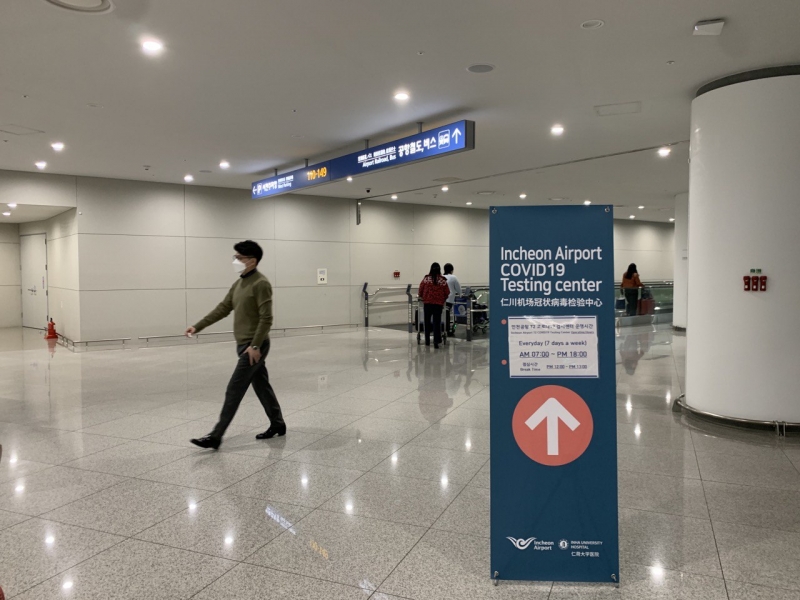 Once you reach the testing centre, join the line outside the centre. You'll be handed a pair of gloves and a queue number before you reach the testing centre that's been set up in an area outside the airport (which means that this was my first time experiencing the cold Korean weather!)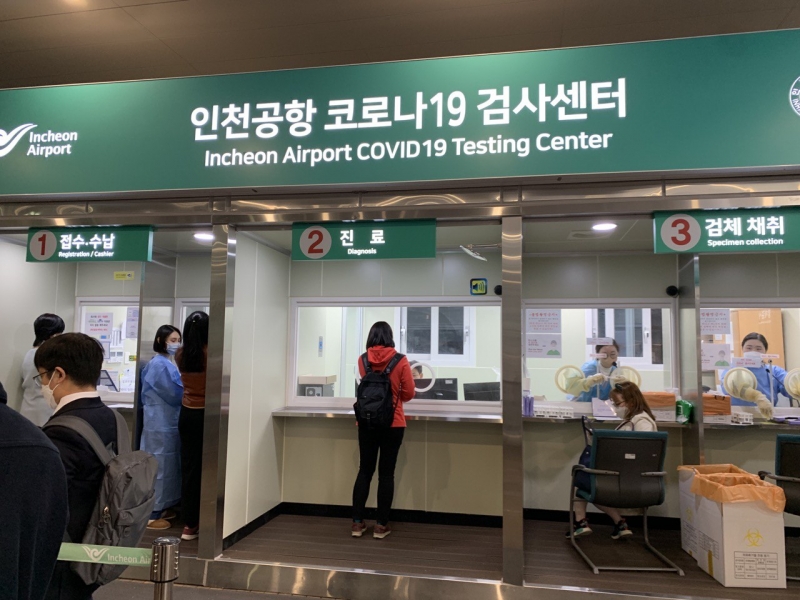 The testing centre had three stations arranged in a very seamless and efficient process. The first was registration, the second was diagnosis (wherein you're asked if you've got any symptoms), and the third was the actual testing process.
The entire process took about 15 to 20 minutes from start to end! Take note that the on-arrival COVID-19 test has to take place inside the airport. After which, you're instructed to remain at your hotel (or place of accommodation) until you receive your test results (via email). (Note: All hotels in South Korea are qualified to serve as quarantine hotels while travellers wait for their results). 
Transport to accommodation
For most travellers, after undergoing testing at the airport, you'd have to take a private hire vehicle (like a taxi) straight to your hotel. In my case, I hopped on a chartered bus with my fellow media travellers and headed straight to the hotel. After registering at the hotel, I stayed in and spent my time resting while I awaited my results. A few hours later, lunch was delivered directly to my room!
Initially, I was expecting to receive my PCR test results the next day. To my pleasant surprise, I actually got them back after just a few hours! Negative, thank goodness! I was getting cozy in my room too! However, if you are travelling to Korea on the VTL, you should still be prepared to wait at least a day, in case there's any hold-up.
This notice is a helpful guide for the estimated time of results depending on when you took your test: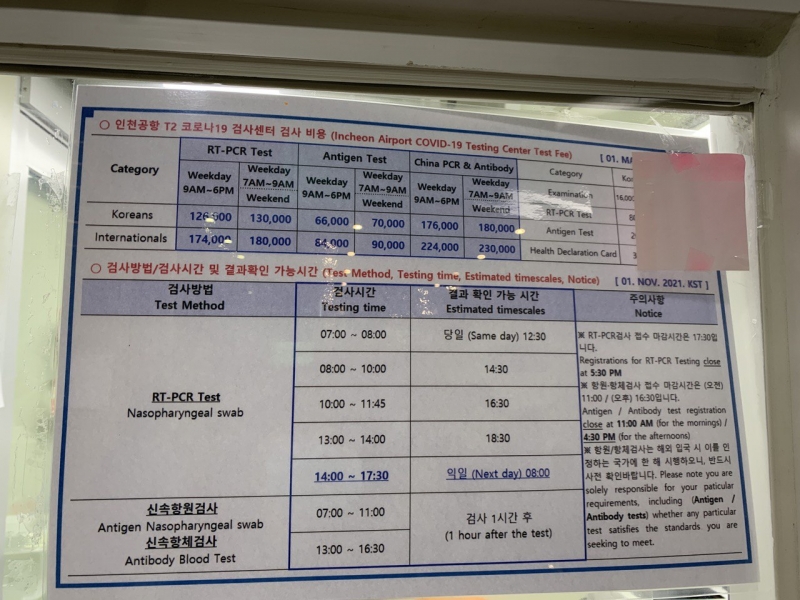 Time to explore Korea!
Whew! What a day! Anyways, that's it from me today! I'll be sharing my trip in South Korea soon along with more tips and tricks, so stay tuned! Follow us on Instagram and Facebook for more too! 
---
Special thanks to Korea Tourism Organisation for making this trip happen!