More often than not, Africa has been laden with a multitude of misconceptions that have, alas, cast a shadow over its intriguing sights and exhilarating adventures. Well, we say that it's time to upend these myths so that you can have a whopping good time on a high-octane rafting trip in Ethiopia, trekking through the breathtaking safaris, and scaling the pinnacle of Africa – the majestic Mt. Kilimanjaro – with no qualms whatsoever! Indeed, Africa is culturally rich and very, very diverse in terms of its natural landscapes. This continent (not country!) makes for an exceptional choice for all sorts of vacations.

With Ethiopian Airlines offering special discounts (up to 20% off for BOTH Business and Economy class tickets), make your bookings from now till 31 March. Do not delay that dreamy African Safari holiday of yours and start planning away (travel period: 1 April to 15 November 2018)! Fly in style and in absolute comfort with Ethiopian Airlines, which offers direct flights to an array of destinations including Johannesburg, Madagascar, Cape Town, Victoria Falls, Nairobi, Kilimanjaro, Seychelles, Sao Paulo and even Buenos Aires.
However exceptional, it's no secret that this continent is extremely large and, at times, a little hard to get to. Every holiday starts and ends with a good flight, and the worst way to start your holiday is jetlagged, fatigued, and lethargic with every bone aching in your body.
If you're fretting about the thought of making multiple transits and going through troublesome flight connections, don't let those stand in your way! Africa is, in every way, a destination that can offer travellers an adventure like no other, and nothing should hold you back.

SCORE 20% OFF YOUR AFRICA FLIGHTS HERE! 
Speaking of letting nothing hold you back, here are some common stereotypes about Africa that are completely misguided:
Stereotype #1: The continent is nothing but a giant Sahara desert
Reality: Fact is, Africa is home to the world's largest waterfall, Victoria Falls (double the height of Niagara Falls!), and the tallest free-standing mountain, Mount Kilimanjaro.
Africa truly has some of the most awe-inspiring natural wonders that are absolutely spectacular and sublime. Awash with astounding wildlife, phenomenal geological features and unforgettable natural landscapes, this continent is anything BUT a giant Sahara desert. Ethiopia is an extraordinary example of this, where the Simien Mountains National Park, a UNESCO world heritage site, is dubbed "The Grand Canyon of Africa". This point of interest is just one out of nine UNESCO world heritage sites within Ethiopia itself, more than any other country in Africa!
Apart from scaling the heights of the Simien Mountains, journey to the lowest and hottest place on Earth – the Danakil Depression. Known as one of the most extreme climates found on Earth, the Danakil Depression is also home to the Erta Volcano which is also known as the 'smoking mountain'. It definitely seems like there's so much more than just sand dunes lying around here – you just have to know where to look
Stereotype #2: Safaris are so exorbitantly-priced!
Reality: It is a widespread belief that Africa's glamorous safari lodges and leading game reserves carry hefty price tags. However, it is actually possible to enjoy a true-blue African safari without completely breaking the bank! After doing some proper research and getting expert advice, you can obtain deals that are really a bang for your buck. Another valuable piece of advice would be to travel off-season (generally between March till June) where lodging rates have proven to plummet by a stark 40%! Not only does that translate to massive savings, you probably also get a higher chance of animal sightings. This makes the whole trip even more worthwhile without burning a giant hole in your pocket!
Next tip: The best deals are also found in some of the more unheralded parks. Always craved for an authentic bush experience? Skip Kruger Park and visit Ethiopia's Bale Mountains National Park, a prime trekking destination where visitors can spot the rusty-hued Ethiopian wolf. Take a hike and explore the natural habitat of Africa's ONLY wolf species in Sanetti plateau. For bird watching enthusiasts, be wowed by the variety of bird species found in each of the seven lakes located at the Ethiopian Rift Valley. If you want to keep your eyes peeled for lions and leopards instead, do check out Harenna cloud forest! Alternatively, if you prefer a more dramatic herbivore-viewing, set foot at Amboseli National Park in southern Kenya. With picturesque views of Kilimanjaro's peak, observe abundant herds of elephants, Cape buffalo, giraffes and hippos grazing around.
CHECK AN AFRICA SAFARI OFF YOUR BUCKET LIST!
Stereotype #3: Africans speak only Afrikaans
Reality: In Ethiopia alone, there are a total of 80 different individual languages, PLUS 200 different dialects, spoken; let alone the whole of Africa! These languages in Ethiopia range from Amharic, Oromo, Somali, Tigrinya, Sidamo and about 70 over others! English is the most widely spoken foreign language in Africa, also used as the main medium of instruction in schools and universities. Contrary to common misconception, Afrikaans is actually more commonly spoken in South Africa and Namibia, and not predominantly in all of Africa's countries.
Across the entire continent, there are a whopping 1,500 to 2,000 local languages spoken on a daily basis. Moreover, about 25 percent of the languages spoken within Africa are not recognized anywhere else in the world. The linguistic diversity here is indeed a testament to the continent's heterogeneity and fullness!
Witness the harmony of different cultures as they co-exist amidst Ethiopia's rich diversity which stemmed from its colourful and vibrant history. Feel welcomed at the phenomenal underground churches of Lalibela, hand-hewn from rock to construct the Jerusalem of Africa; or take a trip to Hara and wander on the streets of the old walled city that is home to a hundred mosques.
Stereotype #4: Africa is defined by poverty and plagued by natural disasters
Reality: Global news tend to depict and reinforce the negative associations of Africa, such as abject poverty, political wars and prevalent diseases. The news highlight these matters as the defining factors of life in this vast continent. However, this is absolutely not reflective of Africa as a WHOLE. It is comforting to note that newer narratives are gradually shifting to point out Africa's emerging developments instead of her disease-stricken regions. Perspectives of global citizens have indeed changed for the better!
Despite reeling from the catastrophic effects of prolonged droughts and famine, countries such as Ethiopia are demonstrating superb growth. The legendary Art of the Covenant can attest to that, as it has been successfully rebuilt several times despite its origin dating back to the 4th century AD. Also, Ethiopia now has one of the world's fastest-growing economies that is significantly fueling Africa's overall national development. As the government extends greater support to its citizens, the country's overall productivity is increasing at a steady rate!
Recently in July 2017, Ethiopia was lauded as the world's most welcoming country, and this vote of confidence is a true testament to how much former underdeveloped countries have steadily surged forward in progress from great ancient civilisation times. The once poverty-stricken continent is now looking towards a dynamic and prosperous Africa, where natives are empowering each other to strive for the greater good!
BOOK YOUR FLIGHTS & EXPERIENCE AFRICA FOR YOURSELF! 
Stereotype #5: Exciting activities are seriously lacking in Africa
Reality: With a plethora of exhilarating activities, you can visit Johannesburg's renowned Kruger National Park, bungee-jump at Victoria Falls, explore Cape Town's townships, go shark-cage diving and abseil off Table Mountain. Seasoned adventure seekers can rejoice because at Ethiopia, you could challenge your limits with high altitude mountain biking, have a go at caving in the stunning Sof Omar system (one of the most extensive underground caverns!)  or put your rock climbing skills to a test in Gheralta. This is just barely tapping on what's available for both the young and young at heart. There is a myriad of fun-filled activities that will excite novices all the way to full-blown advanced adrenaline-junkies.
Whether you opt to completely immerse yourself in the solitude of the lush African bush or sky-dive from some 10,000 feet amongst the clouds, Africa will leave you with a rocking good time and wide smiles to prove it.
Stereotype #6: Mobile phones still rely on rudimentary dial-up services
Reality: Africa is no longer lagging behind the rest of the world. In fact, Africa has seen a technological boom in recent years where the generation of youth is considered exceptionally techno-savvy. Technology has also been instrumental in breaking traditional and cultural barriers that were hindering modernization – this rise in innovation could indeed be fundamental in propelling the continent for even greater progression in the near future.
Even the Maasai warriors in Kenya now possess mobile phones capable of connecting to WiFi and a 4G network. Apps are used by farmers to check on their harvest yields to improve overall productivity and banks have introduced mobile e-banking services for more convenient transactions. Farewell, sluggish connections!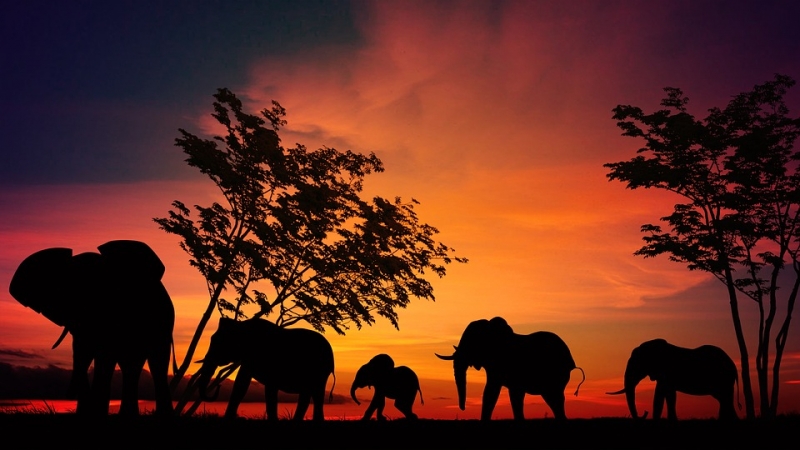 Now, you're seeing Africa in a whole new light, aren't you? Yes, Africa IS safe to travel to and yes, you'd be missing out if you didn't excitedly start planning a visit to the "Land of the Lion King". Jet set in style with Ethiopian Airlines for a smooth and fuss-free flight, especially on their signature Business Class that goes under the unique moniker of "Cloud Nine".
Rest easy with ample room space on board the spacious B787 Dreamliner, as you indulge in the extensive in-flight entertainment options and enjoy complimentary beverages inclusive of a wide range of liquor. Bring out the adventurous foodie in you and delight in trying Ethiopia's national delicacy "Injera bǝ wot", which consists of a flat bread topped with a dipping sauce prepared using a variety of meat and vegetables. "Injera" is a common dining ritual of Ethiopians, and signifies the building of friendship bonds through the act of sharing food. This dish goes really well with the generous servings of tasty Ethiopian "Teff" bread! How better to start your African adventure than to partake in this custom onboard?
As you travel in optimum comfort, stretch out in comfort and dodge those awkward sleeping positions with the plush reclinable seats. Also, bid goodbye to all your packing woes courtesy of the generous check-in baggage allowance of 3 bags (maximum: 23kg) each! Flying on Cloud Nine is definitely more worthwhile than the usual Economy class – primarily because of the level of comfort you attain. As the flights are at least 10 hours and can go up to 14 hours for places like Cape Town, you would not want to be stuck in a cramped seat that is unable to recline much. Luxuriate in more space, more baggage allowance and more food on Cloud Nine. The more, the merrier. And with all that excitement fizzling within you about your impending trip, there's really no other way to fly!
With a smooth start to your travels, touch down feeling invigorated and absolutely recharged. From now till 31 March 2018, enjoy up to 20% off for both Economy and Business Class tickets for travel period between 1 April to 15 November 2018. What are you waiting for? Start booking your tickets with Ethiopian Airlines now – and Africa's wild treasure trove of ecological gems await your adventures.
GET STARTED ON YOUR AFRICA ADVENTURE NOW!
---
Brought to you by Ethiopian Airlines.