Pyeongchang shot to fame in February 2018 as the host city for the Winter Olympics. However, this sleepy Korean ski-town's status as a tourist hotspot catering to adrenaline junkies looking for the best slopes in South Korea was cemented way before that! On top of that, the recently constructed KTX line makes it a cinch to get here from Seoul. Look beyond the resorts, however, and you'll find an area rich in cultural experiences.
1. Get the low-down on Korean culture at Jeonggangwon
Jeonggangwon is the quintessential Korean experience, and a must-visit if you find yourself in these parts. What exactly does it consist of, you ask? Think a sprawling hanok village combined with acres of pristine gardens, an animal farm and a food museum to top it off.
All of this is designed to culminate in a mouthwatering Korean food experience at the Jeonggangwon Traditional Korean Food Culture Experience Center. Here, you can create your own Korean dishes from the vast variety of ingredients on offer. Take up the challenge of making pastes likegochujang and doenjang. Or, opt for snacks like songpyeon (half-moon rice cake) and injeolmi (Korean traditional rice cake made with glutinous rice and coated with bean flour).
2. Ski resorts
The ski resorts of Pyeongchang are the main reason why most people visit here, especially during the frigid Korean winters, when the slopes get a thick coating of powder. Yongpyong and Alpensia are two of the top ski resorts in the area, with the 2018 Winter Olympics bringing with it a fair amount of development.
3. Enjoy the Korean alps
Ski resorts aside, Pyeongchang is a delight to visit during seasons when the temperatures don't dip below zero. You'll find many city dwellers make their way to the Taebaek Mountains during spring and autumn to simply enjoy the slower pace of life in these parts. The vivid foliage and temperate weather make hiking in the shoulder seasons a treat, as spring brings bright shades of red and pink, while autumn serves up golden yellow hues from the fallen leaves.
4. Pyeongchang Trout Festival
With its sub-zero winter temperatures and high altitude, the crystal clear waters of Gangwon-do make Pyeongchang a superb location for trout fishing. The Pyeongchang Trout Festival is considered a premier event on the Korean calendar as participants can try their hand at traditional trout fishing, folk games like spinning tops or even indulge in an adrenaline rush from snow rafting. Once you've got your catch of the day, get it gutted and prepared at one of the local restaurants. It's a pescatarian feast topped off with a hearty fish and seaweed soup made from the bones of the fish you've just devoured.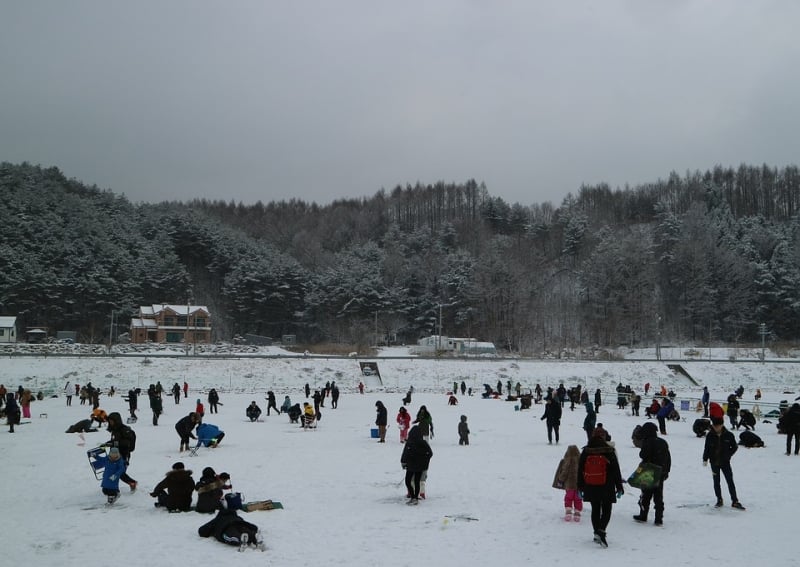 5. Bongpyeong Five-day Market
The Bongpyeong Market is the spot to sample all the local buckwheat (memil) dishes you could ever imagine. Get your fix of tasty memil variations like the buckwheat noodle hotpot (Memil Guksu-Jeongol), buckwheat crepes (Memil-jeonbyeong), steamed buckwheat buns (Memil-Jjinbbang) and buckwheat jelly (Memilmuk). Note, though, that the market is open on days with '2' and '7' – hence the moniker, 'Five-day Market.'
6. Byeongbangchi Skywalk
Head to the Byeongbangchi Skywalk if you feel like taking a trip above the clouds. Built 583m above sea level, this observatory juts out from one of the many Jeongseon cliffs to showcase astounding views of Bamseom Island. There's a zip line too if you're feeling extra adventurous!