Boracay has become a household name in Southeast Asian travel, so much so that the large influx of visitors forced a temporary shutdown of the island. Following a six-month rehabilitation period, Boracay is open for business once again, so we've rounded up nine must-do activities in this picturesque paradise.
Also read: Boracay in the New Normal: What to Expect & Things to Do
1. Get sandy at one of Boracay's 12 beaches
Boracay's beaches are the island's showpieces. With 12 beaches around the island, you'll be spoilt for choice when it comes to soaking up the Southeast Asian sun. White Beach is the premier piece of coastline, but it's certainly worth the effort to seek out quieter hideaways like Lapuz-Lapuz Beach and Banyugan Beach.

2. Plunge into pristine waters
Boracay doesn't just boast of pristine beaches; it also offers some fantastic conditions for diving. Crisp, clear water and thriving biodiversity make this an area rich in marine life. Mild temperatures are perfect for beginners, too, making their first forays into scuba diving a pleasant and unforgettable experience. Scout around on the island for the best diving packages and before you know it you'll be swimming among some of the most fascinating seascapes you've ever encountered.

3. Snorkel at Crocodile Island
Crocodile Island is one of many landmasses close to Boracay. However, contrary to what the name would suggest, there actually aren't any crocodiles to be found here. Rather, the island is named for its crocodile-like formation, best viewed from afar. The waters around this island are a prime location for snorkelling, as the reef is relatively untouched. No doubt you're in for a treat when you dip below the surface.
4. De-stress with a massage
Boracay's White Beach is lined with massage outlets, but for a premium massage experience you won't forget, the Tirta Signature Massage comes highly recommended. This luxurious experience releases stress by combining various massage methods over 1.5 hours, while you soak in the ambience of their lush villa.

5. Get an ATV adrenaline rush
Touring Boracay's breathtaking Mount Luho by ATV is the perfect way to get an aerial view of the island. The trails are a mix of regular tarred roads and relatively tame Jeep tracks, so beginners need not be worried about the course being too challenging.

6. Take a leap of faith at Ariel Point
Ariel Point is an iconic cliff-jumping destination just a short boat ride from Boracay. Dive heights that range from 3m to 15m, and even though they may sound minuscule, you're best off doing a few practice rounds on the shorter end before leaping from the top. On top of the cliff jumping opportunities, it's a great location to partake in water sports like kayaking, snorkelling, and paddle-boarding.
Details: Boracay Beach Club, Station 1. You may also contact 63 (036) 288 6770.

7. Transform into a mermaid (or merman)
Mermaid swimming is Boracay's unique take on free diving. The Philippine Mermaid Swimming Academy will start you off with a monofin before you graduate to a full-fledged mermaid tail. You'll be taught by fully qualified instructors who'll have you gliding through the water in no time.
Also read: 15 Things to Do in Boracay on Your Very First Trip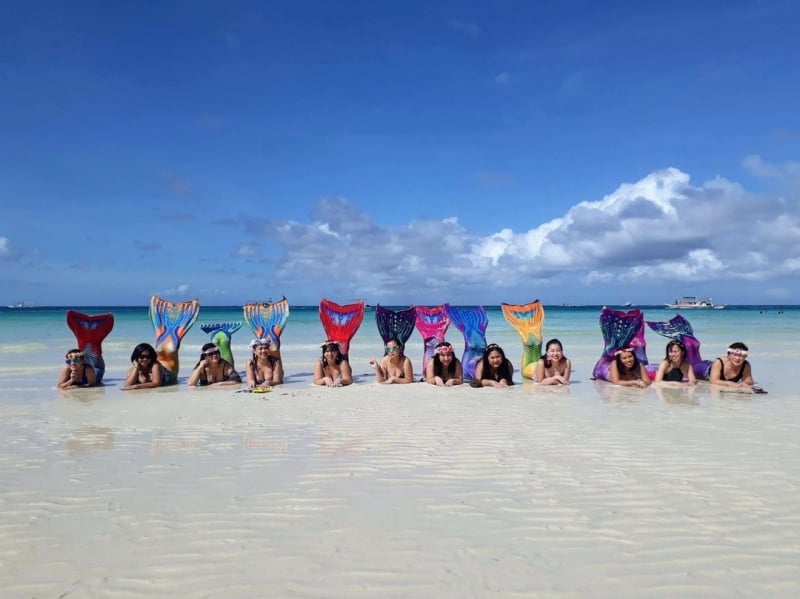 8. Get familiar with Boracay's bars and pubs
For the party animals, a pub crawl is a great way to take in the Boracay nightlife. You'll be entertained with engaging games and meet new friends along the way, all while being plied with social lubricant. Expect group sizes to start from around 50 people upwards.

9. Cook up authentic Filipino cuisine
Join a masterclass in Filipino fare from We Cook Local, a culinary school that offers cooking classes as both private and group sessions. The instructors are all fluent in English and the all-inclusive cost includes a trip to a local market to pick out ingredients for the dishes, drinks, snacks, guidance on how to create a full three-course Filipino spread, and a t-shirt and cookbook as souvenirs.
Also read: 10 Boracay Airbnbs You'll Want to Book for Your Next Island Getaway
Before you book that trip to Boracay, though, remember to be a responsible tourist and clean as you go. We enjoy these spots so much, it's only right that we take care of them.