Shopping in a foreign country; that euphoria that comes with purchasing an incredibly unique item, or from having circumvented the taxes of imported goods—it's addictive, isn't it? Riding on the all-things-Korean wave, I went absolutely crazy in shopping in Seoul, and I suggest that you do too. If you are in the midst of planning a trip to Seoul, you'll find this guide on how to travel around Seoul on a budget extremely handy.
Here are some awesome affordable shopping locations you shouldn't miss out on:
1. Ewha Womans University Shopping Street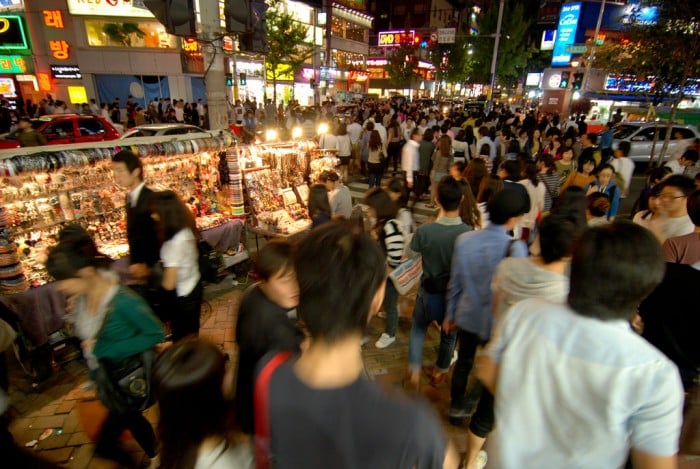 Image Credits: Farid Iqbal Ibrahim
When shopping in Seoul on a tight budget, do as the students do—because they tend to be the experts on shopping for trendy and affordable goods. A thriving shopping area popular with the youngsters is located just outside one of Seoul's prettiest campuses, the Ewha's Women's University. Many shops here sell clothes at prices starting from KRW 5000 (SGD 6). Ladies' backpacks are sold for about KRW 10000 (SGD 12). The quality of the clothes and bags here are pretty good, and many of them are made locally. This area is a paradise for students looking to restock their wardrobe for a new semester of school.
When you want to take a break from the shopping madness, there are street stalls selling a wide variety of Korean snacks and delicacies such as fried popcorn chicken and egg bread. You can also take a stroll on the beautiful campus grounds, situated at the end of the shopping street.
Getting there by subway: Ewha Women's University station, Line 2. Take Exit 2 or 3
Also Read: 10 Must-Try Street Delicacies in Seoul
2. Dongdaemun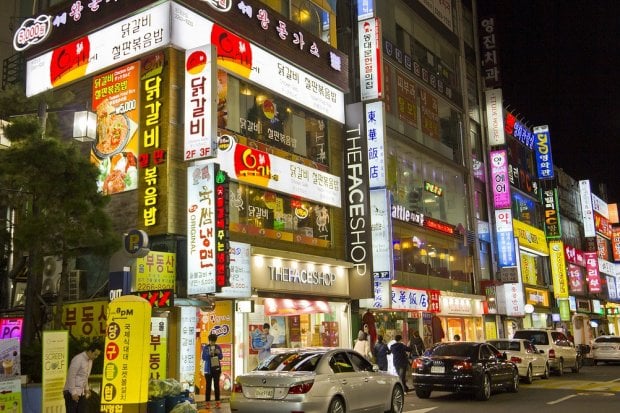 Image Credits: Kaizer Rangwala
Ever tried overnight shopping? No? Then you must try it in Dongdaemun. Shops are open till about four or five in the morning, catering to the insomniac shopaholics. Dongdaemun is huge, and I'm not even kidding—there are 5 shopping districts! Did I mention that they sell everything? Clothes, shoes, bags, food, and even bed linens and wedding paraphernalia! Retailers walk around choosing pieces for their stores, while tourists and locals hunt for the best bargains. Even better are the little street stalls in front of the huge shopping malls, where everything is extra affordable! Be sure to bargain though, especially in the malls.
Getting there by subway: Dongdaemun station, Line 1 and 4
3. Hongdae Shopping Street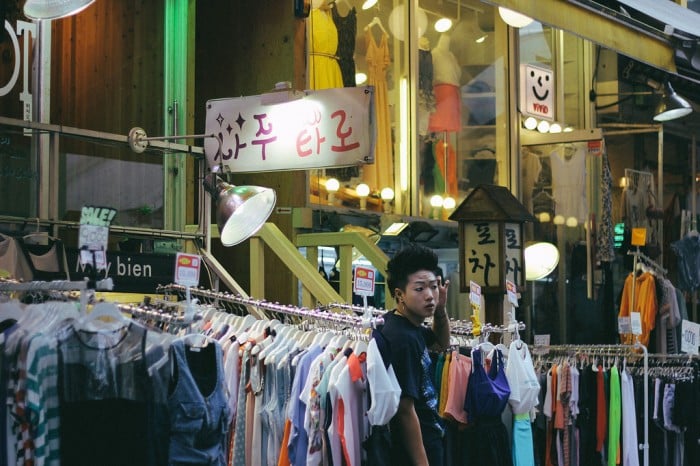 Image Credits: Therealrealjd
Hongdae, situated near Hongik University, is full of little shops and cute cafes. It is a great place for shopping if you're looking for less mainstream fashion items, as the clothings here lean towards indie fashion. The prices are very similar to those at Ehwa, because these shops are frequented by many university students and fashionable young adults. They also sell tons of colourful phone cases at student prices that are wallet-friendly. You will definitely find all the latest trends here! Head over to a noraebang (karaoke) to rest and have some fun after you're done with all that shopping!
Getting there by subway: Hongik University station, Line 2. Take Exit 5.
4. Myeongdong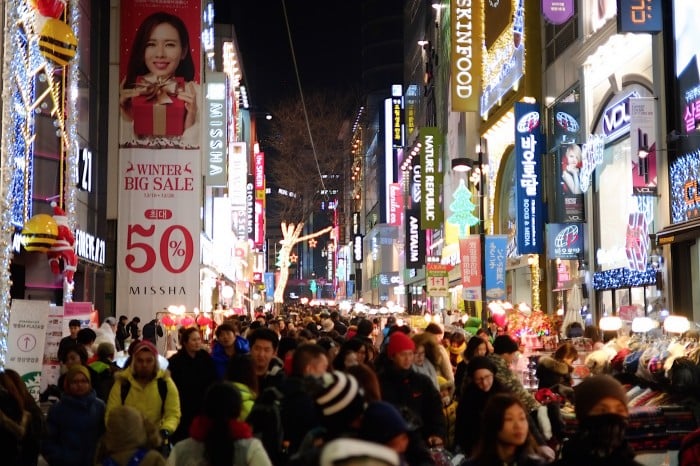 Image Credits: el_ave
Myeongdong is the go-to place for cosmetics. Seriously. All the Korean brands you've ever heard of (and even more of those you've never heard of) can be found here. Innisfree, Etude House, Laneige, Skin Food, Saem… the list goes on and on. Just walk down the main street and promoters will be forcing free masks, pens, and samples into your hands and inviting you into their stores. I ended up with what was probably 2 months' worth of freebies at the end of my stroll down the main street. Stock up on cosmetics here during the sales period, especially if you're a fan of Korean cosmetics. They're at least 50% cheaper than what you can find in Singapore. Food and fashion choices are aplenty here, and if you're bored of taking in the sights, what better than to try on the Korean hanbok (traditional dress) and snap some selfies at the Seoul Global Cultural Centre?
Getting there by subway: Myeong-dong station, line 4. Take exit 6 / Euljiro 1-ga Station, Line 2. Take exit 5.
5. Express Bus Terminal Underground Shopping Arcade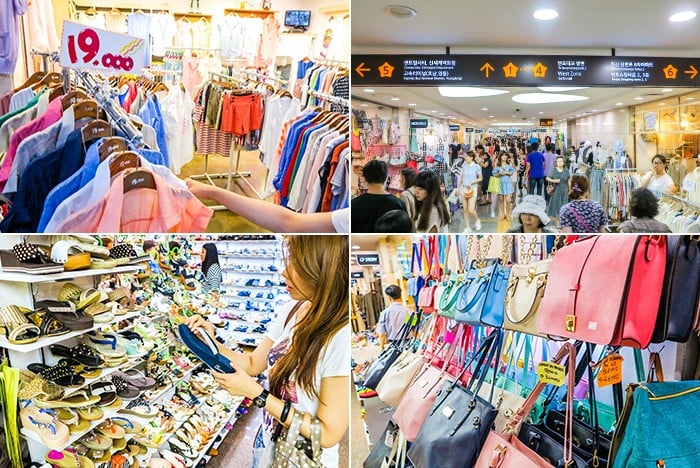 Image credit: KTO
Just look at the throngs of people! Squeeze in a trip here and I guarantee you won't regret it. This HUUUUGE underground mall is a shopping heaven for all women! Yet another food and shopping paradise in Seoul, this underground shopping arcade is situated under the Seoul intercity bus interchange. You will literally go crazy trying to cover all the stores here selling clothes, accessories, cosmetics, interior products, lingerie, flowers,  and even furniture! Clothes here are very affordable, with pieces starting from KRW 5000 (SGD 6). Accessories start from KRW 3000 (SGD 3.50) and shoes are way cheaper than those sold in all the aforementioned shopping areas. I practically bought all my shoes in this arcade at an average price of about KRW 20000 (SGD 24) per pair. Imagine my satisfaction when I got back to Singapore and found a similar pair to what I bought in Seoul priced at nearly SGD 50!
Note that most of the items in this shopping arcade cater to the female population. Perhaps the gents could check out the endless food options at the mom-and-pop eateries at the end of the long alleys while waiting for their female companions.
Getting there by subway: Express Bus Terminal Station, Line 3 and 7. Follow the sign to Gangnam Terminal Underground Shopping Center.
6. Insadong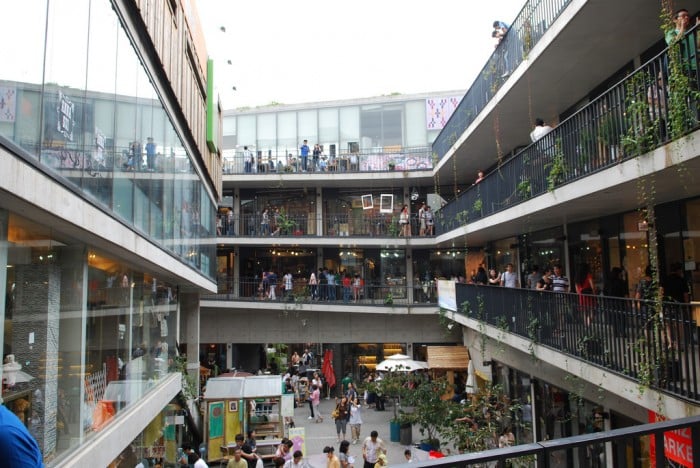 Image Credits: Stuart Wainstock
If you want to shop for cultural souvenirs, Insadong is the place with a huge variety of traditional Korean crafts and souvenirs. Tea, pottery, hanboks, hanji (traditional paper crafts)–Insadong has it all. There are also art galleries and teahouses along the streets. Traditional snacks go for about KRW 2000 (SGD 2.40), while others such as metal bookmarks, metal chopsticks, and little pouches go for about KRW 2000 – KRW 3000 apiece. In Insadong, you can easily find gifts for friends and families that will not burn a hole in your pocket. Besides, remember to try out their famous Poop Bread which are filled with red bean, or hotteok pancakes filled with nuts which are really delicious as well!
Getting there by subway: Anguk station, line 3. Take Exit 6 / Jonggak Station, line 5. Take exit 3.
7. Namdaemun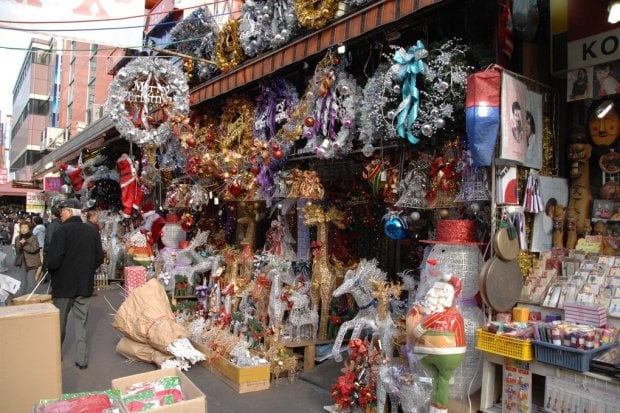 Image Credits: Morning Calm Weekly Newspaper 
Think day-time pasar malam, and you've got the general gist of what Namdaemun is all about. Food, clothes, household items, flowers, stationery, appliances…. These are just some of the things on sale here at really affordable prices. This shopping area is a combination of multi-storey buildings as well as stalls along the streets. Namdaemun is also a great place to sample food sold at roadside stalls;  you can sit down, indulge in street delicacies and enjoy a short breather from all the shopping.
Getting there by subway: Heoyeon Station, Line 4. Take exit 4, 5 or 6.
So there it is, the 7 most affordable shopping areas in Seoul to go crazy in. They've got you covered in all aspects: fashion, beauty products, food and culture. All of them are situated near subway station exits, so they're really convenient and easy to find – and this is coming from someone with a poor sense of direction!
It's time to unleash your inner shopaholic! If you haven't already booked your tickets to the amazing Korea, why not start looking for that perfect travel package now?