I bet one of the last things anyone would expect to be available on airport grounds would be a farm! But that's exactly what visitors can expect to find at Sukhothai's airport, with the Organic Agriculture Project.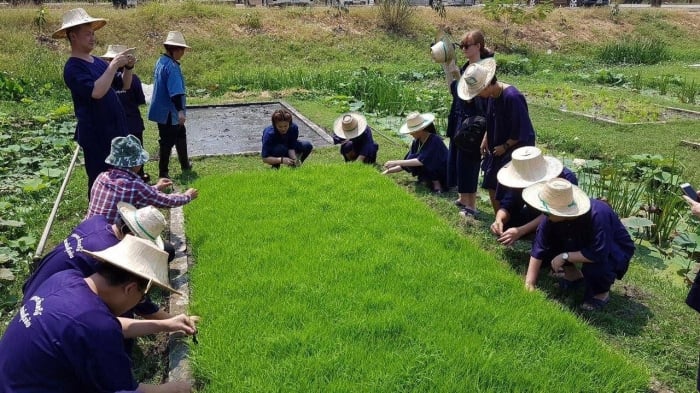 With the intention of serving social causes, a part of the airport was allocated to be home to this organic farm around ten years ago. Its farming practices adhere to the International Federation of Organic Agriculture Movements (IFOAM) standards and visitors can partake in the daily upkeeping of the farm according to various 'outdoor classroom'-style programmes that the farm has to offer.
Courses available
A beginner's course is up to three hours and provides visitors with a brief insight into the workings of the project and its mission, granting them access to their exhibition, greenhouse, organic vegetable garden and demonstration field.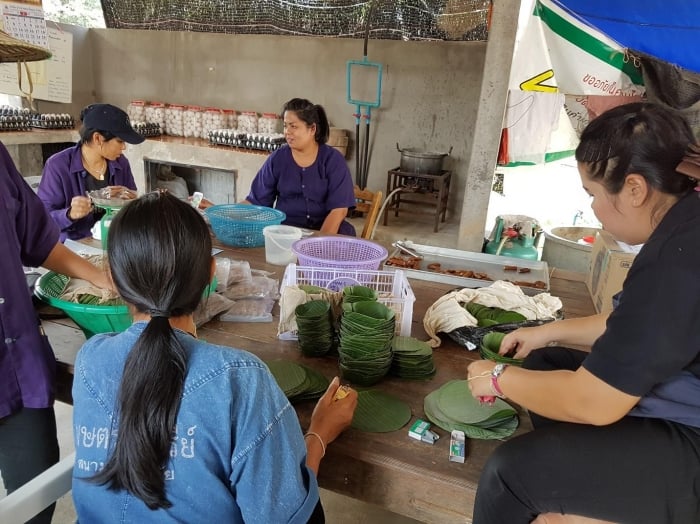 The amateur course takes a full day, with demonstrations and a tour around the farm area, starting from the cattle pen organic field, vegetable garden and fruit orchard, lotus pond and swan pool, fertiliser fermentation site, and the rice mill. An organic lunch is served with ingredients sourced from the farm before participants change into farmers' attire and learn how buffalos are used for ploughing the fields and take a shot at transplanting the rice. The day ends with learning how to plant vegetables the organic way and even getting the chance to bring home your very own vegetables!
The three-day itinerary is ideal and highly recommended for school groups who wish to allow students an in-depth experience into the workings of an organic farm, from water filtration systems, making fertilisers, cleaning and collecting duck eggs and much more.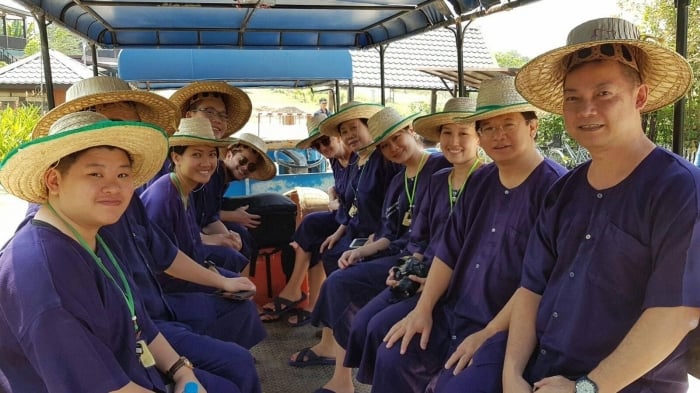 My hands-on farming experience
I started with getting a change of clothes, to look more the part of a farmer, and proceeding to hop onto an open-air truck that took us around the farm where we could observe the rice fields, the water buffalos grazing and the ducks swimming.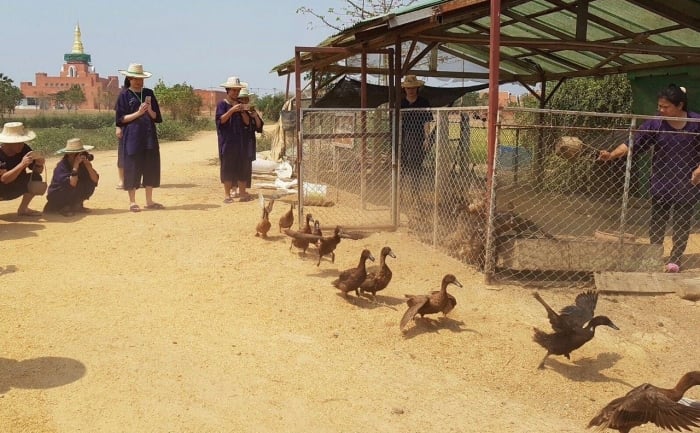 Our first stop was the duck pen, where a large flock of ducks were kept to lay their eggs. Our task was to collect their eggs, which would later be prepared for lunch! But first, we had to let the ducks out, so they could feed and enjoy some free-range time in the ponds.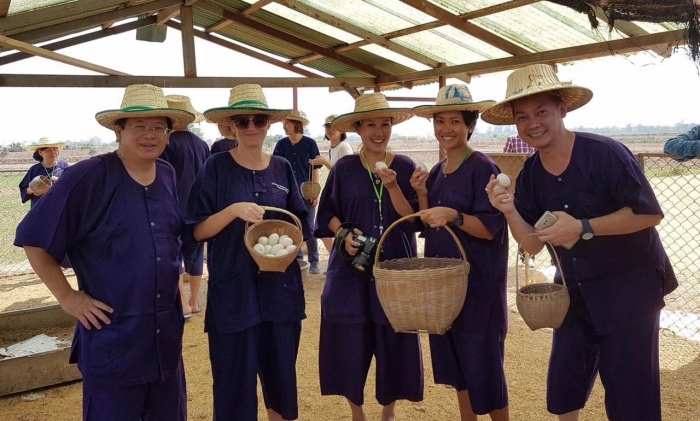 Then it's back to the main area of the farm where the vegetables are grown and where the rice mill is situated. A fun fact to know is that standards are kept strict, even down to the fertilisers they use, which – if sourced from animal waste – has to be organic and free-range.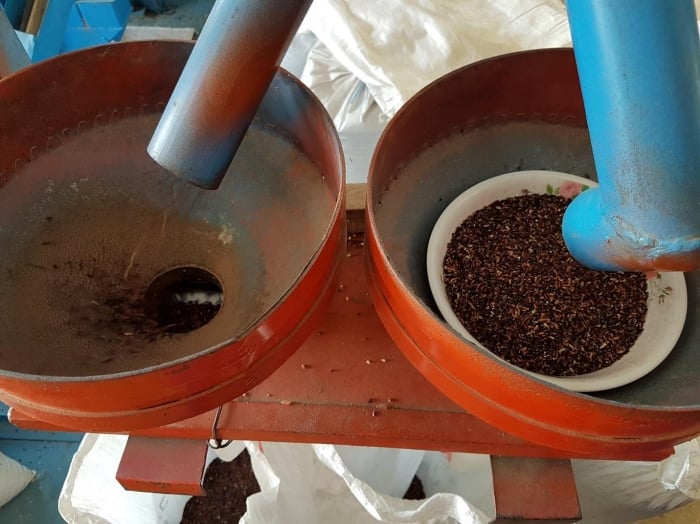 The rice mill here processes different types of rice, from unpolished black rice to red rice to rice bran. I was surprised to see the rice grains being manually separated by workers, so that the final packaging contains only the highest quality grains! It truly is an amazing insight to how much detail goes into their organic farming process.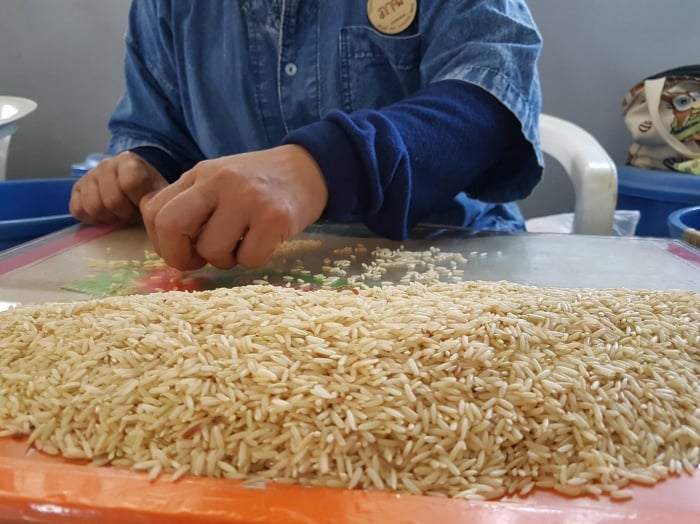 Our final task before lunch was to try our hand at planting rice. We were first briefed about the cycle of rice harvesting which starts first with water buffalos ploughing the fields to make it optimal for sowing the rice seedlings. Rice seedlings are grown in well-irrigated nursery paddies, often situated close to lakes, wetlands or rivers and streams. Once the paddies have been ploughed and adequate rain has fallen, the farmers will transplant the seedlings and push the young seedlings gently into the prepared paddies one by one, separating them to allow for their growth. This usually occurs from June to July. The rice grows with more rainfall, and as the rains clear and the intense summer heat takes over, the paddies dry and the rice plants turn to deep gold. This is when harvesting occurs.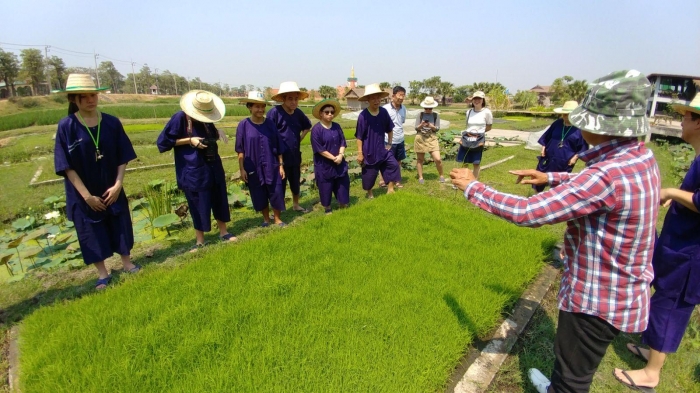 All we had to do was to transplant the seedlings, which may seem easy enough, but there was a technique to ensuring it stayed in place, deep in the ground with falling over. It was definitely an enlightening experience that gave me a deeper sense of appreciation for the next bowl of rice I consume!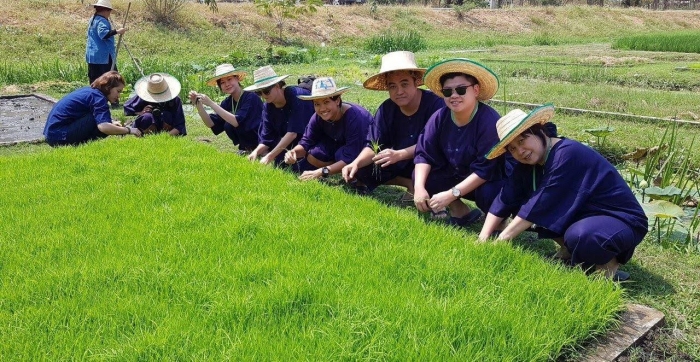 After getting our hands dirty, it was time for a well-deserved lunch, which, to say the least, was phenomenal. Every dish laid out in front of us was made from scratch and used ingredients straight from the farm itself. We were served a special rice grass chilled drink made from rice grass leaves extract with polyphenols extract, which was a welcome refreshment from the scorching heat. Even our dessert was unique as it was a green coconut ice cream with rice grass chlorophyll extract. Talk about healthy! It was a delight to the senses, and proved to be a huge hit with everyone as all our plates were licked clean.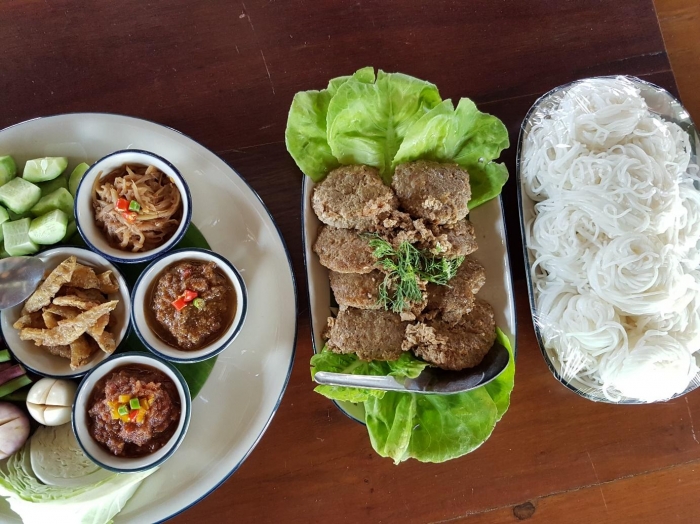 After lunch, we changed back into our own clothes and were taken on a short tour of the homestay quarters in the compound. The rooms were modest and simple but very spacious – large enough for a small family. The area is filled with lots of greenery, wide open spaces and is very serene. Even for a place closely situated to an airport, visitors will unlikely be bothered by noise from overhead planes as flights in and out of Sukhothai aren't frequent.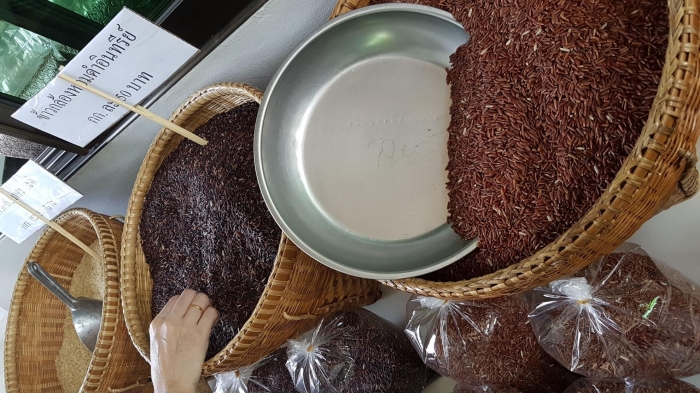 The day ended with us getting a chance to purchase packs of rice and other organic products made from the farm, which we gladly snapped up, given that organic produce in Singapore is so expensive! And did you know that organic products aren't expensive because of the high cost of production? They do cost consumers a bit more because of the absence of chemicals and the limited land use to grow the organic produce. The final product takes a lot longer to mature before harvesting and to ensure tighter control on quality, these certified organic farms typically keep their areas reasonably small. Hence, the final output is on much smaller scale and limited in quantity. Now you know what you're paying for!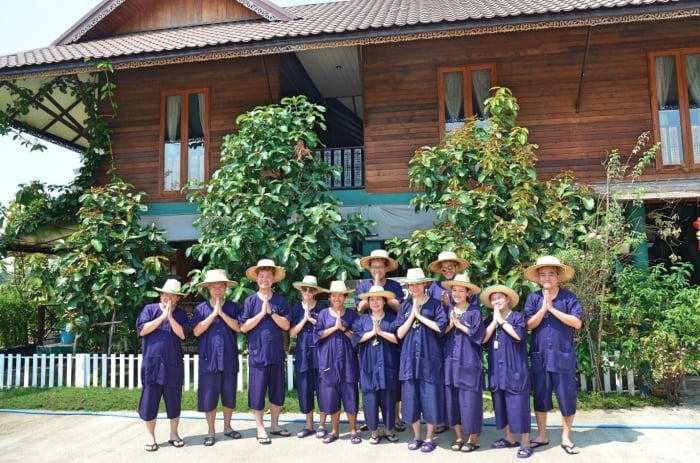 Also read: 5 Places to Visit in Sukhothai, the Treasure of Thailand
All in all, the immersive experience was a real lesson in truly appreciating the food that we eat, and having more in-depth knowledge of how organic produce is grown. Needless to say, the amount of tiresome work and labour put into it is astounding and it's a highly-recommended stop that everyone should include in their Sukhothai itinerary.
My trip to Sukhothai was made possible by Bangkok Airways & Tourism Authority of Thailand.