Craving for a tropical vacation? If frolicking on the shores, feeling sunkissed and swimming around in the ocean sounds like the perfect vacation to you, then this itinerary is all you need.  Pack your swimsuits and get ready for a quick getaway to Krabi, Phuket and Phi Phi Islands – the quintessential hotspots for beach lovers like you! And what better way than to combine these three tropical havens all into one trip?
For the lazy planners, we've got some perfect travel deals for you:
Take your pick, leave your vacation to the experts, and enjoy your much-needed getaway worry-free!
DAY 1: PHUKET CITY TOUR
Once you've landed in Phuket Airport, make your way down to Phuket Heritage Town. Take a trip down these old streets of Phuket, adorned with architecture reminiscent of the town's Sino-Portuguese past. Incorporating both Chinese and Portuguese influences, these colourful buildings are one of the most attractive parts of Phuket to explore. Offering a unique mix of the old and new, venture along the row of shophouses and you'll find a varied mix of cafes, bars and guesthouses, coupled with old shops like hardware stores, herb shops, fabric shops and old noodle shops!
In addition, with cashew being Thailand's native produce, the nut is relatively cheaper in the country. Take a tour around a cashew nut factory in Phuket and even get to try out varieties of cashew food items and get to know various medicinal properties of the nut!
Next, make a beeline to Wat Chalong Temple. This fascinatingly ornate temple is also Phuket's largest and most revered temple. The temple's Chedi, its towering centrepiece, is known to house Buddha's bone splinter! Climb up to the viewing deck atop the tower to get an incredible panoramic view of the temple grounds and surrounding areas. You can also spot the Big Buddha of Phuket from that height!
Doesn't this view look absolutely inviting?! With 30 beaches to choose from in Phuket, it can be hard to narrow down your choice to one. No matter whether you're here to soak in the frenetic party vibes at Patong Beach, or indulge in solitude along remote shores, Phuket's got something for everyone. And here's a little secret you need to know: there are way better beaches than Patong! If it's your first time here, party all you want in Patong, but don't forget to explore other hidden gems in Phuket too.
We highly recommend Patong Beach, Kata Noi Beach, Layan Beach, Karon Beach, Kata Beach, and Surin Beach. There's really nothing more blissful than catching the glorious sunset, whilst feasting on a sumptuous seafood dinner with a refreshing cocktail in hand. So don't miss out on the quintessential Phuket experience while you're here! It'll certainly be a night to remember.

After an eventful day at Phuket, head back to your hotel to get some rest before starting an exciting second day at Phi Phi Islands!
DAY 2: PHUKET > PHI PHI ISLAND TOUR > KRABI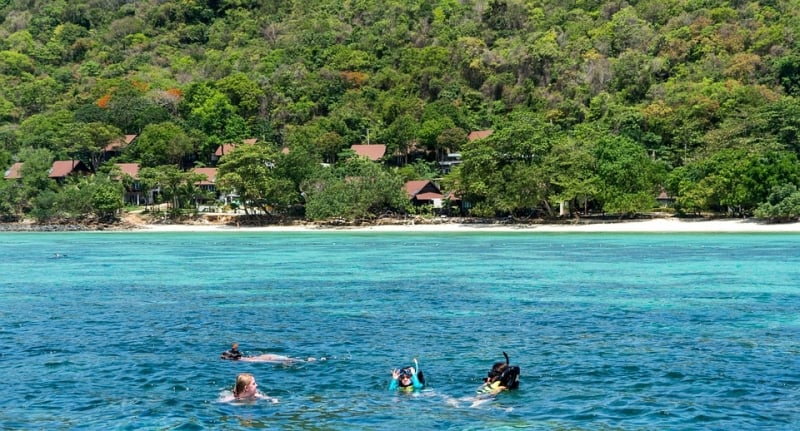 Start your first morning in Phuket by making your way to the jetty. Hop aboard the Paradise Cruise which will take you to the Phi Phi Islands, comprising 2 main islands — Phi Phi Don and Phi Phi Leh. Make your way around these islands as you walk on the sands of famous beaches, such as Pileh Bay and Maya Bay (where the movie "The Beach" starring Leonardo DiCaprio was filmed at!). Immerse yourselves in a variety of fun-filled activities during your stop-over at Phi Phi Islands. Snorkel in the sparkling aquamarine waters and explore the rich underwater world or simply relax on the beach.
Snap that iconic view of the towering limestone cliffs juxtaposed against the blue skies and clear waters from Maya Bay, and grab your lunch at Phi Phi Don Island before transferring to Ao Nang, Krabi, by cruise. In Krabi, your day ends with checking into your hotel. Grab some shuteye before gearing up to explore the coastal province of Krabi!
DAY 3: KRABI
Check out the Khao Phra Bang Khram Nature Reserve where one can take a dip in the outstanding Emerald (Crystal) pool, which is filled with pure spring water! Trek a little further and you will find yourself dipping into a natural hot spring at Klong Thom Hot Springs, soaking in pure bliss. Along the way, be awed by waterfalls, streams, and hundreds of tropical trees and plants – it's the perfect place to immerse yourselves in nature and escape the bustling city.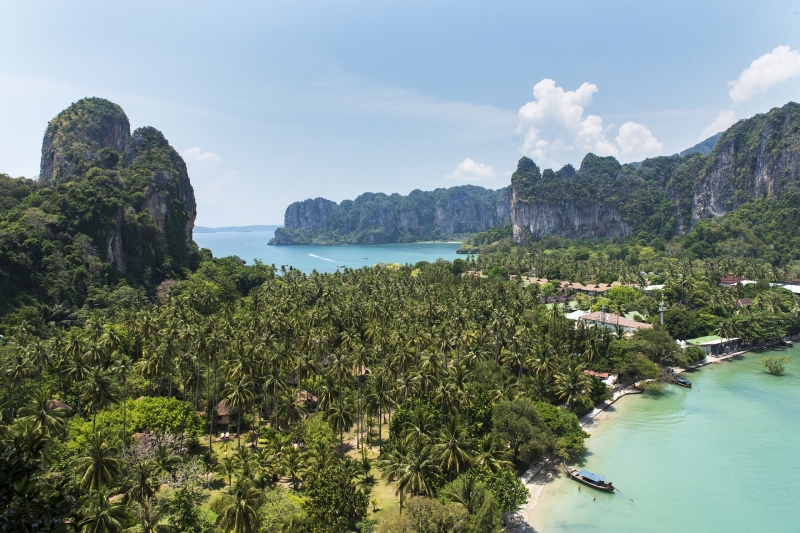 As the sun slowly sets, take a languid stroll around Krabi's world-class beaches, such as Ao Nang Beach, Phra Nang Beach or Railay Beach! These stunning shores kissed by turquoise seas are reputed to be one of the top beautiful beaches in the world! After all, you can never have too much sun, sand, and sea on a tropical vacation, can you? Prepare a few swimming suits for your trip, because you'll be dipping into Thailand's most beautiful waters every day!
As night falls and you're refreshed and rejuvenated after hanging out at the beach, head down to the night markets for some shopping and exotic delicacies! Held every Friday, Saturday and Sunday from 5 pm to 10 pm, it's the best place to search for souvenirs, mingle with locals, and feast on delicious local street food. Don't forget to catch lively music performances throughout the night, showcasing Thai folk classics and traditional dances.
DAY 4: KRABI AIRPORT > FREE CITY TOUR > DEPARTURE

If unfortunately, your flight back home is in the morning, free transport will be provided for you to get to the airport for your flight back home. But if you're booked for an afternoon flight, consider yourself lucky!
Spend your morning touring around Wat Tham Sua, also known as the Tiger Cave Temple. This temple, where monks reside, worship and meditate, is home to a labyrinth of naturally formed caves wedged within a jungle valley.
Hike up 1,272 steps to get to the temple and be rewarded with an incredible panoramic view of the surrounding countryside, including the Andaman Sea!

If time permits, drop by the Andaman Sea Marine Fish Farm for an educational trip, where you can take a look at the variety of fish that swims in the region! When afternoon finally comes around, say adios to Krabi as you embark on your flight back home from Krabi Airport.

And that marks the end of your 4D3N tropical vacation in Krabi, Phuket and Phi Phi Islands! Aren't you just tempted to head there already? For the lazy planners, why not hop on board a 4D3N Krabi–Phuket–Phi Phi Islands tour (Cruise + Road) or 4D3N Krabi–Phi Phi–Phuket tour (Speed Boat + Cruise)? Everything will be settled for you, all you have to do is sit back and relax!
Instead of going through the hassle of planning your itinerary, booking your accommodation and choosing tours from the multitude of options available, why not have your island-hopping adventure all planned out for you? Your accommodation, transport, and itinerary have all been carefully curated, so you can go ahead and enjoy your vacation free of worries!
If you're looking to explore more of Krabi, Phuket, Koh Samui, and more, just take your pick from any of the following packages and send in an enquiry – it's THAT simple! For the independent travellers, there are free and easy options available too.
Now, it's time to kickstart your island-hopping journey with all these awesome travel deals. Now sit back, relax and soak in all the tropical sunshine Thailand has to offer!
---
Brought to you by Southern Thailand Consortium.