Before delving into the reasons that make Cinque Terre an up and rising tourist destination, it is important to dispel any misconceptions about the place. First, Cinque Terre is not a village, town, city, or state by itself. Instead, the Italian name literally translates to "Five Villages" in English.
These five villages – Monterrosso, Vernazza, Corniglia, Manarola and Riomaggiore – line the west coast of Italy and it only takes a five-minute train ride to get from one to the other. While they are often called "villages", they are very much like modern towns, with trains, shuttles, tourist information centres and plenty of seafood restaurants and souvenir shops. Getting around is also easy as most locals can speak conversational English.
[TRAVEL DEAL] Feel the sun and salt spray on your skin as you cruise the coast to discover the traditions of the Cinque Terre fishing villages, where a rainbow of pastel-coloured houses cling to the cliffs. For less than SGD 2.5k, don't miss out on Trafalgar's 9D8N Northern Italy travel deal!
Now that we are clear on what the term "Cinque Terre" refers to, let's take a look at what these gorgeous villages entail through my three days spent discovering this hidden gem of Italy.
DAY 1
Hotel residence Maggiore
I took a six-hour long intercity train from Lugano, Switzerland to Moneglia, where my hotel was located. The ride was priced very reasonably 33 Euros. Typically, I would have booked an accommodation through Airbnb as they are usually cheap, clean and are, most of the time, owned by kind, welcoming locals. However, the most of the listings I found in Cinque Terre were either expensive or extremely out of the way. As such, if you are not looking to stay in hostel and willing to splurge a little, then a hotel might be a good option.
I recommend staying at Hotel Maggiore Residence, an austere but decent 3-star hotel. Upon reaching, its friendly staff will provide you with essential information regarding the area and be more than happy to help you plan your itinerary. Although it is located in the town of Moneglia, which is not part of the Cinque Terre, there are trains that run frequently to and from the Cinque Terre and the first village, Monterrosso, is only a 15-minute train ride away. Best of all, it is located right by the beach and I was lucky enough to get a room with a seafront balcony upon request.
DAY 2
Image credits: ISF Florence
Unfortunately, the weather on my second day in Cinque Terre was overcast with grey skies that threatened to burst into a thunderstorm any moment. Nevertheless, I headed to the first village, Monterrosso. Its main attraction is the huge public beach with that is perfect for a swim on hot days. Bringing along swimwear when visiting Cinque Terre is a must, for you will not be able to resist the invitation to soak in those sparkling waters for a much needed respite from the scorching heat.
Also read: Guvano Beach: Hidden Nude Beach in Cinque Terre, Italy
During lunch, I realised that the restaurant, like many others that I later discovered, charged a fee for things such as tablecloth, napkins, etc. which I did not have to pay for in other parts of Italy and Europe. So be prepared to add about 3-5 Euros to the price of your meal. On the bright side, as expected of eateries located in coastal areas, its seafood was fresh, flavourful and simply delectable.
The next village, Corniglia, can only be summed in one word: steps. There are 382 steps that lead to the village centre, which is located on a hilltop. That being said, it is rather manageable as they are not steep. Corniglia is the smallest village of the five and if you are running on a tight schedule, then this would be the one you might consider skipping, for there are views that are more stunning to be found in the other villages.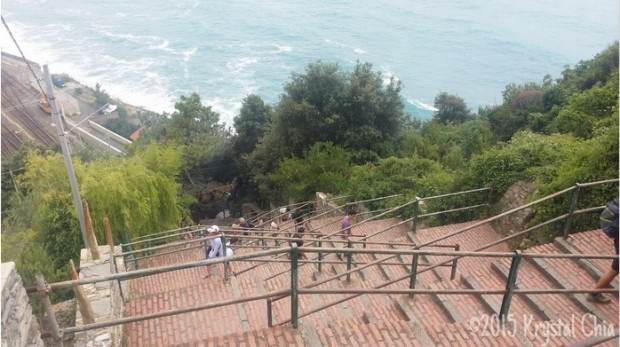 My day ended with a trip to Riomaggiore, which has a harbour that is a must-go for the sake of photo-taking. It is, however, easy to miss the entrance so be sure to locate the stairs leading down to the port.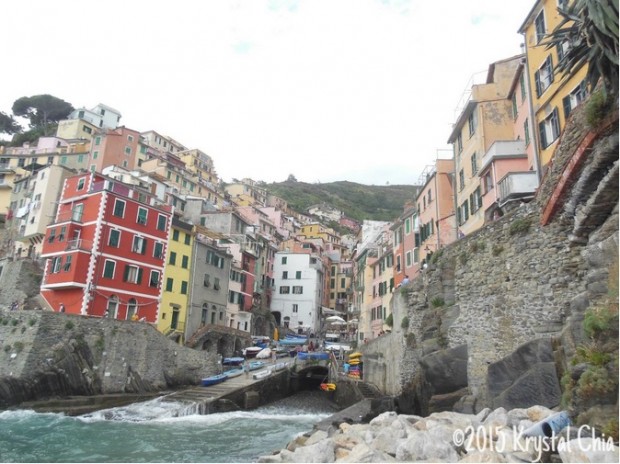 DAY 3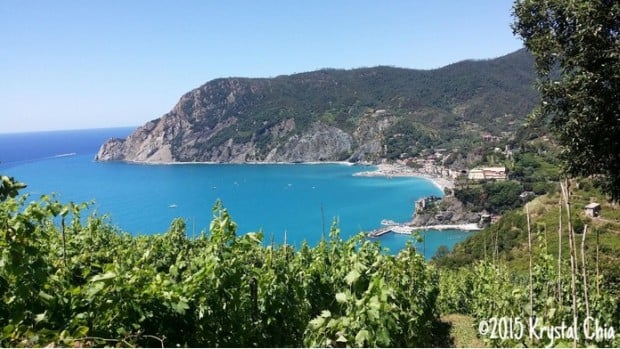 It was on this day that I was truly wowed by Cinque Terre's pristine beauty. It is not an exaggeration to claim that they had the bluest waters I have ever seen.
A compulsory activity to enjoy Cinque Terre in its entirety, in my opinion, is hiking. Even if you are not in excellent shape, the magnificent views of its crystalline, deep-sky-blue waters that never seemed to end are definitely worth the huffing and puffing.
It is, however, important to check which of the hikes are open as there is a high possibility that some are closed due to bad weather or renovation works. As of June 2015, the only route that was open was that from Monterrosso to Vernazza.
One of the best things about travelling, and even more so when travelling alone, is meeting new friends and perhaps even staying together for the rest of the day, which was exactly what happened when I met two other travellers, one from the United States and the other from the Bahamas, while trying to find the starting point of the 2.5-hour hike. Our light-hearted, interesting conversations were a good distraction from the fatigue gained from scaling the trail's numerous steps. With Cinque Terre being such an incredible place, it was also great that we could even snap pictures for each other. You might, however, want to note that there are no water or rest stops along the entire trail.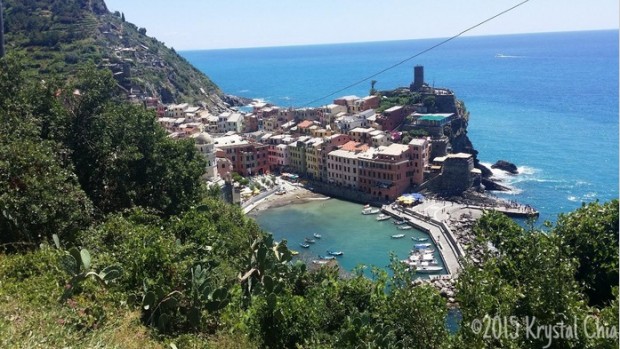 Lunch was a sandwich as the restaurants were extremely packed at Vernazza. I then proceeded to take a ferry to Manarola. For all the great activities you can do at Cinque Terre, taking a ferry is not one of them, although you do get a view of the entire village from the sea. I had made the mistake of assuming that the ride was 20 minutes based on its schedule without taking into consideration the time needed for previous passengers to disembark the ferry. Thus, it essentially became an overpriced 10-minute ride for 7 Euros.
That aside, Manarola was stunning, and it should be, given that it is where that iconic picture that pops up whenever you google "Cinque Terre" was taken. The heart-stopping view of the stacked coloured houses against the golden rays of the sunset easily makes it my favourite village out of the five.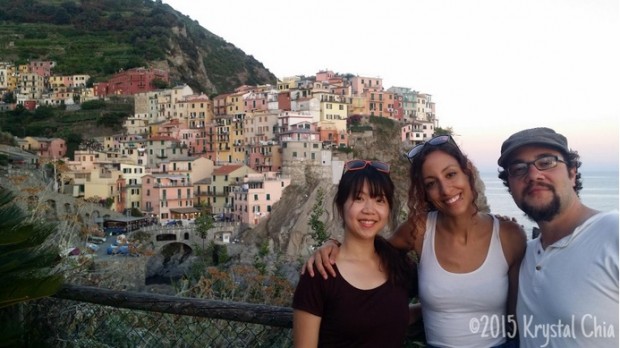 At Manarola with new friends Jennifer from the U.S and Chris from the Bahamas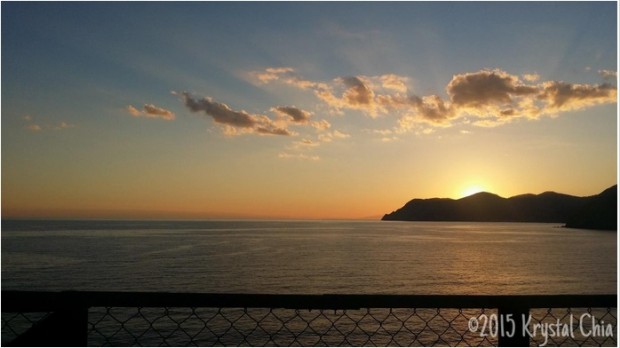 Sunset from viewpoint at Manarola
My new friends and I stayed till dark to get a glimpse of what it looked like at night, which sadly turned out to be slightly disappointing as the houses were not fully lit. While looking for supper, we stumbled upon a small and quaint café where a band was playing record-worthy original songs and refreshing renditions of classics.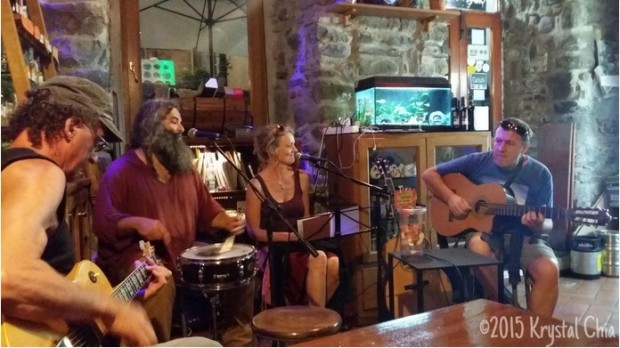 Also Read: 10 Underrated Countries in Europe You Might Not Know About
That, alongside a warm bowl of fresh seafood risotto, was the perfect way to end my time in a place I will never forget. Go and I assure you, Cinque Terre will be like nothing you have ever seen.